Roman history in Spain: More than an aqueduct: Spain's Segovia digs into its Roman past | Culture
The aqueduct in Segovia, which was declared a World Heritage Site by Unesco, is not the only piece of evidence that the Romans established themselves in this Spanish city of what was then home to around 5,000 inhabitants. Extending 40 hectares, it was among the largest Roman capitals of Spain's Duero Valley and of a similar size to Termes in Soria province and Confluenta in the Segovian municipality of Duratón.
With a budget of €1 million, Segovia's city council is set to undertake the restoration, excavation and exhibition of an ancient forum to show off the city's Roman past, beyond the realms of its famous aqueduct. The initiative is part of a package of sustainable projects for the rehabilitation and maintenance of historical and cultural heritage, which has a total budget of €3 million from the Heritage Plan devised by the Spanish Ministry of Industry, Trade and Tourism. With a total of €45 million from the European Union's Next Generation funds, the plan aims to create new tourist itineraries and improved attractions to the north of Madrid. Segovia's local government intends to award the contract for the exploration next year and have the work finished by 2023.
Data to help understand the Roman city is scarce. Segovia had to adapt its urban planning and architecture to a complex set of elements as well as to the previous existence of a Celtiberian city. It is very difficult for researchers to unearth archaeological remains because the excavation spaces are extremely limited. The current urban center of Segovia is a living city, as well as a World Heritage Site, with a high concentration of historic and artistic buildings that conceal the presence of Roman remains that cannot be excavated because of these later monumental constructions, according to archaeologist, historian and director of the Segovia Museum, Santiago Martínez Caballero.
In 2017, Martínez Caballero wrote a scientific paper on the urban evolution of Segovia in Celtiberian and Roman times, together with the archaeologists and historians, Luciano Municio, Clara Martín, José Miguel Labrador, Víctor Cabañero and architect Sonia Álvarez. The paper discusses the forum that dates back to the 1st century AD, describing it as the most important Roman remains in the city, apart from the aqueduct. Their findings show the development of a population with urban headquarters in Segovia and an important presence within the Hispanic interior. However, doubts linger over the principal aspects of the city's organization and its limits.
Imperial power
What seems clear is that the aqueduct was not an isolated piece of infrastructure. It is believed to have been built during the rule of the emperor Trajan, at the end of the 1st century AD, or at the beginning of Hadrian's reign. It is thought that its impressive dimensions may be linked to a relationship with an imperial power that could have financed its construction. The aqueduct suggests the presence in Segovia of a very important elite, capable not only of making funds available for its construction, but also of establishing political contacts with high-level Roman officials in order to carry out the work.
It is within this context that the forum of Segovia was built. Its remains were first located in excavations carried out in 1990 in the area around the Plaza Guevara square. A set of large structures belonging to one of its buildings was unearthed as well as the remains of the foundations of a colonnaded area that could belong to a portico with one side closed off, as was the norm in these public complexes in the Roman cities of the west. This building could have been part of a public building such as a basilica, occupying a privileged location. Historians are also considering the idea it was a rectangular complex about 100 meters long.
The findings are not currently visible as they are covered by a later construction. The remains of another area of the forum that correspond to part of a room, possibly belonging to a portico under the Plaza Guevara, can be accessed through a private parking lot. According to Martínez Caballero, there are also some interesting mural paintings and typically Roman architectural details with brick walls and large ashlars – masonry made from large cut stones and used for façades – in the main structural areas of the building.
In different explorations that have been carried out in that area of the square as well as in Miguel Canto Borreguero street, features such as walls relating to a large space have been unearthed while in the squares of La Rubia and El Potro, the remains of large walls have come to light that should be seen within the context of the forum.
Municipal sources have explained that, as well as completing the excavation begun 30 years ago, the restoration and exhibition of the complex will be carried out. The pedestrian area of the street will also be maintained by creating an archaeological basement with direct access from the outside.
Complex topography
Martínez Caballero believes that the remains of another building that opened onto the forum may be found under the garden area of the Plaza Guevara. This would have been presided over by a temple, although it is still unknown where the temple would have been located. It is believed that the archaeological work will bring to light some more evidence to reconstruct the forum in its entirety. These main public spaces in Roman cities were built in large open areas, generally enclosed by porticoes. And the different administrative, religious and commercial buildings necessary for the functioning of the city were arranged around them, such as the basilica and curia judicial offices.
From this general typology, Martínez Caballero believes that it can be deduced that the structures belong to an architectural ensemble, while the large remains of the foundations are evidence of the existence of a large terracing structure that formed a part of the forum.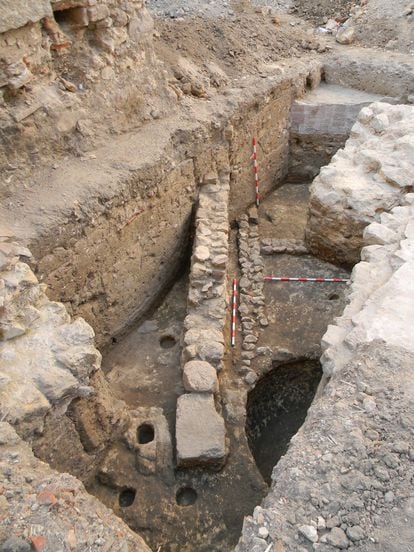 The Romans decided to build the forum in the central area of the city. The topographical unevenness of the Plaza Guevara was addressed by large terracing structures that created flat areas on which to build. These solutions are very common in the Duero Valley, where Roman cities such as Uxama Argaela or Termes in Soria, have forums on large artificial platforms that gave the buildings great appeal and a much sought-after scenographic advantage, marking them as the main symbolic and representative reference points of the city's urban landscape.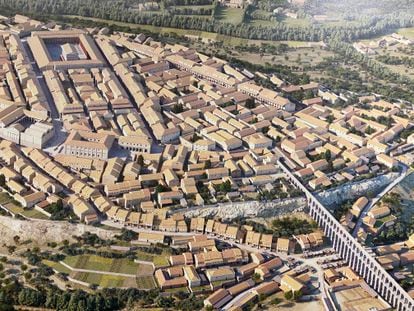 As for other Roman legacies, the city's medieval wall, which was built in the 11th century, has more than a hundred Roman inscriptions belonging to funerary stelae – or permanent monuments to the deceased – of the various necropolis located around the city. These were reused as architectural material. There are also remains of thermal baths near the church of San Martín, the remains of a necropolis near the current church of San Millán and the remains of a cemetery of indigenous tradition, still preserved in the middle of the 1st century AD.
In other archeological explorations, remains of structures and some walls appeared in Judería street, in the Plaza Reina Doña Juana square and in the Plaza Mayor square, but never complete dwellings.
In some areas of the walled enclosure, where the surface rock emerges, there are suggestions of spaces carved in the rock belonging to foundations, including of rooms, which could be evidence of underground dwellings. Next to the Segovia Museum, for example, the remains of an internal communication ramp have emerged, possibly from the Celtiberian-Roman period, according to a very common tradition in this part of Hispania, where cave techniques were used to solve certain structural needs.
External investigation into Department 'champagne party' needed – Minister
Minister of State Anne Rabbitte has called for an external investigation into a "champagne party" held by staff in the Department of Foreign Affairs staff in June 2020.
The gathering, which appeared to breach Covid-19 guidance in place at the time, was "inexcusable" and Minister Simon Coveney and his department have further questions to answer, the Fianna Fáil TD told Saturday with Katie Hannon on RTÉ Radio One.
"Having a champagne reception in any government department at that time, I know over in the Department of Health where they worked tirelessly for 23, 24 hours a day, it was far from champagne they were having," she said.
Ms Rabbitte said an internal report conducted by the department's current secretary general was not a satisfactory way to handle the matter.
"It's still within the same department, and we know the answer we will get. I would be one for openness and transparency … it has to be [an external report]."
She added that all departments needed to learn from the mistake.
Officials were photographed in the department celebrating Ireland's election onto the UN Security Council, and the image was posted on Twitter by the then secretary general Niall Burgess. The tweet was later deleted. At the time of the event, there were strict restrictions on the size of gatherings due to Covid-19.
Speaking on the same programme, Labour TD Duncan Smith said people were angered at the event because June 2020 was a bleak time for most people in Ireland. He said the public had seen other incidents where politicians and others were accused of breaching Covid-19 restrictions.
"These are the elites of society … what has really hurt people is that it really got to the 'we are all in this together' philosophy."
Sinn Féin TD David Cullinane agreed there needed to be an independent review of the matter, adding that Mr Coveney needed to come before an Oireachtas committee and the Dáil to gave a "frank and full account" of what happened.
Dog-owners bite back at beach rules
Following a series of reports that An Taisce is leading the battle to ban dogs from the State's 83 blue-flag beaches, the organisation's Ian Diamond is feeling misunderstood.
"I don't hate dogs", Mr Diamond says, pointing out that Blue Flag International – the global body which governs the coveted awards – warned last year that some qualifying beaches were not honouring long-standing rules.
Under what's known as Criterion 23, the rules declare that beach access "by dogs and other domestic animals must be strictly controlled" and that they be allowed only in "the parking areas, walkways and promenades in the inland beach areas".
Faced with the reminder, Mr Diamond said he requested last year that local authorities get more time, as it was "not something that can be introduced immediately in the middle of a pandemic when people are under other restrictions.
"You can't exactly introduce these things overnight, so we were flagging that," he said, adding that Blue Flag told them to speak to people seeking blue flag status and "come back with proposals" that comply with the rule.
The issue came to national attention following a meeting of Kerry County Council this week, though it was understood then that the rule was an An Taisce demand, rather than being a Blue Flag International obligation.
Dogs and horses
Consequently, Kerry County Council now propose that dogs or horses will not be allowed on blue-flag beaches from 11am-7pm between June 1st and September 15th, or otherwise the county could lose its 14 blue flags.
However, the restrictions are unpopular with some dog-owners: "There's a lot more important things to be worrying about than dogs on a beach," said David Walsh, as he walked his pet, Oreo, on Salthill beach.
Dog-owners in Salthill are already not allowed to bring their dogs onto the beach between 9am and 8pm between May 1st and September 30th each year, in line with Blue Flag International's rules, though penalties are rare.
Mr Diamond says a national application of the rules at blue-flag beaches would not "strictly prohibit dogs being on the beach" during bathing season, outside of peak hours.
Bathing season
"The blue-flag criteria would apply from June 1st to September 15th, within peak usage hours, so bathing hours – that would be mid-morning to early evening," said the An Taisce officer.
"What it requires is that there would be rules in place in relation to dogs that say [they] should not be in the blue-flag area within those hours and within the bathing season," Mr Diamond said.
The restriction is based on public health grounds and dates back to 2003: "Dog faeces actually contain a lot of the micro-organisms that cause illness in the same way that human waste would," he said.
"There's no zero-tolerance approach to this. If rules are going to be brought in, then people will be consulted as well, you know, brought in unilaterally, and it's down to the councils responsible for the beaches to bring those in."
Not everyone disagrees with An Taisce, or Blue Flag: "I don't think dogs should be on the beach, because of the kids and all that. And a lot of people don't pick up their poo afterwards," said a man on Salthill beach.
Jail for banned motorist from Limerick caught driving on Christmas shopping trip to Belfast
A banned motorist from Limerick caught driving on a Christmas shopping trip to Belfast has been jailed for seven months.
Police also discovered three of Leeanne McCarthy's children not wearing seat belts when her car was stopped on the Westlink dual carriageway.
The 41-year-old mother-of-eight initially gave officers a false identity, prosecutors said.
Belfast Magistrates' Court heard a PSNI patrol car stopped the Ford Focus on November 26th last year.
McCarthy, with an address at Clonlough in Limerick, provided a different name and claimed she did not have her licence with her.
However, checks revealed that a month earlier she had been banned from driving for five years.
A Crown lawyer said: "Three young children were in the rear of the vehicle, none of them wearing seat belts."
McCarthy initially claimed they only removed the safety restraints when the car came to a halt, the court heard.
Police were told that she took over driving duties from another daughter who had been tired and nearly crashed the vehicle.
McCarthy was convicted of driving while disqualified, having no insurance, obstructing police and three counts of carrying a child in the rear of a vehicle without a seat belt.
Her barrister, Turlough Madden, said she had travelled to Belfast for Christmas shopping.
Counsel told the court McCarthy spent the festive period in custody, missing out on sharing it with her eight children and four grandchildren.
"That's been a wake-up call and significant punishment for her," Mr Madden submitted.
"She is a mother who simply wants to go back to Limerick and not return to Northern Ireland."
Sentencing McCarthy to five months imprisonment for the new offences, District Judge George Conner imposed a further two months by activating a previous suspended term.
Mr Conner also affirmed the five-year disqualification period and fined her £300 (€350) for the seat belt charges.