'Revolution dwells in the heart': Myanmar's poets cut down by the military | Myanmar
His words captured the unflinching determination of the Myanmar public in the face of military brutality: "They shoot in the head, but they don't know revolution dwells in the heart."
The poet Khet Thi was taken from his home in Shwebo, in the Sagaing region, last Saturday. The next day, his wife collected his body from a hospital. His organs had been removed, she told BBC Burmese.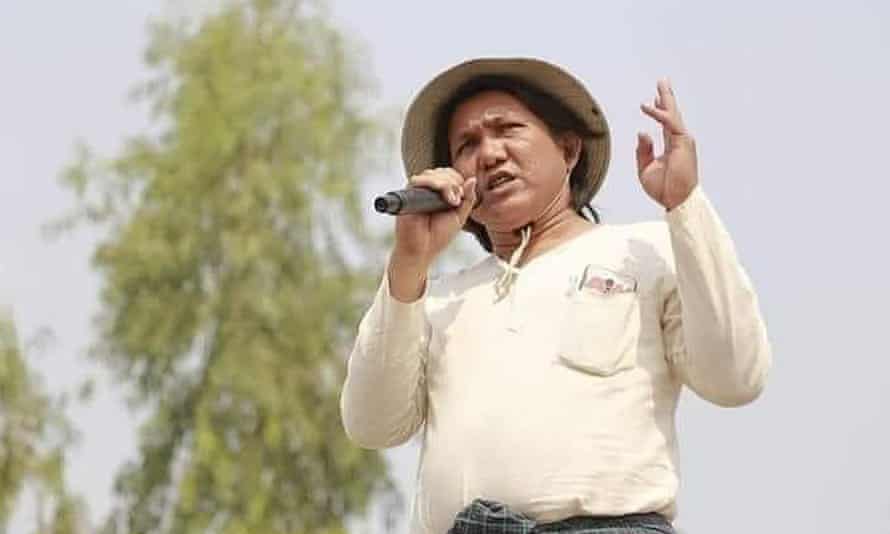 The military has tried to crush any form of dissent over recent months, including writers or celebrities whose words have the power to inspire hope and rebellion.
"Poetry, charisma and courage are a deadly blend against any tyranny," said Ko Ko Thett, a poet, translator and anthologist of contemporary Burmese poetry, who is based in the UK.
At least 32 writers and poets are in detention, according to PEN International, a global association of writers which has been tracking arrests. Others have fallen victim to military violence on the frontlines of rallies. Two poets – K Za Win and Myint Myint Zin – were shot dead when the military opened fire on protesters in March
On Friday, U Sein Win, a poet, politician and philanthropist, was doused in petrol and burned to death in an attack by an unknown perpetrator. He is the fourth poet to be killed in recent months.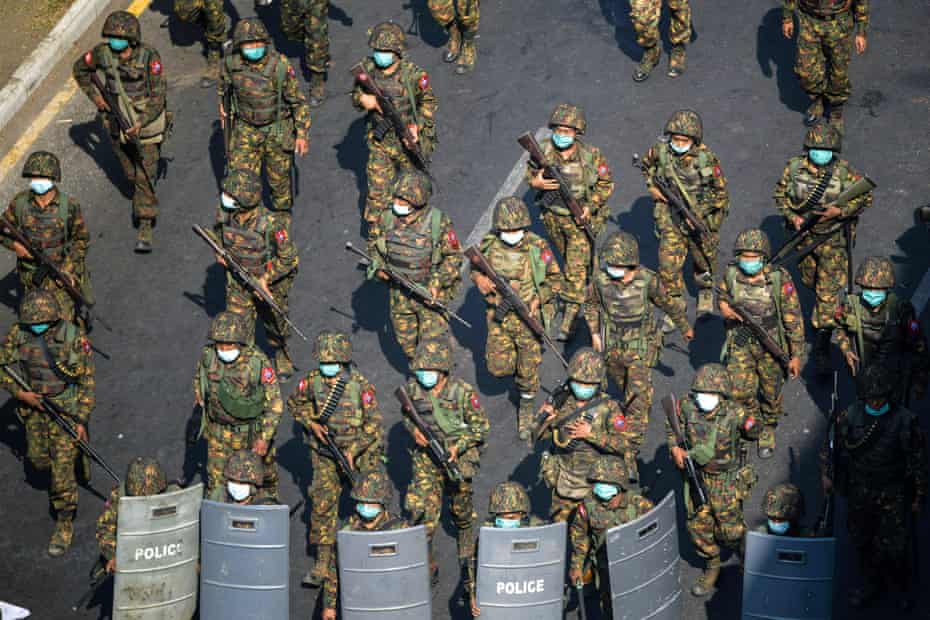 Myanmar's rich poetic heritage is deeply intertwined with politics. Poets used verse to resist British colonial rule, as well as the previous military regime, which censored and imprisoned writers. Poets would meet in tea shops to discuss their works, and use coded language to bypass censorship.
When Aung San Suu Kyi's National League for Democracy was elected to power in 2015's historic election – a breakthrough for democracy after decades of direct military rule – 11 poets were among the candidates who won seats.
Though there were still limitations on expression under Aung San Suu Kyi's government, poets were able to write and publish far more freely.
Khet Thi quit his job as an engineer in 2012 to pursue poetry, selling cakes and ice-creams on the side to support himself. He grew up in Pale township in Monywa, where his parents operated a peanut oil press, and first began writing poetry while at school.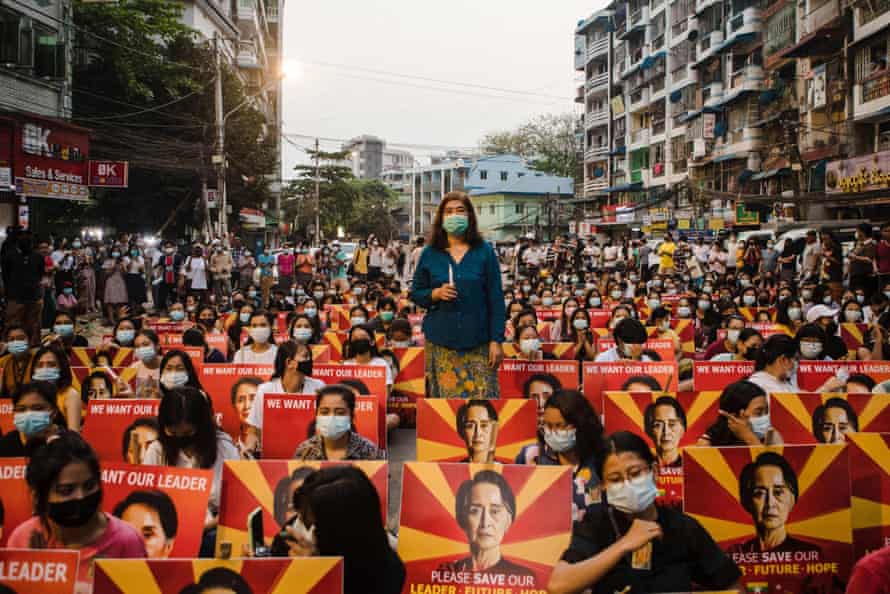 "His poems have always been special and unique because they came from his heart," said a close friend. They had not been able to meet since the coup, and had avoided discussing the political situation on the phone, in case they were being monitored. Many poets were in hiding, fearing arrest, he said.
"Khet Thi's virtue was that he only wanted to be friends with people who see people as people [who do not discriminate]. He was a revolutionary with strong beliefs and someone who never steps back," the friend added.
Khet Thi was possibly the only prominent poet from Myanmar's Bamar majority who wrote about the 2017 Gu Dar Pyin massacre, said Ko Ko Thett. Discussion of such attacks, where hundreds of Rohingya were killed by security forces and buried in mass graves, was highly sensitive.
Before the coup, he would sell printed copies of his books, but over recent months his words were shared mainly on Facebook. He addressed rallies, telling crowds at a march on 27 March that every protester in Myanmar was a Nobel peace prize winner. "Who does the power belong to?" he shouted into a microphone. "The people!" protesters replied.
Though critical of the NLD, K Za Win also appeared at the front line of protests that swept the country in the wake of the coup, defending the party's election victory and right to govern. He grew up in Letpadaung near Monywa, and spoke out about land rights after his family lost their land to a mining project pursued jointly by a Chinese and Myanmar military-backed company.
K Za Win was a Buddhist monk but left the sangha, said Ko Ko Thett, because he believed there was little point in being recognised as a learned monk by the military state.
He spent more than one year in prison after he was arrested for taking part in a rally for education reform in 2015. After his release, he published his most famous work, a collection called My Reply to Ramon.
Prior to his death, K Za Win had written on Facebook: "Though I have different views than you, I'll lay down my life for you all." Myint Myint Zin and K Za Wi were among 38 people killed during crackdowns on protesters on 3 March.
The poets expressed the emotions that were felt by the people, said May, a professor in Japan. "This revolution is led by all of our sheer will power and we need literary people who speak for us."
The Burmese language already has a poetic quality, said Ko Ko Thett. "It features euphonies and rhymes frequently. Most Burmese slogans, by the regime or anti-regime groups, are couplets."
But the verses written by Khet Thi and others are far more than a literary exercise. Security forces have killed 790 people since the coup, according to an advocacy group, including protesters, bystanders and dozens of children. Thousands have been arrested, and are often held in unknown locations. Reports of torture of widespread.
"For many people on the ground in Myanmar, lines such as 'with what grief I will grieve for you, my martyred son' by [the poet] A Phaw Khaing have become daily reality. People who are at a loss for words tend to find answers in poetry," he said.
Many will remember Khet Thi by one of his famous lines, written in response to military violence: "You try so hard to bury us underground, because you don't know that we are the seeds."
Zimbabwe's older people: the pandemic's silent victims | Global development
Lunch is Angelica Chibiku's favourite time. At 12pm she sits on her neatly made bed waiting for her meal at the Society of the Destitute Aged (Soda) home for older people in Highfield, a township in south-west Harare.
Chibiku welcomes a helper into her room and cracks a few jokes. She loves to interact with those who bring her food and supplies.
Chibiku is paralysed on her left side, and for most of the day she is alone in her room.
"I suffered a stroke years ago, and I was worried about how I was going to survive, then ended up here. My health is worse, especially when it's very cold," says Chibiku.
Chibiku is always lonely. Her vulnerability to Covid prevents her from going outside often and her children seldom visit.
"I do not have any grandchildren and my children come to see me sometimes. I am always depressed because I don't have anyone to see me. I used to do exercises, but now I cannot do that any more. I just spend my day sitting," says Chibiku.
Chibiku misses talking to her friends.
"My condition depresses me so much that I sometimes lose my mind. I am thankful that I am not on the streets," she says.
Older people have become silent victims of the pandemic. Zimbabwean communities used to pride themselves on looking after their ageing members, but poverty and high mortality rates among working-age men and women as well as unrelenting economic pressures on families have left older people isolated, poor and lonely. While some have ended up sleeping rough, risking infection and starvation, the lucky ones like Chibiku are cared for in homes such as Soda.
Although it is often called "un-African" to send elderly people to institutions, the pandemic has led to a rise in demand for such facilities, says HelpAge Zimbabwe.
"Being in a pandemic is an emergency situation. Being in a pandemic, you find there are people who suffer and find themselves homeless and without food. Due to family friction, some elderly people find themselves on the streets," says Priscilla Gavi, HelpAge executive director.
"Some of the older people have been thrown out of their homes by their children, who request that they be taken into an institution," she adds.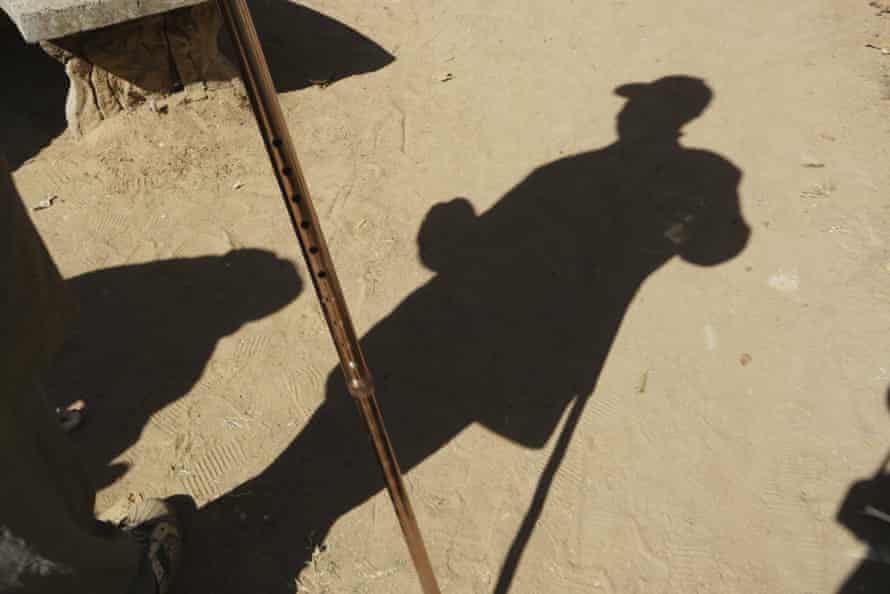 Gavi says a growing proportion of the country's population of 15 million population are over 65, and fears this number will double over the next decade, increasing demand for care homes.
According to the Zimbabwe National Statistics Agency, 80% of elderly people live in abject poverty.
Bothwell Sundire, a development expert based in Masvingo, a city in south-east Zimbabwe, says care homes have experienced a 60% increase in admissions since the first Covid-19 case was reported in March 2020 and the country's 170 facilities for older people are now saturated.
Domingo Zakani, 86 and Samson Edwin, 81, are watching television and reminiscing in a lounge at the Soda care home. Zakani, who migrated to Zimbabwe in 1958 from Mozambique to work for a tobacco firm, is unmarried and has no children. Finding him homeless and begging for food, a "good Samaritan" brought him to the home five years ago.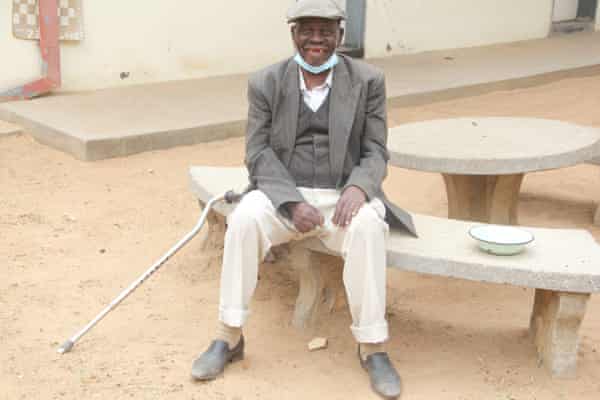 "I would like to go back home, but all my relatives are gone; no one knows me any more. I am just waiting for my day of death," says Zakani.
Zakani, who has several ailments, including a knee problem, spends his day sitting in the courtyard or watching television. His friends at the home also keep him company.
"I just sit all day. I cannot do much. This place is like a prison because I cannot move around any more. My relatives used to come, but not any more, so it is very lonely here," he says.
Edwin migrated to Zimbabwe several years ago after getting a job, but his employer died, leaving him without work and stranded far from home. Edwin became destitute.
"I have been staying here for a year now. Before that, I stayed at Stoddart Hall in Mbare [a Harare township] because I had lost my job. A stranger took me to this place and I am really grateful for his love. I am glad that I never get sick. When I came from Malawi five years ago, I got a job in a white man's shop that sells vehicle parts. I then lost my job," Edwin said.
Edwin misses his children and desperately wants to go back home.
"I have tried to go back home, but I could not get money to travel. All my children are in Malawi. We write letters to each other and it has been long since I saw them," says Edwin.
But Soda, like the older people it supports, has itself fallen on hard times.
Lack of funding and a lack of government programmes to aimed at supporting older people have affected the running of the facility – which was once visited by Diana, Princess of Wales – and its 16 residents eat only mealie-meal porridge, beans and vegetables.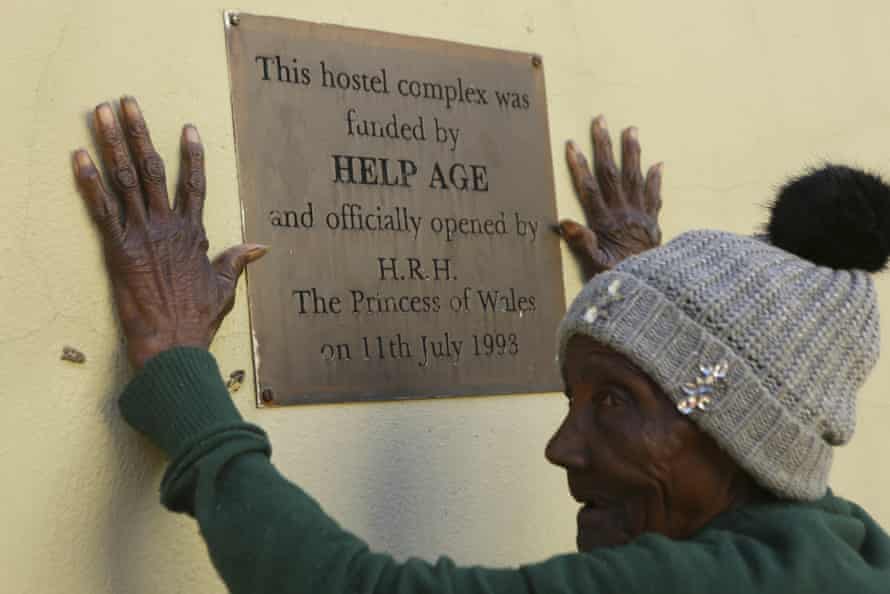 "We have well-wishers who are gracious enough to help with food and other items and we also mobilise resources. Covid-19 has affected our resource mobilisation. We rely on the industry when they have enough to spare. It is hard to get support when the industry is depressed," says director Emilia Mukaratirwa.
Mukaratirwa says the pandemic has forced the home to lock its gates, as elderly people are listed as vulnerable.
"It has been a love and hate relationship because they feel robbed of their freedoms. The extension of the lockdown did not help matters. They cannot go out there, but some do understand that we have to protect them. We are lucky that we never had any positive cases," says Mukaratirwa.
Older people saw their incomes and savings decimated by hyperinflation in 2008, face other pressures. Many are caring for orphaned relatives such as grandchildren. Gavi estimates more than 60% of orphans are cared for by older people.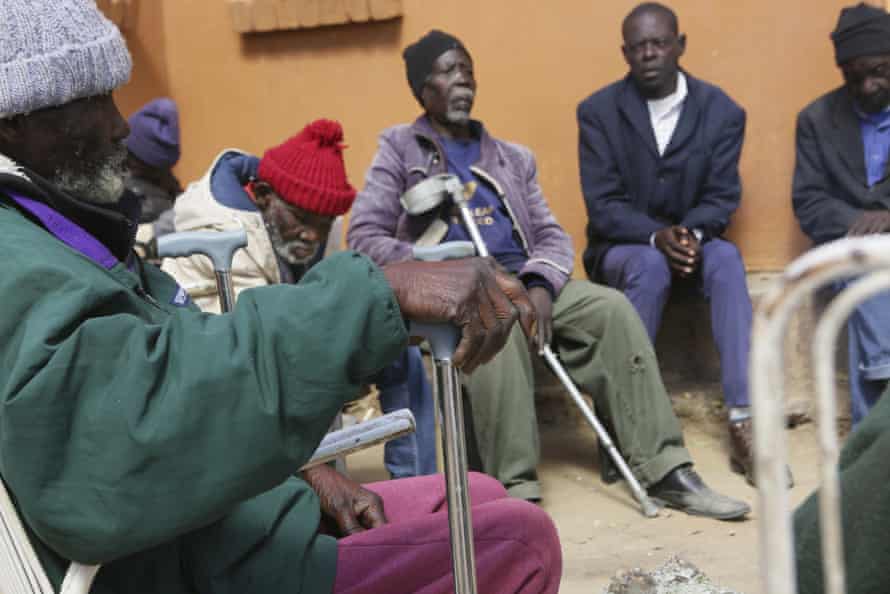 Anyone 65 and older is entitled to free healthcare, but hospitals are depleted of supplies.
"We are advocating for a universal pension. We are advocating that every elderly person gets something at the end of every month to cater for their daily needs. Universal health insurance. We are saying that as long as we don't address these issues, the burden on the economy will be bigger," Gavi says.
She believes older people deserve to live in a loving environment.
"We cannot dump our older persons in institutions, saying they are now a spent force," says Gavi.
Russia's anti-vax campaign backfired, EU says
High numbers of deaths and Covid-vaccine refusals in Russia were linked to the Kremlin's own anti-vaccine propaganda campaign, the EU foreign service said in a report Thursday. "Kremlin media continue spreading lies on Covid-19 and the vaccines, even as the death tolls in Russia are surging," it said, noting 250 anti-vaccination stories on Russian outlet Geopolitica.ru alone. Some 1,035 people a day are now dying of Covid in Russia.
Climate change: Floods, fires, smog: AI delivers images of how climate change could affect your city | USA
The full brunt of the devastating effects of climate change is still a long way off. If we don't experience the impact directly, it's difficult to fully internalize the extreme seriousness of the climate crisis.
That's why a team at the Mila-Quebec Artificial Intelligence Institute, led by Professor Yoshua Bengio, wants to bring it home – right to your doorstep in fact. His team has developed a tool that makes it possible to visualize the effects of floods, wildfires and smog anywhere in the world. Their simulation does this by making use of a generative adversarial network (GAN), a type of machine-learning algorithm. GANs can also produce things such as deepfake images, which are digitally composed of millions of images to create realistic photos of something (or someone) new.
For two years, 30 scientists have worked on the project, which is named after thispersondoesnotexist.com, a website portfolio of deepfake faces. Bengio's version is called "This Climate Does Not Exist." All a user has to do is type in an address or select a marker on Google Street View, and then indicate what kind of catastrophe they want to see: flood, wildfire or smog. The algorithm works its magic and returns the image with the requested effect. These images are not intended to be an accurate portrayal of what would happen at each specific location if no action on climate change is taken, but rather are a recreation of the worst possible effects in the scenario of the user's choice.
The realism is particularly striking in the flooding option, which was the most difficult for Bengio's team to produce. The algorithm takes the location proposed by the user, automatically places a layer of water on it and then adapts it to the environment of the image itself. The result is hyperrealistic.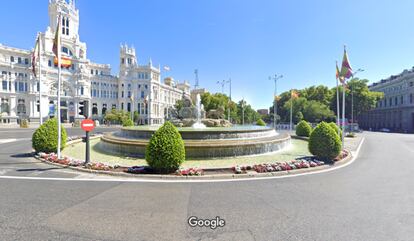 "One of the most important challenges has been getting the algorithm to simulate flooding in a wide variety of images," explains Alex Hernandez-Garcia, one of the project's lead researchers. "One module of the algorithm is in charge of detecting which parts of the image should be covered with water and another module is in charge of generating the water texture by incorporating the context of the image, for example, the reflection of buildings. Finally, these results are combined to generate the final image."
To detect which parts to cover with water and which to leave unscathed, Hernandez-Garcia and his colleagues combined several artificial intelligence (AI) and machine-learning techniques. "We generated a virtual city that allowed us to make a series of images with and without water. We also adjusted an algorithm that was able to make good predictions in that virtual world, detecting the different parts of a scene: the ground, cars, buildings, trees, people and so on," he explained. "However, the algorithm must be able to make good predictions based on real images [those from Google Street View]." For the latter, they used generative adversarial networks.
The process is completed in a few seconds, and before displaying the image to the user some information is provided about the causes and consequences of the selected weather phenomenon, and its relationship to climate change. For example, if a flood is chosen, it indicates that flash floods kill about 5,000 people a year, that sea levels are expected to rise by two meters by the end of the century and that this major disruption to the planet will forever alter the lives of at least one billion people by the end of 2050. "If we do nothing, soon we will face major climate catastrophes," says Professor Bengio, the institute's scientific director. "This website makes the risks of climate change much more real and personal to people," he argues.
Generative adversarial networks
The quality of AI took a giant leap forward about a decade ago with the emergence and consolidation of machine learning and deep learning. These techniques are based on training a machine so that it is capable of performing complex tasks after reaching certain conclusions on its own. For example, if you want the algorithm to distinguish between blueberry muffins and chihuahuas, the programmer will feed it a series of examples of each category, followed by thousands of images that are not pre-sorted. The machine will establish which is which, and when it gets it wrong and is made aware of the error, will refine its criteria.
Bengio won the 2018 Turing Award, considered the Nobel Prize of computer science, along with Geoffrey Hinton and Yann LeCun, for their contribution to the development of neural networks. This is a further step in machine learning that attempts to mimic the functioning of the human brain: applying several simultaneous layers of processing to increase performance. Neural networks are behind the most complex classification systems, such as voice assistants or advanced prediction models.
Generative adversarial networks (GANs) go even further. They were invented at the Mila-Quebec Artificial Intelligence Institute in 2014 and are capable of generating new content that looks faultlessly real to the human eye. GANs are behind the increasingly sophisticated deepfake videos of Tom Cruise or Donald Trump now circulating online, in which politicians or celebrities say or act in whichever way their creator likes. They work thanks to competition between two neural networks: one tries to produce images that are as realistic as possible and the other tries to detect whether they are real or a fabrication. This tension is replicated thousands or millions of times and during this process, the generating network learns to create more and more successful images. When the first network succeeds in fooling the second, we have a winning image. From there, a perfectly rendered image of New York City's Times Square inundated by flooding is just a click away.
The Quebec lab is now using a new type of GAN they have developed to generate the climate change images seen on their website. "In general, the limited availability of images and the need to adapt the algorithm to a multitude of situations have been the main technical challenges we have faced," says Hernandez-Garcia.