'Reclaim These Streets' and rubber duck rallies: human rights roundup – in pictures | Global development
A mural at a government clinic in Kuala Lumpur, Malaysia, depicts, from right, the prime minister, Muhyiddin Yassin; its health director general, Noor Hisham Abdullah, and a health worker. Human Rights Watch has urged the government to revoke its 'fake news' law, which makes it a criminal offence to create, publish, or disseminate 'fake news' about Covid.
Photograph: Fazry Ismail/EPA
Independent unions in Mexico use the USMCA to stop abuse at multinational plants | International
The United States-Mexico-Canada Agreement (USMCA), the free trade treaty formerly known as NAFTA (North American Free Trade Agreement), has apparently enabled some of Mexico's independent unions in their defense of worker's rights. Since the USMCA came into effect in July 2020, US trade authorities have lodged three complaints against production plants in Mexico for allegedly violating the agreement's provisions on freedom of association.
New Mexican unions claiming to be independent of government and other interference see the treaty as a useful and quick resource to force some democratization of unions in the country, where worker representation is dominated by a handful of large groups. However, experts say that the USMCA clauses on freedom of association are far from a panacea for defending worker's rights.
At the Panasonic plant in Reynosa (a city in the state of Tamaulipas in north-eastern Mexico) in October, workers rejected an agreement posed by the Japanese multinational following negotiations with the Confederation of Mexican workers (Spanish acronym CTM) – then in April this year voted overwhelmingly to be represented by new independent union, the 20/32 Movement Union (Spanish acronym SNITIS).
The SNITIS says that not only has Panasonic signed an agreement with the union rejected by the workers, but has also been deducting CTM dues from their salaries. The independent union has thereby filed a complaint to US trade authorities under the USMCA's Rapid Response Labor Mechanism.
Susana Priero is a labor lawyer, SNITIS leader and deputy for the governing MORENA party in the Mexican national congress.
"I look for whatever recourse there is to defend labor rights," Prieto tells EL PAÍS, adding that the ability to litigate violations of the USMCA is such a recourse.
"Let's see how it works out."
The US accepted SNITIS' evidence this week and filed the complaint with the Mexican authorities. Under the Mechanism, Mexico has ten days to respond and then 45 to complete an investigation and propose a solution.
The Panasonic case is the third reported by the US in just over a year. All three are related to the automotive industry, the jewel in the crown of the Mexican export sector.
The complaint against the General Motors plant in Silao, which was already being investigated by the Mexican government, led to a repeat vote, in which the CTM was defeated. The second case, against the Tridonex plant in Matamoros, was rejected by Mexico because it preceded the entry into force of the mechanism. In any case, the US pressed to extract certain concessions from the company: severance payments to the dismissed workers and its commitment to respect freedom of association.
The first complaint concerned the General Motors plant in Silao, a city in the central Mexican state of Guanajuato, and also resulted in workers electing a new independent union to represent them. The second case was filed against the Tridonex plant in Matamoros in Tamaulipas state but rejected by Mexico because its content preceded the entry into force of the Mechanism.
The Mechanism is unique among trade agreements that Mexico has signed. The new independent unions particularly value its speed: responses are sought and investigations carried out immediately, and, if, when the investigation is concluded the complainant country does not agree with its conclusions it can convene an arbitration panel that has four months to resolve the matter.
Graciela Bensusán, a labor studies professor at the Autonomous University of Mexico is positive about these timeframes for resolution, noting that "the NAFTA procedures could take years."
For Kenneth Smith Ramos, who was Chief Negotiator for Mexico when the previous administration of Enrique Peña Nieto signed NAFTA, the new agreement has appropriate consequences for those who breach it. Tariffs may be imposed on the products of plants found to be non-compliant or their export prohibited.
"The possibility of losing access to the US due to labor violations does not exist in any free trade agreement in Mexico. Not even in their wildest dreams did trade unionists [previously] imagine that there would be mechanisms of this nature," says Smith.
The Mechanism was not part of the original USMCA negotiation. It was added after the treaty was signed following pressure from the Democrats, then in opposition in the US Congress, and agreed to by Mexico.
Experts say that this process has led to an asymmetry between Mexico and its partners within the USMCA. To make a complaint about Mexico, the US or Canada can simply consider that there is a possible violation of the agreement, and the burden of proving innocence then falls to Mexico. But if Mexico wants to make a complaint about its partners, the complaint must have been previously admitted by the labor authorities of those countries. "The dice are loaded against Mexico," says Bensusán. "The US and Canada preserve more sovereignty."
More complaints of the type seen at Panasonic can be expected. This week, US Trade Representative Kathterine Tai, said in a letter to Mexico's economics secretary Tatiana Clouthier that "when concerns arise, we will work swiftly to stand up for workers on both sides of the border." Smith also cautioned against overuse of the mechanism by parties seeking to block Mexican imports.
The administrative power imbalance between the US and Mexico under the USMCA is not of so much concern to the small independent unions seeking to dislodge the older, state-aligned groups, as Susana Prieto indicates:
"We are going to continue using the USMCA until the companies … respect the law," says the union leader. Prieto says they may also use the Rapid Response Labor Mechanism to remedy the exploitation of Mexican agricultural workers in the US.
The power of the old unions may still hinder the progress of cases that proceed under the Mechanism, notes Prieto. The complaints against Panasonic, General Motors and Tridonex were possible due to the work of the independent unions; SNITA for example spent eight months collecting evidence against Panasonic.
These conditions are an exception – typically the old unions have blocked such organizing, intimidating workers and having them fired, explains Prieto
"It is difficult for them to dare to raise their voices."
Graciela Bensusán says the Mechanism functions to dissuade more than punish labor abuses by parties to the USMCA.
"The very fact that it exists is a warning [to them] of what can happen," says the professor.
Bensusán says that positive changes to labor conditions in Mexico will depend not only on the provisions of the USMCA but on a labor reform that was authorized by Mexico's national Congress in 2019. The new law mandates that workers elect their union representatives by free vote and that collective agreements are made every two years.
Bensusán says it is through this change in law and policy on the southern side of the US border that Mexican workers will achieve "authentic unionism."
Suscríbase aquí a la newsletter de EL PAÍS México y reciba todas las claves informativas de la actualidad de este país
'To survive, I must appear fearless': the former nun helping India's garment workers fight sexual violence | India
Many years ago, when Thivya Rakini was working as a domestic violence activist helping women to escape abusive husbands across the southern Indian state of Tamil Nadu, she took a pair of scissors and cut her long black hair back to the nape of her neck.
"Without my hair, I suddenly looked very frightening to a lot of people who couldn't believe a woman would cut away her femininity like that," she says. "I was sending a signal that that those men shouldn't try to mess with me. Inside, I am really a very tender-hearted person but to survive I have learned that I must appear fearless."
Rakini – a former nun, divorcee, domestic violence survivor and now union leader – has done a lot with her 42 years. She smashed cultural taboos and became a social pariah for choosing to leave her marriage and bring up her son as a single mother in a remote part of a deeply traditional and caste-bound state.
Now, in her role as president of the Tamil Nadu Textile and Common Labour Union (TTCU), Tamil Nadu's only female-led garment workers union, she has turned her attention to the multibillion-pound global fashion industry.
Such is her reputation locally that, despite her hair growing long again, her appearance is often enough to strike fear into the hearts of garment factory owners across the Dindigul district of Tamil Nadu where the TTCU is based. "When they see me, they turn pale and run inside," she laughs. "They tell their workers: 'Don't you be talking to her – she's trouble.' They try to shut their gates against me but I'll always find a way in if there are women inside that need our help."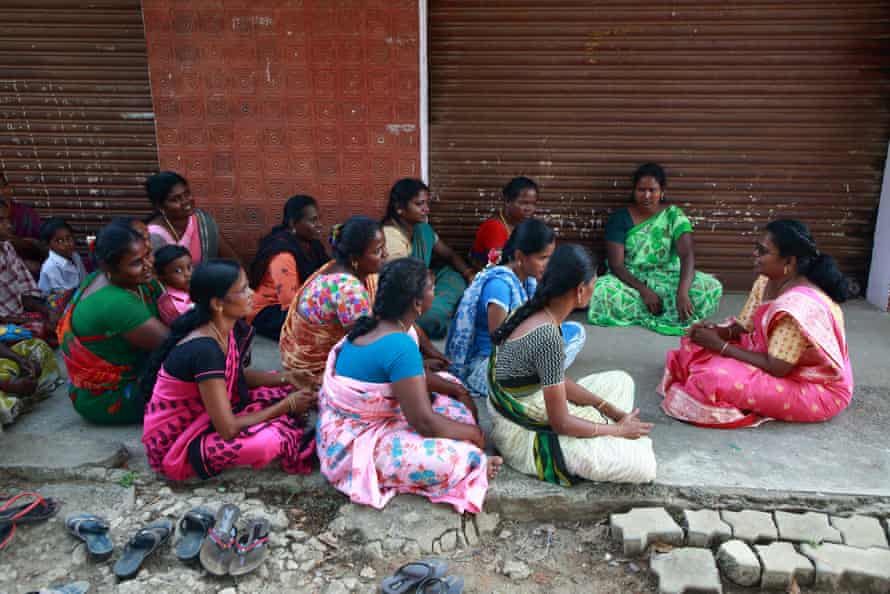 Since 2015, Rakini and the TTCU have been fighting what she describes as a "plague" of rape, harassment and sexual violence that has infested global garment supply chains and is being perpetrated on poor women making clothing destined for high streets across the UK.
"As a woman, everything I have done with my life is a source of shame to someone," she says. "But it has given me freedom to fight on issues such as gender-based violence that are still covered in silence and stigma. I am not afraid to take it out of the shadows and say: 'This is wrong.'"
Tamil Nadu, a major centre of Indian textile production, is one of the country's economic powerhouses and home to tens of thousands of garment factories and cotton mills. It is also notorious for the poor wages and bleak conditions imposed on its largely female workforce.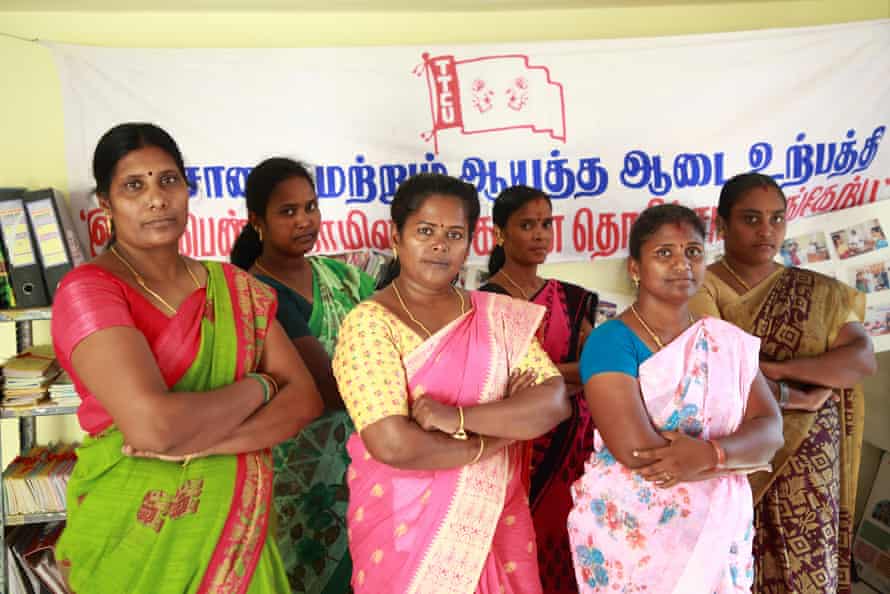 When Rakini joined the TTCU in 2014, it was a nascent organisation with just a few union leaders trying to help women organise and call for better conditions in their factories. She came on board to help deal with the huge levels of domestic violence that workers were facing. The union office soon become a makeshift shelter for women and their children who had nowhere else to go.
"At that time, we were blocked from most workplaces because many factories didn't allow workers to join unions and the unions that were active were all run by men," says Rakini. "Yet women suffering from domestic violence were also telling us about the terrible things they were experiencing in the workplace at the hands of their supervisors and male employees. So it became our mission to try and put a stop to this."
In her seven years at the TTCU, Rakini has seen enough to pour scorn on the insistence of many global fashion brands that they do everything in their power to protect the millions of poor black and brown women working in garment supply chains. "The truth is that sexual harassment, rape, even murder has become part and parcel of the lives of women working in garment factories in my district," she says. "International brands who buy from Tamil Nadu know very well that women in their supply chains are exploited to the core, they know the impact that their production targets and their poverty wages have on the workers' lives. Their auditors know their inspections are meaningless. Their whole system is a lie."
The TTCU began taking on cases of sexual harassment and abuse that none of the larger unions would touch. "In those factories, the women have no power. They are often the main breadwinners for their family and although their pay is meagre, they must keep their jobs at all costs. They feel they have to do whatever their bosses demand of them," Rakini explains. "When we first started going to the factories to complain, the management would just kick us out. They didn't care."
Just over a year ago, in February 2021, Rakini got a phone call from the family of a young garment worker called Jeyasre Kathiravel, who had failed to come home from her shift at Natchi Apparels, a local clothes factory supplying brands including H&M. Rakini says that she had already approached Natchi Apparels in 2019 after women complained about being sexually harassed, but had been told not to get involved in factory business.
After Kathiravel's disappearance, Rakini and the TTCU say they once again tried to approach Natchi Apparels, this time about Kathiravel's disappearance but were rebuffed. Four days later, her body was found in farmland close to her village.
Her supervisor at Natchi Apparels was arrested shortly afterwards and her grieving family claimed that he had been inflicting relentless sexual harassment and abuse on their daughter in the months leading up to her death, but that she had felt unable to stop what was happening. He has since confessed to her murder and is in jail awaiting trial.
In the weeks after the murder, despite threats and intimidation from the factory management, Rakini and the TTCU leaders spent weeks travelling between garment worker villages, taking testimonies from dozens of other women who said that they had been raped, coerced and intimidated into sexual relationships with their managers at Natchi Apparels.
At the time, the management at Natchi Apparels denied that there was any violence against female workers at its factory. It has since said that while it still disputes some of the claims, it has taken all the allegations seriously and as a result has "created systems, processes, and procedures to protect and promote the rights of female workers".
"It was a very painful time because the workers said that they were coming under a lot of pressure from the factory over Jeysare's death and they were scared of losing their jobs, yet they wanted to speak out about what they were experiencing as they were all terrified they would end up like her," says Rakini. "Asking women to tell their stories of gender-based violence is a big responsibility and we understood the risks that they were taking and the trust that they were putting in us."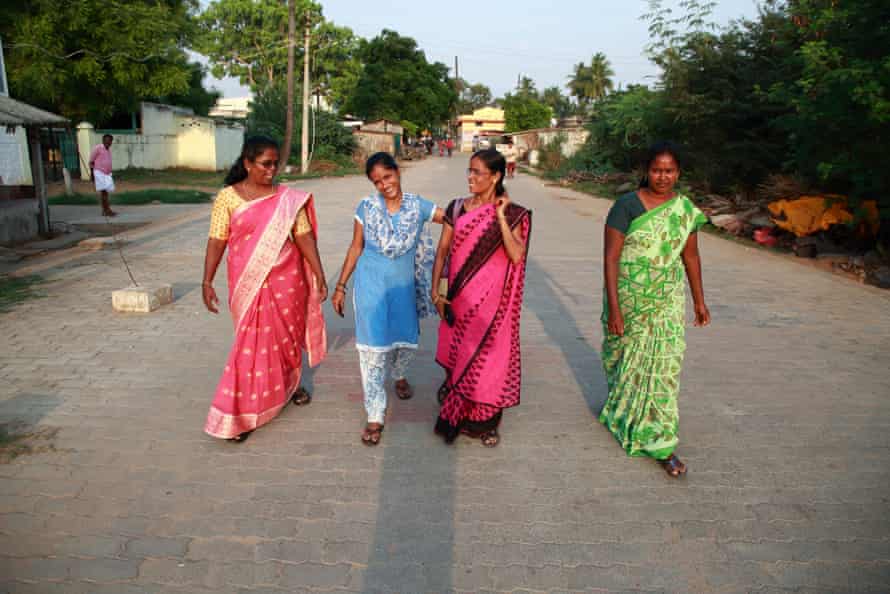 The sad truth, Rakini says, is that there is nothing particularly unusual about the levels or severity of sexual violence that were found at Natchi Apparels. She says that over the past five years, the TTCU has received dozens of reports of deaths, rape, physical assault and sexual harassment from workers at garment factories across the district. Yet the impact of the statements collected by Rakini and her TTCU colleagues in the weeks after Kathiravel's death has been immense.
As a result of those testimonies and an independent investigation into sexual violence at the factory, its client H&M agreed to enter into negotiations with the TTCU and international labour groups. The TTCU helped negotiate a series of agreements at Natchi Apparels with both H&M and Eastman Exports, the company that owns Natchi. Last month, a year after Kathiravel's death, a series of legally binding agreements that aim to eliminate all gender-based violence and harassment from the factory floor were signed.
"This is the first agreement of its kind in India and has the power to save women's lives," says Rakini. TTCU members will sit on the internal complaints committee and act as monitors on the factory floor, to supervise the supervisors and to help ensure a zero-tolerance approach to violence in the workplace.
Since the news of the agreement that has been reached at Natchi, the TTCU has been inundated with requests from women at other factories begging it to come to their aid. "This is just the start," she says.
Rakini's fearlessness in taking on the might of Tamil Nadu's garment industry is extraordinary considering the mafia-like hold that textile companies exert over garment-worker communities. She and her TTCU colleagues have faced death threats and harassment and she says that she was nearly driven off the road while riding her scooter, when investigating the disappearance of two workers from a cotton-spinning mill.
Yet she is undaunted. "In my own life, all my struggles I've faced alone," she says. "Now, at TTCU, for these women, I want to be the person I needed when I had nobody to turn to."
Rakini was born in a small rural village in Dindigul, in the south of Tamil Nadu. Her father was a brick kiln worker turned local entrepreneur who ran a biscuit factory out of their home. One of five daughters, she was the only one to get an education after she waged a campaign of attrition against her parents to be allowed to go to the local convent school.
"I greatly admired my father but we were all afraid of him," she says. "He was very strict and it was very unusual for daughters to be educated. All my sisters had left school by the time they were 10 so it was a struggle to convince him."
Rakini persevered, even going on hunger strike. When her father finally relented, he went around the community asking people to help raise money to pay her fees. She loved the routine and discipline of the convent school, as well as the faith and serenity of the nuns. When she was 18, she decided to join the religious order and spent seven years training to become a nun at the convent. Yet, one year before her training ended, she grew disillusioned with the order after witnessing her abbess turn away a desperate woman and her baby who came begging for help.
"I realised that I couldn't stay in a place where they would turn away the most vulnerable," she says. "I felt a duty to God and to my family, but a greater duty to that woman who came in desperation but was turned away."
When she left the order and tried to return home, her family turned against her. "My father said to my mother: 'I'll cut her into pieces,' because I had brought great shame on them," she says.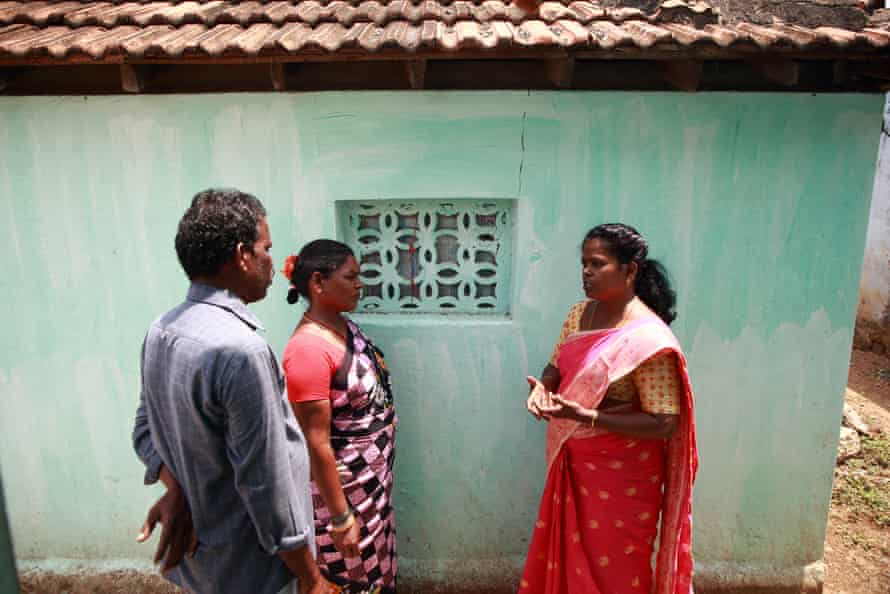 Rakini further enraged her community when she decided to marry a man without her family's permission. "It was unheard of for a woman to do such a thing. It was seen as a great insult to my family," she says. "After that, I wasn't a daughter to them any more."
She had a child but, soon after, she says her husband and his family started brutally beating her. "I hadn't brought a dowry so my mother-in-law said I was worthless," she says. She claims they poured boiling food over her and kicked her on the ground as her baby son lay beside her.
"One day, I just thought: 'They'll kill me and I have so much more living to do,'" she says. "I left the house and the next day I went to my son's creche and picked him up and we ran away. Since then, it has just been the two of us. Over the years we have faced great harassment and stigma, and I have struggled to support us both as a single mother, but I have never once regretted my decision. I am the only one that runs my own life."
Now, her goals as president of the TTCU are to extend the union's reach into more factories across the region and get other international brands buying from factories in Tamil Nadu to sign similar agreements as that now at place at Natchi Apparels. "We are a very small union, in a very remote area, far away from where most of the clothes our members make are sold. Yet we have shown what can be achieved if you act fearlessly in the face of oppression and refuse to be silenced," she says.
"I have known my own power my whole life. Now, I want other women to understand that they, too, deserve to live a life where they don't have to be scared. We are all human and our voices all deserve to be heard."
Xinjiang Police Files: Secret police files put a face to China's repression in Xinjiang: Child prisoners and 'shoot to kill' orders | International
China's extensive and brutal campaign of repression against Xinjiang's Uyghur Muslim minority is taking on a face for the first time. Tens of thousands of police files, photographs and official documents by senior officials of the Communist Party of China (CPC) to which EL PAÍS has had access offer unparalleled proof of the magnitude of the prison system established in China's far western region of Xinjiang and the paranoia that guides Beijing's policies against ethnic minorities. The investigation was led by Adrian Zenz, a German scholar and expert on the Xinjiang internment campaign, in collaboration with 14 media outlets from 11 countries.
Named the Xinjiang Police Files, the cache of secret documents makes it possible to identify thousands of inmates in so-called re-education centers built by China, including minors; to determine their internment status; and to show through images taken inside the facilities how officers practice detention, interrogation and abuse. The files also detail instructions for the police officers that are reminiscent of prison routines, and contain transcripts of public speeches by top leaders of the CPC in Xinjiang, among them the former regional secretary Chen Quanguo, showing support for the doctrine of maximum security against prisoners, and advising to open fire if a prisoner compromises the safety of the camp or tries to escape.
"Behind this systematic repression is the fear and paranoia expressed by [Chinese President] Xi Jinping about the resistance of the Uyghurs to the state's attempt to control them," said Zenz, Director and Senior Fellow in China Studies at the Foundation, in a telephone conversation with EL PAÍS. According to the study carried out by this academic, the confinement of Uyghurs in re-education camps is the "largest internment of a religious ethnic minority since the Holocaust." At least one million citizens, most of them Uyghurs, have been locked up in re-education camps scattered across the geography of Xinjiang, according to a figure that is widely agreed on by journalists, academics and the United Nations.
The Xinjiang Police Files have been obtained by an anonymous third party by hacking into computer systems operated by the Public Security Bureau (PSB), which has police functions, in the Xinjiang counties of Konasheher, located in Kashgar prefecture, and Tekes, in Ili Kazakh prefecture. This individual, who prefers not to be identified for security reasons, acted on their own initiative, without conditions or a mandate from any of the researchers involved in the project. The documents and images have been authenticated by this group of journalists, as well as the existence of three re-education centers from which the files were obtained, thanks to a geolocation process based on the photographs taken by the officers.
The prefecture of Kashgar, located in what is officially the Xinjiang Uyghur Autonomous Region, on the the border with Kazakhstan and Kyrgyzstan, is precisely one of the stops planned on the official trip initiated this Monday by the United Nations High Commissioner for Human Rights, former Chilean president Michelle Bachelet. Her visit to the re-education centers for Uyghurs, the majority ethnic group in this region of some 25 million inhabitants, was one of the fundamental demands made on Bachelet by human rights organizations. The Xi government first acknowledged the existence of these facilities in a white paper (a reference document that guides state policy) in October 2018. However, Beijing rejects the accusations about the repression of minorities in Xinjiang. and claims that these centers serve for the education and training of "students" who are free to move around. The regime calls these camps Vocational Skills Education and Training Centers.
12% of adults locked up
The Xinjiang Police Files show a very different reality. As an example, according to an analysis of thousands of police files in Konasheher (the records of the security services covers about 286,000 citizens, almost the entire population of this county), and based on the census in the 2017-2018 period, it emerges that at least 12.3% of the adult population suffered some type of internment in re-education centers, detention centers (for inmates awaiting sentencing), or prisons.
Asked about the contents of the leak, a spokesman for the Chinese Embassy in the United States, Liu Pengyu, stated in an email: "Xinjiang affairs are related, in essence, with the fight against violent terrorism, radicalization and separatism, not human rights or religion. Faced with the serious and complex anti-terrorism situation, Xinjiang has taken a series of decisive, solid and effective de-radicalization measures. As a result, Xinjiang has not seen any cases of violent terrorism for several years in a row."
On Tuesday, Chinese Foreign Ministry spokesperson Wang Wenbin described the information as "a new example of anti-Chinese forces trying to slander China," EL PAÍS correspondent Macarena Vidal Liy reported from Beijing. "It's just a repetition of an old trick. Spreading rumors and lies will not deceive the world or conceal the fact that Xinjiang enjoys stability and prosperity, and their residents enjoy safe, happy and fulfilling lives."
The Xinjiang Police Files contain, among other documents, 5,074 mug shots taken in police stations or confinement centers in Konasheher County between January 6 and July 25, 2018. This is one of the great contributions made by this research project to the study of Chinese repression. Of these photos, 4,989 have been attributed to an individual with detailed information on file. EL PAÍS has analyzed a final sample of 2,884 photographic records of detainees that have specific data attached from the files obtained from the PSB computer networks. The bulk of internees are under 30 years of age (69%), for a total of 2,001 citizens. Men also predominate: 2,490 (86%) compared to 394 women (14%). Among the inmates, there are people of all ages (between 15 and 73) and of all educational backgrounds (from those who never went to school to university students).
This investigation follows several others that since 2019 have tried to prove the magnitude of the systematic repression campaign carried out by China's communist regime against the Uyghurs, most of whom are Muslim. Xinjiang, which borders seven Central Asian countries to the west, is of special relevance to Beijing, first because it is a commercial crossroads on its revitalized Silk Road, and, secondly for security reasons: inner China is dominated – socially, politically and economically – by the majority Han ethnic group. This region, located in the eastern part of historic Turkestan, between the Caspian Sea and the Gobi desert, with a history and culture linked to the Turkic peoples, and differentiated facial features, has maintained a traditional desire for autonomy that Beijing has rejected and practically annihilated.
The relocation of Han citizens in an effort to change the demographics of Xinjiang led to heavy fighting in the late 2000s. One of the bloodiest episodes was the clash between Uyghur and Han ethnic groups in July 2009 in Urumqi, the region's capital, which ended with around 200 deaths. After several attacks by armed separatist groups, Xi gave the green light in May 2014 to the campaign called Hard Strike Against Violent Terrorism, in which the current repression throughout the region is framed.
The Uyghur citizen Abdurahman Hasan is one of the relatives who has confirmed the veracity of the police records by identifying his wife during an interview held in Istanbul (Turkey) with the British news channel BBC News, which is part of the media group behind this investigation. Hasan, a businessman from Kashgar who frequently traveled abroad, an activity that regularly arouses suspicion in Beijing, left Xinjiang in January 2017 amid a crackdown. In the summer of that year, his wife, Tunsagul Nurmemet, then 21, was arrested, along with Hasan's mother. According to her file, Nurmemet was convicted of "gathering a crowd to disrupt the social order, picking fights and causing trouble." "Her life revolved around her family and she didn't interact much with others," Hasan explained during the conversation in the Turkish city. "She only visited relatives, I don't know if she had many friends. She didn't have a big social network, so how was he able to gather a crowd?" Her sentence amounts to 16 years in prison.
The picture obtained from the Xinjiang Police Files shows an unrecognizable Nurmemet in relation to the ID photo available in databases of Uyghur victims of Chinese repression. According to the information that Hasan received in the summer of 2017, his wife and mother had been "taken off to study."
This version coincides with many others heard by overseas relatives. This was the case with a woman named Nursiman Abdureshid, 33, interviewed by EL PAÍS in Istanbul. Her relatives appear on police records in Kashgar prefecture. In the summer of 2017, Abdureshid, who had been living in Turkey for two years, learned through a call to relatives that her father and younger brother had been taken to an "education program." The eldest of her brothers had been locked up since 2016 for an alleged debt. They asked her not to call anymore, that her relatives were fine. In June 2020, Abdureshid managed to get the Chinese embassy in Turkey to confirm the sentences imposed on her family members, all exceeding a decade behind bars. "I asked about the reasons why they had been sentenced," Abdureshid recounted during the interview. "They told me that it was for 'disturbing the peace' and because they might have the intention of participating in terrorist activities." The woman's father had been a state official and a member of the CPC. She believes that her departure from Xinjiang, as well as her sister who lives in the US, may have triggered the repression against her family.
The Xinjiang police archives also contain dozens of photographs taken by authorities and security services in Tekes County, Illi Kazakh prefecture. Around 30 of these images, taken between April 2017 and September 2018, capture scenes inside the re-education center of that county. Contrary to what is publicly claimed by Beijing, the attitude of the officers inside the facilities, their weapons and the treatment of the inmates is far from what could be expected from a professional training center.
Handcuffs, hoods and the "tiger's chair"
The photographs show the inmates with hoods over their faces and their wrists handcuffed together when they are transferred from one place to another. There are officers with batons, who are usually of Uyghur ethnicity, while others – typically Han Chinese officers – carry assault rifles and riot gear. According to the photos from Tekes Detention Center, the inmates are interrogated in so-called "tiger chairs" – a steel chair with iron legs and handcuffs designed to restrain people, often in painful positions. These chairs are one of the many instruments of torture used against the Uyghurs, according to the NGO Human Rights Watch. Photographs from the police files confirm what was exposed in the 2019 leak of 400 pages of internal Chinese documents: inmates injected with unknown substances, forced to recite the rules of the camp and listen to the propaganda of local authorities.
It is estimated that one million people have passed through China's re-education centers, but this is likely to be a very conservative figure. The leak includes a transcript of a speech by China's Minister of Public Security Zhao Kezhi on June 15, 2018 In this speech, which is classified as "secret," Zhao warns that more than two million people in southern Xinjiang alone had been "severely influenced by the infiltration of extremist religious thought." These are two of the three "demons" on Beijing's axis of evil: terrorism, separatism and radical Islamism.
In the speech, Zhao celebrates the "success" of the "strike hard" and "de-extremification" campaigns in Xinjiang, and claims that 20,000 "terrorists" had been eliminated – without specifying how. This number is five times higher than what has been reported in the past 10 years.
The leak also contains transcripts of speeches delivered by then-Xinjiang Party Secretary Chen Quanguo. Chen is considered the mastermind of China's repression against the Uyghurs, and the man responsible for the spread of re-education centers, which have been growing in number since 2017. Before being appointed Xinjiang party secretary, Chen had made a name for himself in Beijing for his ruthless securitization of Tibet.
In a speech on May 28, 2017, the Communist leader describes the detention centers as "humane" because inmates have air conditioning, daily food rations and the possibility of receiving visitors. While an analysis of the documents from the 2019 leak suggests that most inmates were detained for a year, his 2017 speech indicates that this may not be the case. "If they leave," the transcript reads, "the problems come back immediately, this is the reality of Xinjiang."
Chen's rhetoric is even more aggressive in a 2018 address. The text advises guards to open fire on any inmate who tries to attack the center, stating: "kill first, report later."
His advice did not fall on deaf ears. Several documents in the leak indicate that his policy has become fundamental to policing Uyghur inmates. If a so-called "student" tries to escape, local authorities are advised to close the road and call for special forces. The document states that armed police may fire a warning shot. If the prisoner continues to flee, they have orders to "shoot to kill."
"The re-education camps," concludes Zenz, who has been sanctioned by the Beijing authorities for his influential research on Xinjiang, "are designed to the change the minds of the Uyghurs, their hearts, to break their loyalty to their culture, history, their Turkic heritage, including religious faith; to change all that, nip it in the bud and steer it towards the Communist Party of China."