Real Gabinete Portugués de Lectura: Brazil's most beautiful library goes viral | Culture
Mondays are the most popular time to visit the Real Gabinete Português de Leitura, or Royal Portuguese Cabinet of Reading, Brazil's great sanctuary of Portuguese books and culture, and one of the most beautiful libraries in the world, located in the heart of the sprawling coastal city of Rio de Janeiro. On Saturday, June 25, when most of Rio's other museums and cultural institutes were closed for the weekend, the Royal Cabinet saw an endless stream of visitors. Natural light filtering down through the skylight, dimly illuminating the reading room, with its towering walls of multicolored book spines — nearly 400,000 antique, leather-bound volumes in total. For decades, academics have treasured this spectacular library — the largest collection of Portuguese authors outside Portugal — as a place of quiet study. But in recent years, it has become an increasingly popular backdrop for photos and selfies, with crowds of visitors swarming the stately main hall to gaze up at the walls of books and pose for social media posts.
The Royal Cabinet was one of Rio's little-known cultural gems, until it went viral on Instagram and TikTok. As the institution's long-time coordinator, Orlando Inácio, explains: "It's an effect of social media. They come, take pictures, and make posts, then others see it and want to come too." The library's popularity first started to rise around the time that the 2014 World Cup and 2016 Olympic Games came to Rio, when Time magazine called the Cabinet the fourth most beautiful library in the world. Its fame has only grown since.
The new crowds of visitors coexist, often awkwardly, with the library's traditional denizens: scholars of Portuguese history, literature, and culture. A handful of researchers, seated at small tables, struggle to concentrate on their reading amid the thrum and bustle of tourists and locals immortalizing the moment with their smartphones. Anyone can borrow books, says librarian Sylvia Franca, but few lay readers visit the library for the content of its collection.
The history of the Royal Cabinet is similar to that of the country's other lusophone cultural institutions. It was founded 185 years ago by a group of roughly 40 Portuguese immigrants, only 15 years after Brazil gained its independence. "They created the library in 1837 to improve the cultural education of the Portuguese community in Rio, since most of those who came had no formal education," explains Francisco Gomes da Costa, the library's Portuguese-born president. "They would arrive alone, and then send for their wives and children. They also established literary lyceums to instruct immigrants in reading and writing, and founded relief houses to provide social assistance to the Portuguese immigrant community," says Da Costa, who himself crossed the Atlantic, alone, when he was only 17 years old, following in the footsteps of his uncle.
Teenagers in beach dresses and flip-flops, middle-aged couples in shorts, and families with baby strollers scramble to find vacant spots to strike a pose in front of the towering shelves of books, which span the breadth of Portuguese literature and include codices and manuscripts from the past several centuries.
Among the thousands of volumes are the library's prized gems: a first edition of Os Lusíadas, Luis de Camões's 1572 epic, purchased from the Jesuits; Ordenãçoes de Dom Manuel, published in 1521; and the original manuscript of Amor de Perdição, written by Camilo Castelo Branco in 1861.
For the vast majority, this is their first visit (and probably their last). Such is the case for 40-year-old French tourist Florent T. "I saw the photos on Instagram, and they were lovely," Florent says. "But it's even more beautiful in real life." Foreigner tourists mingle with Brazilian vacationers, along with visitors from Rio itself, many having travelled from the city's faraway outskirts. After learning about the library from a TikTok video, Lucas, an 18-year-old student, and his friends Kaylane and Maria Clara, took a train and an Uber all the way from Bangú, a neighborhood in Rio's West Zone.
Professor Marceli Braga, 41 and also from Rio, was familiar with the institution, but had never had seen the inside its majestic main room until now. "We never came before because it isn't usually open on weekends," she says. Journalist Bruno Barreto, 36, brought his mother, along with the rest of their family, to show them the setting for his new novel, titled A chave (The Key), which he describes as "a journey through time."
To a certain extent, the library's newfound fame has meant that many Cariocas — as Rio's locals are known — who had never seen the inside of the Royal Cabinet, or were not even aware they could visit such a cultural and architectural treasure free of charge, are now discovering its wonders for the first time. The library has stood in its current location since the building was first inaugurated in 1887 by Princess Isabel, in the waning years of the Brazilian Empire. "Even back then, it housed some 50,000 books," says Da Costa.
At first sight, many mistake the Royal Cabinet, with its imposing facade modeled after the Jerónimos Monastery in Lisbon, Portugal, for a church, and they make the sign of the cross before entering.
From the beginning, the library was designed to last: it was built to withstand Rio's hot and humid climate, as well as the potential for fire. This is in large part what gives the main reading room its unique personality — its ornate, Neo-Manueline style and atrium-like appearance. The building's framework and walls are made entirely of iron, and the shelving is built from jacaranda, a dense hardwood. The tragic 2018 fire that consumed the National Museum of Brazil — the country's oldest scientific institution, also located in Rio — is enough to give any cultural manager nightmares. That museum also received few visitors — fewer, at least, than the outpouring of grief in the aftermath of its destruction might lead one to believe. In its final year of operation before the fire, the National Museum had less visitors than the number of Brazilians who passed through the Louvre, in Paris.
Thanks to the many donations received and purchases made over the past nearly two centuries, the Royal Portuguese Cabinet of Reading now houses between 350,000 and 400,000 volumes. "We have to be pretty selective with our acquisitions," says Da Costa. The library includes works documenting the legacy of Marcelo Caetano, the prime minister of Portugal overthrown by the Carnation Revolution in 1974, who fled to Brazil, then under a dictatorship.
Portugal itself boasts one of the world's most beautiful historic bookstores: Livraria Lello, in the city of Porto. But as a colonial power, the country worked to keep its subjects in a state of complete ignorance for centuries. From the arrival of Pedro Alvares de Cabral to northeast South America in 1500, until the Portuguese royal family left Brazil in 1808, fleeing Napoleon's troops, books and printing were forbidden. They had to be smuggled into the colony. In fact, the colonial regime's aversion to education meant that it wasn't until the late 20th century that Brazil would open its first university.
The Royal Cabinet is also unique in that it has served as one of Portugal's "legal deposits," or national book repositories, for over a century — a privilege that, until recently, was shared with the former colony of Macao. Every year a shipment arrives with a copy of every book published in Brazil's former metropole. "They send us about 10 tons of books a year, by boat," says Da Costa. Portuguese translations of works by the likes of Thomas Piketty and Henry Kissinger sit on modern shelves housed in annexes that adjoin the library's main building.
The Royal Cabinet of Reading does not receive any support from the Portuguese or Brazilian governments. Rather, the institution pays its bills from the profits generated by its real estate holdings. "We don't have a lot of property, but what we have is quite good," says Da Costa, who previously served as the executive director of the Brazilian branch Banco de Santander, one of the largest banking institutions in the world. "Downtown is suffering right now, but it will recover soon enough," he says. Rio's historic center, home to hundreds of offices and businesses, is bustling on weekdays but almost deserted on Saturdays and Sundays, when the only people around are the city's homeless. That's why Brazil's most beautiful library is typically only open during business hours, from Monday to Friday.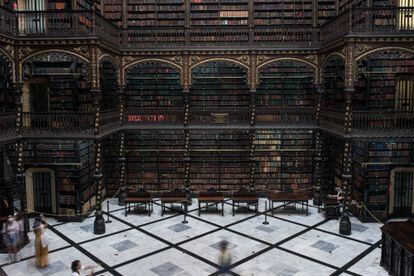 Music: Madonna has been scandalizing people for 40 years, and nobody's going to stop her | Culture
Madonna's Instagram account has a reputation as a playground for digital voyeurs. It doesn't disappoint, featuring Madonna crying; Madonna drunk; Madonna twerking with Maluma; Madonna filming her family performing a dance while cooking; Madonna kissing Britney Spears at Spears's wedding; Madonna flashing a boob; Madonna posing spread-eagle with the caption, "I have something for you."
The singer has relatively few followers (18.4 million) compared to stars from later generations like Beyoncé (273 million), but she offers better stimuli: the chance to see a pop star who has done everything – going above and beyond both morally and artistically – struggle not to become just another sympathetic character. Madonna has been part of the music world for 40 years and still no other pop star has proven to be more subversive and provocative than she is. Now, she's releasing a remix album summarizing her career, Finally Enough Love: 50 Number Ones (on sale August 19), turning 64 (August 16) and moving up the production of a film that tells her life story, the real one.
The singer's frenzied use of her Instagram perfectly symbolizes her career, which has been scrutinized around the world since she started in the music industry in 1982, at the age of 25. Surely, Madonna has suffered every type of harassment that a pop star can endure: sexual harassment, body criticism, machismo, classism; accusations of cultural appropriation and of being anti-religious, sacrilegious, unpatriotic, youth-obsessed; and claims that she's a heretic, an imposter for using playback in concerts, the financier of an alleged sect (Kabbalah)… Yes, she's always gone too far in everything; as a woman from the suburbs of Detroit, that has not been tolerated. In the 1980s, she burned crucifixes in her music video for Like a Prayer; in the 1990s, she published a book, Sex, that had the most explicit images of homosexuality and fetishism that a star had ever shown; in the 2000s, she passionately kissed Britney Spears at an awards gala with millions of people watching on television; and just recently on June 23, at a New York Pride celebration, she made out with her new friend, Tokisha, the 26-year-old Dominican woman we know from the songs she performs with Rosalía like "Linda" and "La Combi de Versace."
For a person who is so continually obsessed with attention, it must be frustrating for Madonna that she doesn't resonate with today's young people. Hence, her display with Tokisha and her desire to work with Kendrick Lamar, hip hop's biggest talent today, as she confessed a week ago on Jimmy Fallon's show. Madonna has one consolation: many teenagers today will also ignore the Beatles' significance entirely, although Paul McCartney probably doesn't care much about that anymore.
For 40 years, Madonna has been a thoughtful provocateur. Between provocations, she has recorded good albums with a limited voice. She herself has confessed that the biggest challenge of her career was preparing for the musical film Evita (1996); she had to work hard with the best singing coaches to bring her vocal abilities up to snuff. In four decades, she has released 14 albums, and at least five of them are essential listening. The first two (Madonna, 1983, and Like A Virgin, 1984) are full of gems that define 1980s dance pop. Songs like Holiday, Everybody, Lucky Star, Material Girl, Like a Virgin and Dress You Up are still exciting today, and they hold up equally well at the gym and in the club. Of course, Like a Prayer (1989), surely Madonna's best work, transcends the context of the 1980s to retain its appeal in
subsequent decades. In terms of lyrics, Ray of Light (1998) was one of her career's best. Her great avant-garde electronica work with producer William Orbit is both relaxed and festive. Finally, her reinvention with Confessions on a Dance Floor (2005) – done in collaboration with Stuart Price – gave 1970s/early 1980s disco music a facelift by updating it and making it more sophisticated. Through the present day, Madonna has been enormously influential; her imprint on Dua Lipa is the clearest example. She always knew that fame comes through a musical pastiche: taking a bit from here and a bit from there without being too obvious and then embellishing it with her own contributions.
Madonna has sold 250 million records and is the best-selling female artist in history, not bad for a girl who was born in a Detroit suburb, and whose world was shattered when she lost her mother at 6 years old. At the age of 20, she left for New York to do the opposite of what her strict father told her: she
became a model and was soon performing nude at punk joints like CBGB's. When she began to break through in music, she found herself in the spotlight and surrounded by male achievers, including Prince, Michael Jackson, Bruce Springsteen, Phil Collins, George Michael and U2. Of the 25 best-selling albums in the 1980s, when she began her career, only two women's work made the cut : Madonna (with Like a Virgin and True Blue) and Whitney Houston.
In this male-dominated context, Madonna used her own sexualization to craft her image and exert control. She was not a sexual amusement for the male audience; she was a powerful and defiant woman. Madonna grew up listening to Stevie Wonder, Diana Ross and other Motown artists, learned to play the drums with Elvis Costello's New Wave records, saw David Bowie as the first concert she attended, and had her first drink at the age of 30, following her divorce from actor Sean Penn. Restless and curious, she always sought the company of daring artists like Keith Haring and Jean-Michel Basquiat.
Soon, Madonna realized that she was living in a hostile environment that was not ready to tolerate an emancipated woman's success. In 1985, Playboy and Penthouse magazines published nude photographs that had been taken of her in 1979, when the singer was not yet famous and made her living posing naked for photographers. The publications took advantage of the singer's fame in the mid-1980s and sold the old images. Madonna took the incident as a warning. "That was the first time I was aware of saying 'Fuck you' with my attitude. You're trying to put me down because of this? I'm not going to let public opinion dictate my own feelings about myself. I'm not going to apologize for anything I've done," she told Rolling Stone magazine. In 2016, when Billboard magazine named her Woman of the Year, Madonna delivered a legendary speech against sexism, machismo, and misogyny: "If you're a girl, you have to play the game. You're allowed to be pretty and cute and sexy. But don't act too smart. Don't have an opinion that's out of line with the status quo. You are allowed to be objectified by men and dress like a slut, but don't own your sluttiness." She defiantly added that those who diminished her had made her tougher: "To the doubters
and naysayers and everyone who gave me hell and said I could not, that I would not or I must not — your resistance made me stronger, made me push harder, made me the fighter that I am today. It made me the woman that I am today. So thank you."
More than a pop star, Madonna is a concept. She stands for rebelliousness, indiscipline and fighting against the odds. That's why she is an LGTBI muse and a point of reference for those who came after her: Britney Spears, Katy Perry, Christina Aguilera, Rihanna, Miley Cyrus, Taylor Swift, Pink… and the current pop goddess, Beyoncé, who recently released a version of her single "Break My Soul" fused with Madonna's 1990 hit "Vogue." Beyonce thanked Madonna for her example in a note that the latter shared on social media: "I'm so grateful for you. You have opened so many doors for so many women. You are a masterpiece genius."
Emerging Spanish-language urban musicians also express their appreciation for Madonna. As the Argentine Ms Nina, who lives in Spain, put it: "She's an inspirational empowered woman. Now, our lyrics scandalize people, but she was much more radical in the 1980s. People criticize her now because she has surgery, because she is old…. Let's see how her critics are doing when they're 60 years old. They're never happy. But they're not going to intimidate her. I love her."
Indeed, no matter how many haters visit her Instagram, Madonna is not going to give up. In 2019, she released an album that passed muster with harsh critics. Madame X did not thrill people but she did convince them. "Oh, you're not allowed to make youthful, fun, sexy music if you're a certain age? That's a load of bollocks, to speak your language," she said in a 2019 interview with The Guardian about her recently released album. True to her commitment to the queer community, a few days ago she released Material Gworrllllllllllllll!, a collaboration with gay rapper Saucy Santana in which they remix her 1980s hit Material Girl.
Three weeks ago, the singer gave an interview to Variety, announcing that she will direct a movie about her life (Julia Garner will play her). She explained it this way: "It was also a preemptive strike because a lot of people were trying to make movies about me. Mostly misogynistic men. So I put my foot in the door and said, 'No one's going to tell my story, but me.'" As always, that's just Madonna being Madonna.
Perijasaurus lapaz: The incredible story of how a new dinosaur species was discovered in Colombia | Culture
About 175 million years ago, a herbivorous dinosaur with four thick legs, a tiny head and a very long neck and tail roamed the Serranía del Perijá mountain range in northern Colombia. This recently discovered species is the second dinosaur known to be of Colombian origin, and provides another clue to the evolutionary history of these prehistoric giants in South America.
"Can we say that we have a new Colombian dinosaur?" we ask. "Yes, definitely. This species does not seem to be related to dinosaurs that inhabited the tropics during the Early Jurassic Epoch," replies Aldo Rincón, a professor at the Universidad del Norte in Barranquilla (northern Colombia) and lead author of the recent study published in the Journal of Vertebrate Paleontology. "The main differences between this dinosaur and others can be seen in the preserved morphology of the vertebra." The team that studied the dinosaur and authored the article with Rincón includes paleontologist Jeffrey Wilson (University of Michigan, USA); museum curator Martín Ezcurra (Argentine Museum of Natural Sciences); geologist Harold Jiménez (Universidad EAFIT, Medellín, Colombia); and geologist Daniel Raad (Universidad del Norte, Baranquilla, Colombia).
The new dinosaur species is called Perijasaurus lapaz. "Perijá for the mountain range where the fossil was found and lapaz [the peace] to honor the 2016 peace agreement between the Colombian government and the FARC guerrillas," said Raad. The peace agreement allowed scientists to access the remote area long controlled by the guerrillas.
Rincón recalls how the research team stayed at a special training and reintegration zone for ex-guerrillas who now work in ecotourism. "I liked having the opportunity to visit the Serranía del Perijá after the peace accords. Unfortunately, scientists couldn't go there for many years," said Rincón.
Giant fossils instead of oil
The story of the discovery of Perijasaurus lapaz begins on March 27, 1943. A geologist with the Tropical Oil Company found a heavy and strange-looking bone that did not seem to belong to any native fauna. The fossil was unearthed near a road between the Cesar and Ranchería river basins in the Serranía de Perijá mountain range. Instead of oil, the geologist had found a spinal vertebra from a dinosaur, but didn't know it. He took the sediment-encrusted fossil to the United States and handed it over to the University of California, Berkeley. Twelve years later, a preliminary research study was published with the title "A sauropod dinosaur from Colombia" (Journal of Paleontology, 1955). The study did not identify the species, only that the fossil belonged to a sauropod – a long-necked herbivore – and gave no indication of the fossil's scientific significance. The fossil was then forgotten for decades.
In 2018, 75 years after the fossil was discovered, paleontologist Jeffrey Wilson obtained a Fulbright grant to study the fossil with Aldo Rincón and the other scientists. They cleaned the bone, removed the decades-old plaster and glue, and discovered parts of the vertebra that didn't seem to belong to a known species. "We were able to better visualize the delicate bony laminae that connected the spine, the intervertebral joints and the rib joints," said Wilson in a press release issued by the Universidad del Norte.
The scientists then made 3D prints of the fossil and created the three-dimensional model that can be viewed on the University of Michigan's Online Fossil Repository. But when the scientists discovered that the fossil had unique morphological features not seen in other species, they decided to try to pinpoint the location where the geologist had found the bone.
The old map
Back in 1943, the Tropical Oil Company geologists created a hand-drawn map showing the location and depth at which they found the fossil. "We created an overlay of a current map with the old map to identify the exact place where the vertebra was found," said Daniel Raad. "Then we erected a stratigraphic column at the site to identify the [geological] layer where the vertebra came from." The sediment that remained on the fossil helped them identify the right geological layer. "At the site, we found fragments of fossilized leaves and tree trunks, which indicates an environment with high preservation potential – in other words, where many fossils are likely to be found."
According to Raad, the fossilized vegetation found near the vertebra revealed that Perijasaurus lapaz "lived in a riparian [adjacent to a body of water] wooded area with low slopes." Raad and Rincón both highlighted the scientific importance of the finding – it's not every day that a new dinosaur species is discovered, especially in Colombia. The region's high heat and constant rain are difficult conditions for fossil preservation. In fact, when the large vertebra was discovered in 1943, it was the northernmost evidence of a sauropod in the Americas, the only one outside Patagonia, Argentina. Now, almost 80 years later, it still is.
"The importance of discovering a new genus and species in the tropics," said Rincón, "is that it allows us to better understand the origins of sauropods and their ancestors, traces of which have been found in Cretaceous period rocks in Argentina." Raad concurs, "The scientific relevance [of this discovery] is that that it helps us understand how these large dinosaurs evolved in the little explored tropics."
Summer fashion: The Bedouin lesson: a scientific study proves robes are the best garment to wear in the desert heat | Culture
This summer has brought a record-breaking heat wave worldwide. The high temperatures have remained for weeks at a time. Ongoing droughts have exacerbated the issue, as dry soil cannot contribute to temperature regulation through evaporation.
Changes in the flows of atmospheric currents, due to climate change, have sent the air of the African deserts up to the Iberian peninsula, turning half of Europe into an unbearable oven.
And some believe that this will be the coolest summer of our lives. So while governments, companies, NGOs and other social agents agree on how to remedy the effects of climate change, long-suffering citizens have to continue to carry out our usual activities. But how should we dress to maintain our dignity while doing so? Perhaps the key is to turn our attention to other cultures more accustomed to extreme heat.
Since this summer's exceptional heat comes partly from the African deserts, it seems like a good idea to look at the clothes of the inhabitants of those regions. Most striking about the traditional dress of desert peoples, such as the Bedouins and the Tuaregs, is that their clothes cover them almost completely, even resorting to dark colors. Their wardrobe may be counterintuitive, but it has a solid scientific basis.
As recounted in an article published in Nature, researchers Richard Taylor and Virginia Finch of Harvard University, and Amiram Shkolnik and Arieh Borut of the University of Tel Aviv, set out back in the 1980s to empirically test what type of clothing was best suited to the extreme heat of the desert.
To do this, they asked a volunteer to stand in the sun in the desert around noon wearing four different outfits: a black Bedouin robe, a white Bedouin robe, a brown military uniform, and finally, nothing but shorts. The researchers hypothesized that the Bedouin garments, which have been perfected over the centuries, would be more suitable for the heat, despite how counter-intuitive it may seem to Western eyes.
The volunteer carried out four 30-minute sessions, one with each outfit, in the Negev desert, in southern Israel. These were the results.
Uniform or suit
Western formal dress is completely impractical when it comes to dealing with the heat. Our body defends itself from high temperatures through sweat: its evaporation frees us of excess heat. But for this to occur quickly, we need as much air as possible to flow around our body. It goes without saying that a suit or a uniform almost completely prevents that airflow.
If, in addition, the suit or uniform is dark in color, its fabric absorbs the sun's heat, transmitting it directly to our body: the worst option on a hot day.
Shorts
Wearing very little or nothing at all is a better option. Our skin is in full contact with the outside air, allowing our sweat to evaporate and cooling us down. However, according to what environmental physiology and ergonomics professor George Havenith told NPR, this option also has serious problems.
Apart from the fact that going naked in public spaces is not allowed in many places, we do need to protect our skin from the sun to avoid burning. It is necessary to wear some protective clothing. Sunblock also as it influences the production of sweat and makes it difficult for it to evaporate. This option, therefore, should be ruled out.
White or black tunic
The results of the study by Taylor, Finch, Shkolnik and Borut were decisive: the wide tunics cooled the air around the volunteer's body, due to the tunics' movement with the wind and their wearer's movement. Its shape also produces a chimney effect, which makes the air rise, circulating between the fabric and the skin. The robes would even be cooler than going naked on a windless day, as they artificially produce airflow.
The authors also concluded that the typical Bedouin costume has the same effects whether it is black or white. The black color does absorb more heat, but it does not reach the skin, so the color of the fabric is not important. The thickness of the fabric of these garments also favors better absorption of temperature, preventing it from reaching the skin.
We may not need to immediately adopt Bedouin garments, but loose outfits will ease us on the hot days ahead of us.