Prehistoric art in Spain: The 27,000-year-old cave art found under graffiti in Spain's Basque Country | Culture
Diego Garate, doctor of prehistory at the University of Cantabria and a specialist in Paleolithic art, was surprised when he came across a 27,000-year-old painting of a bison a meter and a half long, hidden under graffiti, in one of the Aizpitarte caves in the Basque Country. The discovery of the artwork, obscured by the word "exit" and an arrow indicating the way out of the cave, took place in September 2015. Now, following years of research, investigators claim it indicates the existence of a shared artistic culture in ancient Europe.
According to Garate, the bison painting was found when he and a team of speleologists explored the cave in search of cave art. "We went through a small, very low arch about 50 centimeters high, that led into a passageway and when I raised my head I saw an impressive bison covered by graffiti on the rock," he says. "Its characteristics were similar to those of other bison found in at least 17 caves in different parts of the Iberian Peninsula and Central Europe." Garate and his team's research, which was published last week in the journal PLOS One, also includes studies of paintings found in three caves in the area of bison, horses and a bird in an artistic style previously unseen in the Iberian peninsula.
Garate began searching for Paleolithic paintings in Spain's Basque Country a decade ago. "Very little was known about the cave art in this region compared with neighboring areas such as Cantabria, which has the Altamira cave; or the central Pyrenees, which is full of decorated caves; or the French Dordogne, which is famous for its paintings of bison and mammoths," says Garate.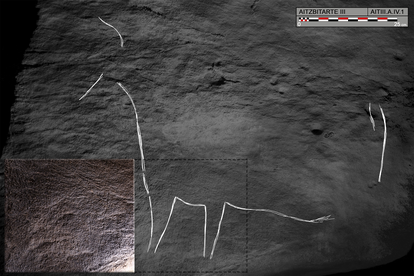 In the center of that geographical triangle is Basque Country, which then – like now – was a transit area for people crossing between the Iberian Peninsula and the rest of Europe. "It was paradoxical that there was so little cave art considering it was the only pass available to the men and women of that period," says Garate. In 2011, when he began his research, only six caves with artwork were recorded in the entire Basque Country. Now that number has risen to 28.
Manuel González Morales, a researcher at the International Institute of Prehistoric Research in Cantabria, says that Garate's work is "extraordinarily" significant both archaeologically and historically as it has revealed more locations containing Paleolithic art in an area that, until several years ago, appeared relatively empty of this kind of historical evidence. Beyond purely aesthetic considerations, González says these paintings represent "new examples of how underground spaces, including some difficult to access, were used for the development of artistic activity."
Garate claims that the discovery of the bison paintings in that region of Spain proves that its inhabitants exchanged ideas, shared graphic expressions and had similar and recurring motifs. "We have discovered that human groups in the area communicated with each other," says Garate. "For example, they used the same tools fashioned from bone to sculpt the stone. We found the remains of those tools in the same caves where we found the paintings."
The research also points to the existence of exchange networks rather than the same groups of humans moving or migrating from one place to another. "These bison are proof of what would be the first instance of globalization on a continental scale, from Central Europe to the Iberian Peninsula, something like the first European Union 27,000 years ago," says González, who adds that Garate's findings show that Upper Paleolithic hunter-gatherer groups made contact with other groups and exchanged technical and stylistic ideas.
One of the most notable features of these paintings is their perspective, which is very different from what we use today. "The type of art that was developed on the continent 27,000 years ago was expressionist," explains Garate. "The artists did not try to depict reality, but to offer their own interpretation of it." Consequently, the animals in these paintings appear disproportionate – their faces are grotesque while their legs and horns are two dimensional, like the art found in Egyptian temples.
Garate explains that the style of the paintings is difficult to appreciate today, not because the artists could not portray the subject of their art as they saw them, but because there was an established painting technique. "It gives us the feeling that the art was controlled; subject to rules imposed from a place of power," says Garate. "The artist would be more like a craftsman. Rather than doing what occurred to them, they could only do what they were ordered to do. It was a collective rather than an individual form of art."
But experts still don't know the purpose or meaning of these paintings. "There are multiple interpretations and perhaps there is more than one answer," Garate acknowledges. "We know that for 30,000 years, animals rather than plants, humans or stars were depicted. Over that period of time, there were several different human groups, but the art is limited to the same motif. We also know that they [the paintings] did not depict the animals that were hunted and eaten, which makes us think that these paintings have a very strong message, perhaps related to social cohesion; to that need to keep the group together in order to survive."
English version by Heather Galloway.
Shock in Germany after cashier shot dead in Covid mask row
The killing on Saturday evening in the western town of Idar-Oberstein, Rhineland-Palatinate, is believed to be the first in Germany linked to the government's coronavirus rules.
The row started when the cashier, a student, told the customer to put on a face mask, as required in all German shops. After a brief argument, the man left.
The suspect then returned about an hour and a half later, this time wearing a mask. But as he brought his six-pack of beer to the till, he took off the mask and another discussion ensued.
"The perpetrator then pulled out a revolver and shot him straight in the head," prosecutor Kai Fuhrmann told reporters on Monday.
The suspect, a 49-year-old German man, walked to a police station the following day to turn himself in. He was arrested and has confessed to the murder.
He told police he felt "cornered" by the coronavirus measures, which he perceived as an "ever-growing infringement on his rights" and he had seen "no other way out", Fuhrmann said.
Idar-Oberstein mayor Frank Fruehauf called it "an unfathomable, terrible act", and residents have laid flowers and candles outside the petrol station.
The murder comes just days before Germans head to the polls for a general election on September 26 that will see Chancellor Angela Merkel bow out of politics after 16 years.
Katrin Goering-Eckardt, the parliamentary leader of the Green party, tweeted that she was "deeply shaken" by the killing, which she said was "the cruel result of hatred".
Agriculture Minister Julia Kloeckner from Merkel's centre-right CDU party, who hails from the region, said the murder was "shocking".
The Tagesspiegel newspaper said far-right chat groups on Telegram were applauding the murder, with one user writing "Here we go!!!" while others posted thumbs-up emojis.
Germany has seen repeated protests from anti-mask demonstrators throughout the pandemic, some of them attracting tens of thousands of people.
The Querdenker (Lateral Thinkers) movement has emerged as the loudest voice against the government's coronavirus curbs and regulations. Its marches have drawn a wide mix of people, including vaccine sceptics, neo-Nazis and members of Germany's far-right AfD party.
Remains found in Dublin adds intrigue to search for Robert Emmet's grave
Skeletal remains have been found at one of the locations identified as a possible last resting place of Robert Emmet who was executed on this day in 1803.
The remains were found during an excavation at the back of St Paul's Church in Stoneybatter in Dublin.
The disappearance of the body of Robert Emmet is one of the great mysteries of Irish history.
Emmet was tried and then hanged for instigating the ill-fated 1803 rebellion. He became a symbol of Irish martyrdom for his speech from the dock in which he concluded: "Let them and me rest in obscurity and peace, and my name remain uninscribed, until other times and other men can do justice to my character. When my country takes her place among the nations of the earth, then, and not till then, let my epitaph be written."
After he was publicly hanged outside St Catherine's Church in Thomas Street on September 20th, 1803, his head was displayed to the crowd by the hangman Thomas Galvin. The remains of Emmet's body was taken to Bully's Acre in the grounds of what is now the Royal Hospital Kilmainham and buried there.
When some of his friends went to reintern his remains from Bully's Acre to St Michan's Church in Church Street, a church associated with the United Irishmen, they found there was no body there, and so began a search which endures to this day.
His great-nephew Dr Thomas Addis Emmet requested an archaeological dig at the family vault in St Peter's Church in Aungier Street to mark the centenary of Emmet's death in 1903, but that proved to be unsuccessful.
Speculation
St Paul's Church is another contender in the saga of Emmet's remains. It was the parish church of Kilmainham Gaol's doctor and effective governor Dr Edward Trevor.
In his book In the Footsteps of Robert Emmet, JJ Reynolds speculated that Trevor removed Emmet's body and put it in an unmarked grave in the grounds of St Paul's Church. This was to ensure that his grave would not become a shrine for Irish nationalism.
The church, which was the venue for the consecration of the philosopher George Berkeley as Bishop of Cloyne in 1734, has been converted into the Spade Enterprise Centre, a not-for-profit social enterprise unit.
The land where the skeletal remains were found is being turned into a shared kitchen for small business enterprises in the area.
Archaeologist Franc Miles said burials in the grounds were from 1702 to the 1860s. A extant set of burial records remain, but Emmet, if he really is buried there, would have no record.
Previous exhumations were carried out when the graveyard was closed in 1860s to make way for a school on the site.
"With all the evacuations, we were left with bits and pieces of body. There weren't many full skeletons," he said.
Mr Miles said it all the gravemarkers and stones were removed in the 1860s "so all you are left with really are bones."
Mr Miles said it would be difficult if not impossible to identify Emmet's remains even if they are buried in the grounds of St Paul's Church.
His own "educated guess" is that Emmet's body is still buried somewhere in Bully's Acre.
As many of his supporters have said over the last two centuries: "Do not look for him. His grave is Ireland."
How the cost of renting an apartment in Copenhagen compares to other cities in Denmark