Portofino mayor offers residents €400 to offset energy bills
And with far-right leader Giorgia Meloni promising to abolish a poverty relief scheme if she wins Sunday's general elections, he fears things will only get worse.
"There will be a flood of people here," he warned as he handed out food at the San Francesco kitchen, not far from Salerno's palm-lined seafront, south of Naples.
The eurozone's third largest economy is suffering a cost-of-living crisis exacerbated by Russia's war in Ukraine.
READ ALSO: Soaring energy prices push Italy's inflation to 37-year high
But as usual it is Italy's south, long plagued by poverty and unemployment which feels it hardest.
"I pay rent, the electricity bill, and then I've got nothing left for food," said 60-year-old Antonio Mela, a former barman who lives with his brother on a 500-euro state pension.
"Everyone is struggling here," he told AFP, as he took servings of pasta, pork and potatoes, and fruit.
Energy is a major concern in a country reliant on Russian gas, particularly here, in the Campania region.
According to the Italian Poverty Observatory, the region has the greatest number of people struggling to pay electricity and gas bills.
EXPLAINED: How much are energy bills rising in Italy?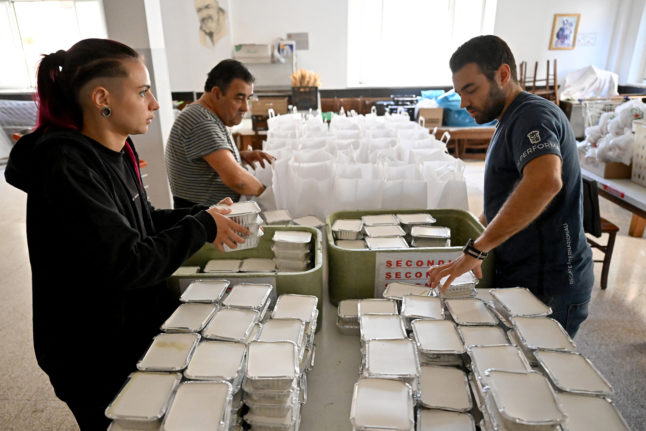 Volunteers prepare food at Mario Conte's San Francesco soup kitchen on September 20, 2022 in Salerno. Photo by Alberto PIZZOLI / AFP.
– Citizens' income –
Rocco Papa, a spokesman for the Catholic Caritas charity which helps run the kitchen, said there was a "chronic" lack of work in Salerno, where one in 13 people are at risk of extreme poverty.
"The bringing together of many factors, the pandemic, the war, has seriously aggravated the situation," he said.
While this is a familiar story across Europe, Italy, with its low-skilled and rapidly ageing population, is unique.
It was the only EU country where inflation-adjusted wages fell between 1990 and 2020, according to the Organisation for Economic Cooperation and Development (OECD).
EXPLAINED: What is Italy doing to cut the rising cost of living?
It is also one of just six EU countries without a national minimum wage, having instead, since 2019, the so-called "citizens' income".
Nearly 2.5 million people claim this benefit for the jobless, which works out on average at 550 euros a month, costing the state 8.3 billion euros this year.
The majority – 1.7 million people – live on Italy's islands or in the south, a region with a large shadow economy and where 10 percent of households live in absolute poverty.
But the benefit has been targeted by fraudsters, and some employers say it makes it impossible for them to find staff. They accuse young people of preferring to pocket easy money for sitting at home.
These payments have become one of the electoral campaign's most divisive issues, to the point that Meloni's far-right Brothers of Italy party, which led the last opinion polls, has vowed to ditch the scheme outright.
READ ALSO: Italian elections: The main campaign pledges made by Italy's political parties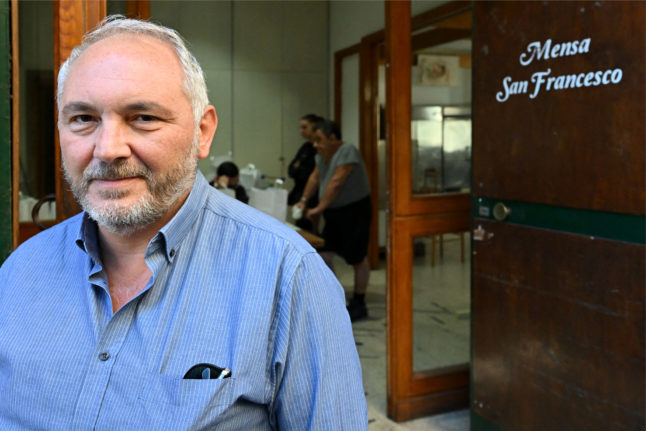 – War on poverty –
"The citizens' income helped hugely," 70-year-old Conte said. For a while, many guests stopped coming.
Rising prices have brought new faces to his door, however: from divorced dads to struggling carers, whose badly paid, off-the-books work is no longer enough.
The number of people using soup kitchens in Salerno has doubled over the past few months, while a Caritas-run canteen in Castellammare outside Naples has seen a three-fold increase.
Conte feeds an extra 10 families with young children each morning.
This benefit was the brainchild of the populist Five Star Movement, which swept to power four years ago after winning big in the south.
Now trailing the right in the polls, Five Star has vowed to make the income "more efficient", to bring in a minimum wage and to tackle the gender pay-gap.
The centre-left Democratic Party (PD) also wants to keep a reformed version of the benefit. It has pledged similar other anti-poverty measures as well as with 500,000 new council houses and free school meals.
READ ALSO: Italy plans to scrap VAT on bread and pasta amid cost of living crisis
– Favouring jobs –
But for Meloni, the citizens' income is not the solution.
Poverty, she told a rally in Palermo, Sicily this week, "is fought by favouring growth and jobs".
She proposes instead a benefit for those most at risk: disabled people, the over 60s, and struggling families with small children.
Her right-wing coalition, which brings together the anti-immigrant League and right-wing Forza Italia, has also promised tax cuts to boost growth.
The last available polls suggest Five Star and the Democratic Party's support for the citizens' income may once again be winning votes in the south – although not everyone here backs it.
"Young people have to work," said Mela, as he collected his food from the San Francesco kitchen. "It should be for families, not 30-year-olds.
"And they have to check who's cheating and who's not."
Jennifer Lopez thought she was 'going to die' after her breakup with Ben Affleck | Culture
The story of Jennifer Lopez, 53, and Ben Affleck, 50, is still providing new twists and turns after more than 20 years. When it seemed that one of the most famous couples in Hollywood had made as many headlines as possible with their reconciliation and subsequent marriage, the singer has made the news again by sharing more details about how they got together in 2002 and why they broke up two years later.
Reflecting on their relationship, Lopez said that it wasn't a case of love at first sight. "I think what happened is, as we worked together, we became such good friends," she said in an interview with Apple Music. The two met while filming the movie Gigli (2002), but at the time, Lopez was married to choreographer Chris Judd. The chemistry between the two, however, was undeniable. "We realized that we were crazy about each other […] It's like you just knew it. It's just like, 'This is the person I want to be with.' And that happened over a period of months."
And then, from one day to the next, it was over. "It was so painful after we broke up. Once we called off that wedding 20 years ago, it was the biggest heartbreak of my life. I honestly felt like I was going to die," she said. In the interview, Lopez said she even stopped performing songs inspired by their relationship because it was too painful. "It was a part of me then that I had to put away to move on and survive. It was a survival tactic, for sure."
"It sent me on a spiral for the next 18 years where I just couldn't get it right," she continued. "But now, 20 years later, it does have a happy ending."
During their separation, Lopez starred in dozens of movies, performed at hundreds of concerts (including the Super Bowl halftime show) and found love with singer Marc Anthony (with whom she has two children) and former baseball player Alex Rodriguez, with whom she was briefly engaged.
In April 2021, Lopez and Affleck confirmed they were back together after the singer broke up with Alex Rodríguez, and Affleck ended his relationship with actress Ana de Armas. A year later, the two were engaged and just a month later they were married in Las Vegas. Another month after that, they held a three-day wedding with friends and family.
Last Friday, Lopez announced she will be releasing a new album, This is Me… Now, on the 20th anniversary of her 2002 record This is Me… Then. The focus of the new album is love, she said. "We captured me at this moment in time when I was reunited with the love of my life and we decided we were going to be together forever. The whole message of the album then is this love exists. This is a real love," she said. "If you have, like me at times, lost hope, almost given up, don't. Because true love does exist and some things do last forever and that's real."
"I want to put that message out into the world and that does take a lot of vulnerability," she continued. "But I couldn't stop myself and some parts of it scare me. And I think parts of it scare Ben too. He's like, 'Oh, do you really want to say all this stuff?' And I'm like, 'I don't know how else to do it, baby.'"
Unko Museum: Tokyo opens first poop museum to explore a taboo topic among Japanese youth | Culture
Among the many synonyms for excrement that exist in the Japanese language, the founders of the Tokyo Unko Museum chose the most candid one, unko, to name an irreverent space designed for female Instagram users. "My goal was for poop to stop being a taboo subject for young girls," explains its creator, Masaru Kobayashi.
With Japanese influencers in mind, Kobayashi filled the museum's rooms with toilets and poop-shaped pieces in shades of turquoise, fuchsia and lemon yellow. The colors follow the palette of the Japanese kawaii aesthetic, which combines the cutesy and the grotesque. Kobayashi explains that, far from being a cultural fad, kawaii is a natural extension of traditional Japanese culture. "At the pinnacle of world-famous kawaii culture is poop, a fragile material that disappears down the drain shortly after being brought into this world," reads a sign at the museum entrance.
To revive the scatological enthusiasm of childhood, visitors are welcomed into a room equipped with nine colorful toilets, whose arrangement evokes the communal toilets of ancient Rome. A museum guide invites them to sit down, clench their fists and, after counting one-two-three, imagine that they are releasing a symbolic dump. When they get up, they find in their respective receptacles pieces of plastic poop, which resemble the poop emoji in striking pastel colors.
There are neon signs with the word poop written in 16 languages. A tearoom serves huge cakes topped with golden feces. Another room features colorful droppings that move when stroked like furry animals. Video games include flying poops. On small toilet-shaped blackboards hung on the wall, visitors are invited to make their own poop drawings.
Although there is a Japanese term for museum, Kobayashi chose the English "museum" to describe a thematic venue whose sole function is to create entertaining environments. Instagram is full of photographs of absurd and witty scenes from the exhibits: couples play-acting, sitting on separate toilets, young parents with blue poop on their heads, or the typical tourist photo featuring a huge illuminated poop. Kobayashi confesses that at first he feared that the unusual concept would be rejected. He felt better when older people started to visit, many of whom saw a generational change in the fact that young girls were openly talking about poop.
In the past three years, Kobayashi has created six such museums across Japan. He has received invitations to open another in Singapore and is in talks with several Asian countries where the subject of human poop lacks the taboo it has historically had in the West.
Classics authors in Japanese literature, such as Natsume Soseki, coined memorable phrases about poop's "physiological pleasures," and Junichiro Tanizaki devoted a long passage from his well-known essay Praise of the Shadow to the traditional toilet set in the middle of a garden, which is where "poets of all times have found abundant material for their haikus."
Many Japanese children learn to write the complicated characters of their language with a series of popular books called Poop Exercises, which contain more than 3,000 humorous phrases related to the subject. For 17 years, Toto, which manufactures high-tech toilets, has held a poetry contest inspired by the subject in the senryu style, which consiss of a short humorous poem and is a relative of the haiku.
For Kobayashi, the evolution of the museum's audience is apparent in their gradual migration from Instagram to TikTok. His intention, he says, is to continue creating playful spaces that provide moments of relaxation to contrast with typically Japanese solemnity. His next project is a railway museum where, unlike the rigorous Japanese rail schedules, no trains arrive on time.
The medieval monks who forged a nobleman's will to appropriate a valuable church | Culture
The monks of the San Pedro de Cardeña monastery, in Spain's Burgos province, had long had their eye on the Santa María de Cuevas de Provanco church in Segovia. But the substantial inheritance that the Count of Castile, Asur Fernández, and his wife Guntroda, bequeathed them made no mention of this Romanesque church surrounded by beautiful vineyards.
Such was the ambition of the monastery to own the church that two hundred years after the death of the Count, they forged the parchment on which his will was written. Their only mistake was an omission to remove all the copies of the authentic will. Now, the Spanish National Research Council (CSIC) and the University of Burgos have been able to demonstrate that the fraudulent document, considered until now to be the oldest of those kept in the Historical Nobility Archive in Toledo, is in fact a forgery from the 12th century, and not from the year 943, as it claims.
The document faked by the monks – officially known as OSUNA, CP.37, D.9 – is a parchment on which round Visigothic script records a donation from the Count of Castile to the monastery of San Pedro de Cardeña. Until now, the document was thought to be somewhat unique as hardly any original documents from the 10th century survive in Castilian Spanish. However, research has shown that it was actually drawn up two centuries later.
The research, to be made public shortly in the Medieval Studies Annual Report, has revealed which procedures were employed to doctor the will, as well as the motives that led the monks to do so. The forgers based their work on an authentic document stipulating a donation from the Count, inserting elements that were not in the original, in order to use it as evidence in potential lawsuits, two of which were subsequently filed and won by the monks.
The analysis of the document, carried out by Sonia Serna from the University of Burgos, has exposed anomalies both in its preparation and its writing. Serna explains that the scribe was accustomed to working with the 12th century Carolinian script, and made an effort to imitate the round Visigothic script typical of 10th century Castile. But anachronistic features crept into his work, such as the use of the Carolinian system of abbreviations and the adoption of anomalous solutions to abbreviate some words, elements that would not have existed in the 10th century. All the same, the forgery proved effective enough to win two court cases.
The forged document included a clause that ceded the church to the Burgos monastery
The original document used by the monk as a model for his forgery was lost. However, a copy survived in the collection of charters, known as Becerro Gótico de Cardeña and kept in the Zabálburu Library in Madrid. By comparing both texts, Julio Escalona from the CSIC History Institute verified that the monk copied the wording and appearance of the authentic will, but inserted a clause assigning the church of Santa María de Cuevas de Provanco to the monastery of San Pedro.
In 1175, the church of Santa María de las Cuevas was the subject of litigation between the monastery of San Pedro and the councils of Peñafiel and Castrillo de Duero. The Burgos monastery finally won by presenting the false parchment document and getting two monks to testify its authenticity. According to the experts, that document was the will filed in the Toledo archive, whose anomalous paleographic features are consistent with an elaboration in the second half of the 12th century, taking the original as a model.
"Its value does not lie in the anecdotal fact of its being or not being the oldest document in the archive [as was believed until now], but in showing how technical skills and moral and religious authority combined in this case to build a credible truth, capable of triumphing in a judicial scenario," states the CSIC and University of Burgos study. "Ultimately, it reminds us that to fully understand any historical period, it is essential to understand how each period rewrites and manipulates its past."
The monastery of San Pedro de Cardeña, where the forgery was made, was completely plundered by the Napoleonic troops during the invasion of the Iberian Peninsula in 1808. The monks fled in terror and had to abandon all the treasures they had been guarding for centuries. One of the desecrated tombs was that of El Cid – or Rodrigo Díaz de Vivar, with Napoleon's soldiers selling off his weapons and remains throughout Europe. They even made engravings reflecting the plundering of the tomb of the legendary warrior. Today, a plaque states that although the remains of the Castilian hero are no longer here, his horse is buried in the monastery's garden, though this may be no more than a myth.