Poles march against abortion ban after pregnant woman's death | Poland
"Her heart was beating too," thousands of protesters across Poland chanted on Saturday during demonstrations sparked by the death of a pregnant 30-year-old woman in hospital. Her family say that the hospital staff refused her life-saving health care because they were afraid of breaking the country's strict abortion law.
Demonstrators were joined by senior opposition politicians, including Donald Tusk, the former president of the European Council.
"For now, because of the abortion law, I have to stay in bed and they can't do anything," Izabela – whose surname has not been made public– wrote in a text message to her mother after being admitted to a hospital in Pszczyna, south-western Poland. "Alternatively, they will wait for the baby to die or for something to start happening. If it doesn't, then great, I can expect sepsis."
She died the next morning at 4am. The consultant responsible for Izabela told her husband the death was caused by a pulmonary embolism, adding that "sometimes it happens", the lawyer representing Izabela's family, Jolanta Budzowska, told the Guardian. However, the initial autopsy found that the woman died of septic shock.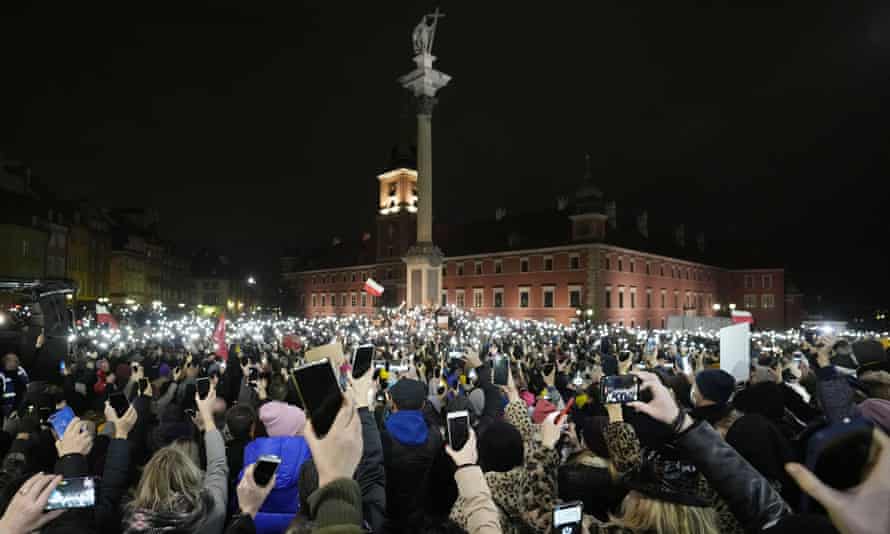 Izabela died on 22 September but her death was made public by the family last week, sparking controversy and protests across Poland.
"Following the tightening of the abortion law in Poland due to the 2020 ruling of the constitutional tribunal, there remains only one ground for an abortion which would have applied in this case: endangerment of the life or health of the mother," Budzowska said. "However, it is hard for the doctors to apply this in practice. They do not know if they make the right decision when this real danger occurs. If they carry out an abortion too early and the prosecutors then decide that there was no danger to the mother, they can face up to three years in prison."
"I can still hear her words to this day, that she wants to live, that she doesn't want to die, that she has people to live for," a woman who shared the hospital room with Izabela told the Polish TV station TVN.
According to the woman, whose name was not revealed, the hospital staff refused to induce a birth or perform a C-section before Izabela's foetus died. "She felt that something was not right. But they kept telling her that the heart is beating, and that as long as the heart is beating this is the way it must be," she said in a televised interview.
Due to Covid restrictions, Izabela was not accompanied to hospital by friends or family when her waters broke in the 22nd week of pregnancy. She kept in touch with her loved ones via WhatsApp. The series of increasingly desperate messages Izabela sent to her mother the day before her death been admitted as evidence to the regional prosecutors in Katowice, who are investigating the case for potential criminal medical malpractice.
A spokesperson for the hospital has said that Izabela was "under constant medical care" and that she received treatment from the moment she was admitted. "These are their procedures. The woman is like an incubator and the baby is suffering too, it has nothing to breathe with," Izabela texted her mother in the afternoon before her death. "I am lying and waiting, either something happens or I will die."
Although prenatal tests showed that the foetus was at a high risk of several abnormalities, her family say that Izabela was determined to carry the pregnancy to term and was not considering an abortion.
According to abortion legislation in Poland, it is not illegal for a person to have an abortion up until the 22nd week of pregnancy by, for example, self-administering abortion pills sent from abroad. There are several non-profit organisations, such as Aborcyjny Dream Team, that help pregnant people secure such medication. Many clinics in the Czech Republic and Slovakia – not far from Izabela's home town – also cater specifically to Poles seeking the procedure.
Although performing an illegal abortion on someone else, as well as helping to arrange one, can be punished by up to three years in prison, few people have served time for such crimes, despite the considerable restrictions that have applied to the procedure over the last 20 years.
But a new bill that would treat illegal abortions as equal to murder, and therefore punishable with life imprisonment, has been introduced to parliament via a citizen's motion.
An Aborcyjny Dream Team activist has been charged with aiding an illegal abortion, after a man notified prosecutors that his wife received abortion pills in the post. This was the first time that an activist from the organisation, which has been active since 2016, has faced criminal charges.
Budzowska said that Izabela's family would like to see changes made to the abortion legislation, "so that women will not have to die due to the legal doubts of the doctors".
Izabela, who has been described by her friends as "strong and determined", is survived by her husband and a nine-year-old daughter, as well as her mother and brother.
Belgium might close schools and cultural activities
Today, Friday, Belgian governments are meeting again in order to decide on new Covid measures in order to stop the spreading of the virus as numbers are spiking. This time the concertation committee is gathering on the request of the Flemish minister-president Jan Jambon who suggested to close down all indoor events, including all concerts and theatre productions. The closing of schools is also on the agenda.
El Salvador 'responsible for death of woman jailed after miscarriage' | Global development
The Inter-American court of human rights has ruled that El Salvador was responsible for the death of Manuela, a woman who was jailed in 2008 for killing her baby when she suffered a miscarriage.
The court has ordered the Central American country to reform its draconian policies on reproductive health.
The decision on Tuesday marked the first time an international court has ruled on El Salvador's extreme abortion laws and was celebrated by women's rights activists, who believe it could open doors for change across the region.
Since 1998, abortion in El Salvador has been banned without exception, even in cases of rape and incest. Over the past two decades, more than 180 women have been jailed for murder for having an abortion after suffering obstetric emergencies, according to rights groups.
The case of Manuela v El Salvador was brought after the 33-year-old mother of two from the countryside died from cancer after receiving inadequate medical diagnosis and treatment, leaving her two children orphaned. She had been serving a 30-year prison sentence for aggravated homicide after a miscarriage.
When Manuela – whose full name has never been made public in El Salvador – went to the hospital after miscarrying, staff failed to provide her with timely treatment and instead subjected her to verbal abuse and accused her of having an abortion, according to the Center for Reproductive Rights. Manuela was handcuffed to her bed and denied access to a lawyer while police interrogated her.
"There is no doubt that Manuela suffered an obstetric emergency," the landmark court ruling stated. "Such situations, as they are medical conditions, cannot lead to a criminal sanction."
The court also ruled that the state must pay reparations to Manuela's family, and should develop comprehensive sexual education policies and guarantee doctor-patient confidentiality.
"The Inter-American court has done justice by recognising Manuela was another victim of an unjust legal context that originates in the absolute prohibition of abortion," said Morena Herrera, at the Feminist Collective for Local Development, one of the parties in the case supporting Manuela's family.
"Manuela's story is a sad one, but it represents a change and becomes a path of justice and hope for all women in Latin America and the Caribbean who are criminalised for obstetric events."
Most countries in the region respect the Inter-American court's jurisdiction, opening the door for sweeping change, activists said.
"This is a huge advance for reproductive rights, not only in El Salvador but across Latin America," said Catalina Martínez Coral, regional director for Latin America and the Caribbean at the Center for Reproductive Rights, another party in the case. "This is a standard we can apply to the constitutions and states across the region."
Martínez Coral added that while the ruling was to be celebrated, the issue of poverty affecting access to reproductive rights remained a challenge.
"There are over 180 cases of women in jail, or that have been jailed, over these issues," said Martínez Coral, who also worked as a litigator on the case against the Salvadorean state.
"What that means is we're dealing with a state that criminalises women and, above all, criminalises poor women in the most rural and impoverished areas," she said.
EU commission unveils proposal to digitalise justice systems
The European Commission unveiled on Wednesday a proposal to digitalise EU cross-border justice systems, aiming at making them more accessible and effective. Under the new draft law, the EU executive wants to tackle inefficiencies affecting cross-border judicial cooperation and barriers to access to justice in cross-border cases. Shifting paper-based communications to electronic formats would save up to €25m per year across the EU in postage and paper costs.