'Please pray for me': female reporter being hunted by the Taliban tells her story | Taliban
Two days ago I had to flee my home and life in the north of Afghanistan after the Taliban took my city. I am still on the run and there is no safe place for me to go.
Last week I was a news journalist. Today I can't write under my own name or say where I am from or where I am. My whole life has been obliterated in just a few days.
I am so scared and I don't know what will happen to me. Will I ever go home? Will I see my parents again? Where will I go? The highway is blocked in both directions. How will I survive?
My decision to leave my home and life was not planned. It happened very suddenly. In the past days my whole province has fallen to the Taliban. The only places that the government still controls are the airport and a few police district offices. I'm not safe because I'm a 22-year-old woman and I know that the Taliban are forcing families to give their daughters as wives for their fighters. I'm also not safe because I'm a news journalist and I know the Taliban will come looking for me and all of my colleagues.
The Taliban are already seeking out people they want to target. At the weekend my manager called me and asked me not to answer any unknown number. He said that we, especially the women, should hide, and escape the city if we could.
As I was packing I could hear bullets and rockets. Planes and helicopters were flying low over our heads. There was fighting on the streets right outside the house. My uncle offered to help get me to a safe place, so I grabbed my phone and a chadari (the full Afghan burqa) and left. My parents would not leave even though our house was now on the frontline of the battle for the city. As the rocket fire intensified they pleaded for me to leave because they knew the routes out of the city would soon be shut. So I left them behind and fled with my uncle. I haven't spoken to them since as the phones are not working in the city any more.
Outside the house it was chaos. I was one of the last young women left in my neighbourhood to try to flee. I could see Taliban fighters right outside our house, on the street. They were everywhere. Thank God, I had my chadari, but even then I was afraid they would stop me or would recognise me. I was trembling as I was walking, but trying not to look scared.
Just after we'd left a rocket landed right next to us. I remember screaming and crying, women and children around me were running in every direction. It felt like we were all stuck in a boat and there was a big storm around us.
We managed to get to my uncle's car and started driving towards his house, which is 30 minutes outside the city. On the way we were stopped at a Taliban checkpoint. It was the most terrifying moment of my life. I was inside my chadari and they ignored me but interrogated my uncle, asking him where we were going. He said we had been visiting a health centre in the city and were on our way home. Even as they were questioning him, rockets were being fired and landing close to the checkpoint. Finally, they let us go.
Even when we got to my uncle's village, it wasn't safe. His village is under Taliban control and many families are Taliban sympathisers. A few hours after we arrived, we were told some of the neighbours had discovered he was hiding me there and that we had to leave – they said the Taliban knew I'd been taken out the city and if they came to the village and found me there, they'd kill everyone.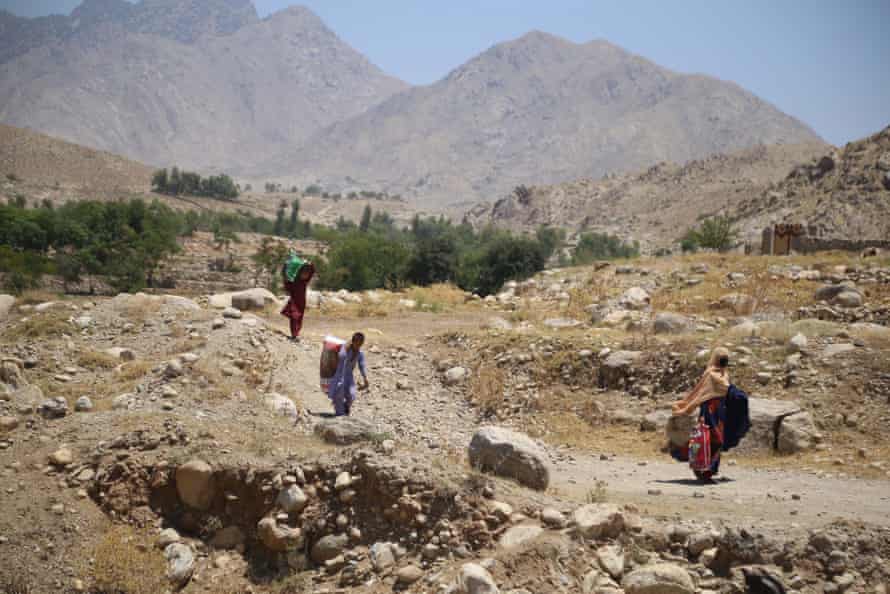 We found somewhere else for me to hide, a home of a distant relative. We had to walk for hours, with me still in my chadari, staying away from all the main roads where the Taliban might be. This is where I am now. A rural area where there is nothing. There is no running water or electricity. There is barely any phone signal and I am cut off from the world.
Most of the women and girls I know have also fled the city and are trying to find somewhere safe. I cannot stop thinking and worrying about my friends, my neighbours, my classmates, all the women in Afghanistan.
All my female colleagues in the media are terrified. Most have managed to flee the city and are trying to find a way out of the province, but we are completely surrounded. All of us have spoken out against the Taliban and angered them through our journalism.
Right now, everything is tense. All I can do is keep running and hope that a route out of the province opens up soon. Please pray for me.
Interpol's president: alleged torturer rises as symbol of UAE soft power | Global development
Maj Gen Ahmed Nasser al-Raisi's ascent through the ranks of the interior ministry in Abu Dhabi is associated with the United Arab Emirates' transformation into a hi-tech surveillance state.
His personal achievements include a diploma in police management from the University of Cambridge, a doctorate in policing, security and community safety from London Metropolitan University and a medal of honour from Italy.
Now, in a big soft-power win for the UAE and its attempt to legitimise its policing methods internationally, he has been elected the president of the global policing organisation Interpol – to the dismay of human rights defenders.
Often photographed smiling, Raisi is the longstanding inspector general for the interior ministry, responsible for the supervision of detention centres and policing. Multiple former detainees accuse him of using this position to green-light abuses, including torture.
"Raisi's rise to the Interpol presidency legitimises the role and conduct of security forces in the UAE," said Matthew Hedges, a British academic and expert on the Emirates who was detained there for seven months on espionage charges. Hedges, who was eventually pardoned, says Raisi was responsible for his arrest and also oversaw the torture he says he suffered in detention.
"This translates to a green light for states to continue acting in a way that abuses accountability and human rights, legitimises the dilution of rule of law and emboldens authoritative and abusive systems of detention," Hedges said. "This is really a warning to the international community that cross-border abuses can and will occur."
The Gulf state has previously said Hedges was not subjected to any physical or psychological mistreatment during his detention. On Thursday its interior ministry heralded Raisi's win as "recognition of the vital role of the UAE all over the world".
"The UAE," it said, "is now at the helm of this international organisation working in the fields of security and policing and will do its best to make the world a safer place."
In an unusually public campaign for the role, Raisi boasted of technological transformations that overhauled policing and surveillance in the UAE. These included the introduction of iris and facial scanning technology, and the creation of the interior ministry's first "general directorate of happiness".
His domestic policing changes underpin Abu Dhabi and Dubai's status as two of the world's most surveilled cities. One system, called Falcon Eye, deploys thousands of cameras to monitor not just traffic violations but also "behavioural issues like public hygiene and incidents like people gathering in areas where they are not allowed to", according to a report by the state news agency WAM.
The rise in surveillance has been accompanied by a crackdown on domestic criticism and dissent. Human Rights Watch has said: "The government's pervasive domestic surveillance has led to extensive self-censorship by UAE residents and UAE-based institutions; and stonewalling, censorship, and possible surveillance of the news media by the government."
Abdullah Alaoudh, from the Washington DC organisation Democracy for the Arab World Now, said the UAE had been applying a two-pronged approach epitomised by Raisi's Interpol win: "Cracking down hard on every voice of dissent, while investing in public relations like lobbying, soft power, sports and entertainment."
Christopher M Davidson, the author of a book on statecraft in the Middle East, described Raisi as an example of "high-performing technocratic members of UAE political society" who had found success under Crown Prince Mohammed bin Zayed Al Nahyan.
"The key to the regime of Mohammed bin Zayed has been to get things done, to stamp out corruption. Despite all criticisms levelled at the UAE and Abu Dhabi today, it is a far less corrupt place than it was 15 years ago. These were the people entrusted to clean up ministries," said Davidson.
Stamping out corruption has, at times, included arresting the wealthy and critics. Khadem al-Qubaisi, a former adviser to the royal family and a businessman who said he was "scapegoated" by the Abu Dhabi authorities for embezzling millions, is detained in Al Wathba prison. The prison, overseen by Raisi, also holds the human rights defender Ahmed Mansoor.
Riyaadh Ebrahim, who spent more than a year in the prison, said he witnessed torture there. "There is wrongful imprisonment, no application of the rule of law. People are being persecuted for crimes they did not commit," Ebrahim said. He said he was "totally appalled" by Raisi's victory in the Interpol election race.
Davidson said the UAE was using its wealth and resources to buy reputational shortcuts on the international stage.
"Policing in the UAE still has its problems, but this is a way of saying to the world that [they] are credible and respectable," he said. "Obtaining the presidency of Interpol symbolises moving in the right direction."
Jalel Harchaoui from the Geneva-based organisation the Global Initiative Against Transnational Organized Crime said Raisi's election highlighted the struggle between liberal and illiberal nations within international institutions such as Interpol, and was a victory for anti-democratic countries.
"On the surface, Abu Dhabi – thanks to excellent soft-power outreach – markets itself as a modern state, which happens to be a dependable friend to all the major western democracies," he said. "In reality however, the Emiratis, whose governance style has been partly inspired by China's strict form of authoritarianism, always campaign against liberalism and its key principles."
A spokesperson for the UAE embassy in London did not respond to a request for comment.
France reminds Poland on law in Paris meeting
French president Emmanuel Macron urged Polish president Mateusz Morawiecki to solve a rule-of-law dispute with the EU, while voicing solidarity on the Belarus migration crisis, in a meeting in Paris on Wednesday. Poland should "find a solution that safeguards the core values of the European Union", Macron's office said. Russian president Vladimir Putin told EU Council president Charles Michel by phone extra EU sanctions on Belarus would be "counterproductive".
Turkey accused of using Interpol summit to crack down on critics | Interpol
Human rights activists have accused Turkey of using its role as host of Interpol's general assembly to push for a crackdown on critics and political opponents who have fled the country.
The alert came after the Turkish interior minister, Süleyman Soylu, said his government would use the three-day event in Istanbul to persuade the international criminal police organisation's officials and delegates to find, arrest and extradite Turkish dissident citizens – particularly those it labels terrorists – abroad.
Campaigners have long accused authoritarian regimes of abusing Interpol's "red notice" system used to hunt down criminals at large, including drug smugglers, people traffickers, war crime suspects and terrorists. Turkish authorities have been accused of repeatedly swamping the police organisation with requests targeting political opponents.
There have also been growing concerns about politically motivated abuse of Interpol in the US Senate where a new bill aimed at ending the organisations' misuse to "pursue, harass or persecute political opponents and dissidents with trumped up criminal charges" was introduced in July.
There has been angry reaction to the appointment of Ahmed Nasser al-Raisi, an Emirati general accused of torture, as the new president of Interpol. Al-Raisi was elected to the position on Thursday despite the alarm being raised over his candidacy by foreign leaders. The UAE has also been accused of abusing the red notice system to pursue dissidents.
The Turkish president, Recep Tayyip Erdoğan, told the opening session of the 89th Interpol general assembly on Tuesday that he expected "strong cooperation" in the extradition of people suspected of following the US-based Islamic preacher Fethullah Gülen and the PKK, the Kurdish movement.
On Wednesday, Interpol secretary general Jürgen Stock told journalists the organisation would not act on requests motivated by anything other than policing issues.
"If member countries decide to use Interpol they have to apply to our rules and standards. If a red notice has a predominantly political background we don't take any action. If it's political we're out … we respect and protect human rights," Stock said.
Interpol has rejected almost 800 red notice requests from Turkey in the past five years, an Interpol spokesperson told the Guardian, insisting that each request was rigorously checked. But critics from the Turkish Democracy Project claim some exiles have been unjustly threatened with arrest and extradition by the organisation.
"We are a policing organisation not a political one but we're not blind to issues of geopolitics," Interpol said.
"The committee carefully checks applications from countries where we know there might be a problem. We have a taskforce that reviews every single red notice request from every member country to make sure its compliant. We put a lot of resources and effort into making sure the red notice system is respected."
In August, the Stockholm Center for Freedom, a non-profit advocacy organisation promoting the rule of law, democracy and human rights and focusing on Turkey, accused the Erdoğan regime of having "weaponised" Interpol for its wider campaign of repression against critics, human rights activists and ethnic or religious minorities abroad.
It added: "Turkey abuses Interpol in various ways. The International Notice System, such as red notices and diffusions, are used to target political opponents who have committed no crime other than being critical of President Erdoğan's government.
"Turkey is also accused of manipulating Interpol's Stolen and Lost Travel Documents database (SLTD) by filing tens of thousands of cases for critics and opponents who, in many instances, are not even aware that their passports have been invalidated."
Campaigners are also concerned about Syria's recent readmission to Interpol after it was banned for human rights abuses and war crimes fearing the Damascus regime will attempt to sabotage legitimate asylum claims abroad. Russia, China and Iran have also been accused of misusing Interpol's red notices.
Interpol was set up in 1923 mainly to ensure criminals could not with impunity flee the country where their crime was committed. The organisation enables law enforcement agencies from its 194 member states to share data on crimes and criminals and issue arrest warrants.
Madeleine Joelson, executive director of the Turkish Democracy Project, said: "Interpol – once a bastion of law and order – has become a tool of transnational repression. Erdoğan, along with Vladimir Putin and Xi Jinping, continues to abuse and degrade the liberal international order – distorting its true purpose and undermining its credibility."