Our Banner of Deceit is Leading the US to Failure
Orlov is one of our favorite essayists on Russia and all sorts of other things. He moved to the US as a child, and lives in the Boston area.
He is one of the better-known thinkers The New Yorker has dubbed 'The Dystopians' in an excellent 2009 profile, along with James Howard Kunstler, another regular contributor to RI (archive). These theorists believe that modern society is headed for a jarring and painful crack-up.
He is best known for his 2011 book comparing Soviet and American collapse (he thinks America's will be worse). He is a prolific author on a wide array of subjects, and you can see his work by searching him on Amazon.
He has a large following on the web, and on Patreon, and we urge you to support him there, as Russia Insider does.
His current project is organizing the production of affordable house boats for living on. He lives on a boat himself.
---
If you exist within the by now almost hermetically sealed-off mindscape of Western mainstream media, and if you also happen to like knowing the truth, then life must seem increasingly unfair to you—because you can't win.
For decades now the modus operandi has been as follows. Regardless of which party has the majority in Congress or controls the presidency, the same unchanging national (and increasingly transnational) elite ensconced in Washington sets the agenda and pushes it through using any means necessary, whether legal, illegal or blatantly criminal (increasingly the latter as national bankruptcy looms and desperation sets in).
Their operatives make sure that there is no real investigation of what happened. All Western media reports that contradict the official mendacious narrative are quashed. Any independent efforts to investigate and to find out the truth are denigrated as "conspiracy theories"—a derogatory term coined by the CIA for exactly this purpose.
Any non-Western media sources that dare to contradict the official mendacious narrative are ignored, subjected to ad hominem attacks and all manner of false allegations and, if all else fails, banned outright (as is currently happening with the satellite TV channel Russia Today).
If that happens to be prevailing method of communicating with the public (as I am convinced, and as you should convince yourself by doing some research if you are not), then what chance do any of us stand of finding out the truth to our satisfaction?
Typically, we expect to be presented with a few, possibly somewhat contradictory, versions of events and, after some probing and deliberation, render a verdict and socialize it among ourselves to reach a consensus which then becomes another brick within the edifice of our consensual reality.
These are high-priority tasks, because maintaining a sense of consensual reality is important: it allows us to distinguish the sane from the insane, and it makes it possible for us to tell our young people, whose minds are too immature to let them reach their own conclusions without being driven toward unfounded or extremist views, what is safe for them to think.
If we are deprived of our ability to maintain a sense of consensual reality, then we lose face before our peers (and our children) and our self-respect suffers because we no longer feel socially adequate.
But what choices are there?
If we swallow the official lies we are being told, knowing full well that they are lies, then we feel like fools. If we refuse to swallow them, then we either have to accept some alternative interpretation or narrative as real in spite of lacking all the facts we need to prove the case—because nobody is going to give them to us—and risk ostracism and marginalization, or we have to take an agnostic stance and declare that while we are not privy to the truth, we know enough to declare that the official story is a tissue of lies. The first two of these are both clearly losing moves while the last is a refusal to play and therefore a forfeit; thus, all three are defeats.
There are no winning moves here.
But it's even worse than that; not only do we lack a winning strategy, but we also happen to be on a losing team that doesn't know how to play and loves to be played.
As Ron Unz, the publisher of unz.com, recently put it,
"I've sometimes joked with people that if ownership and control of our television stations and other major media outlets suddenly changed, the new information regime would require only a few weeks of concerted effort to totally invert all of our most famous 'conspiracy theories' in the minds of the gullible American public.

The notion that nineteen Arabs armed with box-cutters hijacked several jetliners, easily evaded our NORAD air defenses, and reduced several landmark buildings to rubble would soon be universally ridiculed as the most preposterous 'conspiracy theory' ever to have gone straight from the comic books into the minds of the mentally ill, easily surpassing the absurd 'lone gunman' theory of the JFK assassination."
Take the example of the ill-fated US invasion of Iraq: 4,801 servicemen dead, 1,455,590 dead Iraqis, a once prosperous country destroyed and turned into a terrorist playground with a weak central government that is aligned with Iran, buying weapons from Russia and increasingly hostile toward the US.
The war was sold to the public in the US using a technique called "proof by juxtaposition" which works like this: keep showing a picture of Bob next to a giant pile of corpses and eventually everyone comes to believe that Bob is a mass murderer, never mind the fact that Bob only killed maybe half a dozen people, and all but one in self-defense or by accident.
This is what was done with Saddam Hussein (who, by the way, was Osama bin Laden's arch-enemy, who, in turn, had worked for the CIA). By 2003 70% of Americans had been made to believe that Saddam Hussein was responsible for the destruction of the World Trade Center.
"Proof by juxtaposition" works well for the TV-addled zombies in the US, but for the rest of the world, as represented by the UN Security Council, a stronger tissue of lies had to be woven—using forged "intelligence" of Iraqi "weapons of mass destruction." The world blinked and either voted for or failed to veto the resolution authorizing the use of force against Iraq.
The putative weapons were never found and the intelligence that was used to convince the world of their existence turned out to have been fabricated.
This is actually a very big deal, because a reputation for telling the truth can only be lost exactly once, and from then on the use of the phrase "US intelligence sources" became synonymous with "a conspiracy of barefaced liars." In turn, the standard response to proposals based on "US intelligence" became something along the lines of "go jump in a lake."
But it took a while for the penny to drop; the last country the US will have ever gained UN's permission to attack using false intelligence (of a humanitarian disaster) was Libya. Dmitry Medvedev, who was serving as Russia's president at the time, was still attempting to ingratiate himself with the West and failed to block the resolution—a decision he later regretted.
The delay in processing the fact that all trust is gone, and the additional death and destruction that resulted from it, are deplorable, but now the verdict is in, and it is not subject to appeal. If this last paragraph comes off sounding a bit angry, then that's probably appropriate; all those wrongful deaths justified using made-up "facts" ought to be on somebody's conscience—let's hope not yours or mine.
Getting back to the original question: how can we play this game to win? Based on the above, the base assumption that, whatever the issue, the dominant, official Western narrative is a tissue of lies, is a good one.
Whatever message Washington and Western mass media are trying to push, a perfectly valid response is to point out all the times they have lied in the past, and to pose a simple question: When did they stop lying? Since it is very hard to come up with a reasoned answer to this question, the resolution is to treat all Western governments and media as suspect.
If the official narrative is to be disregarded, then an opening is created for alternative narratives. These can be of at least three kinds.
There are the straw men set up specifically to be torched, along with all those who fall for them: if they can't convince you of False Narrative A, then they try to convince you of False Narrative B (which seems attractive to you because it makes them look bad) so that they can label you as a "conspiracy theorist" and run you off the road and into a ditch.
Then there is False Narrative C: counter-narratives crafted by other nation-states—geopolitical adversaries (like Russia, China and Iran) or pariah states (such as Cuba, Venezuela and North Korea).
Here, you risk being labeled as peddler of foreign influence (if you fall for them) or become stuck in a mental no man's land (if you don't).
In each case, you can try to make sense of the situation by asking the question, Cui bono? With Falsehood A, the beneficiary is the US elites, oligarchs, deep state, etc. Same with False Narrative B, except within a "they win or you lose" pattern. Same again with False Narrative C, except that here "they" are foreign liars rather than domestic ones. But even if you know who is lying to you and why, you still can't win, in the sense of getting at the truth.
But you can win—by looking at the results. What you are looking for is a consistent pattern of failure. You see, those who lie to others also tend to lie to themselves.
Out of any large group of people, only a few high-performing sociopaths can consistently lie to others while remaining truthful and honest within their own minds; for everyone else the experience of being immersed in a cesspool of lies is spiritually corrosive, emotionally debilitating and so demoralizing that they are unlikely to adequately perform their duties.
I have downed many a beer with both enlisted men and officers who have been through tours of duty in Iraq and Afghanistan, and listened carefully to their tales of woe. Rarely did any of their official indoctrination survive contact with "the enemy." Most unfortunately, the emotional damage caused by this experience is often permanent.
Beyond the emotional impact of lies, there is the practical effect of hampered judgment in those in command. Lies beget other lies, and pretty soon unbiased intelligence-gathering, rational analysis and proper mission planning become impossible.
The guaranteed, repeatable result is a fiasco:
Look at Kosovo: a failed narco-state run by a mafia.narco-state run by a mafia.
Look at Afghanistan: the Taliban are back and better than ever, and the heroin business is booming.
Look at Iraq: a playground for terrorists and aligned with Iran. 
Look at Libya: a destroyed country that is a playground for Islamic militants and a transshipment point for European migrants.
Look at Syria: the Syrians and the Russians have largely reconquered it from the US-armed, US-trained terrorists.
Look at the Ukraine: it has splintered, the best part of its population has fled to Russia, and it now makes a compelling case study for all five stages of collapse.
Look for counterexamples to this pattern: you are unlikely to find any.
Those who march into battle under the banner of Truth are far more likely to prevail than those who sally forth with their loins girded with the fig leaf of public deceit.
You may not be able to decipher the writing on the banner, but you can certainly tell when the winds of autumn blow away the fig leaf; then,
"Ye shall know them by their fruits." [Matthew 7:16]
---
Source: Club Orlov
Where can I watch Switzerland's Euro 2020 matches in Zurich?
Prehistoric art in Spain: The 27,000-year-old cave art found under graffiti in Spain's Basque Country | Culture
Diego Garate, doctor of prehistory at the University of Cantabria and a specialist in Paleolithic art, was surprised when he came across a 27,000-year-old painting of a bison a meter and a half long, hidden under graffiti, in one of the Aizpitarte caves in the Basque Country. The discovery of the artwork, obscured by the word "exit" and an arrow indicating the way out of the cave, took place in September 2015. Now, following years of research, investigators claim it indicates the existence of a shared artistic culture in ancient Europe.
According to Garate, the bison painting was found when he and a team of speleologists explored the cave in search of cave art. "We went through a small, very low arch about 50 centimeters high, that led into a passageway and when I raised my head I saw an impressive bison covered by graffiti on the rock," he says. "Its characteristics were similar to those of other bison found in at least 17 caves in different parts of the Iberian Peninsula and Central Europe." Garate and his team's research, which was published last week in the journal PLOS One, also includes studies of paintings found in three caves in the area of bison, horses and a bird in an artistic style previously unseen in the Iberian peninsula.
Garate began searching for Paleolithic paintings in Spain's Basque Country a decade ago. "Very little was known about the cave art in this region compared with neighboring areas such as Cantabria, which has the Altamira cave; or the central Pyrenees, which is full of decorated caves; or the French Dordogne, which is famous for its paintings of bison and mammoths," says Garate.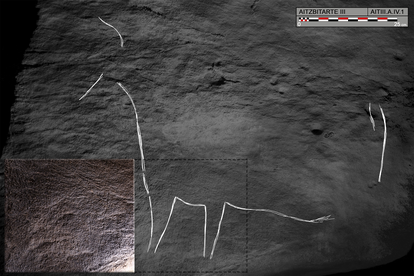 In the center of that geographical triangle is Basque Country, which then – like now – was a transit area for people crossing between the Iberian Peninsula and the rest of Europe. "It was paradoxical that there was so little cave art considering it was the only pass available to the men and women of that period," says Garate. In 2011, when he began his research, only six caves with artwork were recorded in the entire Basque Country. Now that number has risen to 28.
Manuel González Morales, a researcher at the International Institute of Prehistoric Research in Cantabria, says that Garate's work is "extraordinarily" significant both archaeologically and historically as it has revealed more locations containing Paleolithic art in an area that, until several years ago, appeared relatively empty of this kind of historical evidence. Beyond purely aesthetic considerations, González says these paintings represent "new examples of how underground spaces, including some difficult to access, were used for the development of artistic activity."
Garate claims that the discovery of the bison paintings in that region of Spain proves that its inhabitants exchanged ideas, shared graphic expressions and had similar and recurring motifs. "We have discovered that human groups in the area communicated with each other," says Garate. "For example, they used the same tools fashioned from bone to sculpt the stone. We found the remains of those tools in the same caves where we found the paintings."
The research also points to the existence of exchange networks rather than the same groups of humans moving or migrating from one place to another. "These bison are proof of what would be the first instance of globalization on a continental scale, from Central Europe to the Iberian Peninsula, something like the first European Union 27,000 years ago," says González, who adds that Garate's findings show that Upper Paleolithic hunter-gatherer groups made contact with other groups and exchanged technical and stylistic ideas.
One of the most notable features of these paintings is their perspective, which is very different from what we use today. "The type of art that was developed on the continent 27,000 years ago was expressionist," explains Garate. "The artists did not try to depict reality, but to offer their own interpretation of it." Consequently, the animals in these paintings appear disproportionate – their faces are grotesque while their legs and horns are two dimensional, like the art found in Egyptian temples.
Garate explains that the style of the paintings is difficult to appreciate today, not because the artists could not portray the subject of their art as they saw them, but because there was an established painting technique. "It gives us the feeling that the art was controlled; subject to rules imposed from a place of power," says Garate. "The artist would be more like a craftsman. Rather than doing what occurred to them, they could only do what they were ordered to do. It was a collective rather than an individual form of art."
But experts still don't know the purpose or meaning of these paintings. "There are multiple interpretations and perhaps there is more than one answer," Garate acknowledges. "We know that for 30,000 years, animals rather than plants, humans or stars were depicted. Over that period of time, there were several different human groups, but the art is limited to the same motif. We also know that they [the paintings] did not depict the animals that were hunted and eaten, which makes us think that these paintings have a very strong message, perhaps related to social cohesion; to that need to keep the group together in order to survive."
English version by Heather Galloway.
See For Yourself, 30 of the New, Modern, Amazing Airports of 'Stagnating Russia' (Great Pictures)
The author is CEO of the Awara Group, which offers consulting, accounting, tax, and legal services. He is the author of several books on politics and philosophy, as well as Putin's New Russia. He speaks fluent English, Russian, Finnish, and Swedish, and German, French, and Spanish less fluently. He resides in Moscow.
Click here for an archive of his excellent articles on RI about the Russian Economy. This article first appeared at the Awara Group.
---
What prompted me to write this Awara Accounting report on the impressive development of Russia's airports was to produce a cure for the but-beyond-the-MKAD syndrome. The MKAD is the 110 kilometer outer ring road around Moscow. And this syndrome refers to the habit of the detractors of Putin's Russia to claim that any visible development of Russia, if any, has happened only within the limits of Moscow city – "just go outside the Ring Road and you'll see there's nothing but poverty and ruin."
Many of those who suffer from this syndrome live in a deep-seated cognitive dissonance where they just refuse to trust their lying eyes, while some of them are just peddlers of pure propaganda or victims of the latter.
So, let's see what actually happens beyond the MKAD. Amazing airports have been built or reconstructed both in Moscow and across the vast country and many other impressive projects have been presented.
And it is not just airports, it is roads and bridges, too. Those Awara has covered in other reports in the series on Putin's incredible infrastructure investments. You can read about the amazing new bridges at this link: Putin the Pontiff – Bridge maker and the great development of Russia's roads here.
What's remarkable is also the efficiency and speed of the construction of the new airport terminals. Most of them have been built in three years and some in two or even less. The Simferopol airport (above) was built in two years and was up and running within three years from the decision to initiate the project. Krasnoyarsk (below) needed only1.5 years to complete the construction.
Russia's 79 international airports
Our method was to review all the airports in a list of all of Russia's international airports. (An international airport is one into which a plane can fly directly from a foreign country as it runs a passport control). There were 79 airports in our list. From what I had registered from the news and in my travels, I expected that there would be some 10 or 15 cool new airports to present. But no. The task proved much more overwhelming as it turned out that almost every one of the listed airports had been reconstructed or was due for reconstruction.
Instead of writing up an easy piece with nice pics, I ended up spending weeks on identifying and digesting all the information. The investigation showed that practically each one of the 79 airports had either been modernized or about to be so. I identified less than 10 airports on the list of international airports which were not brought up to modern quality standards since 2000 or on the way to it. And of those half were either remote outposts or military airfields. I am confident, that all the passenger airports in the major Russian cities (defined as having some 150 thousand or more inhabitants) will be totally modernized within the next 6 years.
Practically all the development of the international airports has been funded by both public and private money, where the infrastructure like runways and flight controls have been recipients of public funds whereas the terminals have been mostly built by public funds.
In addition to the 79 international airports there are some 60 regional airports with more or less regular traffic. These will all also be upgraded according to a multibillion government program on development of regional airports running up to 2024. This forms part of a broader strategic program ordered by President Putin to improve the Russian economy, demographics and infrastructure with public and private funding amounting to a total of $400 billion.
An important goal with the development of the airports is to help decentralize the economy by way of increasing direct interconnectivity of Russian cities instead of people having to fly transit through Moscow, which has in the past really hampered the overall development of the country.
The new airport facilities are really needed to keep up with the passenger boom
The new enlarged and reconstructed airports cater to a growing number of passengers. In 2000, when Putin first took office, the Russian airports served 35.5 million passengers, but by 2018 the number had grown sixfold to 205 million. That surpasses the 135 million passengers of the USSR in the 1980s. The growth has been huge and accelerating, just in five years from 2014 to 2018 the number grew by one third.
In the meanwhile, the Moscow air cluster with 97 million passengers (2018) has become Europe's third largest air hub after London (126 mln) and Paris (104 mln).  Sheremetyevo – Europe's fastest growing airport – alone has grown 4.5 times since 2000 to present 46 million. At the same time, Moscow's second airport Domodedovo grew from handling 2.8 million passengers in in 2000 to 30 million in 2017.
Air travel is a very solid indicator for economic activity, these figures then show that there is much going on that does not catch the eye of the GDP.
MOSCOW
When I first came to Moscow by air in 1993, the city did not have a single modern airport. Actually, back then the Sheremetyevo international airport, present day Terminal F, should have formally counted as a modern one as it was built only about a decade earlier in 1980 in time for the Moscow Olympics. But the airport – built by a West German company – was terribly outdated in design and functionality from the start. Both the façade and the interior design was informed by a dark and gloomy style prevailing in Russia during the 1970s. My impression as a passenger was that that the terminal must have been in operational neglect at least three decades by then.
I used to hate having to travel through that airport and each time I would wish they'd remove the heavy copper circles which were misdecorating the ceilings and literally weighing over the heads of the passengers. One day sometime in the early 2000s it did happen; the copper was gone and a white suspended ceiling was there instead. Somebody told me that the reason was that the commodity price of copper had surged. Whatever, I was happy for it. In the 1990s the restrooms where stinky and you'd be lucky if they were furnished with paper. And then there was the strong kerosene fumes wafting around the whole airport. An odor which you would connect with Russia in good and bad. For me it actually became so characteristic of Russia, that I later found myself upon arrival inhaling that fume, like one would mountain air, happy as I had returned to Russia from the increasingly oppressive West.
But today all has changed, if Sheremetyevo Terminal F was probably the worst of all the world's major airports, I considered the new Terminal D as one of the best when it opened in 2009. Presently the terminal is overcrowded as it operates way over its planned capacity, but that should ease when the domestic traffic is fully transferred to the new Terminal B, which opened in 2018.
If Sheremetyevo Terminal G was depressing, then the domestic terminal then called Sheremetyevo 1 was like a parody of all that was wrong with the later stages of the USSR just before its demise. Moscow's second airport, Domodedovo, at that time was very much the same, but today Domodedovo along with Sheremetyevo are modern international airports meeting the highest global standards. There is a third major Moscow airport as well, the Vnukovo airport. And a smaller, fourth Moscow cluster international airport, Zhukovsky (Ramenskoe) opened in 2018.
In 2018, in time for the FIFA World Cup, Moscow's Sheremetyevo got the new Terminal B for domestic flights. This one will be merged with present Terminal C, after the renovation of the latter, to form a hub for domestic flights, while Terminals D, E and F will serve international flights. An underground shuttle train opened in 2018 already connects the domestic and international terminals.
The old Domodedovo terminal in Moscow
---
A waiting lounge at the old Domodedovo
---
The new Domodedovo (above and below)
---
New, in 2012 (above) and old, in 2000 (below) Vnukovo, Moscow's 3rd airport.
Let's now go beyond the MKAD and look at the other new amazing airport complexes around the country. This is just a selection, there is much more.
SAINT PETERSBURG
Saint Petersburg was really in a need of a modern airport, and it was therefore such a relief when it finally opened in 2013
BELGOROD
Belgorod a city of 350 thousand inhabitants close to the Ukrainian border got this new beautiful terminal in 2013.
VLADIVOSTOK
Vladivostok in Russia's Far East got a new airport terminal in 2012 as part of the preparations for the APEC 2012 summit.
YEKATERINBURG
Yekaterinburg, Russia's third largest city on the eastern side of the Ural Mountains received a new terminal in 2009.
KAZAN
This new airport complex was erected in 2012 in Kazan, the capital of the Republic of Tatarstan, Russia's sixth most populous city. It was built in the run up to the 2013 Summer Universiade and enlarged for the 2018 FIFA World Cup.
KALININGRAD
This new airport in Kaliningrad, the Russian enclave at the Baltic Sea, opened in 2017
NIZHNY NOVGOROD
The new airport in Nizhny Novgorod was also built as part of Russia's infrastructure upgrade in preparation for the 2018 football World Cup.
NOVOSIBIRSK
The new airport in Novosibirsk is from 2015. Novosibirsk with 1.5 million is a city in Siberia at the Ob River. The Trans-Siberian Railway fueled much of the city's growth in the 19th century.
PERM
The new terminal in Perm from 2017 is a real architectural gem. Perm has a population over one million and is located in the, Urals 300 kilometers north-west of Yekaterinburg and 400 kilometers north of Ufa.
ROSTOV-ON-DON
Rostov-on-Don is one more of the cities which got a new airport terminal (opened 2017) in preparation for the FIFA 2018 World Cup. In fact, this was a brand new airport built on virgin field, whereas the other airports in this survey represent development and enlargements of previously existing airports.
SABETA, YAMAL PENINSULA
Sabetta on the Yamal peninsula got an airport in 2014 in connection with Russia's push to develop its Arctic regions and in this case especially the Yamal LNG project and the Yuzhno-Tambeyskoye gas field.
SAMARA
In 2014 opened the new airport in Samara in the southeastern part of European Russia on the east bank of the river Volga.
SIMFEROPOL
Simferopol airport in Russian Crimea is probably the nicest airport in the world. Built in 2018, four years after Crimea's liberation from Ukrainian occupation.
It was an amazing feeling travelling through that airport. The architect has really managed to do what is most important in places like that, to neutralize the stress factor. Everything is so spacy, harmonious and green that you get a feeling that you are in a giant spa instead of an airport. The Simferopol airport really calmed my nerves on a busy travelling day.
SOCHI
The Sochi airport was built in 2009 and enlarged in time for the 2014 Winter Olympics.
TALAKAN, YAKUTIA
This airport in Talakan in the Republic of Sakha (Yakutia) opened in 2012.
TYUMEN
The new international terminal in Tyumen was opened in 2017. Tyumen was the first Russian settlement in Siberia and now has an estimated population of 750 thousand.
UFA
Ufa, the capital city of Bashkortostan at the Urals received this new air terminal in 2015.
VOLGOGRAD
This is the airport in Volgograd, the WWII name of which was Stalingrad. A new international terminal was constructed in 2016 and in 2018 another terminal for domestic flights was opened to accommodate football fans for FIFA 2018.
KRASNOYARSK
The newly constructed airport in Krasnoyarsk opened in December 2017. Krasnoyarsk is located at the Yenisei River in Siberia. With a population over one million it is the third largest Siberian city after Novosibirsk and Omsk. Novosibirsk got a new airport in 2015 and Omsk will get one before 2022.
Those were some of the airports built and upgraded within the last decade, now let's look on some airport projects underway.
GROZNY
The Chechen strongman Ramzan Kadyrov presented in May 2018 this bold project for the new airport in the Chechen capital Grozny. The construction is expected to commence in 2020.
SARATOV
The projected new terminal at the Saratov airport is one more of the new Russian airports with daring architecture, not only functionality but beauty, too. Saratov on the Volga River and with a population of some 850 thousand will have this airport up and running in 2019.
IRKUTSK
The Irkutsk airport will be modernized with this new terminal in 2020. Irkutsk is a city of 600 thousand people near the Lake Baikal.
KRASNODAR
Krasnodar, Russia's fastest growing city, in the South of the country will get a new airport and air city hub by 2023.
NALCHIK
This new terminal in Nalchik is due by 2020. Nalchik is a city of 300 thousand situated at an altitude of 550 meters (1,800 ft) in the foothills of the Caucasus Mountains.
PETROPAVLOVSK-KAMCHATSKY
Petropavlovsk-Kamchatsky is Russia's easternmost big city situated on the Kamchatka Peninsula. Interestingly, Petropavlovsk-Kamchatsky is actually situated quite a bit eastward from Tokyo if you go by the latitude of geographic coordinates. That should really give you an idea how huge Russia is. This new airport terminal will be erected there by 2021.
KHABAROVSK
As part of Putin's drive to develop Russia's Far East, Khabarovsk will get a new modern airport terminal by 2019. Further the airport will be developed into a logistic hub with an air city consisting of business centers, hotels and an exposition center. Khabarovsk, a city of more than half a million people, is located at the confluence of the Amur and Ussuri Rivers about 800 kilometers north of Vladivostok and only 30 kilometers from the Chinese border.
CHELYABINSK
Chelyabinsk is just to the east of the Ural Mountains and 210 kilometers south of Yekaterinburg. This city with more than 1 million inhabitants will soon get this new airport terminal which is due in 2019. The construction was spurred by the BRICS and Shanghai Cooperation Organization summits to be held in Chelyabinsk in 2020.
YUZHNO-SAKHALINSK
Yuzhno-Sakhalinsk with a population of 200 thousand is on the Sakhalin island, one thousand kilometer west from the Kamchatka Peninsula. Their new airport terminal is due by end of 2019 so as to accommodate growing needs of tourism and business.
GELENDZHIK
We will round off this survey with this impressive new airport terminal which will be erected in Gelendzhik. Gelendzhik is a Black Sea resort 250 kilometer west from Sochi. In fact, between Sochi and Anapa on the whole coast, there are no high quality resorts except for Gelendzhik, but this one is truly a gem. The new terminal will be built by 2021. Gelendzhik is the only one in our survey which does not presently have the status of international airport, but that should be taken care of by the time this new airport is done. With Gelendzhik completed, Russia's Black Sea region will have six modern large airports – Sochi, Gelendzhik, Anapa, Simferopol, Krasnodar, Rostov-on-Don – in a matrix of roughly 300 kilometers between airport. That is an impressive density in itself and doubly remarkable considering there was not a single decent airport there before 2009. Considering also the road building happening in the region, the area is on its way to develop into a Russian Provence, with which it already shares the climate and nature.