Origin of the Basques: The archeologist who discovered Roman ruins in the land of the Basques | EPS
When she was just 22, the archaeologist Mertxe Urteaga undertook a secret exploration under the Peñas de Aya massif in the Basque province of Gipuzkoa. Taking advantage of a weekend when the workers at the Arditurri mine were resting, she enlisted the help of the geologist Txomin Ugalde and the historian Ricardo Berodia and went underground to investigate a Roman tunnel in a corner of Spain that, in theory, the Romans never conquered.
It was 1982 and the Royal Asturian Mining Company, which was working the Arditurri mine, had just offered local authorities in the town of Oiartzun a "gem", namely a section of a Roman underground gallery that could be opened to the public. Urteaga, a recent graduate who worked in the municipality's archives, smelled a rat. She had seen photos taken by the engineers in the mines, she had read reports dating back two centuries, and she suspected that the mining company was offering this "gem," located in a remote and economically worthless area, to distract attention from what was actually hidden within those mountains – an amazing underground network of passages excavated 2,000 years ago.
"The company was aware of the reports by [the engineers Juan Guillermo] Thalacker in 1803 and [Francisco de] Gascue in 1897 which spoke of a great Roman infrastructure, and indicated the openings of many of those mines," she explains. "These openings were now being used to get to the seams and to continue mining them. But the company didn't say anything because they didn't want archaeologists bothering them. And in the academic world, nobody paid any attention. The myth that the Vascones [considered the ancestors of the Basques] in that mountainous region had managed to fend off the Romans was widespread and used as a key to explain the survival of the Basque language."
Forty years later, Urteaga, who is herself from the province of Gipuzkoa, guides us through the Arditurri valley to show us the place where she and her companions began to explode the myth. At the foot of the imposing granite slopes of the Peñas de Aya, she slips through a human-sized gallery: it is approximately 1.80 meters high and wide enough for a person to stretch out their arms. The passage is vaulted, which is typical of the Romans, who lit fires to break the rock and then fashioned the tunnels with picks.
"We immediately perceived the Roman hand at work, which was very exciting," she says, pointing out the spaces where the miners would have placed their oil lamps and the channel that still drains the water coming through the rock. She also says wooden trays, iron picks, waterproof fabrics made from wool and hair as well as miners' clothes have been found. "The feeling of advancing inside the earth is very intense. You go deep into it and suddenly you discover a human footprint from thousands of years ago," she adds. "To me this place is awe-inspiring. You can see the meticulous plan to access the seam, where the layout of the passage has been rectified, the slope for drainage. It is a negative construction, a sculptural void. It looks like a work by [the Basque sculptor Jorge] Oteiza."
After 50 meters, this level gallery connects with a steeply inclined diagonal tunnel that was used by the Roman prospectors. When they found the seam, the surveyors had to determine the level at which they should drill the level gallery where the miners would be working, the one where we are standing now. One theory is that they linked dozens of meters of cat intestines to the outside and filled them with water: this way they could see from the outside the exact level of the underground seam.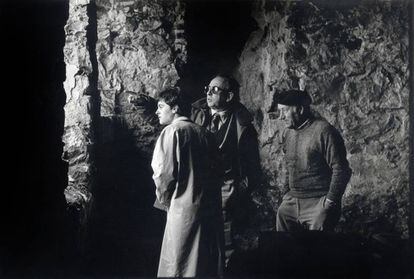 The Royal Asturian Mining Company closed the mines in 1984 and left the field free for archaeologists. In Arditurri alone, the latter found more than 40 areas where the Romans had been active, constructing complex works such as a 425-meter underground aqueduct that drained the water filtering through the rock – and continues to do so – allowing miners to work 15 meters below the river. "Four hundred men for 200 years would not have been enough to dig out all these galleries," wrote Thalacker in 1803.
Archaeologists have since discovered more Roman mines in the area around Peñas de Aya, both in Gipuzkoa and in the adjoining Navarre region, confirming the importance of the area as one of the main producers of silver, iron and copper in the former Roman province of Tarraconensis, which spanned parts of modern-day Spain and Portugal. Convinced that the Roman occupation must have been much more intense than once believed, Urteaga and her colleagues from the archeological research center Arkeolan came across another great find in the heart of Irun, a large town on the border with France.
In 1992, taking advantage of roadwork taking place on Santiago street, Urteaga and her colleagues asked the city council for permission to look for the remains of a Roman harbor. "They were laughing," she says. "But the excavator, which was taking out piles of black slime, suddenly came up with a good many pieces of Roman pottery. Tremendous! We found thousands of fragments, wooden structures, bits of moorings… It had been a port with docks, warehouses, customs offices, a hub for salted fish from the Eastern Mediterranean, cereals, wine from the Ebro Valley and oil from Baetica [in the south of the peninsula]. Right now, I'm researching my proposal that the port had a vast façade to show the importance of the city."
Below Irun lay Oiasso, the city of the Vascones people mentioned by the classical geographers, with its port, necropolis and baths that have all been unearthed by archaeologists along with traces of temples and theaters that have yet to come to the light. "Some people came to the excavation and teased us saying, 'Come on, girls, don't you know the Romans never got this far?' A man would come by the dig every day and insult us," recalls Urteaga.
-Why?
-Some people were uncomfortable with our findings because it spoiled the idea they had of their own identity: 'The Romans never occupied this country, the Vascones resisted, and that's why we are a peculiar people with a unique language.' That myth was very deep-rooted. Some people from the cultural and academic world treated us as if we were committing treason."
Urteaga maintains that Basque culture did not survive in spite of the Romans, but because of them. "Their army was unstoppable," she says. "They settled in the regions that interested them and the local leaders probably integrated and took advantage of improved political position, business opportunities and higher standards of living. Thanks to the Romans, they received an accelerated course in modernization. Within a couple of centuries, they had adopted the Latin script, the most advanced techniques of construction and agriculture, urban planning, art, hygiene and everything that other civilizations had developed during thousands of years. Other cultures missed out on this modernization and disappeared."
The past does not exist, Urteaga maintains. We are always living in the present; it is ideas of the present that shape our vision of the past. Oiasso was the first Roman port on the Iberian Peninsula to be excavated at a time when there were no more than a dozen known sites in the whole world. It was a treasure, but Urteaga and her colleagues had to reveal it in such a way that Basque society would appreciate its value. They provided consistent archaeological evidence and won the support of local public institutions. They gave lectures, opened the Oiasso Museum and, every year, they organize an archaeological film festival and a Roman show festival.
A few years ago, Mertxe Urteaga was chatting on a train with a lady from Irun. "She asked me what I worked in," she says. "I told her I was an archaeologist and she replied: 'Ah, you know that Irun was a Roman city, right?' And I thought, 'That's it, we've done it.'"
English version by Heather Galloway.
Health officials warn of strain on hospitals but Covid-19 admissions remain low
Health officials have warned of mounting strain on hospitals as coronavirus infections increase, although the absolute number of admissions remains below previous surges of the disease.
Prof Philip Nolan, chairman of the National Public Health Emergency Team's (Nphet) epidemiological modelling group, reported rising intensive care admissions but said the rise in hospital and ICU admissions was "far less" than "if we didn't have so much of the population protected through vaccination".
Dr Nolan said the expected pattern of infection in coming weeks was "really quite uncertain". The background of exponential virus growth earlier in July "may or may not be stabilising" but the increase in hospital and intensive care admissions tracked the rising rate of infection.
While there was one intensive care admission every two days toward the end of June, Dr Nolan said the ICU admission rate in the past week was approaching three per day.
There were 152 people in hospital yesterday. The figure contrasts 1,949 during the January peak. There were 333 inpatients at the start of November 2020 and 862 in April 2020 during the first wave of the pandemic.
But admissions are again rising fast.
"We're seeing on average 26 per day admitted to hospital in the last seven days and 30 today. You can see that that's very significantly up, pretty much double what it was two weeks ago," Dr Nolan told reporters at the Department of Health.
In a sign of pressure on the system, nurses in Limerick's main hospital complained yesterday that overcrowding there is worsening despite the provision of more than 100 additional beds.
The Irish Nurses and Midwives Organisation said called on Minister for Health Stephen Donnelly to intervene directly to "look under the bonnet" and see why additional beds at University Hospital Limerick had not made a substantial impact.
More trolleys had been placed on wards and corridors in University Hospital Limerick in recent days as overcrowding continued, the union said.
Uneven pressure
Chief medical officer Tony Holohan said the uneven spread of coronavirus infections throughout the State meant some hospitals might be under more pressure than suggested by overall admissions data.
"It can happen that individual hospitals can be under quite a degree of pressure when the overall situation in the country might not suggest that's the case. So we do know that maybe some hospitals in the west have already had a challenge with much more infections based on the most recent wave than other hospitals."
He acknowledged reported pressure on hospitals in Limerick and in Letterkenny, Co Donegal, and cited pressure also on hospitals in Co Mayo.
"We have seen quite a wide variation in case numbers in individual hospitals," Dr Holohan said. "We have 150 give or take hospitalisations. That's not spread evenly spread across the 30 or 40 hospitals that might be admitting patients with this infection.
Deputy chief medical officer Dr Ronan Glynn said hospitals would be under pressure if there were no coronavirus admissions.
"The point that obviously the absolute numbers are much less than previous waves is very welcome," he said.
"The reality is that if we had no cases of Covid in hospital tomorrow morning our hospitals would be under extreme pressure. Unfortunately that's what we're dealing with, both pre-Covid and now but particularly as a result of Covid in the last number of months
"Our healthcare workers are exhausted frankly. They're facing into enormous backlogs in elective care, non-Covid care, non-Covid health plans, social care: both in acute settings and in community," he confirmed.
"So while the absolute numbers are less than previously we're very conscious that any increase in those number … has potential to be very significant to the health service that we're trying to get back up to full function."
How is Germany using Covid health passes compared to other European countries?
France
In France the health passport is already in use for venues including cinemas, tourist sites and nightclubs and from the beginning of August will be extended to bars, restaurants, cafés, some shopping malls and long distance train or bus services. Find the full list of venues where it is necessary HERE.
The health passport can show proof of either; fully vaccinated status, recent recovery from Covid or a negative Covid test taken within the previous 48 hours.
It is required for everyone at the listed venues – visitors and staff – but staff have until August 30th to get vaccinated. The passport is required for all over 12s, but children aged between 12 and 17 do not have to start showing their passports until August 30th.
There is no fine for members of the public who do not have a health passport, but you can expect to be barred from any of the listed venues if you cannot show your passport to staff. Venues found not enforcing the health passport face being closed down.
The passport can be shown either on the French TousAntiCovid app – find out how that works here – or on paper. The app is compatible with vaccine certificates issued in EU or Schengen zone countries, and the NHS app is also compatible. The situation for those vaccinated in the USA is a little more complicated, but they should be able to swap their US certificate for a French one that is compatible with the app.
Italy
Italy's green pass, 'certificazione verde', will soon be required to access more leisure and cultural venues, including indoor restaurants, gyms, swimming pools, museums, cinemas, theatres, sports stadiums and other public venues.
Although it's been in use since June, the Italian government announced on July 22nd that it would be extending its health pass scheme from August 6th.
From next month, people in Italy wanting to access most venues in Italy will need to show proof of being vaccinated – including those who have only had the first of two doses – having tested negative for coronavirus within the previous 48 hours or having recovered from Covid-19 within the last six months.
At the moment Italy's digital health certificate is available to people over 12 years old who were vaccinated, tested or recovered in Italy.
The Italian version of the green pass is only for people who were vaccinated, recovered or tested in Italy. If that's you, find out exactly how to claim it here. If you don't fall into that category, here's what you need to know about accessing Italy's extended green pass.
If you're from outside the EU, the rules are complicated or still being negotiated. At the border, Italy accepts vaccination certificates, tests results and medical certificates of recovery from the United States, Canada or Japan. However, there is currently no news on how travellers can access the green pass once they're in Italy.
As for the United Kingdom, Italy does not currently have an agreement to recognise vaccinations performed in England, Scotland, Wales or Northern Ireland.
Spain 
Covid 'health passes' haven't been imposed at a national level by the Spanish government, but two regions – Galicia and the Canary Islands – have opted to require proof of vaccination, testing or recovery for people to go inside bars, cafés and restaurants.
In both regions the scheme is only being applied in municipalities with particularly high infection rates, and although it seemed that it would initially only apply to the interior of hospitality establishments, the Canary government has extended the requirement to gyms and cultural events held indoors. 
Other regional governments in Spain such as Valencia's have shown interest in implementing a 'health pass' requirement, but this has been met with opposition from the hospitality industry for the economic losses and holdups all the checking could potentially cause. 
The EU-approved Digital Covid Certificate issued mainly for the purpose of travel by Spain's regions is the preferred means of proving Covid health status, although in practice bar and restaurant owners can accept other proof, paper or digital.
Neither the Galician nor the Canary government have announced what foreign tourists should show to access the interior of bars and restaurants in their territories. 
Spain's Digital Covid Certificate is only available to residents in the country but as the system is standardised across the EU, European tourists will likely be able to use their country's Covid Certificates with a scannable QR Code to go inside hospitality establishments (not needed for terraces).
READ MORE:
Sweden
Sweden is part of the EU-wide vaccine pass scheme which means the Covid-19 pass can be used as an alternative to showing a negative test result in order to enter the country.
But aside from travel into the country, the pass is not used at all for access to things like events, museums, restaurants or bars. The government hasn't ruled it out entirely, but has said the Swedish preference is to open up for everyone at the same time instead.
To access the Swedish version of the EU vaccine pass, you need to have either had both doses of your Covid-19 vaccine in Sweden, or at least the second dose, so it is not currently possible for people vaccinated elsewhere to receive it. Another group excluded from the pass is those without a Swedish personnummer or social security number; although the eHealth Agency has told The Local they are working on making it available to the thousands of people in Sweden who were vaccinated without this number, this is not expected to happen until September at the earliest.
Denmark
Denmark controls access to certain activities and facilities – from indoor dining to cultural attractions like museums and sports games – using the scannable coronapas application, which tracks vaccination status, recent recoveries and test results.
The system is currently only available to Danish residents enrolled in the public health system, but it's compatible with the vaccine certificates from other EU and Schengen area countries. People from outside the EU/Schengen area who received full courses of Pfizer, Moderna, Johnson & Johnson or AstraZeneca can also use proof of vaccination in place of a coronapas. That documentation needs to meet a handful of requirements to be legally valid: the documentation must be in English or German and contain your name, date of birth, the vaccine you received and the dates for your first and second doses. 
The coronapas scheme is set to twilight on October 1st, when Denmark is scheduled to fully reopen. 
Norway
Norway's domestic Covid pass is used to access large events such as concerts, festivals and football matches in addition to domestic cruises and tours. 
To enter venues and events using the pass, you will need a valid certificate. 
Certificates will be valid if three weeks have passed since your last jab, you are fully vaccinated, have had covid in the past six months and can prove so via the health pass, or have received a negative test result in the previous 24 hours. 
The certificate is presented as a QR code and will scan green if valid and red if not. 
It's worth noting that a valid domestic covid certificate is not valid for travel as part of the EU's health pass travel scheme. You can read more about how the Norwegian Covid certificate is used for travel here. 
A paper version of the certificate can be ordered here. 
Covid certificates in Norway require a national identification number and level four security electronic ID. Unfortunately, this means that it's practically impossible for tourists and non-residents to access the Norwegian certificate and attend events that require a health pass. 
Furthermore, as the Norwegian certificate's domestic version is different from the version used for travel, it also means that EU health passes can't be used as a substitute for domestic vaccine passports. 
Austria
Austria was one of the first European countries to introduce a Covid-19 health pass system, having done so on May 19th as the 3G Rule. 
The 3G Rule refers to 'Getestet, Geimpft, Genesen' (Tested, Vaccinated, Recovered) and describes the three ways someone can provide evidence they are immune to the virus.
As a result, the framework is relatively well established in Austria. 
Austria's Covid-19 health pass, known as the "green pass", is needed to access bars, restaurants, hotels, hairdressers, gyms, events and a range of other venues. 
For entering nightclubs, you need to be either vaccinated or have received a negative PCR test in the past 72 hours. This information will also be included in your green pass. 
As of July 1st, masks are not required anywhere that the green pass is required.
In effect, this means masks are required in public transport, supermarkets and museums. 
EXPLAINED: What is Austria's Covid-19 immunity card and how do I get it?
Austria is a part of the European Covid-19 pass network since July 1st.
This means that if you are visiting Austria and you have the pass from your EU country, you can use it in Austria. 
Unfortunately, people with Covid-19 passes from outside the EU cannot yet use it in Austria, however they can use paper documentation. 
Also, as an Austrian phone number is needed to get the green pass (other than in Vienna), foreigners with documentation of a vaccination, recovery or a test cannot download it and use it when they are in Austria. 
Please read the following link for more information. 
EXPLAINED: Can tourists use Austria's Covid-19 green pass to visit bars and events?
Switzerland
Switzerland also has a Covid-19 health pass, known domestically as a Covid-19 immunity certificate. 
However, this is only needed at large events (more than 1,000 people), nightclubs or discos. 
Some bars and restaurants can choose to ask for the Covid certificate, upon which they are allowed to dispense with other rules such as mask rules and social distancing requirements. 
READ MORE: How to get Switzerland's Covid-19 health pass
In mid-July, Switzerland became a part of the EU's Covid-19 pass framework, meaning that you can show your EU country pass in order to enter Switzerland. 
Switzerland as yet does not accept other Covid passes, but this has been flagged as a possibility in future. 
If you arrive in Switzerland, you can show the evidence of your vaccination to the authorities in your Swiss canton and you will be issued a Covid certificate. 
Unfortunately, this only includes Swiss-approved Covid vaccines. According to the Swiss government, this is only Pfizer/Biontech, Moderna and Johnson and Johnson, i.e. AstraZeneca is not accepted. 
More information about getting the pass if you are visiting Switzerland is available at the following link. 
EXPLAINED: How do tourists get Switzerland's Covid certificate to access events, clubs and restaurants?
Elsewhere around Europe 
In Hungary immunity certificates delivered from the time of the first vaccine shot are required in health establishments and to attend sports and music events, as well as gatherings of more than 500 people.
 In Luxembourg a pass is asked for in shops.
In Azerbaijan a health pass has been mandatory since the beginning of June to enter sports centres or attend weddings.
In Portugal such a certificate is required to stay in a hotel or play sport. It is also required to eat inside restaurants, but only at weekends in the most hard-hit regions.
In Ireland the health pass is for the time being only needed for indoor eating and drinking in restaurants and pubs.
In Russia the Moscow region in June imposed a health pass for restaurants but this was so unpopular it was scrapped three weeks later.
The British government is planning to introduce in September a health pass in England to enter nightclubs and other places admitting large groups of people. Professional football matches could be included, reports say.
The UK's other nations — Scotland, Wales and Northern Ireland — set their own health policies.
Georgia is also planning a health pass.
Emilio Morenatti: 'I would give up the Pulitzer to have my leg back. I'd even burn my work' | Culture
Emilio Morenatti gets off the high-speed Barcelona-Madrid AVE train with his camera at the ready, even though he's not on a job. The camera, he says, is his third arm. Dressed in a polo shirt and long pants, it's impossible to tell he is missing his left leg.
Morenatti's leg was blown off in 2009 by a bomb in Afghanistan when he was accompanying US troops on a mission that he was advised against going on.
The chief photographer for the Associated Press in Spain and Portugal is now waiting for a visa to enter the US and collect the Pulitzer Prize for his photos of the elderly and homeless in Barcelona during the worst of the coronavirus pandemic. Morenatti says he is proud that, after all the restrictions he had to work around in order to take them, his photos were displayed as part of a state tribute to Covid victims. If he feels at all bitter about the obstacles that were put in his path, it doesn't show.
Question. Is the revenge sweet?
Answer. In a way, yes. The authorities that asked for the photos are the same ones who denied us photographers access to hospitals and cemeteries. I could have refused them, but I am more interested in exposing the hypocrisy. We live in an aseptic society that doesn't want to see certain things. But I think with this pandemic, there's been a click. Something has changed. If this means making people think, I feel I have done my job.
Q. The Pulitzer is like the Nobel Prize of its field. What now?
A. Just keep working. If losing a leg – with all the family, professional and self-imposed pressures that entailed – didn't detract from my passion or distract me from pursuing my career, this won't either, even less so. That's what I want to shield against; I still don't want to sit down and edit someone else's photos.
Q. Did the loss of your leg alter your perspective?
A. Yes, in particular my approach to victims. I feel vulnerable now; I see my two-legged colleagues and I'm the only one with one leg and I feel envious. I don't hide my disability and, when I portray the vulnerable, I take certain liberties, as one cripple to another. It gives you empathy and the freedom to push through certain barriers.
The beauty of a photo is about trapping the viewer; it's like those carnivorous flowers that attract you with their colors and then ensnare you
Q. "From one cripple to another!" That's good but also tough.
A. A lame guy who saw my prosthesis once said to me, "I'm going to talk to you as one cripple to another" and I thought it was a great idea. Because being lame is not only physical, it's mental. I miss my leg every day. Disability causes friction, pain and frustration. My mind gets used to it, but I deal with it every day. Before, I would go for a walk without thinking. Now, every outing requires logistics. It is not easy. It's a subject that interests me a lot. That's why the limp comes through in some of my photos.
Q. During lockdown, you went out to visit the sick with health workers. Did you also give a bit of that side of yourself to the people you photographed?
A. It felt a bit like that, yes. The elderly were very much in need of company, of human contact, of someone to pay them a visit. The doctors made the visit, but I went with them. In the Pulitzer series, there is a photo in which an old woman holds the doctor's hand and also my own, while I took her picture with the other one. She started telling us about her life. That is also therapy, isn't it? We could feel that people needed that support. And me too, of course.
Q. Is the camera your shield or weapon?
A. It is a part of me. Sometimes it is a shield. I have been very moved by some of the photos I have taken; they have been moments of great intensity. I remember [nursing home residents] Agustina and Pascual's kiss that made me cry and, right then, I do remember I was using the camera as a shield. But the question is what it would be like for me not to have the camera. And that is Murphy's Law. The day you don't take it out with you, something happens, and that really tortures me: the photos I haven't taken.
Q. What are the images you can't get out of your head?
A. I remember an explosion in Gaza that landed very close to us. Those bombs are enormously violent. Everything inside you moves. There is a moment of silence, because your eardrums are blocked, and then you see smoke, people running and people who can't run because they are dead, wounded, dismembered. I go over these kinds of situations in my head. And when it happened to me, when my leg was blown off, I watched the man who gave me a tourniquet and saved my life as if it was happening in slow motion. That slowness is something that happens again and again in my life. It is all accompanied by smells, screams, pain, nausea, all of which will accompany you all your life because your photo will never match the level of violence of a situation like that.
Q. But it is the photo that remains when the situation is over.
A. That is the privilege of this profession. And that's what keeps me tied to it. It's a privilege like being a superhuman or superhero. I have been in extraordinary situations, and the commitment that one acquires from being there and documenting them is what makes you do your best and say: I'm going to do it better than anyone else, even better than myself. It's pure adrenaline.
Q. You won't remember, but I met you while you were working at the 1992 World Expo in Seville. You were a young photographer at that time with a reputation for partying.
A. No, I don't remember you! You'll have to show me a full-length photo of yourself from back then [laughs]. I was a kid. I was always hungover. I was consumed by the drive and arrogance of my 20s. I was born in Zaragoza because my father is a policeman and was stationed there, but I grew up in Jerez. We were a big family of modest means in a down-at-heel neighborhood. I didn't know anything about photography or English at that time. I did a lot of crazy things. I photographed Lady Di at the Expo, I also took myself on the island of Perejil [over which a turf battle in 2002 between Spain and Morocco] in an inflatable boat, and that brazenness was the springboard for my call from Associated Press. I've been a bit of a kamikaze, but as far as I'm concerned surviving means squeezing the most out of things.
I don't hide my disability and, when I portray the vulnerable, I take certain liberties, as one cripple to another
Q. Did you feel marginalized by journalists?
A. Very much so. And I still do. I see my children and I think: they are going to have everything I didn't have. I learned to survive on the job. Then I tried to educate myself intellectually, and I continue to do so.
Q. Have you already taken your dream photo?
A. No, and it's impossible to do so, because it would have been during the Spanish Civil War. I dream of the Battle of the Ebro, of having worked with [photographer Robert] Capa. I would have loved to do what I'm doing now at that decisive moment in Spanish history.
Q. Would you like to cover a red carpet event?
A. I think that would be a drag. I would do it, just as we photographers do other things we don't like, but it doesn't interest me at all, like soccer. That, for me, is not photojournalism, which I understand to be a reflection of society. That particular element of society already has too much attention and doesn't need to be given more. I focus on places where attention is scarce. My mission is to make visible…
Q. … what we don't want to see?
A. Yes, so that it is discussed and not forgotten. And that's where I think the language used has to be intelligent, because if not, there's rejection. The beauty of a photo is about trapping the viewer; it's like those carnivorous flowers that attract you with their colors and then ensnare you. That's where I channel all my knowledge and 30 years of experience.
Q. Is there anything you do for pleasure to ease the suffering of injustice?
A. I would love to play the guitar. I am a lousy musician and I have already exasperated several teachers. But something happens to me: I'm practicing, I see a change of light through the window, I throw the guitar down and go out to take pictures. And that's with just one leg. I'd have to be totally disabled to learn to play decently.
Q. How close are friends to asking you to take pictures at their weddings?
A. You'd be surprised. Friends in the south are calling me El Puli [after the Pulitzer], which is a way of putting me in my place in case I get too big for my boots. The other day, a friend I used to work on a newspaper with in Jerez said, "Do you remember when I told you they were going to give you the Pulitzer for the terrible photos you took? Well, now they finally did!"
Q. Well, thank you very much, Puli.
A. Thank you, but, you know, I would give up the Pulitzer to have my leg back and be able to use two legs again. I'd even burn my work. It might contradict everything I've just said, but that's how I feel.
English version by Heather Galloway.