Orban and von der Leyen to tussle on EU recovery funds
On Friday evening (23 April) there will be a fraught meeting at the EU Commission's Berlaymont headquarters, as commission president Ursula von der Leyen will welcome Hungarian prime minister Viktor Orbán.
The key topic, as it has been for some time between the EU and Hungary, is money and how to oversee it.
On the agenda will be Hungary's national plan for using the money available under the EU recovery fund – which von der Leyen is also discussing with other leaders on their own domestic plans.
Orbán, who asked for the meeting, nevertheless said on Friday he would discuss the "future of Europe" with the executive chief, not the fund.
Orbán (and his Polish counterpart) last December threatened to block the entire EU recovery fund – along with the EU's long-term budget – if fellow leaders did not water down efforts to tie those funds to respect for the rule of law.
Hungary and the EU have been locked in legal and political battles for several years.
Now, neither side want to the situation to escalate. Orbán is keen to ensure that the over €7bn in grants is unleashed – as he gears up for a general election next spring.
Orbán arrived in Brussels with some gestures of cooperation, after his government tabled amendments earlier in the week on two pieces of legislation that were previously deemed illegal by the European Court of Justice.
One is on scrapping provisions on foreign donations given to civil society organisations that the court said were "discriminatory and unjustified restrictions".
The other is on the higher education legislation, which eventually forced the George Soros-founded Central European University to relocate to Vienna from Budapest.
Hungary's national plan, as with all EU countries' plans (which have to be submitted by the end of April), will be assessed by the commission over the next two months.
The commission will then make a proposal to the council of member states to approve the plans, where governments can further scrutinise them and demand tweaks.
These plans have to adhere to common goals agreed by EU leaders last year, such as that 37 percent of expenditure should be made on climate-relevant investments.
However, Hungarian opposition MEP István Ujhelyi (Socialists and Democrats) in a letter to von der Leyen on Thursday warned that "neither the 37 percent climate nor the 20 percent digital objective" is adequately supported in the Hungarian national plan.
Ujhelyi argued that the majority of the reforms and investment proposed by Orbán do not take into account core elements of the European Green Deal, the bloc's flagship climate project.
Orban's critics have also pointed out that the Hungarian PM wants to spend a good chunk of the recovery money on higher education. In recent years much of the governance of public universities have been turned to foundations with ministers or other government-allies in boards – raising concerns over academic freedom.
Corruption concerns
The recovery plans should also respect the so-called country-specific recommendations, annual advice from the commission on how to transform the economy and administration of member states.
Here, the EU last year highlighted the "lack of competition in public procurement" as an "important concern", particularly the high number of single bids, identified "systemic deficiencies" and weaknesses in the public-procurement control system.
It also pointed out that corruption, access to public information, and media freedom "caused concerns", adding "determined systematic action to prosecute high-level corruption is lacking", while "investigation and prosecution appears less effective in Hungary than in other member states".
Hungary has headed the EU's anti-fraud agency's list of countries where irregularities have been found in spending EU funds between 2015 and 2019, although the Orbán government – in power since 2010 – has argued that has to do with misuse by a previous government.
"Rule of law, corruption, and public tenders are very relevant of implementation of recovery fund. […] This is very central to the reforms that we are discussing with member states and requiring to be included in the plans for those member states who had recommendations in that respect," said an EU official on Friday, ahead of the meeting.
Orbán has one key card in his hands: Hungary has still not approved the legislation necessary for the commission to raise money on the markets – the basis for the recovery's financing.
However, it will be difficult to hold out on this. On Friday, Germany also ratified the legislation, after its constitutional court gave the go-ahead.
"Tomorrow is not a meeting at which anything will be decided, it will be a discussion," said commission spokesman Eric Mamer on the von der Leyen-Orbán head-to-head meeting on Thursday.
Ten women and girls killed every day in Mexico, Amnesty report says | Global development
At least 10 women and girls are murdered every day in Mexico, according to a new report that says victims' families are often left to carry out their own homicide investigations.
The scathing report, released on Monday by Amnesty International, documents both the scale of the violence and the disturbing lack of interest on the part of Mexican authorities to prevent or solve the murders.
"Mexico is continuing to fail to fulfil its duty to investigate and, therefore, its duty to guarantee the rights to life and personal integrity of the victims as well as to prevent violence against women," says the report, Justice on Trial.
"Feminicidal violence and the failings in investigation and prevention in northern Mexico are not anecdotal, but rather form part of a broader reality in the country," the report adds.
Femicide has been rife in Mexico for decades – most notoriously in an epidemic of murders which claimed the life of some 400 women in the border city Ciudad Juárez during the 1990s. In recent years, a growing feminist movement has held massive street protests against the violence, but authorities have proved unwilling to take action to stop the killing.
"It's always a question of political will," said Maricruz Ocampo, a women's activist in the state of Querétaro.
Ocampo has been part of teams lobbying state governors to issue an alert when femicides reach scandalously high levels – a move to raise awareness and mobilise resources. But officials often resist such moves, she said, as governors worry about their states' images and investment.
"They refuse to recognise there is a problem," she said.
The president, Andrés Manuel López Obrador, has also downplayed the problem. He branded the women protesting on 8 March, International Women's Day, as "conservatives" and alleged a dark hand manipulating the demonstrations.
When asked last year about rising violence against women, he responded, "Tell all the women of Mexico that they are protected and represented, that we're doing everything possible to guarantee peace and quiet and that I understand that our adversaries are looking for ways to confront us."
Mexico recorded the murders of 3,723 women in 2020. Some 940 of those murders were investigated as femicides.
The Amnesty report focused on Mexico state, a vast collection of gritty suburbs surrounding Mexico City on three sides. It has become notorious for femicides over the past decade – and for the way the former president, Enrique Peña Nieto, a former Mexico state governor, ignored the problem.
The report found cases of families carrying out their own detective work, which were ignored by investigators. In many cases, authorities contaminated crime scenes or mishandled evidence. They often did not even pursue leads such as geolocation information from victims' mobile phones.
In the case of Julia Sosa, whose children believe she was killed by her partner, two daughters found her body buried on the suspect's property – but had to wait hours for police to arrive and process the crime scene. One of her daughters recalled the subsequent interview process, in which "the police officer was falling asleep".
Sosa's partner hanged himself, prompting police to close the case, even though family members said there were more leads to pursue.
In states rife with drug cartel violence, activists say cases of femicides go uninvestigated as impunity is commonplace.
"The authorities say it's organised crime and that's it," said Yolotzin Jaimes, a women's rights campaigner in the southern state of Guerrero. "Many of these aggressors find protection under the excuse of organised crime."
The persistence of femicides is a stark contrast to recent gains by the women's movement in Mexico. The country's supreme court decriminalised abortion earlier this month. A new congress recently sworn in has gender parity and seven female governors will be installed by the end of year – up from just two before last June's election's
The decriminalisation of abortion "let off some steam" from the pressure driving the protests "because part of the demands was over the right to choose," Ocampo said. "But when it comes to violence, we still see it everywhere."
US official urges EU to speed up enlargement
Gabriel Escobar, the US' newly-appointed acting deputy secretary of state for South Central Europe, has urged Europe to speed up Western Balkans enlargement. "To return 20 years later and see that there hasn't been much progress on that front was a little disappointing," he told the RFE/RL news agency Friday, referring to his last post in Europe in 2001. "We would like to see a more rapid integration," he said.
Climate crisis leaving 'millions at risk of trafficking and slavery' | Global development
Millions of people forced to leave their homes because of severe drought and powerful cyclones are at risk of modern slavery and human trafficking over the coming decades, a new report warns.
The climate crisis and the increasing frequency of extreme weather disasters including floods, droughts and megafires are having a devastating effect on the livelihoods of people already living in poverty and making them more vulnerable to slavery, according to the report, published today.
Researchers from the International Institute for Environment and Development (IIED) and Anti-Slavery International found that drought in northern Ghana had led young men and women to migrate to major cities. Many women begin working as porters and are at risk of trafficking, sexual exploitation and debt bondage – a form of modern slavery in which workers are trapped in work and exploited to pay off a huge debt.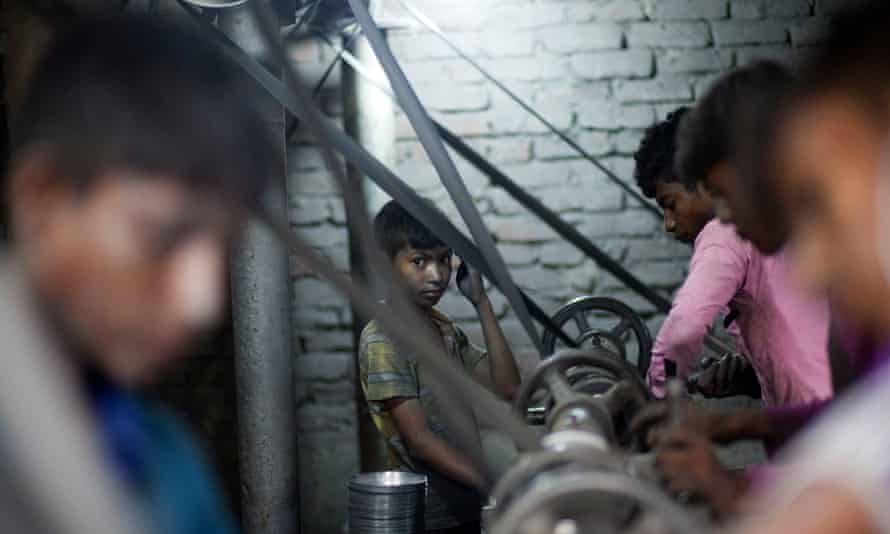 One woman, who migrated to Accra from northern Ghana, used to farm until the land was ruined by flooding and she was forced to move. For seven years she has worked as a porter (kayayie), carrying items on her head.
She said: "Working as a kayayie has not been easy for me. When I came here, I did not know anything about the work. I was told that the woman providing our pans will also feed us and give us accommodation. However, all my earnings go to her and only sometimes will she give me a small part of the money I've earned."
She dropped a customer's items once and had to pay for the damage, which she could not afford. The woman in charge paid up on condition that she repay her. She added: "I have been working endlessly and have not been able to repay."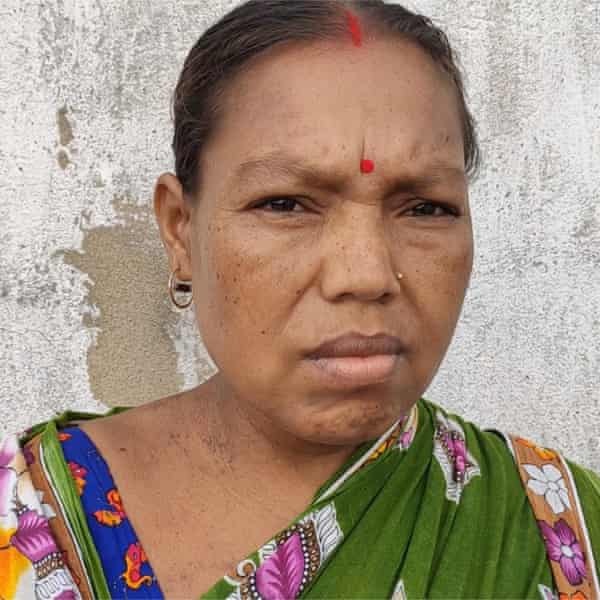 In the Sundarbans, on the border between India and Bangladesh, severe cyclones have caused flooding in the delta, reducing the land available for farming. With countries in the region tightening immigration restrictions, researchers found that smugglers and traffickers operating in the disaster-prone region were targeting widows and men desperate to cross the border to India to find employment and income. Trafficking victims were often forced into hard labour and prostitution, with some working in sweatshops along the border.
Fran Witt, a climate change and modern slavery adviser at Anti-Slavery International, said: "Our research shows the domino effect of climate change on millions of people's lives. Extreme weather events contribute to environmental destruction, forcing people to leave their homes and leaving them vulnerable to trafficking, exploitation and slavery."
The World Bank estimates that, by 2050, the impact of the climate crisis, such as poor crop yields, a lack of water and rising sea levels, will force more than 216 million people across six regions, including sub-Saharan Africa, south Asia and Latin America, from their homes.
The report is a stark warning to world leaders in advance of the Cop26 UN climate summit in Glasgow in November and calls on them to make sure efforts to address the climate emergency also tackle modern slavery. The report says labour and migrant rights abuses are disregardedin the interests of rapid economic growth and development.
Ritu Bharadwaj, a researcher for the IIED, said: "The world cannot continue to turn a blind eye to the forced labour, modern slavery and human trafficking that's being fuelled by climate change. Addressing these issues needs to be part and parcel of global plans to tackle climate change."