Nick Cave and grief: How touring, audiences and music help him heal from the deaths of two sons | Culture
Few people would have survived what Australian singer Nick Cave has endured, and not only emotionally. When he was 21 years old, his father died in a traffic accident. His mother told him about it in a Melbourne police station where young Nick was arrested for robbery. He spent the 1980s and much of the 1990s hooked on heroin. In 2015, when he was living a peaceful, harmonious adult life on the outskirts of Brighton, England, one of his four sons, Arthur, died at the age of 15; he tried LSD for the first time and fell off a cliff. In May of this year, his oldest child, Jethro, 31, died in equally tragic circumstances. He had just been released from prison for assaulting his mother, model Beau Lazenby, and was diagnosed with schizophrenia. Jethro did not know his father until he was 8 years old.
But it's easy to agree that, against all odds, Cave is doing his best work right now, amidst a turbulent aging process. Skeleton Tree (2016) and Ghosteen (2019), Cave's last two albums with his band The Bad Seeds, are probably the highlights of his long career. In addition, over the past seven years he has recorded two other albums—with his usual collaborator, multi-instrumentalist Warren Ellis—that sound like an inspired spiritual refuge: Carnage came out last year, and Seven Psalms, a work of spoken word and quasi-ambient music, was just released a few weeks ago. In recent years, the two have also produced seven soundtracks (including one for the masterpiece Comanchería); soon, an eighth soundtrack will debut for Blonde, the controversial Marilyn Monroe biopic directed by Cave's friend Andrew Dominik, which stars Spanish actress Ana de Armas. He has also written several opera librettos and music for theatrical productions.
Performing live: From confrontation to emotional exchange
Nick Cave's latest tours with The Bad Seeds have charmed his fans more than ever (and earned him new ones), as evidenced by accounts of his recent Primavera Sound tour. His concerts have become rituals of healing transcendence, where the vocalist transforms into a kind of deranged preacher leading his flock to the light. He has taken to mingling with audience members in the front rows and singing high above them, but Cave also acknowledges that there has been a fundamental change in how he approaches the songs on stage. Whereas his attitude was once threatening and meant to confront and disrupt the audience, now he appeals to a sense of community redemption, he sees a group embrace and a two-way flow of energy. "You know, the audience has been hugely helpful… I find it difficult to articulate this to them, onstage, but…I would just want to thank them for this" he declared in 2017, when he returned to the stage. "I've always felt as a performer a sort of combativeness. You know, the finger would come out and I would be here I am and this is fucking it and stand there and take it. And it was a very one-way kind of experience for me.… I come from a different school of frontmen. Full-on attack. It's an attack on your audience of some sort. It's just the way it's always been. Even though the finger comes out, it doesn't feel like that in the same ways it used to feel. It feels much more that there's something coming back.… Something different has been happening with the audience—a kind of dynamic, emotional exchange—that is quite beautiful. There's just some kind of communal feeling. Maybe this is what it's like to be in Coldplay or something."
Not like a Rolling Stone
Cave's transformation on stage is only one part of a deeper process. At 64, he has refused to look back creatively or to give in to the nostalgic temptations that are so common among musicians of his age. At the same time, he has ventured into new stylistic directions and delved into the search for the unfathomable, the mysterious that he has always highly valued. "After a while, there's something perverse about just carrying on. You see yourself as an experiment in longevity. Like the Rolling Stones, there's something that has become quite wonderful about that band because we watch and see how long it can continue. I'm different to them because I still make decent music. I still sit down and try to make records that are different from the last stuff," he said at a conference in Australia.
Cave's career has helped him to try to make sense of everything, to ask his own questions and reflect on our existence. Maybe, at the beginning of his musical career, when he was influenced by punk and gave his music a nihilistic, extreme and violent aura (with his band The Birthday Party, when he moved from Melbourne to London, and in the early days of The Bad Seeds in the 1980s, when he worked in West Berlin's dark underground scene), his inspiration came from chaos and disorder. But even then Cave's songs dealt with uncommonly important themes in the rock imaginary: God, death, love in absolute terms, punishment and forgiveness, evil….. It is as if his life finally responded to, or was influenced by, the topics he wrote about, like a self-fulfilling prophecy.
From punk to the canon of mature singer-songwriters
By the mid-nineties Cave was no longer that self-destructive punk rocker. He was welcomed into the canon of the great mature singer-songwriters who have twisted personal universes. Cave joined the company of Bob Dylan, Leonard Cohen, Tom Waits, Van Morrison, Scott Walker, Patti Smith, Serge Gainsbourg… For his fans and music critics, albums like Let Love In (1994), Murder Ballads (1996) and The Boatman's Call (1997) represented the high point of his career; he could never top them. That notion seemed to be confirmed when Cave released his first two weak albums: No More Shall We Part (2001) and Nocturama (2003). Their release came with an astonishing revelation: Cave was now composing music at his new home in Brighton strictly from 6 am to 5 pm, as if he held an office job. On top of that, the Bad Seeds' most charismatic member, German Blixa Bargeld, had left the group. Nobody gave a damn about Nick Cave anymore.
Then the unexpected happened: He released his ambitious and accomplished double album Abbatoir Blues/ The Lyre Of Orpheus in 2004; formed a new dirty and delirious rock band, Grinderman; authored a novel, The Death of Bunny Munro and wrote a strange poetic work on airplane sickness bags, The Sick Bag Song; composed soundtracks with Warren Ellis like crazy; and even wrote two scripts—one for his friend John Hillcoat, The Proposition, and another for Gladiator 2, which Russell Crowe commissioned. The latter never made it to the screen, and even Cave himself has said that it was really foolish.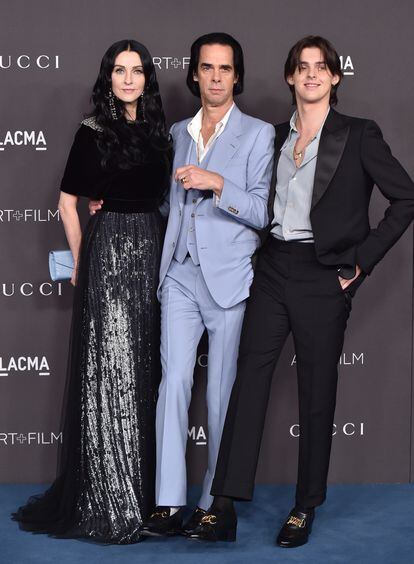 Rebirth in the 21st century
Since then, Cave's trajectory and creative inspiration have continued to grow, validating his extremely hardworking creative method. For Cave, working continuously was a way of feeling connected to the world. In fact, following the loss of his son Arthur, the process that had been going on for more than a decade continued, although the tragedy drove and changed it. It would have been normal to fall into a creative funk, but Cave says that the words and songs came to him more easily. He never contemplated doing anythng else but continuing to work.
His album Skeleton Tree was already halfway done when his son passed away, and the Andrew Dominik-directed documentary One More Time With Feeling captured the moment when that whole process was transformed, how the musician's grief led him toward a strangely lucid serenity. "I said to Warren (Ellis) a week after Arthur died : It just goes on, you know. I didn't even know what I was talking about… It was not like an act of courage or anything, it was just that I didn't know what the fuck else to be doing. All I knew is that what I do is work, and that kind of continues. I think I knew, fundamentally, that if I lay down, I would never get up again," he confessed in 2017 to GQ magazine. He acknowledged having a newfound confidence in his lyrics and he felt that he could go anywhere with them.
Cave is not one to exploit pain, so he was extremely concerned about the image he might convey in Dominik's documentary. He told the director that he would only authorize the film if he had control over the final edits. In the end, he did not change anything: he was moved and accepted the filmmaker's abstract tribute to his family and his lost son.
Trademark black humor
In recent years, the author of Your Funeral… My Trial has also survived the loss of numerous fellow musicians and close friends, including Jeffrey Lee Pierce of The Gun Club; Michael Hutchence; Grant McLennan of The Go-Betweens (with whom Cave shared an apartment in London and formed a side band); his partner in The Birthday Party, Rowland S. Howard; his ex-girlfriend and Bad Seed band member Anita Lane; and his first punk idol, Chris Bailey of The Saints… Cave's awareness of mortality has not weakened him at all; rather, it seems to have been a source of strength and inspiration for him.
Cave's contact with the public also seems to have been therapeutic, even beyond his live performances. In recent years, for example, he has been very active on his website, where he has created a blog, the Red Hand Files; there, he corresponds directly with his followers and answers their questions. He also has a section called, Cave Things, on which he sells some of his most unusual artistic materials: ceramic figurines, drawings, various items with Warren Ellis's face on them, religious stamps, and other hilarious objects that attest to his desire to fight death by embracing life as the only possible way forward. In fact, his genuine dark sense of humor remains intact. In the middle of his Primavera Sound concert, he dedicated a song to Luke and Earl, his two surviving sons, joking that they were probably waiting for the Bauhaus concert to start (Bauhaus was Cave's rival goth rock band in the early 1980s, which he always said he found laughable and ridiculous). "That's my advice if anythng terrible ever happens to you. Form a band and go on tour," he said recently
Britney Spears responds to ex-husband's 'hurtful' claims that her children don't want to see her | Culture
Singer Britney Spears responded on Sunday to claims made by her ex-husband Kevin Federline about her relationship with their two children, Sean Preston, 16, and Jayden James, 15.
In an interview which will be aired on ITV news, Federline said that the two teens had not seen their mother for months. "The boys have decided they are not seeing her right now. It's been a few months since they've seen her. They made the decision not to go to her wedding," he said, as reported by The Daily Mail.
In June last year, Spears married personal trainer Sam Asghari. The ceremony was attended by personalities such as Donatella Versace, Madonna, Paris Hilton, Drew Barrymore and Selena Gomez, but not her closest family or children. After the wedding, Spears and Asghari bought a house, valued at $10 million, near Federline's home.
Federline, a former dancer, had a tumultuous romance with Britney Spears in 2014. The two met while recording a music and started dating. They were soon engaged and married just three months later. But the pair divorced two years later, citing "irreconcilable differences." Federline has since married volleyball player Victoria Prince, with whom he has two daughters.
In the interview, Federline blamed the alleged fallout between Spears and her children on the singer's Instagram account, which often features revealing photos. "'Look, maybe that's just another way she tries to express herself,'" Federline explained as what he has said to his sons. "But that doesn't take away from the fact of what it does to them. It's tough. I can't imagine how it feels to be a teenager having to go to high school."
Federline also spoke about the controversial legal conservatorship that gave Spears' father, Jamie Spears, complete legal control over her finances and day-to-day existence from its signing in 2008 to its end in November last year. According to the former backup dancer, the conservatorship "saved" the singer. "This whole thing has been hard to watch, harder to live through, harder to watch my boys go through than anything else," he said in reference to the process to end the guardianship.
But Spears has denied Federline's "hurtful" claims. "It saddens me to hear that my ex-husband has decided to discuss the relationship between me and my children," wrote Spears. "It concerns me the fact that the reason is based on my Instagram … it was LONG before Instagram … I gave them everything. Only one word: HURTFUL."
The singer added that her mother advised her to give her children to Federline while she was under the conservatorship.
Spears' new husband Asghari also rejected the claims. "There is no validity to his statement regarding the kids distancing themselves and it is irresponsible to make that statement publicly. The boys are very smart and will be 18 soon to make their own decisions and may eventually realize the 'tough' part was having a father who hasn't worked much in over 15 years as a role model."
Margot Robbie's self-confessed ambition has made her the highest paid actress of the year | Culture
Self-doubt is Margot Robbie's greatest motivator, and competes with ambition in the Australian actress's psyche. She couldn't believe her own eyes when she first saw herself on a giant ad for the Pan Am TV series in New York's Times Square. "I still have the photo," she told EL PAÍS a few years ago, somewhat wistful for the days when she was still a nobody. The script of The Wolf of Wall Street (2013), the Martin Scorsese film that put her on the map, touted her as "the most beautiful blonde in the world," but she didn't believe the hype. "I remember saying to a friend, 'I haven't worked in six weeks.' I'm sure there's nothing out there for me," laughed Robbie. But Hollywood didn't share her skepticism. In July, Variety magazine ranked Robbie as the highest paid actress of the year when her US$12.5 million salary for the upcoming Barbie movie was announced.
Margot Robbie may be this year's highest paid actress, but 17 men made even more money, led by Tom Cruise who was paid US$100 million for Top Gun: Maverick. Her Barbie love interest, Ryan Gosling, was paid the same as Robbie, even though she has the titular role, more evidence that pay parity in Hollywood is far from being a reality. Robbie ranked ahead of Millie Bobby Brown (US$10 million for the Enola Holmes sequel); Emily Blunt (US$4 million for Oppenheimer); Jamie Lee Curtis (US$3.5 million for Halloween Ends); and Anya Taylor-Joy (US$1.8 million for Furiosa).
Robbie's misgivings about her career aren't shared by other industry giants. Martin Scorsese compared her to Carole Lombard for her comedic genius, Joan Crawford for her toughness, and Ida Lupino for her emotional range. He described Robbie as having a surprising audacity, and recalls how she clinched her role in The Wolf of Wall Street by stunning everyone with a tremendous, improvised slap of Leonardo DiCaprio during her audition.
Robbie showed the same boldness when she lobbied director Quentin Tarantino for another role opposite DiCaprio in Once Upon a Time in… Hollywood (2019). She sent the director a letter telling him how much she admired his films, especially her all-time favorite, True Romance (1993). The letter probably wasn't necessary, as Tarantino already had the I, Tonya star in mind to play Sharon Tate in his new movie, describing her to EL PAÍS as an actress with a visual dynamism and personal qualities that you don't see every day.
Robbie has wanted to work in movies ever since her start in Neighbours, the long-running Australian TV series that is coming to an end after 9,000 episodes and 37 years on the air. "Of course I'm ambitious. My career motivates me. I came to the United States with a plan, and I'm always looking ahead," she told us. Even as a child growing up in Queensland (northeastern Australia), Margot Elise Robbie displayed her business smarts and drama queen chops when she decided to sell all her brother's old toys from the sidewalk in front of the family home.
She jokes about her childhood, but part of that little girl always comes out in the wide variety of characters she plays. She has had all kinds of roles in little-known films like Suite Française and Z for Zachariah, and also in box-office hits like Suicide Squad and Birds of Prey. She won Oscar nominations for playing driven women in I, Tonya (2018) and Bombshell (2020). "Yes, many of the women I've played share my ambition – this is a tough industry. But I'm full of doubt like anyone else. You never know how things will turn out," she said.
Seeking more control over her films, Robbie founded production company LuckyChap Entertainment in 2014 with her husband, British filmmaker Tom Ackerley, and some friends. She hopes to use LuckyChap as a vehicle for herself and other actresses, as she did with Promising Young Woman starring Carey Mulligan, a black comedy thriller film that won writer/director Emerald Fennell an Oscar for best original screenplay. "Margot is an extraordinary person," said Fennell. "That's why she's doing so well as a producer who is determined to try different things and give women a voice."
Robbie met British assistant director Tom Ackerley on the set of Suite Française in 2013. They began a romantic relationship the next year and moved in together right after attending their first Golden Globes gala for The Wolf of Wall Street. Married since 2016, the couple and co-workers in LuckyChap have a bright future ahead, judging by all the work that is piling up for Robbie. In addition to Barbie, she will appear in Amsterdam, directed by David O. Russell; as silent film star Clara Bow in Babylon, directed by Damien Chazelle; and has a role in Wes Anderson's Asteroid City. As if that wasn't enough to keep Robbie busy, a remake of Ocean's Eleven awaits her; she will play opposite Matthew Schoenaerts in the post WWII drama, Ruin; produce a remake of Tank Girl; and play a female Jack Sparrow in another installment of Pirates of the Caribbean. Surely Margot Robbie doesn't have any more doubts about her career.
Salem's last witch regains her honor | Culture
As statues of slave owners and slave traders continue to fall in the United States, the embers of the bonfires that burned women accused of committing spells and witchcraft are also being extinguished. In the umpteenth revision of history to try to exonerate the victims, the most recent episode concerns the last official Salem witch, Elizabeth Johnson Jr., from the massive 1692 and 1693 trials in the English colony of Massachusetts. Thanks to the initiative of a middle school teacher and her students in Andover, located in the same county as Salem, her spirit can now roam free. The enthusiastic students began the vindication process in 2020 and persuaded Massachusetts state senator Diana DiZoglio (D), who took up the cause and pushed for Johnson's pardon, which was announced last week.
It has taken 329 years for Elizabeth Johnson Jr.'s name to be cleared definitively. She was the last of the Salem witches to be exonerated. While Johnson was spared a death by hanging, she was stigmatized until she died at 77, an uncommonly long life for the time. Historians say that Johnson showed signs of mental instability and was single and childless, all of which were signs of witchcraft during that period. She pled guilty before the court of inquisitors. Almost 30 members of her extended family were also implicated, as if witchcraft were contagious, hereditary, or both. Johnson, her mother, several aunts and her grandfather, a church pastor, were tried as well. According to historian Emerson Baker, the author of a book about the Salem witch trials, her grandfather described Johnson to the judges as a "simplish person at best." Most likely, the judges would have equated "simplish" with different during that superstitious and pre-scientific period.
The fact that Johnson didn't have any descendants deprived her of anyone to vindicate her good name, as relatives of the other defendants did. The first attempt to do so happened at the beginning of the eighteenth century. Then, in the 1950s, Massachusetts passed a law exonerating those found guilty, but it failed to gather all the names. A 2001 attempt at justice excluded Johnson because, after her conviction in 1693, she was formally presumed to be dead (executed).
The social hysteria against everything that deviated from the norm, against the minimal exercise of free will, was implacable against women, as Arthur Miller's play The Crucible (the playwright adapted it for the big screen in 1996) and recent variations remind us. The theme lends itself very well to artistic creation, but in real life it amounted to opprobrium for those who suffered it and represented a cause for scorn among puritans.
Salem was more than a witch trial. According to historians, it was a collective exorcism fueled by a puritanical inquisition based on paranoia and xenophobia, a gratuitous auto de fe that unleashed people's worst instincts: fear and the human tendency to blame others for one's own misfortunes. At least 172 people were indicted in the 1692 trial. About 35% confessed their guilt and were spared the gallows; according to sources, around twenty insisted on claiming their innocence and did not escape that fate. The rest of the detainees were acquitted or sentenced to prison. The Salem witch trials represented a collective bogeyman through which one can foresee the later threat of the Ku Klux Klan. It is hard not to wonder what bonfires would have burned today on the pyre of social media and extreme polarization.
The great Salem witch hunt can be re-read through the prism of gender. As the adage goes, se non è vero è ben trovato (Even if it is not true, it is well conceived). Witches, like those in Salem and the woman in Nathaniel Hawthorne's novel The Scarlet Letter (made into a film in the 1950s), were demonized for going off the rails. The dominant society's puritanical stance against any kind of heterodoxy or freestyling, against rebels with or without a cause, led people to be targeted for dressing exotically by puritanical standards or for daring to drink at a tavern, a sacrilege for the morals of the day. It's not difficult to draw a straight line from the bonnet of a witch on the gallows to the handmaid's white bonnet in Margaret Atwood's novel: all were women who were demonized, objectified, and scapegoated for deeper ills.
Beyond gender, other historians emphasize the socioeconomic dimension of the Salem witch trials, which combined a deep-seated inequality with racism, the United States' original sin since well before the Declaration of Independence. The trials targeted colonial society's most vulnerable during a period of economic instability that unleashed fierce rivalry among Salem families. According to historian Edward Bever, society was permeated by interpersonal conflict, much of it stemming from competition over resources. People did whatever they could to survive, from physical aggression to threats, curses, and insults. One of the first women accused, Sarah Osborne, was a poor widow who dared to claim her husband's land for herself, defying the customary laws of nature, which granted the inheritance to sons. The accusation of witchcraft ended Osborne's claim. Tituba, an indigenous slave, was accused of being a witch because her racial origins differed from the norm. Sarah Good was also poor, but she defended herself against the humiliations of her neighbors, which led her to the gallows; her daughter, Dorothy Dorcas Good, was Salem's youngest victim: she was arrested at only four years old and spent eight months in prison.
Since then, history has not changed the fact that vulnerable women pay the price for circumstances beyond their control. That the Puritans of the time considered women—the evil heirs of Eve —prone to temptations such as the desire for material possessions or sexual gratification was only an added factor. Poor, homeless, and childless, these women in the shadow of society's dominant morality were fodder for the gallows. But Elizabeth Johnson Jr. didn't just manage to save her life; 329 years later she recovered her honor as well.