Net gains: how India trawlers' plastic catch is helping to rebuild roads | Global development
For years, plastic caught by fishing communities on the Kollam coast in India's southern state of Kerala was thrown back into the water, damaging aquatic ecosystems and killing fish.
But fishers are spearheading an innovative initiative to clean up the ocean – along with their daily hauls of fish, they pull in and collect the waste that gets enmeshed in their nets.
Bottles, ropes, toys, shoes, discarded fishing nets and polythene bags are sorted, washed, shredded, before being recycled into material added to asphalt to help to build local roads.
In 2017, the Keralan government's harbour engineering department (HED) launched its Suchitwa Sagaram (Clean Sea) initiative, providing nylon bags to the 1,000-odd fishing boats for the crew to collect the rubbish. The plastic is processed onshore and fed into a shredding machine, then sold on to roadbuilders.
Nearly 3,000 fishers and boat owners in Kollam are involved in the initiative. Now the programme is expanding to other harbours and with one million people working in the fishing industry in Kerala, of whom 25% are directly involved in fishing, scaling up the project could have a real impact.
Peter Mathias, president of the All Kerala Fishing Boat Operators' Association, says: "Previously, we didn't care much about the plastic we collected in our nets. We'd simply take the fish and toss the rest back into the ocean. But not any more – we're now protecting the ocean to save our livelihoods. Had we continued to be reckless, there wouldn't have been any more fish for us to catch."
Washing and sorting the collected plastic is also providing jobs to a small group of local women in a traditionally male-dominated sector. "Most of the garbage is too mangled to recycle in traditional ways. So we shred it into strips and sell it to local construction companies, who mix it with asphalt to construct roads. This helps us pay the women's salaries. This road surface is increasingly popular as it makes the roads more resilient to India's extreme heat," says VK Lotus, an engineer with the HED.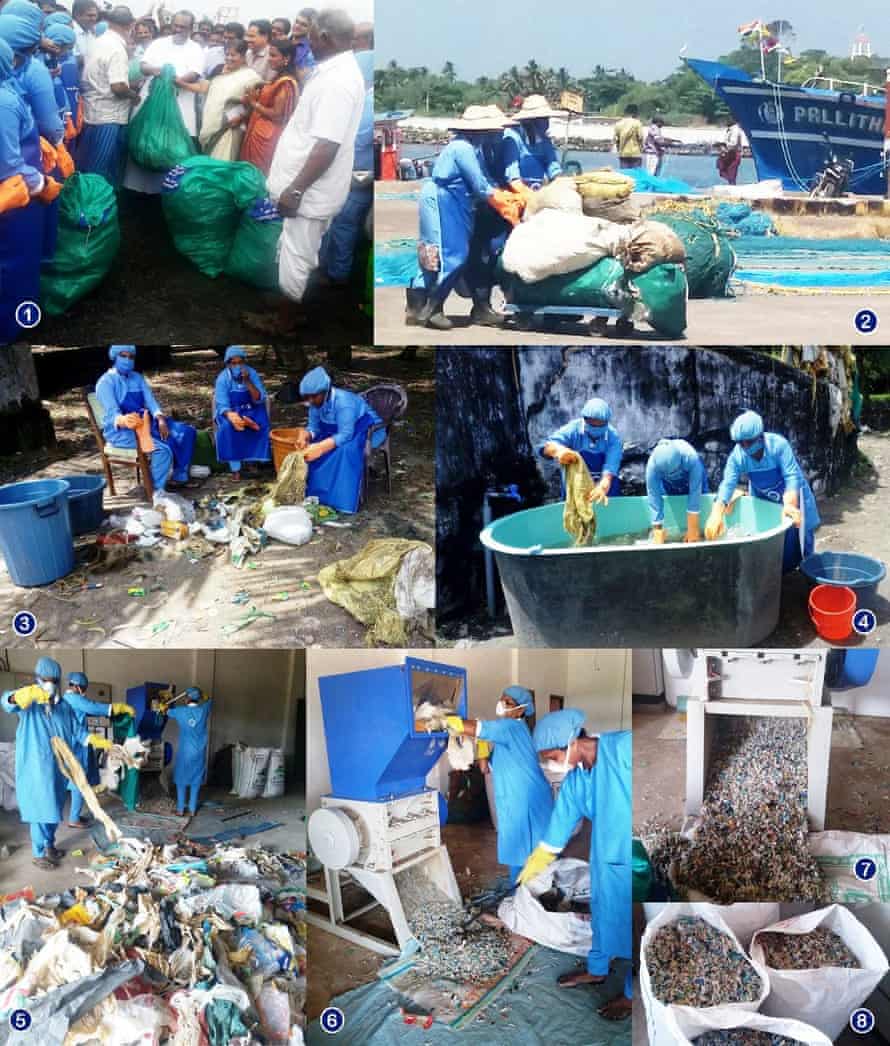 "Every kilometre of plastic road uses the equivalent of a million plastic bags, saving around one tonne of asphalt. This not only saves the environment but also cuts costs by roughly 8–10% per kilometre of road paved with plastic as compared with a conventionally built road," she says.
Since its launch, about 80,000kg of plastic waste has been collected from the seas off Kollam, of which more than half was recycled to lay 84 miles (135km) of road.
The project has resonated with many fishing communities – including clam collectors and divers – along Kerala's 375-mile (600km) coastline. Other groups are now approaching government departments and aid organisations to mobilise funds to help launch their own plastic collection and recycling programmes.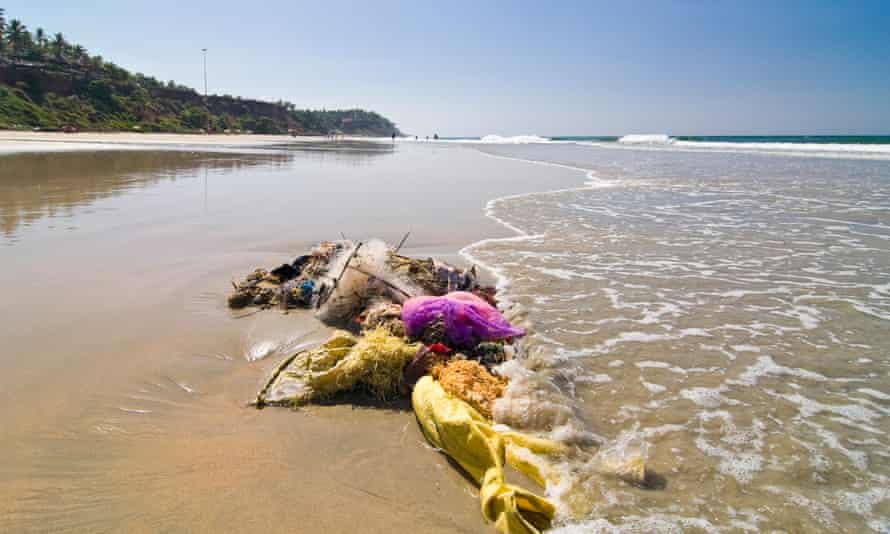 The initiative has not only brought in tangible economic gains for Kollam but ushered in a major shift in the fishing community's perspective about their environment. They now try to ensure that local people and tourists do not litter the land or sea with rubbish, and have pledged to cut back on their own use of plastic. "Our boats also carry stickers to create awareness against marine pollution," adds Mathias.
However, due to the Covid pandemic, the project has hit a bump. Work has slowed down and with rising fuel prices, fewer fishing boats are going to sea.
"On average," says Mathias, "a vessel travels 45 kilometres into the ocean to fish, requiring 500 litres of diesel. However, the government has stopped our diesel subsidy, so we now have to pay about 80p for one litre of diesel instead of the previous 55p. This has affected our income drastically."
But the project must continue, says Mathias, who believes the community has never before been so united and effective in protecting the ocean.
"Our future depends on it. Our children are also getting inspired, which can be life-transforming," he says.
Zebras, giraffes … and a cycle race through the Maasai Mara | Global development
In the world of long-distance running, east Africans have long been the dominant force, and soon they may also be setting the pace in the whitest of elite sports: cycling. This month, the Migration Gravel Race (MGR) brought together 100 of the world's top cyclists in a four-day showdown on the rocky, red dirt roads of Kenya's Maasai Mara. With a third of the entrants from east Africa, it was a rare opportunity for the region's riders to show they can rival the best.
"Cycling is a very Eurocentric sport," says Mikel Delagrange, the prime mover behind the event. "In over 100 years of the world championship, only three athletes outside of Europe have ever won, and they came from the US and Australia."
For 11 years, Delagrange, a human rights lawyer, worked mostly in central and east Africa, for the international criminal court in The Hague. He quit last year and now works with the UN in Palestine.
"The obstacle for east African riders is that they lack access to international competition," he says. "You might be the best in your neighbourhood but you won't progress if you're only beating people in your neighbourhood.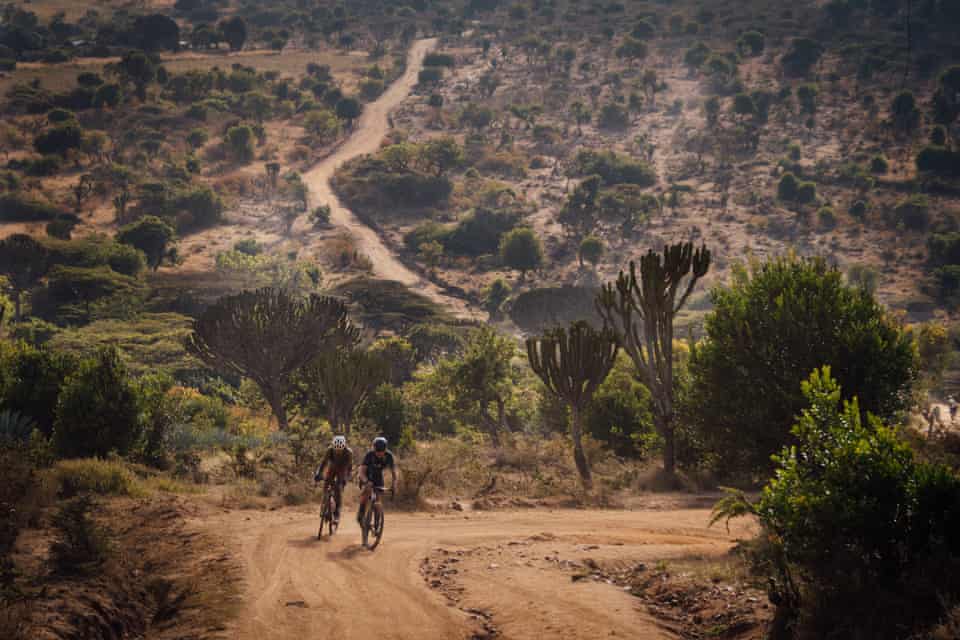 "But if we send an east African to an international race, we're spending an unbelievable amount of money on visas because everyone thinks they're a migrant, then on flights, plus staying in Europe is prohibitively expensive for most.
"After a lot of consultation, we thought: instead of clawing at the door, why don't we bring international competition here?"
Against a backdrop of acacias and euphorbia candelabra trees, amid the zebras, giraffes, impalas and wildebeest of the savannah, the four-day race takes riders along 650km of rough roads, climbing above 3,000 metres. Each day, before the course is cleared by Maasai motorcycle sweepers, dressed in their traditional red plaid blankets, a helicopter goes ahead to check for elephants and buffalo.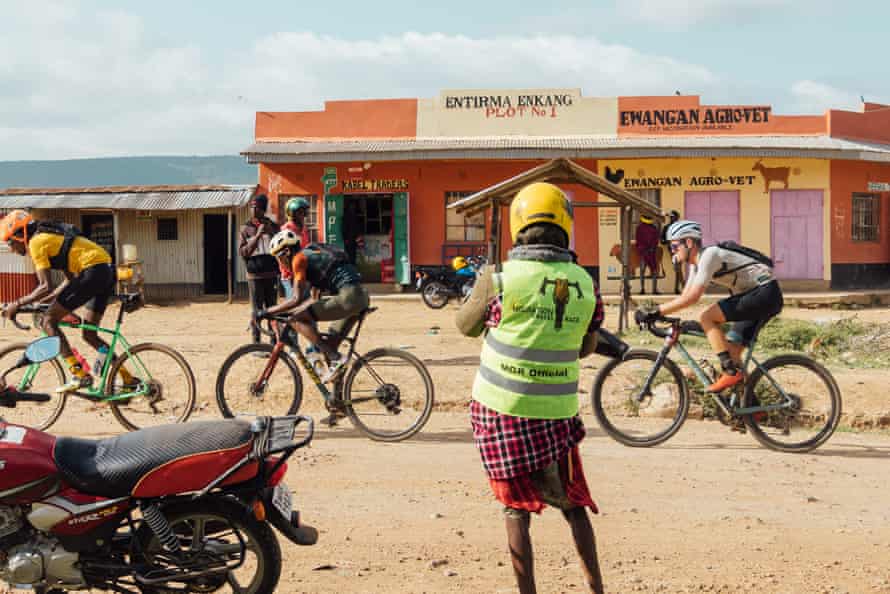 "What Mikel is doing is giving east African riders a home-based platform, not a European one," says Kenyan cyclist David Kinjah. "They get a chance to compete against the best, in their country."
Organising a travelling band of 100 cyclists in a region that lacks infrastructure is a challenge. All the logistics, from security to cooking to building the campsites, is done with support from local Maasai.
Last year, Delagrange set up the Amani team – eight men and four women from the top cycling clubs in Kenya, Uganda and Rwanda. "Amani has changed my life, but not just mine," says Suleiman Kangangi, 33, a Kenyan cyclist. "This is a big deal for east African riders. We selected the best for this race, and they know there's something to aim for."
Nancy Akinyi, 32, another Kenyan cyclist, says: "It's not just about bringing these people here to compete, it's to prepare these young riders for what could be their future if they excel. Thanks to Amani, we can send riders from east Africa and show we can do it. If you go to the world championship, you don't see black people there.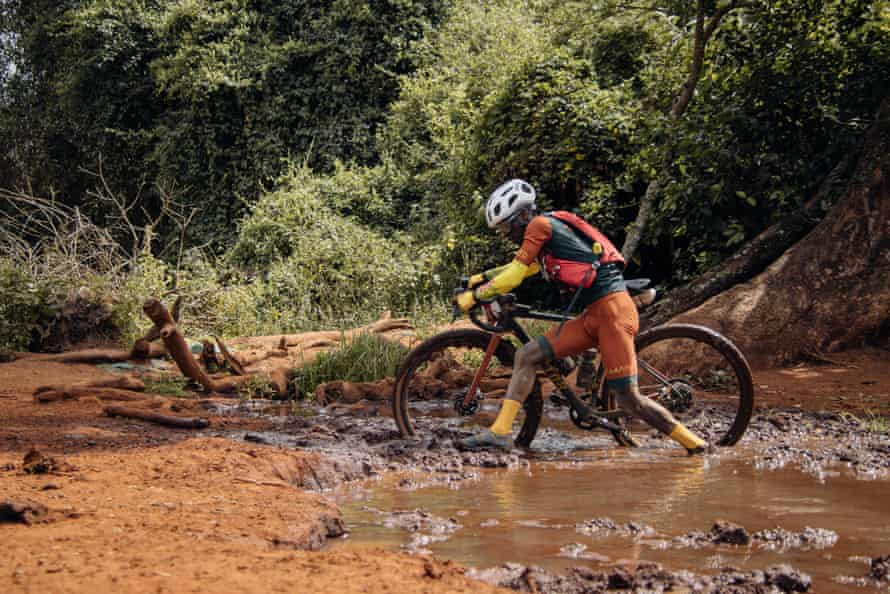 "Amani is special because now black people can see that we can be pros. It's unusual to see people from the northern part of Africa – I'm going to say black people – doing so well," she says.
"It started here in east Africa, but now I get emails from women in Congo, Tanzania and even Lesotho who say they want to join the team."
Non-African riders, who include big names such as Lachlan Morton from Australia, Italian cyclist Mattia de Marchi and Lael Wilcox from the US, paid €1,250 (£1,075) to enter, some of which goes towards funding the Amani team.
Everyone is racing for fun and glory; there is no prize money.
"The Europeans didn't expect the African riders would be so tough to beat," says Kinjah. "When we compete in Europe, everything is different: the food, the language, the roads. This affects your performance."
The home advantage changes the odds. On the eve of the first stage, Delagrange thanks the non-Africans for coming, then adds: "Just for a change, you're going to be the people who stand out and don't speak the language."
The fast-growing sport of gravel racing, essentially putting mountain bike tyres on high-end €10,000 road bikes, is more open and democratic than road racing. Like a marathon, anyone can line up with the best.
"What you have here – where you can sit around the campfire after a race and chat with people from all walks of life, make new friends and also hammer each other for five hours on the road every day – that doesn't exist in the majority of races," says Morton, who finished fifth overall, behind three Amani riders. "It's an experience that's so much more fulfilling. I'd come back in a heartbeat.
"In an event like this, the bullshit fades away. It's like, here's the start line, here's the finish, go for it. It doesn't matter where you're from, we're all going to sleep in tents and we're all going to eat the same food, so let's get on with it."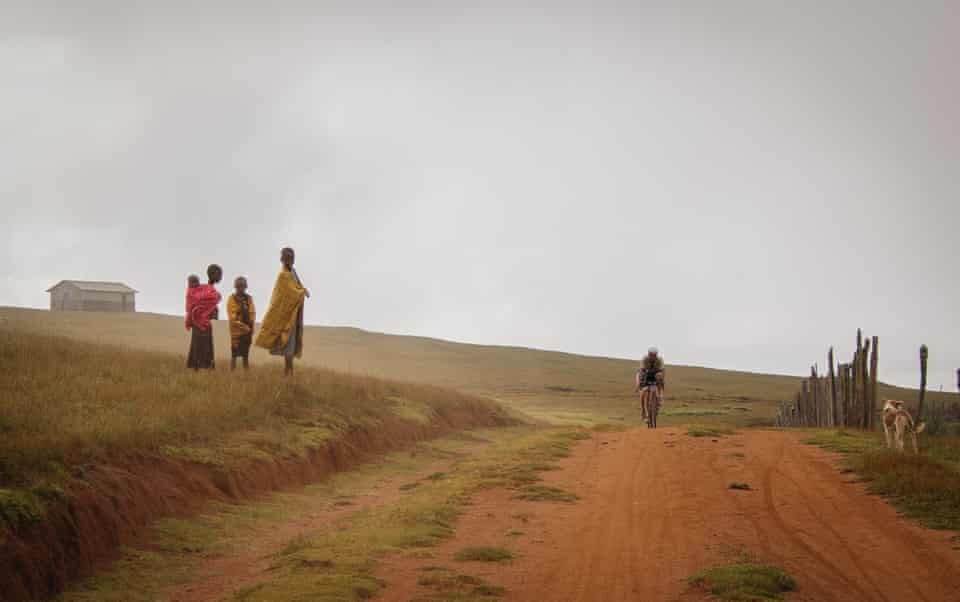 Wilcox, who once rode 3,000km from her home in Anchorage, Alaska, to reach the start line of the 4,500km Tour de Canada, and then broke the women's record by four days, is another fan: "It's cool that there's a really good women's field here. They've put a lot of effort into inviting women and making them feel like they belong. It's good to see."
Juliet Elliott, a 44-year-old cycling pro, says: "A race like this, where we all race together but there are separate podiums, that's pretty cool. If I'd had to do road races against guys, I probably wouldn't have bothered, but gravel is more open. In these long-distance disciplines, women tend to do better."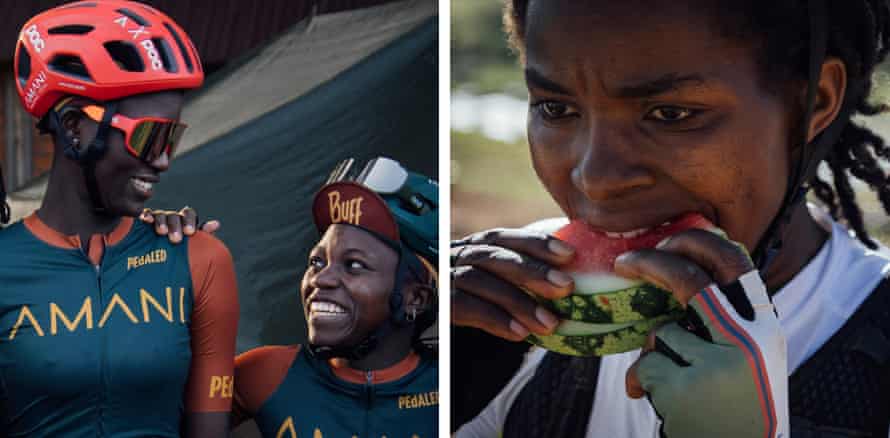 Delagrange says they had the good luck to be ready with a concrete proposal when the Black Lives Matter movement made some realise that "racial disparity is a thing, and continues to be". There was some overdue reflection in cycling, he says, and many "were looking for a fig leaf to cover how white the sport is. We acted as a hub for corporations to know where to direct their resources."
He believes the industry is beginning to understand that it's not diverse enough to be considered an international sport. "Imagine if running was still just Roger Bannister. We aren't pushing the limits of human capability. Without allowing the rest of the world to play this game, we still don't know what can be done on a bike."
The idea that east African cyclists can hold their own against the best was entirely vindicated. Amani's John Kariyuki was the overall winner over the four stages. Two of his teammates, Jordan Schleck Ssekanwagi and Kangangi, came third and fourth. Fifteen of the top 20 finishers were Africans.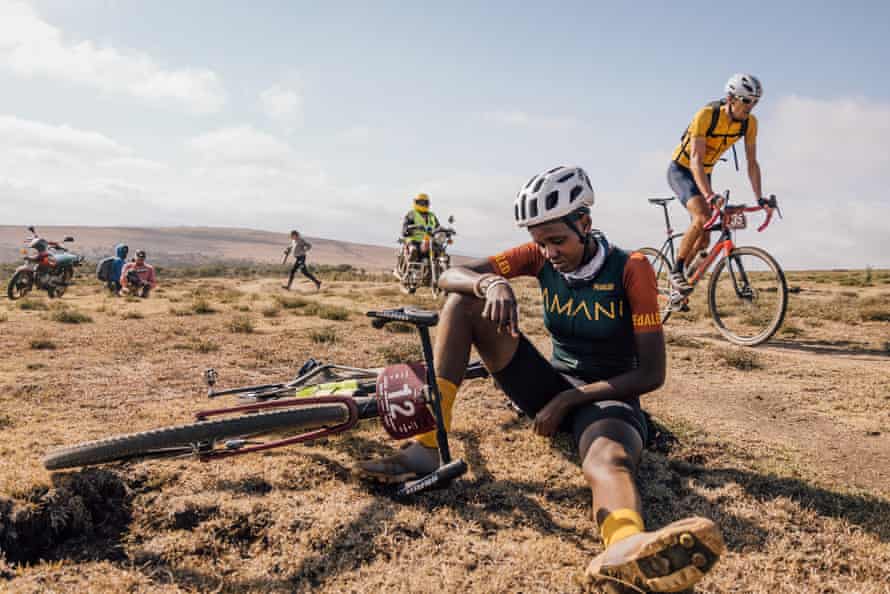 Distance rider Marin de Saint Exupéry, from Switzerland, says it's the first time he's raced against Africans. "I can't keep up with this pace," he says. "I was really attracted to the idea of this project, and met some of the team when they came to Switzerland last year. We shouldn't need a project like this, but we do."
Kinjah, 51, who finished 14th, believes many sporting projects in Africa fail because they have a European mentality and don't understand the culture. "This project is different because they take the best from several countries," he says. "They bring unity by putting these good riders in one team. Some of these guys have never been in the Maasai Mara or seen an elephant. Now they are having an adventure in their own country – and racing against the best in the world."
"The scale is small," Delagrange admits. "Right now, we have 12 athletes whose lives we'd like to improve through opportunities. We're trying to make it easier for those outside east Africa to invest in great human beings. Maybe we will have those breakout athletes who will change the face of cycling. You've got to start somewhere.
"I think many Europeans still cling to a LiveAid mentality. People saw a bunch of things in the 80s, and they're, like: OK, that's what Africa is like. If you always see people in a disempowered position, it will reinforce your subconscious view of them. But when people come and meet athletes who kick their ass, they don't see disempowered people, they see real competitors.
"Hopefully, after four days, they go home with a different view of what Africa is about."
Sign up for a different view with our Global Dispatch newsletter – a roundup of our top stories from around the world, recommended reads, and thoughts from our team on key development and human rights issues, delivered to your inbox every two weeks:
Amado Carrillo Fuentes: Mexico raffles off luxurious narco-mansion | International
It has been a hideout for crooks, a film set, and the headquarters of a foundation. In late June, a luxurious mansion once owned by Amado Carrillo Fuentes became the top prize in Mexico's national lottery. The former Juárez cartel boss known as the Lord of the Skies (El Señor de los Cielos) built this US$4.5 million home in Jardines del Pedregal, an exclusive neighborhood south of Mexico City. The two-story residence measures more than 10,000 square feet, and has an indoor pool, expansive gardens, and enough garage space for 30 cars. The enormous home boasts a bar with a wine cellar, nine bedrooms; six Jacuzzis, numerous closets and dressing rooms, a huge kitchen, a steam room, a library, and a life-size playhouse for children. And for the price of a US$10 cachito, as lottery tickets are called in Mexico, some lucky player had a chance to win the opulent mega-mansion.
Lottery administrators put three million numbers up for grabs, but the tepid response from the public meant that multiple numbers had to be picked before one came up a winner. Suspense built as losing numbers came up again and again. "That number isn't a winner, so we'll try again. Good luck!" said the announcer 16 times. Almost 25 minutes later, the winning number was picked on the 17th try.
"How would you like a house in Jardines del Pedregal?" tempted the commercials. "I can already picture myself living there!" a woman replies enthusiastically. "Or you could sell it," suggested the announcer. The property has long been a headache for the Mexican government. It was first auctioned in May 2020 by the "Instituto para Devolver al Pueblo Lo Robado", a government agency created by Mexican President Andres Manuel López Obrador to liquidate assets seized from criminal organizations and corrupt officials. The auction hoped to raise at least US$2.6 million pesos for the house, but the best offer was US$2.47 million, from a mysterious man in a gray suit who raised his paddle amid cheers from the attendees. "I want US$2.5 million! Who says yes?" asked the auctioneer, as he anxiously counted to three. In the end, no one wanted to pay more. Then, the auction winner never paid up.
Seized in January 1995 from Carrillo two years before his death, the mansion became a white elephant, a prize nobody wanted. The drug kingpin had amassed a fortune by transporting huge quantities of drugs with his fleet of airplanes. Although his main center of operations was in the border city of Ciudad Juárez (Mexico), the Lord of the Skies owned properties all over the country. Wanted by authorities in Argentina, Colombia, the United States, and Mexico, Carrillo underwent several cosmetic surgeries to change his appearance and evade his pursuers. He died during a botched procedure in 1997. A television series about his life has become an international hit on streaming platforms and is getting ready to film its eighth season.
The white elephant raffle came about when the Mexican government wearied of the expensive maintenance, which included US$25,000 for security services. Photos of the mansion used to promote the raffle show that Carrillo's palace has seen better days. "We're doing this to support the Mexican people and help our neighbors," said President López when he announced the raffle in early June. "There are a lot of abandoned public assets scattered around various government agencies," said the president, "and they will go to ruin if not maintained properly."
The narco-mansion is listed on the internet as the former headquarters of a foundation that trains unemployed and disabled people so they can find work. It was rented in 2003 for the filming of Man on Fire, a movie starring Denzel Washington, who plays a bodyguard trying to rescue a nine-year-old girl (Dakota Fanning), and destroys half of Mexico City in the process. When the movie came out, there were rumors in the press about underground tunnels connecting the property to other nearby houses in the area, but no mention of this was made in the promotional material for the raffle.
The raffle also included 200 lots of land in Playa Espiritu, a failed tourism development project in Sinaloa (Mexico) that cost more than US$100 million. The value of each lot ranges from US$40,000-US$65,000. "It was a fraud," admitted President López in October 2021. His lackluster sales pitch included statements like, "It isn't in a great location," and "Nobody wants to buy it." The highest praise the president could muster was, "It has a beach." The raffle also includes US$2.9 million in cash prizes.
After being seized, borrowed, and auctioned, the mansion that once belonged to the notorious Lord of the Skies will finally have a new owner–winning ticket number 339,357–but the ticketholder's identity will not be made public.
The female gaze: the developing art of women's photography
A World History of Women Photographers, edited by Luce Lebart and Marie Robert and translated by Ruth Taylor and Bethany Wright, showcases the work of 300 women from around the world, from the 19th century to the present day. The collection will be published in English for the first time by Thames & Hudson on 14 July