Myanmar's junta struggles to prevent protests planned for coup anniversary | Myanmar
Myanmar's military junta has threatened sedition and terrorism charges against anyone who shuts their business, claps or bang pots on Tuesday, as it tries to stamp out any protests planned to mark the one-year anniversary of the coup.
The military, which ousted the democratically elected government of Aung San Suu Kyi on 1 February 2021, continues to face defiant opposition including peaceful protests and an armed resistance.
On Tuesday, activists plan to hold a "silent strike" and have called for members of the public to stay at home between 10am and 4pm. At the end of the strike, people will clap or bang pots, an act that is traditionally thought to drive out evil spirits, and which is often used as a form of protest against the military.
The junta has warned the public not to participate in such protests, announcing in junta-controlled media that people who do so will face a variety of legal charges. Over the past week, business owners have been sent notices from local administrators, reiterating such threats, and warning their property could be confiscated. They have been required to sign a document to pledge their agreement.
Some shop owners who had told customers that their businesses will be closed on 1 February have already been arrested, according to local media outlet the Irrawaddy.
Many businesses are proposing getting around the military threats by dramatically raising prices, opening only for a few hours and closing for "lunch break", or keeping their store open but not selling items.
A new generation of activists
Aung Kaung Sett, president of Yangon University Student Union, who led mass protests in Yangon in the wake of the coup and is now in hiding, said the public would not abandon the struggle for democracy. "There is no turning back now. We live or we die," he said. "The revolution must continue, whatever it takes."
While military violence means it is no longer safe to hold large street rallies, and leaders such as Aung San Suu Kyi remain in prison, new forms of protests continue, led by a new generation of activists. "There are guerrilla protests led by young people, especially students, poets and activists, across everywhere in Myanmar," Aung Kaung Sett said.
He said the coup had dramatically changed public opinion of the Myanmar military, which is known as the Tatmadaw. "People are beginning to feel the same way now as those who had faced oppression by the Myanmar military in the past," he said, citing the brutal crackdown on Rohingya Muslims in 2017, and atrocities committed against other ethnic minorities.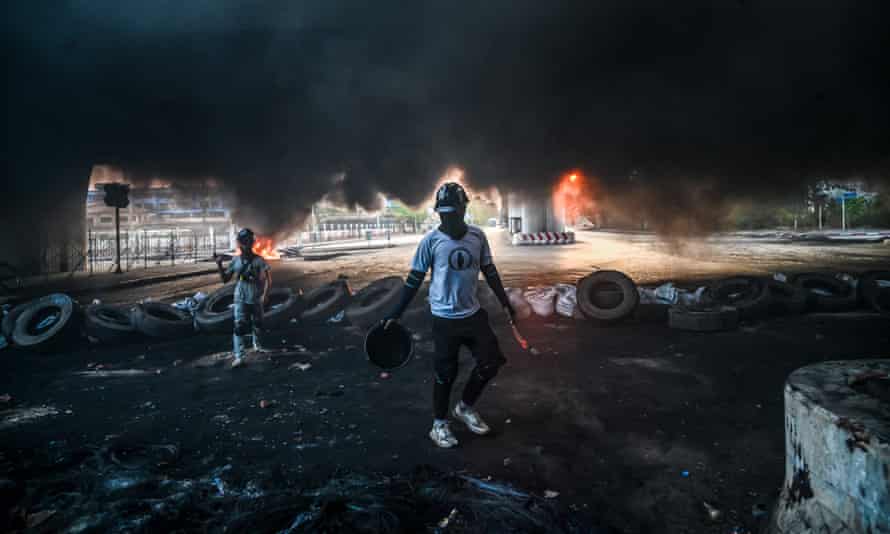 There was previously little sympathy towards minorities within Myanmar, but attitudes have shifted as the public has united in opposition to the military.
The military has announced it will hold market festivals and a cycling contest in both Yangon and Mandalay from Monday until Wednesday, in an attempt to crowd the streets on the day of the Silent Strike and project an image of normalcy.
However, one year on from the coup, the country is in a state of turmoil. Public services, such as health and education, have collapsed because many medical and teaching staff refuse to work in junta-controlled facilities and so are operating in the community. The economy is failing, with the UN estimating the crisis will have driven almost half the population into poverty in 2022. According to the World Food Programme, the cost of a basic food basket was almost a third higher in October 2021 when compared with the month prior to the coup. Fuel prices have surged more than 70%.
The military has also inflicted extreme violence to suppress opposition, burning villages, launching airstrikes, carrying out massacres and blocking aid to civilians. Since the coup, 1,499 people have been killed, according to the Assistance Association for Political Prisoners, which tracks deaths and arrests. At least 11,801 people have been arrested. There are widespread reports of torture within detention facilities.
Many young people have fled to the jungle and resorted to taking up arms and forming people's defence forces. Among them is Costa, 21, who, prior to the coup, was studying International Relations at Yangon University. She is now in charge of managing finances for a battalion of the Karenni National Defence Force in Kayah state.
"We will continue to ask for what we want: to abolish the 2008 constitution [which guaranteed the military huge powers, even during the governments of Aung San Suu Kyi], restore democracy and end dictatorship, even if it takes 10 years," she said.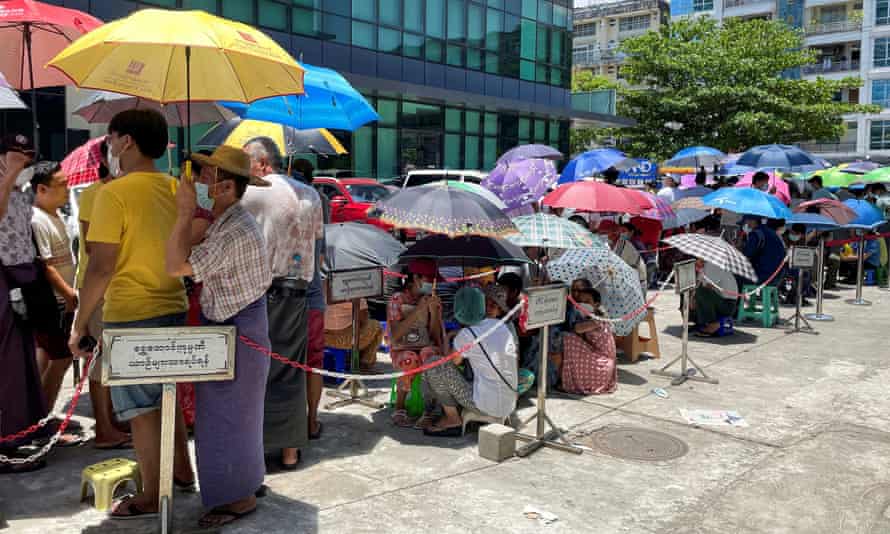 Worsening conflict between the junta and its opponents has forced hundreds of thousands of people to flee their homes, especially in the south-east and north-west of the country.
As of 27 December, an estimated 320,900 people remained internally displaced across Myanmar, according to the United Nations. This is in addition to the 340,000 people who were already displaced before the coup.
David Carden, the head of UN OCHA Myanmar, said the people of Myanmar faced "an unprecedented political, human rights and humanitarian crisis that is now touching all corners of the country, posing grave protection risks for civilians, limiting access to services and driving deeper food insecurity".
Many of the people who were displaced were living in the open or sheltering in the jungle. Humanitarian access remains severely restricted, Carden added.
International efforts to ease the crisis have been criticised by activists as inadequate. Ismail Wolff, regional director of the group Fortify Rights, described the response as "ineffective and incompetent".
"The [UN] security council must take the lead by passing a binding resolution enforcing an arms embargo on the Myanmar military … More pressure should also be applied to Thailand and India to authorise a comprehensive cross-border humanitarian aid effort," Wolff said.
From YouTube to TikTok: The electoral weapons that Javier Milei has deployed in Argentina | International
The far-right Javier Milei, 52, has become the favored candidate to win the October 22 presidential elections in Argentina… even though he has barely toured the country.
Milei —an economist and TV panellist by profession— visited 13 of the 24 provinces during the primaries, yet still won in more than half of the provinces he didn't visit. Among them, the case of Salta was especially surprising. In the northern Andean province – where he achieved his best result – 49.38% of the voters voted for him in the mid-August primaries. Milei has been called the "candidate of television studios," because he rose from being a talk show host to a member of Congress in less than five years. But you could also call him the YouTube and TikTok candidate, because, if social media is the new public square, Javier Milei is shouting the loudest.
No other candidate for the presidency has managed to dominate the discourse of social media like the far-right economist does – especially with so little effort and even fewer staffers.
Patricia Bullrich —the candidate of the traditional right— remains the most popular on Twitter. Sergio Massa —the current Minister of Economy and the presidential candidate for the left-wing Peronist alliance— is Facebook's favorite. But Milei dominates Instagram and TikTok, the preferred spaces of voters under the age of 29, who make up a third of the electorate. He's also the most popular candidate on YouTube… although not because of the content put out by his official channels.
"Around the world, the parties that are linked to the right have a special place in social media. In Argentina, this is the case of La Libertad Avanza (Liberty Advances, a far-right coalition) and its leader, Javier Milei," explains Ana Slimovich, a professor at the University of Buenos Aires. For the researcher, this is because these political forces "construct discourses with simple language, which isn't technical… it appeals to emotions, both positive and negative ones." Milei began his campaign by comparing himself to a lion who came "to awaken other lions, not to guide the sheep." Today, he walks around Buenos Aires with a chainsaw —a symbol of the cuts to the public sector that he intends to implement should he take office.
Milei, Slimovich notes, has grown strong because of the sporadic organization that his followers have built, including those beyond the party's structure. Accounts like @elPelucaMilei or @MileiPresidente have almost a million followers and act as the most important spokespeople for the libertarian. They have almost four times more followers than Milei's official channel, getting millions of views from videos that they cut, edit and publish. The most popular ones are the clips of television interviews with titles celebrating how Milei "destroyed" or "annihilated" journalists or political opponents in live debates.
"Even if the candidate isn't present, they're reproducing his speech," Slimovich says. "This explains the [high number of votes] he gets in places where he's not physically present. His followers on social media are always present, resharing his speeches. And, of course, the mass media also disseminates his content." The same thing happens on TikTok, Instagram or Twitter, where online libertarian militants churn out viral memes that Milei often shares.
Agustín Romo – director of digital communications and a congressional candidate for La Libertad Avanza – states that only about 15 people work for pay in the libertarian campaign, but that "90% of the content is produced ad honorem." For Romo, Milei's victory in places he has never visited "sets the tone for an epochal change in the way of doing politics."
Milei jumped into politics from the world of TV. With this background, he then imposed his anti-establishment fury on the political debate and amplified it via social media. In the last year, the country began to talk about the dollarization of the economy or the sale of organs —subjects that Milei brought to the table. "We use social media to install our own narrative and our agenda. If we put out a song in the morning, at night, everyone is talking about it," Romo laughs.
The digital strategist believes that his candidate's success in getting his agenda out there has two ingredients. On the one hand, Milei projects a message that connects with the electorate. This discourse among candidates —who present themselves as "outsiders" who aren't really part of the political system— was successful for Jair Bolsonaro in 2018. Milei often says that the "decadence" of the country is the product of a "political caste (or class)" that prioritizes its interests "at the expense of the people." On the other hand, the consultant continues, the "libertarian movement" has been brewing for "10 years," but "it had no political representation" until Javier Milei arrived on the scene.
The leading presidential candidate is also advised by Fernando Cerimedo —a major figure in digital communications among the Latin American extreme-right. A report published by the Latin American Center for Journalistic Investigation (CLIP) revealed that the consultant has spread "messages based on lies in Brazil, Argentina and Chile." Cerimedo was one of the great agitators behind the accusation —presented without evidence— that Lula da Silva won the recent presidential elections in Brazil only because of electoral fraud. Some of this influence has already been seen in Milei's campaign. On August 13 —despite being the candidate with the most votes in the primaries— Milei insisted that votes had been stolen from him.
Among the left-wing Peronist coalition, they admit that they've started this campaign with a disadvantage. Their candidate was announced as a surprise: Minister of Finance Sergio Massa —who has been in politics since 1999— was proclaimed "as a unity candidate" on June 23. He opened his TikTok account days later. "This happened to us when [Massa] contested the presidency in 2015 —Mauricio Macri's campaign (which ultimately won) had a better-developed social media campaign. We balanced it out, but we were far behind. We prioritize other forms, other types of campaigning," a member of the campaign tells EL PAÍS.
Sergio Massa's advisors say that they still see a scenario of the vote being divided into thirds, but that "the most stark polarization is with Milei." Massa's social media campaign is now being supported by Lula da Silva's advisors, who have joined the Spanish consultant Antoni Gutiérrez Rubí. "They came to share their experiences with us about the two elections that they had to fight against Bolsonaro: the one that Fernando Haddad lost [in 2018] and the one that Lula won [in 2022]. They're working with us on the possibility of reaching the runoff [election] in November."
In Massa's race to attract young voters, the latest to join the campaign on TikTok has been the current vice president (and former president from 2007 until 2015), Cristina Kirchner. The main representative of the Peronist movement opened her account this past Monday and has already uploaded dozens of videos. Ironically, less than five months ago, she urged young people to not spend more than "20 minutes a day on TikTok."
Massa's left wing coalition —made up of traditional parties that are accustomed to large street events and rallies— is beginning to make its presence more known online. The current president, Alberto Fernández —who decided against seeking re-election— recently answered questions with his dog on Instagram. And Massa has begun to announce his economic proposals via short videos tailored to social media. His younger supporters and party members were the ones who encouraged him.
After Milei's victory in the primaries, a group of young Peronists began to reflect on their poor communications strategy and created a TikTok account —@Indisciplinadxs— to create a "new space" in the campaign. "Social media is a disputed territory where we're not fighting. And, if we're fighting, we're doing so incorrectly," lament two members of @Indisciplinadxs. A recent video —in which they showed how voters are misinformed on a certain topic— went viral and reached 166,000 people. "The battle on social media shouldn't be considered lost," they insist. "The field is wide-open — there are ways to take advantage of it."
Patricia Bullrich —the candidate for the traditional center-right Together for Change coalition— is also staking out her place in the presidential race. She won her party primaries against the current mayor of Buenos Aires, Horacio Rodríguez Larreta. Bullrich deployed a "tough-on-crime" rhetoric, while Larreta, a moderate, prioritized dialogue and centrist policies. While Bullrich ultimately emerged triumphant, the question remains whether she can retain the votes of her formal rival, while trying to take on Massa and Milei, who have mostly focused their attacks on each other.
Her social media consultants are taking a careful look at her opposition. "I'm not looking at everything that Massa put out online as much, because what Milei does is more striking," explains Yasmin Hassan, Bullrich's principal advisor. The most positive element that Hassan sees in her party is similar to what Milei has going for him: an organic bloc of adherents who, of their own free will, circulate information for the campaign. They call the movement "Bullrichmania" —it consists of groups of self-convened online warriors, who spread information via WhatsApp groups.
Bullrich —who served as security minister under President Mauricio Macri (2015-2019)— has focused on pointing out the corruption that has taken place in the Kirchnerist governments: from 2003 until 2007, when Néstor Kirchner governed, from 2007 until 2015, when his wife, Cristina, governed, as well as the present administration, where she serves as vice president.
The bulk of her interactions on social media are with voters who similarly point out the corruption or bad policies of the ruling party.
Last week, a criminal court reopened two corruption cases against the former president and current VP. Immediately, Bullrich released her latest campaign video: in one minute, she revealed the model of a new maximum security prison for criminals that, she promised, will have a wing that is named after Cristina Fernández de Kirchner. The candidate got what she was looking for: on Saturday, while Kirchner was speaking at her first public appearance in months, the video was already trending.
Sign up for our weekly newsletter to get more English-language news coverage from EL PAÍS USA Edition
Exploring The Intricate Psychology Of Horror And Fear
By Raza H. Qadri (ALI)
---
I. Introduction
– Brief introduction of horror and fear in literature, science, films, and experiences.
– The universal fascination with the genre.
II. Evolutionary Roots of Fear
– The evolutionary purpose of fear as a survival mechanism.
– Evolution offear responses over time.
III. The Biological Underpinnings behind Physiology of Fear
– The biological processes that occur when an individual experiences fear.
– Release of stress hormones, heightened senses, and fight-or-flight response.
IV. The Role of Psychology in Fear Perception
– How individual differences and past experiences shape fear responses.
– The influence of genetics, upbringing, and cultural background.
V. The Psychology of Suspense and Tension
– The techniques used in horror storytelling to create suspense and anticipation.
– The impact of pacing, foreshadowing, and unexpected twists.
VI. The Power of Imagination in Fear
– How the mind fills in gaps in information, making fear a highly subjective experience.
– The role of ambiguity and suggestion in horror narratives.
VII. Catharsis and Psychological Release
– How experiencing fear in a controlled environment can lead to a sense of catharsis.
– The psychological benefits of safely confronting fear.
VIII. The Dark Side of Fear: Phobias & Trauma
– How excessive or irrational fear can lead to phobias and anxiety disorders.
– The psychological impact of trauma and its long-term effects.
IX. The Art of Empathy & Identification
– The role of empathy in horror, allowing audiences to connect with characters and their fears.
– How identification with characters amplifies the fear experience.
X. The Genre's Appeal
– The psychological satisfaction derived from facing fear in a controlled setting.
– How conquering fear in fiction can empower individuals in real life.
XI. Cultural Variations in Fear
– How cultural beliefs, folklore, and societal norms influence the perception of fear.
– Variations in horror themes and elements across different cultures.
XII. My Personal Thoughts
– Final reflections on the enduring fascination with fear and its complex interplay with the human psyche.
---
1. Introduction
The thrill of fear has been a captivating aspect of human experience since time immemorial. From spine-tingling tales around campfires to the latest blockbuster horror films, the allure of the macabre holds a special place in our collective psyche. But what is it about fear that draws us in, despite our natural inclination to avoid it? This article delves into the fascinating world of the psychology behind horror, dissecting the intricate mechanisms that make our hearts race, palms sweat, and minds crave the chilling unknown.
At its core, horror serves as a visceral exploration of our most primal instincts. It taps into the ancient fight-or-flight response, triggering a surge of adrenaline that heightens our senses and readies us for action. But in the safe confines of a movie theater or a gripping novel, there's no real threat. Instead, we find ourselves immersed in a carefully crafted experience, where fear is both the predator and the prey.
To understand the psychology of horror, we must first acknowledge the profound connection between fear and our evolutionary history. Millennia ago, fear was a survival mechanism, a vigilant alert system designed to protect our ancestors from lurking dangers. Today, in a world vastly different from the primeval landscapes our forebears navigated, this same mechanism operates in a new context, eliciting thrills rather than sheer survival.
Yet, not all fear is created equal. The horror genre encompasses a vast array of sub-genres and styles, each designed to exploit different facets of our psychological makeup. From supernatural terrors that challenge our beliefs about reality, to psychological thrillers that unravel the intricacies of the human mind, horror serves as a multi-faceted mirror reflecting our deepest fears and anxieties.
Moreover, horror often takes residence in the realms of the unknown and the uncanny. It invites us to confront existential questions about life, death, and the inexplicable. This confrontation can be both cathartic and thought-provoking, allowing us to grapple with our own mortality and the enigma of the human condition.
While the visceral reactions to horror are universal, the nuances of what terrifies us are deeply personal. Our unique experiences, traumas, and cultural backgrounds shape the specific triggers that elicit fear. For some, it may be the claustrophobic confines of a haunted house, while for others, it could be the psychological torment of an unseen malevolence.
In the following sections, we will dissect the various psychological theories that underpin our love for horror. From Freudian concepts of the uncanny to the modern neuroscientific perspective, we will unravel the intricate web of cognitive and emotional processes that come into play when we willingly subject ourselves to fear-inducing stimuli.
As we embark on this journey through the labyrinth of horror's psychological landscape, we'll not only gain insight into the mechanics of our own fear, but also develop a deeper appreciation for the artistry that goes into crafting these heart-pounding experiences. So, fasten your seat belts and prepare to explore the dark recesses of the human mind; the world of horror awaits, ready to both terrify and enlighten.
2. Evolutionary Roots of Fear
In the annals of human evolution, fear was a trusted companion, an instinct that safeguarded our ancestors against the perils of a harsh and unforgiving world. It was the adrenaline-fueled surge that propelled them to fight or flee when faced with predatory threats. Millennia later, this ancient survival mechanism still courses through our veins, though the dangers we face have morphed from prowling predators to the anxieties of the modern age.
A Survivalist Symphony
The symphony of fear begins in the amygdala, a pair of almond-shaped nuclei nestled deep within the brain's temporal lobes. Here, sensory stimuli are rapidly processed, and if identified as potentially threatening, they trigger a cascade of responses. The hypothalamus sounds the alarm, setting off a series of physiological changes known as the "fight or flight" response. Heart rates escalate, muscles tense, and senses sharpen, preparing the individual to confront or evade the danger at hand.
In the primeval savannas and forests that were our ancestors' crucible, this physiological symphony was often the difference between life and death. Facing down a territorial predator or navigating unfamiliar terrain, the ability to summon fear-driven focus and heightened physical capabilities was paramount.
WATCH: EVOLUTIONARY ROOTS OF FEAR
Those who honed this instinct were more likely to survive and pass on their genes, engraining fear deep within our genetic heritage.
Adaptation in a Changing World
As humanity's dominion expanded and tribes transitioned into civilizations, the sources of fear evolved. Natural predators were replaced by human adversaries, diseases, and environmental hardships. Fear, however, retained its relevance as a protective mechanism. It warned of potential dangers, ensuring that individuals exercised caution in the face of the unknown.
In this context, societal structures and belief systems emerged to mitigate fear's paralyzing potential. Rituals, traditions, and communal bonds became conduits through which individuals confronted and navigated their fears collectively. These cultural constructs offered a semblance of control over the capriciousness of existence, providing a sense of order amidst the chaos.
The Modern Fear Spectrum
Fast forward to the present, where our ancestral fears have metamorphosed into a vast spectrum of modern anxieties. While the threat of a predator lurking in the shadows may be largely relegated to the realms of folklore, our neurobiology remains wired to respond to contemporary stressors with the same primal urgency.
Today, fear is elicited not only by immediate physical threats, but also by abstract concepts: financial instability, societal unrest, existential questions about purpose and belonging. This expansive fear spectrum is a testament to the adaptability of our innate survival instinct. It now encompasses the intangible threats of an interconnected global society, where information flows ceaselessly, bombarding us with potential sources of distress.
Beyond Survival
While the evolutionary roots of fear are firmly grounded in survival, its modern manifestations serve a dual purpose. Beyond being a guardian of our physical well-being, fear is also a potent catalyst for growth and self-discovery. It compels us to confront our limitations, to step beyond our comfort zones, and to grapple with the uncertainties of life.
In the realm of psychology, this transformative aspect of fear is exemplified by the concept of "optimal anxiety." This theory posits that an optimal level of fear or anxiety can enhance performance and creativity. It suggests that the right amount of fear can serve as a motivational force, propelling individuals to reach their full potential.
In essence, our evolutionary inheritance of fear, finely tuned by millions of years of survival challenges, now finds new arenas in which to express itself. From navigating the complexities of the digital age to confronting existential questions, the ancient symphony of fear continues to resonate through our lives, reminding us of the indomitable spirit that lies at the core of our being.
As we traverse the intricate landscape of human psychology, fear stands as both sentinel and guide, a testament to the enduring legacy of our evolutionary journey. In the next section, we'll delve into the psychological theories that underpin our complex relationship with fear, shedding light on the mechanisms that shape our emotional responses and behaviors.
3. The Biological Underpinnings Behind Psychology of Fear
Fear, an age-old human emotion, has evolved as a critical survival mechanism. It's a complex interplay between our minds and bodies, orchestrated by a series of physiological responses. Understanding this intricate dance offers valuable insights into the psychology behind horror.
Adrenaline Surge
The onset of fear triggers an immediate surge of adrenaline, also known as epinephrine. Released by the adrenal glands, this hormone readies the body for rapid response.
Heart rate escalates, pumping oxygen-rich blood to essential muscles, preparing for action.
Hyperactivated Nervous System
The autonomic nervous system, responsible for involuntary processes like heart rate and breathing, undergoes a dramatic shift. The sympathetic nervous system, known as the "fight or flight" system, dominates. This diverts energy towards immediate survival, while non-essential functions like digestion are temporarily suppressed.
Heightened Senses
Fear amplifies our sensory perception. Pupils dilate to absorb more light, enhancing vision. Hearing becomes acute, allowing us to pick up subtle sounds, often intensifying the perceived threat.
Muscle Tension
Muscles tense in anticipation of action. This state of readiness allows for quick reflexes and swift movement. In prolonged fear, this can lead to fatigue and soreness.
Cortisol Release
Accompanying the adrenaline surge is a release of cortisol, a stress hormone. It prolongs the body's state of heightened alertness, ensuring sustained focus and heightened awareness.
Respiratory Changes
Breathing patterns shift from calm and controlled to rapid and shallow. This ensures a constant supply of oxygen to the brain and muscles, essential for immediate action.
Suppression of Digestion
The body's resources are redirected away from non-essential functions, including digestion. Blood flow to the digestive system is reduced, potentially causing sensations of nausea or butterflies in the stomach.
Freeze Response
In some instances, fear can trigger a "freeze" response. This ancient survival strategy temporarily immobilizes an individual, allowing them to go unnoticed by a potential threat.
Activation of the Amygdala
The amygdala, a small almond-shaped structure deep within the brain, plays a central role in processing fear. It rapidly assesses incoming sensory information, determining if it poses a threat. This rapid evaluation informs our immediate response.
Release of Neurotransmitters
Fear induces a cascade of neurotransmitters, including dopamine and serotonin. While dopamine heightens arousal and alertness, serotonin may modulate the intensity of our emotional response.
Impact on Memory
Fear can have a profound impact on memory formation. High-stress situations activate the amygdala and can enhance the encoding of emotional memories, often leading to vivid and lasting recollections of fearful events.
Understanding the physiology of fear provides a fascinating glimpse into the intricate machinery of human survival. When immersed in the world of horror, these biological responses are often exploited to elicit visceral reactions from the audience. Whether in film, literature, or virtual reality, creators tap into this primal wellspring to evoke an unforgettable experience.
The physiology of fear reveals the astounding adaptability of the human body in the face of perceived threats. By comprehending these intricate mechanisms, we gain deeper insights into our own responses to fear-inducing stimuli, unraveling a fundamental aspect of the human experience.
4. The Role of Psychology in Fear Perception
Fear, a primal emotion etched deep within the human psyche, serves as a powerful lens through which we navigate the world. Its perception is not solely a physiological phenomenon, but equally a psychological one. Understanding how the mind processes fear offers a profound insight into the intricacies of human experience.
Cognitive Appraisal
Fear perception begins with cognitive appraisal, a mental process where the brain evaluates incoming information for potential threat. This evaluation is influenced by past experiences, cultural norms, and individual beliefs. For instance, a person with arachnophobia may perceive a harmless spider as a mortal danger, while others may view it as benign.
Emotional Response
Once a stimulus is identified as threatening, it triggers an emotional response. This reaction is mediated by the amygdala, a crucial region of the brain associated with processing emotions, particularly fear. The amygdala's lightning-fast assessment often precedes conscious awareness of the threat.
Role of Conditioning
Conditioning plays a pivotal role in fear perception. Through repeated exposure to fear-inducing stimuli, individuals may develop heightened sensitivity to specific triggers. This learned association can lead to exaggerated fear responses, even in non-threatening situations.
Cultural Influences
Cultural conditioning significantly shapes how fear is perceived. Cultural beliefs, folklore, and societal norms dictate which stimuli are deemed frightening. For example, in some cultures, spirits and supernatural entities evoke fear, while in others, real-world threats dominate.
Vivid Imagery and Visualization
The mind's capacity for vivid imagery plays a crucial role in fear perception. When confronted with a fear-inducing scenario, the mind can conjure vivid mental images, intensifying the emotional response. This is a fundamental mechanism often exploited in horror literature and cinema.
Expectancy and Anticipation
Expectancy heightens fear perception. When individuals anticipate a frightening experience, their minds become hyper-aware, amplifying the intensity of their emotional response. This phenomenon underscores the psychological power of suggestion.
Temporal Perspective
The perception of fear is also influenced by one's temporal perspective. An event perceived as a distant threat may evoke less fear than an imminent one. This aspect of fear perception is instrumental in decision-making and risk assessment.
Individual Differences
Fear perception varies widely among individuals. Factors such as genetics, personality traits, and previous trauma significantly influence how a person processes fear. Some individuals may exhibit heightened sensitivity to fear-inducing stimuli, while others remain relatively unaffected.
Empathy and Mirror Neurons
Witnessing fear in others can trigger a mirror neuron response, causing the observer to experience a similar emotional state. This empathetic reaction illustrates the social dimension of fear perception and highlights the interconnectedness of human emotions.
Cognitive Biases
Cognitive biases, ingrained patterns of thought, can shape how individuals perceive fear. For example, confirmation bias may lead a person to selectively attend to information that confirms their fearful beliefs, reinforcing their perception of threat.
Understanding the intricate interplay between psychology and fear perception unveils the profound complexity of human consciousness. It highlights that fear is not solely a response to external stimuli, but a deeply subjective experience shaped by individual experiences, cultural context, and cognitive processes.
This awareness empowers individuals to navigate fear with greater insight and control, transcending it from a mere survival mechanism to a facet of the rich tapestry of human emotion.
5. The Psychology of Suspense and Tension
Suspense and tension are essential elements in storytelling, gripping the audience and keeping them on the edge of their seats. These psychological phenomena are carefully crafted tools in the hands of writers, directors, and creators to evoke powerful emotional responses.
Anticipation and Uncertainty
Suspense thrives on anticipation. It's the art of making the audience wait, heightening their curiosity and keeping them guessing. By withholding key information, storytellers generate a sense of uncertainty, prompting viewers to invest emotionally in the narrative.
The Element of Surprise
A well-placed plot twist or unexpected turn of events shatters established expectations. This jolt of surprise triggers a surge of emotions, enhancing the overall impact of the story.
Empathy and Identification
Effective suspense relies on the audience's ability to identify with the characters. When viewers become emotionally invested in the protagonists, their experiences are mirrored. This creates a sense of shared vulnerability, intensifying the impact of suspenseful moments.
Psychological Immersion
Suspense often hinges on the audience's imagination. By leaving certain details to the viewer's interpretation, creators tap into the individual's unique fears and anxieties, making the experience deeply personal.
Release of Dopamine
The brain's reward system is engaged when suspense is resolved. When the tension built up in a scene finally culminates, dopamine, the "feel-good" neurotransmitter, is released. This provides a sense of satisfaction and pleasure, reinforcing the audience's engagement.
Arousal and Activation
Suspense activates the sympathetic nervous system, inducing physiological changes akin to fear. Heart rate increases, adrenaline surges, and senses sharpen. This heightened state of arousal amplifies the emotional impact of the narrative.
The Principle of Pacing
Pacing is crucial in sustaining suspense. Intermittent moments of tension followed by brief periods of relief allow the audience to process and anticipate the next surge of suspense. This delicate balance keeps viewers engaged without overwhelming them.
Delayed Gratification
Suspense involves delaying the gratification of resolution. It's akin to holding a tantalizing reward just out of reach, compelling the audience to invest emotionally and remain committed to the unfolding narrative.
The Power of Music and Sound
Sound design plays a pivotal role in creating suspense. Subtle cues in the soundtrack, from a faint rustle to a sudden crescendo, manipulate the audience's emotional state. These auditory triggers heighten tension and signal impending climaxes.
Cognitive Engagement
Engaging the audience's cognitive faculties is a cornerstone of suspense. Presenting puzzles, mysteries, or enigmatic situations encourages active participation. Viewers become invested in deciphering the narrative's complexities, deepening their engagement.
Catharsis and Relief
The resolution of suspense provides a cathartic release for the audience. This moment of closure is vital for processing the intense emotions evoked during suspenseful sequences. It allows viewers to reflect on the journey and experience a sense of resolution.
The psychology of suspense and tension is a multifaceted interplay of anticipation, surprise, empathy, and physiological arousal. Creators wield these tools with precision to craft narratives that resonate deeply with their audience. By understanding the intricate mechanics of suspense, storytellers invite viewers on a thrilling journey, leaving them captivated and craving for more.
6. The Power of Imagination in Fear
Imagination, that boundless realm of creativity and invention, holds a paramount role in the experience of fear. It's the mind's playground, where the seeds of terror are sown and nightmares take root. Here, in this intangible space, fear gains its potency and becomes a force to be reckoned with.
Architect of Nightmares
Imagination acts as the architect of our deepest fears. It draws from our reservoir of experiences, melding fragments of memories, anxieties, and cultural influences into vivid and terrifying scenarios. In this theatre of the mind, the boundaries of reality blur, allowing fear to manifest in its most potent form.
Emotional Amplifier
Imagination imbues fear with emotional resonance. It crafts the narrative, weaving a tapestry of suspense, anticipation, and dread. Through the mind's eye, we envisage the worst-case scenarios, heightening the emotional impact of fear-inducing stimuli.
Suspension of Disbelief
Imagination enables us to suspend disbelief, immersing ourselves entirely in the realm of the fearful. Whether engrossed in a horror novel or captivated by a spine-chilling film, our imaginative faculties allow us to temporarily set aside reason, embracing the thrill of fear.
Personalization of Fear
Imagination tailors fear to our individual psyche. It taps into our unique fears, sculpting scenarios that resonate on a deeply personal level. What one finds terrifying, another may find mundane. Imagination bridges these gaps, ensuring fear strikes a chord with each individual.
Anticipation and Uncertainty
Imagination thrives on anticipation and uncertainty. It projects us into the future, painting vivid scenarios of impending doom. The mind races ahead, envisaging the horrors that may await, amplifying the suspense and trepidation.
Creation of the Unknown
Imagination introduces us to the unknown, birthing creatures and scenarios beyond the realm of reality. It conjures monsters, specters, and malevolent entities that defy explanation, instilling a primal fear of the unfamiliar.
Empowerment through Control
Paradoxically, imagination provides a sense of control over fear. By creating these fearful scenarios in our minds, we dictate their parameters and, to an extent, their outcome. This empowerment allows us to engage with fear on our own terms.
Catharsis and Release
Imagination serves as a vessel for catharsis. It provides a safe avenue to confront our deepest fears in a controlled environment, allowing for the release of pent-up emotions and anxieties.
Transformative Potential
Imagination possesses the power to transform fear into a catalyst for personal growth. By confronting imagined fears, individuals can develop resilience, adaptability, and a deeper understanding of their own psychological landscape.
In the realm of horror and fear, imagination reigns supreme. It is the alchemical crucible where ordinary experiences are transmuted into heart-pounding terror. Through its lens, we navigate the labyrinth of our deepest fears, emerging on the other side with a heightened sense of self and a newfound appreciation for the power of the human mind. Imagination, the silent orchestrator of fear, invites us to peer into the abyss, daring us to confront the shadows that lie within.
7. Catharsis & Psychological Release
"Catharsis", a term rooted in ancient Greek drama, refers to the purging or release of pent-up emotions. In the context of fear, this concept takes on a profound psychological dimension. Engaging with fearful stimuli, whether in fiction or reality, can offer a therapeutic outlet for our deepest anxieties.
Emotional Regulation
Fear, when experienced in a controlled setting, provides a safe platform for processing intense emotions. It allows individuals to confront their fears in a controlled environment, leading to a sense of mastery over their anxieties.
Stress Reduction
Paradoxically, subjecting oneself to fear-inducing scenarios can reduce overall stress levels. The controlled exposure to fear triggers the release of endorphins, the body's natural stress-relievers, offering a cathartic release.
Building Resilience
Confronting fear fosters resilience. It cultivates the ability to navigate challenging situations, bolstering confidence in one's capacity to face adversity.
Empowerment and Control
Controlled exposure to fear empowers individuals. It offers a sense of agency over their emotional responses, reducing the feeling of helplessness often associated with fear.
Cognitive Restructuring
Immersion in fear-inducing experiences can lead to cognitive restructuring. It encourages individuals to reevaluate their perceptions of fear, often transforming it from a paralyzing force into a manageable challenge.
WATCH: 20 SCARIEST & UNEXPLAINED EVENTS
Overcoming Trauma
For some, controlled exposure to fear serves as a therapeutic tool for overcoming past trauma. By revisiting and recontextualizing fearful experiences, individuals may gradually diminish their emotional charge.
Emotional Catharsis through Art
Horror and fear-based art forms, including literature, film, and visual art, provide a controlled environment for emotional catharsis. They allow individuals to vicariously engage with fear, experiencing its intensity while maintaining a sense of detachment.
Fostering Empathy
Engaging with fear-inducing narratives cultivates empathy. It allows individuals to immerse themselves in the emotional experiences of characters, broadening their capacity for understanding and compassion.
In essence, catharsis through fear enables individuals to confront, process, and ultimately release deeply embedded emotions. By engaging with fear in a controlled setting, individuals harness its transformative potential, emerging with a greater sense of emotional well-being and resilience. This therapeutic power underscores the profound impact fear, when approached consciously, can have on our psychological well-being.
8. The Dark Side of Fear: Phobias & Trauma
While fear is a natural and vital survival mechanism, it can also manifest in more extreme forms, leading to phobias and trauma. Phobias are intense, irrational fears of specific objects or situations, often resulting from a past negative experience. They can range from common fears like heights or spiders, to more unusual phobias like the fear of clowns (coulrophobia) or fear of long words (hippopotomonstrosesquippedaliophobia). These phobias can disrupt daily life, leading to avoidance behaviors and heightened anxiety.
Trauma, on the other hand, stems from a deeply distressing or disturbing event. This can be a one-time occurrence, like a car accident, or prolonged, such as experiencing childhood abuse. Trauma can have a profound impact on one's mental health, often leading to a range of symptoms including flashbacks, anxiety, and depression. In some cases, it can result in Post-Traumatic Stress Disorder (PTSD), a debilitating condition that can significantly impair one's ability to function.
Both phobias and trauma can have far-reaching effects on a person's life. They can lead to social isolation, interfere with relationships, and hinder professional growth. The emotional toll can be immense, causing feelings of helplessness, panic, and despair.
Fortunately, effective treatments exist for these conditions. Exposure therapy, a widely used approach for phobias, involves gradually and safely exposing individuals to their feared objects or situations. This process helps rewire the brain's response to the feared stimulus, reducing anxiety over time. For trauma, cognitive-behavioral therapies (CBT) and Eye Movement Desensitization and Reprocessing (EMDR) have shown significant efficacy in helping individuals process and integrate traumatic memories.
In understanding the dark side of fear, it becomes clear that while it is a vital survival instinct, it can also spiral into debilitating conditions like phobias and trauma. Recognizing these conditions and seeking appropriate treatment is crucial in reclaiming a sense of control and well-being. With the right support and interventions, individuals can overcome the shadows that fear can cast over their lives, ultimately leading to healing and resilience.
9. The Art Of Empathy & Identification
In the realm of horror, the ability to elicit genuine fear relies heavily on the artful cultivation of empathy and identification with characters. This psychological mechanism serves as the cornerstone for building a truly spine-chilling narrative.
Relatable Characters
Effective horror often introduces characters with whom the audience can readily identify. These characters reflect universal experiences, fears, and vulnerabilities. By mirroring the viewer's own humanity, a deeper emotional investment is established.
Vulnerability and Realism
Placing characters in believable, vulnerable situations heightens the audience's sense of connection. When protagonists face dilemmas or fears reflective of everyday life, the viewer can more readily project themselves into the narrative.
Shared Fears and Anxieties
The most resonant horror narratives tap into collective fears and anxieties. Whether it's the fear of the unknown, loss, or the erosion of sanity, aligning the narrative with these shared apprehensions fosters a powerful empathetic bond.
Point of View
The perspective from which a story is told plays a crucial role in establishing identification. A first-person or close third-person point of view allows the audience to inhabit the character's psyche, experiencing events intimately. This immersion enhances the emotional impact of the narrative.
Moral Compass and Ethical Dilemmas
Placing characters in morally ambiguous situations challenges the viewer's own ethical framework. When faced with difficult choices, the audience grapples with the same moral quandaries, deepening their investment in the character's plight.
Subversion of Expectations
While empathy thrives on familiarity, subverting expectations can be equally potent. When characters act unexpectedly or display vulnerabilities contrary to their initial portrayal, it can jolt the audience, intensifying their emotional engagement.
Evoking Protective Instincts
Establishing a sense of protectiveness towards characters fosters a profound empathetic connection. When viewers fear for a character's safety or well-being, their emotional investment in the story intensifies.
Catharsis Through Shared Trauma
Horror narratives offer a unique form of catharsis. By sharing in a character's traumatic experiences, viewers may find an avenue for processing their own fears, providing a therapeutic release.
Avoidance of Stereotypes
Steering clear of one-dimensional stereotypes is vital for fostering genuine identification. Characters with depth, flaws, and multifaceted personalities resonate more strongly with audiences.
Long-lasting Impact
When identification is skillfully executed, the emotional impact of a horror narrative extends far beyond the screen or page. Viewers carry the experience with them, reflecting on the characters' trials long after the story concludes.
In the art of horror, empathy and identification serve as bridges between the fictional narrative and the viewer's own psyche. By skillfully employing these techniques, creators forge a potent emotional connection, transforming fear into a visceral, unforgettable experience.
This symbiotic relationship between audience and narrative lies at the heart of what makes horror an enduring and compelling genre.
10. The Genre's Appeal: Control and Mastery
One of the key attractions of horror as a genre lies in the delicate balance it strikes between fear and a unique form of mastery. Unlike real-life situations where fear is often overwhelming and uncontrollable, horror offers a controlled environment for experiencing and even conquering our deepest anxieties.
Within the realm of horror, individuals can navigate terrifying scenarios from a safe distance, an experience that can be empowering. This controlled exposure allows viewers or readers to confront their fears head-on, gradually building a sense of mastery over them. It's a psychological dance, where fear is both the adversary and the training ground.
Moreover, horror often introduces a set of rules or logic governing the narrative. Whether it's the behavior of supernatural entities or the workings of a malevolent force, there's an inherent structure.
This provides a framework for the audience to anticipate and understand the unfolding events. The mastery comes from deciphering and internalizing these rules, allowing for a deeper immersion into the narrative.
Additionally, the genre allows for a unique form of catharsis. The tension and fear build to a climax, often followed by a resolution or revelation. This release of pent-up emotion and anxiety can be both exhilarating and therapeutic.
It's a controlled emotional rollercoaster, leaving the audience with a sense of accomplishment for having weathered the storm.
In essence, horror offers a controlled arena for exploring our darkest fears. It provides a space where we can confront, understand, and ultimately master the very things that terrify us.
This delicate interplay of fear and control is a fundamental aspect of the genre's enduring appeal.
11. Cultural Variations in Fear
Fear, a universal human emotion, manifests itself differently across various cultures. The intricate tapestry of beliefs, traditions, and societal norms shapes the way individuals perceive and respond to fear-inducing stimuli. Exploring these cultural variations provides invaluable insights into the multifaceted nature of human experience.
Cultural Archetypes
Different cultures often have their unique archetypal fears. In Western societies, the fear of the unknown or supernatural entities, like ghosts or monsters, is prevalent. Conversely, in some Asian cultures, ancestral spirits or supernatural creatures hold significant sway over the collective imagination.
Rituals and Ceremonies
Many cultures have rituals and ceremonies aimed at mitigating fear. These practices serve as a communal way to confront and cope with fear, often incorporating elements of spirituality and faith. For instance, Day of the Dead celebrations in Mexico offer a poignant example of a cultural response to the fear of mortality.
Folklore and Mythology
Cultural narratives, passed down through generations, often contain elements of fear. These stories not only entertain but also serve to educate and prepare individuals for life's uncertainties. The Grimm Brothers' fairy tales in European culture, for instance, often carry moral lessons wrapped in tales of witches, wolves, and dark forests.
Cultural Taboos
Fear can be deeply intertwined with cultural taboos, influencing what is considered acceptable or forbidden behavior. These taboos may be rooted in religious beliefs, superstitions, or historical events. For example, in some cultures, the fear of disrespecting ancestors can lead to elaborate mourning practices and rituals.
Collective Trauma
Historical events can profoundly shape a culture's relationship with fear. Traumatic events, such as wars, natural disasters, or epidemics, leave lasting imprints on a society's psyche. These events often lead to the development of shared fears and coping mechanisms within a culture.
Influence of Religion
Religious beliefs play a significant role in shaping perceptions of fear. They can provide solace and a framework for understanding and confronting fear-inducing experiences. For instance, in Christianity, the fear of divine judgment may serve as a moral compass, guiding behavior.
Impact on Art and Entertainment
Cultural variations in fear are vividly reflected in artistic expressions. Literature, film, music, and visual arts offer unique perspectives on what elicits fear within a specific cultural context. For example, Japanese horror films often draw on traditional folklore, creating a distinct brand of fear.
Expressions of Courage
Cultural variations in fear also illuminate diverse expressions of courage. What one culture views as an act of bravery may differ significantly from another's perspective. These differing perceptions offer a rich tapestry of human responses to fear.
Exploring cultural variations in fear reminds us of the rich diversity of human experience. It underscores the importance of empathy and understanding when engaging with individuals from different cultural backgrounds. By acknowledging and respecting these variations, we foster a more inclusive and compassionate global community, one that recognizes the unique ways in which fear weaves itself into the fabric of our lives.
12. My Personal Thoughts
As we conclude this exploration into the depths of fear, I find myself marveling at the intricate dance between mind and body.
The physiology of fear, a symphony of hormonal surges and neural responses, underscores the remarkable adaptability that evolution has bestowed upon us. It is a testament to the ingenuity of nature that, even in the face of perceived danger, our bodies rally with precision and purpose.
Yet, the story of fear extends beyond the biological realm. It delves into the realms of psychology, culture, and the human experience itself. How do our past experiences shape our fears? What role does societal conditioning play in our responses to perceived threats? These questions beckon us to venture further, to uncover the nuanced layers of this primal emotion.
Moreover, the intersection of fear with creativity and storytelling is a realm brimming with intrigue. How do writers and filmmakers masterfully manipulate our physiological responses to induce fear? How does the suspension of disbelief transport us into worlds where fear lurks around every corner? These inquiries propel us into a realm of boundless fascination.
As we embark on this journey, I invite you to join me in this exploration of similar subjects. Together, we will unravel its secrets, peer into its influence on our lives, and perhaps, emerge with a deeper understanding of what it means to be human. So, dear reader, let us venture forth into the shadows of unexplained, where mysteries and revelations await.
---
Here are some noteworthy studies related to the physiology of fear and related psychological phenomena:
1. LeDoux, J. E. (2000). Emotion circuits in the brain. Annual Review of Neuroscience, 23, 155-184.
– This study provides a comprehensive overview of the neural circuits involved in processing emotions, including fear.
2. Ohman, A., & Mineka, S. (2001). Fears, phobias, and preparedness: Toward an evolved module of fear and fear learning. Psychological Review, 108(3), 483-522.
– This influential paper discusses the concept of preparedness in fear learning, suggesting that humans are biologically prepared to quickly learn certain fears.
3. Davis, M., & Whalen, P. J. (2001). The amygdala: Vigilance and emotion. Molecular Psychiatry, 6(1), 13-34.
– This review article focuses on the role of the amygdala, a key brain structure, in processing emotional information, particularly fear.
4. Phelps, E. A., & LeDoux, J. E. (2005). Contributions of the amygdala to emotion processing: From animal models to human behavior. Neuron, 48(2), 175-187.
– This study delves into the specific contributions of the amygdala to processing emotions, particularly fear, in both animal models and humans.
5. Fanselow, M. S., & Lester, L. S. (1988). A functional behavioristic approach to aversively motivated behavior: Predatory imminence as a determinant of the topography of defensive behavior. In Evolution and Learning (pp. 185-212). Erlbaum.
– This foundational study introduces the concept of "predatory imminence" as a factor influencing defensive behaviors in the face of potential threats.
6. Lang, P. J., Bradley, M. M., & Cuthbert, B. N. (1990). Emotion, attention, and the startle reflex. Psychological Review, 97(3), 377-395.
– This study explores the relationship between emotion, attention, and the startle reflex, shedding light on the physiological responses associated with fear.
These studies have significantly contributed to our understanding of the physiology of fear and emotions. Please note that if you intend to use this information in a formal context, it's important to properly cite the original sources.
---
We Can't Thank You Enough For Your Support!
— By Raza H. Qadri (ALI), science & technology contributor "THE VOICE OF EU"
— For more information & news submissions: info@VoiceOfEU.com
— Anonymous news submissions: press@VoiceOfEU.com
---
Surge In Asylum Applications In Southern Mexico Sparks Migrant Frustration
By Cindy Porter
In a dramatic turn of events, a wave of migrants breached metal barriers, storming the asylum office in
Tapachula, Mexico
, amid rising frustrations over prolonged waiting times for appointments.
The surge of applicants has been overwhelming, with over 100,000 asylum claims filed this year alone, signifying a substantial increase.
The Tapachula office, operated by the Mexican Commission for Refugee Aid, plays a pivotal role in processing asylum claims, though for many, it serves as a means to acquire essential documents for safer travel towards the U.S. border.
The sheer volume of applicants, approximately 2,000 appointment requests daily, has stretched resources thin, resulting in mounting impatience and instances of unrest.
Notably, Cubans, Haitians, and Hondurans constitute a significant portion, roughly 80%, of asylum seekers at the Tapachula office. Surge in asylum applications in southern Mexico sparks migrant frustration. This demographic trend underscores the multifaceted challenges faced by migrants from these regions.
The surge in asylum applications reflects a broader regional issue, with Mexico grappling to manage an unprecedented influx. Andrés Ramírez Silva, the director of Mexico's refugee agency, indicated that this year's applications may surpass the record set in 2021, potentially reaching 150,000 by year-end.
WATCH: INSIDE A SHELTER IN MEXICO OVERWHELMED WITH MIGRANTS
This forecast, a 25% surge compared to the same period in the previous year, underscores the pressing need for increased capacity and resources.
As the situation intensifies, it is imperative for authorities to address the logistical challenges faced by both migrants seeking asylum and the agencies tasked with processing their claims. With record numbers of applicants, a strategic and comprehensive approach is crucial to ensuring the safety and well-being of all parties involved.
---
Thank You For Your Support!
— By Cindy Porter, team 'THE VOICE OF EU'
— For more information & news submissions: info@VoiceOfEU.com
— Anonymous news submissions: press@VoiceOfEU.com
---