Mobilising Assam's 'hargila army': how 10,000 women saved India's rarest stork | Global development
On a cool December afternoon a group of women dressed in brightly coloured mekhela chadors (Assam's traditional handwoven clothing) sit in a circle on the grass at the Bhokha Beel wetlands, singing and clapping.
Some of the women are wearing papier-mache headdresses shaped like long-necked birds. As they sing, one of them gets to her feet and starts dancing.
They are part of the "hargila army", a group of rural women in the Indian state of Assam who work to protect one of the world's rarest storks: the greater adjutant (Leptoptilos dubius) – or hargila (meaning "bone swallower" in Assamese) as the scavenger bird is known locally. They are celebrating the recent UN Environment Programme's Champions of the Earth award, conferred on the group's biologist founder, Dr Purnima Devi Barman.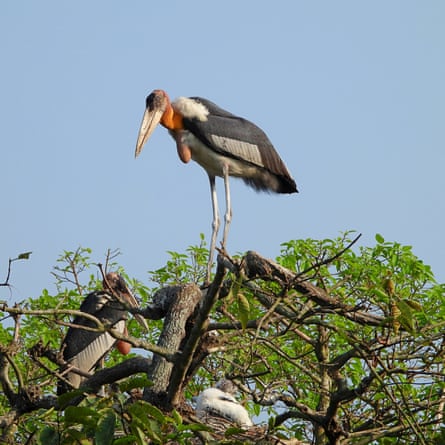 Barman won the award for her achievement in mobilising more than 10,000 women to help save the stork. "They are the protectors of the birds and of their nesting trees," says Barman, referring to the band of homemakers turned conservationists.
The greater adjutant, a member of the stork family that can grow up to 1.5 metres (5ft) tall, was once abundant across south Asia. But its distinctive features – a featherless head, dangling gular (throat) pouch, striking pale eyes and long skinny legs – and its foul-smelling droppings and dietary preference for carrion – won it few fans.
The birds were not just reviled, they were seen as a bad omen and carriers of disease. Villagers attacked them with stones, cut down trees where they roosted communally and burned their nests.
Today the greater adjutant is endangered, with fewer than 1,200 adult birds in its last strongholds – the Indian states of Assam and Bihar, and Cambodia. Most of the global population is found in Assam, making Barman and the hargila army's work critical to its survival.
Barman grew up in a village on the Brahmaputra, a river that flows for 2,500 miles through Tibet, north-east India and Bangladesh. As a child, she learned about Assam's wildlife from her grandmother, who took her into the paddy fields where she worked and taught her about local birdlife. "She didn't know how to write but she had a feeling for nature and taught me lots of songs and stories about the birds," says Barman.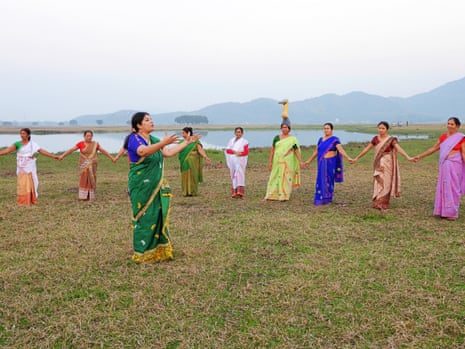 Her love of the natural world stayed with her. She gained a first degree and a master's in zoology and was about to embark on a PhD on the greater adjutant when a contact phoned to tell her that a villager in Dadara had cut down a kadam (burflower) nesting tree in his yard.
When she arrived at the site she was appalled to find the ground littered with nests and dead or injured chicks. "It was my mothering instinct. I wanted to do something to protect these innocent creatures," says Barman, whose twin girls were two at the time.
Barman began teaching the villagers about the birds' importance as "nature's cleaning crew", and why nesting trees should not be cut down. In response, she was taunted and asked to clean the foul-smelling mess herself. The hostility she faced made her realise that to save the bird, she first needed to change the community's attitude to it.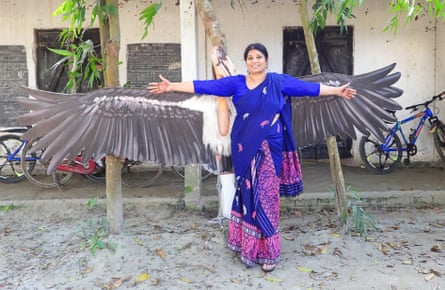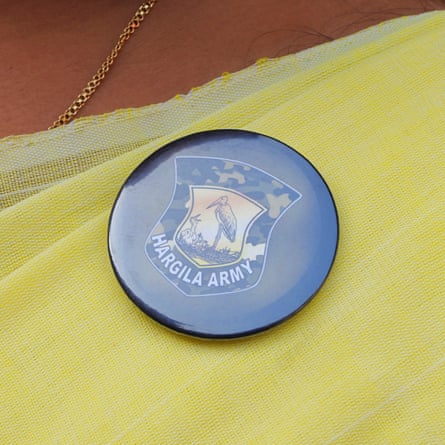 She delayed her PhD and set to work: she organised public meetings where she honoured the owners of trees, mostly men, instilling in them a sense of pride in their role as guardians. The tactic paid off. "Not a single nesting tree has been cut down since 2010," she says.
But it was the women who Barman believed held the key to sustainable and community-led conservation. The problem was they were confined to their homes and household chores. So Barman found creative ways to bring them out where she could talk to them. She began organising cooking competitions of traditional sweets and snacks, where she befriended the women and talked about the birds.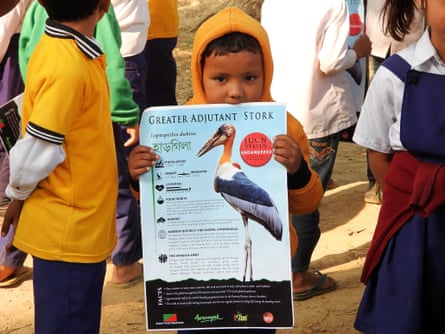 She tapped into the women's nurturing side by organising "baby showers" during the storks' breeding season, inspired by a Hindu ritual for expectant human mothers, and "happy hatching" ceremonies to commemorate the arrival of the chicks. Slowly but surely, the women began to accept the birds as part of their world.
By 2014, the conservation movement had gathered momentum and the hargila army was born. "Conservation is all about uniting people and building ownership," says Barman. "I've always believed that, if given a chance, women can make a big difference in conservation."
Today, the once-maligned bird is now a cultural symbol, appearing on everything from towels to road-safety campaigns.
In the villages of Dadara, Pacharia and Singimari (all in Kamrup district), greater adjutants' nests have increased from 28 in 2010 to more than 250 according to Barman's last count, making the area the world's largest breeding colony. "We now have more than 1,000 hargila birds in Assam," says Barman, referring to recent but unpublished data collected by her team.
The conservation efforts have also transformed the lives of the women, who now go into other villages to raise awareness of the birds. "Joining the hargila army gave me a chance to show everyone that I could do something meaningful with my life," says Daivaki Saikia, a young widow from Dadara's marginalised fishing community, who has been a member for five years.
The UN award was for Barman's "entrepreneurial vision" in using conservation to improve women's economic status. Assam has a rich tradition of weaving, so Barman secured funding for 30 looms and provided training in weaving the hargila motif into fabrics, providing women with an independent income. Eighty women were also given sewing machines to make bags, cushion covers and other items from the handwoven fabrics.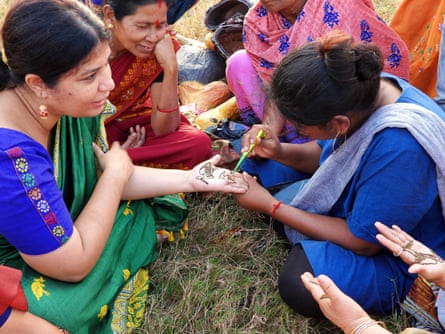 In 2021, Barman established the Hargila Learning and Conservation Centre in a government school in Pacharia village, where hargila army members use songs, art and games to encourage children to protect the birds.
Juggling her job as a biologist at Aaranyak, a wildlife non-profit organisation based in the city of Guwahati, Barman continues to help preserve the hargila. In February the hargila army begins its work in the districts of Morigaon and Nagaon, with further expansion planned for Assam.
She also hopes to set up a nursery for kadam trees that can be distributed to those who want to plant them in their gardens (45,000 saplings have already been handed out). "This will help improve the back-yard biodiversity," says Barman.
Barman's unwavering dedication has been recognised in India and internationally. Last year she was named World Female Ranger and in 2017, she received the prestigious Whitley award, known as the "Green Oscars", as well as India's highest civilian honour for women – the Nari Shakti Puraskar.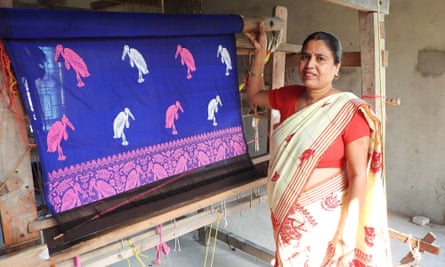 But Barman refuses to rest on her laurels. No opportunity to advocate for the bird is missed. "My intention is to involve everyone," she says. "If people are concerned about the conservation of the hargila and its habitat, it will help other species as well."
Boris Johnson says 'partygate' untruths were an honest mistake | International
Former U.K. Prime Minister Boris Johnson acknowledged Tuesday that he misled Parliament about rule-breaking government parties during the coronavirus pandemic — but insisted he never intentionally lied. Johnson said it never occurred to him that the gatherings — which variously included cake, wine, cheese and a "secret Santa" festive gift exchange — broke the restrictions his own government had imposed on the country.
Britain's boisterous former leader is set to be grilled by lawmakers on Wednesday over whether he lied when he denied there had been parties in his Downing Street offices in violation of Covid-19 lockdown rules that barred socializing. If found to have lied deliberately, he could be suspended or even lose his seat in Parliament.
In a dossier of written evidence to the House of Commons Committee of Privileges, Johnson acknowledged that "my statements to Parliament that the Rules and Guidance had been followed at all times did not turn out to be correct."
But he said his statements "were made in good faith and on the basis of what I honestly knew and believed at the time. I did not intentionally or recklessly mislead the House."
The committee will quiz Johnson in person on Wednesday afternoon about "partygate," the scandal over a string of gatherings in government offices in 2020 and 2021. Police eventually issued 126 fines over the late-night soirees, boozy parties and "wine time Fridays," including one to Johnson, and the scandal helped hasten the end of his three years in office.
Revelations about the gatherings sparked anger among Britons who had followed rules imposed to curb the spread of the coronavirus, unable to visit friends and family or even say goodbye to dying relatives in hospitals.
Becky Kummer, spokesperson for the group Covid-19 Bereaved Families for Justice, said Johnson's claim to have acted in good faith was "sickening."
"He isn't fit for public office," Kummer said.
When reports of the parties first emerged in late 2021, Johnson initially said that no rules had been broken. He later apologized and said there had been "misjudgments."
But in the 52-page dossier he said he "honestly believed" the five events he attended, including a sendoff for a staffer and his own surprise birthday party, were "lawful work gatherings."
"No cake was eaten, and no one even sang 'Happy Birthday,'" he said of the June 19, 2020, celebration, for which he received a police fine. "The primary topic of conversation was the response to Covid-19."
Johnson said suggestions that people in government considered themselves to be "in a guidance-free bubble where the requirements we imposed on the rest of the country did not apply" could not be further from the truth.
"Drinking wine or exchanging gifts at work and whilst working did not, in my view, turn an otherwise lawful workplace gathering into an unlawful one," he said.
Johnson said he was assured by "trusted advisers" that no rules had been broken — assurances that turned out to be wrong. He said he was later "genuinely shocked" by the rule-breaking uncovered by police and by senior civil servant Sue Gray, who led an investigation into partygate.
Johnson and his supporters have also questioned the impartiality of Gray because she has now accepted a job as chief of staff to the leader of the opposition Labour Party.
If the committee finds Johnson in contempt, it could recommend punishments ranging from an oral apology to suspension or even expulsion from Parliament, or it could recommend no sanction at all. Any punishment would have to be approved by the House of Commons.
Johnson was forced to resign in July after a slew of scandals over money and ethics finally proved too much for Conservative colleagues, dozens of whom quit the government.
For Prime Minister Rishi Sunak, Wednesday's televised hearing will be an unwelcome reminder of the turmoil that engulfed the Conservative government under Johnson — just as the party's poll ratings are starting to edge upward.
Sunak took office in October, replacing Liz Truss, who stepped down within weeks of becoming prime minister after her tax-cutting budget plans caused turmoil on financial markets.
Johnson, once considered a secret weapon with voters, is now a liability, said Robert Hayward, a polling expert and Conservative member of the House of Lords.
"He is a serious negative for most people," Hayward said. "Boris's polling is far worse than is the case for Rishi (Sunak)."
Sign up for our weekly newsletter to get more English-language news coverage from EL PAÍS USA Edition
Drought caused 43,000 'excess deaths' in Somalia last year, half of them young children | Global development
A new report released by the Somalian government suggests that far more children died in the country last year due to the ongoing drought than previously realised.
The study estimates that there were 43,000 excess deaths in 2022 in Somalia due to the deepening drought compared with similar droughts in 2017 and 2018.
Half of the deaths are likely to have been children under five. Up to 34,000 further deaths have been forecast for the first six months of this year.
Released on Monday by Somalia's federal health ministry together with Unicef and the World Health Organization, the report was compiled by researchers at the London School of Hygiene and Tropical Medicine and Imperial College London, who looked at retrospective estimates of mortality across Somalia from January to December 2022.
Accurate statistics are difficult to compile from a population spread across remote areas, and with about three million people displaced from their homes. The highest death rates are thought to be in the regions of south-central Somalia, including Bay, Bakool and Banadir, that are the worst hit by drought.
Somalia's health minister, Dr Ali Hadji Adam Abubakar, found cause for optimism that famine had so far been averted.
"We continue to be concerned about the level and scale of the public health impact of this deepening and protracted food crisis in Somalia," he said.
"At the same time, we are optimistic that if we can sustain our ongoing and scaled-up health and nutrition actions, and humanitarian response to save lives and protect the health of our vulnerable, we can push back the risk of famine for ever."
If this did not happen, he said, "the vulnerable and marginalised will pay the price of this crisis with their lives."
"We therefore urge all our partners and donors to continue to support the health sector in building a resilient health system that works for everyone and not for the few," said Abubakar.
For the first time, a prediction model was developed from the study. A forecast from January to June 2023 estimates that 135 people a day might also die due to the crisis, with total deaths projected at being between 18,100 and 34,200 during this period.
The estimates suggest the crisis in Somalia is far from over and is already more severe than the 2017-18 drought.
Wafaa Saeed, Unicef's representative in Somalia, said he was saddened by the grim picture of the drought's impact on families, but added: "We know there could have been many more deaths had humanitarian assistance not been scaled up to reach affected communities.
"We must continue to save lives by preventing and treating malnutrition, providing safe and clean water, improving access to lifesaving health services, immunising children against deadly diseases such as measles, and providing critical protection services."
There have now been six consecutive failed rainy seasons in the climate crisis-induced drought, which coincides with global food price rises, intensified insecurity in some regions, and the aftermath of the pandemic.
The study is the first in a planned series and was funded by the UK's Foreign, Commonwealth and Development Office.
War crimes committed on all sides in Ethiopia's Tigray conflict, U.S. says | International
The Biden administration announced Monday that it has determined all sides in the brutal conflict in Ethiopia's northern Tigray region committed war crimes and crimes against humanity. The move carries no immediate U.S. policy implications but lends weight to calls for such allegations to be prosecuted.
Secretary of State Antony Blinken announced the determination less than a week after he returned from a visit to Ethiopia during which he met with Ethiopian government and Tigrayan officials as well as victims of the conflict, but said little about the U.S. view of prospects for accountability.
His determination covers members of the Ethiopian and Eritrean national armies as well as the Tigray People's Liberation Front and forces aligned with the Amhara region. Blinken said those responsible for atrocities must be held accountable.
He said after "careful review of the law and facts" he had determined that members of the Ethiopian National Defense Forces, Eritrean Defense Forces, Tigray People's Liberation Front forces and Amhara forces committed war crimes during the conflict in northern Ethiopia.
Members of the Ethiopian, Eritrean and Amhara forces also committed crimes against humanity, "including murder, rape and other forms of sexual violence, and persecution," Blinken said. "Members of the Amhara forces also committed the crime against humanity of deportation or forcible transfer and committed ethnic cleansing in western Tigray."
Blinken announced the determination as he rolled out the State Department's annual global human rights reports, which cover 2022 and also called out Afghanistan, China, Cuba, Iran, Myanmar and Nicaragua for abuses.
"I condemn the unspeakable violence against civilians and destruction that occurred in northern Ethiopia," he said. "Recognizing the atrocities committed by all parties is an essential step to achieving a sustainable peace.Those most responsible for atrocities, including those in positions of command, must be held accountable."
The formal determination is more measured than his assertion early in the two-year conflict that "ethnic cleansing" was taking place in parts of Tigray.
Last year, a United Nations commission of inquiry said it had turned up evidence of war crimes and crimes against humanity by Ethiopian government forces, Tigray forces and Eritrea's military. But the commission also said Ethiopian forces had resorted to "starvation of civilians" as a tool of war and that Ethiopian and Eritrean forces were found to be responsible for "sexual slavery" — while Tigray forces were not.
The conflict, which ended with a peace deal in November, killed an estimated half-million civilians in Tigray alone, according to Ghent University researchers, a death toll echoed by U.S. officials.
Blinken called on all sides to respect the agreement and follow through on pledges "to implement an inclusive and comprehensive transitional justice process."
He said Afghanistan's ruling Taliban, which took power after the U.S. withdrawal from the country two years ago, "relentlessly discriminates against and represses women and girls" and has taken action that threatens humanitarian assistance to all Afghans.
On China, Blinken said Beijing continues abuses, including genocide and crimes against humanity, against Uyghur Muslims in it western Xinjiang area. It also continues the repression of Tibetans and pro-democracy activists in Hong Kong, along with mainland Chinese citizens who have tried to exercise basic freedoms.
In Myanmar, also known as Burma, Blinken said human rights "have further eroded," and in Nicaragua, he said "the authoritarian government continues to detain political prisoners and hold them in appalling prison conditions."
Sign up for our weekly newsletter to get more English-language news coverage from EL PAÍS USA Edition