Migration and Covid deaths depriving poorest nations of health workers | Global development
The loss of frontline health workers dying of Covid around the globe, is being compounded in the hospitals of developing nations by trained medical staff leaving to help in the pandemic effort abroad, according to experts.
With new Covid waves in Africa, and with Latin America and Asia facing unrelenting health emergencies, the number of health worker deaths from Covid-19 in May was at least 115,000, according to the World Health Organization. Its director-general, Tedros Adhanom Ghebreyesus, acknowledged data is "scant" and the true figure is likely to be far higher.
In richer countries, the share of foreign-trained or foreign-born doctors and nurses has been rising for two decades. But the pandemic's double blows of death and migration are leaving behind knowledge gaps in already fragile health systems, where poor pay and conditions are driving staff to leave, say advocates and health workers.
Global health specialists are launching initiatives to protect medical staff, and incentivise them not to be enticed abroad.
Women in Global Health, an international network advocating for equality, has jointly launched what it calls "a new social contract for women in the health and care workforce". The Gender Equal Health and Care Workforce Initiative, a partnership between the WHO, Women in Global Health and the French government, aims to strengthen policy investing in and protecting workers.
"Health workers are exhausted, many want to leave. We cannot afford to lose one single worker at this time," says Dr Roopa Dhatt, executive director of Women in Global Health. "Investing in women is the best investment we can make for all our futures and the future of health security."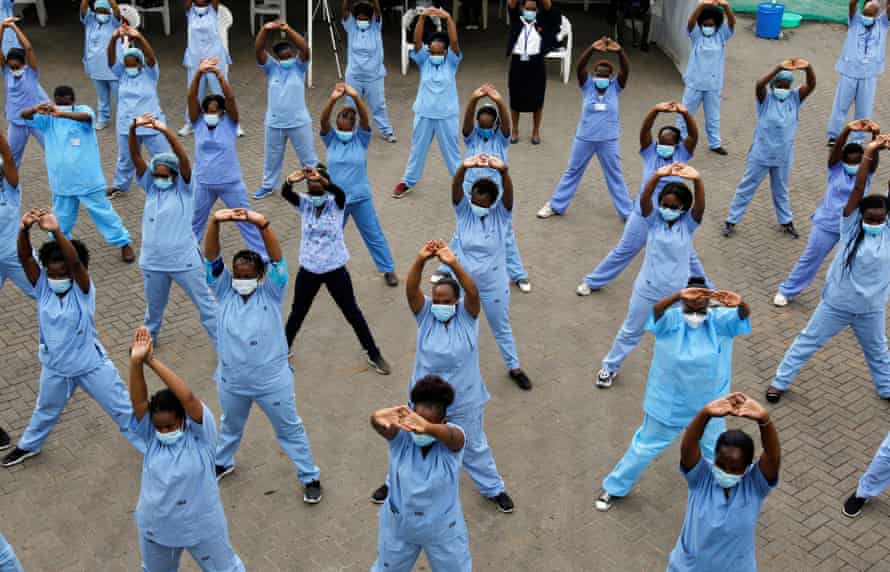 The world is reliant on women to deliver health and care services, Ghebreyesus told the Generation Equality Forum, where the first round of commitments to the initiative was announced on 1 July.
Women account for about 90% of nurses and midwives, close to 50% of all doctors, and make up 70% of all health and care workers worldwide.
"This reliance demands that we ask ourselves tough questions on workplace conditions and equity, including how we value and reward women in the health and care workforce," Ghebreyesus said. "And how we guarantee that workplaces are free from discrimination, violence, sexual exploitation and abuse."
As governments – including those of Mexico, Pakistan, the Democratic Republic of Congo and Liberia – commit to the gender policy initiative, Dhatt said that millions of health and care workers were unpaid or underpaid and had no access to Covid vaccines.
"We must provide incentives for women to stay," said Dhatt.
The global south has long supplied many of the human resources for health systems in the northern hemisphere. And as the UK, the US and Europe have struggled under the weight of their respective pandemics, demand for imported medical expertise has intensified.
Across the world's wealthiest countries, nearly 25% of doctors and 16% of nurses were born abroad, according to a brief from the Organisation for Economic Co-operation and Development (OECD). Published in May, it examined how rich countries have sought to attract staff from developing countries in response to the pandemic.
It acknowledged that nations from where staff were being enticed "were already facing severe shortages of skilled health workers before the Covid-19 pandemic".
The UK launched its own incentive – a fast-track Health and Care Visa in 2020 to attract more health workers from developing countries – even as the government drastically reduced its foreign aid budget from 0.7% to 0.5% of national income, against OECD advice and putting global health systems at risk, according to academics.
The Philippines is the largest contributor of nurses to wealthy countries, OECD data shows. India provides the highest number of doctors, and the second-highest number of migrant nurses.
Mitigating push factors for professionals to leave their countries requires policy to "reinforce international cooperation, notably overseas development assistance and technical assistance, to help less advanced countries build up a sufficient health workforce and to strengthen their health systems", the OECD brief said.
The Filipino Nurses Association UK has raised concerns about the disproportionately high rate of deaths among NHS and social care staff from the Philippines, saying that the nationality had the highest mortality of all ethnicities, at about 20%. The group set up a special helpline for Filipino health workers and their families as a result. In the US, more than 30% of nurses who have died of Covid were Filipino, though they make up just 4% of the country's registered nurses, according to the National Nurses United union.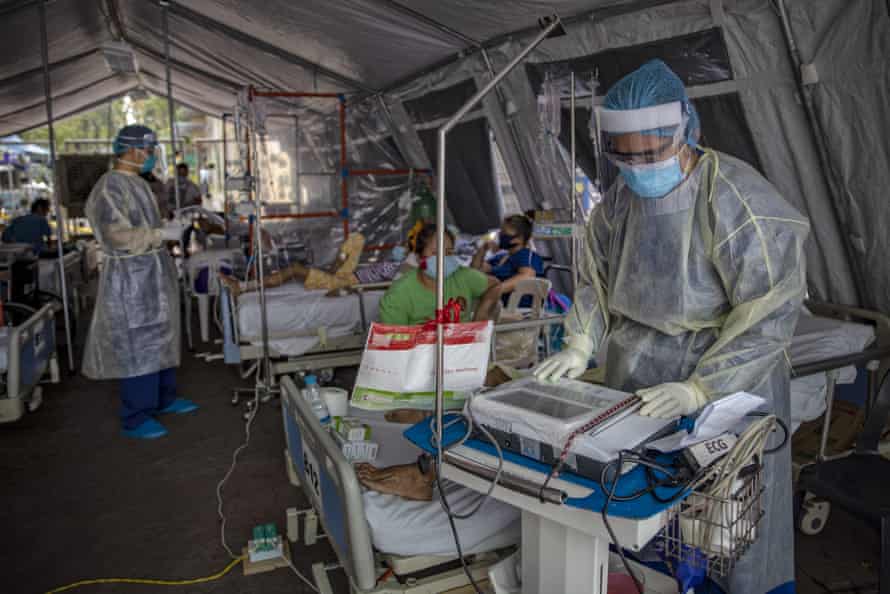 In the Philippines, two prominent specialists died of Covid in March 2020: paediatric surgeon Leandro Resurreccion III and Salvacion "Sally" R Gatchalian, the president of the Philippine Paediatric Society.
Gatchalian helped create the Philippines Coalition Against Tuberculosis and led a children's TB initiative, while Resurreccion was lauded for having returned from Australia to dedicate himself to the Philippines' health service.
Highly skilled researchers are scarce in low- and middle-income countries, said Glenda Gray, president of the South African Medical Research Council, adding: "Any loss of scientists, either through death or migration, is a concern."
In fragile health systems, lost knowledge when a community health worker or highly trained medical expert dies can have a long-term impact. And research suggests physician migration costs low and middle income countries $16bn (£11.5bn) annually and lost medical knowledge contributes to excess deaths.
With emigration rates of doctors and nurses as high as 50% from some African and Latin American countries, it can mean that more doctors born in these countries are working in the OECD area than in their countries of origin.
Africa's research community lost renowned HIV scientist Gita Ramjee to Covid in March 2020.
"Gita was fundamental and inextricably linked to the endeavours to find solutions to prevent HIV in women. She was tireless in this pursuit, her tenacity will never be forgotten," Gray said. Winnie Byanyima, executive director of UNAIDS, said Ramjee's loss was "when the world needs her most".
"The psychological impact of deaths, infections and [increased workloads] prompted many doctors to request leave and, in the event of management refusal, some resorted to resigning from governmental hospitals," Egyptian physician Abdel Hamid Mahmoud said.
Johan Fagan, an ear, nose and throat disease specialist at the University of Cape Town in South Africa, said policies such as the UK's fast-track visa would spur further migration.
"These countries aren't training enough of their own healthcare professionals and are exploiting the workforce in developing countries," Fagan said. "In a pandemic, this has a significant impact on our health systems and how we're able to deliver care."
Algerian Dr Al Arabi Bin Hara predicted a new exodus of skilled workers from his country, saying: "Last year and at the beginning of this year, there was the smallest number recorded in doctors' immigration because of the closed borders as [a result] of the measures imposed by the pandemic.
"The post-Covid phase will witness a mass flight of doctors, as long as the situation remains as it is and the suffering continues."
What hurts, said Bin Hara, is that hospitals and clinics in Europe – particularly in France – were attracting Algerian doctors with critical specialisations.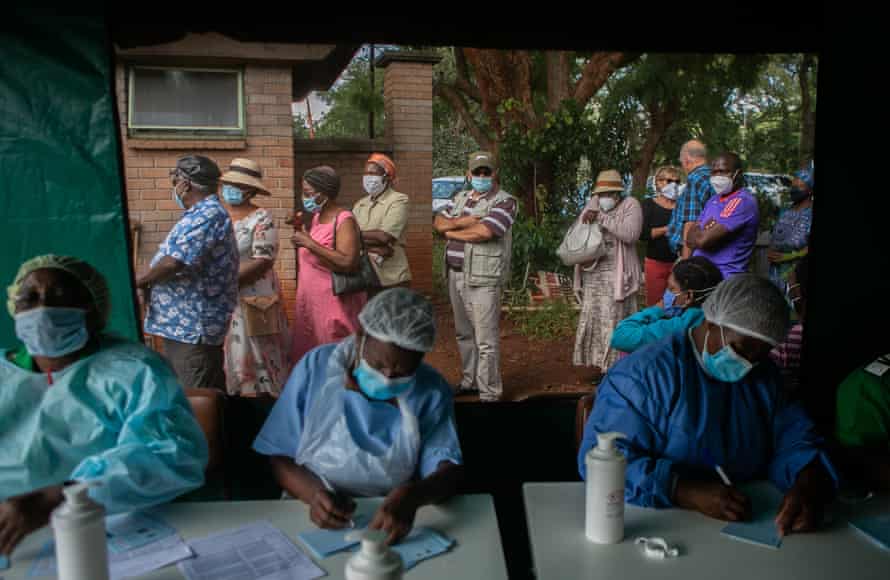 In Zimbabwe, a country with one of the highest doctor emigration rates, Dr Charles Moyo said Africa would face a healthcare crisis if the tide of health worker losses was not stemmed.
"The healthcare system is already strained by limited resources and by Covid. If more manpower is lost, the entire healthcare system could collapse," he said.
The International Council of Nurses (ICN), which has backed the Gender Equal Health and Care Workforce Initiative, celebrated the World Health Assembly's adoption of the WHO's updated global nursing and midwifery strategy, which presents policy priorities to support midwives and nurses.
ICN chief Howard Catton said the message was clear, adding: "We must invest now in nursing education, leadership, jobs and practice, and we need member states to own their new strategy and implement it now.
"Of course, the tragic irony is that if we had done this before, we would have had a better protected healthcare workforce, and fewer of our colleagues would have died."
Build Back Better: Friendly fire aimed at Joe Biden | USA
In early October, a group of activists kayaked to the houseboat belonging to US Senator Joe Manchin in Washington to protest his opposition to the Democratic Party's €3.5-trillion Reconciliation bill, which is a star policy of the Joe Biden administration. This came just days after Senator Kyrsten Sinema was ambushed by protesters during her trip back to Washington.
But neither Manchin nor Sinema are part of the Republican Party's offense against the bill: they are two moderates in the Democratic Party who are forcing the president to reconsider the reforms. In the meantime, Biden is facing both pressure and disillusionment as his popularity in the polls plummets.
The Democratic Party's ambitious spending plan, called Build Back Better, involves the largest extension of social-welfare coverage in the United States since the 1970s when Democrat Lyndon B. Johnson was in power. The bill includes a tax credit for children and other dependent family members, extends aid to the elderly and disadvantaged people, and in its current form, funds a raft of sweeping measures aimed at fighting climate change and promoting renewable energy. But it is the environmental side of the plan that Biden is now considering changing due to the complete opposition from Senator Manchin, whose state – the conservative West Virginia – relies heavily on coal mining for employment. The plan is estimated to cost $3.5 trillion (around €3 trillion), but it is likely that it will be cut back to less than $2.5 million.
This is because, unlike former president Lyndon B. Johnson, Biden only has a narrow majority in Congress. In 1965, when Johnson signed the Medicare bill – which established a health-insurance program for the elderly – the Democratic Party had an overwhelming majority in Congress and held control of two-thirds of the Senate. But even then it was difficult to convince the moderate sector to approve the bill. Fifty years later, in 2011, when former president Barack Obama put forward his healthcare reforms, he also had a stronger position than Biden in both legislative chambers: 57 democrats and two independents in the Senate.
Senator Manchin's opposition to the social-welfare plan is based on fears over rising inflation in the US, an increase of public debt and – something more abstract – concern that it will turn the country "into an entitlement society," as he stated at the beginning of October. The statement came after he published an opinion poll in The Wall Street Journal called "Why I Won't Support Spending Another $3.5 Trillion." In the article, he argues: "Establishing an artificial $3.5 trillion spending number and then reverse-engineering the partisan social priorities that should be funded isn't how you make good policy."
Since becoming a senator after the 2020 election, Kyrsten Sinema has defended a bipartisan approach to legislating – a position she has also taken with the Biden administration's infrastructure bill, which is still awaiting ratification. "The American people are asking for us to take action. What they don't want to see is us sit on our hands, waiting until we get every single thing that we want," she said in a radio interview with NPR in August. "That all-or-nothing approach usually leaves you with nothing," added Sinema, who is the first Democratic senator in the state of Arizona in 30 years.
Both senators raised record sums of money in the third quarter of the year, thanks to large contributions from the oil and gas, pharmaceutical and financial services sectors, according to filings recorded and published by the Financial Times. Manchin raised $1.6 million (€1.38 million), up from $1.5 million ( €1.29 million) in the second quarter and just $175,000 (€150,000) in the first. Meanwhile, Sinema received €1.1 million (€950,000) in donations in the third quarter, a figure narrowly outstripping the second and far from the $375,000 (€322,000) in the first. This is despite the fact that neither of the politicians face reelection until 2024.
Two Senators cannot be allowed to defeat what 48 senators and 210 House members want

Senator for Vermont, Bernie Sanders
In the meantime, the progressive wing of the Democratic Party is starting to lose patience and is also pressuring the White House. "Two senators cannot be allowed to defeat what 48 senators and 210 House members want," Bernie Sanders, senator for Vermont, wrote in a message on Twitter. "Poll after poll shows overwhelming support for the $3.5 trillion Build Back Better legislation," he added in a separate tweet. In a similar vein, Pramila Jayapal, the chair of the Congressional Progressive Caucus, said: "Four percent of Democrats are opposing passing the president's agenda."
Democrat veteran Nancy Pelosi, the speaker of the House of Representatives, has begun to try to solve the conflict and is preparing lawmakers to accept cuts to the reconciliation bill. "I'm very disappointed that we're not going with the original $3.5 trillion," she admitted on October 12. "But whatever we do, we will make decisions that will continue to be transformative."
The greater debate with respect to the spending plan is over the size of public spending and to what extent the state should intervene in the economy. Biden came to the White House with the message that a monumental crisis required a strong and broad government. The Biden administration has been able to pass new legislation on voting rights at a time when Republican-led states are pushing for restrictions, which in practice, hinder access to minority groups and the disadvantaged. But there are more projects in limbo. The reason is that it is not enough to have a simple majority in the Senate; the Democratic Party needs 60 votes in the 100-seat chamber, but only has 50, plus the casting vote of Deputy President Kamala Harris.
Meanwhile, Biden's popularity has taken a nosedive. He entered the White House on January 20 with a 57% approval rating, according to respected pollster Gallup. But in August, after six months in power, the figure had fallen below 50%, and in September, the last month for which there is available data, it was down to 43%. This is higher than the approval rating of former US president Donald Trump, which came in at 37% after the same period of time, but is nine points lower than the same figure for Obama. The fall is largely due to the drop in support among independent voters: before the election, 61% of them approved of Biden, compared to 37% now.
Economic uncertainty, an uptick of the coronavirus pandemic over summer and stalled reforms are among the reasons Biden's popularity is waning. Other factors include the administration's migration policy, which has maintained some of the most restrictive elements of the Trump era, and the upheaval following the US army's withdrawal from Afghanistan. With the anniversary of the November 2020 election fast approaching, Biden is hoping that he will be able to pass his star legislation, despite the internal opposition.
Too hot to handle: can our bodies withstand global heating?
Extreme heat can kill or cause long-term health problems – but for many unendurable temperatures are the new normal
The impact of extreme heat on the human body is not unlike what happens when a car overheats. Failure starts in one or two systems, and eventually it takes over the whole engine until the car stops.
That's according to Mike McGeehin, environmental health epidemiologist at the Centers for Disease Control and Prevention. "When the body can no longer cool itself it immediately impacts the circulatory system. The heart, the kidneys, and the body become more and more heated and eventually our cognitive abilities begin to desert us – and that's when people begin fainting, eventually going into a coma and dying."
Polish TV sabotages Tusk press briefing
Polish opposition leader Donald Tusk clashed with Polish propaganda outlet TVP in Warsaw Tuesday. A TVP reporter asked him why Tusk's party wanted Poland to leave the EU. "This is beyond imagination … I won't answer such absurdities," Tusk, whose Civic Platform party is pro-EU, said, before a prickly exchange ensued. TVP also muted MEPs who said Poland should face EU rule-of-law sanctions in its coverage of a Strasbourg debate.