Marlon Botas: Montserrat Bendimes: Why the young Mexican student's murder has gone unpunished | International
Her family says that during the time that Montserrat Bendimes was hospitalized with severe trauma, the 20-year-old engineering student uttered the following sentence before she died: "It was Marlon." The young woman had been admitted in April of last year after her partner allegedly gave her a brutal beating that kept her on life support until her body gave out. By then, the main suspect was already unaccounted for.
With his parents' help, according to the State Prosecutor's Office, Marlon Botas managed to flee while his girlfriend lay dying in a hospital. More than a year after what happened, only his parents are serving a sentence for aiding their son, but Botas is still a fugitive and Bendimes' crime remains unpunished. This Monday, her former partner sent a message from an undisclosed alleging that he and his parents are innocent.
Bendimes' murder triggered a wave of indignation in Veracruz, where the feminist groups that have provided support for her family organized marches and actions to seek justice. The capture of Botas' parents in Mexico City in November of last year set a precedent for aiding and abetting murderers, according to these organizations. And the state of Veracruz was papered with the face of Marlon Botas: graffiti on walls, wanted posters, videos and images on social media. The Prosecutor's Office announced that it had asked Interpol to issue a red notice (issued for fugitives who are wanted for prosecution or to serve a sentence) in almost 100 countries and offered a reward of 250,000 pesos (about $12,500) for any clue about his whereabouts.
The Bendimes case has since made no more progress, as often happens with most crimes in Mexico, where 95% of them are never solved. This is especially true in cases of sexist violence, compounded by a national security crisis that no government has managed to control and which claims the lives of 11 women a day. Despite the imprisonment of his parents, who had fled to the nation's capital, Botas has so far gotten away with it.
This Monday, the television network Imagen showed a video that the show's hosts said reached them anonymously, in which Botas can be seen against a white background. Botas says that what happened was an "unfortunate accident" and that his family had nothing to do with it. He also claimed there was a "hunt" against him and his family, and asked that his parents, Diana Fuentes and Jorge Botas, be released. Reaction on social media was intense. The women of Mexico are accustomed to hearing so many times and in so many cases that dead women committed suicide, fell, got themselves killed.
The Veracruz Prosecutor's Office, as well as Governor Cuitláhuac García, responded in a statement that the "procurement of justice is not negotiated." "In this case, as in all those in which a woman is attacked, there will be no impunity," said the message signed by the State Attorney General, Verónica Hernández. However, more than a year after the death, the main suspect is still at large and the fact he had the audacity to send a message to the authorities reveals the confidence he has that impunity will play in his favor.
Shouting "It was not an accident", hundreds of social media users have once again shown their outrage at a case that builds on a series of other unsolved murders. The most recent victims are María Fernanda Contreras, 27, Debanhi Escobar, 18 and Yolanda Martínez, 26, about whom the authorities still point to a suicide without having revealed details of how she died.
The Mexican feminist movement has been gaining traction in recent years. Each case of a murdered woman or a victim of sexist violence has triggered protests that were unthinkable just a decade ago.
The multinational companies that industrialised the Amazon rainforest | Global development
A handful of global giants dominate the industrialisation of the Amazon rainforest, extracting tens of billions of dollars of raw materials every year, according to an analysis that highlights how much value is being sucked out of the region with relatively little going back in.
But even as the pace of deforestation hits record highs while standards of living in the Amazon are among the lowest in Brazil, the true scale of extraction remains unknown, with basic details about cattle ranching, logging and mining hard to establish despite efforts to ban commodities linked to its destruction.
From the world's largest iron ore mine to a ranching industry that slaughters more than 6 million animals a year, the Guardian analysis – carried out as part of a joint project with Forbidden Stories to mark the anniversary of the killings of Bruno Pereira and Dom Phillips – shows how the world's most biodiverse land is now also a home to industrial powerhouses. The firms are sources of economic growth and employment for the communities and for the country. But they are operating in an environment – the world's largest rainforest and a critical carbon sink – that presents unusual challenges.
These companies' commitments to Amazon restoration vary enormously. If their operations can be consolidated and made more transparent and accountable, they have the financial power to be part of the solution for the rainforest, rather than the problem – as some have been until now. This is essential because the degradation of the Amazon is approaching a tipping point, after which the forest will start to dry up and lose its globally important function as a climate regulator.
Using company records, financial data and scientific studies, the Guardian has tried to establish the value of goods that are commonly extracted from the Brazilian Amazon, including through gold, iron ore and bauxite mining, cattle ranching, soy farming, pulp production and the logging industry.
Mining and meat
In terms of revenue, one company stands head and shoulders above the others: since 2010, the Brazilian mining company Vale has extracted more than 4bn tonnes of iron ore from Carajás mine, in the state of Pará, worth $220bn (£176bn), according to the analysis.
Satellite images showing the increasing size of the Carajás iron ore mine in Pará, Brazil. Source: Planet Labs PBC.
Pará is also home to Alunorte, the biggest aluminium refinery outside China, generating about $15.3bn in revenue since 2014 for the Norwegian mining firm Norsk Hydro, which is part-owned by the Norwegian government.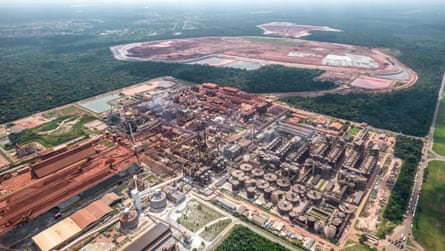 Alcoa and MRN lag behind these vast numbers, but they too are realising large revenues. Alcoa, a Pittsburgh company that has only recently moved into the Amazon, does not release figures that are easily interpretable. MRN, a subsidiary of Vale, has produced bauxite ore worth $8.3bn since 2013 from its operation in Pará.
The mining sector, by far the most financially lucrative Amazon activity, includes many small firms, with more than $4.2bn of gold extracted between 2018 and 2022 by artisan producers, according to analysis of figures provided by Refinitiv, part of the London Stock Exchange Group. But the lion's share goes to the big companies at the top.
Maurício Angelo, the founder of the Mining Observatory, notes that the area occupied by legal industrial mining in Brazil has grown sevenfold since 1985. He says this expansion brings huge environmental liabilities, including infrastructure (roads, hydroelectric plants, ports, railroads.) as well as the removal of traditional peoples, and the threat of disaster.
Overall, he says, the industry has never lived up to its claims of sustainability. "Mining did not deliver the development it promised and confined cities and entire regions to underdevelopment, with very low quality of life, few and precarious jobs, with huge environmental liabilities and almost no practical return for society."
Vale says it is aware that as a company it has a responsibility to "contribute to socioeconomic development and establish relationships of respect and trust in the territories where it is present". It says it has invested more than 1bn Brazilian reais (about $200m) over the last decade in protection, research, territorial development and cultural incentive actions in the Amazon.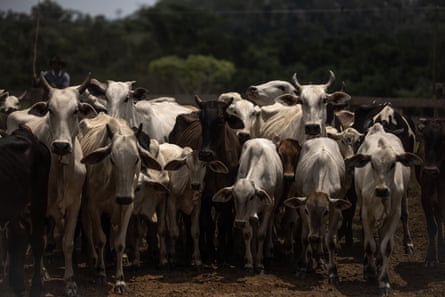 The beef industry is far smaller than the mining sector in terms of economic value, though not in impact and footprint. Data is hard to find, but according to the Guardian's analysis, cattle slaughtered in the Amazon by JBS were worth about $5bn in 2016 while they were still in Brazil, while JBS's closest competitors, Minerva and Marfrig, processed about $600m and $1bn's worth respectively. The value fell dramatically in 2022, largely because of exchange rate fluctuations, to $3.9bn for JBS, $547m for Minerva and $709m for Marfrig. But this is just the value of the beef coming out of the slaughterhouse; far more value will be added further along the complex supply chain, and by an overwhelming margin the economic value of this industry is being realised outside Brazil, on dinner plates at restaurants in Beijing and New York.
Paulo Barreto, senior researcher with the Brazilian research institute Imazon told the Guardian: "Although major beef supply companies, including meatpackers, supermarkets and financial institutions, have pledged to decouple from deforestation, the sector has not done all that it should." He argued that the combination of irresponsible behaviour by some private companies with "the dismantling of public conservation and indigenous policies in the past four years led to a twofold increase in deforestation rates in the region compared to the previous ten years average."
Ranching is the biggest driver of deforestation and greenhouse gas emissions after land grabbing, with which it is often closely associated. By 2018, the Brazilian Amazon had lost 741,759 sq km (about 286,000 sq miles) of its original forest cover, mainly due to agricultural expansion. This accelerated during the presidency of Jair Bolsonaro, when forest clearance increased by 59.5%, the fastest rate since at least 1988. More than 2bn trees were cut or burned.
JBS, the world's biggest meat company, has been urged to use its commercial strength to improve environmental and social governance in the Amazon. The last story by Phillips published in the Guardian was a report about a 65% increase in JBS profits in the last quarter of 2020. The story quoted Mauro Armelin, of Friends of the Earth, observing that the results meant the firm had "plenty of money to spend in removing illegal deforestation from its Amazon supply chain". JBS has promised to do this by 2025, but it has made no commitment to restitution for the damage its operations have already caused. JBS disagreed with the Guardian's analysis but declined to comment.
Soya and pulp
The soya sector is another powerhouse in the region. Between 2014 and 2020, five multinational food companies – Bunge, Cargill, ADM, Amaggi and Louis Dreyfus – extracted soya worth $18bn on global markets, according to the analysis. The major players have all signed a moratorium to halt deforestation.
Palm oil and pulp production are also growing industries in the Brazilian Amazon. The Brazilian paper maker Suzano produced about $5bn of eucalyptus pulp between 2018 and 2022, according to the analysis. Brasil Biofuels is established entirely in the Amazon, and had revenues in 2022 of about $305m. Agropalma, another biofuel giant, operates mainly in the Amazonian state of Pará and had revenues of about $284m in 2021 and $468m in 2022, with plans to increase production by 50% by 2025.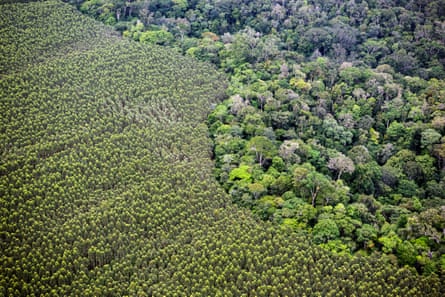 The companies involved in these activities all claim they are part of the Amazon solution because they only plant on land that was degraded more than 10 years ago. "We have a regenerative business model," says Suzano, adding that it plants more than 1.2m trees a day and only harvests what it plants.
There is plenty that it is not possible to quantify or measure. The analysis does not include the corporations providing services – the giant seed tech companies, or the construction companies building roads and houses, the hydropower companies and heavy machinery producers. Without measurable assets, it is impossible to estimate the value being produced for those companies within the legal Amazon territory. The timber and fishing industries have remained far more diversified, as have most of the crops (bananas, acai, cacao) besides the ones mentioned above.
And the analysis does not include the most valuable asset of all: land, and the role that the cattle industry has played in converting forest into pasture. The Science Panel for the Amazon concluded that 15.1m hectares (37.3m acres) of public land was taken into private hands between 1995 and 2017, and noted a trend in which "cattle enterprises bought or appropriated forested land at a relatively low market price and, after 'producing' land without forest, transferred it at the much higher price of land covered by pasture".
These operations may have yielded $400m a year in profit for that period alone, states the report, arguing that cattle is the perfect way to transform forest into private property.
One of the problems, observers say, is that an extractivist development model has prevailed in the Brazilian Amazon ever since it was opened up by the country's military dictatorship in the 1970s. The World Bank has belatedly recognised the folly of this approach, with a recent report finding that the losses caused by clearing the Amazon, at $317bn a year, were seven times higher than the gains from commodity extraction.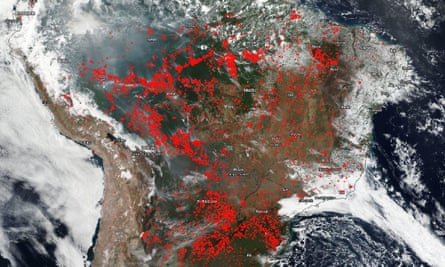 But the trend has been towards ever greater depletion of the forest to satisfy global markets and shareholders, encouraged by the Brazilian government which has helped things along with easily available finance, tax exemptions and hefty subsidies.
Meanwhile, it is still often impossible to establish the provenance of beef, gold or other commodities from the rainforest, and global market regulators and trade institutions have been criticised for continuing to permit opaque supply chains.
This logic, which has prevailed since the first European colonisers invaded South America more than 500 years ago, is now under intense scrutiny because the Amazon is so degraded that scientists warn this pillar of the global climate is close to collapse. At the very least, companies operating in this region need to be more accountable, more transparent, more efficient and more willing to pass on environmental costs to their customers and shareholders rather than nature.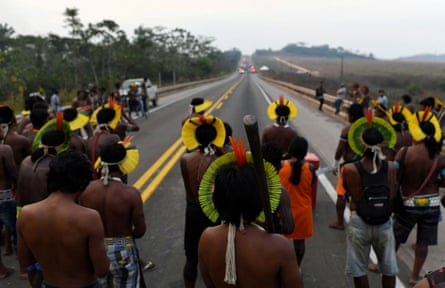 'Giving something back'
In response to the Guardian's analysis, several of the companies said they contributed to the local economy, followed national laws and tried to minimise their environmental impact. Their responses give an idea of the varying levels of commitment to "giving something back".
Brazil Biofuels argued it should not be considered an extractive company because it only planted palm oil plantations on land degraded before 2007. "The business model recovers the Amazon biome, contributes to the balance of the forest, stocks carbon, [and] works to recompose the soil cover and the biogeochemical and hydrological cycles. In addition, by generating employment and income for needy communities, it encourages forest preservation and reduces the impact of deforestation," it said.
Similarly, the eucalyptus firm Suzano said it was a "vocal critic of the lack of action to combat deforestation in Brazil" and had a regenerative business model. "Over 40% of our land is set aside for permanent conservation (nearly 1m hectares), including significant areas in the Amazon, Cerrado and Atlantic Forest biomes," the company said in an email. It claimed its social programmes had helped 30,000 people out of poverty and generated R$79m of income for local people.
The mining firm Vale stressed the role it plays in the local and Brazilian economy, saying the Carajas complex and other operations in the Amazon accounted for almost half of all Brazil's mineral exports, and it protected more than 800,000 hectares (2m acres) of rainforest in the state of Pará in partnership with Instituto Chico Mendes de Conservação da Biodiversidade. Vale said it "reaffirms its commitment to transparency and sustainable mining, promoting socioeconomic development and conservation in the areas where it operates".
Norsk Hydro said it had been established since 1905, with social responsibility as part of its culture. However, the move from joint venture ownerships to becoming an operator of large plants in remote areas of Brazil had been a steep learning curve. "We work closely with the communities where we operate. After the Brazil rainfall in 2018, we realised our relationship and trust from our neighbours wasn't as good as it should have been, so we have made efforts to improve our dialogue with local communities. We focus in particular on enabling young people to get an education, and on improving and implementing new technologies in our operations to reduce our impact," it said.
Amaggi, the largest private producer of soya beans in the world, said it did not recognise the Guardian's estimates of financial data because they were not based on a precise tool. The Brazil-based firm said it did not sell from areas deforested after 2008 in the Amazon biome, and that it ran social investment projects through foundations, including efforts to improve food security. During the pandemic, it donated more than 150,000 staple food kits.
The grain trader Cargill, the biggest privately owned company in the US, said it had accelerated its commitment to eliminate deforestation in its soya supply chain in the Amazon and two other biomes by 2025. The multinational said it was investing significantly in ending deforestation in South America by running programmes and training to help farmers, increasing technology to improve traceability, and investing in teams in Brazil and throughout South America to accelerate deforestation efforts.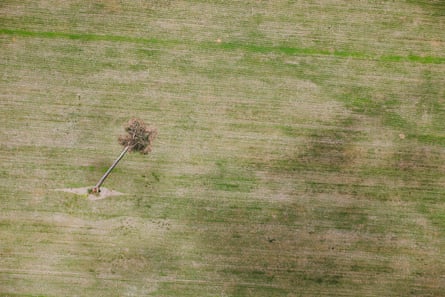 Minerva Foods, which operates numerous slaughterhouses in the Amazon, said it monitored the land use of its direct cattle suppliers and worked to get them into a programme to measure and reduce carbon emissions. The company said it used the best available technology to ensures compliance with environmental and land tenure regulations.
Marfrig told the Guardian that under a programme launched in 2020, it now monitored 100% of its direct suppliers, while for indirect suppliers the traceability rates reached 80% in the Amazon biome and 74% in the Cerrado biome. "Marfrig has been recognised as the leading animal protein company in various rankings, indices, lists and reports that serve as benchmarks for evaluating ESG [environmental, social and governance] policies and practices in recent years," it said.
Agropalma said it had a long history of preserving nature and respecting the communities close to its operations. "We are committed to zero deforestation: through a strict no-deforestation policy, since 2002, Agropalma no longer converts forests into palm plantations," it said. It noted it also had a longstanding partnership with Conservation International to monitor the biodiversity in its forest reserves.
JBS disputed the Guardian's analysis but declined to comment further.
Research by Gisele Lobato, Pablo Pires Fernandes, Andrew Downie, The Mining Observatory, Refinitiv, Imazon and Trase.
Tragic Train Derailments in India: Over 240 Lives Lost and Hundreds Trapped in Wreckage
By Satish Sharma | Contributor 'Voice of EU'
Two passenger trains in India met with a devastating accident, resulting in a death toll of at least 240 individuals and leaving hundreds more trapped inside severely damaged coaches.
The incident occurred approximately 1,600 kilometers (1,000 miles) northwest of New Delhi, the capital city. Rescue efforts are underway, with around 700 injured individuals already taken to nearby hospitals for urgent medical attention. The cause of the derailment is currently under investigation, as authorities work tirelessly to determine the factors that led to this catastrophic event.
Dattatraya Bhausaheb Shinde, the leading administrator in the Balasore district, confirmed the death toll and expressed deep sorrow over the tragedy. The extent of the devastation prompted an immediate response, with nearly 500 police officers, rescue workers, and medical personnel deployed to the scene. These brave individuals, equipped with 75 ambulances and buses, are diligently working to extricate approximately 200 individuals who remain trapped inside the wreckage.
According to Amitabh Sharma, a spokesperson for the railroad ministry, the derailment involved 10 to 12 coaches from one train, causing debris from the mangled coaches to spill onto an adjacent track. Tragically, another passenger train traveling in the opposite direction collided with the fallen wreckage. As a result, up to three coaches from the second train also derailed, exacerbating the scope of the disaster.
Initial reports indicate that the derailed train, known as the Coromandel Express, was en route from Howrah in West Bengal state to Chennai, the capital city of Tamil Nadu in southern India. The news of this horrific incident reached Indian Prime Minister Narendra Modi, who expressed his distress and offered his condolences to the affected families. In a tweet, he assured that all possible assistance is being extended, having already discussed the matter with the railway minister.
While the Indian government has taken measures to enhance rail safety, accidents continue to occur frequently on the vast railway network, which is the largest under a single management worldwide. India's railways carry millions of passengers daily, covering an extensive network of 64,000 kilometers (40,000 miles). Despite ongoing efforts to modernize infrastructure and equipment, many accidents are attributed to human error or outdated signaling systems.
This tragic incident serves as a stark reminder of the challenges faced in ensuring the safety of India's railway system. As rescue operations persist, the nation mourns the loss of lives and hopes for the swift recovery of those injured. The investigation into the causes of the derailment will play a crucial role in preventing similar incidents in the future.
---
We Can't Thank You Enough For Your Support!
— Compiled by Team VoiceOfEU.com
— For More Info. & News Submissions: info@VoiceOfEU.com
— For Anonymous News Submissions: press@VoiceOfEU.com
---
Making Technology Consulting More Accessible To SMEs
By Clint Bailey – Editor 'Voice of EU'
Vibertron Consulting, based in California, emerged on the scene just a year ago, as a subsidiary of Vibertron, and is rapidly gaining momentum as the preferred integrated technology and strategic consultancy platform in the United States and beyond.
At the helm of Vibertron Consulting is Raza H. Qadri (Ali), a highly accomplished individual with a diverse range of qualifications. With an MBA, a B.Sc. degree in Electrical Engineering, and a third degree in Computer Science, Qadri firmly believes in the importance of formal education as a cornerstone for building a robust and sustainable business.
Having amassed valuable experience across various industries including engineering, media, finance, and technology, as well as successfully founding three startups, Qadri is now putting his theories into practice. He has established a global business-to-business (B2B) remote work platform that offers integrated technology, marketing, and sales consultancy solutions specifically designed for small and medium-sized businesses.

With his expertise and a strong background in multiple fields, Qadri aims to empower businesses by providing comprehensive solutions tailored to their specific needs. The integrated approach of Vibertron Consulting allows clients to leverage technology, strategic marketing, and sales expertise to expand their operations and drive growth.
"An integrated platform is more of a complex business and go-to-market challenge rather than a technical one" Qadri explained, a Pakistani Canadian who moved to Canada 22 years ago.
"There are complexities associated with technical scale and optimization, but with today's technology we can build a diverse platform using pre-existing components such as integrated services, even though the new technology trend is shifting back to data centre-based digital architecture."

A Blend Between Marketplace & Integrated Managed Solutions
Founded in 2019, Vibertron presents itself as a hybrid technology company, providing clients with the opportunity to acquire comprehensive remote work, and consulting solutions. Facilitated by an internal database comprising approximately 1,500 thoroughly vetted specialists from the marketing, sales, and technology consulting industries, Vibertron ensures a high level of expertise and professionalism among its professionals. Notably, the specialists within the database possess a minimum requirement of a Master's degree or 5-7 years of work experience in their respective fields. This stringent selection process ensures that clients can confidently engage with skilled professionals who possess the necessary qualifications and industry knowledge to deliver exceptional results.
"At Vibertron, we pride ourselves on working with top-tier professionals who exemplify integrity and professionalism. We prioritize building a team that upholds these values and ensures a positive client experience. Trust and excellence are at the core of our interactions, guaranteeing that our clients receive exceptional service every step of the way." Qadri explained.
"To achieve this, we have created a B2B platform that is a blend between a marketplace and a managed professional solutions with two distinct models – one for one-time service buyers and one for clients looking for managed 360° marketing, sales, and technology solutions."
Keeping It Simple
As stated on Vibertron's official website, clients seeking integrated technology, marketing, and sales consultancy services can choose from three distinct plans: MCiHT™ (Technology), MCiM™ (Marketing), and MCiS (Sales). Each plan offers tailored solutions to cater to the specific needs and requirements of businesses in these domains.
"In addition to essential features like a social feed, messaging capabilities, and secure payment infrastructure (currently leveraging Stripe and Bank of America), Vibertron recognizes the importance of embracing emerging technologies such as AI and blockchain. By integrating these cutting-edge technologies, we aim to enhance our platform and deliver innovative solutions that meet the evolving needs of our clients." Qadri said.
Artificial Intelligence (AI) & Hybrid Consulting Model
In line with its core objective, Vibertron is strategically preparing to implement an AI-based hybrid co-pilot. This advanced technology will assist clients in acquiring integrated solutions and conducting thorough due diligence. By leveraging blockchain technology, Vibertron aims to validate project credentials, enabling clients to confidently engage with top-tier professionals who possess a proven track record of successfully delivering similar work. Throughout the entire process, Vibertron remains fully committed to supporting clients every step of the way, ensuring a seamless and reliable experience.
"Our ultimate objective is to enhance trust within the consulting industry, recognizing the significant value consultants bring in accelerating progress. However, we have observed numerous distortions arising from market inefficiencies, resulting in a widespread lack of confidence in the role of consultants. By addressing these challenges and fostering transparency and reliability, we aim to rebuild trust and establish consultants as valuable assets for achieving business goals." Qadri explained.
"We firmly believe that an improved consulting industry, potentially operating on a smaller scale, has the potential to serve as an economic engine, fostering accelerated growth within the global economy. By addressing the challenges and enhancing the efficiency of the consulting sector, we can create a conducive environment for rapid economic advancement on a global scale."
A Unique Niche Between Consulting & Remote Working
Vibertron Consulting adopts a distinctive business model in which internal Project Managers, acting as Client liaisons, oversee and manage the complete technology, marketing, and sales operations of small and medium-sized businesses (SMBs). These dedicated Project Managers provide real-time monitoring of teams and deliver the utmost level of consulting service in their respective domains, ensuring that businesses receive exceptional support and guidance.
"We have developed our business suites with SMBs in mind. Consider the expenses and commitment involved in hiring full-time staff for technology or marketing roles. We have revolutionized this dynamic by offering business solutions that cost less than employing even a single full-time professional in these fields. This is a key factor that attracts SMB owners to choose our services for managing their entire technology, marketing, or sales operations. Furthermore, our team comprises highly skilled professionals, and the scope of our services is unmatched by any standard, adding to our appeal in the market." Qadri added.
Sustainable Growth
Presently, Vibertron operates in Europe, the UK, and the US and is actively engaged in securing seed funding for the consulting segment. Furthermore, the company intends to expand its products and workforce in the US, aiming to hire ten new employees by the end of this year, effectively doubling its team size.
Since its inception, the startup has experienced significant growth, progressing from a team of two to fourteen individuals, successfully completing over 650 projects. Additionally, Vibertron has served 75 LCE clients seeking consulting services in the domains of technology, marketing, and sales. Embracing the age-old adage that "cash is king," Qadri, a staunch proponent, emphasizes the importance of generating revenue at the earliest stages of the business, fostering sustainability and facilitating further development.
"By prioritizing revenue generation, we aim to deliver enhanced value to customers, provide a better quality of life to our employees, and enable investors to recognize the long-term viability and sustainability of our business model." he said.
"In the current business landscape, startups driven by growth objectives must adhere to fundamental principles such as maintaining healthy cash flow, establishing stable operational and burn rates, and relying on revenue-backed valuations. These foundational principles serve as crucial guidelines for us towards ensuring the long-term viability and success."
Funding & Growth
Qadri added, "While securing funding remains an ongoing process for us, as it does for many startups, our position as a profitable business enables us to effectively navigate the transitional period between being considered "too early" and reaching the ideal stage of development. This financial stability provides us with the necessary resilience and flexibility to sustain growth and seize opportunities as they arise.".

---
Photo credits: Vibertron.
Clint Bailey a Senior News Editor at 'Voice of EU' as well as co-editor of EU-20 magazine. Have a tip? Send him a DM at info@voiceofeu.com.