Los Del Rio: The making of 'Macarena,' the Spanish smash hit that got the world dancing | Culture
In 1996, the whole world got swept up in Macarena madness. The original flamenco hit composed by the Seville duo known as Los del Río – made up of Antonio Romero and Rafael Ruiz – had already rocketed up the charts in Spain in 1993. But the Bayside Boys' dance remix, which incorporated female vocals in English, stayed at the top of the Billboard Hot 100 for 14 weeks that summer and remained on the charts for 66 weeks.
As the most influential music barometer in the world, it was an amazing feat for the middle-aged crooners, trumped only in 2017 by Luis Fonsi and Daddy Yankee who enlisted Justin Bieber to collaborate in a Spanglish version of Despacito, which topped the US charts for a record-breaking 16 weeks. However, no one can argue that what these two friends from the Seville town of Dos Hermanas achieved was phenomenal.
Speaking just a few words of English and with the internet still in its infancy, Los Del Río revolutionized the world's largest and most competitive music market with their danceable ditty. The facts speak for themselves. A quarter of a century ago, Macarena was played at the Democratic National Convention with Hillary Clinton clapping along; it was also used by the US women's gymnastics team at the Atlanta Olympics. Among other surreal achievements, the duo performed it on January 26, 1997, at the Super Bowl before a live audience of more than 70,000 spectators and tens of millions of viewers at home.
Perhaps it all got out of hand? "Not at all," says Romero. "We never panicked because at that point we'd already had a 30-year-long career and had dealt with many, many difficulties. We started out when we were 14 and, being young, played at both singing and bullfighting. It wasn't until our fathers died that we said to ourselves: 'We have no choice but to take this music thing seriously.' Basically because it was the only thing that gave us money that could help our mothers. That was the biggest sacrifice we could make."
The duo had other hits in Spain such as Sevilla tiene un color especial or Se te nota en la mirada, but outside of Spain they are considered one-hit wonders. Not that at the age of 73, this ruffles their feathers. As Romero points out, "becoming number one on five continents is tremendously difficult. It's not the norm. Just as Spain has only won the World Cup once, we have fortunately been able to be the world champions in terms of music. We are always being asked when we are going to compose another Macarena, to which we reply that we have already done it. Let others have a go. What we have to do now is to live and enjoy ourselves."
While it is the anniversary of the song's remix, it is worth remembering that the original was released on the duo's 1993 album A mí me gusta. The catchy lyrics came to Romero when he and Ruiz were invited to a party at the end of 1992 by the businessman Gustavo Cisneros in Caracas, Venezuela, where they rubbed shoulders with the Venezuelan president at the time, Carlos Andrés Pérez, and a local flamenco dancer named Diana Patricia Cubillán Herrera.
"The young woman [Patricia Cubillán] started dancing and I told her: 'Dale a tu cuerpo alegría, Magdalena, que tu cuerpo es pa' darle alegría y cosa buena' – put some joy in your body Magdalena, as your body is made to be given joy and good things.' That's what inspired me to write it," says Romero. "But since I have a daughter named Esperanza Macarena, I decided to change Magdalena to Macarena."
According to Ruiz, "She [Patricia Cubillán] has done very well out of it because, being our muse, she has been able to tell everyone that she is the real Macarena. Far from hiding her identity, we have been very open about it. We think it's great that she has taken advantage of what happened that day to open her own dance school and get a role in a soap opera. It brings back some wonderful memories. We just hope she is doing well in Venezuela because she and her family are a delight."
Another remix was done in the 1990s by the Spanish duo Fangoria, comprised of Alaska and Nacho Canut, before the song's US success. They claimed they were due money and took the matter through the courts as far as Strasbourg. "When Macarena hit the big time, everyone wanted to get on board," says Ruiz. Decades later, the Fangoria issue continues to be one they prefer not to discuss. Meanwhile, Alaska had this to say in a 2013 Vanity Fair interview: "Macarena triumphed in Spain in 1993. As Fangoria, we did a remix and that remix triumphed again in Spain. Then in Miami, suddenly, they used our remix and added some vocals. It's not that it was a whole other remix; it was ours! That went to the European courts, but it was thrown out, so there's nothing to be done."
Los del Río, however, have stressed that there is no animosity towards Fangoria. While talking about the issue in 2017 on the Bertín Osborne talk show, they insisted, "We adore Alaska!"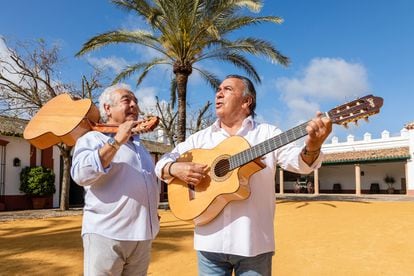 Whatever the truth of the matter, the remix that the Bayside Boys put out as theirs flung the doors wide open to success on the other side of the pond. Producers Mike Triay and Carlos de Yarza recorded the version in 1995 with the help of vocalist Patty Alfaro. Initially, it failed to gain the approval of Los del Riós' record label, BMG/Ariola, which even threatened to sue them. However, since it was played incessantly on radio stations like Power 96 or New York's WKTU, the label came round, realizing it was media coverage that it couldn't afford to forego, though the small print on the contract is completely unknown.
Even more surreal is the fact that Macarena could have become an even bigger hit than it was. Or, at least, it was on the cards when Michael Jackson expressed an interest in recording a new version with Los del Río. "He was crazy about our song and used to play it before starting his shows to warm up his audience," says Romero. "His lawyer contacted us and told us that Miguel, as he called him, really wanted to work with us. He told us that he was on medical treatment and that when he recovered we would take things forward. That was six or eight months before he went into decline and left us. He was very excited about it, but it wasn't to be."
In 2016, Los del Río collaborated with the band Gente de Zona with Más Macarena. And, incredible as it may seem, in 2019 they received a call from the American rapper Tyga asking them to collaborate in the viral Ayy Macarena, which has more than 150 million views on YouTube. Romero believes Michael Jackson might have had a hand in this. "Look, I think that wherever Miguel is, as his lawyer said, he had something to do with it, like 'maybe not with me, but certainly with someone else,'" he says.
Much has been written about whether Los del Río are millionaires thanks to the fact they came up with the flagship version of Macarena. They continue to earn an unknown amount in royalties and songwriter's rights. When questioned about it, they attempt a graceful brush-off. But, eventually, they address the issue. "Why don't you contact the publisher?" says Romero. "As the songwriter, they demanded that I give them 50% to sell it and boost its popularity. What should be on the table is how many people have benefited from Macarena independently of us. I don't mean we are about to cry and feel sorry for ourselves. We have been given what I think we deserve, but that doesn't mean that it reflects the actual reality."
At this point, Ruiz intervenes: "Besides all that, Antonio split the proceeds 50-50 with me," he says. "And for the first two years, we had to pay over half of the profits in taxes."
According to Romero, "what makes us wealthy is not Macarena, it's our families. We have wonderful children and lovely grandchildren who are already starting to come out and sing better than we do. Humility in life is what always triumphs. There is nothing more important or rich than being humble. We have learned that from our parents, who were hard workers. Regardless of how much time has gone by, we continue to have fun singing, and we do it with the same desire we had at the start – to make the world a happier place."
Macarena is still very much alive and kicking. As if further proof were needed, Los del Río have teamed up with Airbnb and, this August, will take on the role of hosts at a rental villa in Utrera, a city in the southern province of Seville. The first four guests, who confirmed their reservation this week, will not only be welcomed by these legendary artists, they will also have access to a private karaoke room full of Spanish guitars and will even get tips from the duo on how to perfect the choreography of the famous song. "We're also going to teach them how to make a good gazpacho," says Romero.
"The house is not our property," he adds. "It belongs to some friends with whom we often do a house exchange. We still don't know who will be coming, but I assure you that they will get a very special welcome. They're going to have a wonderful time!" It goes without saying that Macarena will be part of the experience, though guests will have to wait and see which version is rolled out.
English version by Heather Galloway.
Census 2022 – what difference does it make?
Next Sunday, April 3rd, is Census night. Millions of people in homes countrywide will fill in page after page of questions, some of which are deeply personal and many of which might be unfamiliar.
But what it is it all about?
At a basic level, Census 2022 will be used to inform planning of public policy and services in the years ahead, according to the Central Statistics Office.
The questions will cover a range of environmental, employment and lifestyle issues, including the use of renewable energy sources in homes.
The questions will help inform policy development in the areas of energy and climate action, and the prevalence of internet access, to understand the availability of and need for internet connections and range of devices used to access the internet.
Questions also focus on changes in work patterns and will include the trend of working from home and childcare issues, while questions are also asked about the times individuals usually leave work, education or childcare, to help identify and plan for transport pattern needs locally and nationally.
Other topics covered include volunteering and the type of organisations volunteers choose to support, tobacco usage and the prevalence of smoke alarms in the home.
And of course there is a time capsule – the chance to write something which will be sealed for the next 100 years.
In this episode of In The News, the head of census administration Eileen Murphy and statistician Kevin Cunningham about what it all means for us.
Oscars 2022: Will Smith makes Oscar history after slapping Chris Rock over joke about wife Jada Pinkett Smith | Culture
Will Smith took the Oscar for Best Actor at last night's 94th Academy Awards, but he also became the protagonist of the ceremony for other reasons. The night was following the script, until Smith slapped comedian Chris Rock on the stage after the latter made a joke about the shaved head of the former's wife, Jada Pinkett Smith. Rock had quipped that he was "looking forward to GI Jane 2," in reference to her look. Pinkett Smith has revealed publicly that she has alopecia. It looked as if the moment had been planned, until Smith went back to his seat and shouted: "Get my wife's name out of your fucking mouth."
The moment, which immediately became Oscar history but for all the wrong reasons, left the attendees with frozen smiles, and asking themselves whether it was possible that a veteran such as Smith could have lost his cool in front of tens of millions of people. After taking the prize for Best Actor, the superstar actor made a tearful apology, saying that he hoped the Academy "will invite me back." Later on, actor Anthony Hopkins called for "peace and love," but it was already too late. The incident overshadowed the success of CODA, which took the Oscar for Best Picture. Just like the time when Warren Beatty mistakenly named La La Land as the big winner of the night, no one will speak about anything else from last night's awards.
At first sight, Smith's actions looked as if they were scripted. When he first heard Rock's joke, he laughed. But his wife was seen on camera rolling her eyes, and it was then that the actor got up onto the stage and hit Rock. When he returned to his seat he raised his voice twice to shout "Get my wife's name out of your fucking mouth," sending a wave of unease and shock through the attending audience. The fact that he used the f-word, which is prohibited on US television, set alarm bells ringing that this was real and not a planned moment. In fact, the curse word was censored by the broadcaster, ABC, in the United States.
During a break, Smith's PR manager approached him to speak. In the press room, which the actor skipped after collecting his prize, instructions were given to the journalists not to ask questions about the incident, Luis Pablo Beauregard reports. The next presenter, Sean "Diddy" Combs, tried to calm the situation. "Will and Chris, we're going to solve this – but right now we're moving on with love," the rapper said.
When Smith took to the stage to collect his Best Actor award for his role as Richard Williams – the father of tennis stars Venus and Serena – in King Richard, he referred to the character as "a fierce defender of his family." He continued: "I'm being called on in my life to love people and to protect people and to be a river to my people. I know to do what we do you've got to be able to take abuse, and have people talk crazy about you and have people disrespecting you and you've got to smile and pretend it's OK."
He explained that fellow actor Denzel Washington, who also spoke to Smith during a break, had told him: "At your highest moment, be careful, that's when the devil comes for you."
"I want to be a vessel for love," Smith continued. "I want to be an ambassador of that kind of love and care and concern. I want to apologize to the Academy and all my fellow nominees. […] I look like the crazy father just like they said about Richard Williams, but love will make you do crazy things," he said. He then joked about his mother, who had not wanted to come to the ceremony because she had a date with her crochet group.
During the commercial break, Will Smith is pulled aside and comforted by Denzel Washington and Tyler Perry, who motion for him to brush it off. Will appears to wipe tears from his eyes as he sits back down with Jada, with Denzel comforting Jada and Will's rep by his side. pic.twitter.com/uDGVnWrSS2

— Scott Feinberg (@ScottFeinberg) March 28, 2022
The Los Angeles Police Department released a statement last night saying that Chris Rock would not be filing any charges for assault against Smith. "LAPD investigative entities are aware of an incident between two individuals during the Academy Awards program," the statement read. "The incident involved one individual slapping another. The individual involved has declined to file a police report. If the involved party desires a police report at a later date, LAPD will be available to complete an investigative report."
On December 28, Pinkett Smith spoke on social media about her problems with alopecia. She stated that she would be keeping her head shaved and would be dealing with the condition with humor. "Me and this alopecia are going to be friends… Period!" she wrote on Instagram.
House-price inflation set to stay double digit for much of 2022
House-price inflation is expected to remain at double-digit levels for much of 2022 as the mismatch between what is for sale and what buyers want continues.
Two new reports on the housing market paint a picture of a sector under strain due to a lack of supply and increased demand driven by Covid-related factors such as remote working.
The two quarterly reports, one each from rival property websites myhome.ie and daft.ie, suggest asking prices accelerated again in the first quarter of 2022 as the stock of homes available for sale slumped to a new record low.
Myhome, which is owned by The Irish Times, said annual asking-price inflation was now running at 12.3 per cent.
Price
This put the median or typical asking price for a home nationally at €295,000, and at €385,000 in Dublin.
MyHome said the number of available properties for sale on its website fell to a record low of 11,200 in March, down from a pre-pandemic level of 19,000. The squeeze on supply, it said, was most acute outside Dublin, with the number of properties listed for sale down almost 50 per cent compared with pre-pandemic levels.
It said impaired supply and robust demand meant double-digit inflation is likely until at least mid-2022.
"Housing market conditions have continued to tighten," said author of the myhome report, Davy chief economist Conall Mac Coille.
"The broad picture of the market in early 2022 remains similar to last year: impaired supply coupled with robust demand due to Ireland's strong labour market," he said.
"One chink of light is that new instructions to sell of 7,500 in the first 11 weeks of 2022 are well up from 4,800 in 2021, albeit still below the 9,250 in 2019. The flow of new properties therefore remains impaired," said Mr Mac Coille.
"Whatever new supply is emerging is being met by more than ample demand. Hence, transaction volumes in January and February were up 13 per cent on the year but pushed the market into ever tighter territory," he said.
He said Davy was now predicting property-price inflation to average 7 per cent this year, up from a previous forecast of 4.5 per cent, buoyed strong employment growth.
Homes
Daft, meanwhile, said house asking prices indicated the average listed price nationwide in the first quarter of 2022 was €299,093, up 8.4 per cent on the same period in 2021 and and just 19 per cent below the Celtic Tiger peak, while noting increases remain smaller in urban areas, compared to rural.
Just 10,000 homes were listed for sale on its website as of March 1st, an all-time low. In Dublin, Cork and Galway cities, prices in the first quarter of 2022 were roughly 4 per cent higher on average than a year previously, while in Limerick and Waterford cities the increases were 7.6 per cent and 9.3 per cent respectively.
The report's author, Trinity College Dublin economist Ronan Lyons, said: "Inflation in housing prices remains stubbornly high – with Covid-19 disturbing an equilibrium of sorts that had emerged, with prices largely stable in 2019 but increasing since.
"As has been the case consistently over the last decade, increasing prices – initially in Dublin and then elsewhere – reflect a combination of strong demand and very weak supply."