Kristalina Georgieva: 'Spain's guaranteed minimum income is a good instrument to improve equality' | Economy and Business
Shortly after one starts to talk to the managing director of the International Monetary Fund (IMF) about economics, the conversation turns to her origins, what she learned about the history of a country and the unstoppable pace of change. Kristalina Georgieva, who was born in Bulgaria 66 years ago, worked selling groceries in a market in Sofia, and later became a university professor. She saw a communist regime fall, and her life took a radical turn. In 1993, she joined the World Bank and then she returned to Europe, where she became a vice-president at the European Commission.
She ran for secretary general of the United Nations in 2016, but it was António Guterres who ended up taking the role. In 2017, she was named managing director of the World Bank, and back then, in an in interview with EL PAÍS, she warned that she was not considering retiring. Last year, the IMF got rid of its age limit to join the leadership of the organization and Georgieva was picked for the top job. She took possession in October. Five months later, the world changed. On Friday, via a video call with EL PAÍS, she analyzed the most serious situation the world has seen in generations.
Question. I am sure that when you took office you expected to be faced with a crisis, even a major recession, but not this. How has this been for you personally?
Answer. "Pray for the best, prepare for the worst" is an important motto. I find myself in this position, and I believe that everything I have done in my life is helping me cope with this. I was European Commissioner for humanitarian aid, I come from a country that went through a severe crisis in the 1990s. And at the World Bank I worked on very dramatic cases and situations. I have been preparing for this moment my whole life.
Q. Two years ago, when you were at the World Bank, you recalled your time in Sofia and the events of 1989. You said that the biggest lesson you learned was that change is unstoppable. Are you thinking about that now as well?
A. It is useful to think of two things. One, that we can use a crisis as an opportunity to transform our world for the better. I have seen this happening and I strongly believe in it, and I strongly believe that this is what we need to do now. Being sad or disappointed is not what helps, what helps is to take action. Lack of confidence is the mother of all crises, and we can build confidence only if we have the conviction that together we can overcome this crisis. I feel fortunate to be at the helm of this institution that brings 189 countries together. We live in a more shock-prone world. Now we have the pandemic, but the climate crisis has not gone away. We are experiencing climate shocks and because we are so interconnected, inevitably there are economic obstacles to overcome. We have to move toward a more resilient society and a more resilient economy.
This is a crisis like no other because we stepped on the brakes, affecting both supply and demand, in order to protect people's health
Q. There is a lot of debate now about whether we will come out of this crisis better. Or if the economy will, at least. Do you believe that is what happened the last time? Could it happen now?
A. The global financial crisis has driven the world toward very significant reforms in the banking sector and it is more resilient, which has helped a great deal in coping with the current shock. From this crisis we have to take a broader view of what resilience is. One obvious aspect concerns our health systems, but also these shocks of nature that are going to accelerate unless we act. We need a greener, smarter, and fairer future. Is that possible? Yes. If we look back at the Great Depression, then there was the New Deal, and a very significant change in policies that greatly reduced the risk of another economic depression. Now we have to transform policies to create a more resilient world. Crises are an opportunity to do that, because people are more inclined to seek solutions of that kind.
Q. Are you optimistic about a rapid recovery?
A. I will answer that in two parts. First, this is a crisis like no other because we stepped on the brakes, affecting both supply and demand, in order to protect people's health. We have never done anything like this before. In addition, the degree of uncertainty is very high because we don't know how the pandemic will be overcome, and we don't know whether there will be a second wave. We are optimistic about vaccines and treatment, but we don't yet have those vaccines and treatment. I expect the crisis to be very deep, but relatively short, and I expect the recovery to start gradually, as early as this year. Our latest projection for 2021 is for global growth of 5.8%, but at the end of this month we will update our projections for this year and 2021. The revision for 2020 will be downward for most of the countries, with some exceptions.
Q. Still, if there are no surprises, we can rule out a depression.
A. Yes, we can rule out a depression. Let's remember that economists define a depression as a steep decline in output, of 10% or more, lasting for several years. We are projecting a big downturn this year, but not of that magnitude. And we are projecting a partial recovery next year. We should remember, looking back, that during the Great Depression there was very little immediate action by the governments and I believe that this time around people will recognize the decisiveness with which the administrations and central banks have acted. Fiscal measures totaling $10 trillion have been deployed, while the central banks have injected over $6 trillion in liquidity.
Q. What do you expect from the US economy? Do you believe that the current wave of social tensions could worsen the outlook?
A. The latest employment figures show some positive signs, that the reopening of the country is resulting in the hiring of workers who were laid off because of the pandemic. This is what we would expect in countries that are beginning to open up again, although the problem is far from being resolved. The unrest and the protests remind us that in both the United States and in the rest of the world there is still inequality and exclusion. I would take these protests more as a wakeup call. We ought to address the root causes of the problem, why people are going out into the streets, and when you do that, you see that it is often because of discrimination and inequality. The year 2019 was a year of protest in many places. As we build public policies in response to this crisis, we ought to concentrate on policies that are going to reduce inequality. This is certainly the case in the United States. And what I hope we will see is action to end a pattern of racial discrimination.
We cannot return to a world in which each country is only concerned with its own economy and its own people
Q. Regarding economic policies, what would you like to see most from the US government?
A. The US has responded very well to the crisis. The Federal Reserve – which is not the government, but independent – has played a hugely important role in providing liquidity and the Congress and the administration have passed good fiscal measures to stimulate the economy. The massive liquidity created by the [Federal Reserve] has also helped emerging markets to continue issuing bonds. In March we saw $100 billion flowing out from these economies, seeking safety in other assets, and we were concerned that the market would be closed to them. In April and May, however, emerging countries issued $77 billion in bonds at a very reasonable cost. So the measures have been appropriate and rapid, but we also need to see how we come out of this together. In other words, we need to avoid a resurgence of protectionism. We need to resist this natural temptation. There are problems with globalization, there are legitimate complaints that we spoke about before the pandemic, such as leaving parts of society behind. There are issues to be resolved, but we cannot return to a world in which each country is only concerned with its own economy and its own people.
Q. Spain has approved a guaranteed minimum income scheme for vulnerable families. Do you think that this should be a permanent tool or just something associated with this crisis?
A. First of all, bravo. Spain has taken an appropriate action to protect the most vulnerable people in this crisis. And second, yes, there is good logic in making this permanent. With the caveat that there are also regional schemes and some work has to be done to make sure that there is consistency, and that there are no overlaps that give rise to unfairness. Spain has higher poverty in comparison to the eurozone, especially among children. In Spain, 21% of the population falls below the poverty line, while in the EU, the figure is less than 17%. In terms of people at risk of poverty, the figure was 26% in Spain, and 22% in the EU. In other words, Spain has some important work to do to improve inequality and this is a good instrument. Coming out of this crisis, we need to build up stabilizers of social protection. I have huge respect for the economy minister, Nadia Calviño. As you know, I worked with her when I was vice-president of the Commission and she was the Director General for Budget, and I know that she will be thinking ahead. What can be added to these social safety nets? These are social lifelines helping people to help themselves. This income for vulnerable families is good and it would be good to continue it in the future.
Q. How long can this pace of public spending be maintained in Spain? When will the country have to start thinking again about fiscal consolidation?
A. Right now, the focus should be on getting through this crisis with minimal scarring. You don't hear the IMF saying this often: spend. But that is what we are saying to the governments. Spend as much as you can, but keep the receipts, and make sure that you are accountable for how the money is being used. And also make sure that the measures are temporary and targeted. So, many of the measures will have to be removed, but when we are on the other side of the crisis. We are not there yet. And then, of course, governments will have to be sure that there is strong and sustained growth, because then it will be easier to deal with those deficits and debts. It is important not to make the mistake we made with the financial crisis when this support was removed too quickly. More dynamism needs to be injected into the economy, and we know which sectors are the winners. The digital economy is a great window of opportunity, it is going to go fast, and so is the environmental sector. There are sectors, and this is applicable to Spain, that create large numbers of jobs, such as reforestation, building installations, or coastal zone management, among others. All of this, while looking at fairness in taxation. It is only fair that the winners from this crisis should also contribute to the rest of society.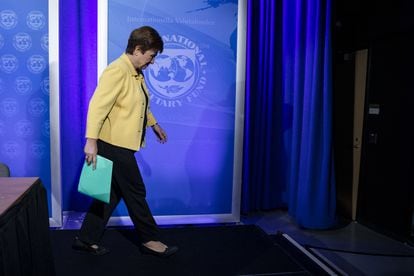 Q. Would you say that the IMF has also learned lessons from its past mistakes?
A. We all have, governments and the IMF. Certainly, the Fund has learned two important lessons. One, policies are for people, to improve their lives, and they are not intended for the paper on which they're written. They are not only for those in the corridors of power. So we have looked closely at how we perform surveillance, how we arrange our assistance packages, and how we judge whether we are succeeding. And the second important lesson, as you quoted me before, is to assume that change is unstoppable. We have to look ahead. For example, we have to take the climate impact into account. One thing that I love about the IMF is how open-minded it is.
Q. For example…?
A. For example, now this crisis is erupting and for the first time we need epidemiological projections, so we incorporated them into our macroeconomic models very quickly. In practical terms, virtually overnight, from March 13 to 16, the entire institution started working from home. And in six weeks we have approved 69 requests for emergency financing. I am saying this because people sometimes think that the Fund is a bunch of guys in gray suits who work behind closed doors, but what I am so privileged to run is not the IMF from your grandmother's era. This is a very agile and human institution. It has a big wallet of $1 trillion, and it has a brain, but it also has a heart.
Q. That brings me to Argentina. The support for the country in the negotiations is quite remarkable, and I see a change there. Could you explain this and also how you imagine Argentina coming out of this crisis?
A. Argentina is a complex story. A country that has gone through boom and bust cycles for decades, it has suspended payments eight times and is now in a ninth technical default, which we hope will not turn into an actual default. And it has had a turbulent relationship with the IMF over time. What we are seeing now is a chance for the country to break this cycle, and this chance needs to be anchored in something, which is bringing its debt back to a sustainable level. In other words, reaching a positive outcome in the negotiations with creditors to open up space for Argentina. I find it remarkable how Argentine society has united behind the debt negotiations. Of course, like any other country, there are differences, but it is a country with great economic potential. As for the president, with whom I have been working on economic issues, I will say that he wants to do the right thing for the people of Argentina, and also for the role that the country could play in the region and in the world. So, I wish them the best of luck, and if they come to the Fund to request an assistance program, we will work with Argentina to support policies that will break that boom and bust cycle.
"Europe is the most consistent voice against protectionism in the world and I am grateful for that"
"We'll see what it will take," says Kristalina Georgieva, with regard to the approval of a €750 million program from the EU.
Q. Will it be enough?
A. Well, we'll see what it will take, but this is the first time the EU is going to the markets to raise these funds and more than half, some €400 billion, would be distributed as grants. And so as not to increase the burden on the countries, it will offer a massive injection above and beyond the current financial framework. I am very pleased to see this, it is going in the direction that we are asking for, spending more, and getting the benefit of negative interest rates passed on to the countries most affected by the crisis.
Q. With each country adopting its own measures, isn't the idea of a single market at risk?
A. Well, it is very important that the legislators and governments direct these measures in an appropriate, visible and competitive way. And that the recovery fund be used in a way that serves to balance things out. The measures adopted up to now are considerable. Spain, for example, has introduced measures to protect businesses, with specific focus on SMEs, amounting to around 10% of GDP. The fiscal measures may be less, at around 3% to 4%, but they are also considerable. And this is being supplemented by European funds. Europe has been quick to see what needed to be done. Protecting the single market is one of these things, as well as global integration. Europe is the most consistent voice against protectionism in the world and I am grateful for that.
Q. What do you expect from the Mexican economy and what measures should be taken?
A. Mexico has faced a number of challenges before this crisis. It has been really focused on retaining a good fiscal position, while at the same time putting in place a set of policies to contain the pandemic. We have supported Mexico for quite some time with a flexible credit line to beef up their economic buffers. But the economy is not in an easy place. Thursday's industrial production data showed quite a dramatic drop. We have predicted that the Mexican economy would shrink by around 5% in 2020 and it is likely that we will be revising this downward. And this is true for many countries, not just for Mexico. The challenge for Mexico will be how to reignite growth and how to do so with the fiscal constraints that they have. It is going to be a tough 2020, and we hope to see a turnaround in 2021.
Q. Would you say something similar about Brazil?
A. In terms of the response to the crisis, they have taken significant steps forward. Their fiscal measures and the actions by the central bank are very strong and appropriate. They also have more economic buffers and more room to maneuver. As you know, though, they have been hit the hardest by the pandemic and it would be very important to manage the situation on the basis of transparent data. And, also, to achieve the greatest unity possible between the central government and the provinces.
Zebras, giraffes … and a cycle race through the Maasai Mara | Global development
In the world of long-distance running, east Africans have long been the dominant force, and soon they may also be setting the pace in the whitest of elite sports: cycling. This month, the Migration Gravel Race (MGR) brought together 100 of the world's top cyclists in a four-day showdown on the rocky, red dirt roads of Kenya's Maasai Mara. With a third of the entrants from east Africa, it was a rare opportunity for the region's riders to show they can rival the best.
"Cycling is a very Eurocentric sport," says Mikel Delagrange, the prime mover behind the event. "In over 100 years of the world championship, only three athletes outside of Europe have ever won, and they came from the US and Australia."
For 11 years, Delagrange, a human rights lawyer, worked mostly in central and east Africa, for the international criminal court in The Hague. He quit last year and now works with the UN in Palestine.
"The obstacle for east African riders is that they lack access to international competition," he says. "You might be the best in your neighbourhood but you won't progress if you're only beating people in your neighbourhood.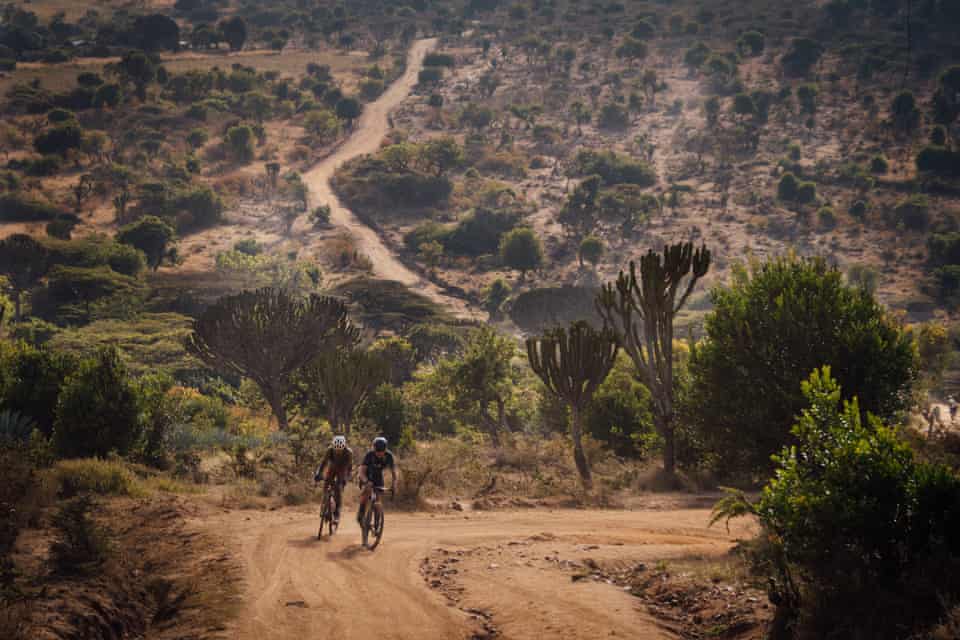 "But if we send an east African to an international race, we're spending an unbelievable amount of money on visas because everyone thinks they're a migrant, then on flights, plus staying in Europe is prohibitively expensive for most.
"After a lot of consultation, we thought: instead of clawing at the door, why don't we bring international competition here?"
Against a backdrop of acacias and euphorbia candelabra trees, amid the zebras, giraffes, impalas and wildebeest of the savannah, the four-day race takes riders along 650km of rough roads, climbing above 3,000 metres. Each day, before the course is cleared by Maasai motorcycle sweepers, dressed in their traditional red plaid blankets, a helicopter goes ahead to check for elephants and buffalo.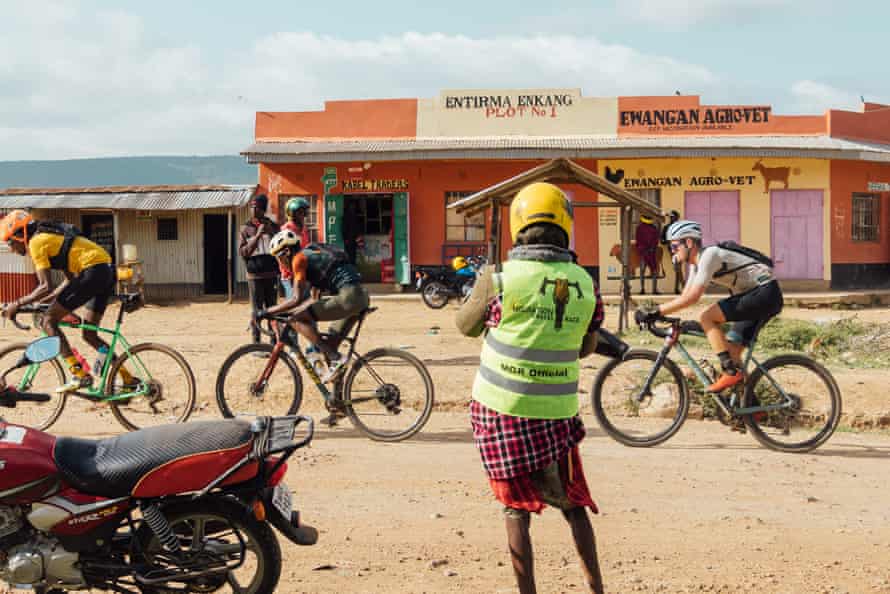 "What Mikel is doing is giving east African riders a home-based platform, not a European one," says Kenyan cyclist David Kinjah. "They get a chance to compete against the best, in their country."
Organising a travelling band of 100 cyclists in a region that lacks infrastructure is a challenge. All the logistics, from security to cooking to building the campsites, is done with support from local Maasai.
Last year, Delagrange set up the Amani team – eight men and four women from the top cycling clubs in Kenya, Uganda and Rwanda. "Amani has changed my life, but not just mine," says Suleiman Kangangi, 33, a Kenyan cyclist. "This is a big deal for east African riders. We selected the best for this race, and they know there's something to aim for."
Nancy Akinyi, 32, another Kenyan cyclist, says: "It's not just about bringing these people here to compete, it's to prepare these young riders for what could be their future if they excel. Thanks to Amani, we can send riders from east Africa and show we can do it. If you go to the world championship, you don't see black people there.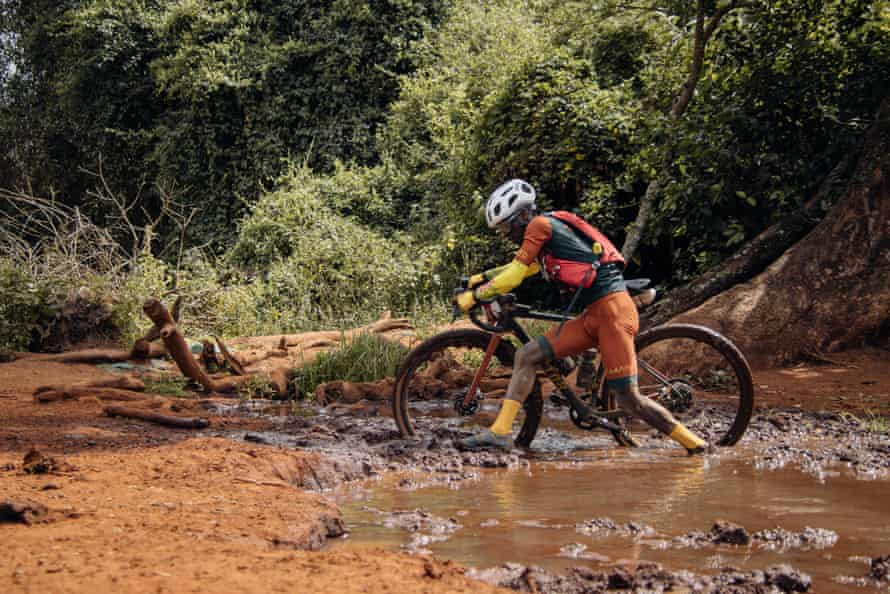 "Amani is special because now black people can see that we can be pros. It's unusual to see people from the northern part of Africa – I'm going to say black people – doing so well," she says.
"It started here in east Africa, but now I get emails from women in Congo, Tanzania and even Lesotho who say they want to join the team."
Non-African riders, who include big names such as Lachlan Morton from Australia, Italian cyclist Mattia de Marchi and Lael Wilcox from the US, paid €1,250 (£1,075) to enter, some of which goes towards funding the Amani team.
Everyone is racing for fun and glory; there is no prize money.
"The Europeans didn't expect the African riders would be so tough to beat," says Kinjah. "When we compete in Europe, everything is different: the food, the language, the roads. This affects your performance."
The home advantage changes the odds. On the eve of the first stage, Delagrange thanks the non-Africans for coming, then adds: "Just for a change, you're going to be the people who stand out and don't speak the language."
The fast-growing sport of gravel racing, essentially putting mountain bike tyres on high-end €10,000 road bikes, is more open and democratic than road racing. Like a marathon, anyone can line up with the best.
"What you have here – where you can sit around the campfire after a race and chat with people from all walks of life, make new friends and also hammer each other for five hours on the road every day – that doesn't exist in the majority of races," says Morton, who finished fifth overall, behind three Amani riders. "It's an experience that's so much more fulfilling. I'd come back in a heartbeat.
"In an event like this, the bullshit fades away. It's like, here's the start line, here's the finish, go for it. It doesn't matter where you're from, we're all going to sleep in tents and we're all going to eat the same food, so let's get on with it."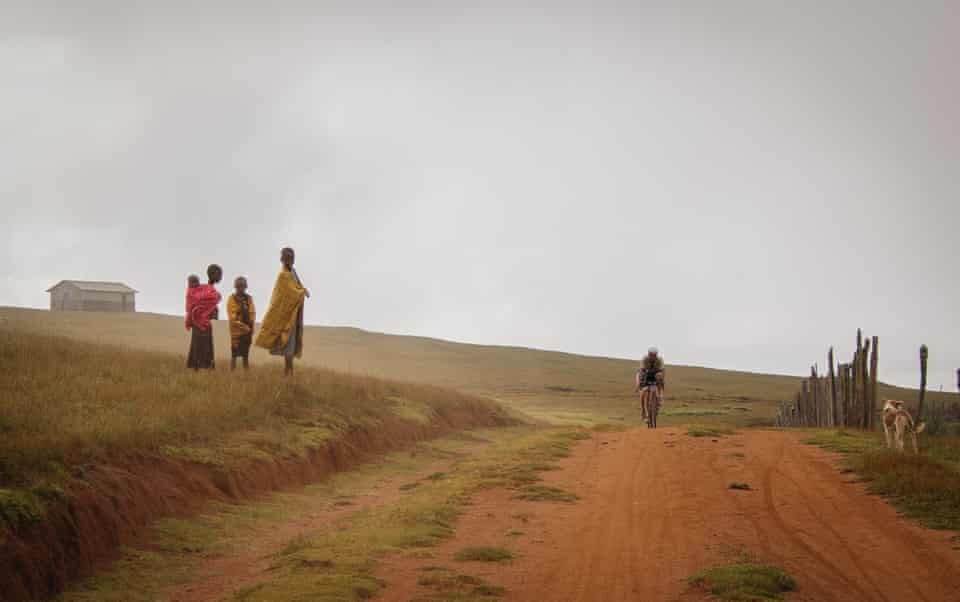 Wilcox, who once rode 3,000km from her home in Anchorage, Alaska, to reach the start line of the 4,500km Tour de Canada, and then broke the women's record by four days, is another fan: "It's cool that there's a really good women's field here. They've put a lot of effort into inviting women and making them feel like they belong. It's good to see."
Juliet Elliott, a 44-year-old cycling pro, says: "A race like this, where we all race together but there are separate podiums, that's pretty cool. If I'd had to do road races against guys, I probably wouldn't have bothered, but gravel is more open. In these long-distance disciplines, women tend to do better."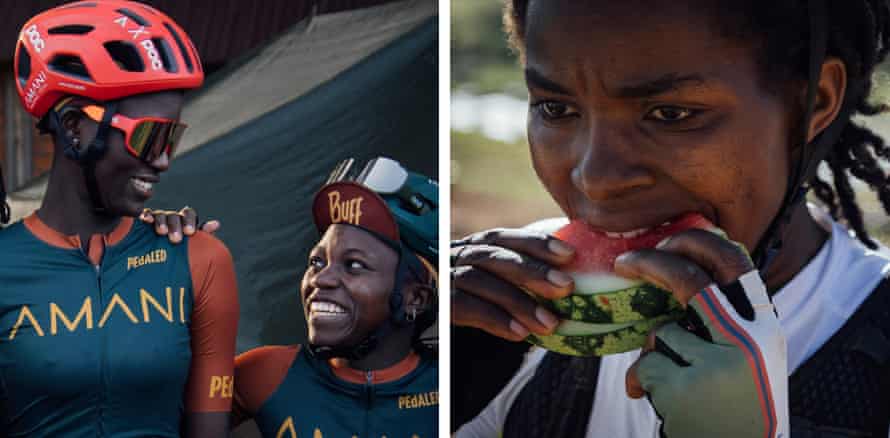 Delagrange says they had the good luck to be ready with a concrete proposal when the Black Lives Matter movement made some realise that "racial disparity is a thing, and continues to be". There was some overdue reflection in cycling, he says, and many "were looking for a fig leaf to cover how white the sport is. We acted as a hub for corporations to know where to direct their resources."
He believes the industry is beginning to understand that it's not diverse enough to be considered an international sport. "Imagine if running was still just Roger Bannister. We aren't pushing the limits of human capability. Without allowing the rest of the world to play this game, we still don't know what can be done on a bike."
The idea that east African cyclists can hold their own against the best was entirely vindicated. Amani's John Kariyuki was the overall winner over the four stages. Two of his teammates, Jordan Schleck Ssekanwagi and Kangangi, came third and fourth. Fifteen of the top 20 finishers were Africans.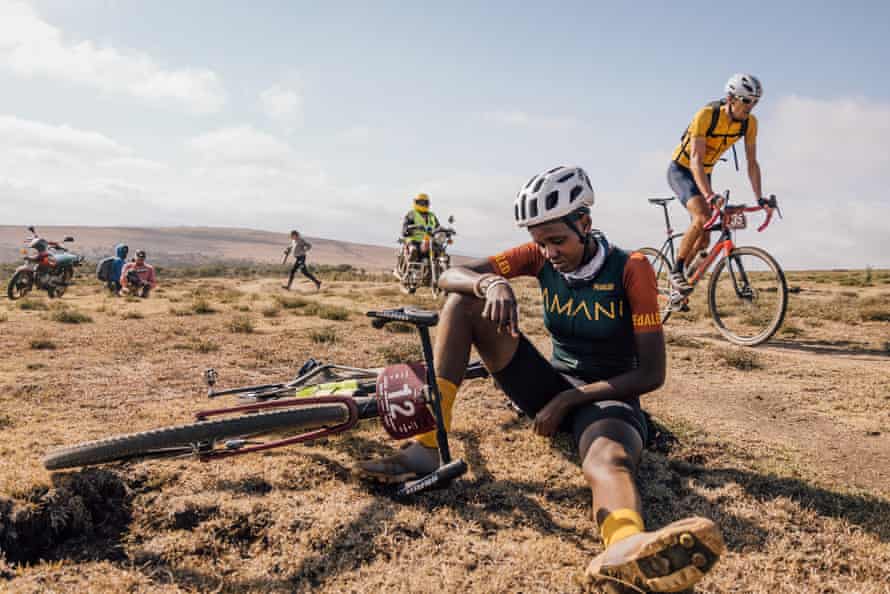 Distance rider Marin de Saint Exupéry, from Switzerland, says it's the first time he's raced against Africans. "I can't keep up with this pace," he says. "I was really attracted to the idea of this project, and met some of the team when they came to Switzerland last year. We shouldn't need a project like this, but we do."
Kinjah, 51, who finished 14th, believes many sporting projects in Africa fail because they have a European mentality and don't understand the culture. "This project is different because they take the best from several countries," he says. "They bring unity by putting these good riders in one team. Some of these guys have never been in the Maasai Mara or seen an elephant. Now they are having an adventure in their own country – and racing against the best in the world."
"The scale is small," Delagrange admits. "Right now, we have 12 athletes whose lives we'd like to improve through opportunities. We're trying to make it easier for those outside east Africa to invest in great human beings. Maybe we will have those breakout athletes who will change the face of cycling. You've got to start somewhere.
"I think many Europeans still cling to a LiveAid mentality. People saw a bunch of things in the 80s, and they're, like: OK, that's what Africa is like. If you always see people in a disempowered position, it will reinforce your subconscious view of them. But when people come and meet athletes who kick their ass, they don't see disempowered people, they see real competitors.
"Hopefully, after four days, they go home with a different view of what Africa is about."
Sign up for a different view with our Global Dispatch newsletter – a roundup of our top stories from around the world, recommended reads, and thoughts from our team on key development and human rights issues, delivered to your inbox every two weeks:
Amado Carrillo Fuentes: Mexico raffles off luxurious narco-mansion | International
It has been a hideout for crooks, a film set, and the headquarters of a foundation. In late June, a luxurious mansion once owned by Amado Carrillo Fuentes became the top prize in Mexico's national lottery. The former Juárez cartel boss known as the Lord of the Skies (El Señor de los Cielos) built this US$4.5 million home in Jardines del Pedregal, an exclusive neighborhood south of Mexico City. The two-story residence measures more than 10,000 square feet, and has an indoor pool, expansive gardens, and enough garage space for 30 cars. The enormous home boasts a bar with a wine cellar, nine bedrooms; six Jacuzzis, numerous closets and dressing rooms, a huge kitchen, a steam room, a library, and a life-size playhouse for children. And for the price of a US$10 cachito, as lottery tickets are called in Mexico, some lucky player had a chance to win the opulent mega-mansion.
Lottery administrators put three million numbers up for grabs, but the tepid response from the public meant that multiple numbers had to be picked before one came up a winner. Suspense built as losing numbers came up again and again. "That number isn't a winner, so we'll try again. Good luck!" said the announcer 16 times. Almost 25 minutes later, the winning number was picked on the 17th try.
"How would you like a house in Jardines del Pedregal?" tempted the commercials. "I can already picture myself living there!" a woman replies enthusiastically. "Or you could sell it," suggested the announcer. The property has long been a headache for the Mexican government. It was first auctioned in May 2020 by the "Instituto para Devolver al Pueblo Lo Robado", a government agency created by Mexican President Andres Manuel López Obrador to liquidate assets seized from criminal organizations and corrupt officials. The auction hoped to raise at least US$2.6 million pesos for the house, but the best offer was US$2.47 million, from a mysterious man in a gray suit who raised his paddle amid cheers from the attendees. "I want US$2.5 million! Who says yes?" asked the auctioneer, as he anxiously counted to three. In the end, no one wanted to pay more. Then, the auction winner never paid up.
Seized in January 1995 from Carrillo two years before his death, the mansion became a white elephant, a prize nobody wanted. The drug kingpin had amassed a fortune by transporting huge quantities of drugs with his fleet of airplanes. Although his main center of operations was in the border city of Ciudad Juárez (Mexico), the Lord of the Skies owned properties all over the country. Wanted by authorities in Argentina, Colombia, the United States, and Mexico, Carrillo underwent several cosmetic surgeries to change his appearance and evade his pursuers. He died during a botched procedure in 1997. A television series about his life has become an international hit on streaming platforms and is getting ready to film its eighth season.
The white elephant raffle came about when the Mexican government wearied of the expensive maintenance, which included US$25,000 for security services. Photos of the mansion used to promote the raffle show that Carrillo's palace has seen better days. "We're doing this to support the Mexican people and help our neighbors," said President López when he announced the raffle in early June. "There are a lot of abandoned public assets scattered around various government agencies," said the president, "and they will go to ruin if not maintained properly."
The narco-mansion is listed on the internet as the former headquarters of a foundation that trains unemployed and disabled people so they can find work. It was rented in 2003 for the filming of Man on Fire, a movie starring Denzel Washington, who plays a bodyguard trying to rescue a nine-year-old girl (Dakota Fanning), and destroys half of Mexico City in the process. When the movie came out, there were rumors in the press about underground tunnels connecting the property to other nearby houses in the area, but no mention of this was made in the promotional material for the raffle.
The raffle also included 200 lots of land in Playa Espiritu, a failed tourism development project in Sinaloa (Mexico) that cost more than US$100 million. The value of each lot ranges from US$40,000-US$65,000. "It was a fraud," admitted President López in October 2021. His lackluster sales pitch included statements like, "It isn't in a great location," and "Nobody wants to buy it." The highest praise the president could muster was, "It has a beach." The raffle also includes US$2.9 million in cash prizes.
After being seized, borrowed, and auctioned, the mansion that once belonged to the notorious Lord of the Skies will finally have a new owner–winning ticket number 339,357–but the ticketholder's identity will not be made public.
The female gaze: the developing art of women's photography
A World History of Women Photographers, edited by Luce Lebart and Marie Robert and translated by Ruth Taylor and Bethany Wright, showcases the work of 300 women from around the world, from the 19th century to the present day. The collection will be published in English for the first time by Thames & Hudson on 14 July