Kabul airport: Spanish evacuation effort in Afghanistan: 'We never thought so many lives would depend on us' | International
On the afternoon of August 18, Captain Javier Escorihuela received a WhatsApp message from his superiors. The 29-year-old military official from Seville was being "activated" along with his team in the Air Deployment Support Squadron (EADA) to fly to Kabul and assist the Spanish army with the evacuation effort in Afghanistan. At that point, Escorihuela could not imagine that the instant messaging service would help save "around 1,200 people" who were extracted from a crushing crowd of thousands of Afghans desperately attempting to flee Taliban rule.
The day after getting the message, he and 19 other service members took off from the military base in Zaragoza to take part in the most complicated mission of their lives, as Spain joined the international evacuation effort in Afghanistan. "I'd never done anything like this before. We are prepared to defend Spain and its allies by identifying the threat and neutralizing the bad guys, but in this case, it was about saving people, about removing them from hell."
Escorihuela, who already had experience with missions in Africa's Sahel region, quickly packed his duffel bag with "strictly essential" items such as weapons, ammunition and communication devices. He had received instructions to travel light as they might have to leave things behind in the event of a rushed exit.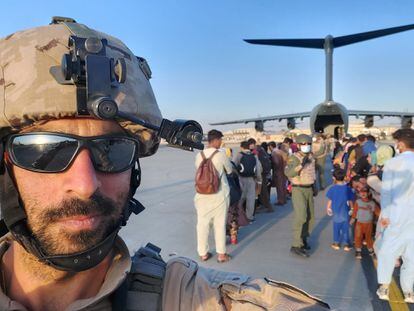 As it turned out, once on the ground "radio communications failed depending on the distance," and the Spanish captain ultimately relied on two cellphones to rescue hundreds of people – "mothers, fathers, children, entire families, journalists, movie directors, activists…" – from the hell of human despair surrounding Kabul's international airport and the nearby NATO military base. "I think none of us had imagined that so many lives would depend on us."
The team landed at 6am on August 19 and quickly realized that things were not going to be like anything they'd ever experienced before. "Nobody came out to greet us, there was nobody [from the armed forces] there. I thought: 'They must be really busy.' At the same time, I could see dozens of refugees going by, lots of tired-looking children. They were walking towards the planes, even climbing inside our own, there were so many people everywhere…"
Not long after that, Escorihuela's subordinates returned from the airport's access gates and briefed him on the situation. He quickly set up a team to go in search of Afghan nationals who had worked with Spanish authorities and armed forces during the nearly two decades that Western forces were present in the country. At that point, there were still three open access points and Spain was able to operate in two of them. But the next day, "with over 16,000 refugees inside the base extracted by different countries, and due to the impossibility of keeping control, the US army decided to leave only one entrance open," he recalls. Abbey Gate became the only way out of Afghanistan by air.
The procedure for "extracting" people required many steps: "checking people's identity, patdowns, explosive detection dogs…" The captain formed two 14-member groups and put them on six-hour shifts that worked 24/7. Meanwhile, there were four to six team members outside at all times searching for evacuees included on their list.
"We barely got any sleep," says Escorihuela, whose loose uniform reflects the weight loss of those intense days. The calls came at all hours of the day or night. "We have to get X out now," he would be told at 4am.
The rescue effort largely depended on the arrival times of the Spanish A400M planes and on access to the entrance gate, controlled by British soldiers. Escorihuela says they had to tell evacuees to first jump into a filthy sewage ditch running around the airport's perimeter in order to reach the safe zone. In another area, the crowds were so large that he saw people crushed to death against a wall.
Much of the success of the rescue mission, besides luck, rested on the fact that evacuees managed to wait – "sometimes for days" – for the piece of cloth waving at the agreed site, following instructions sent via WhatsApp. "We had a list of 900 people, but sometimes the names did not match because they were written in a different way. We checked that they had received the email with the travel document from the Spanish embassy and we also looked at their ID, but some of them were showing up with nothing at all, ready to start over with just the clothes on their backs," notes Escorihuela with amazement.
Some of the evacuees helped by acting as interpreters for the Spanish troops. Meanwhile, the captain's phone was filled with requests for assistance. "Many colleagues who had been stationed in Kabul were writing to me with the names of individuals who had helped them in the past and who were now desperately trying to flee, but I had to stick to the list." His team was in charge of the first screening, but successful candidates still had to undergo further questioning by police officers and diplomatic personnel.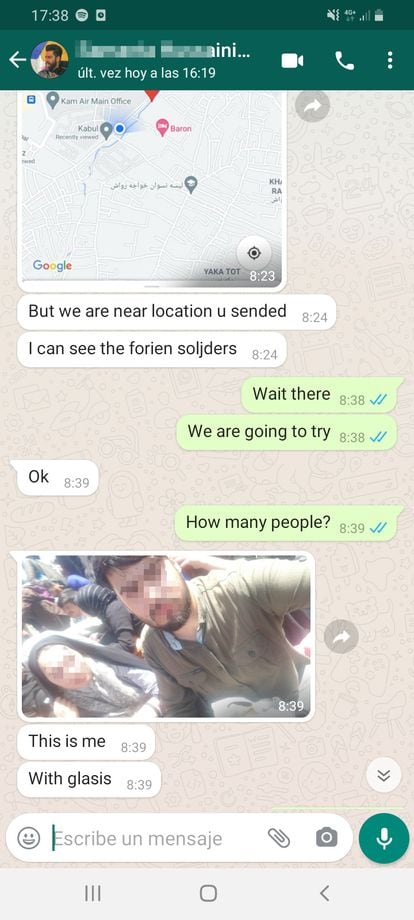 The days blended into the nights, but there is one moment that stands out clearly: the minutes right before suicide bombings killed over 100 people. "A half-hour earlier I had my people there; I'd sent them over because there was a window of opportunity to collect a family who had been waiting outside for two days. We had retreated earlier because the gate was closed due to the threat of an attack. When it reopened, I sent six people out."
A few minutes later, he received a new call warning about an imminent bomb threat. "The radio communications were no longer working, they were too far away. I got in the car and got as close as possible to the gate entrance until I was able to make contact. I said 'you have to get out now!'" The explosion took place 30 minutes after that. The family they were meant to extract was never heard of again.
With each passing day, the team's physical exhaustion increased and morale declined due to the realization that "we could not get them all out" despite their best efforts. Escorihuela continually reminded his troops about the hundreds of individuals they had already saved. He particularly remembers a family with a baby who are now living in Orense, in Spain's northwest region of Galicia.
"They had to try twice. The first time we failed, and they went back home because the baby seemed to be dying of the heat and strain. But the second time they did it, they crossed the ditch, even the father with his crippled leg, and we pulled them out," he recalls with a hint of satisfaction. "And there were also the journalists, with whom I've spoken this morning."
The Spanish contingent – the military troops, around 20 police officers and diplomatic personnel, including the acting ambassador Gabriel Ferrán – flew out of Kabul on August 27, when the Spanish government officially concluded its airlift operation. "We hadn't been able to follow the news and we were unaware of the repercussion. Nobody was expecting to be received by the prime minister," he says. During the flight home, Escorihuela began seeing images of Afghan men, women and children in his mind again: "All the people who we left behind."
English version by Susana Urra.
'They see it in corridors, in bathrooms, on the bus': UK schools' porn crisis | Pornography
Barnardo's works directly with children who are victims of abuse or display signs of harmful or risky sexual behaviour. In 2020-21, they worked with 382,872 children, young people, parents and carers.
In a recent survey of their frontline workers across England and Wales, staff reported a rise in the number of children participating in acts they have seen in pornographic videos, despite feeling uncomfortable or scared. They describe porn as having a "corrosive" effect on child wellbeing.
Child sexual abuse expert Sarah works with children who are displaying signs of inappropriate sexual behaviour. She also trains other professionals who work with children
"I started out as a primary school teacher eight years ago, and I've been worried about children seeing porn ever since. Children don't have to be able to type to see porn – it can be sent to them or shown to them on someone else's phone. They see it at school, in the corridors, in the bathrooms, on the bus. There is just no censor on any of it – one video leads to another. If you can imagine it, it exists as porn, and children are seeing it.
"I am working with a teenager who was sexually abused by a family member. This young person had been exposed to porn and it was perpetuating what the abuser told them – that this is normal, that it's not abuse."
She is particularly concerned, as are her colleagues, about the increasingly extreme nature of the porn freely available on mainstream sites.
"A common role play theme on porn sites is intra-familial abuse – on mainstream sites you will see fetishisation of grandad and granddaughter sex, or stepfathers and stepdaughters. This may lead to a young person not disclosing or getting the support they need. From both angles it is dangerous; it puts the child at risk and encourages the perpetrator.
"The impact of porn shows in children harming others or themselves because they either don't understand or are so ashamed of sexual urges. Shame is very prevalent and is often hidden.
"We are working with a seven-year-old who has been exposed to porn and is now displaying sexualised behaviour. They had free rein on a device, and someone hadn't deleted a browser history. Once a young person sees porn, they may feel a need to come back again and again – porn is designed to meet a need. That is a form of sexual abuse against that child."
Brian* is a senior social worker who has worked with children for over 30 years
"Unfortunately, porn is a feature for the majority of the children who come into our service. The children we support are very damaged. They would be likely to have experienced multiple forms of abuse – sexual, physical and domestic. Porn in and of itself is not the cause of their behaviour but it becomes a compounding factor when it hits that history of vulnerability.
Adult sex offenders can give children a distorted rationalisation for their behaviour, and the messages that are given through porn then fit with that distortion.
Lucy* has worked within the field of child sexual abuse for 16 years.
"We know children find porn distressing – they are telling us that themselves. We have done research with children in schools so that we have a cohort to compare our vulnerable children to, and they are saying the same thing.
"This is not what could be described as erotic or soft porn. They may start on porn sites and quickly begin to see very hardcore material. Or [extreme material] lands in their social media feeds, and they can then feel compelled to go back and look again.
"Children are less able to manage sexual arousal, and this material is designed to be arousing. Lots of children can feel guilty and distressed by what they see. We have 14-year-olds telling us they have to watch it as soon as they wake up. They describe being preoccupied with accessing porn to an extent that impacts upon their day-to-day life.
"We also regularly work with children with learning disabilities, another group vulnerable to the harm of porn. They may be shielded from sexual information and then reach 13 or 14 and take away the wrong learning from porn. They may learn that no means yes, that if you persist, women will enjoy forced sex. These messages are harmful for any child but for children with learning needs or who have developed unhealthy beliefs around sex as a result of abuse, it's particularly bad.
"After lockdown, we began to get more calls from parents where there is no other obvious trauma, just the exposure to porn. I've been doing this 16 years, and children have far more access to porn now."
* Names and some details have been changed to protect identities
French centre-right tilts toward Pécresse
Valérie Pécresse, a moderate conservative who has likened herself to former British and German leaders Margaret Thatcher and Angela Merkel, has emerged as a front-runner in primaries in France's centre-right Les Républicains party, Reuters reports. "I won't flinch. I have a project for a clean break, a project for the unashamed right," she said Thursday, ahead of elections against liberal incumbent Emmanuel Macron and far-right contenders in spring.
Poland plans to set up register of pregnancies to report miscarriages | Poland
Poland is planning to introduce a centralised register of pregnancies that would oblige doctors to report all pregnancies and miscarriages to the government.
The proposed register would come into effect in January 2022, a year after Poland introduced a near-total ban on abortion.
This has raised serious concerns among women's rights activists, who believe that in light of the abortion ban, the register could be used to cause legal difficulties for women who have self-administered abortions.
The draft legislation is part of a wide-ranging project to update the medical information system in Poland.
"It's about control, it's about making sure that pregnancies end with birth," Natalia Broniarczyk, an activist from Aborcyjny Dream Team told the Polish weekly Gazeta Wyborcza.
The plan prompted online protests. A social media initiative titled "I'd like to politely report that I am not pregnant" encouraged Polish women to email photos of their used sanitary pads, tampons and underwear to the Polish ministry of health.
The ministry has strongly denied the project amounts to a centralised pregnancy register, with a spokesperson saying the changes are simply part of wide-ranging digitalisation project that will update the way data about a multitude of conditions, including allergies, is stored.
The spokesperson said doctors always had information on pregnancies, but before it was stored on paper by hospitals, rather than centrally by the government.
The concerns of activists about the register grew considerably after a bill proposed by the government that would establish an "institute of family and demographics" passed first reading in the Polish parliament by one vote on Thursday.
The institute would aim to monitor family policy, pass opinion on legislation and educate citizens on the "vital role of family to the social order" and the importance of "cultural-social reproduction" in the context of marriage. The institute would have access to citizens' personal data and prosecutorial powers in the realm of family law, prompting worries it could be used to enforce the country's strict abortion law.
The project has drawn widespread criticism from Polish academics and civil rights advocates.
"Maybe just call it the 'Red Center of Rachel and Leah'," a feminist organisation from Łódź said in an Instagram post, referencing Margaret Atwood's dystopian novel The Handmaid's Tale. In the novel the Rachel and Leah Center is a training facility for women designated to be "breeders" by the authoritarian regime.
The committee of demographic researchers at the Polish Academy of Sciences has issued a statement expressing concerns that the "pro-natalist propaganda" would take precedent over scientific research at the institute.
"The project aims exclusively to promote traditional model of family," Adam Bodnar, Poland's former ombudsman for citizen rights, told the Polish news website Oko.press. "It could also become a tool against those who fall outside this model, for example those who do not conform to heteronormative norms."