'I've already sold my daughters; now, my kidney': winter in Afghanistan's slums | Global development
The temperature is dropping to below zero in western Afghanistan and Delaram Rahmati is struggling to find food for her eight children.
Since leaving the family home in the country's Badghis province four years ago, the Rahmatis have been living in a mud hut with a plastic roof in one of Herat city's slums. Drought made their village unliveable and the land unworkable. Like an estimated 3.5 million Afghans who have been forced to leave their homes, the Rahmatis now live in a neighbourhood for internally displaced people (IDP).
There are no jobs. But the 50-year-old has hospital fees to pay for two of her sons, one of whom is paralysed and the other who has mental illness, as well as medicine for her husband.
"I was forced to sell two of my daughters, an eight- and six-year-old," she says. Rahmati says she sold her daughters a few months ago for 100,000 afghani each (roughly £700), to families she doesn't know. Her daughters will stay with her until they reach puberty and then be handed over to strangers.
It is not uncommon in Afghanistan to arrange the sale of a daughter into a future marriage but raise her at home until it is time for her to leave. However, as the country's economic crisis deepens, families are reporting that they are handing children over at an increasingly young age because they cannot afford to feed them.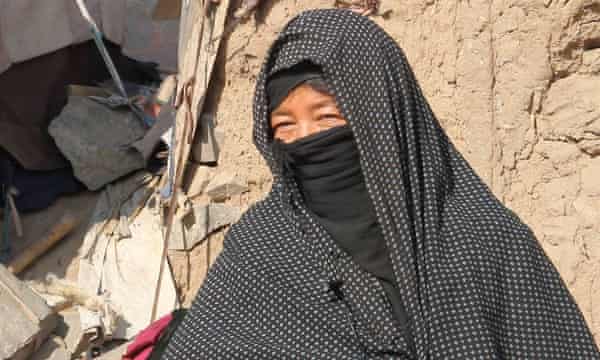 Yet, selling her daughters' future was not the only agonising decision Rahmati was forced to make. "Because of debt and hunger I was forced to sell my kidney," she tells Rukhshana Media from outside her home in the Herat slum.
Afghanistan is on the brink of "a humanitarian crisis and economic collapse", according to the UN. The agency's ambassador to Afghanistan has said it is "experiencing the worst humanitarian crisis of its contemporary history". Drought, Covid-19 and the economic sanctions imposed after the Taliban seized power in August 2021 have had catastrophic consequences on the economy. Dramatic rises in inflation have resulted in soaring food prices.
The kidney trade has been growing in Afghanistan for some time. But since the Taliban took power, the price and conditions under which the illegal organ trade takes place has changed. The price of a kidney, which once ranged from $3,500 to $4,000 (£2,600 to £3,000), has dropped to less than $1,500 (£1,100). But the number of volunteers keeps rising.
Rahmati sold her right kidney for 150,000 afghani (£1,000). But her recovery from the operation has not been good and now, like her husband, she is also sick, with no money left to visit a doctor.
More than half of the country's estimated 40 million population face "extreme levels of hunger, and nearly 9 million of them are at risk of famine", according to the UN refugee agency, UNHCR. For a growing number of Afghans, selling a kidney is their only way to get money to eat.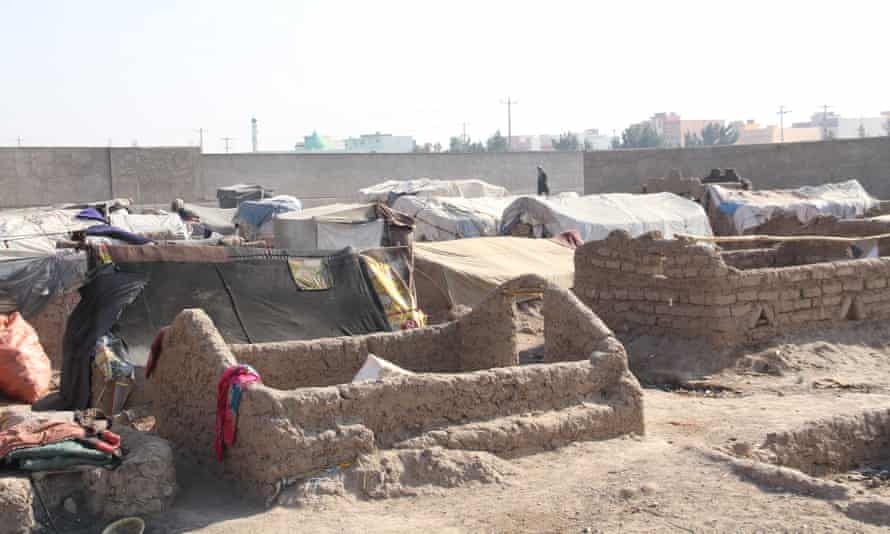 "It has been months since we last ate rice. We hardly find bread and tea. Three nights a week, we can't afford to eat dinner," says Salahuddin Taheri, who lives in the same slum as the Rahmati family.
Taheri, a 27-year-old father of four, who scrapes together enough money for five loaves of bread each day by collecting and selling recycled rubbish, is looking for a buyer for his kidney. "I have been asking private hospitals in Herat for many days if they need any kidney. I even told them if they need it urgently, I can sell it below the market price, but I haven't heard back," Taheri says. "I need to feed my children, I have no other choice."
In the past five years about 250 official kidney transplants have taken place in the hospitals in Herat province, with a very limited number being a family member donating their organ, says Asif Kabir, a public health official in the province. The cost of a kidney transplant is 400,000 afghani, plus the price of the kidney, according to Kabir.
But the true number of kidney operations may be far higher. A doctor working in one of the hospitals where most of the transplants take place, who spoke on the condition of anonymity, says: "Recently the number of people who want to sell their kidney has increased in Herat and most of them live in the displaced camps, in Herat's slums. The customers also go to the displaced camps to find a cheap kidney."
Sayed Ashraf Sadat, a civil society activist in Herat, was a member of a delegation assigned by president Ashraf Ghani to investigate the illegal kidney trade in May 2021.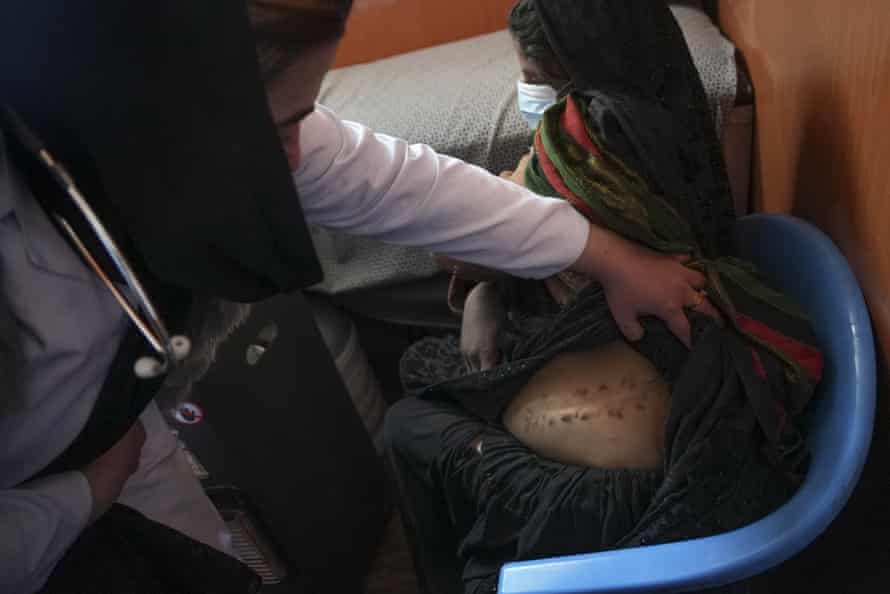 "We found that the hospitals were not working according to the law. People are working inside and outside the country to encourage people to sell their kidneys. These people get them visas and send them to the other side of the border. There is more demand for kidney transplants outside Afghanistan. Countries like Iran need kidneys, and poor Afghans are forced to sell them."
Sadat says the investigation he was part of identified two hospitals in Herat where kidney transplant operations take place; one of them said it had completed 194 operations and the other said 32, but more than 500 people were claiming to have sold their kidney, 100 from a single village in Herat. "This shows the kidneys were taken outside Afghanistan," says Sadat.
"For example, a kidney is purchased for 300,000 afghani (£2,100) inside Afghanistan, and it is sold for more than £7,500 to £11,000 outside the country," says Sadat.
"We found evidence that some are encouraged to sell their kidneys, taken outside the borders, and their kidneys are sold for 200,000 to 400,000 afghanis ," says Sadat. "It seems that the doctors are involved in the illegal trade. But unfortunately, our investigation was stopped due to a worsening security situation."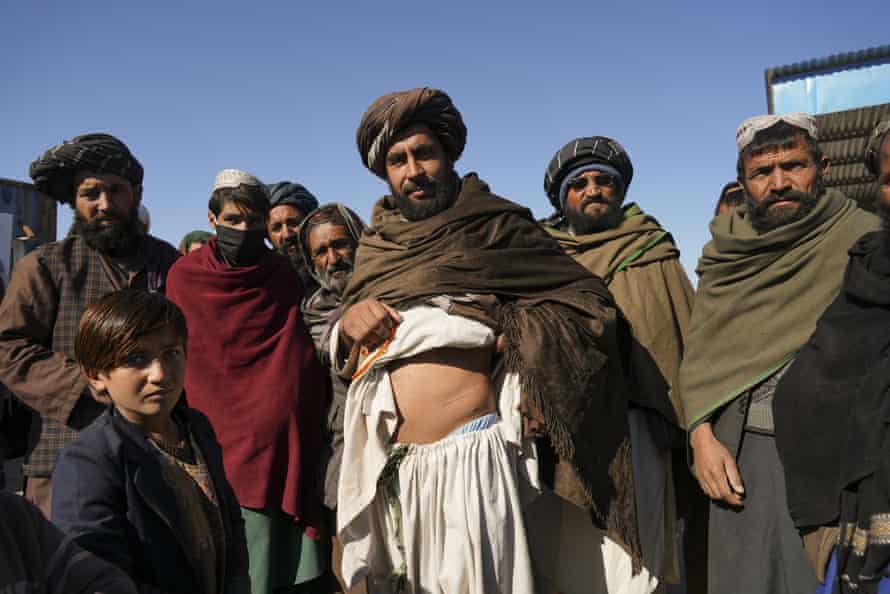 Two months have passed since Rahmati's kidney operation, and the money has already gone to pay off medical debt. Her recovery from the operation continues to go badly.
"I am so sick. I couldn't even walk because the wound has been infected. It is very painful," she says, adding that the recipient of her kidney only paid for the operation fee, two nights in hospital and her first medicine bill.
On the day of the transplant, Rahmati was sick and the doctors refused to operate. "I couldn't breathe properly, so the doctors took me down from the hospital bed, but I returned. I told them 'I am happy with my own death, but I can't tolerate seeing my children hungry and ill'," she says.
Sign up for a different view with our Global Dispatch newsletter – a roundup of our top stories from around the world, recommended reads, and thoughts from our team on key development and human rights issues, delivered to your inbox every two weeks:
Alone under siege: how older women are being left behind in Ukraine | Global development
Halyna Vasylivna lives alone in a tiny "Khrushchevka" flat. At 94, she has outlived her sons and her husband, and her grandchildren live outside the city.
Her apartment, named after the Soviet leader under whom the five-storey buildings in Kyiv's Podil district were built, is too far from the bunker so she hides in her pantry during airstrikes.
Vasylivna is grateful for her social worker Olya's visits a few times a week. She wishes she did not live alone. "It's important to have someone who can listen to you," she says.
Vasylivna is one of 2 million older women in Ukraine who have remained largely invisible to authorities. Most of Ukraine's elderly people are women – they make up two-thirds of those aged over 65 and 71% of those aged above 75 – partly because Ukraine has the sixth highest proportion of women in the world.
These women are reliant on tiny state pensions (Vasylivna's is about £130 a month), and require support from social services, charities and international institutions. They have become the group most likely to be alone, whether through mobility issues, bereavement or a reluctance to leave familiar surroundings. The lucky few get help; many do not. Ukraine's health and social care system was already under pressure before Russia invaded in February.
Despite progress through reforms, including decentralisation that allowed regional institutions to allocate budgets locally, an overstretched and underfunded health system is again in crisis. Ukraine's expenditure on healthcare has declined from 7.8% of GDP in 2015 to 7.1% in 2019 (the last available data). The world average was 9.8% in 2019. Now the country is experiencing a humanitarian crisis, with dozens of accounts of rape and murder of Ukrainian elderly women – the biggest group left behind, of those allowed to leave, and least able to escape.
In Kyiv's Holosiyevo district, there are 786 elderly people – 80% of them women like Vasylivna – alone, unable to leave their homes, and without relatives to care for them. Since Russia attacked, the number of social workers in the local centre has collapsed by more than 75%. Those women who remain are mostly elderly themselves, and now have four times as many clients to look after. They work five days a week, earning about £170 a month to supplement their small state pensions. "We need to support both our elderly clients and ourselves," says 65-year-old social worker Nataliya Bodnar.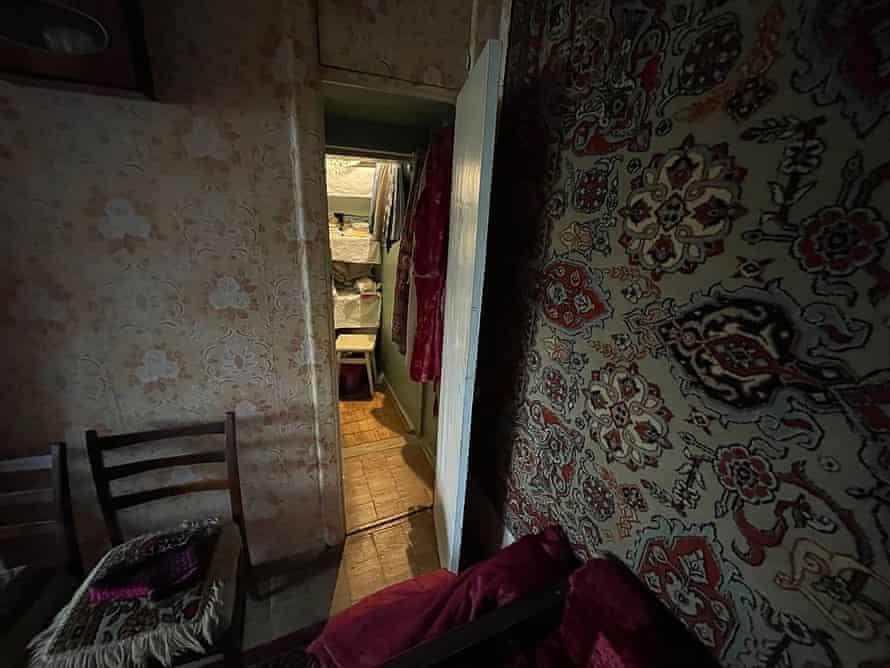 Social centre manager, Oksana Ruban, says they have faced multiple challenges. "Public transport was closed, the curfew lasted sometimes up to several days, shops closed, too. We had to make sure all of our clients were taken care of by someone – if not relatives or us, at least by neighbours or volunteers. We all worked relentlessly."
The situation for older people is particularly acute in the Donetsk and Luhansk regions where a survey of more than 1,500 over-60s conducted in March revealed the scale of the problem: 99% do not want to leave their homes; 91% need help to get food; 91% are also experiencing extreme cold, with no heating due to electricity cuts; 75% need basic hygiene items; and 34% need urgent medication for chronic illness. These needs are exacerbated by a shortage of vital medicines and Russia destroying healthcare facilities.
"I wonder why some young people evacuate their cats and hamsters, but leave their parents behind," says Roman Vodyanyk, head doctor at Severodonetsk hospital in Luhansk, the only functioning hospital left in the city. With no water, gas or electricity in Severodonetsk, Vodyanyk has turned the hospital, which has more than 50 patients, into a humanitarian hub, providing hot food, wifi and medical support. About 220 patients have left in the past month, but many elderly people have no desire to evacuate, with nowhere to go and no one to care for them.
"How do you evacuate a hospital in this situation? How do you leave them all behind?" asks Vodyanyk. So despite the shelling and along with local authorities, NGOs and volunteers, he is not leaving either.
Elderly people are often the forgotten category in any humanitarian crisis – an analysis of Google news search keywords between 24 February and 22 April found that 97% of all Ukraine-headlined articles that mentioned either children or the elderly were focused on children. Only 3% mentioned elderly people, of which only three touched on elderly women. Despite there being more than 50% more retirees in Ukraine than children under 15, the 390 UK NGOs operating in Ukraine are nearly twice as likely to be helping children than elderly people,
According to Justin Derbyshire, CEO of HelpAge International, the problem is global: elderly patients' specific needs are neglected by governments and international bodies during and after wars. "This is systemic ageism and an example of how bad the global system is at responding to older people's needs."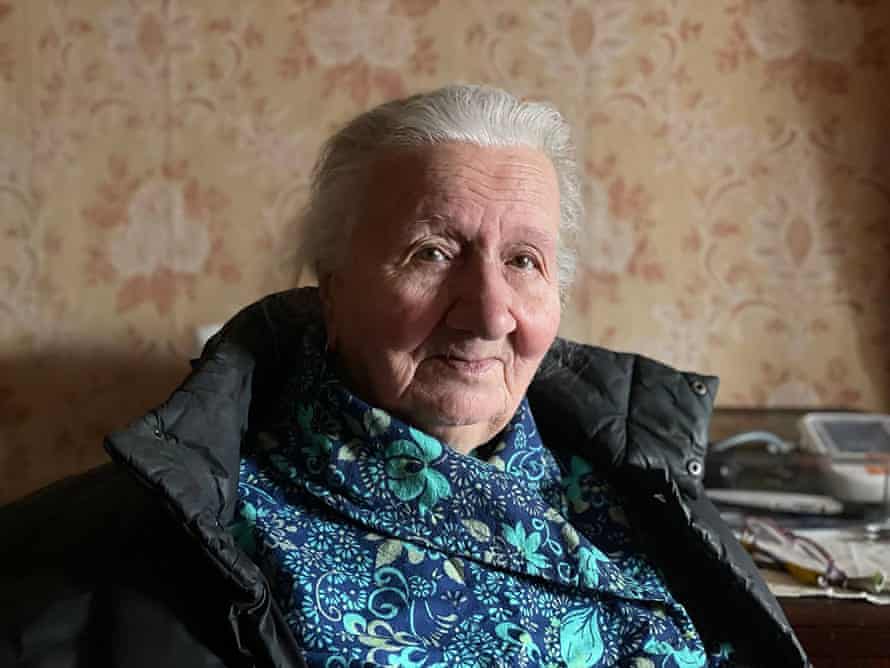 Elderly people, such as Vasylivna and Bodnar, are at the centre of the crisis in Ukraine, as victims and rescuers. After a lifetime of looking after others, they are now vulnerable, not only to loneliness and hunger, but also to rape and murder.
"I've seen everything – the Holodomor [great famine of 1932-33], the second world war, so many horrors. What else could scare me?" says Vasylivna. She never imagined Russia would invade. It is her inability to take care of herself that scares her now. She feels trapped. "I would evacuate if I could take care of myself. I was working my whole life. It's such a shame I can't do anything any more."
Sign up for a different view with our Global Dispatch newsletter – a roundup of our top stories from around the world, recommended reads, and thoughts from our team on key development and human rights issues, delivered to your inbox every two weeks:
The Ukraine war in maps: Ukrainian forces battle to recover Snake Island | International
May 13 | The battle for Snake Island
The all-out attack that Russian troops deployed at the beginning of the offensive in Ukraine did not leave out maritime control of the Black Sea: the Kremlin's naval force soon took up positions the island of Zmiinyi, also known as Snake Island and located around 140 kilometers (87 miles) south of Odessa and 40km (25 miles) from the Romanian coast. The first map of the conflict published by the Institute for the Study of War (ISW) on February 25 showed it under Russian control even then. In a statement in February, the Ukrainian Navy said that the invaders had destroyed infrastructure on this island of one square kilometer. A comparison of satellite images captured before the invasion and in recent days shows that the destruction of the main building occurred between May 6 and 7.
August 23, 2016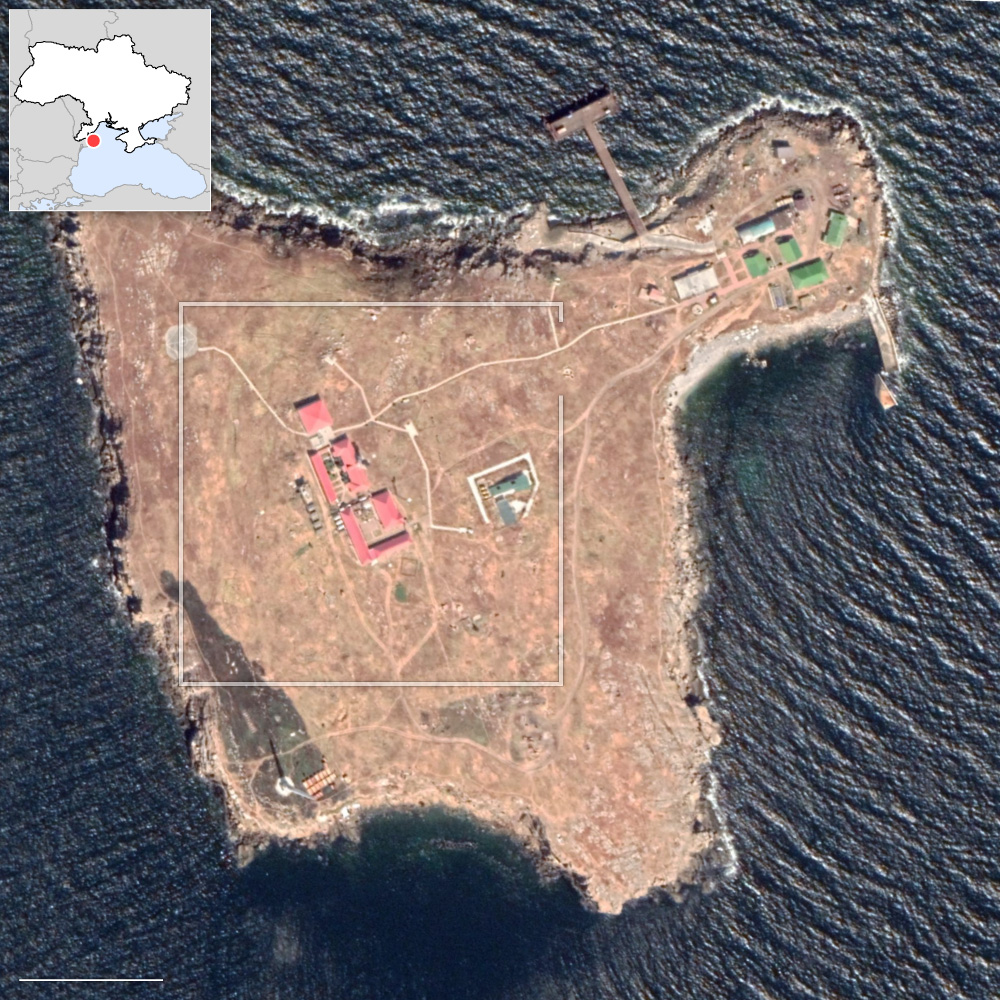 May 6, 2022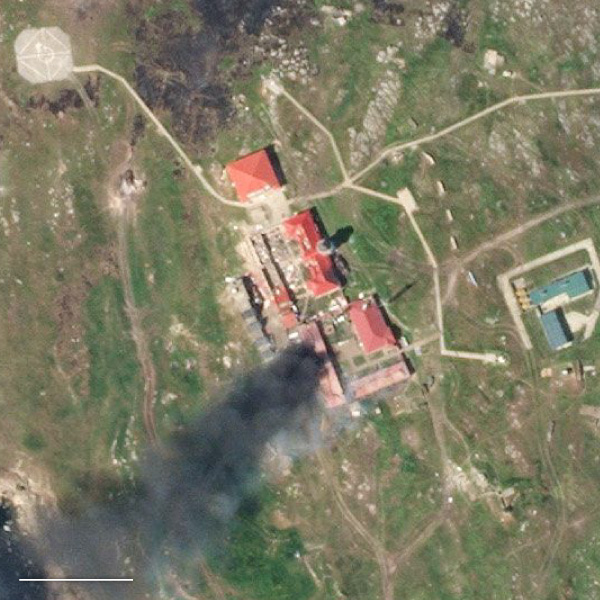 Areas burnt by earlier attacks
Visible structural
damage
May 7, 2022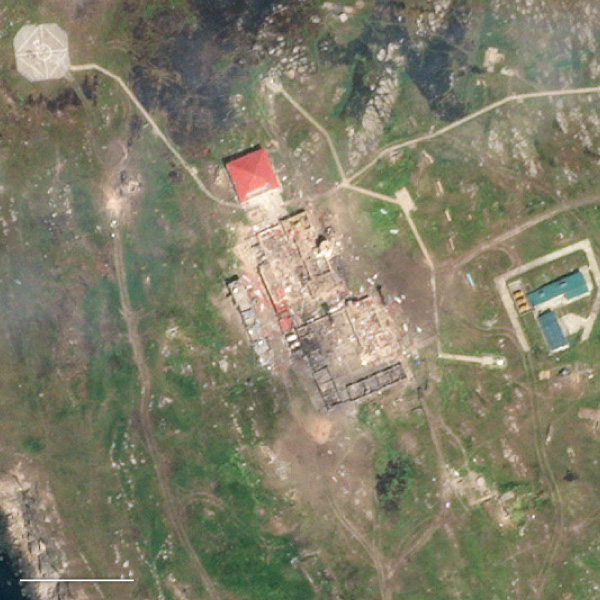 May 8, 2022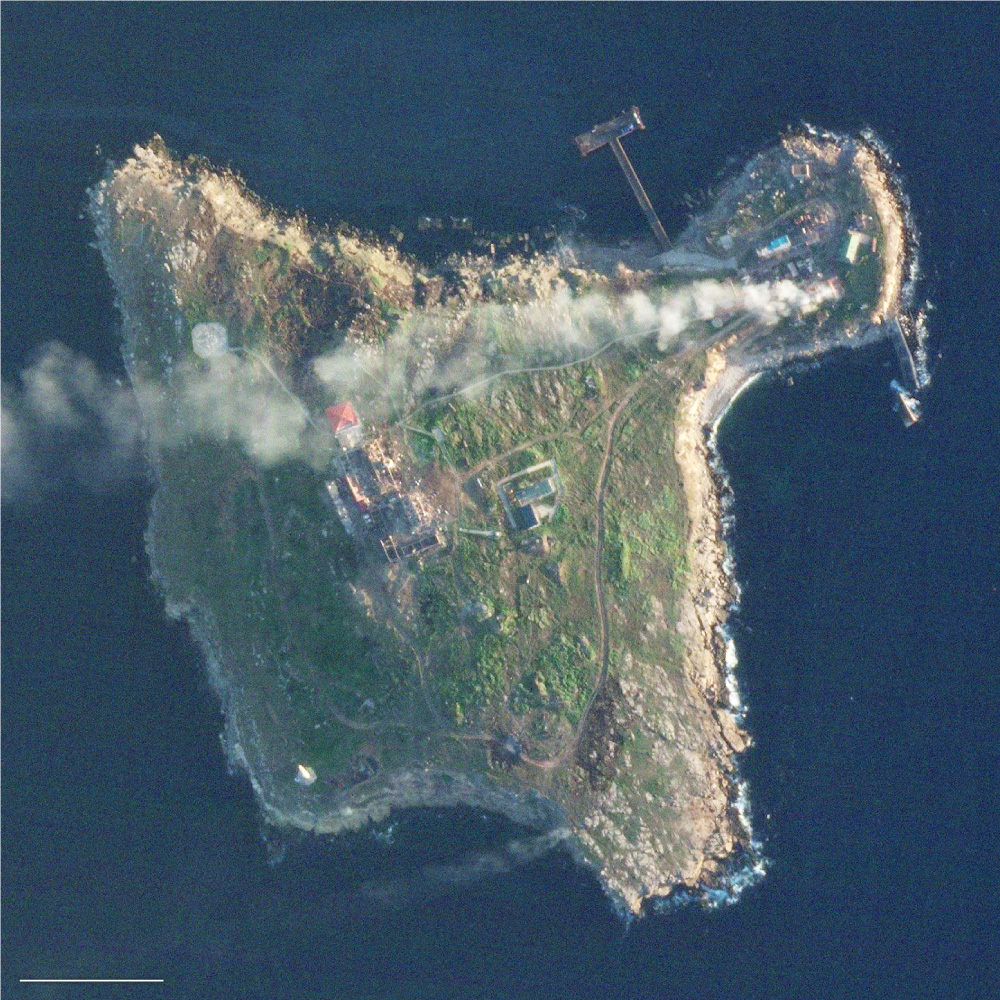 Area of attack
on helicopter
(shown in video)
British intelligence warned last Tuesday that if Russian troops consolidate their position on the island, deploying air defense cruise missiles, they could control the northwest portion of the Black Sea. The permanent Russian settlement on Snake Islands entails sea, land and air control of that entire area, military strategy expert Oleh Zhdanov told the BBC.
The strategic importance of the islet, which grants control over maritime traffic in the port of Odes, is enough to justify the ongoing struggle for it. The Russian Defense Ministry has claimed that it destroyed several planes, helicopters, drones and a landing craft in the early hours of Sunday morning during a Ukrainian attempt to recapture the island. Ukraine claimed that it only attacked Russian troops deployed there. British intelligence stated that Ukraine has used drones to destroy Russian anti-aircraft defenses and supply ships, stranded after the invaders retreated to the Crimean coast following the sinking of the Moskva, the flagship of Russia's Black Sea fleet.
Helicopter destroyed on Snake Island, in a video shared by the Ukrainian army on Sunday.
Reuters
The sensors of the European Space Agency's Sentinel-2 satellites have made it possible to observe hot spots on the island which, in the context of war, can be associated with attacks. These indications of attacks have been recurrent since last February, and particularly intense during the last weekend, coinciding with a video of an attack on the island.
The proximity of Zmiinyi to NATO coasts has not prevented it from becoming a battlefield in the conflict. Armand Gosu, a professor of Russian Political History at the University of Bucharest, explained to Efe news agency that Moscow categorically dominates the Black Sea: "There is a huge military imbalance. Its ships patrol international waters without restriction, which has allowed the Russians to block a maritime outlet from Odessa," he said. This blockade stifles Ukrainian sea exports that are essential to defend the coastal town from a hypothetical Russian siege like the one suffered by Mariupol.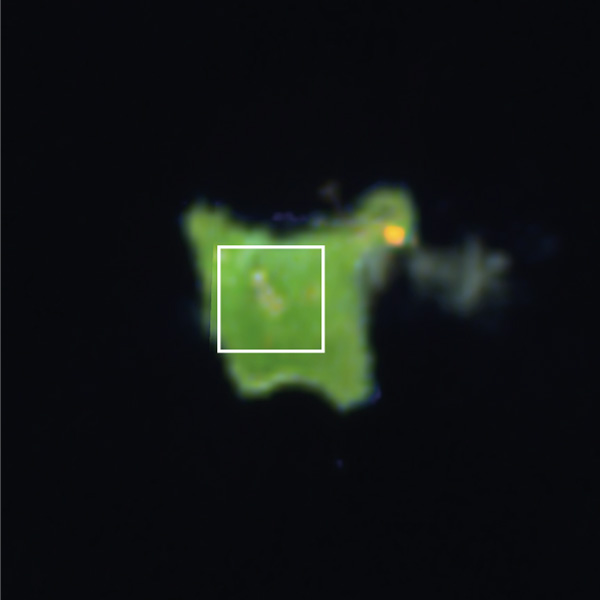 March 8 A heat source can be seen in the northeast of the island, probably as a result of an attack, as well as a plume of smoke. The area inside the box contains most of the facilities.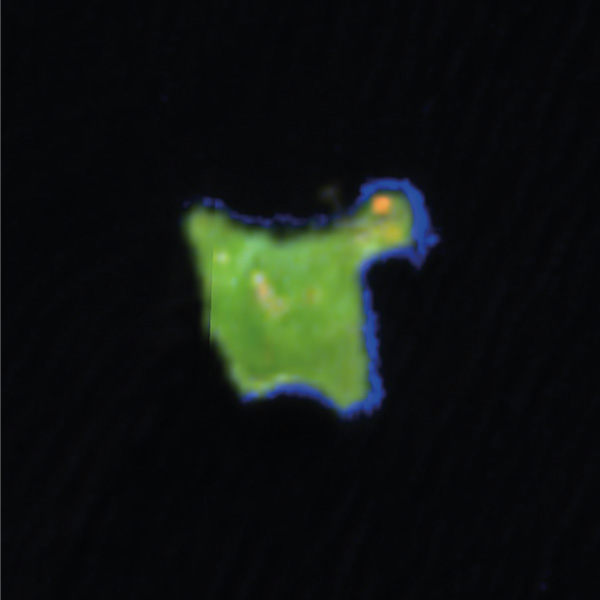 March 23 Two weeks later, the Sentinel 2 satellite captured a new hot spot in a nearby area.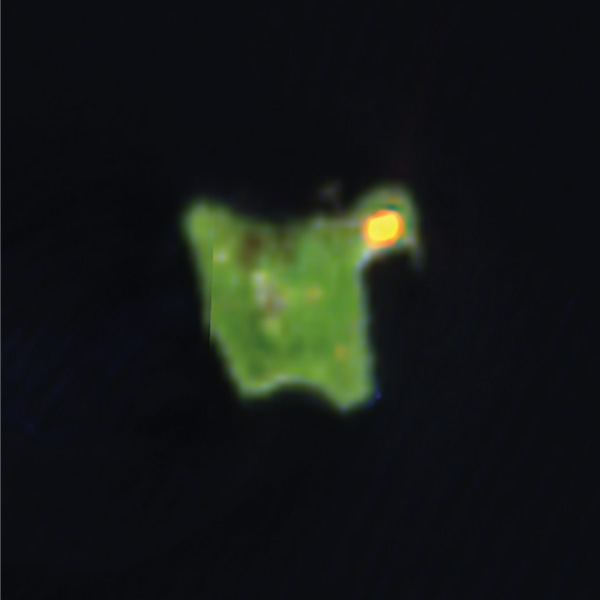 May 7 Once again a heat source can be seen, coinciding with a great column of smoke detected by satellites and shown earlier.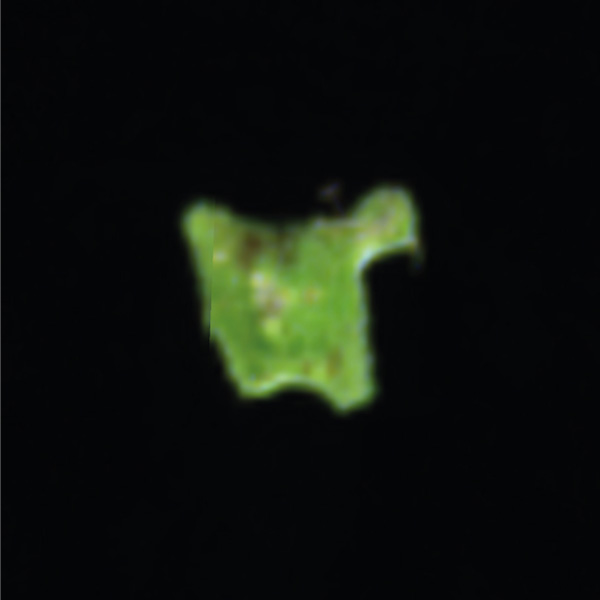 May 9 The last available image shows no hot spots, but the island's vegetation has been largely burnt down as a result of the confrontation.
May 10 | Russian progress
In the two and a half months since the start of the Ukraine invasion, the Russian offensive has changed strategies: at first it sought to take control of the major cities, then focused its efforts on the separatist region of Donbas and on securing the borders. Since then, the frontline has moved in line with modest but systematic Russian advances that have only met with resistance at a spot that's been highly militarized since 2014, when Russia annexed the Crimea peninsula. The change in the frontline can be seen in the following maps, which show the situation on the ground every two weeks since Russia changed its strategy on March 25. The red color shows areas under Russian control, which have been expanding for the last month and a half.
Donbas is an area covering around 52,000 square kilometers, roughly the size of Costa Rica. It is divided into two oblast (administrative units) – Donetsk and Luhansk. Along the northwest, it borders the Kharkiv region, home to the city of Izyum, which is the starting point for Russia's attempt to encircle Ukrainian defenders holding the frontline. From there, Russian troops have been trying to advance towards Sloviansk and Kramatorsk, the military headquarters and de facto capital of Donetsk, although they have had limited success.
March 24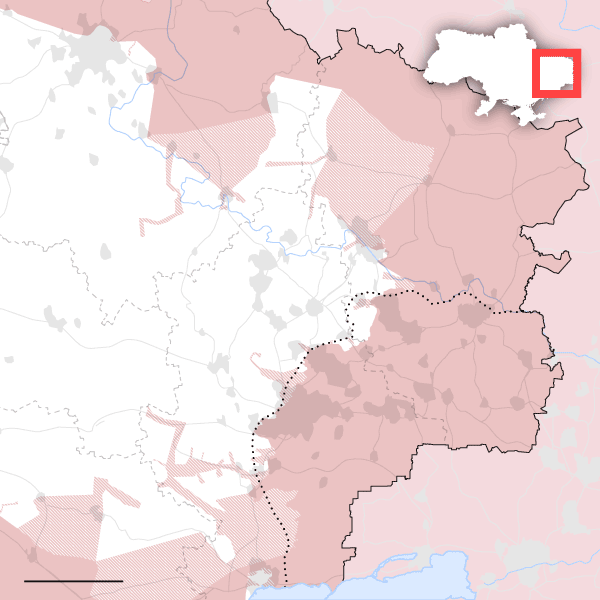 When the Kremlin's troops announced that their target was eastern Ukraine, they were already controlling much of Donetsk, Luhansk and the area extending to Kharkiv.
April 8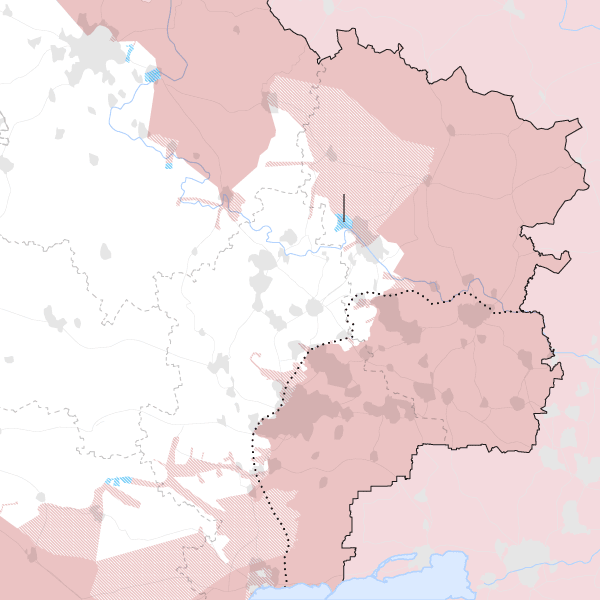 Two weeks later, the situation on the front had barely changed after a reorganization of the invading troops except in the area of Izyum, the new Russian center of operations.
April 22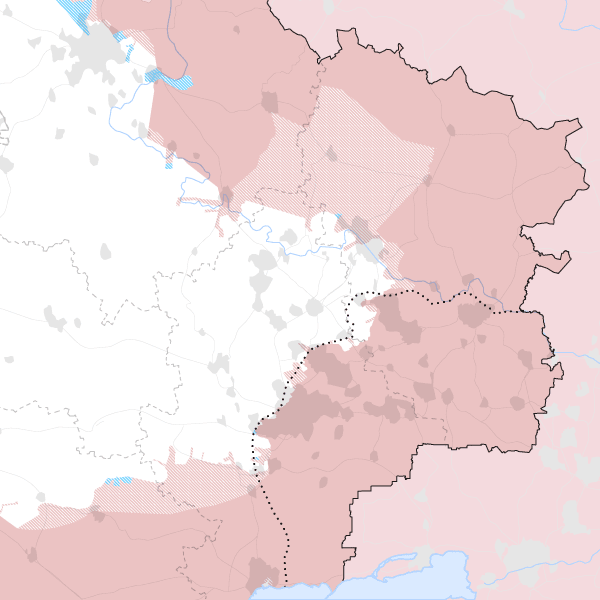 The siege of Mariupol, which made Ukrainian defenders retreat to an industrial site, allowed Russia to free up troops to cement control over the northern end of the city.
May 8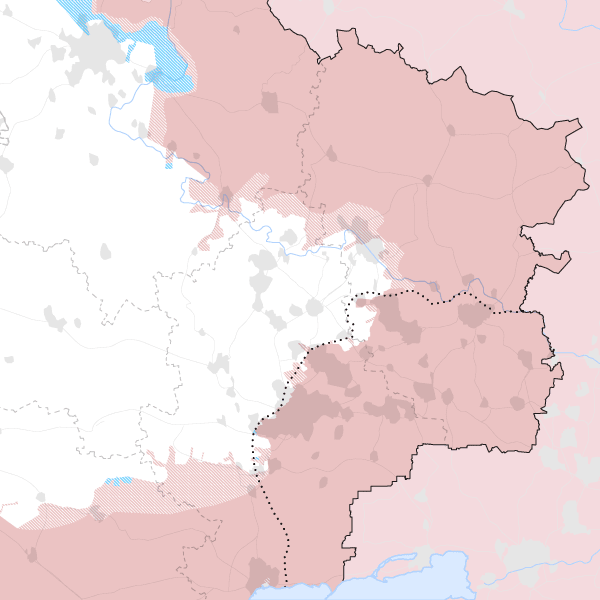 Despite Ukrainian counterattacks that are gaining back territory near Kharkiv, the areas under Russian control increasingly encircle the Donbas border
The Institute for the Study of War (ISW) believes that the Kremlin's forces near Izyum are regrouping and resupplying before resuming offensive operations in the southeast and southwest.
In the south of the country, near Crimea and the Black Sea, there is a similar situation: slow but constant Russian advances and reinforced positions in places like Kherson, which was swiftly captured in the early days of the invasion. Ukrainian counterattacks have barely made a dent on Russian forces, who have increased the territory under their control week after week. Moscow has been concentrating anti-aircraft and missile systems in the northern area of Crimea, said the ISW. This could be a prelude to resume offensive operations towards Zaporizhzhia and Kryvyi Rih, in central Ukraine.
March 24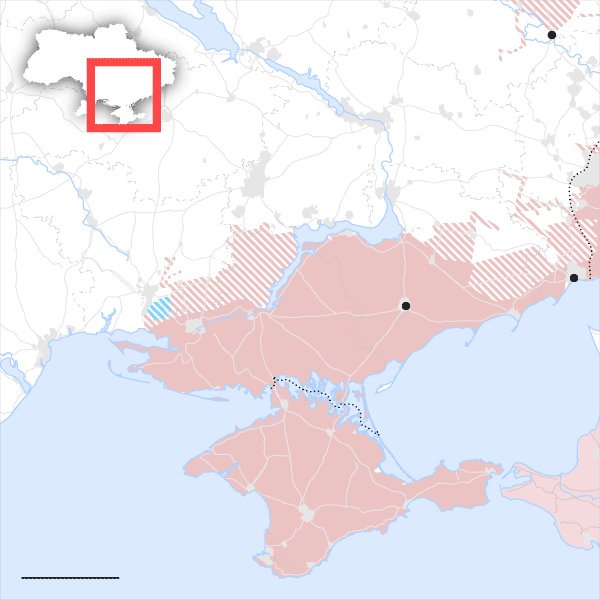 April 8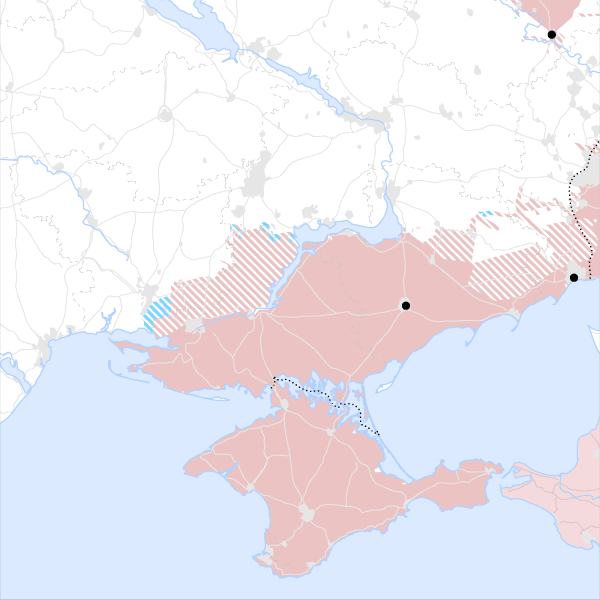 April 22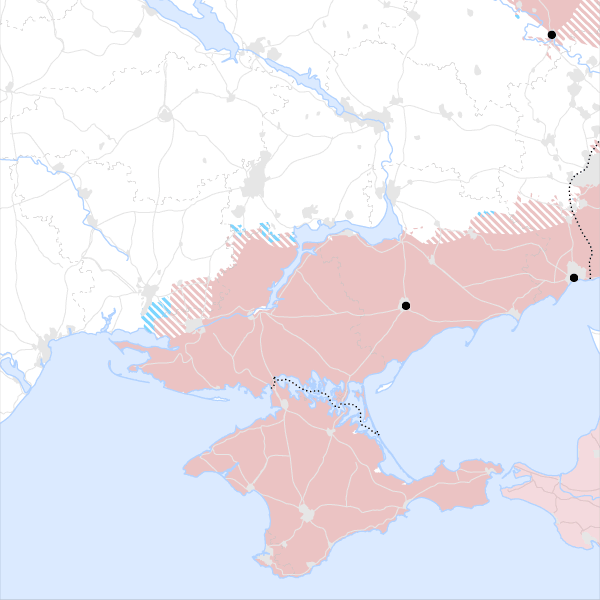 May 8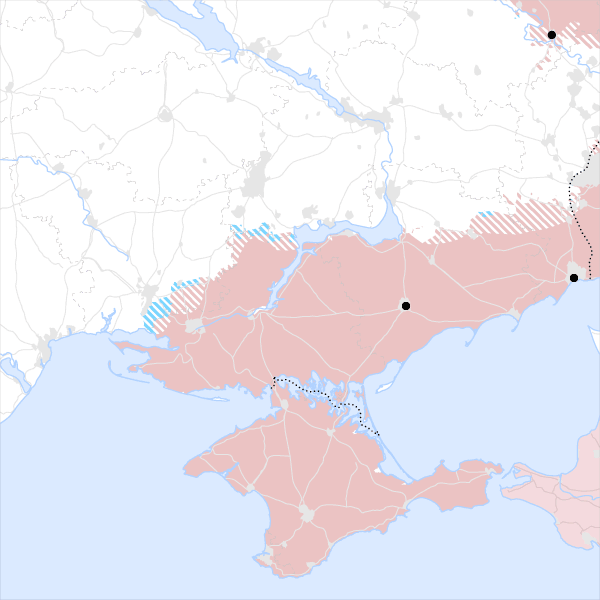 Every drop is precious: the Mexican women saving water for their villages | Global development
Patricia Eduviges Silva López (right, on the ladder), a teacher and leading member of Mudem (Mujeres en Desarrollo para el Progreso de San Luis Morelia), a local NGO, works with other women in Santa Catarina Estancia to waterproof the harvesting tank, ready for the rainy season. The women paint the tank – which can hold 20,000 litres of water – with a mixture of water, nopal, salt and lime.