'It still gives me nightmares': the firefighters on the frontline as the world burns | Wildfires
Babis Zacharis
Hellenic fire service volunteer, Athens
In Greece, fires take up a lot of resources. There isn't enough money to recruit the number of [firefighters] needed or to buy the necessary equipment. Volunteers plug the gaps.
To become a volunteer firefighter with the Greek fire service, I had to do 120 hours of training. Volunteers work in urban environments dealing with accidents and rescues, house fires, factory fires, as well as tackling wildfires. We have to work at least three days a month; I have a full-time job as a civil engineer.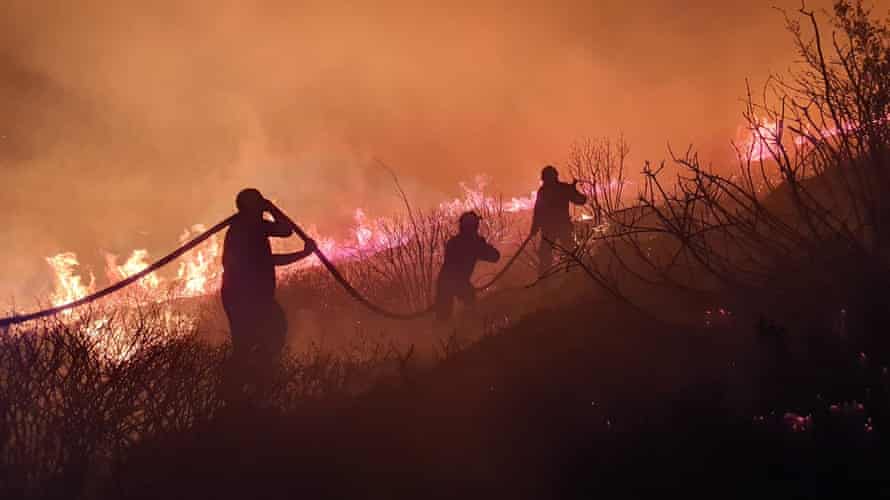 For the past five to six years, wildfires have become the norm in Greece. The last one I was involved in was in early August. Many buildings were burned, a lot of forest was lost and all of Athen's fire services, and some from other regions of Greece, were called in to help. There were bad wildfires in other parts of the country at the same time.
The work was difficult and emotional. When I saw the fire, my first feeling was anger – I saw it as an enemy. I could not accept that it would destroy something I love. As the blaze grew, sometimes we felt helpless. At one point, we ran out of water and electricity, and had to retreat.
It is also dangerous. One of the volunteer firefighters involved in that fire just died. He suffered burns when the vehicle he was in caught fire. Firefighters have a very strong relationship with each other; we are like a family. We see ourselves in each other. It's extremely emotional.
Volunteers get paid nothing. The state provides those in the Greek fire service with some equipment but not everything that is needed, so I have bought my own. I'm happy to do this, but not everyone can. Unlike employed firefighters, our families get no compensation if we die in the line of duty.
When a volunteer firefighter with the Greek fire service died last year of a heart attack while responding to a fire, there was a small ceremony and a tweet from the fire service. When someone offers themselves to the public and dies in the line of duty, the least they deserve is proper recognition.
Scott Vinen
Tasmania fire service, Australia
Are bushfires getting worse? I can't answer with any scientific basis but they're getting more frequent – the bushfire season tends to start earlier and run for longer. We seem to be having longer dry spells. There's a lot more public scrutiny on us to do a better job.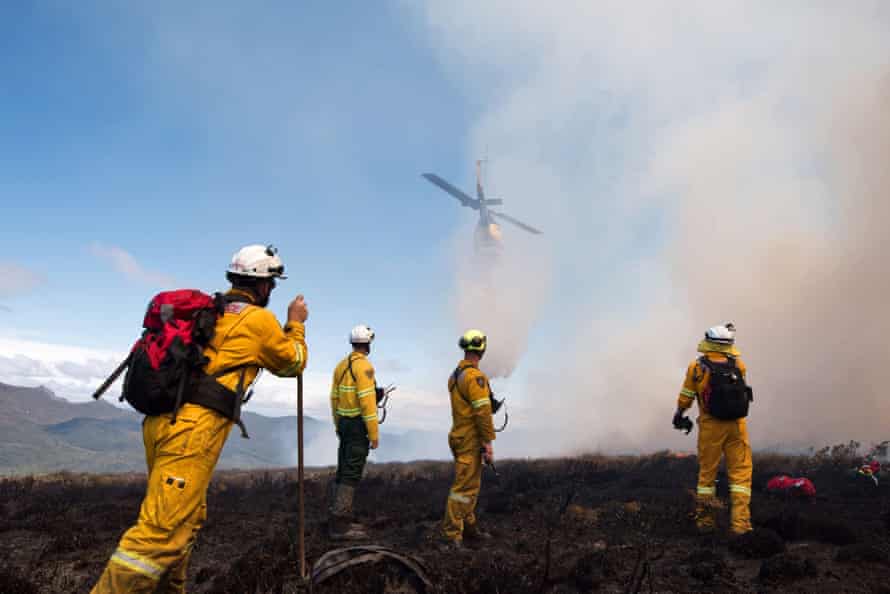 During wildfires, there are trees falling down, you're out in the bush and in danger. In 2016, I was fighting a fire in a remote location. We had to fly in and out by helicopter. They weren't able to land so I had to jump out with my backpack, tools, food and water. As I got to the ground, lightning struck a tree and lit up the sky like nothing I've seen before.
In 2019, I was in charge of groups tackling a fire near the Great Lake. One of my seconds in command was fighting a fire and a gust of wind meant it went over the top of his head, melted the guideposts and damaged some vehicles. They weren't hurt, but it was quite scary.
Another time, a helicopter got its bucket caught in a tree and went to ground. Flying conditions are always tough because there's a lot of smoke and fire creates wind. We had to get the operator out because the fire was all around him.
We've just set up a remote rescue capability as part of the remote area firefighting operation. We are gearing up for rescuing our own people and those from other services.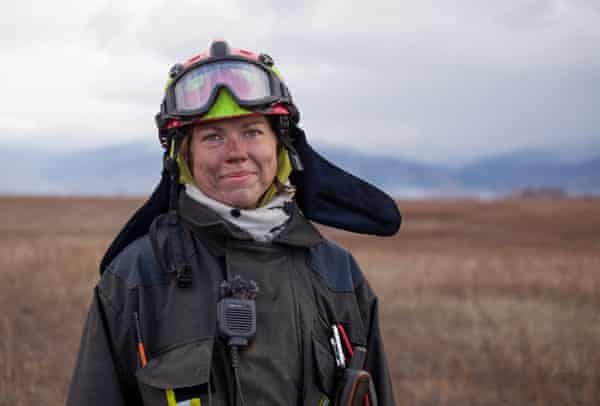 Sonya Kosacheva
Greenpeace, Russia
I discovered a love for firefighting in 2010 when a friend asked if I'd be interested in volunteering. The opportunity also opened my eyes to some huge problems we have in Russia.
There are various services dedicated to fighting fires in cities, forested areas and nature reserves. Our country is huge and there isn't enough money to provide a firefighting service throughout. There are 'zones of control', which are remote areas with few people living there, where regional authorities do not have to put out fires [if the cost of doing so exceeds that of the fire damage]. This means wildfires get out of control. We saw this in 2019 when smoke from fires burning in Yakutia, Siberia, covered cities thousands of miles away.
As a woman, it's very hard to work as a professional firefighter in Russia. Until recently, women could work in city fire service support roles but could not work directly with fire – it was believed the work is too dangerous for women. Two years ago, the professional standard of a forest firefighter was modified to include women, but in practice, nothing has changed.
This year was a record year, in terms of the scale of wildfires, after we had abnormal heatwaves in the Arctic region. Many fires are started by people but the climate crisis enables them to spread.
In June, I was called to a fire in the Denezhkin Kamen nature reserve in the Urals. The fire had started due to lightning. The reserve authority realised that the few rangers they had would not be enough to stop it and asked for help from the state aviation service. Sometimes it can take a few days for them to arrive because there's a lot of bureaucracy and money involved. This time can be critical in terms of managing the fire.
In the meantime, the reserve called us. I had three hours to gather all the stuff I needed before driving 48 hours from Moscow to the reserve. We rotated drivers so we were constantly on the move. When we got there, the fire had spread over 50 hectares [124 acres]. We set up camp and changed into our firefighting clothes.
First, we had to cross a river and then it was a two-hour walk up to an elevation of 600 metres. The aviation service arrived quickly this time and there were about 50 people working on the fire. As the nearest water source was two hours away, we decided to dig a line around the fire to contain it. We worked for 10 days. In the end, about 100 people were involved in putting out the fire.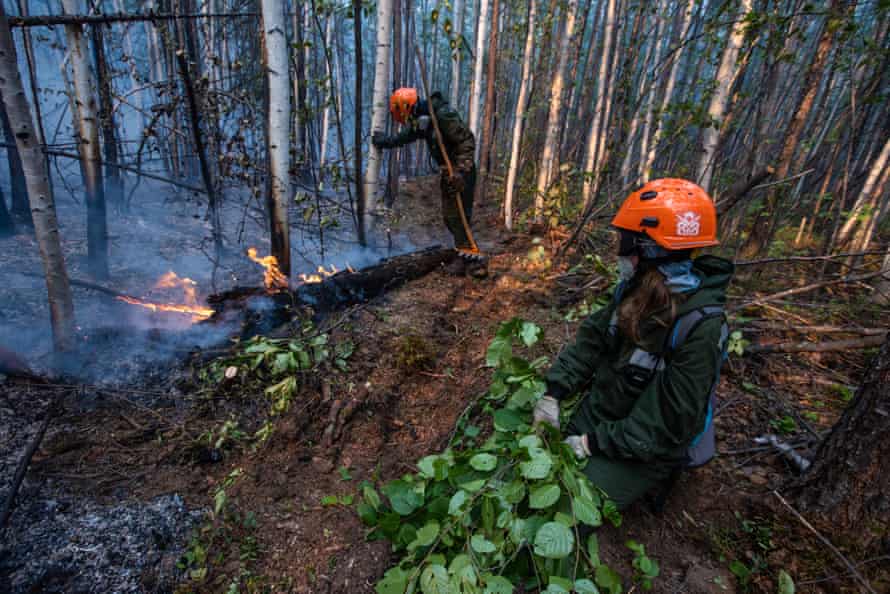 As well as the director of the nature reserve, there were two other women involved. Our male colleagues said to us on quite a few occasions: "Girls, you must be tired. This is a man's job. Stay at the camp."
We were all tired and had the same bruises. I and the other woman told them: "You're also tired from wearing heavy equipment. Why don't you stay at the camp?"
Tjalle Boorsma
Asociación Armonía, Bolivia
The worst experience I had still gives me nightmares. It was in 2016; it was intense; we didn't have the right equipment and we made mistakes. No one got hurt, but most of us were dehydrated with a severe headache for two days afterwards.
I work for a Bolivian organisation focused on protecting the country's most threatened birds. It owns an 11,000-hectare nature reserve that is home to the critically endangered blue-throated macaw.
I started working on the reserve in 2015 and since day one, fire has been the biggest threat. That year, a fire started on neighbouring land got out of control and burned the whole reserve. We had no system in place to protect against fire and none of us were trained in how to fight fires.
The land surrounding us is used for grazing cattle. The ranchers set fire to grassland the cows refuse to eat hoping it will burn a small area before the rain comes. Often, rain doesn't arrive or the wind shifts and the fire gets out of control.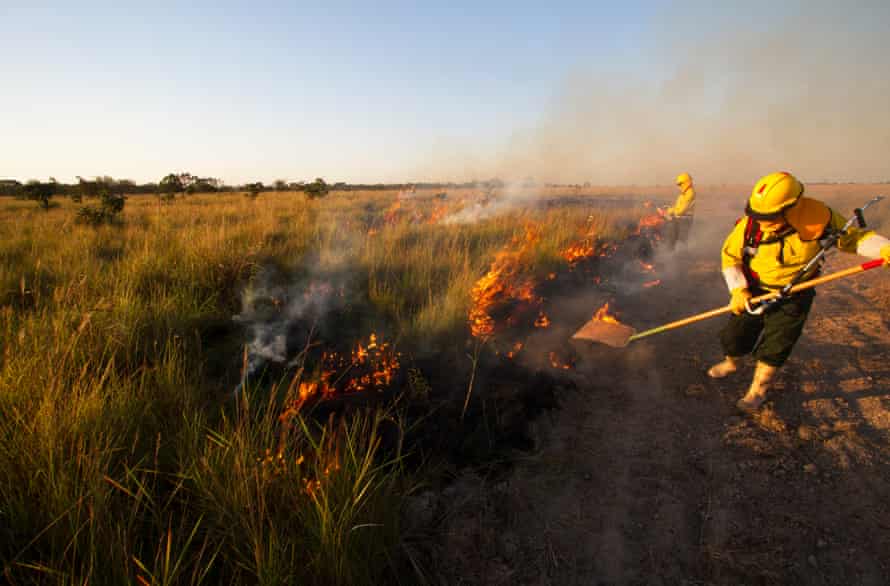 Every year there are weather extremes. We've had some intense flooding, followed by a longer dry season. There is a fire service managed by the government but very little funding for conservation and habitat protection. Park rangers and firefighters are often trained by, and receive equipment from, non-governmental organisations. It has been left up to me to work towards a management plan for fire and fundraise to protect the reserve from fire.
Now we create firebreaks by ploughing the ground with a tractor so there is no fuel for any fire. This year we have a 4km-long [2.5 miles] firebreak that is 20 metres wide, and on either side of that we burn a 30-metre to 50-metre section so if a fire reaches it, there's nothing left to burn and it will go out.
We are well-prepared but I worry when we reach the dry season. It's always a stressful time.
Anna Mattila
Jokilaaksojen rescue services, Finland
I always knew wildfires were going to be a part of the job as we have a lot of forests in Finland. Ten years ago, I'd maybe tackle two to three each year; now it's between five and 10. My service has to deal with 20 to 30 every year now.
In July, I was involved in fighting the worst one of my career, and the worst our service has seen for 20 years. The fire in Kalajoki, in a remote area of north-west Finland, destroyed more than 300 hectares. There were 100 firefighters working around the clock for almost two weeks. Firefighters were called back from holidays and off-days, including me.
We had to ask for help from other fire departments. All 22 regional rescue services in Finland helped – from Helsinki to Lapland. I think this is the first time this has happened in Finnish history.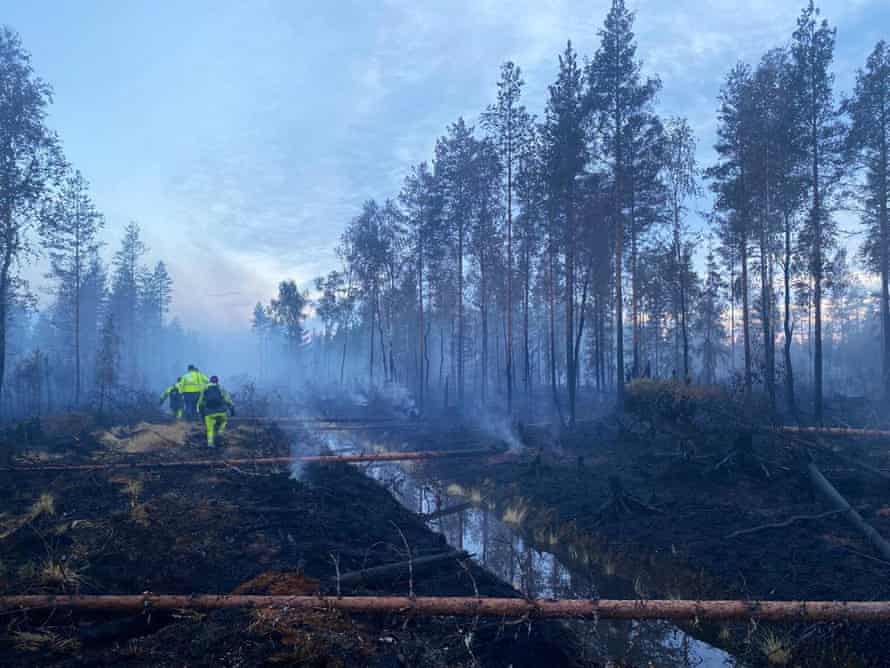 The fire was in the middle of nowhere and we had to use all-terrain vehicles and walk to get to the frontline. When I arrived, trees were burning and toppling over. That was the scariest bit. It was dangerous for the firefighters. Luckily, there were no serious injuries. There were about five helicopters dropping water on the flames.
I worked a 16-hour shift. It was almost 30C [86F] and the terrain was difficult. My eyes stung and watered because of the smoke. But for me, it was more stressful mentally. I was in charge of making sure firefighters weren't going to get hurt and that they got enough rest, had eaten and that new ones would come to take over.
After that shift, I had to go back to my normal duties before I returned to Kalajoki two weeks later. Life goes on, whether there's a big fire burning somewhere or not.
Interpol's president: alleged torturer rises as symbol of UAE soft power | Global development
Maj Gen Ahmed Nasser al-Raisi's ascent through the ranks of the interior ministry in Abu Dhabi is associated with the United Arab Emirates' transformation into a hi-tech surveillance state.
His personal achievements include a diploma in police management from the University of Cambridge, a doctorate in policing, security and community safety from London Metropolitan University and a medal of honour from Italy.
Now, in a big soft-power win for the UAE and its attempt to legitimise its policing methods internationally, he has been elected the president of the global policing organisation Interpol – to the dismay of human rights defenders.
Often photographed smiling, Raisi is the longstanding inspector general for the interior ministry, responsible for the supervision of detention centres and policing. Multiple former detainees accuse him of using this position to green-light abuses, including torture.
"Raisi's rise to the Interpol presidency legitimises the role and conduct of security forces in the UAE," said Matthew Hedges, a British academic and expert on the Emirates who was detained there for seven months on espionage charges. Hedges, who was eventually pardoned, says Raisi was responsible for his arrest and also oversaw the torture he says he suffered in detention.
"This translates to a green light for states to continue acting in a way that abuses accountability and human rights, legitimises the dilution of rule of law and emboldens authoritative and abusive systems of detention," Hedges said. "This is really a warning to the international community that cross-border abuses can and will occur."
The Gulf state has previously said Hedges was not subjected to any physical or psychological mistreatment during his detention. On Thursday its interior ministry heralded Raisi's win as "recognition of the vital role of the UAE all over the world".
"The UAE," it said, "is now at the helm of this international organisation working in the fields of security and policing and will do its best to make the world a safer place."
In an unusually public campaign for the role, Raisi boasted of technological transformations that overhauled policing and surveillance in the UAE. These included the introduction of iris and facial scanning technology, and the creation of the interior ministry's first "general directorate of happiness".
His domestic policing changes underpin Abu Dhabi and Dubai's status as two of the world's most surveilled cities. One system, called Falcon Eye, deploys thousands of cameras to monitor not just traffic violations but also "behavioural issues like public hygiene and incidents like people gathering in areas where they are not allowed to", according to a report by the state news agency WAM.
The rise in surveillance has been accompanied by a crackdown on domestic criticism and dissent. Human Rights Watch has said: "The government's pervasive domestic surveillance has led to extensive self-censorship by UAE residents and UAE-based institutions; and stonewalling, censorship, and possible surveillance of the news media by the government."
Abdullah Alaoudh, from the Washington DC organisation Democracy for the Arab World Now, said the UAE had been applying a two-pronged approach epitomised by Raisi's Interpol win: "Cracking down hard on every voice of dissent, while investing in public relations like lobbying, soft power, sports and entertainment."
Christopher M Davidson, the author of a book on statecraft in the Middle East, described Raisi as an example of "high-performing technocratic members of UAE political society" who had found success under Crown Prince Mohammed bin Zayed Al Nahyan.
"The key to the regime of Mohammed bin Zayed has been to get things done, to stamp out corruption. Despite all criticisms levelled at the UAE and Abu Dhabi today, it is a far less corrupt place than it was 15 years ago. These were the people entrusted to clean up ministries," said Davidson.
Stamping out corruption has, at times, included arresting the wealthy and critics. Khadem al-Qubaisi, a former adviser to the royal family and a businessman who said he was "scapegoated" by the Abu Dhabi authorities for embezzling millions, is detained in Al Wathba prison. The prison, overseen by Raisi, also holds the human rights defender Ahmed Mansoor.
Riyaadh Ebrahim, who spent more than a year in the prison, said he witnessed torture there. "There is wrongful imprisonment, no application of the rule of law. People are being persecuted for crimes they did not commit," Ebrahim said. He said he was "totally appalled" by Raisi's victory in the Interpol election race.
Davidson said the UAE was using its wealth and resources to buy reputational shortcuts on the international stage.
"Policing in the UAE still has its problems, but this is a way of saying to the world that [they] are credible and respectable," he said. "Obtaining the presidency of Interpol symbolises moving in the right direction."
Jalel Harchaoui from the Geneva-based organisation the Global Initiative Against Transnational Organized Crime said Raisi's election highlighted the struggle between liberal and illiberal nations within international institutions such as Interpol, and was a victory for anti-democratic countries.
"On the surface, Abu Dhabi – thanks to excellent soft-power outreach – markets itself as a modern state, which happens to be a dependable friend to all the major western democracies," he said. "In reality however, the Emiratis, whose governance style has been partly inspired by China's strict form of authoritarianism, always campaign against liberalism and its key principles."
A spokesperson for the UAE embassy in London did not respond to a request for comment.
France reminds Poland on law in Paris meeting
French president Emmanuel Macron urged Polish president Mateusz Morawiecki to solve a rule-of-law dispute with the EU, while voicing solidarity on the Belarus migration crisis, in a meeting in Paris on Wednesday. Poland should "find a solution that safeguards the core values of the European Union", Macron's office said. Russian president Vladimir Putin told EU Council president Charles Michel by phone extra EU sanctions on Belarus would be "counterproductive".
Turkey accused of using Interpol summit to crack down on critics | Interpol
Human rights activists have accused Turkey of using its role as host of Interpol's general assembly to push for a crackdown on critics and political opponents who have fled the country.
The alert came after the Turkish interior minister, Süleyman Soylu, said his government would use the three-day event in Istanbul to persuade the international criminal police organisation's officials and delegates to find, arrest and extradite Turkish dissident citizens – particularly those it labels terrorists – abroad.
Campaigners have long accused authoritarian regimes of abusing Interpol's "red notice" system used to hunt down criminals at large, including drug smugglers, people traffickers, war crime suspects and terrorists. Turkish authorities have been accused of repeatedly swamping the police organisation with requests targeting political opponents.
There have also been growing concerns about politically motivated abuse of Interpol in the US Senate where a new bill aimed at ending the organisations' misuse to "pursue, harass or persecute political opponents and dissidents with trumped up criminal charges" was introduced in July.
There has been angry reaction to the appointment of Ahmed Nasser al-Raisi, an Emirati general accused of torture, as the new president of Interpol. Al-Raisi was elected to the position on Thursday despite the alarm being raised over his candidacy by foreign leaders. The UAE has also been accused of abusing the red notice system to pursue dissidents.
The Turkish president, Recep Tayyip Erdoğan, told the opening session of the 89th Interpol general assembly on Tuesday that he expected "strong cooperation" in the extradition of people suspected of following the US-based Islamic preacher Fethullah Gülen and the PKK, the Kurdish movement.
On Wednesday, Interpol secretary general Jürgen Stock told journalists the organisation would not act on requests motivated by anything other than policing issues.
"If member countries decide to use Interpol they have to apply to our rules and standards. If a red notice has a predominantly political background we don't take any action. If it's political we're out … we respect and protect human rights," Stock said.
Interpol has rejected almost 800 red notice requests from Turkey in the past five years, an Interpol spokesperson told the Guardian, insisting that each request was rigorously checked. But critics from the Turkish Democracy Project claim some exiles have been unjustly threatened with arrest and extradition by the organisation.
"We are a policing organisation not a political one but we're not blind to issues of geopolitics," Interpol said.
"The committee carefully checks applications from countries where we know there might be a problem. We have a taskforce that reviews every single red notice request from every member country to make sure its compliant. We put a lot of resources and effort into making sure the red notice system is respected."
In August, the Stockholm Center for Freedom, a non-profit advocacy organisation promoting the rule of law, democracy and human rights and focusing on Turkey, accused the Erdoğan regime of having "weaponised" Interpol for its wider campaign of repression against critics, human rights activists and ethnic or religious minorities abroad.
It added: "Turkey abuses Interpol in various ways. The International Notice System, such as red notices and diffusions, are used to target political opponents who have committed no crime other than being critical of President Erdoğan's government.
"Turkey is also accused of manipulating Interpol's Stolen and Lost Travel Documents database (SLTD) by filing tens of thousands of cases for critics and opponents who, in many instances, are not even aware that their passports have been invalidated."
Campaigners are also concerned about Syria's recent readmission to Interpol after it was banned for human rights abuses and war crimes fearing the Damascus regime will attempt to sabotage legitimate asylum claims abroad. Russia, China and Iran have also been accused of misusing Interpol's red notices.
Interpol was set up in 1923 mainly to ensure criminals could not with impunity flee the country where their crime was committed. The organisation enables law enforcement agencies from its 194 member states to share data on crimes and criminals and issue arrest warrants.
Madeleine Joelson, executive director of the Turkish Democracy Project, said: "Interpol – once a bastion of law and order – has become a tool of transnational repression. Erdoğan, along with Vladimir Putin and Xi Jinping, continues to abuse and degrade the liberal international order – distorting its true purpose and undermining its credibility."