'It could explode at any time': photographing Haiti's gang warfare | Photography
The two images are as stark as what they represent: the cause and effect of Haiti's increasing woes. In one, a masked and armed gangster keeps lookout on a Port-au-Prince rooftop, just a few blocks from the presidential palace. In the other, a family recently displaced by gang violence takes shelter in a school that now houses dozens of families, a stone's throw from their homes.
"Port-au-Prince is almost entirely controlled by gangs, and we wanted to show the efforts of people that are running businesses to survive," says Rodrigo Abd, 45, an Argentinian staff photographer with the Associated Press who took the images. "But I was also trying to show another side to Haiti, to avoid the stereotypes that we always repeat, to show the violent without the violence, or the poor without the poverty."
Haiti is beset by overlapping crises. The country's president, Jovenel Moïse, was assassinated in early July in circumstances that remain mysterious. A 7.2 magnitude earthquake wrecked the country's rural south in August. In September, thousands of Haitian migrants that had been living across South America were deported from Texas after years away from their homeland.
Meanwhile, in the political vacuum, local rights groups estimate that as many as 165 gangs continue to terrorise residents, throwing up roadblocks and kidnapping rich and poor alike for ransom. Aid deliveries to the quake-struck south are often turned back by militiamen, who in October kidnapped a group of 17 US and Canadian missionary workers and their families. Over 600 people have been kidnapped in Haiti this year, over triple last year's total. Fuel shortages have added to the woes, especially in a country without a reliable electrical grid.
"You can feel an aggressive landscape, that it is a place that could explode very easily and at any time, because the situation is so bad," says Abd, who has photographed war zones around the world.
Abd has worked several times in Haiti, travelling to the Caribbean country first in 2004, just before the coup that removed then-president Jean-Bertrand Aristide from office in another wave of instability.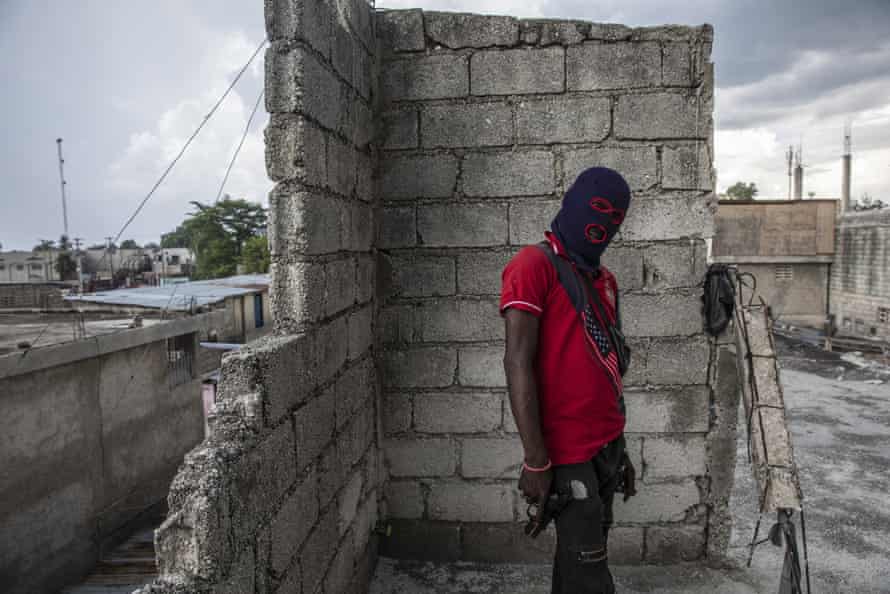 Aristide had empowered local gangs to implement his will in the poorer neighbourhoods, and some of the groups operating today trace their roots to his presidency.
"Here, now we are back to what it was in those days, where in some communities, neither the police nor any other type of law enforcement institution can enter, and therefore the population becomes hostages to the armed gangs," says Fiammetta Cappellini, the Haiti representative for international charity AVSI. "Having no other point of reference, the people develop a sort of cohabitation with the gangs that have become the authority running the neighbourhood."
Despite the menacing pose of the masked gangster on a rooftop terrace in Abd's image, the photographer saw a similar desperation to that of the terrorised residents.
"Most of those people that we interviewed said that being in a gang was just a way of survival," says Abd, adding that he had hoped to photograph gang members without masks, though met steadfast refusal. "It was very difficult to understand the story from outside; we spent three weeks trying to understand, and talking to gang members to understand why they were trying to contest territory and fight the government."
"My impression was that they are almost normal guys who put on the mask and pick up the gun when they need to defend territory or extort someone, or kidnap someone," says Abd. "I think that if the situation improves, they may even go back to being normal citizens.
"It's not only a story that has been going on for the last two or three years, but one that is getting worse now," he says. "There's a relationship between the gangs, the city, and the people that are always having to move from one place to another."
Sign up for a different view with our Global Dispatch newsletter – a roundup of our top stories from around the world, recommended reads, and thoughts from our team on key development and human rights issues, delivered to your inbox every two weeks:
Von der Leyen slammed for not revealing Pfizer CEO texts
The European Ombudsman has criticised the European Commission for its handling of a request for public access to text messages exchanged between president Ursula von der Leyen and Pfizer CEO Albert Bourla.
But, according to the ombudsman, inquiry commission staff never explicitly asked the president's office to look for text messages, despite Fanta specifically requesting them.
Instead, the cabinet was asked to only look for "documents", a term that does not include text messages by commission standards.
The EU watchdog has now asked the commission to do a more extensive search.
"The narrow way in which this public access request was treated meant that no attempt was made to identify if any text messages existed," ombudsman Emily O'Reilly said in a statement.
"This falls short of reasonable expectations of transparency and administrative standards in the commission."
Last year, the EU commissioner for transparency and values, Věra Jourová, said that text messages do not fall under the scope of EU transparency rules on access to documents, as EUobserver reported.
"Due to their short-lived and ephemeral nature, text and instant messages are not meant to contain important information relating to policies, activities and decisions of the commission," Jourová wrote in a statement.
But a New York Times article in April last year had shown that von der Leyen and Bourla had been exchanging texts and calls for months to seal a deal for 1.8 billion doses of the Pfizer/BioNTech Covid-19 vaccine.
"Not all text messages need to be recorded, but relevant text messages should be recorded. It is not credible to claim otherwise," O'Reilly said, adding that "text messages clearly do fall under the EU transparency law."
She has said in an official recommendation that the commission should ask von der Leyen for texts concerning EU policies and decisions.
"If text messages concern EU policies and decisions, they should be treated as EU documents," she said, adding that the "EU administration needs to adapt its practice of recording documents."
"What Ursula von der Leyen is typing into her phone is, frankly, not a private matter. We need public scrutiny of EU text messages when they are used to make billion-euro vaccine deals," Fanta tweeted on Friday.
"It is unacceptable that the commission is refusing to be transparent on contacts between von der Leyen and Bourla," tweeted MEP Kathleen Van Brempt from the Socialists & Democrats group on Friday and called for a dedicated Covid-19 parliamentary committee to further investigate the matter.
In response, a spokesperson has said that the commission will respond to the recommendation before the deadline of 26 April 2022.
'We just sleep and hope we don't perish': 2m in Tigray in urgent need of food – UN | Hunger
At least 2 million people in the northern Ethiopian region of Tigray are suffering from an extreme lack of food, with the 15-month conflict between rebel and government forces pushing families to the brink, the UN's emergency food agency has found.
In the first comprehensive assessment the World Food Programme (WFP) has carried out in Tigray since the start of the war, 37% of the population were found to be severely food insecure, meaning they had at times run out of food and gone a day or more without eating.
Families were found to be "exhausting all means to feed themselves", with 13% of Tigrayan children under five and almost two-thirds of pregnant and breastfeeding women suffering from malnutrition.
"Before the conflict we were eating three times a day but now even once a day is difficult. I was borrowing food from my family but now they have run out. We just sleep and hope we do not perish," Kiros, a single mother of six children living on the outskirts of the region's capital, Mekelle, told researchers.
The assessment, which was based on face-to-face interviews with 980 households in accessible parts of Tigray, was carried out from mid-November until mid-December.
However, researchers were unable to travel to areas where fighting is impeding humanitarian access. Moreover, since the assessment was carried out, the needs of the region are thought to have become even more acute as no aid convoy has reached Tigray for about six weeks.
"This bleak assessment reconfirms that what the people of northern Ethiopia need is scaled up humanitarian assistance, and they need it now," said Michael Dunford, WFP's regional director for eastern Africa.
"WFP is doing all it can to ensure our convoys with food and medicines make it through the frontlines. But if hostilities persist, we need all the parties to the conflict to agree to a humanitarian pause and formally agreed transport corridors, so that supplies can reach the millions besieged by hunger."
Across northern Ethiopia, where fighting has raged in the regions of Afar and Amhara as well as Tigray, WFP estimates that 9 million people are in need of humanitarian food assistance, the highest number yet.
In Amhara, hunger has more than doubled in five months, it says. In Afar, where fighting has intensified in recent days between the Tigray People's Liberation Front and forces loyal to the prime minister, Abiy Ahmed, recent health screening data showed malnutrition rates for children under five were at 28%, far above the standard emergency threshold of 15%.
Since the conflict erupted in November 2020, it has been difficult for the UN and other humanitarian organisations to gauge the level of need in Tigray due to a lack of on-the-ground access and telecommunications. The UN has accused the federal government of preventing food and essential medical supplies from coming into the region in a de-facto blockade. The government denies this.
On Wednesday, the International Committee of the Red Cross (ICRC) said it had made its first delivery of medical supplies to Mekelle since last September. The drugs are understood to have included enough insulin supplies to last about a month, after medics at the Ayder referral hospital raised the alarm over severe shortages.
Dr Tedros Adhanom Ghebreyesus, director of the World Health Organization, recently accused Abiy's government of imposing a "hell" on Tigray by denying entry to medical supplies.
"It is a huge relief that this first shipment is reaching hospitals," said Apollo Barasa, health coordinator at the ICRC delegation in Ethiopia. "This assistance is a lifeline for thousands of people, and I can't emphasise enough how crucial it is that these deliveries continue."
Asylum applications on rise in EU
The EU Agency for Asylum on Friday said the number of asylum applications in November 2021 was the second-highest in five years, narrowly below the level in September. About 71,400 applications for international protection were lodged in the "EU+" (EU, plus Norway and Switzerland) in November 2021, up by nine percent from October. "This was the second-highest level since 2016," it said.