India's Covid gender gap: women left behind in vaccination drive | Global development
Deep-rooted structural inequalities and patriarchal values are to blame for India's worrying Covid vaccine gender gap, campaigners and academics have warned.
As of 25 June, of the 309m Covid vaccine doses delivered since January 2021, 143m were administered to women compared with nearly 167m to men, according to CoWin, India's national statistics site – a ratio of 856 doses given to women for every 1,000 given to men. The difference is not accounted for by India's gender imbalance of 924 women to 1,000 men.
Uttar Pradesh, India's most populous state with the highest number of people living in rural areas, has administered 29m vaccines. Of this figure, which includes first and second doses, 42% were given to women. West Bengal, the fourth most populous state, is also lagging behind with women receiving 44% of doses. Dadra and Nagar Haveli, a predominantly rural union territory in western India, has one of the starkest disparities: just 30% of vaccines went to women. Daman and Diu, Delhi and Jammu and Kashmir are among the other regions performing badly. A handful of states, including Kerala and Andhra Pradesh, have given more doses to women than men.
Data on transgender people, non-binary people, or people of other marginalised genders has not been accurately tracked, with all groups falling under a singular category of "other".
"Women are not seen as an important part of the family, community or society structure. [The vaccine gender gap] is reflective of the gender inequality prevalent in India, and even internationally," said Bhagyashri Dengle, executive director of Asia Pacific and gender transformative policy and practice for Plan International.
Sofia Imad, a junior fellow at Mumbai-based thinktank IDFC Institute, has researched attitudes to vaccination among the urban poor population in Mumbai and Pune. She said there were a number of reasons why women were either unable or reluctant to get the vaccine.
"There is hesitancy because of rumours about side-effects, and how the vaccine affects fertility and menstruation," said Imad. "But there are other factors such as women not being able to access the technology needed to register for it, not having information on where the centres are or not being able to go to the centres alone.
"Women often also need permission from their husbands to get vaccinated. Even if they get that, if their husbands are unavailable to accompany them … they miss out."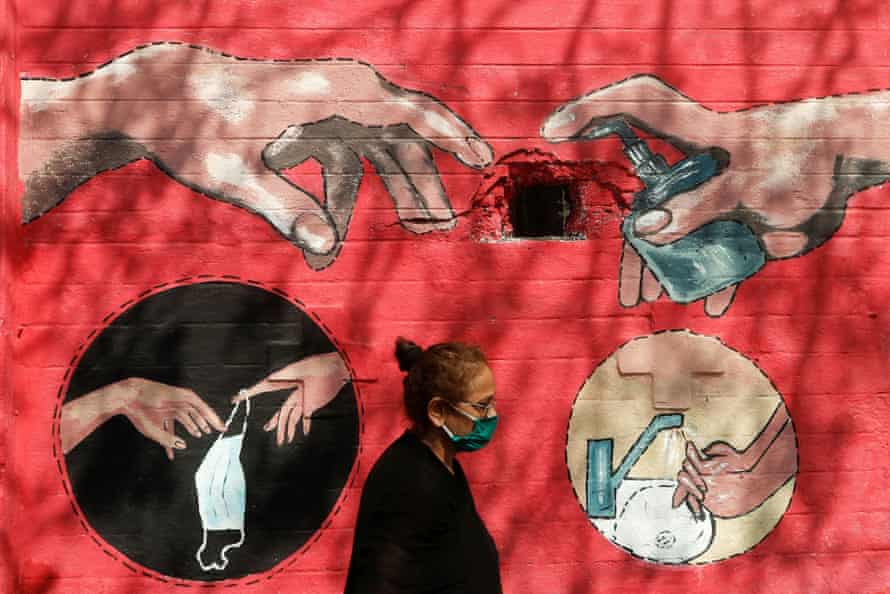 Ram Kumari, 26, from Gurugram, Haryana, said: "I didn't even know we had to register on the phone. I don't have a smartphone. My husband has one, but I don't know how to use it."
She added: "I want to get the vaccine, and I thought of going to the government hospital, but it is too far to walk. I have no way of getting there, especially alone."
The fifth National Family Health Survey, conducted in 2019–20, showed a clear digital gender divide. Of those surveyed, 58% of women had never used the internet, compared with 38% of men.
Julie Thekkudan, a women's rights and gender justice expert with more than 18 years of experience, said: "Most men do not consider it important to register their wives on the CoWin app. Their health is not considered a priority and if they do not work outside the home then they are not considered at risk."
She added: "Mobility also becomes an issue. If public transport is not easily available, and [the vaccination centre] is not walkable, what can working-class women do?"
Anecdotally, women report that men are given preference for getting the vaccination in many mixed-gender households. Neerja Sharma, 46, from Jaipur, Rajasthan, said: "My husband thought that it was right for him to get vaccinated first. Due to the possible side-effects of Covishield, he needed me to take care of him while he was sick. And if I got ill along with him, who will cook and look after the house and our son?"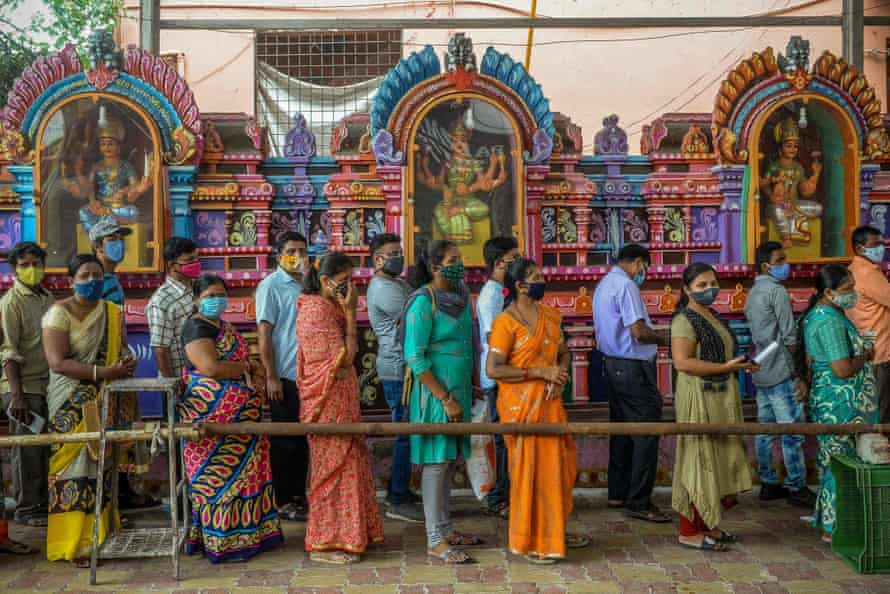 Another concern for many women is that information on side-effects and how to deal with them is not readily available in an accessible language or format. There are also unfounded fears the vaccine could cause infertility, or interrupt menstrual cycles, particularly among rural communities.
Imad said: "A lot of the information that women get is through WhatsApp, which may not be reliable. Women have two kinds of concerns – one is that you cannot get the vaccine while menstruating, and the other that vaccination will affect your future cycles.
"Accredited social health activists haven't been trained on the Covid-19 vaccines and haven't been given any communications materials. They need access to community health worker materials so that they can alleviate concerns at the grassroots level."
As companies prepare to go back to in-person working, getting vaccinated has become a priority for workers. A Covid-19 vaccination trends survey, conducted in India in April this year, found more than 50% of companies plan to facilitate vaccination for their employees and their dependents.
However, a study published in March by Krea University in Andhra Pradesh found that 93% of rural women and 77% of urban women are in informal employment, where most employers do not see it as their responsibility to ensure workers are vaccinated.
Earlier this month, the ministry of health and family welfare said anyone could walk in to a vaccination centre without preregistration on the app, making it more accessible for women.
But Thekkudan said more needed to be done to close the vaccination gender gap. "We need to encourage walk-ins and facilitate door-to-door vaccinations. We also need to create public health awareness materials, translated into regional languages and depicted pictorially. It is essential to put this vaccination drive into 'mission mode'."
Dengle of Plan International said it was not just an issue of access. "[We have to] address the social norms and root causes that create this gap. And it needs to start young: are we teaching our children stereotypes such as women belong in the kitchen? An inclusive curriculum is just one of the ways in which we can start addressing gender inequality which leads to such gaps in the larger scheme of things."
Every drop is precious: the Mexican women saving water for their villages | Global development
Patricia Eduviges Silva López (right, on the ladder), a teacher and leading member of Mudem (Mujeres en Desarrollo para el Progreso de San Luis Morelia), a local NGO, works with other women in Santa Catarina Estancia to waterproof the harvesting tank, ready for the rainy season. The women paint the tank – which can hold 20,000 litres of water – with a mixture of water, nopal, salt and lime.
Amazon: Violence in Colombia putting "the lungs of the world" at risk | International
Flying through the Amazon jungle, the pilot, a former Brazilian colonel, descends from 1500 to one thousand meters above sea level to approach the majestic Puré River.
The Puré crosses the border between Colombia and Brazil, a site that has become strategic for illegal mining and drug trafficking. In its channel more than 30 mining vessels can be seen from the colonel's plane – tirelessly working to extract gold, illegally, from its waters.
In 2015 the National Parks of Colombia built a cabin called Puerto Franco in honor of the researcher Roberto Franco, the first to discover isolated indigenous peoples in Colombia, people who during the last centuries have decided not to have any contact with Western civilization. From the air, only remains of the cabin built in honor of Franco can be seen. Illegal armed groups burned it down during the pandemic.
This cabin had a very important purpose: to protect the isolated indigenous people of the Colombian Amazon. Indeed, in the depths of the Amazon jungle, very close to Puerto Franco, live the Yuri, an indigenous group that lives in voluntary isolation.
The Río Puré National Park was created for their protection and along with it the most remote cabin in Colombia. Park ranger Luis Rivas, 70, a traditional expert from the Cubeo ethnic group, lived here, charged with keeping illegal miners, drug traffickers and guerrillas away from the isolated indigenous people.
One night, in the midst of the pandemic, Rivas dreamed that he was in danger and asked Parks officials to remove him from the area. When he reached the nearest town, he caught Covid-19 and died. Some time later, officials from the National Parks found out about the destruction of Puerto Franco during a flight over the Puré River. Since the pandemic they have been unable to access protected areas in the Amazon due to threats from illegal groups that now dominate this territory.
The rangers of this national park, like those of nine others in the Colombian Amazon, which covers almost 15 million hectares, had to leave their territory from one day to the next. "We had to send a plane and get everyone out. There was no time, they threatened us," says a former National Parks official who prefers not to give his name for fear of reprisals from the guerrillas. This former official believes that these threats respond to the implementation by the Government of the Artemisa strategy, a program to stop deforestation in the Amazon.
In 2020 Colombia was the most dangerous country for the second year in a row for environmental defenders. According to the British NGO Global Witness, 65 environmental leaders were murdered.
Although this crisis has been brewing for decades, it has worsened since the signing of the Peace Agreement between the Colombian government and the FARC guerrillas in 2016. "The organizations that try to protect the Amazon have come into conflict with the interests of these powerful groups. and, as a consequence, they have increasingly become targets of attacks", explains Juan Carlos Garzón, a researcher at the Ideas for Peace Foundation.
"I am threatened by the guerrillas," says anthropologist Arturo, 45, who prefers not to give his real name precisely for this reason. He has walked through the Amazon region with a security detail since he reported to the Comprehensive System of Truth, Justice, Reparation and Non-Repetition in 2020 that the Carolina Ramírez guerrilla group arrived one day at the park cabin where he worked and told them that they had to leave. "They told us that they had declared war on Parks and that they did not want uniformed whites in the protected areas," he recalls.
The guerrillas stole their gasoline, cameras, computers and all the material they used to study the terrain. "They only left us a small motorized boat to get out," says Arturo, who decided to leave as soon as he could when he saw his life in danger. Since that time two years ago, whenever he has tried to return, so have the threats. Indigenous officials remained in charge of the parks while Arturo tried to continue leading the projects as best he could from a distance.
However, he recently decided to leave his post: the situation, he says, was becoming more and more frustrating. Arturo was part of a group of park rangers who brought a report to the Truth Commission and the Special Jurisdiction for Peace in which they asked to be recognized as victims of the armed conflict, considering that the guerrillas "took us out under threat and everything was abandoned. I feel very powerless," he says.
Arturo wonders, what did National Parks do with those who are threatened for trying to take care of a territory that belongs to everyone?, although in truth he knows the answer: nothing. According to official data, 12 park rangers have been killed between 1994 and 2020.
The deputy director of National Parks of Colombia, Carolina Jarro, explains that at the moment they are under very strong pressure from illegal mining, a business that they estimate represents close to three billion Colombian pesos in profits for criminal groups each year. The proceeds, moreover, are used to launder the resources obtained from drug trafficking: "Attempts have been made to control illegal mining in the Puré River because the uncontacted indigenous groups are there," explains Jarro, citing the burning of the Puerto Franco cabin.
The deputy director also notes that the guerrillas do not stop at threatening the park rangers, saying that they have stolen material from the organization that the rangers need to do their work. "Groups outside the law prefer not to have anyone to see what happens, that's why they kicked us out," Jarro says
Although officials are currently unable to be inside the parks full time, they are using remote sensing technology to monitor activity in these protected areas. "We can see when the guerrillas build a house, when they create a road. Thus, we can file criminal complaints about the damage that is being done. We have not abandoned the place, we have to go out for protection. But we are always watching," Jarro says firmly.
Jarro has worked as an official in a park in the Amazon region for the last 10 years. A trained sociologist, she climbed the ranks of the administration before becoming head of a specific area, the name of which she cannot reveal due to the threat from the guerrillas. Its mission has been to protect a group of indigenous people who emerged from isolation some years ago, only to be enslaved by the miners and rubber tappers who exploited the area's resources. Now, many of these indigenous people, from the Nukak ethnic group, are highly resistant to contact: "In the beginning, it was the indigenous people themselves who negotiated with the guerrillas so that they would let us enter and work with the communities. There was never a bigger problem."
However, after the peace process, everything changed. "The guerrillas held me hostage for two days, and after that they told me that I couldn't set foot in the park again," says Juana.
The government's response: Militarize
The only solution Colombia's national government has come up with has been to militarize these protected areas via a program known as 'Operation Artemisa'.
In 2020 President Duque said in an interview with the World Economic Forum that "our strategy for fighting deforestation is a combination of carrot and stick. We're fighting against illegal activities that destroy the tropical jungle. At the same time, we're building up nature-based solutions. In the past two years, we have been able to reduce the rate of deforestation by 19%." Duque has since said his government is aiming for a 30% reduction overall.
This month the Minister of Defense, Diego Molano, announced that 10,000 million pesos will be invested in the military bases of La Pedrera and Tarapacá for the control of illegal mining and the fight against drug trafficking.
Esperanza Leal Gómez is Director of the Frankfurt Zoological Society in Colombia. She says that protecting environmental leaders is the responsibility of the whole Colombian state, which must guarantee conditions for workers in the National Parks so they can "operate…without putting their lives in danger."
Gómez explains that the park rangers are not only essential for the conservation of the environment, but that they keep those at bay who want to exploit it: "The most latent threat is the dispute over territory between various illegal armed actors and civilians, who are being left unprotected."
The director of the World Wide Fund for Nature (WWF) Colombia, Sandra Valenzuela, agrees. "As long as these threats continue, the national parks, their park rangers and uncontacted indigenous people will be in danger. Colombia must find a way to guarantee security and ensure the survival of the lungs of the world."
'Forgotten' Syrian interpreter attempts suicide after UK asylum delays | Global development
A Syrian interpreter who has worked for the British government and the White Helmets has tried to kill himself after waiting nearly two years for a decision on his asylum claim.
Ali [not his real name] worked as an interpreter and translator for the Foreign, Commonwealth and Development Office in Istanbul, and for Mayday Rescue, a humanitarian organisation that supported the work of the White Helmets (officially known as the Syria Civil Defence) across Syria.
Ali arrived on a tier 2 highly skilled worker visa in spring 2020, staying near Liverpool, where he claimed asylum in summer 2020. He was given permission to work and still translates for the White Helmets from the UK. He says that, while he has the right to work, the anxiety and fear of his claim being rejected has had a significant impact on his health and wellbeing.
"I can't sleep. It's affecting everything – my mental health, my appetite … I can't eat. I keep getting cramps and feeling really sick. But as I was telling the Home Office guy all this, I said 'Please, give me a timeframe.' 'No, you have to wait.' I said, 'What can I do? Please help me. Help me to help myself.' They said, 'Write to me about what you're telling me now.' It's even more frustrating to go through even more bureaucracy, when I've done everything they asked me to do."
Despite frequently contacting the Home Office for an update on his claim, he says he has been given no timeframe or assurances, leading to a severe deterioration in his mental health.
"When I called the Home Office to tell them I am attempting to end my life, they said they will call the police," he said. "I don't know if that was a threat or if they were saying it to protect me – but an ambulance arrived two hours later. They treated me kindly, but it's as if it's a one-off case, and it's not. I'm having these black, intrusive thoughts all the time. I feel I'm neglected, left on a desk, with a number, and just forgotten about."
Ali, who was security checked before he began working on UK government-funded projects in 2013, says he feels let down by the government.
"Even though I was vetted by the Foreign Office, the Home Office still asked for an accent expert to double check I'm Syrian. Why would one part of the British government trust me to translate highly sensitive material but not trust another branch of the government that I am who I say I am? It makes no sense."
Ali says his family in Syria have become a target as a result of his work with the British government and the White Helmets. In summer 2020, he says his mother was arrested and interrogated in a regime prison.
"She is now too terrified to speak to me, worried the line is being monitored," Ali said. "She's traumatised and feels she is being watched … and I have no security here, which makes it even worse."
He continues to consult a psychiatrist, who is now offering urgent care, and he is on the strongest dose of antidepressants his doctor can prescribe.
A Home Office spokesperson said: "The government is committed to ensuring asylum claims are considered without unnecessary delay, but we are currently prioritising cases involving unaccompanied asylum seeking children. Asylum seekers have access to health and social care services, including mental health support from the point of arrival in the UK. We take every step to prevent self-harm or suicide, including a dedicated team responsible for identifying vulnerable asylum seekers and providing tailored support."
In the UK, the Samaritans can be contacted on 116 123. In the US, the National Suicide Prevention Hotline is 1-800-273-8255. In Australia, the crisis support service Lifeline is on 13 11 14. Hotlines in other countries can be found here