'I'd never seen a boat come in with so many bodies': the mortal cost of the Atlantic migrant route | Global development
At 6.30am on Friday 28 May, three fishermen at work four miles off the southern coast of Tobago spotted a large white boat adrift on the dawn waters of the Caribbean.
As they drew closer, the trio saw the boat's shape was far from local, and noticed a strong smell coming from inside it. The body the fishermen glimpsed at the bow was enough to confirm their suspicions. They called the coastguard who, unable to dispatch a vessel, asked them to tow the boat ashore at Belle Garden beach.
The sun was bright and the tide still low when William Nurse, an assistant commissioner with the Trinidad and Tobago police, arrived on the scene 90 minutes later. What Nurse saw on the calm, sheltered beach at Belle Garden that morning was unlike anything he had witnessed in nearly four decades as a police officer.
"I'd never seen a boat come in with so many bodies. I'd never seen anything like it," says Nurse. "Most of the bodies were concentrated in the middle of the boat. There were two bodies to the rear of the boat and there were a few towards the bow. I think one of those ones towards the bow was the last to die because there was still hair on the head."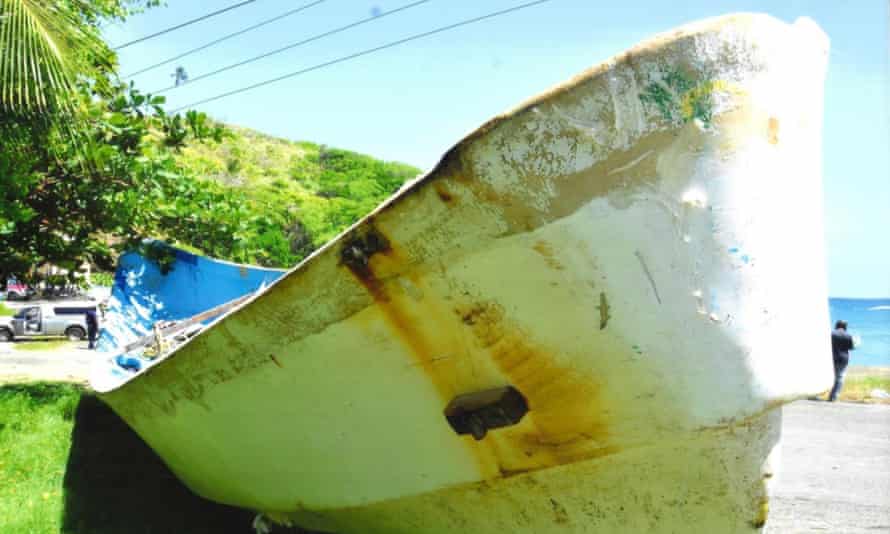 Thirteen badly decomposed corpses were recovered from the boat at first. Then, after the water was drained from the bottom, officers found another body and some skeletal remains.
There were no lifejackets, no trace of food, and evidence that only a scant amount of fuel had been brought to run a 40hp outboard engine that was far too small to properly power the 42ft-long boat, which was registered in Mauritania. Police found 1,000 Swiss francs, €50 and a number of mobile phones. Those that weren't irretrievably corroded were traced to Mauritania and Mali.
Even before postmortem examinations determined that 13 of the 15 bodies were those of African men, Nurse and his colleagues had begun to suspect that those aboard had not been trying to reach the Caribbean. "We know that people from other African countries stop in Mauritania to get a boat with the hope of getting to Europe," he said. But those aboard the boat registered as AG231 – 15 people who died of hunger, thirst and exposure – appear to have overshot the continent by almost the entire width of the north Atlantic.
Six weeks later, Nurse got a phone call from Deputy Commissioner Rodney Adams of the Turks and Caicos police. A boat carrying 15 bodies had been discovered drifting in the waters off Grand Turk.
"We suspect the same thing may have happened as it did with Tobago," said Adams. "We've had small boats coming across to us here in the Turks and Caicos from our neighbours 80 or 90 miles to the south in Haiti, but not from the other side of the Atlantic."
The two boats and their 30 bodies are the exceptions to a deadly rule: most of those who die on the increasingly perilous Atlantic route from Africa to the Canary Islands are never found, their small boats, or pateras, swallowed by the waves.
In the midst of continuing instability and conflict, the climate crisis, border closures forced by the Covid pandemic and increased controls in some north African countries, the gangs that ferry migrants and refugees between Africa and Europe are making more and more use of the Atlantic route.
According to the International Organisation for Migration (IOM), 7,418 migrants and refugees have arrived by sea in the Canaries so far this year, while 250 have died in the attempt. The fatalities are up on the same period last year – when 237 people died – and well above the total number of deaths in 2019, when 210 people lost their lives.
The IOM, however, believes that the true number of deaths is far higher because of the number of "invisible shipwrecks" – boats that vanish without trace. A recent report from the Spanish migration NGO Caminando Fronteras (Walking Borders) suggested the true number could be almost eight times the IOM's estimates. Caminando Fronteras, which has spent 14 years tracking and helping to co-ordinate the rescues of people who come to grief en route to Spain from Africa, estimates that 1,922 people died or disappeared while trying to reach the Canaries by sea between January and the end of June this year. By their calculations, the Atlantic route claimed 1,851 lives last year.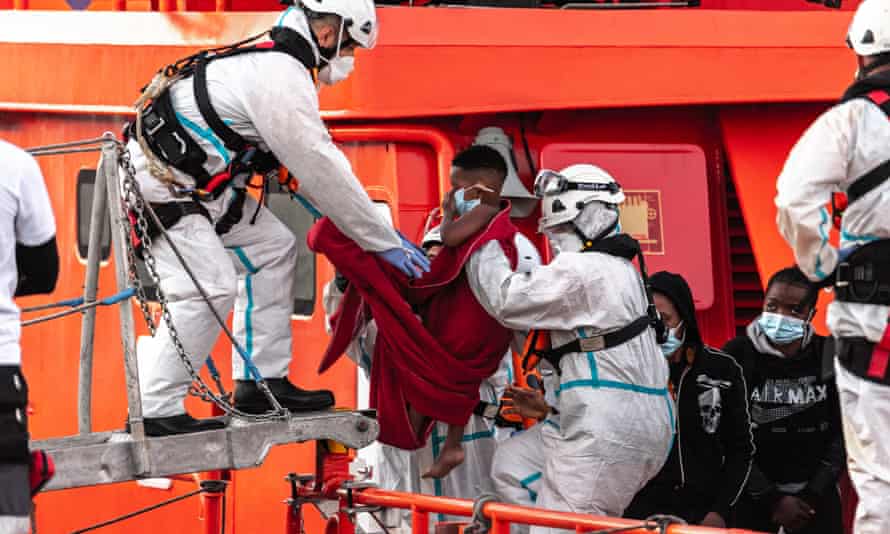 The port of Arinaga, half an hour's drive south of Las Palmas, the capital of Gran Canaria, offers its own mute summary of what it going on across the Spanish archipelago and on the waves that lead to it. Across its grey volcanic sands, under giant wind turbines and beneath the passenger planes descending towards the airport, lie the scores of pateras that have arrived on Gran Canaria over the past year and a half. Ropes twist and snap in the fierce winds that whip across the port, and the names of the boats – Salma, Fatima, Nafai, Hayat among many others – are inscribed across the prows like the names on tombstones.
In their sandy, bleaching timbers lie glimpses of their voyages: empty water bottles; rusty tins of tuna and sardines; milk cartons with Arabic script; a single wellington boot; a pair of knock-off Adidas; spent batteries; a solitary sparkplug; and a very occasional lifejacket.
One of the pateras seems newly arrived, its hull still slicked with green, floor speckled with chickpeas and dates bloating in the sun, and the pungent smell of human faeces.
No part of the archipelago, however, speaks of all this quite as plainly as a small corner of San Lázaro cemetery. Past the labyrinths of flower-decked niches and beyond the palms, the cactuses and the stones where Gran Canaria's giant lizards charge up in the late afternoon sun, is a small grave ringed with stones. The gold letters on a thick piece of white ribbon read: "Eléne Habiba Traore, forever in our hearts."
Eléne, an 18-month-old old girl from Mali, had just reached the Gran Canaria port of Arguineguín with her mother and sister on the evening of 16 March this year when her heart stopped and she lost consciousness. Red Cross workers managed to resuscitate her, but she died in hospital five days later and was buried in the small Muslim section of San Lázaro, thanks to the efforts of the Federation of African Associations in the Canary Islands (FAAC), which helped arrange a plot and find an imam to officiate at her funeral.
Teodoro Bondyale, the secretary of the FAAC, refers to Eléne and countless others as murder victims because, he says, the conditions they face on the Atlantic route represent an almost certain death.
"What blame can that little girl from Mali possibly have?" he asks. "She just had the bad luck to be born in this century, may she rest in peace." If a decent burial is a basic right, adds Bondyale, "then so is the right not to have to flee from your country. Where is the right to not have to migrate? That's the basic question we have to ask ourselves: Why would a mother put her little girl into a small boat?"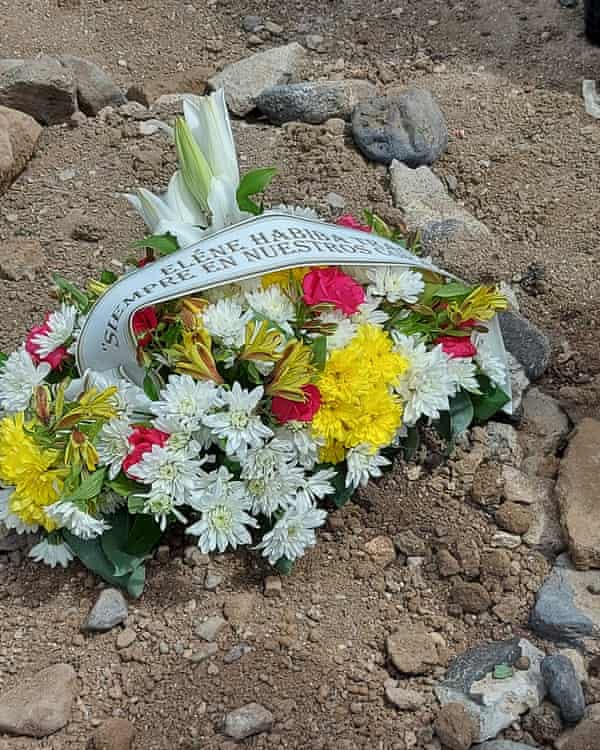 The high numbers of deaths and arrivals are stirring up a painful sense of deja vu on the archipelago. Over the course of 2020 – but overwhelmingly in its final three months – 23,023 men, women and children arrived in the Canaries, pushing its unprepared and under-resourced reception infrastructure to the point of collapse.
If last year didn't quite reach the levels of 2006 – the year of the "cayuco crisis", when 36,000 people reached the Spanish archipelago in small and dangerous fishing boats – it dwarfed those of 2019, when arrivals stood at just 2,698.
Last autumn's squalid images from the dock at Arguineguín, not to mention the Spanish government's refusal to move people to the mainland, called into question the humanitarian credentials of the Socialist administration that won so many plaudits for taking in the 630 people aboard the rescue ship Aquarius in the early summer of 2018. After visits from Human Rights Watch, Spain's public ombudsman and others, the makeshift Arguineguín camp was dismantled and its occupants moved to hastily constructed facilities elsewhere on the island, where many reported similarly awful conditions.
Amnesty International has warned there is still time to avoid similarly "horrific scenes" in the Canaries this year, but says the Spanish government must act now to ensure that the most vulnerable arrivals are protected and transferred to the mainland.
Both Spain's interior ministry and its migration ministry insist resources are in place to prevent a repetition of the failings of 2020. On a recent visit to the Canaries the interior minister, Fernando Grande-Marlaska, said the archipelago now had "[reception] infrastructure that's worthy of the strong and solid country that Spain is", adding that arrivals to the Canaries were "moved elsewhere when necessary, and according to their vulnerability and to our analysis".
The migration ministry, meanwhile, says the current situation bears little comparison with last year's, not least because it has provided 7,000 reception places in six camps across the islands – of which 1,800 are currently occupied.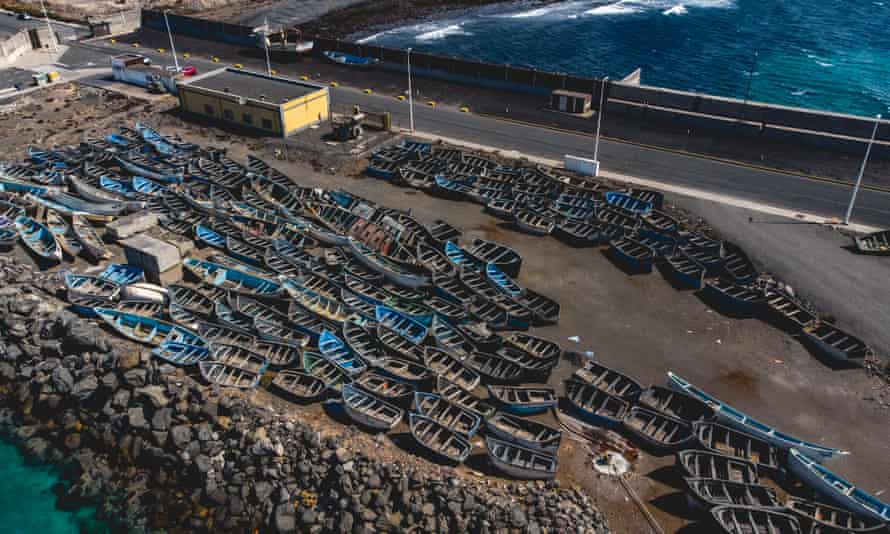 José Javier Sánchez Espinosa, director for social inclusion at the Spanish Red Cross, is also cautiously optimistic. "Between January and 28 July last year, we helped 3,100 people," he said. "Over the same period this year, we've attended to 7,621 people. So we've more than doubled the number we're helping. But the provision of reception and humanitarian assistance is much easier this year because there are more a lot more resources."
Much, however, will depend on what happens after the summer. The surge in last year's numbers, driven mainly by people leaving Morocco amid the economic devastation wrought by coronavirus, only began in September.
Txema Santana, a migration adviser to the regional government of the Canaries, sees no reason why this year should be any better. "The pandemic is the same – or worse – in both health and economic terms, and none of the situations people are leaving behind show symptoms of improving: you still have war in Mali; the conflicts in the Sahel are becoming more drawn out; things aren't getting any better in Senegal; and you have the same repression in Guinea Conakry." he said. "And then we'll see what happens with Moroccans, because they're the ones who will determine the intensity of the rise."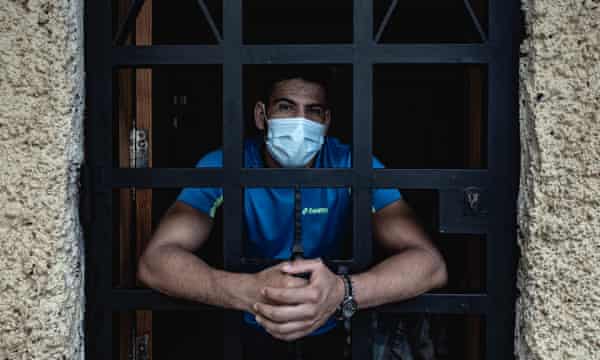 Santana and others say there must be no repeat of the interior ministry's airport blockade, which stopped new arrivals with valid passports from flying to mainland Spain and was only overturned by the courts in mid-April.
"If people can't be moved to other parts of Spain, then, yes, there could be more problems here in the Canaries," said Santana. "But even [the transfers] don't mean there aren't people who are having to live on the street because they've got nowhere to go. There are still people in camps who've been here for six months."
José Antonio Benítez, a Claretian missionary and the parish priest of Our Lady of Peace in Las Rehoyas, one of Gran Canaria's most deprived neighbourhoods, knows all too well what happens when the system begins to buckle and small NGOs and community groups have to step in.
Last year, he witnessed the toll the crisis was taking on both locals and the new arrivals. "People didn't stop arriving and the response from the authorities was silence, inaction and closing the borders," he said. "There was no way to get out and people ended up staying here. That led to a lot of unease within the Canaries. People were tired of the situation, and there were the fears being whipped up by certain political groups. Then you had the pandemic, which left the islands' economic, employment and health situation in an awful state."
Rumours and fake news – much of it spread by the far right – led to protests and outbreaks of xenophobic violence. Towards the end of 2020, stories that migrants were raping women brought people on to the streets of Las Rehoyas with sticks and knives. Today, the neighbourhood is quieter. A handful of young migrants sit in a room off the parish centre kitchen and chat in their newly acquired Spanish as they make sandwiches for the church's soup kitchen, which feeds up to 60 each day – most of them native Canary islanders.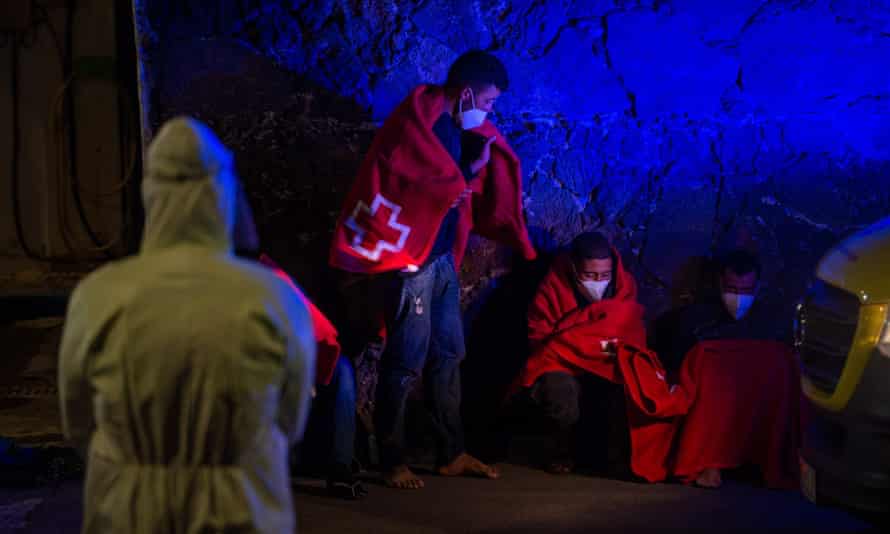 Babacar Ndiaye left his home in Senegal in October last year and endured a seven-day voyage in a small boat with 50 others. After arriving at Arguineguín, where he spent 10 days on the dock, he was put in a hotel for four months and wound up on the streets until a woman from a local NGO brought him to the church.
"I was a fisherman back in Senegal but the fishing just isn't what is once was – you work a lot and earn very little," said the 30-year-old. "So I decided to leave my wife and two daughters behind and come to Spain. It was pure chance that we made it."
Ndiaye is desperate to work – "maybe in a restaurant or as a driver; anything" – but can't until his papers come through. For now, he bides his time, watches his two young daughters grow up in video calls, and shrugs off the hatred he sometimes receives.
"There's one woman who just can't bear seeing black people and who calls us trash and other horrible things, but that doesn't bother me," he said. "Anyway, I wouldn't answer her back because she's an older woman like my mother. And there are also some really good people here."
Hassan Hadda, another sandwich maker, has been in the Canaries since April 2017 and is still waiting to be regularised. Like Ndiaye, the 25-year-old Moroccan wants to find work so he can send money home to his parents and six younger siblings. And, like Ndiaye, he will never forget his journey to the archipelago from Dakhla in Western Sahara.
"People who've never made that journey will never understand it," he says. "It took three days and there were 28 people in a 5 metre-long boat that was a metre-and-a-half wide. We were packed liked sardines. I'd always dreamed of getting to Europe since I was a kid. It didn't matter where it was – France, Spain or anywhere else – I felt I'd never have a future if I stayed where there's no work and no human rights. That is why I risked my life."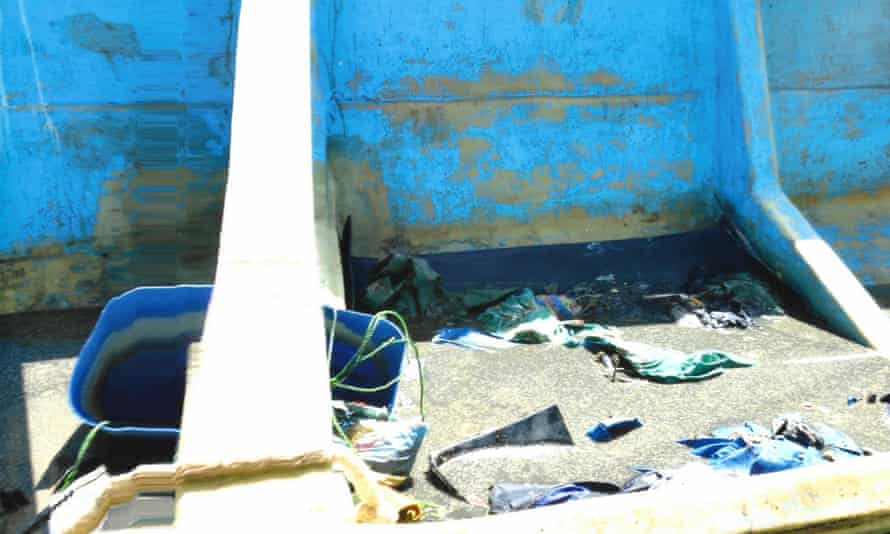 Across the Atlantic, William Nurse is hopeful that fingerprints taken from three of the bodies will help identify at least some of those who drifted to the coast of Tobago. For now, though, they lie, unnamed, but probably not unmourned, in a morgue in Port of Spain.
The ugly historical echoes of their fatal, 3,500-mile voyage are not lost on the assistant commissioner of police. "I never thought that a region from which my foreparents were brought would produce a boat with dead people trying to reach Europe but which ended up in the Caribbean," he said. "They were trying to flee something – I don't know what it was – but everybody's looking for a better life."
Can artistic freedom survive in Sudan? The writing's on the wall… | Global development
In the new dawn of a heady post-revolutionary era, Suzannah Mirghani returned in 2019 to the country of her birth for the first time in years. Her mission was to shoot a short film on Sudanese soil. It proved unexpectedly straightforward.
"When the revolution happened, there was this exuberance," she says, from her Qatari home. "When we came to make our film, we were given the green light. We were told: 'Anything you want'.
"Nobody harassed us. Nobody told us what to do. Nobody asked us for the script. I call this time in the history of Sudan 'the honeymoon'," says Mirghani.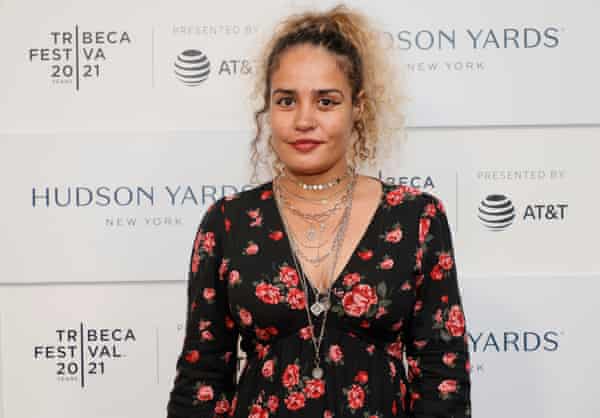 More than two and a half years after the toppling of the longtime dictator Omar al-Bashir, Mirghani fears the honeymoon is over, at least for her. The turmoil into which Sudan has again been plunged means she feels unable to return safely.
On 31 October, as her film, Al-Sit, won the latest of many awards, Mirghani had to give an acceptance speech that was anything but celebratory.
Six days before, the military had seized power in a coup, detaining the civilian prime minister and bringing the country's fragile transition to democracy to an abrupt halt.
In a video address from Qatar to the Africa in Motion film festival in Scotland, Mirghani said "the only reason" she and her crew had been able to make Al-Sit was the active encouragement given by the civilian-military partnership government. "Now," she added, "we're in very serious danger of going back to the bad old days of military rule and stifling creative expression."
Since the coup, a lot has happened: huge pro-democracy protests thronged through Khartoum and other cities, with at least 40 demonstrators killed.
After almost a month, the prime minister, Abdalla Hamdok, was released as part of a deal struck with the coup leader, Gen Abdel Fattah al-Burhan.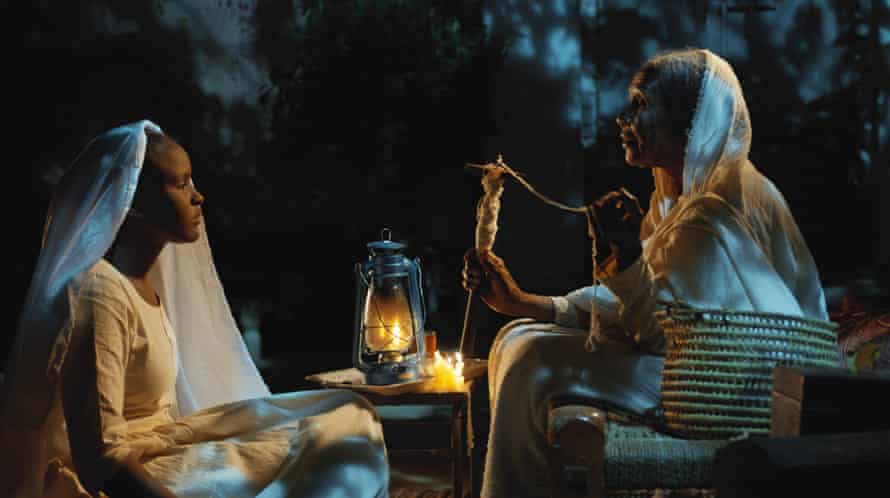 But the protesters, who want the military out of politics for good, are not convinced, and even less so as security forces fire teargas into the crowds that continue to gather despite Hamdok's return. With the creative gains made after the revolution now hanging in the balance, Sudanese artists feel they have to speak out.
"We artists will be the first to be targeted if the military government continues in power," writes Aamira*, a painter, in an email from Khartoum. "We are demonstrating in the streets, facing guns, unarmed. There is nothing to fear any more."
In an interview with the Financial Times last week, Hamdok defended his decision to strike a deal with the military, saying it was essential to stop the bloodshed and "preserve the achievements of the last few years".
It may not have been uppermost in his mind, but one of those achievements was the flowering of an artistic community that had long been harassed, censored and forced into the shadows. Assil Diab, a street artist, says: "I painted Omar al-Bashir as the [face of] coronavirus in a stadium in Bahri during the daytime, which would have been just impossible; my whole family could have been killed two years ago."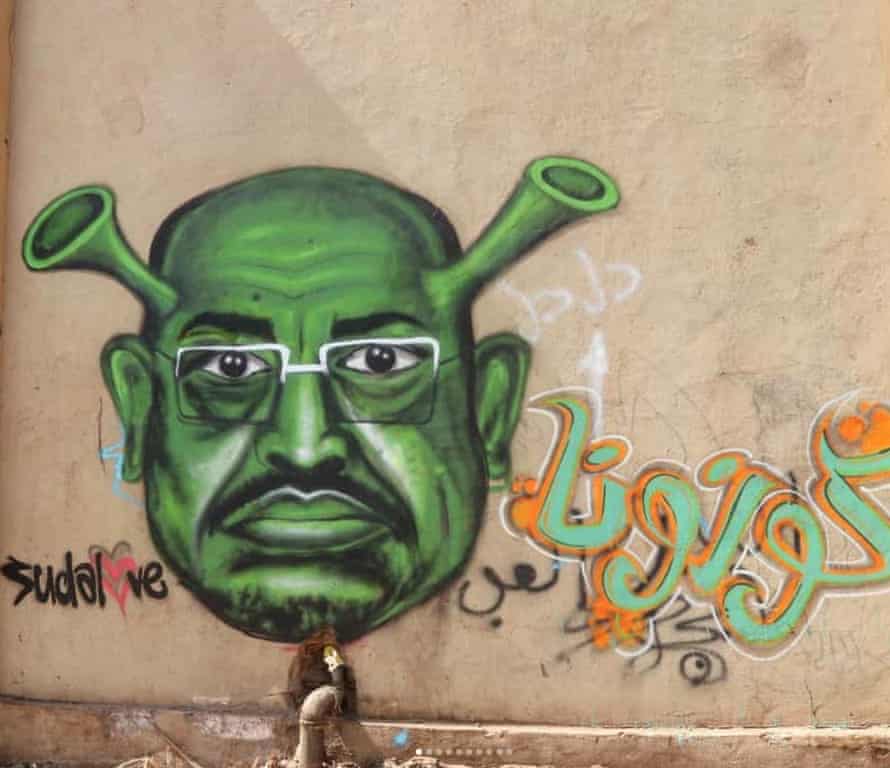 Feeling compelled to return amid the revolutionary fervour, Diab returned to Sudan in 2019 and made her name painting the faces of the revolution's "martyrs" on the outside of their families' homes, with a getaway car close by in case the notorious paramilitary Rapid Support Forces saw her.
For Mirghani, the "absolute elation" of the revolution yielded creative results. Al-Sit is the beautifully observed story of a Sudanese village girl whose parents want her to marry the sharp-suited son of a wealthy cotton trader in Qatar. "To finally be able to express yourself, to say what you had wanted to say to these people for 30 years: it's amazing.
"My film is about women's rights. It's social commentary on arranged marriage. I don't think we could have said that a few years ago," says Mirghani.
The "honeymoon" was not without its challenges. The dictator was gone, but social and religious conservatism – and a reluctance to champion the arts – remained. Artistic freedom was patchy: in 2020, the renowned film-maker Hajooj Kuka and several others were detained during a theatre workshop.
Asim*, a documentary film-maker in Khartoum, says that, although in the capital the "direct censorship" of the Bashir era has eased, the rest of Sudan is not as relaxed. "It's partially freedom and partially censorship," he says. "It is a battle about 10% won."
Khalid Albaih, a political cartoonist based in Qatar, returned after the revolution to launch the Sudan Artist Fund (SAF), to provide budding creatives with money and mentors, and with an ambitious plan to create a public art and design library. He says: "I thought: this is it. All doors were open and this is what we were going to do.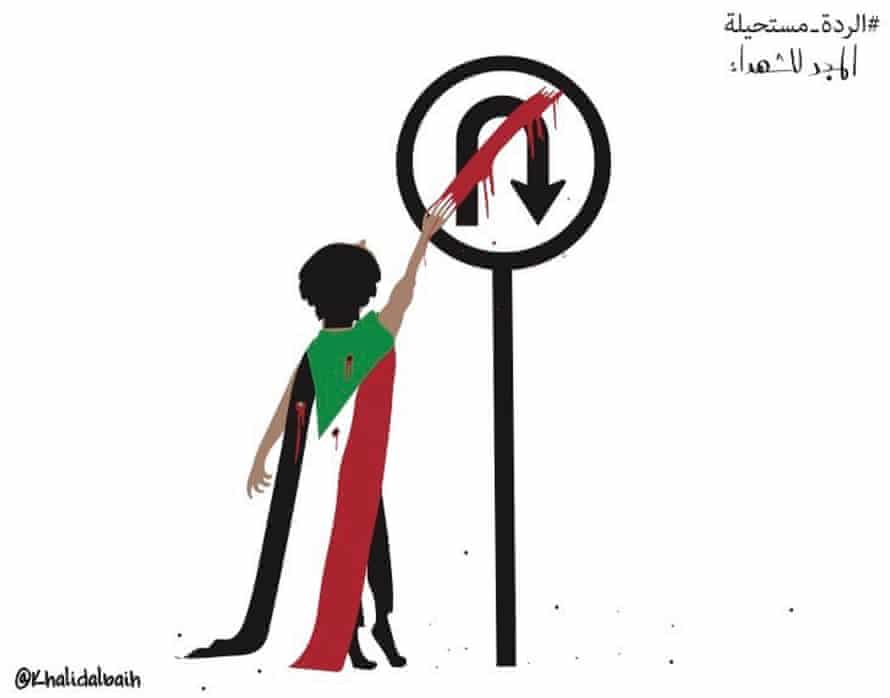 "I took all my papers, and for the first time in 10 years I'm in Sudan walking around, not scared of any police, or secret police, or anything. I went to every business owner in Sudan and everyone that can donate money to these causes. And I got nothing but rejection – for a library and for an artists' fund."
Finally, Albaih secured $7,000 (£5,300) from CultuRunners, a cultural exchange organisation, and the SAF awarded its first grant of $500 in October – just before the coup. "It was incredible because the internet cut out [after the coup leaders imposed a nationwide online blackout] so the artist didn't even know he had won. We had to call him. It took two or three weeks to send the money to him," says Albaih.
The cartoonist knows there will not be any more funding for a while. "Now everything is rocky. No one knows how things will go. It's going to be really hard for artists and these kinds of initiatives to move forward.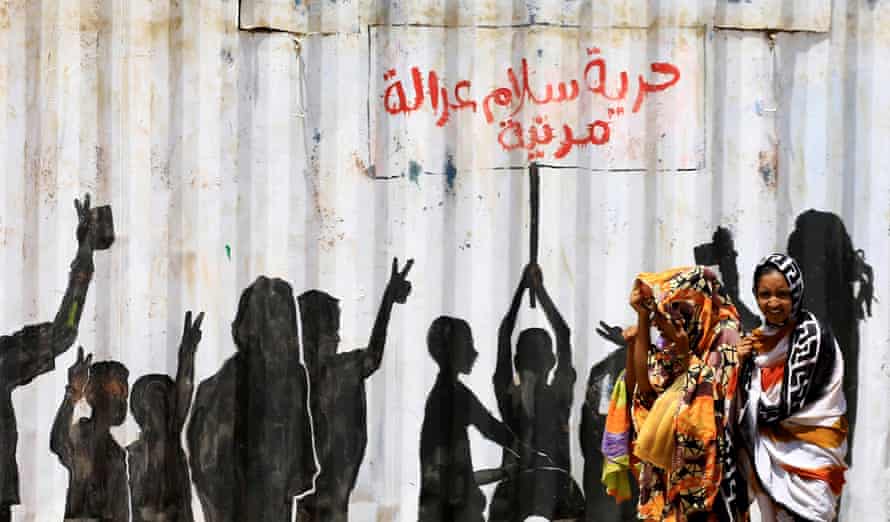 The coup, says Diab, left the creative community feeling "disappointed and just broken down … because we finally thought we were free and then this happened." She intends to apply for political asylum in the US, where she is studying, feeling she "can be of better use to Sudan" from overseas.
Those in the thick of it cannot afford to give up hope. Asim was at a protest in Khartoum against the post-coup deal last week and was "teargassed the entire afternoon" amid chants of "no partnership, no negotiation, no legitimacy". He is realistic about future challenges but knows that people have made up their minds.
"I feel like there is a grip on power and it will not end today; it will not end tomorrow. Whether those power-hungry authoritarians will roll with democratic transition and allow people to express their freedoms, allow journalists and film-makers to operate or not, that is something that is still [up in] the air, because you never know with the ever-changing dynamic of power in this country," he says.
The momentum towards democracy is undeniable, he says. "I believe that is possible and I believe there is hope. The people will not stop asking for what they really want. [Will] that future come tomorrow? The day after? In two years? In five? We never know. But it seems like the consensus is that people agree it has to happen."
*Names have been changed to protect their identity
Sign up for a different view with our Global Dispatch newsletter – a roundup of our top stories from around the world, recommended reads, and thoughts from our team on key development and human rights issues, delivered to your inbox every two weeks:
EU agrees to sanction Russian mercenaries
EU diplomats have provisionally agreed to blacklist three Russian nationals and one entity, the 'Wagner Group' mercenary outfit, on grounds of human rights abuses in Africa and the Middle East, diplomatic sources said. The decision will be formalised by foreign ministers next Monday. The move comes amid Wagner's increasing presence in Mali, threatening French interests in the region. Europe earlier sanctioned a Russian oligarch, Yevgeny Prigozhin, said to fund Wagner.
I feel despair at Sudan's coup. But my children's mini protest gives me hope | Khalid Albaih
"All the goodness and the heroisms will rise up again, then be cut down again and rise up," John Steinbeck wrote to a friend in 1941, just before the US entered the second world war. "It isn't that the evil thing wins – it never will – but that it doesn't die."
Growing up, I was always interested in politics, politics was the reason I had to leave Sudan at the age of 11. At school, we weren't allowed to study or discuss it, and it was the same at home.For years, I lay in bed and listened to my father and his friends as they argued about politics and sang traditional songs during their weekend whisky rituals. They watched a new Arabic news channel, Al Jazeera, which aired from Qatar. All the journalism my father consumed about Sudan was from the London-based weekly opposition newspaper, Al Khartoum. The only time he turned on our dial-up internet was to visit Sudanese Online.
At the time, I never understood how Sudanese activists and political figures, like my diplomat father, who cared deeply about the country and had fought for their principles for so long, suddenly submissively stepped back. Or worse, why they sheltered their children from the issues. I always wondered, "So who are you fighting for then?"
In my adult life, opposing former president Omar al-Bashir's authoritarianism and corruption became a personal battle for me, more so with every year I spent outside Sudan. It took shape slowly, until a few years before the Arab spring it peaked with the publication of my political cartoons on social media. I blogged, tweeted and posted, knowing that, although working in exile gave me a level of freedom unavailable to dissidents at home, I also risked everything through being unflinching in my criticism.
This last decade since the Arab spring has been a political rollercoaster. It was an honour to see my work shared by protesters all over the world – and be recognised by the BBC and the New York Times. I've published two books and had exhibitions around the world, been detained in two different countries, and wanted in my own. Like many fellow activists, I've experienced the effects of despair and burnout.
Deep into the long winter that has followed the quashed Arab spring, and just as I was ready to give in to my despair, a second wave ofrebellion has hit Sudan. Bashir's bloody 30-year rule ended, finally, in a revolution led by women, artists and unions. This uprising on the streets of Sudan was matched with huge support from members of the diaspora, exiled by Bashir's regime. Returning in the wake of the uprising was an extraordinary experience. For the first time in a decade, I entered Sudan without expecting arrest. I tried to explain to my children how the people had won and collectively overcome this evil man who ruled Sudan; that although he dressed like a policeman, he was a criminal.
In the past rocky two years , Sudan has seen an influx of families who left three decades ago – people trying to regain what was lost. But it seems the counter-revolutionaries remain strong – determined to prevent democracy. Even with international support limited to Egypt, Saudi and the UAE, the October coup against the transitional government has been a huge defeat for those working towards a free Sudan.
At 41, I hoped my children could experience Sudan as home. But it's hard to keep hoping it will be safe in Sudan to continue my activism and work as a political cartoonist anytime soon.
Now, I understand how my father and his friends felt. In a country that has had six coups since independence in 1956, I can understand the instinct to protect children from instability, uncertainty and tragedy. I spend most nights on WhatsApp sending frustrated voice messages about the situation. All my friends and I talk about is news about Sudan. I find myself trying to shield my children from the (mostly bad) news.
How do I explain that our army is killing young men and women? How do I explain that bad men in police uniforms are back again? That evil has returned so fast?
In the end I did not need to. My eldest daughter used her screen time to read posts and watch videos about Sudan. Early one Friday morning I awoke to a mini anti-coup protest with her and her younger siblings waving flags and shouting slogans in our living room.
With guidance and citizen journalism, these younger generations are far more action-oriented than we used to be. What we achieved in a decade will take them less time. As authoritarianism evolves, humans discover new ways to gain their freedoms. If my young children can stage a protest in their living room, despite my best efforts to shelter them from the news, imagine what's going on inside Sudan right now.