'I was born a fighter': the champion boxer changing young lives in Zimbabwe | Global development
Beneath a corrugated iron roof in the crowded Harare suburb of Mbare, a group of boys darts back and forth across a smooth concrete floor, firing a series of rapid punches into the air.
A wiry older man, dressed in low-slung tracksuit bottoms and flip-flops, watches their moves, encouraging them to "Jab! Jab! Jab!".
It's a long way from a glamorous black-tie occasion in Glasgow in January 1998, when Arifonso Zvenyika beat Scotland's Paul Weir to take the Commonwealth flyweight title for Zimbabwe.
Nicknamed "Mosquito" – reflecting his 50kg fighting weight and his deadly skills – Zvenyika is one of the country's most successful boxers.
However, there is little to show for those early triumphs. Now 45, Zvenyika lives hand to mouth, hustling like so many others in a country where up to 90% of working-age adults are not formally employed.
When he's not struggling to put food on the table for his own family, he trains young people for nothing at the Mosquito Boxing School of Excellence.
"I grew up without anything – even now I don't have anything, but I can share boxing with less privileged children," says Zvenyika, who is proud to have been born and raised in Mbare.
"The champions always come from the ghetto," he says.
Three times a week, up to 20 young people – aged from eight to their early 20s – gather for fitness training and to develop their technical skills.
Zvenyika says that he particularly focuses on boys and young men who struggle to remain in school and spend time on the streets.
"Some of the kids are totally poor and not even going to school. Some draw back from training as they don't have shoes," says Zvenyika.
One of the boys, 16-year-old Noel Sunday, says: "Both my parents are unemployed. I only did four years of school. I haven't done my O-levels."
A chalkboard in the gym reminds the young boxers to "Go hard or go home" and lists 10 rules. Eating, smoking and even laughing and jokes during sessions are prohibited.
"Boxing not only teaches discipline, but also positive values. It's a low-cost, high-impact sport," says David Mutambara, a former chair of Zimbabwe's Sports and Recreation Commission.
"But there is a scarcity of resources in this country. We get people who have natural, raw talent. The skills development needed to polish that raw talent is lacking."
Zvenyika is reliant on others to provide training space, and is constantly on the hunt for more equipment. The school is short of gloves, pads, punchbags and headgear.
The rest of the time he spends looking for work.
"I'm shy to say it, but I can't afford to feed my family properly," he says. "We eat bread without butter, we drink tea without milk."
A few miles from the centre of Harare, Mbare is chaotic and densely populated. It's a first stop for arrivals to the capital who come looking for work.
"My family makes money running around the marketplace and helping to carry people's luggage," says Tatenda Kachepa, 22, who has trained with Zvenyika for five years and is one of the club's star boxers.
The pandemic pushed many people already struggling to earn a living into desperation.
"We are now 15 people living together at my father's place," says Kachepa, who is still trying to complete his schooling. "During Covid, we haven't made any money. It's been a dog-eat-dog situation."
Substance abuse, already widespread in Harare's low-income areas, has become more of a problem during the pandemic.
Illicit alcohol, marijuana and methamphetamine – better known as crystal meth or by its street name mutoriro – are all popular among young people.
"I've been there myself," says Zvenyika of his own drug-taking past. "It hurts me to see these young kids doping. I'm trying to find ways to stop them."
Zvenyika's story is a familiar one – from rags to riches, followed by a slide into bad choices and prison.
"My mother tried her best, but she didn't have money to send me to school," says Zvenyika, who turned professional at 17. "I took up boxing as something to resolve my pain and calm me down."
After his talent took him to Zambia and Australia, as well as to Scotland, Zvenyika crashed back down to a very different reality.
Accused by a neighbour of stealing a radio – Zvenyika insists he was framed – in 2000, the boxing champion was sentenced to two and a half years in prison.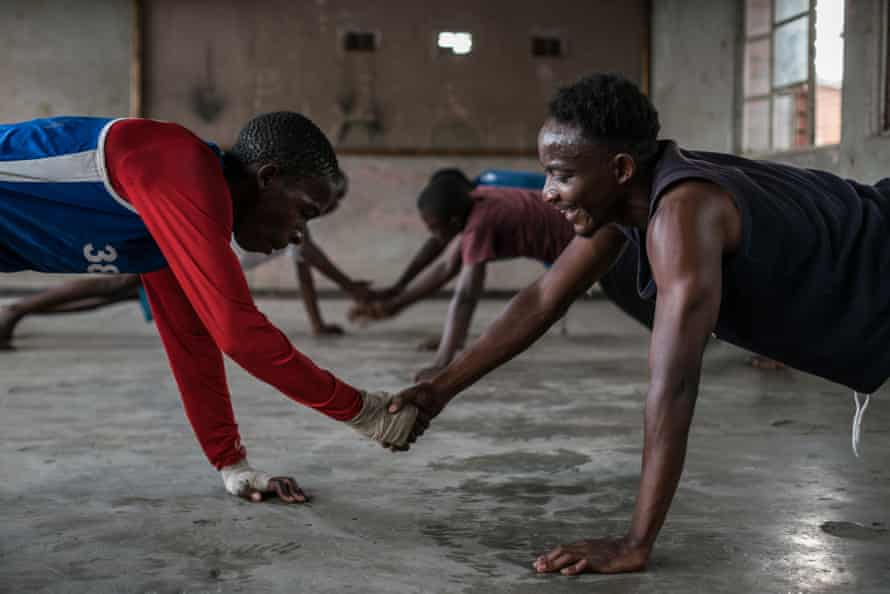 Although he continued to fight after his release, Zvenyika's imprisonment – and a stroke while in jail – effectively ended his professional career.
"I've been in prison, in hospital, in a hooligan's cell. I don't want others to fall into that pit," says Zvenyika. "I'm trying to move them to be good people."
And he is confident that Mbare's younger generation has sporting potential.
"People paint a bad picture of Mbare, but it's a talent hub," he says. "Young guys can get into bad things, but training keeps them busy."
Strict lockdowns closed the club for much of the past 18 months, but as of last month Zvenyika has welcomed back his young students.
He is determined to keep the Mosquito boxing school open, despite the challenges.
"I was born a fighter and I'll die a fighter," he says. "Boxing might leave me, but I'll never leave boxing."
Lives lost at Europe's borders and Afghan MPs in exile: human rights this fortnight – in pictures
A roundup of the struggle for human rights and freedoms, from Mexico to Manila
Belgium tightens Covid rules as health system 'is cracking'
Belgium has introduced new measures to curb the surge of Covid-19 infections in the country, following the third emergency meeting of federal and regional governments in three weeks.
"The autumn wave is much heavier than was estimated," Belgian prime minister Alexander De Croo said on Friday (3 December).
"The infection rates are among the highest in Europe and the pressure in healthcare has become unsustainable," he also said, arguing that new measures are necessary because "the system is cracking".
One item on the agenda that proved to be divisive was the closure of schools – a move supported by experts and the federal government but opposed by regional governments.
Belgium's so-called concertation committee of federal and regional governments finally decided to keep schools open, but it impose a longer, three-week, Christmas holiday for primary and pre-primary education. The holiday will now run from 20 December to 10 January.
According to Flemish prime minister Jan Jambon, this extra week will be used to administer the booster shot to the teachers.
And until the school holiday, a class will go until quarantine after two cases of Covid-19 are detected (previously three cases). Additionally, all extracurricular activities will be barred.
Children from the age of six upwards will also have to wear a face mask at school and all other places where its use is compulsory. And parents have been advised to test their children regularly.
For this coming weekend, indoor events with more than 4,000 attendees will be cancelled. From Monday, this will apply to all with more than 200 attendees.
Events with fewer than 200 people inside will still be allowed under the current criteria – that everyone needs to have a corona pass, be seated and wear a face mask.
Museums and cinemas would remain open, but with a capacity limit of 200 people per room.
The committee also decided that restaurants and bars can continue to remain open until 11PM, as it is currently the case – although experts had asked to close them at 8PM.
This new package of measures has already been criticised by representatives of the cultural sector, who argued that the restrictions do not target the source of the problem.
"Instead of fighting the virus, we are fighting culture. Bars open, but culture [events] only 200 people. Who are we fooling?," said Michael De Cock, director of the Koninklijke Vlaamse Schouwburg [Royal Flemish Theatre].
There is also no restrictions for private social life in the so-called "contact bubbles" – despite this also being recommended it by experts. Nevertheless, there is a recommendation to limit contacts as much as possible.
At work, there are no new measures, as the committee previously announced that teleworking is mandatory at least four days a week.
Intensive-care cases expected to peak next week
An average of 318 Covid-19 patients were hospitalised each day in Belgium this week – which represents an increase of four percent compared with the previous week.
There are currently 3,707 people hospitalised in the country, of which 821 are in intensive care.
"Although the number of infections is very high, the number of deaths in our country is lower than in comparable countries, and that is due to the high vaccination coverage," said de Croo.
"Getting vaccinated is an act of solidarity," he added.
More than 75 percent of the Belgian population is fully-vaccinated, and over a million people have received a booster shot.
For his part, Belgian virologist Steven Van Gucht said on Friday that the number of Covid-19 patients on the intensive care units of the country's hospitals are expected to peak next week.
"It is unclear whether we can then expect a rapid fall or whether the figures will remain at that high level," he also said, according to VRT news.
The highest number of new Covid-19 infections (25,574) during this fourth wave was recorded on Monday 22 November.
But new measures will make coronavirus figures fall more quickly, relieving the pressure on the health care sector, Van Gucht said.
India's 'pencil village' counts the cost of Covid school closures | Global development
School closures in India during the pandemic have left their mark on more than the children who have seen delays to their learning. In one Kashmiri village the impact has been catastrophic on employment.
Pick up a pencil anywhere across India and it is likely to come from the poplar trees of Ukhoo.
This village, with an abundance of trees, about 10 miles south of Srinagar city in Kashmir's Pulwama district, supplies more than 90% of the wood used by India's pencil manufacturers, which export to more than 150 countries.
Before Covid, more than 2,500 people worked in the village's 17 pencil factories and the industry supported about 250 families.
But, after nearly two years of school closures and a dramatic drop in demand for the village's products, factory owners reduced their workforce by more than half.
Workers were dismissed without pay, while many of those who kept their jobs had migrated from other parts of India, and were cheaper to employ. Now the village and its workforce are waiting eagerly for the market to revive.
Rajesh Kumar, 26, from Bihar, has worked in Ukhoo for seven years. Like other migrant workers, he lives in a room on the factory premises and works 10- to 12-hour shifts. During lockdown last year, the factory owner provided food and accommodation when production shutdown for about three months. He is one of the luckier ones to be back working now.
"I hope the pencil demand increases and these factories are full of workers again, as many of our friends and people from our villages find work [here] and are able to make a living," says Kumar.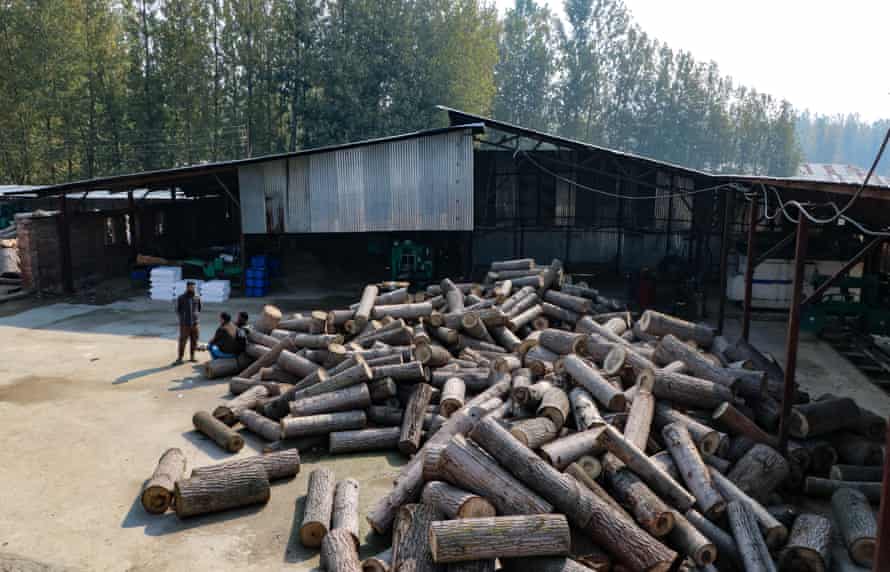 Farooq Ahmed Wani, 27, from the city of Jammu, has worked as a machine operator in Ukhoo for the past five years.
"We are hoping that schools reopen throughout the country so that there is more demand for pencils in the market," he says in an optimistic tone. "Then these factories can employ more young people and more migrants can also get some work here."
Pencil wala Gaon, or "pencil village", attracted the attention of India's prime minister, Narendra Modi. In his monthly radio programme, Mann Ki Baat, last year he said the district was an example of how to reduce the country's dependency on imports. "Once upon a time we used to import wood for pencils from abroad but now our Pulwama is making the country self-sufficient in the field of pencil making," Modi said.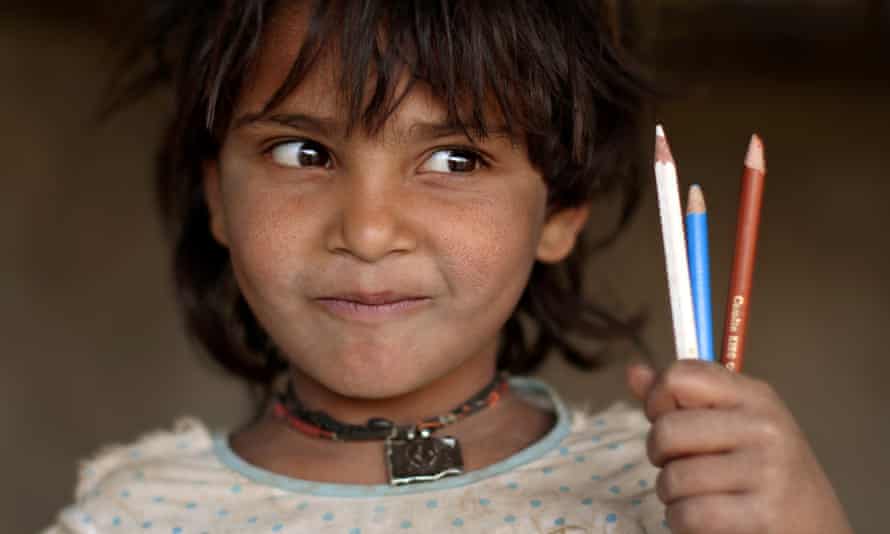 A recent ministry of home affairs report said that the village would be developed as a "special zone" for manufacturing. "Now the whole country would be supplied finished pencils, manufactured completely in Pulwama," the report noted. But the pandemic has shown how overreliance on one product in a region brings its own problems.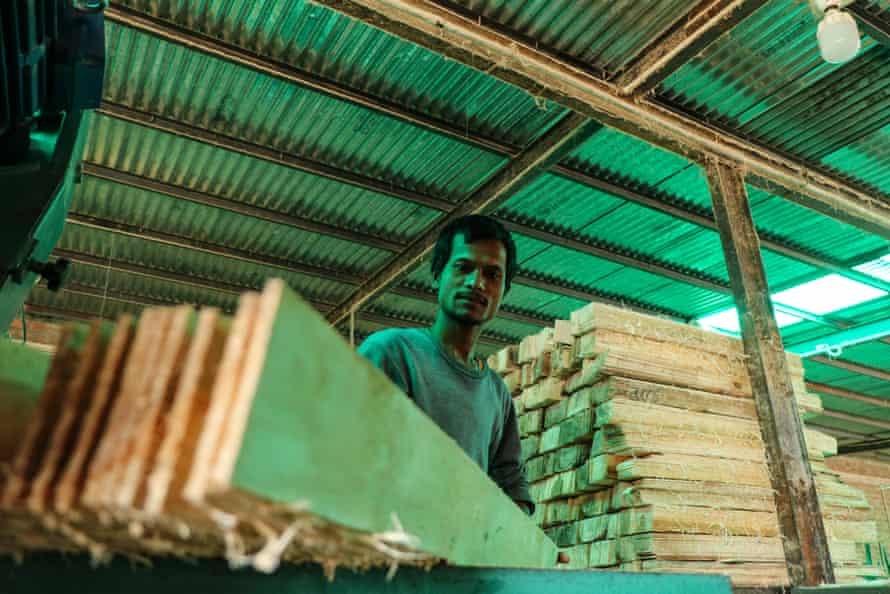 Abrar Ahmed, a unit supervisor at one of Ukhoo's factories, says everyone has suffered. "Even the sawdust from woodcutting machines is usually taken by the local villagers who then sell it to poultry farms and for other purposes in the village."
Manzoor Ahmad Allaie owns one of the biggest factories in Ukhoo.
"We are only doing about 30% to 40% [of normal levels of] business now because of the Covid lockdown impact from last year, which means we produce about only 80 bags of pencil slats a day," says Allaie. "Earlier we could produce about 300 pencil slat bags [a day] in the factory, which were transported out of Kashmir."
He is eagerly looking forward to India's schools fully reopening. It has been a hard two years for the pencil villagers, he says.
Sign up for a different view with our Global Dispatch newsletter – a roundup of our top stories from around the world, recommended reads, and thoughts from our team on key development and human rights issues, delivered to your inbox every two weeks: