'I saw myself in RuPaul': how Drag Race inspired LGBTQ+ Kenyans to find freedom | Global development
An audience wearing face masks sits around the edges of a nondescript room in an unassuming building in the centre of Nairobi. Sparsely furnished and decorated with a few posters advertising PrEP, a drug that reduces chances of contracting HIV, there is a low hum of excited chatter.
Then the speakers crackle into action, playing Sweet Dreams by Beyoncé, and in struts Toyo, a 23-year-old transgender woman, wearing a figure-hugging sparkly blue dress accessorised with bright red painted nails and the ubiqitious face mask, in black. She walks to the end of the room, strikes a pose and struts back out. Toyo is followed by Miss K – or Kelvin, when not in drag – 24, who is wearing a red strappy dress, long black wig, fake Louboutin heels, and plenty of makeup.
Toyo and Miss K are in the Dolls – a group of gay, transgender and non-binary people who volunteer at Ishtar, a drop-in centre for men who have sex with men, and the venue for today's show.
For half an hour or so, members of the Dolls model an array of outfits on their makeshift catwalk and perform two lip-synced songs.
The Dolls formed in late 2018 with four members. Now they are 35, an example of the growing confidence of the LGBTQ+ community in Kenya, where homosexuality is criminalised and people face stigma, discrimination and violence.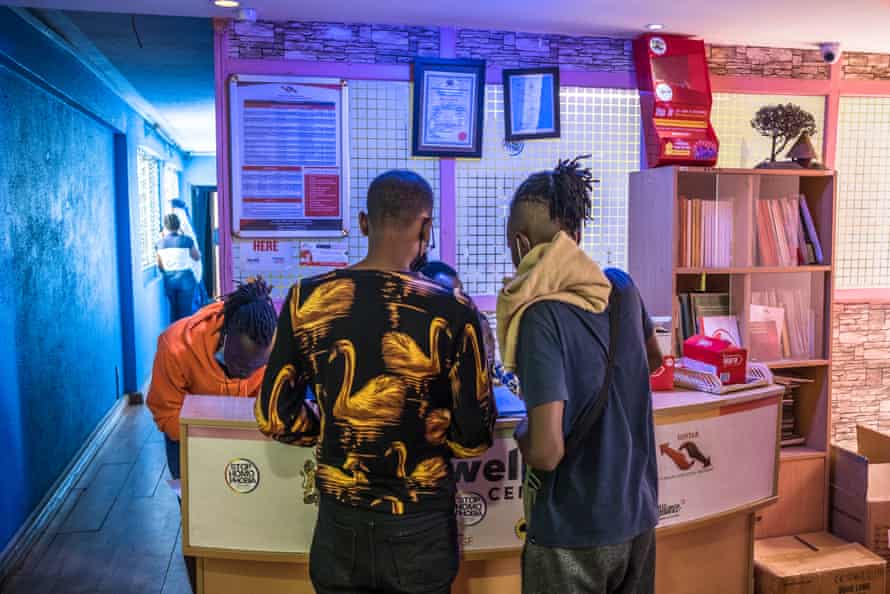 Ishtar, which receives funding from the Global Fund, belongs to the Gay and Lesbian Coalition of Kenya which began in 2006 with six organisations under its umbrella. Now there are about 20 member groups, including some in rural areas, according to Peter Njane, Ishtar's director.
Njane says verbal abuse and discrimination remain but adds: "I'm seeing hope because we are seeing gay men out and about … A lot of changes have happened in this country."
Toyo, one of the Dolls' founding members, first heard about Ishtar from a gay man in her neighbourhood. "I was excited when I was told about an organisation like that," she says. "I thought I was alone in this world. In my village, everyone threw stones at me saying "You're so feminine, you're so this …"
Volunteering at Ishtar, Toyo found a sense of community and began thinking about how she could spread the word. She had done some modelling and had a large following on Instagram, so teamed up with other volunteers and started experimenting with fashion, makeup and performing.
Then she saw RuPaul's Drag Race – a US reality television show that documents a search for drag stars – and was immediately inspired. "I saw myself in RuPaul – I could get into character, look perfect, everyone was happy. Then I got out of character and no one could remember me. It's like you're two people in one body," she says.
"We could only do these events, wear the clothes and makeup, at Ishtar. Outside, we are very different people."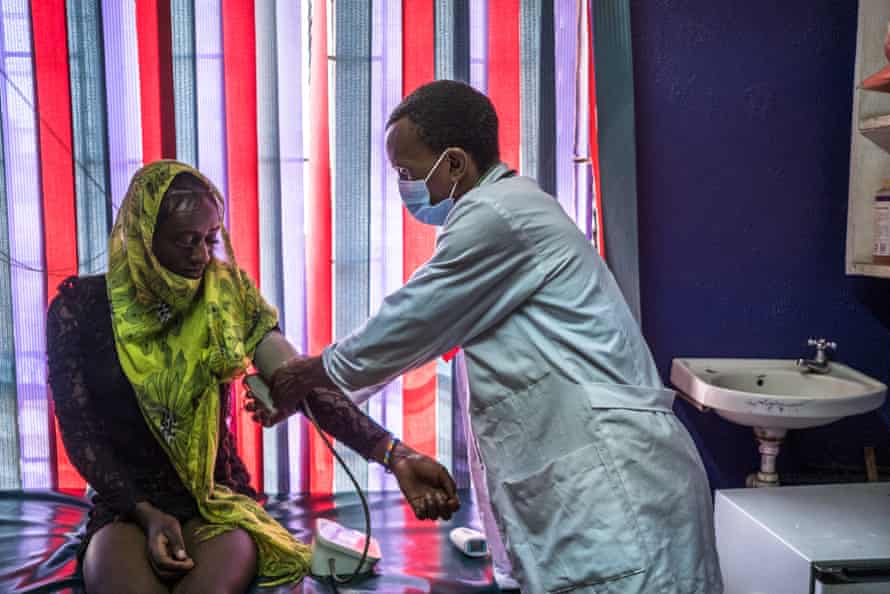 It wasn't long before people started asking to join the group. Kelvin first saw the Dolls perform in 2018 when he was studying at fashion school. He joined last year after he couldn't afford to continue his studies. As Miss K, his first performance was lip-syncing to Whitney Houston's I Will Always Love You in front of about 70 people.
"I cross-dressed in school and in public, but I wasn't as happy," he says. "In Kenya, when you cross-dress, people say something is wrong with you. They pray for you to get demons out of you. I wasn't doing it with other members of the LGBTQ+ community – people who know me, appreciate me for who I am."
He adds: "The Dolls support each other, mentor you. If there's a problem, you can tell them."
Before Covid hit, the Dolls were gaining momentum and had started being invited to perform at other LGBTQ+ organisations and some private events. They had introduced an annual Miss Ishtar pageant.
Despite problems caused by the pandemic, Toyo has big plans for the Dolls' future. She wants to create a clothes line for their fashion shows. Currently, buying outfits, accessories, shoes and makeup is a challenge. Sometimes members get women to buy items, or buy in bulk and from charity shops to avoid unwanted attention, then customise outfits on the sewing machine at Ishtar.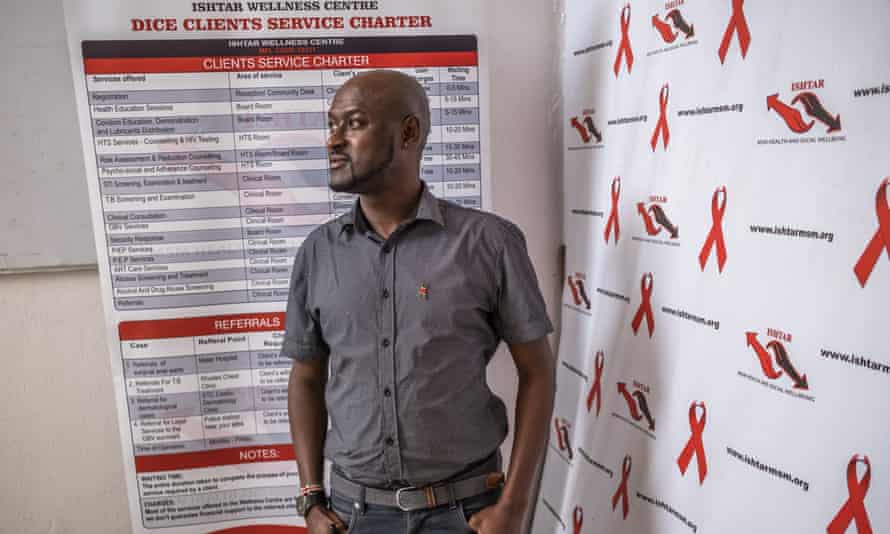 She gets messages from people across Kenya, from Mombasa and Kisumu, asking how they can set up their own version of the Dolls. "We are like a pilot project everyone is looking at," says Toyo.
"We want to make the Dolls stronger and an example for others, and have other branches. It is through these events that we create awareness; I hope we can go to the mainstream media where people will stop judging us on our sexuality and start seeing our talent, our ability to do other things … It's about diversity, teaching other people about who we are."
The Global Fund and their partners provided transport for the Guardian in Kenya
Sign up for a different view with our Global Dispatch newsletter – a roundup of our top stories from around the world, recommended reads, and thoughts from our team on key development and human rights issues, delivered to your inbox every two weeks:
Biden threatens US blacklisting of Putin
US president Joe Biden said Tuesday "Yes, I would see that" when asked by reporters if the US would blacklist Russian president Valdimir Putin if he invaded Ukraine. It would be the "largest invasion since World War Two" and would "change the world", Biden said. The UK and US were also "in discussions" on disconnecting Russia from the Swift international payments system, British prime minister Boris Johnson also said Tuesday.
Planned change to Kenya's forest act threatens vital habitats, say activists | Global development
Environmentalists are deeply concerned by the Kenyan government's move to allow boundary changes to protected forests, watering down the powers of conservation authorities.
The forest conservation and management (amendment) bill 2021 seeks to delete clause 34(2) from the 2016 act, which makes it mandatory for authorities to veto anyone trying to alter forest boundaries. The same clause protects forests from actions that put rare, threatened or endangered species at risk.
Tabled by the National Assembly's procedure committee, the amendment would weaken the role of Kenya Forest Service, mandated to protect all public forests, allowing politicians to decide who can change forest boundaries.
In an election year, many have read the proposal, due to be debated at the end of the month, as politically motivated.
The committee's memorandum to MPs said current laws "unnecessarily limit the rights of any Kenyan to petition parliament" as provided for in the constitution.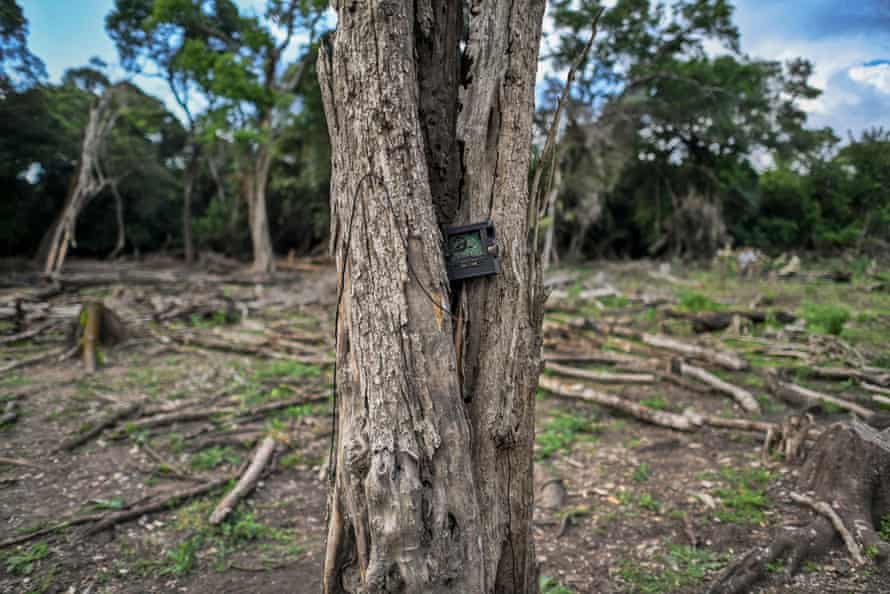 But conservationists have said this would be a serious setback for the country, which was seeking to increase forest cover to 10% of land by 2022, up from 7.4%. Forest authorities said the move puts endangered species at risk, as well as clearing the way for unscrupulous individuals to encroach into forests that, according to a 2014 government paper, have been shrinking at a rate of 50,000 hectares (124,000 acres) annually.
"I am astounded any right-thinking person would consider submitting or supporting such an amendment," said Paula Kahumbu, chief executive at WildlifeDirect, a conservation NGO. "It will open the door to forest destruction after decades of hard work by agencies, communities and NGOs to increase forest cover, as committed to in our constitution. One can only read mischief in such a motion, with elections around the corner."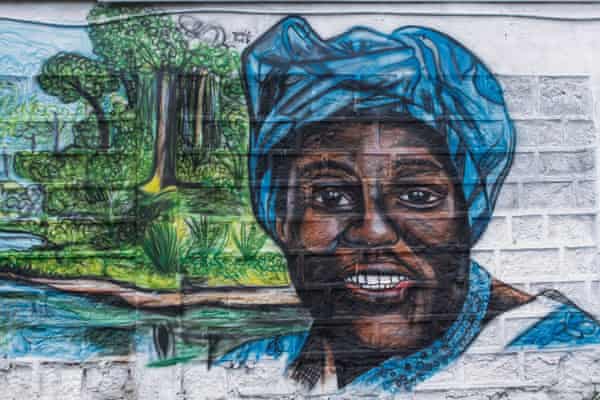 Kahumbu added: "At risk are indigenous forests and the biodiversity therein, the integrity of our water towers, generation of hydropower and productivity of our farms. The environmental experts of Kenya and the conservation community call on all citizens of Kenya to reach out to their MPs to wholeheartedly and aggressively reject this heinous bill."
She said the amendment would destroy the legacy of Wangari Maathai, the late environmentalist and Nobel Peace prize winner, who was once attacked and seriously wounded as she led a tree-planting exercise in Nairobi's Karura Forest.
In a tweet, Christian Lambrechts, executive director at Rhino Ark said: "Considering what Kenya has lost in the past, any change that weakens, rather than strengthens the mechanisms to protect our forests, is ill-advised."
Rhino Ark has been spearheading an initiative to put up electric fences around Kenya's public forests to hamper poachers and illegal incursions.
Dickson Kaelo, head of the Kenya Wildlife Conservancies Association, said the move by parliament is intended to "give legitimacy" to those who would destroy Kenya's biodiversity.
"This is a well-calculated move to open the doors for forest excisions and allocation to private persons for development, and may even be a means to normalise current excisions. It is a threat to our forests coming at a time when we have a low forest coverage and a high risk of climate crisis-induced vulnerabilities. We call upon parliament to reject the amendment," said Kaelo.
Protecting forests from developers has been a daunting task in Kenya.
Last July, Joannah Stutchbury, a prominent environmental activist, was killed near her home in Nairobi after her protracted opposition to attempts by powerful businessmen to build on Kiambu forest near the capital, Nairobi.
President Uhuru Kenyatta has yet to fulfil a promise to catch her killers.
EU court set to rule on Hungary, Poland rule-of-law challenge
The European Court of Justice will rule on 16 February on the legality of the new mechanism linking EU funds to respect for the rule of law, which was challenged by Poland and Hungary last year. The tool has been threatened against Budapest and Warsaw where governments oversaw a decline in EU democratic standards. The court's adviser ruled last month that their challenges should be rejected.