'I had to step up': Child labour in poorest countries rose during Covid, says report | Global development
Gopal Magar's father has had a drinking problem for as long as he can remember, but when Kathmandu went into lockdown last spring, it got worse. With five members of his family confined to a small room in the south of the city, tempers frayed and the 14-year-old saw his father beat his mother again and again. One day Gopal could stand it no longer. He fought back, and then fled, leaving his parents, and his school, behind.
Gopal now lives with his older brother on the other side of the city, and has swapped his classroom for a construction site. "I have fewer problems now, but I need to work really hard," he says. He starts work at six in the morning and for the next 12 hours hauls sand, loads bricks and mixes concrete. He earns about £7 a day and sends some of it to his mother to help her buy food and pay the rent.
Gopal does not know if he will ever go back to school: "I have no interest in study at the moment because of my family problems."
His story is not unusual: the lockdowns in some of the world's poorest countries have seen schools close, households lose their incomes, and, in some cases, a growth in domestic abuse. The result, according to a report, has been a rise in child labour, as children like Gopal have found themselves in often precarious and exploitative work, with long hours, low pay, and scant regard for safety.
Jo Becker, director at Human Rights Watch (HRW), which co-published the report with the Initiative for Social and Economic Rights in Uganda and Friends of the Nation in Ghana, said: "The key driver is the economic situation that so many families are facing because they have lost jobs, they have lost income. The lockdowns in many countries have really dealt a blow."
"Some of the children we spoke to said their parents had been taking out loans, falling into debt, and so they have felt pressure to work to help their families meet their needs."
Researchers interviewed 81 children between the ages of 8 and 17 in Ghana, Nepal, and Uganda. The vast majority said their family income had been hit by the pandemic and resulting lockdowns, and all of them described undertaking work ranging from rickshaw driving and gold mining to carpet weaving and brick making.
"I started working because we were so badly off," says Florence, 13, in Uganda. "The hunger at home was too much for us to sit and wait."
In each of the countries, more than one-third of the children interviewed worked at least 10 hours a day, in some cases every day. Some Nepali children recounted working 14 hours a day or more in carpet factories. Gita, 14, says that her family could "barely get by" on her mother's salary and that she feels it is her duty to bring in some money to the home. "I couldn't just sit back," she says. "I had to step up." So Gita worked at a loom from 4am until 10 pm each day, with an hour's break. Once she returned to school she continued to weave for 13 hours a day – five hours before classes and eight hours after.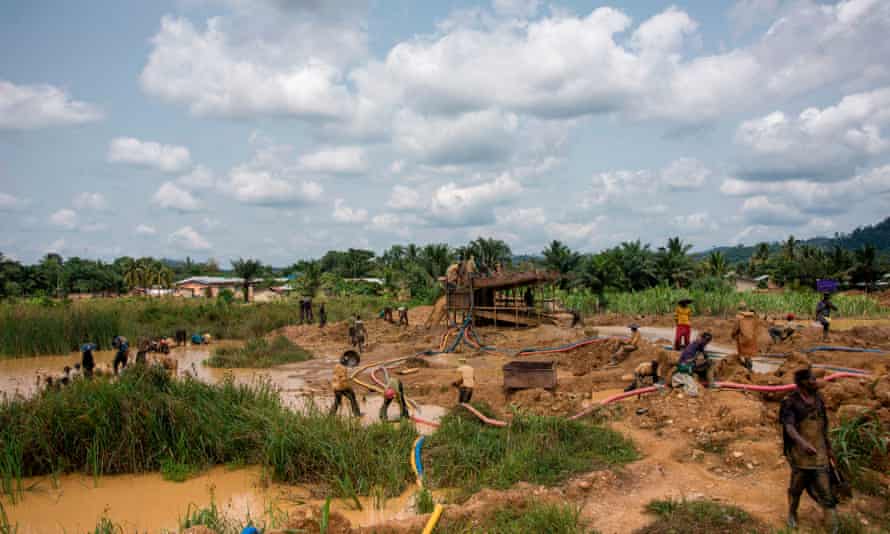 Some of the most shocking testimony in the report is from Ghana, where children detailed their work in goldmines, carrying heavy loads, crushing ore with hammers, breathing dust from processing machines, and handling mercury. Ibrahim, 14, says crushing ore is the most difficult part of the work: "I get really exhausted whenever I do that." For his after-school job – five hours at the mine – he is paid 20 cedis (£2.40).
It is illegal for children to work in Ghana's goldmines and the government has identified child labour as a "rapidly growing concern". But, Becker said, in many places enforcement of such laws has suffered as a result of the pandemic.
"Most of the countries that we've looked at have good child labour laws that are in line with international standards, but because of Covid-19 restrictions labour inspections are down and without enforcement and monitoring employers are going to feel less pressure to apply the law," she said.
According to the International Labour Organization, the number of children worldwide in some form of child labour decreased by about 38% between 2000 and 2016, partly it is thought as a result of the strategic use of child benefit payments to families with children.
Becker said that progress had been sent into reverse by the pandemic. She urged governments to re-commit to child benefit payments to "[relieve] the financial pressure on families so that they can buy food, pay for their housing without resorting to child labour".
National back-to-school campaigns were also needed to make sure that children return to the classroom once schools reopen, the report said. Unicef warned last month that an estimated 800 million children around the world were still not fully back in school and that the longer closures continued the less likely it was that pupils would return.
HRW has called on governments to embark on mass outreach programmes to persuade communities that children – especially girls and migrants – should come back "as soon as it is safe".
Such efforts would be welcome news to one of Gopal's teachers, Sagendra Shrestha. Gopal, he said, "was improving so much. Without the pandemic I'm sure he'd still be in school". Most schools in Kathmandu have been closed for 11 of the past 14 months. Shrestha said many parents had no internet access and did not know how to support children's learning. "They have to go out to work, so they take their children with them," he said. "I see lots of children on construction sites nowadays."
Brexit: British Embassy launches survey on key issues affecting UK nationals in Spain | Brexit | International
The British Embassy in Madrid has launched a survey aimed at finding out how UK nationals in Spain have been affected by key issues, in particular, the United Kingdom's exit from the European Union, a process commonly known as Brexit.
The poll is for Britons who are full-time residents in Spain (not those with second homes) and are covered by the Brexit Withdrawal Agreement, i.e. they were officially registered in the country before December 31, 2020, when the so-called Transition Period came to an end.
Questions in the survey address issues such as access to healthcare and the uptake of the TIE residency cards, which were introduced as a replacement for green residency cards (either the credit-card size or the A4 sheet version, officially known as the Certificado de Registro de Ciudadano de la Unión).
The aim of the poll is to gather vital information on the experience of UK nationals living in Spain that will help the British Embassy provide feedback to Spanish authorities. The survey takes around 10 minutes to complete, and all answers are confidential.
Have you heard our Spanish news podcast ¿Qué? Each week we try to explain the curious, the under-reported and sometimes simply bizarre news stories that are often in the headlines in Spain.
'The challenge for us now is drought, not war': livelihoods of millions of Afghans at risk | Global development
The war in Afghanistan might be over but farmers in Kandahar's Arghandab valley face a new enemy: drought.
It has hardly rained for two years, a drought so severe that some farmers are questioning how much longer they can live off the land.
Mohammed Rahim, 30, grew up working on a farm along with his father and grandfather in the Arghandab district of Afghanistan's southern province. Famous for its fruit and vegetables, the area is known as the bread basket of Kandahar.
Like most in the valley, Rahim's family relies solely on farming. "The fighting has just stopped. Peace has returned," Rahim says. "But now we face another war: drought.
"Now we have to dig deep to pump water out of the land. It has been two years, there has been little rain and we have a drought here. I don't know if our coming generations can rely on farming the way our ancestors used to do."
Pir Mohammed, 60, has been a farmer for more than four decades. "Not long ago, there were water channels flowing into the farm and we were providing the remaining water to other farmers," says Mohammed. "Before, the water was running after us, flowing everywhere – but now we are running after water."
The water used to come free from the river but now the daily diesel cost for the water pump is at least 2,500 Afghani (£21).
"We don't make any profit. We are in loss, rather. Instead, we are using our savings. But we don't have any other option as we do it for survival," says Mohammed. "However, the scarcity of water has affected the quality of crops as well."
About 70% of Afghans live in rural areas and are particularly vulnerable to the impacts of drought.
Last week, Rein Paulsen, director of the Food and Agriculture Organization's Office of Emergencies and Resilience, said severe drought was affecting 7.3 million people in 25 of the country's 34 provinces.
He warned: "If agriculture collapses further, it will drive up malnutrition, increase displacement and worsen the humanitarian situation."
Arghandab has been a favourite destination for farming because of the abundance of water and fertile lands. Neikh Mohammed, 40, left the Dand district of Kandahar to work in Arghandab in 2005. When he arrived he was amazed to see the greenery and pomegranate farms.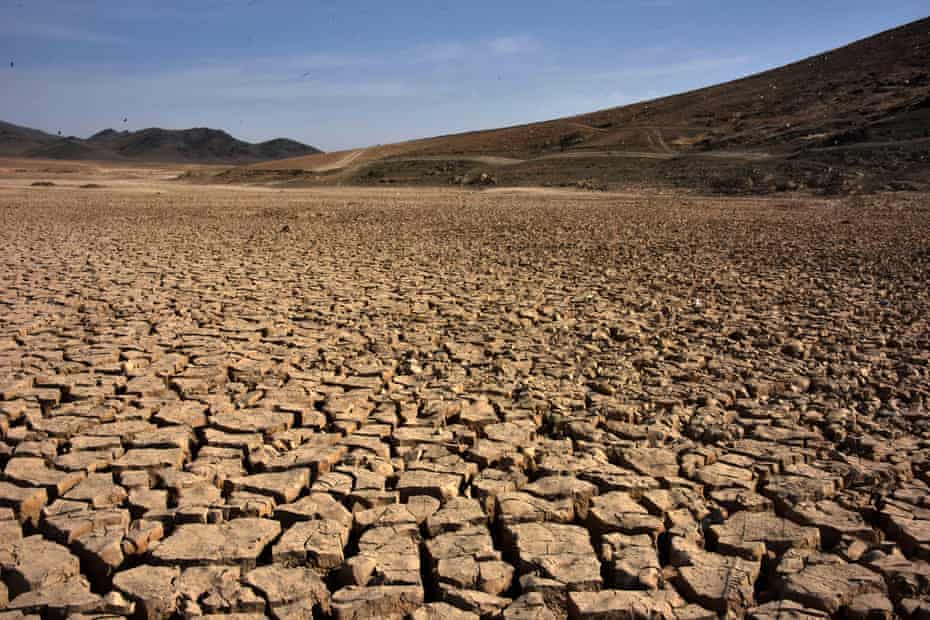 "It used to rain a lot here and we could not cross the river and come into our farms. We had a life with abundant water. But the past is another country now," he says.
According to a report by the UN mission in Afghanistan, many local farmers were caught in the crossfire between the Taliban and the Afghan security forces. The Taliban carried out attacks from thick foliage on the farms, which provided a hiding place, ideal for an ambush.
"For the past 20 years, we did not have peace and could not work after dark in our farms. But now we can stay as long as we want without any fear," says Neikh Mohammed. "Now the challenge is not just restoring peace but the drought and escalating cost of essential commodities."
Farmers say they want support from international aid agencies and assistance from the new government headed by the Taliban to help them survive.
Pir Mohammed says: "The real challenge for us now is drought, not war. We need food, water, dams and infrastructure in our country. The world should invest in us and save us."
[Ticker] US to lift Covid travel-ban on EU tourists
Fully vaccinated travellers from the EU and the UK will be let back into the US from "early November" onward, the White House said on Monday, ending an 18-month ban and prompting airline firms' shares to climb. "This new international travel system follows the science to keep Americans … safe," a US spokesman said. The EU recently recommended increased restrictions on US visitors, amid anger at lack of US reciprocity.

Source link