'Hunger was something we read about': lockdown leaves Vietnam's poor without food | Global development
When the strictest lockdown to date was imposed in Ho Chi Minh City, Tran Thi Hao*, a factory worker, was told that the government would keep her and her family well fed – but for two months they have eaten little more than rice and fish sauce.
She was put on unpaid leave from her job in July, while her husband, a construction worker, has not worked for months. They are behind on their rent, with another payment due soon.
"I'm trying to hold on for as long as possible but I don't know what will come next," she says. "I don't know how to put what I'm feeling into words. I want to ask why there's been no support.
"The government said they would send help to people like me but there's been nothing," she says. "Everyone living around me is hanging on by a thread."
Tran is not alone. Vietnam's biggest city is under a tough lockdown, with people not allowed to leave the house even for food. Current restrictions could last until 15 September, when the city has proposed resuming economic activity.
Even before the stay at home order on 23 August, Tran, like millions of others, was falling into debt. The government promised to feed everyone and enlisted the military to help deliver supplies to those in need, but vast swaths of the population have received nothing. Last week, Vietnamese media reported that more than 100 people in one district had protested over the lack of help.
Vietnam had been hailed as a global success story in tackling the pandemic. As countries around the world mourned their dead and imposed nationwide lockdowns, the Vietnamese government kept the virus at bay by relying on strict quarantine measures, contact tracing and localised lockdowns. By early May, Vietnam had recorded under 4,000 infections and 35 deaths.
Now, the Delta variant is causing chaos in Ho Chi Minh City and neighbouring provinces. The past month has seen 299,429 new cases and 9,758 deaths in the country. In Ho Chi Minh City, the number of deaths accounts for 4.2% of recorded cases; more than 200 people die and 5,000 new cases are reported daily in the city. The neighbouring province of Binh Duong is seeing similar numbers.
As tighter restrictions have been gradually introduced since the beginning of June, it is the poor who have been hit the hardest. Factories and markets were ordered to close, and with them went thousands of jobs. Taxi drivers, street food vendors, factory and construction workers who were already near the poverty line have been unable to make money for months and are trapped in precarious and crowded housing in Covid hotspots.
Official statistics state that 3-4 million people in Ho Chi Minh City alone have plunged into financial difficulty due to the pandemic.
Civil society organisations are being flooded with tens of thousands of requests for food every day and cannot cope with demand. Food Bank Vietnam, a social enterprise run by Nguyen Tuan Khoi, who also has his own business, is supporting 10,000 people a day. Its website and social media channels get twice or three times as many requests.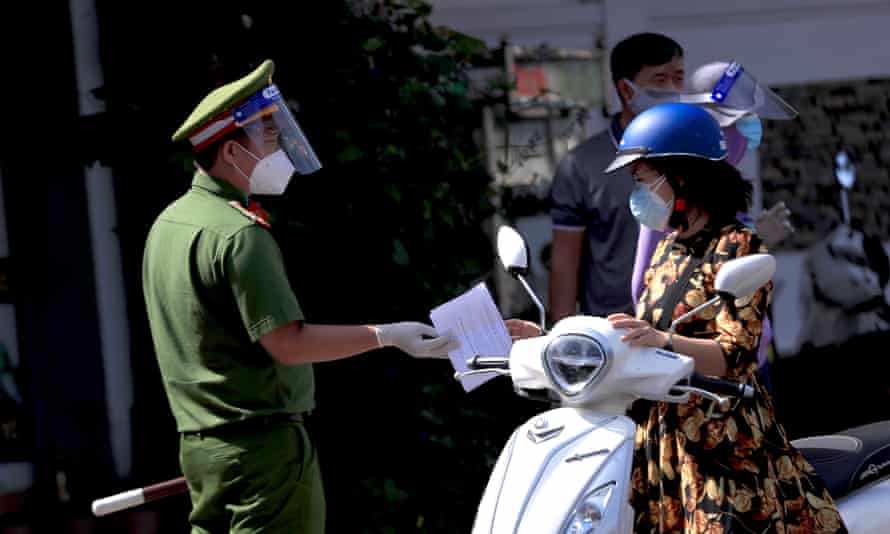 Numbers started to increase last month, but they have shot up in the past two weeks, says Nguyen. "This pandemic has affected people's resilience. The complete lockdown has caused disruption to food supply. We, and other charities, are facing difficulties in reaching people in need. The demand is huge."
In his 20 years of charitable work, he has never experienced anything like this. "The Vietnamese have been going through the most difficult days in the last few weeks," he says. "I have never seen this amount of death and loss, and I thought I never would. Before the pandemic, we had hunger and poor people, but at least food was easy for many. I was born after the war, so difficulties around death and hunger were something we heard about and read in books. Now I can understand the hardship."
Saigon Children, which helps disadvantaged young people into education and work, has been taken aback by the demand. Damien Roberts, the charity's director, says: "Usually we're building schools, doing special needs. Now 90% of our work is Covid relief. [Hunger] is very widespread at the moment.
"I don't know the numbers but we've helped 16,000 people in the last eight weeks and we've barely scratched the surface."
The messaging apps Zalo and SOSmap.net each list tens of thousands of people in need throughout the city.
City authorities have, as of 26 August, reportedly provided support including 1.2-1.5m dong (about £40) and a bag of essential foods to more than 1.2 million people in difficulty. They are proposing spending an additional 9.2bn dong to support people in lockdown.
Running parallel to the hunger crisis is a health system that has become overwhelmed. Hospitals are short-staffed, there is not enough medicine, and oxygen supplies are only just holding out. Social media is awash with stories of people calling for help and not getting it, and disturbing pictures and videos of crematorium queues and of people collapsed on the street.
Dr Tran Hoang Dang Khoa, an intensive-care doctor in a hospital set up for the worst Covid cases, is responsible for 14 patients on each shift and has been left exhausted. The 700 beds are always full, he says, with every day bringing more cases; half of those he treats die.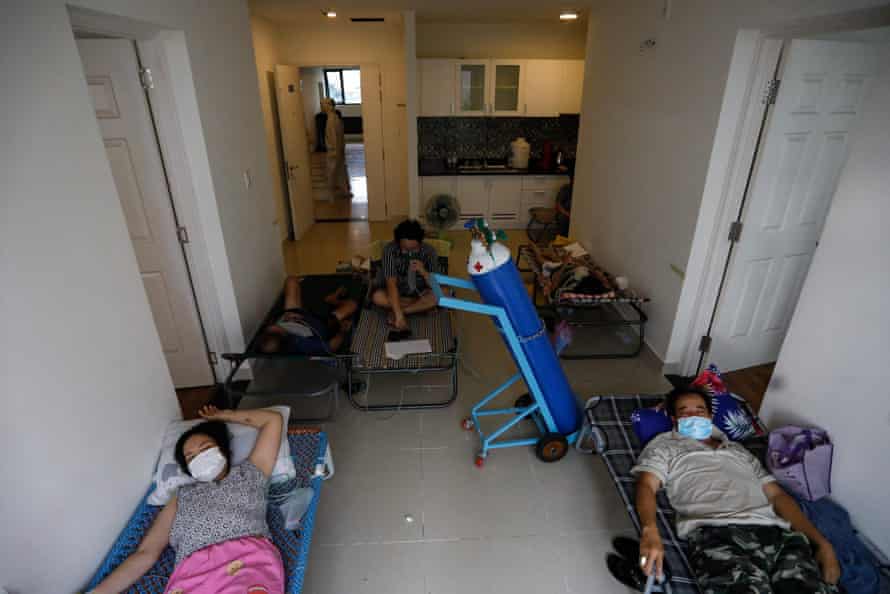 "Our health system wasn't prepared for this, and we haven't reached the peak," he says. "We lack everything – staff, medication and ventilators – but I don't know who to blame."
The current situation also reflects delays to Vietnam's vaccination programme, according to Dr Nguyen Thu Anh, a public health expert with the Woolcock Institute of Medical Research in Hanoi. "The vaccine acceptance rate is high," she says, "but we don't have enough vaccines coming into the country. Regardless of the commitment from vaccine providers, as well as Covax, the actual number of vaccines arriving is lower than what was planned."
According to the health ministry, up to 1 September, Vietnam had rolled out 20m doses of the Covid-19 vaccine. Just 3.6% of the population of 75 million adults have received two jabs. In Ho Chi Minh City, with an estimated population of 10 to 13 million, 5.8 million adults have received their first dose and 337,134 have had both jabs. The programme was besieged by cumbersome bureaucracy, which resulted in delays, according to a statement from the ministry in June.
Efforts are concentrating on Ho Chi Minh City, but as Nguyen says, the virus has already spread. "The problem is we are trying to allocate vaccines to Ho Chi Minh City. The number allocated to other provinces is quite small, so it's another challenge."
Outside the major cities, healthcare provision and infrastructure is much worse, and doctors and academics fear the effect of Covid on communities there.
Back in her 15 sq metre room in Ho Chi Minh City, Tran, her husband and eight-year-old son are stuck in a building housing hundreds of other factory workers. She is desperate to go back to work. The new school term is due to start online but she has no computer and, for now, her son's education will have to take a back seat.
"I can't even begin to think about my son's education right now," she says. "I'm worried about getting our next meal and this month's rent."
Across town, Nguyen Lam Ngoc Truc, 21, also needs to be able to earn money again. She lives in a slum on the riverbank with 30-40 other families. She sold street food to students but has not been able to work since June. Her mother, father and brother are also out of work. They have survived on handouts of rice and instant noodles from charities and neighbours.
In her neighbourhood lives the city's vast migrant population, many of whom are unregistered and therefore unaccounted for and invisible to the authorities.
"The government should keep their promise when they said they would support people," she says. "They should give food to everyone. No one is telling us what is going on."
* Names have been changed to protect their identities
Too hot to handle: can our bodies withstand global heating?
Extreme heat can kill or cause long-term health problems – but for many unendurable temperatures are the new normal
The impact of extreme heat on the human body is not unlike what happens when a car overheats. Failure starts in one or two systems, and eventually it takes over the whole engine until the car stops.
That's according to Mike McGeehin, environmental health epidemiologist at the Centers for Disease Control and Prevention. "When the body can no longer cool itself it immediately impacts the circulatory system. The heart, the kidneys, and the body become more and more heated and eventually our cognitive abilities begin to desert us – and that's when people begin fainting, eventually going into a coma and dying."
Polish TV sabotages Tusk press briefing
Polish opposition leader Donald Tusk clashed with Polish propaganda outlet TVP in Warsaw Tuesday. A TVP reporter asked him why Tusk's party wanted Poland to leave the EU. "This is beyond imagination … I won't answer such absurdities," Tusk, whose Civic Platform party is pro-EU, said, before a prickly exchange ensued. TVP also muted MEPs who said Poland should face EU rule-of-law sanctions in its coverage of a Strasbourg debate.
Odyssey Marine Exploration: Spanish court shelves case against US treasure hunters that looted 'Mercedes' frigate | USA
The history of the Spanish frigate Nuestra Señora de las Mercedes includes two grievances and one victory. The first of the former was when the British Navy sunk it and its 275 crew members on October 5, 1804, off Portugal's Algarve coast. The second offense came in May 2007, when the US treasure-hunting company Odyssey Marine Exploration scooped up its cargo of 500,000 silver and gold coins from the shipwreck at the bottom of the sea.
Triumph came when the US justice system confirmed that the treasure belonged to Spain, in a ruling released in February 2012. But there was one more affront to come: a Spanish court has just definitively shelved a case into alleged crimes committed by the US treasure hunters as they were removing the coins. After a tortuous 14-year investigation, a courtroom in Cádiz has been left with no option but to let the probe die, albeit admitting its "bafflement" and "anger" over what it considers "unusual proceedings."
At the same time as the legal process began in Florida to determine who was the rightful owner of the rescued treasure, Odyssey or Spain, a court in La Línea de la Concepción, in the southwestern Spanish province of Cádiz, began investigating whether the then-CEO of Odyssey Marine Exploration, Greg Stemm, and his team had committed any criminal offenses when they removed the haul from the shipwreck. Among the potential crimes were damaging an archeological site and smuggling.
The fact that the 500,000 pieces of silver and gold were returned to Spain in February 2012 – nearly 17 tons of material, which are now held in the ARQUA underwater archeology museum in Cartagena – is proof that the legal battle in the United States ended well for Spain. But the latest decision in the Spanish case, to which EL PAÍS has had access, leaves no doubt that the investigation into potential crimes has definitively been shipwrecked.
The three judges who were responsible for the case found that the shelving, which cannot be appealed, is based principally on the fact that the potential offenses have now exceeded the statute of limitations in Spain for trial. And the slow process of the probe, according to the judges' writ, was due to the failure of the US justice system to respond to the letters rogatory sent in 2013, and that were needed if Stemm and the rest of the suspects were to be questioned by investigators.
"In terms of the lawsuit over the coins, the United States was on Spain's side," explains Ángel Núñez, a public prosecutor who specializes in cultural heritage and who was in charge of the case until 2009. "But it is true that when it comes to targeting one of their own nationals, they are not so willing to collaborate. And given that these were US citizens who are not at the disposal of the Spanish courts…"
The Spanish court probe into Odyssey had already entered into a tailspin before this latest ruling. In December 2016, another judge in La Línea dismissed the case. The private prosecution, which was brought by the company Nerea Arqueología Subacuática, appealed the decision but it was rejected. In a new attempt to not let the legal process die, archeologist Javier Noriega, one of the heads of this small company based in Málaga, took the case to the High Court of Cádiz province, in La Línea, the one that has definitively shelved the proceedings.
In their ruling, the judges add that they share "with the appellant his surprise, confusion and even anger for the, shall we call it, unusual proceedings with this case, at least since the year 2013." The magistrates do not go so far as to specify what prompted them to feel this way.
Archeologist Javier Noriega believes that he knows all too well what they are referring to. He and his colleagues decided to take up the case – represented by the attorney José María Lancho – as a "professional and moral obligation." They have since seen how "all of these years can be summed up by the end: exceeding the statute of limitations." "They avoided entering into the substance of what happened to Spain's cultural heritage," the expert complains.
These unusual proceedings in the investigation which the judges mention and that Noriega suffered first-hand were reported on in the Spanish press. In March 2012, a former legal representative for Odyssey, with no authority, entered the courtroom when the judge was absent and persuaded court workers to photocopy the entire findings of the legal investigation so far, as was reported by the Spanish daily Abc at the time. According to Abc, such an action would have allowed Odyssey to prepare a defense against the findings of Civil Guard investigators and decide whether or not to actually take part in the trial.
The actions of the representative were very serious, taking into account that the probe was counting on a protected witness: a diver who had been threatened for having denounced Odyssey, given that he had knowledge of some of its activities in Spanish waters.
Now Noriega, 46, is gloomy about the end of a process that has occupied a significant part of his career. "As people who love our profession, it's frustrating," he explains. "It ends up being a defeat for all of us, for culture and for society. And if as well as that, the person responsible has gone unpunished, because of the statute of limitations, that's very sad."
Despite the legal setback, the archeologist argues that the court probe contains "evidence of all kinds, archeological, from witnesses, technical, juridical, and a ton of resounding questions that deal with what supposedly happened with an overwhelming truthfulness."
The expert believes that an opportunity has been missed by Europe to convey "a clear message to the thieves who have spent years destroying the history of those shipwrecks from the modern era all over the world."
Odyssey Marine Exploration never had any interest in the Spanish frigate beyond the cargo of silver and gold that it was carrying. That was made clear by the destruction caused by the company in the archeological area where the remains of the 275 people killed in the attack in 1804 lay. "When an archeological site is plundered, it is destroyed forever," states Noriega.
After the site was looted, ARQUA led a scientific excavation that was carried out in three campaigns – from 2015 to 2017 – in which the remains of the shipwreck were documented and the items that the treasure hunters left behind were removed. These included cannon, cutlery and other everyday objects from life on board. The expedition also achieved the challenge of descending 1,130 meters underwater, the maximum depth achieved until that point during a subaquatic arqueological mission by a European country.
While the damage done to a historical site such as the Mercedes shipwreck will not result in a trial or convictions, Núñez believes that the consequences of the process "were positive, from a legal and global point of view." Noriega goes even further: "Spain and its coasts are, today, possibly the best protected and safest in the world with regard to the protection of cultural heritage against looting."
Since the Odyssey case, the classification of offenses against historical heritage in Spain has improved, new archeological maps have been created, there is better coordination between administrations, and there is greater social awareness about this kind of offense. It was precisely these weaknesses that the treasure-hunting company Odyssey made use of to make off with the coins. In fact, the activity has presumably lost its appeal not just in Spain but also elsewhere, given that the American company has since abandoned its treasure-hunting activities and is now focusing on underground mining.