How war in Ukraine is affecting food supply in Africa and the Middle East | Global development
Lebanon
When Lebanon's Muslims sat down to their first iftar of Ramadan tonight, the meal in front of them will have cost significantly more than it did six weeks ago.
The Middle Eastern country, already mired in economic crisis and battling inflation before the war broke out in Ukraine, now finds itself grappling with even higher price rises for wheat and cooking oil.
"In 2021, when the prices were already up, I was using the same oil to cook several dishes," Mona Amsha, from Beirut, told the Thomson Reuters Foundation this week. "Now, I can't even do that."
The fears around wheat imports – more than 60% of which came last year from Ukraine – are particularly acute because Lebanon's reserves are limited. The huge explosion that tore through Beirut's port in August 2020 and killed more than 200 people also destroyed the main grain silos. As a result, the country is thought to have enough wheat to last only about six weeks.
The government has said it is trying to secure fresh imports from India, the US and Kazakhstan – all of which would entail grain travelling much longer distances on increasingly expensive shipping routes. Meanwhile, according to agriculture minister Abbas Hajj Hassan: "There is no wheat crisis today in Lebanon."
But shortages are already starting to show on supermarket shelves; some bakeries are rationing bread, and the price rises since the start of the Russian invasion of Ukraine are obvious, says Bujar Hoxha, country director for Care International.
"From 24 February to 21 March we have seen a general increase of 14% on food prices," he says. "For bread, for example, it's 27%. For white sugar it's 72%. For sunflower oil it's 83%." Fears are also mounting over the cost of fuel, essential to the supply of electricity and water.
Few sections of society are more vulnerable to these changes than Lebanon's 1.5 million Syrian refugees, most of whom live in abject poverty and are dependent on food aid. Many fled Russian bombardment in their homeland and are now preparing to feel the knock-on effects of another of Vladimir Putin's wars.
"When we think of poverty, I always try to use the sea level," says Hoxha. "If there are Lebanese living below the poverty line, we always have to imagine Syrian refugees being minus-20 sea level on that poverty line."
The decision of some countries to bar exports has exacerbated the problem. Last week the Lebanese prime minister, Najib Mikati, asked Algeria to exempt it from a ban on sugar exports imposed in mid-March. Hoxha says Care tried to buy vegetable oil from Turkey but had been unable to do so.
The next few months, then, could be challenging, and hopes for the holy month are decidedly low. "This will be one of the most difficult Ramadans that Lebanon has faced," says Hoxha. "We thought it was last year. We thought a year before that. But this one will be particularly difficult."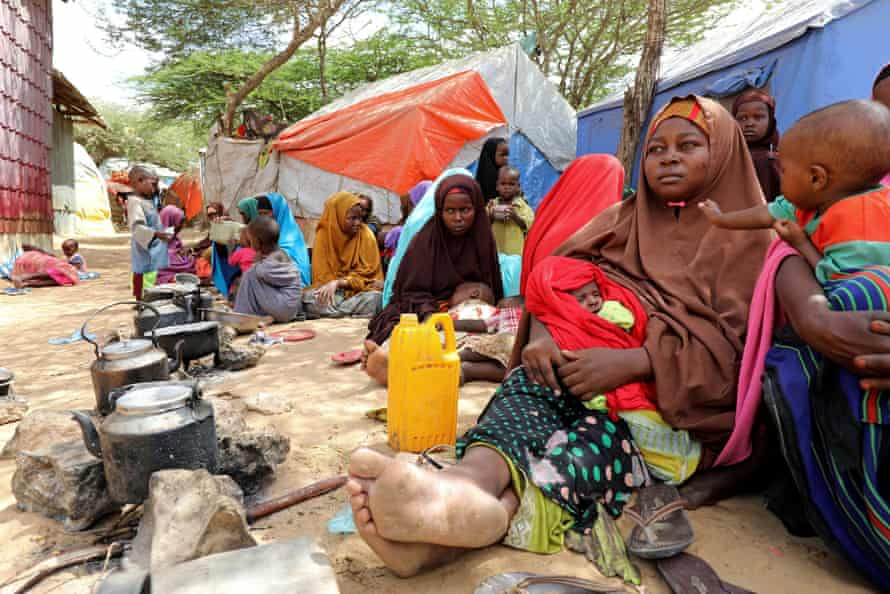 Somalia
The worst drought for four decades; hunger so widespread that famine could develop within months; a resurgence in violence by jihadi terrorists seeking to overthrow the fragile government: even before Russian tanks rolled into Ukraine on 24 February, Somalia had more than enough on its plate. Now, with the invasion paralysing the breadbasket of the world, the east African country is having to contend with yet another challenge: the skyrocketing price of staple goods.
"A week ago, the 20-litre jerrycan of cooking oil was $25, today it's about $50 [£38]. A litre of gasoline was $0.64 and today it runs about $1.80 – it's crazy," Mohamed Osman, a trader, told Agence France-Presse this week.
In Somalia, where about 1.4 million children under five are thought to be acutely malnourished and more than 4 million people are reliant on emergency food aid, price increases of any size are going to have an impact. And while it does not depend as heavily as some countries on wheat imports, Somalia has many other reasons to fear the ripple effect of the war in Ukraine.
Petroc Wilton, a spokesperson for the UN's World Food Programme (WFP), says most of the agency's food assistance in Somalia was done through cash transfers, which were highly vulnerable to market fluctuations. "Any major impact on the purchasing power of the people that we serve due to sudden price changes is a real concern, particularly in context of this very, very severe drought," he says.
The drought gripping the country has been building since October 2020, and the UN has warned that Somalia could be tipped into famine this year if the rains expected in the next few weeks aren't plentiful enough. In 2011, the last time Somalia saw famine, almost 260,000 people are believed to have died.
Before the invasion of Ukraine, food prices had already been increasing because of the drought, with livestock dying or decreasing in quality, and harvests of cereals such as sorghum well below long-term averages. "The medium-term effects of the Ukraine crisis are just an extra reason for very serious concern," says Wilton.
WFP in Somalia is "just about" to receive the last shipment of food – a delivery of yellow split peas – that left the port of Odesa before it was forced to shut, Wilton adds. "After that, we currently don't have any visibility on further expected shipments. So yes, there is a real concern that scarcity of some of these commodities coming into Somalia and the region could drive prices up."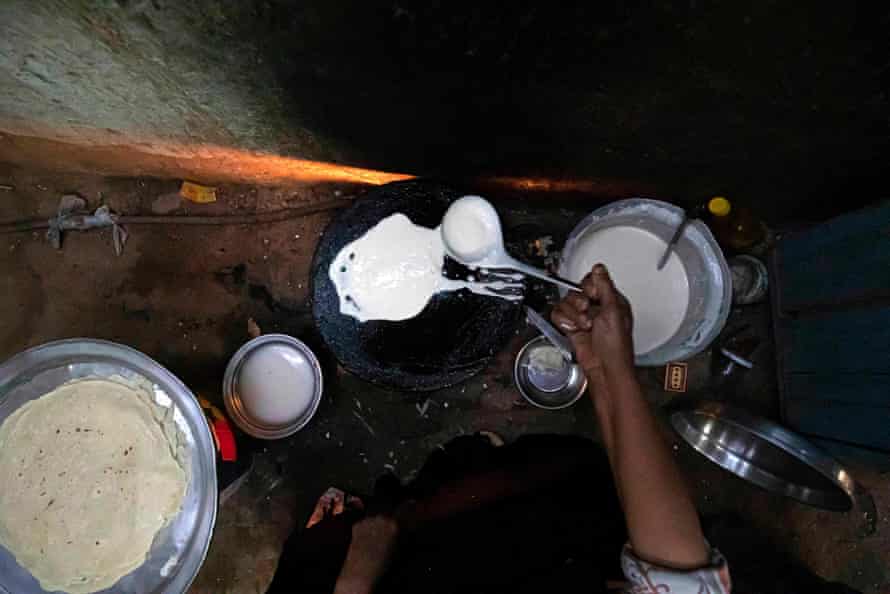 Egypt
For decades, tens of millions of Egyptians have been able to pop to their local bakery and pick up subsidised flatbread for just a few pennies. The bread is so central to the Egyptian way of life that it is known as aish – literally, "life".
Soon, however, that fixed price could rise, as the government seeks to respond to the rise in wheat costs resulting from the Russian invasion of Ukraine. Egypt, the world's top importer of wheat, is particularly vulnerable to the price shock, and consumers are already seeing big increases in the cost of non-subsidised goods.
Last year, Egypt imported more than 70% of its wheat from either Russia or Ukraine, according to the UN, so the first challenge for the state is to seek alternative suppliers away from the Black Sea. This week, France's agriculture minister, for one, said his country would "stand by" Egypt "to make sure it gets the wheat that it needs in the coming months".
But there are problems with most of the alternatives. Wheat from France has in the past been considered too moist. Other big exporters such as Australia or Canada bring with them significant extra costs in terms of transportation, especially in a time of high fuel prices.
In an interview last month, the minister of supply, Ali El-Moselhy, implored Egyptians not to worry, saying that the country's stocks were sufficient for at least four months and that there was "a political will and vision to maintain wheat reserves". The local harvest, he added, according to Bloomberg, was expected to bring in 1m tonnes more than anticipated.
However, with the average price per tonne of imported wheat about $100 more expensive now than last year, many also expect the government to act on the subsidised loafs. The programme had already been a target before the Ukraine invasion; last year President Abdel Fatah al-Sisi declared: "It's not realistic that I sell 20 loaves for the same price as a cigarette … This must stop." Now such a move seems inevitable.
But in a country where about a third of the population live below the poverty line, it remains to be seen if the government is prepared for the social ramifications. "When prices jump, and poor people cannot feed their families, they will be on the streets," warns Kristalina Georgieva, the managing director of the International Monetary Fund, last weekend. "One thing we know about trouble in one place, it travels. It doesn't stay there."
Sign up for a different view with our Global Dispatch newsletter – a roundup of our top stories from around the world, recommended reads, and thoughts from our team on key development and human rights issues, delivered to your inbox every two weeks:
WHO concerned about first cases of monkeypox in children | Science & Tech
Reports of young children infected by monkeypox in Europe – there were at least four in recent days, with a fifth one recorded a few weeks ago – have raised concern about the progress of an outbreak now affecting more than 5,500 people in 51 countries.
The health organization's Europe chief, Hans Kluge, also warned on Friday that overall cases in the region have tripled in the last two weeks. "Urgent and coordinated action is imperative if we are to turn a corner in the race to reverse the ongoing spread of this disease," said Kluge.
The WHO has not yet declared the outbreak a global health emergency, however. At a meeting last Saturday, the agency ruled it out but said it could change its views if certain scenarios come to pass, such as a spike in cases among vulnerable groups like children, pregnant women and immunocompromised people. Available data shows that children, especially younger ones, are at higher risk of serious illness if they become infected.
The last known case of a child contracting monkeypox was reported on Tuesday in Spain, where a three-year-old was confirmed to have the disease. Cases in Spain are now in excess of 1,500 according to health reports filed by regional governments.
Also on Tuesday, Dutch authorities reported that a primary school student had become infected and that contact tracing had been initiated to rule out more cases within the child's close circle of contacts. On Saturday, France reported one confirmed case and one suspected case among elementary school students.
The UK has so far recorded at least two infections in minors. The first case, reported in May, involved a baby who had to be taken to intensive care for treatment with the antiviral Tecovirimat, of which few doses are available but which has already begun to be distributed in several countries. British authorities this week reported a second case of a child with monkeypox. The UK currently has the biggest monkeypox outbreak beyond Africa.
The main vaccine being used against monkeypox was originally developed for smallpox. The European Medicines Agency said earlier this week it was beginning to evaluate whether the shot should be authorized for monkeypox. The WHO has said supplies of the vaccine, made by Bavarian Nordic, are extremely limited.
Until May, monkeypox had never been known to cause large outbreaks beyond Africa, where the disease is endemic in several countries and mostly causes limited outbreaks when it jumps to people from infected wild animals.
Jury calls for sweeping reforms to Canada's approach to femicide | Canada
A community in rural Canada has made a series of transformative recommendations at a coroner's inquest that – if adopted – could position the country's most populous province as a leader in preventing femicides, particularly those carried out by an intimate partner.
The jury in Renfrew County, Ontario, just west of Canada's capital, delivered 86 recommendations this week in a unanimous verdict on the deaths of three local women, who were killed by the same man on a single morning nearly seven years ago.
The boldest was to have the Ontario government "formally declare intimate partner violence as an epidemic" that requires "significant financial investment" and deep systemic change to remedy.
Since the triple homicide on 22 September 2015, 111 women in Ontario have been murdered by their current or former partner, the inquest heard. Every six days in Canada, a woman is killed by her intimate partner, according to Statistics Canada.
The jury also recommended official prominence be given to the word "femicide" – to have it be listed as a manner of death by coroners in the province and added to the criminal code of Canada to underscore the misogyny beneath the killings of women and girls because of their gender.
"A lot of the recommendations are groundbreaking," said Pamela Cross, a lawyer and expert on intimate partner violence in Ontario who testified at the inquest.
The inquest, which heard from nearly 30 witnesses over three weeks, was meant to examine the systems that broke down in the weeks, months and years leading up to the day Basil Borutski got in a borrowed car, drove to Carol Culleton's cottage and strangled her with a coaxial cable, then moved on to Anastasia Kuzyk's house where he shot her to death and then to Nathalie Warmerdam's farm where he shot her too.
All three women had previously been in an intimate relationship with Borutski. He had been in and out of jail for assaulting Kuzyk and Warmerdam and was on probation at the time of the murders and subject to a weapons ban.
Borutski had been flagged as "high risk" two years before the triple homicide, the inquest heard, and exhibited 30 out of 41 risk factors identified by Ontario's domestic violence death review committee – including a deep sense of victimhood and the ability to convince new partners he was innocent and unfairly targeted by police in his prior convictions.
Police witnesses told the jury Borutski was very good at "manipulation" and constantly flouted court orders, including never showing up to a mandated partner assault response program.
The jury heard from family members, including Valerie Warmerdam, Nathalie's daughter, who painted a nuanced and empathetic picture of Borutski as a troubled stepfather. It heard from a frontline worker who described Warmerdam and Kuzyk's constant terror that Borutski would kill them or harm their family.
The inquest jury demanded decision-makers make "significant financial investments" in ending violence, have police all use the same records management system and create clear guidelines for flagging high-risk abusers. It urged the study of disclosure protocols like Clare's Law, which is used in the United Kingdom and in parts of Canada to allow a concerned person to check if their partner has a police record of intimate partner violence.
Valerie Warmerdam welcomed the verdict, but underscored the need for action on the part of governments who will receive these recommendations in the wake of the inquest. "I want change," she said. "These recommendations are a good start, if they are actioned. That's a big if."
Kirsten Mercer, counsel to End Violence Against Women Renfrew County (EVA), noted that it was the jury themselves who added the epidemic recommendation among 13 others, including creating a registry of high-risk offenders akin to the sex offenders registry, and exploring electronic monitoring of those charged or found guilty of an IPV-related offence.
"The jury has asked that we tell the truth about intimate partner violence," Mercer told the media after the verdict. "The jury has asked that we put our money where our mouth is."
The idea to add femicide to the coroner's list of manners of death and to the Criminal Code of Canada came from the joint submission. Countries in Latin America have already added this as a criminal offence, she said, and should be looked to as a model for how to do it here.
Accountability was a priority for this jury, Mercer said. The verdict called for the creation of an accountability body akin to the United Kingdom's domestic abuse commissioner and a specific committee to make sure this verdict does not just languish in decision-makers' inboxes.
"We are not going to wait forever any more."
Apollo Go: The Beijing neighborhood with robotaxis and driverless delivery service | International
Book a robotaxi on a mobile app and it will pick you up in less than 10 minutes. It's 2:00pm on a Thursday in Beijing and our ride is going smoothly with no human intervention so far. "Sometimes we have to speed up manually to avoid causing traffic jams. Bicycles and motorcycles often cause traffic congestion because they ignore traffic signals," says the driver supervising our trip, as the steering wheel magically moves by itself.
The 37-square-mile (60 square kilometers) Beijing High-level Automated Driving Demonstration Area (BJHAD) is where the country's first pilot project to use autonomous vehicles on public roads is happening. Located in a secluded district in the southeastern part of the city, BJHAD is the test site for a futuristic plan that envisions turning Beijing into the standard-bearer for artificial intelligence (AI). The Apollo robotaxis manufactured by Baidu and the autonomous delivery vehicles manufactured by JD.com (aka Jingdong) zip around a tranquil utopia that stands in stark contrast to the hectic jungle of downtown traffic.
"[A robotaxi] can handle an average of 15 daily bookings, most of which are trips between a subway stop and an office," said the cab driver. In November 2021, Baidu and Pony.ai became the first companies authorized to operate a fleet of 100 robotaxis in BJHAD. As of April 2022, humans are no longer required to sit in the driver's seat of the robotaxi, which is allowed to travel at a maximum speed of 37 miles per hour (60 kph). The service is free for now, although the two companies are commercially licensed.
Baidu, China's leading search engine, is diversifying its business by commercializing its AI and intelligent transportation technology. Its Apollo Go program is currently operating in seven cities, and the company plans to expand to 65 cities by 2025, and 100 cities by 2030. Unlike the Waymo robotaxis that Google began operating in 2020 in the US, Baidu's vehicles circulate during the day, enabling them to collect more data.
Although Baidu has topped the list of Chinese companies with the most patents for AI applications over the last four years, e-commerce giant JD.com is the leader in the autonomous delivery vehicle space. In 2016, Jingdong established its headquarters in BJHAD, and its delivery robots now dominate the streets. These vehicles mainly transport orders from the 7FRESH smart supermarket chain operated by JD that combines e-commerce and traditional commerce. "Instead of people going out to buy products, we deliver them," said Yang Han. Who works in Jingdong's communications department.
JD's applies big data analytical methods to the information collected from more than 400 million annual users, and utilizes it to tailor inventories to the specific needs of each 7FRESH physical stores location. The entire 7FRESH inventory is available in the app. The delivery robots, which travel at nine miles per hour (15 kph) and can carry 220-440 pounds (100-200 kilos), deliver orders in less than an hour within a three-mile (five kilometer) range.
JD employees rely on smaller robots to send documents and other items between offices in 10 minutes or less. "They speed up the work and saves us from having to run around from one place to another," said Yang Han. The robots are able to operate elevators and open doors by themselves as they follow their delivery routes.
The robots can recognize their surroundings and avoid obstacles with a 98% accuracy rate for small objects. Information streams in through cameras and other sensors, while the navigation algorithm pinpoints their location and plans routes. JD's cloud-based simulation platform accumulates data from every trip to continuously improve the robots' capabilities.
The Covid pandemic spurred JD to accelerate its autonomous delivery program, enabling it to deploy small and large delivery vehicles to the Chinese cities most affected by the pandemic over the last two and a half years. In early 2020, during the peak of the pandemic in Wuhan, these delivery vehicles traveled a total of 4,225 miles (6,800 kilometers) and delivered more than 13,000 packages.
In a country where low unemployment is one of the main pillars of its social stability goals, the move to autonomous vehicles may prove to be risky in the long run. However, Yang Han insists that the objective is to "achieve a synergy between humans and machines… The goal is to take the pressure off delivery drivers and allow them to focus on customer service and vehicle maintenance. The couriers don't need to transport the goods. Instead, they wait by the curb for the robots to arrive, and then walk the goods to the customer's door. "
BJHAD is part of the Beijing Economic and Technological Development Area, the first place in China specifically geared to AI research. The country aspires to become the world leader in AI by 2030 and to leave the "factory for the world" image behind for good.