Hidden scars: mentally ill patients lost in Yemen's war | Global development
Radhwan Ali Hassan lives with his mother in a small house perched at the top of a sleepy Yemeni village called Aqeeqah, on the outskirts of Taiz city. From inside his bare-walled room, the 35-year-old hears the distant sound of an ice-cream van. He sees children running past his window and can smell goats, but he cannot remember the last time he walked outside.
Thick metal shackles around his ankles are attached to a heavy chain fastened to the far wall. They clatter as Hassan paces his room, rocks from side to side and smiles vacantly. His pupils are wide, his movements slow.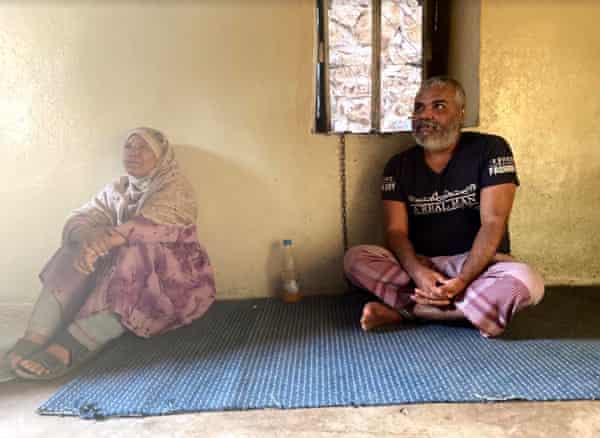 "We forced him to wear clothes today. Usually he's naked, just lying here," says his mother, Hos Ansayeed. "Sometimes he gets very angry with me. He doesn't want to see my face when he's in a bad way. So I just leave his food at the door without coming in."
The family do not know what triggered his condition, or what illness he struggles with – he has never been diagnosed. The cost of transport and the consultation fee to visit the nearest psychiatrist are not affordable options. Yemen's six-year war has driven up prices of fuel and basic goods, leaving families such as Radhwan's in desperate poverty. They spend everything they have fending off hunger or paying for Radhwan's tranquillisers, which control his most violent outbursts.
Months after President Joe Biden promised to end US support for Yemen's war, the world's worst humanitarian crisis continues to deteriorate. Fuelled by a bitter Saudi-Iranian rivalry, the conflict has rendered two-thirds of the country dependent on aid to survive. More than 2 million children are expected to go hungry or starve this year. With the rebel Houthis stepping up their attack on the city of Marib, tens of thousands of people have been uprooted from their homes in the past few months alone.
With no end in sight, an entire population is struggling to cope. According to the World Health Organization, a fifth of those living in war zones are likely to be suffering from some form of mental disorder, including depression, post-traumatic stress disorder (PTSD), or psychosis. In Yemen, where soaring poverty rates have added to trauma and the healthcare system has been targeted, depleted and neglected, that figure is likely to be higher.
Data is limited, but from 2014 to 2015 there was a reported 40% increase in suicides recorded in Yemen's capital, Sana'a. And in one of the few scientific studies on mental health carried out, nearly 80% of children surveyed in 2018 showed symptoms of PTSD.
At the Taiz mental health hospital, one of four public psychiatric facilities in the country, patients fare little better than at home. Just two nurses are responsible for 143 severely ill inpatients. Many are shackled to stop them escaping and almost all are heavily sedated, roaming through the corridors in a haze of consciousness.
Several male patients seemed confused at the sight of a visitor coming through the double-bolted metal gates and into the hospital's main courtyard. Their grey tracksuits smell of urine. One thin man in his 30s saw his father shot dead in front of him. He has barely uttered a word since then.
Another patient in his mid-20s shuffled over to ask for a cigarette. His hand jutted out at a 90-degree angle as he took one, before he crumpled back down on the dusty ground, a grin on his face. Dr Adel Mulhi, who has been here since 2003 and is now the hospital's director, says his patient was shot in the arm five years ago but when his parents could not afford the treatment he needed then he had gradually slipped into a deep depression. He had been brought to the hospital a year ago and had not seen his family since.
"For lots of people, the stigma controls their outcome," says Mulhi. "If you are mentally not well, people will feel you are weak, or you're not good at religion, or it's from the devil. Our society doesn't believe in [being] mentally ill."
This cultural factor combined with the extreme stresses of war is why, Mulhi believes, so many family members end up locking away their loved ones or bringing them to the centre. "They just want to get rid of them. It's very sad."
Mulhi knows each of his patients by name and pats them on their heads affectionately, handing out words of encouragement as he strolls past their rooms.
Psychiatric specialists such as Mulhi have become rarer, many leaving for less stressful, safer environments. About 40 remain in Yemen today to serve a population of 30 million. Women often go untreated, their psychological suffering ignored entirely. Many seek out unqualified opinions or try whatever unproven treatment they can find. Several villagers in Aqeeqah said they had paid thousands of Yemeni rials to treat mentally ill family members with electric shock therapy, only to discover that it worsened their condition.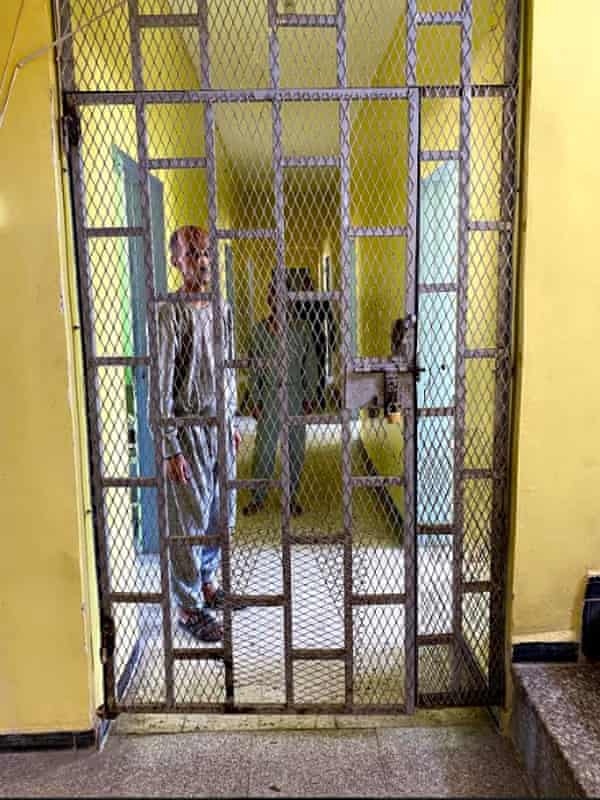 For professionals who continue to offer their services, resources are scarce. Mulhi's centre is entirely dependent on government funding, which is barely enough for a quarter of the medication necessary to manage his patients. Until December 2019, the hospital had received financial aid from the UN Population Fund (UNFPA), one of the few international agencies to prioritise mental healthcare in Yemen. But a reduction in its own funding forced it to withdraw support.
In recent years, international donations to Yemen have been in freefall. In March, the UN reported a "disappointing outcome" to its annual pledging conference of aid donors. The UK was among more than 100 governments and donors to slash their contributions, leaving the Yemen fund with about half its target of $3.85bn (£2.7bn), more than $1bn short of what was pledged in 2019. Covid is providing donors with a plausible excuse to cut their contributions, along with allegations of corruption in the aid industry itself.
Last year the UNFPA closed 80 of 180 healthcare facilities, some of which were providing psychosocial services for Yemen's population at large. This year, having only reached 13% of its necessary budget, it expects to close more.
"Mental health was not, and is still not, one of our main concerns," says Yemen's deputy public health minister, Dr Ishraq al-Subaie, who acknowledges that all programmes and initiatives to tackle mental health problems are on hold.
"Our efforts have been focused on rebuilding hospitals, treating the war-wounded and addressing reproductive healthcare. With the current state of the economy and the outbreak of Covid-19, we're unable to cope," she says. "Mental health has been completely neglected."
For staff at the Taiz centre, the idea of rehabilitating, rather than restraining, their patients is scoffed at. "Of course no one here is getting what they need," says Mulhi. "But the situation right now is not safe for us, let alone for the mentally ill. All we can do is contain them.
"This is just the spark. The lightning hasn't yet come. Just like American soldiers went to Vietnam and are still suffering now," he says, adding: "This war, this mental burden, this tragedy will bring a picture of mental illness in the future that I am afraid we will not be able to face. Hopefully I won't be in this life at that time, inshallah. Hopefully I'll be buried by then."
[Ticker] US to lift Covid travel-ban on EU tourists
Fully vaccinated travellers from the EU and the UK will be let back into the US from "early November" onward, the White House said on Monday, ending an 18-month ban and prompting airline firms' shares to climb. "This new international travel system follows the science to keep Americans … safe," a US spokesman said. The EU recently recommended increased restrictions on US visitors, amid anger at lack of US reciprocity.

Source link
Ten women and girls killed every day in Mexico, Amnesty report says | Global development
At least 10 women and girls are murdered every day in Mexico, according to a new report that says victims' families are often left to carry out their own homicide investigations.
The scathing report, released on Monday by Amnesty International, documents both the scale of the violence and the disturbing lack of interest on the part of Mexican authorities to prevent or solve the murders.
"Mexico is continuing to fail to fulfil its duty to investigate and, therefore, its duty to guarantee the rights to life and personal integrity of the victims as well as to prevent violence against women," says the report, Justice on Trial.
"Feminicidal violence and the failings in investigation and prevention in northern Mexico are not anecdotal, but rather form part of a broader reality in the country," the report adds.
Femicide has been rife in Mexico for decades – most notoriously in an epidemic of murders which claimed the life of some 400 women in the border city Ciudad Juárez during the 1990s. In recent years, a growing feminist movement has held massive street protests against the violence, but authorities have proved unwilling to take action to stop the killing.
"It's always a question of political will," said Maricruz Ocampo, a women's activist in the state of Querétaro.
Ocampo has been part of teams lobbying state governors to issue an alert when femicides reach scandalously high levels – a move to raise awareness and mobilise resources. But officials often resist such moves, she said, as governors worry about their states' images and investment.
"They refuse to recognise there is a problem," she said.
The president, Andrés Manuel López Obrador, has also downplayed the problem. He branded the women protesting on 8 March, International Women's Day, as "conservatives" and alleged a dark hand manipulating the demonstrations.
When asked last year about rising violence against women, he responded, "Tell all the women of Mexico that they are protected and represented, that we're doing everything possible to guarantee peace and quiet and that I understand that our adversaries are looking for ways to confront us."
Mexico recorded the murders of 3,723 women in 2020. Some 940 of those murders were investigated as femicides.
The Amnesty report focused on Mexico state, a vast collection of gritty suburbs surrounding Mexico City on three sides. It has become notorious for femicides over the past decade – and for the way the former president, Enrique Peña Nieto, a former Mexico state governor, ignored the problem.
The report found cases of families carrying out their own detective work, which were ignored by investigators. In many cases, authorities contaminated crime scenes or mishandled evidence. They often did not even pursue leads such as geolocation information from victims' mobile phones.
In the case of Julia Sosa, whose children believe she was killed by her partner, two daughters found her body buried on the suspect's property – but had to wait hours for police to arrive and process the crime scene. One of her daughters recalled the subsequent interview process, in which "the police officer was falling asleep".
Sosa's partner hanged himself, prompting police to close the case, even though family members said there were more leads to pursue.
In states rife with drug cartel violence, activists say cases of femicides go uninvestigated as impunity is commonplace.
"The authorities say it's organised crime and that's it," said Yolotzin Jaimes, a women's rights campaigner in the southern state of Guerrero. "Many of these aggressors find protection under the excuse of organised crime."
The persistence of femicides is a stark contrast to recent gains by the women's movement in Mexico. The country's supreme court decriminalised abortion earlier this month. A new congress recently sworn in has gender parity and seven female governors will be installed by the end of year – up from just two before last June's election's
The decriminalisation of abortion "let off some steam" from the pressure driving the protests "because part of the demands was over the right to choose," Ocampo said. "But when it comes to violence, we still see it everywhere."
US official urges EU to speed up enlargement
Gabriel Escobar, the US' newly-appointed acting deputy secretary of state for South Central Europe, has urged Europe to speed up Western Balkans enlargement. "To return 20 years later and see that there hasn't been much progress on that front was a little disappointing," he told the RFE/RL news agency Friday, referring to his last post in Europe in 2001. "We would like to see a more rapid integration," he said.