Halyna Hutchins: Alec Baldwin, an actor dogged by scandal | USA
Alec Baldwin once borrowed the words of one of the acting colleagues he admires the most – "the incredibly intelligent and wise Warren Beatty" – to explain his ongoing image problems. "Your problem is a very basic one, and it's very common to actors. And that's when we step in front of a camera, we feel the need to make it into a moment. This instinct, even unconsciously, is to make the exchange in front of the camera a dramatic one," Beatty said.
Last Thursday, on the set of the movie Rust, of which Baldwin is the star and a producer, that moment could not have been more dramatic. It was Baldwin who pulled the trigger on a prop firearm that killed the Ukrainian director of photography, 43-year-old Halyna Hutchins, and wounded the movie's director, 48-year-old Joel Souza. The tragic incident left Baldwin speechless for several hours until he expressed his "shock and sadness," offering his help and support to Hutchins' family and stating that he was "fully cooperating" with the police investigation into the accident. A social media post from a few days earlier in which he was kitted out in his cowboy gear and covered in blood in character for Rust was removed from his accounts.
Scandal seems to follow Alec Baldwin around, whether or not he is looking for that drama to which Beatty alluded. The eldest of six siblings of a middle-class Catholic family of Irish descent, the four Baldwin brothers are all involved in show business, although they couldn't be much different from one another. Daniel has had problems with drugs. Stephen is currently involved with an Evangelical church and his political views are inclined toward conservatism. The second-youngest, William described his brother as someone who always has something "to fucking whine about," according to The New Yorker. Alec is the eldest and the most disciplined, but also the one who protected the other brothers from bullies as he was the most combative. He went to school with the notion of becoming the president of the United States, but on recognizing he had little chance of achieving that goal he enrolled at the Lee Strasberg Theatre & Film Institute in New York, graduating many years later.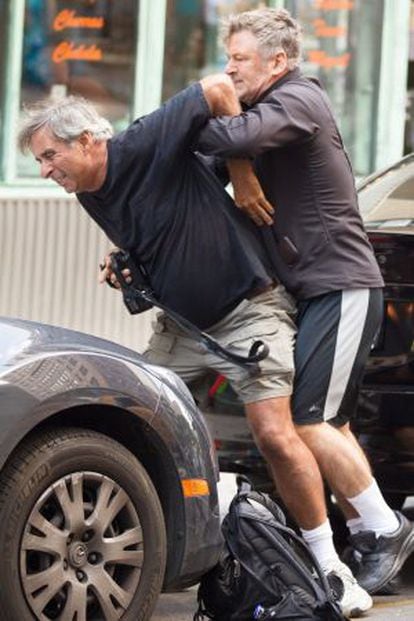 His career could have panned out like Al Pacino's or Jack Nicholson's, actors who he looked up to, but Baldwin's generation was not the same. Perhaps neither was his talent, and certainly, the world of movies had changed. In 1992, Baldwin ensured that he would be associated with his idols when he starred with Jessica Lange in a Broadway revival of A Streetcar Named Desire, which three years later would be turned into a television movie with Baldwin and Lange reprising their roles for the small screen. Not only did Baldwin receive a Tony nomination for his Broadway performance, he also drew favorable comparisons to legendary actor Marlon Brando, who starred in the stage production and the 1951 movie version. Around this time Baldwin was also landing meaty screen roles, including that of Jack Ryan opposite Sean Connery in The Hunt for Red October.
But as time progressed, Baldwin's name was more frequently heard in connection to his social life and scandals than for his stage or screen performances. His marriage to actor Kim Basinger, who he met in 1991 while filming The Marrying Man, ended acrimoniously, and Baldwin's relationship with the couple's daughter, Ireland, has often been fractious. In 2007, a voicemail message the actor left for Ireland, who was 11 at the time, caused a sensation due to Baldwin's use of not very fatherly language, during an ongoing spat with Basinger following their 2002 divorce.
Then there is the other Alec Baldwin, described by the actor himself as "bitter, defensive, and more misanthropic than I care to admit," in an open letter to Vulture magazine in 2014 titled Good-bye, Public Life. At that time Baldwin had forged a reputation as a violent, homophobic egocentric following several incidents aired in the media. And, of course, from his own mouth. Even so, he managed to resurrect his career in the most surprising way imaginable: by making fun of himself.
Baldwin's portrayal of the absurd and conceited television executive Jack Donaghy across seven seasons of 30 Rock (2006-13), a character inspired by Baldwin himself, earned back his public popularity and landed the actor back-to-back Primetime Emmy Awards in 2007 and 2008 and three Golden Globes. In 2011, he started a new chapter in his personal life with his current wife, Hilaria Baldwin, with whom he has six children. But as one of his closest friends, Lorne Michaels, producer of Saturday Night Live where Baldwin has received plaudits for his impersonations of former US president Donald Trump, once said: "Everything would be better if you were able to enjoy what you have."
Baldwin's altercations – mostly verbal, occasionally physical – with the paparazzi or anyone who in the actor's opinion has violated his privacy have been frequent, including on productions on which he has worked. In 2013, the actor Shia LaBeouf was fired from the Broadway theatre production of Orphans when Baldwin said: "Either he goes or I do." Years earlier an actress left another play Baldwin was working on by leaving a written note stating that she feared for her "physical, mental and artistic" safety.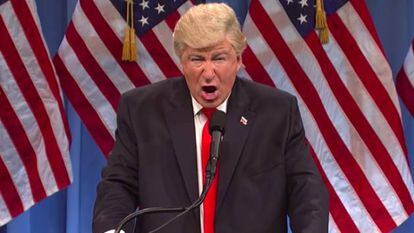 Every one of Baldwin's reinventions seems inexorably to be followed by another fall from grace. On the one hand, there is the Baldwin who has stated on several occasions that he intends to withdraw from public life, and on the other the Baldwin who is obsessed with social media, writing a tweet for every occasion. Many of these posts have cost the actor, such as in 2017 when he commented on a video of a suspect being fatally shot by police: "I wonder how it must feel to wrongfully kill someone…"
There are still unanswered questions surrounding the death of Halyna Hutchins. The investigation has not disclosed whether the firearm was discharged accidentally or if Baldwin was aiming it at the time, although the transcript of a call to the emergency services appears to indicate it happened during a rehearsal. As of yet, no charges have been filed against Baldwin but it is unknown if this may yet occur at a later date. A statement taken from the assistant director states that Baldwin was told by crew members that the gun was not loaded. Many observers are wondering if Rust will be completed, if the project will be abandoned. And many more are asking the same about Baldwin: will he be able to find a way back from this latest dramatic moment?
How Italy came to be Europe's coffee capital
European Commission recommends travel ban on southern Africa amid fears over new Covid variant
The EU is expected to announce an immediate travel ban to southern Africa because of the discovery of a new Covid-19 variant.
The B.1.1.529 variant, which is more transmissible than the dominant Delta variant and could evade vaccines, has been discovered in South Africa's most populous province Gauteng.
The EU Commission president Ursula von der Leyen tweeted: "The @EU_Commission will propose, in close coordination with Member States, to activate the emergency brake to stop air travel from the southern African region due to the variant of concern B.1.1.529."
The future of this year's United Rugby Championship (URC) could be in jeopardy as it has four South African teams in it.
Munster are in the country to play Bulls in Pretoria on Saturday night and are due to stay on to play Lions in Johannesburg next weekend.
The UK has suspended flights from South Africa, Namibia, Zimbabwe, Botswana, Lesotho and Eswatini (formerly Swaziland).
Northern Ireland's chief medical officer, Michael McBride, said the emergence of the new variant was "undoubtedly a matter of concern".
Recent arrivals to Northern Ireland from the six countries on the UK list will be contacted by the Public Health Agency (PHA) and asked to self-isolate and take a PCR test, which will be prioritised for genomic sequencing.
📰We all are safe & well in Pretoria.

We are working with URC on the ongoing situation relating to Covid-19 & will provide an update once we know more #MunsterInSA 🇿🇦 #SUAF🔴

— Munster Rugby (@Munsterrugby)
November 26, 2021
Further assessments will be made concerning other countries with strong travel links to South Africa, the North's Department of Health said.
Dr McBride said the introduction of travel restrictions was on a "precautionary basis, while we await further evidence on the spread of this variant in South Africa and understand more about it."
The official Munster rugby Twitter account stated: "We all are safe & well in Pretoria. We are working with URC on the ongoing situation relating to Covid-19 & will provide an update once we know more #MunsterInSA."
The Covid adviser for the Irish College of General Practitioners (ICGP), Mary Favier has warned that if the new South African variant of the virus manages to "out run" Delta, then "we will have a problem".
It was still unknown if vaccines would work against the new variant which was why so much attention was being paid to it, she told Newstalk Breakfast.
Dr Favier also welcomed plans to extend the vaccine programme to children aged 5-11. GPs knew the difference that vaccines could make, however, she pointed out that it would be a parental decision and GPs would be willing to discuss the issue with parents.
On RTÉ Radio 1's Morning Ireland programme immunology expert, Professor Christine Loscher said she expected the World Health Organisation (WHO) to move the status of the new variant from one of interest to one of concern in the near future.
The new variant was of concern because of the number of mutations in the spike proteins and it was still unclear how this variant would respond to vaccines. It was a case of wait and see the impact, she said.
Within the coming weeks it would be known how good current vaccines were at neutralising antibodies in the variant, added Prof Loscher. But she pointed out that vaccine manufacturers have been able to "tweak" vaccines as the virus changed.
"That's a positive thing to know, that they have the technology to vary the vaccine as variants arrive."
Minister for Health Stephen Donnelly said he is "deeply concerned" about the new Covid variant.
The Department of Health said it is monitoring the situation in a number of countries in southern Africa and in Hong Kong. No cases have yet been reported in Europe.
The World Health Organisation (WHO) will meet on Friday to to further assess the significance of this variant.
The Department of Foreign Affairs has not updated its travel advice to South Africa on its website. It no longer advises against non-essential travel.
Italy tightens Covid restrictions as some regions face return to 'yellow' zone
A government decree that comes into force from December 6th will require a 'super green pass' health certificate to access most venues and services across the country, in a bid to contain Italy's rising infection rate and ensure Christmas celebrations can go ahead as planned.
The 'super green pass' can be obtained only by those who are vaccinated against or have recovered from Covid-19. 
It supersedes the basic 'green pass', which was also available to those who had recently tested negative for the virus; though the basic green pass will still be valid for use on public transport and to access workplaces.
READ ALSO: Italy to impose 'super green pass' Covid restrictions on unvaccinated
Speaking at a televised press conference on Monday evening, Italy's Prime Minister Mario Draghi said the restrictions would mean a "normal" Christmas this year for those who are vaccinated, and would "give certainty to the tourist season".
The announcement comes amid media reports that some Italian regions will be placed under increased restrictions starting next week.
People wearing a face mask do some window shopping on Piazza di Spagna in central Rome on December 13, 2020. Vincenzo PINTO / AFP
The northerneastern region of Friuli Venezia Giulia will be returned to the more restricted 'yellow' zone from Monday, after it met all of the Italian government's criteria for tightened restrictions.
Italy operates under a four-tier colour coded system for coronavirus restrictions, with 'white' zone areas under the most relaxed rules, and 'yellow', 'orange' and 'red' zones under increasingly strict restrictions.
Since October, the entire country has been in the least-restricted white zone – but this week, Friuli Venezia Giulia's hospital ward occupancy and Covid infection rates exceeded the limits put in place by the government last summer.
READ ALSO: EXPLAINED: How will Italy's Covid restrictions change in December?
The region's figures stood at 15 percent Covid patient ICU occupancy and 18 percent general hospital ward occupancy as of November 24th, according to data provided by Agenas, Italy's National Agency for Health Services.
Under a law introduced by Italy's government in July, any region above the threshold of 10 percent ICU and 15 percent general ward Covid patient occupancy and with a new weekly incident rate of 50 cases per 100,000 inhabitants should automatically be placed in the yellow zone.
It's thought that mass demonstrations held in the region's capital of Trieste last month to protest the introduction of a Covid health certificate requirement for Italy's workers are partly behind its deteriorating health situation.
A Santa Claus puppet wearing a face mask is displayed in the window of a food store at Rome's Trevi fountain square on December 23, 2020. Vincenzo PINTO / AFP
According to Italian media, Friuli Venezia Giulia's governor Massimiliano Fedriga has agreed to enforce the government's 'super green pass' rules from Monday, allowing the region's vaccinated population to bypass restrictions they would otherwise be subject to.
READ ALSO: Q&A: How will Italy's new Covid 'super green pass' work?
Currently, 'yellow zone' restrictions require an area's inhabitants to wear a mask both outdoors and in indoor public spaces, and restaurants can seat a maximum of four diners to a table.
While those in a yellow zone will still be required to mask up outdoors, under the new rules, people who hold the 'super green pass' will be able to access "indoor catering", shows (such as theatre performances), parties, nightclubs, sporting events, and "public ceremonies", as normal.
Other parts of the country currently expected to join Friuli Venezia Giulia in the yellow zone within the next couple of weeks are the autonomous province of Bolzano, which had 10 percent ICU and 15 percent general ward Covid patient occupancy rates as of November 24th; as well as Marche, Liguria, Lazio, Calabria, which all have figures approaching the threshold.
Some of Italy's larger cities are putting into place their own preemptive strategies to try to contain their infection rates.
On Thursday, Milan's mayor Giuseppe Sala said he was preparing to sign a measure making facemasks mandatory outdoors across the city center from the coming weekend, reports news agency Ansa.
And in Venice, mayor Luigi Brugnaro has already signed an order requiring the use of masks at Christmas markets and other large outdoor gatherings in the city, reports Sky TG 24.