Haitian migrants risking their lives on Darién jungle route | USA
"Salomon died this week in the jungle," says Jeff Sagasse, uttering the phrase with resignation, as if speaking of an inevitability. Sagasse is Haitian, as was Salomon, and he is sitting in a restaurant in Necoclí, a coastal town in Colombia where more than 10,000 migrants have crowded together to cross into Panama.
Sagasse pulls out his cellphone and shows EL PAÍS a picture. It's Salomon, a man wearing a wide-brimmed red hat and looking into the camera. His first name was Raymond. In the photo, a cross is drawn above him and a message written in Creole: "It is with great sorrow that I learned of this news. Rest in peace my friend." They say he was 42 years old and a builder, and that he tried to cross the impenetrable Darién jungle with eight family members. He drowned in a river, as no one was able to help him. "Salomon was an excellent construction worker, and before going I told him to take care of himself. But he left us," says Irvens Norvilus, another Haitian who was about to travel to the Darién zone from Chile.
The authorities do not know for sure how many migrants have died trying to reach Panama, just one step in the long journey through Costa Rica and Mexico with the final aim of reaching the United States. Those who have crossed are clear that the 500,000-hectare Darién Gap is one of the most dangerous in South America. This thick and humid jungle, they say, is a cemetery.
The dangers come from all sides and the Haitians know it, but some feel they have no choice. "Yesterday I cried, I called my family, but my sister told me: do anything but turn back, you've come this far, so keep going," says Surys Rivera, a Dominican who was traveling with a group of Haitians. She picks up a bottle of creolin, a disinfectant that supposedly repels snakes and other animals in the jungle. Her suitcase contains three inhalers because she is asthmatic, along with pain pills and some clothes. Her departure point was Chile, before crossing Peru, Ecuador and Colombia. She leaves her cellphone number to talk about the journey, but after she waves goodbye, there is no more news from her. Here, migration is a WhatsApp message with a single tick, which may or may not ever be answered.
The Necoclí dock is bustling. As on many days since July, thousands of Haitian men and women with children in their arms are lining up to board a boat and leave this coastal town of 70,000 inhabitants (20,000 in the urban area) to head to Capurganá, the last town before entering the Darién jungle. The beats of African and Colombian music blend together over loudspeakers, as a vendor reads the names of the migrants who have managed to get a place on a boat over a megaphone. He asks them all to put on face masks, but no one listens. The humidity is suffocating. A Haitian couple carrying a baby do not manage to get on the boat. They have come from Brazil and do not speak Spanish. They could not buy a ticket to travel with an accredited company, so will have to wait for another day or venture out on an illegal boat. Distress is evident in their eyes, but they stay silent.
Villa Haiti is the name given to this area where about a thousand people a day crowd together to leave on legal boats. A few blocks away, another large group of Haitians tries to obtain their own spots. According to the Panamanian authorities, 18,000 migrants entered Panama in July alone. The Haitians are organized into groups of families or friends, and support each other through the jungle crossing. A day before each trip they send a leader to buy the boat tickets, but they do not always get enough for everyone, breaking up these small support groups. "All children over two years old have to pay. We need to get 92 people in and there are 94. The only option is for one person in the group to get off," says a Colombian who organizes the boat trips. "It's humanitarian aid, but it's also business."
The migrants pay $55 (€47) for a trip to Capurganá, and for that, they will have a life jacket and good travel conditions. Their suitcases are protected from the water and marked with their names, but the ticket costs a little more than double what a visiting tourist would pay. In Necoclí, the risk of a migrant's life is calculated in dollars, and their hard currency has revived this town's economy. The more money, the less risk, they are told.
Those who have more money and fear the jungle prefer to pay for illegal boats, which leave on dark and windy nights. They pay up to $450 (€386) per person for the smugglers to take them directly to Panama by sea. That way they avoid eight days of dangerous paths and potential robberies, says a local source. "Sadly, people believe the worst problem is the wild animals, but the greatest danger is the criminals who violate the rights of others," confirms Juan Francisco Espinosa, the director of Migration Colombia, a government body.
The sea that swallows migrants
Avoiding the jungle does not always mean avoiding danger. The sea also swallows migrants. In January of this year, a boat carrying Haitians was shipwrecked in Pinorroa Bay, on the Colombian side. Three bodies were found, including that of a six-year-old girl, but four other migrants are still missing. Earlier in 2019, 21 others died, a one-year-old baby among them. "With it being irregular migration, the deaths are hidden. The same happens in the Darién Gap," says Espinosa.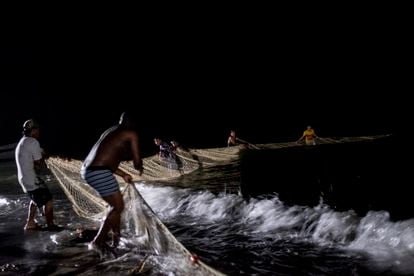 All the migrants pay "guides" who charge them $120 (€102) each and offer them security against the presence of armed groups such as the Clan del Golfo. "I ask people who are thinking of coming not to do so, don't come, because there are many dangers in the jungle. They took my belongings but left me with my life. The guides left us stranded on the second day," says a Venezuelan who crossed the Darién. Robbery, rape and murder are all risks, according to several testimonies that circulate on the beaches of Necoclí.
Pandemic effect
The humanitarian crisis is not new, but has been exacerbated considerably by the coronavirus pandemic. After Haiti's devastating 2010 earthquake, many people migrated to Brazil and Chile. But the economic effects of lockdown in those countries have forced them to cross an entire continent. "I had a nightclub that closed with the lockdown," says Sagasse. Dressed like a basketball player, he says he would like to talk to Iván Duque, the president of Colombia. "We need proper transportation, a humanitarian passage to Panama. We don't want to stay in Colombia, we just want to pass through and continue on to the United States or Canada."
Transitory migration nevertheless has a strong impact. In 2016, there were 34,000 migrants transiting, which dropped to just 4,000 in 2020, according to Migration Colombia. The new wave is rapidly making up the backlog, says Espinosa.
The gathering of so many migrants in Necoclí has also been labeled a health crisis. The children, says a doctor from the municipal hospital that provides free care on the beach, usually have diarrhea, while the adults have the flu. Nearby, the Family Welfare Institute delivers nutritional supplements to pregnant women and children, but the aid stops there. Little is said about the coronavirus.
Rumors circulate and the migrants cling to the slightest certainty: a picture, or an audio message from someone who reached the other side of the border. They ask about the possibility of a humanitarian crossing. "Is it true that they only do that for Cubans and Venezuelans?" asks Julio Chacón, a Cuban who left through Suriname, arrived in Venezuela, went on to Colombia and now works as a waiter to pay for his passage in the jungle.
A group of Venezuelans who arrived on foot to Necoclí live in tents on the beach. They are led by Saida González, a Venezuelan military veteran who cries every time she talks about her uniform. Her group also begs for a corridor that will allow them to reach Panama safely. "We know about the rapes, robberies and deaths in the jungle," she says, mentioning videos from compatriots showing corpses.
The Colombian and Panamanian authorities say they have decided to explore humanitarian corridors, The Panamanian Foreign Minister Érika Mouynes will visit the Colombian side where the migrants gather to determine a quota that can be received in an orderly and safe manner. "We do not want migrants to risk drowning or for them to go through the Darién, which is so risky. There are so many children and women," says Colombian Foreign Minister Marta Lucía Ramírez.
For Salomon, or the baby from the Democratic Republic of Congo who died in 2019, it is too late. While these decisions become realities, the flow of migrants does not stop. Guerlande Lesperance was 21 years old when she spoke to EL PAÍS, and she didn't know how to swim. Days before embarking on a voyage that would take her directly to Panama, she was struck by the fear of drowning, and that her family would see her sink and no one could do anything about it. "There are many people who died in the water, I wouldn't want to see that," she said. Like many others, she left her cellphone number behind, but she still hasn't answered.
Belgium goes into three-week 'lockdown light'
Belgium is to go into a three-week 'lockdown light', following a meeting of federal and regional governments on Friday (26 November).
"We have to admit that we have been ambushed by the virus and that the situation is much more serious than we saw a few weeks ago", Belgian prime minister Alexander De Croo told a lunchtime press conference.
De Croo added that "the pressure on our hospitals is seriously increasing and that the situation is not tenable. We have to action now."
The Belgian concertation committee of federal and regional governments decided that social life will be restricted in a variety of ways for the next three weeks.
Nightclubs will be closed, and indoor concerts where people are not seated will be cancelled. This measure will go into effect on Monday (29 November).
Bars, restaurants and night-shops will need to close their doors at 11PM. The number of people on one table in restaurants will be restricted to six, except for families larger than six. These measures will go into effect on Saturday (27 November).
Private parties will be forbidden, with an exception for weddings and funerals. However, it is still allowed to have guests at home.
At work and school, on the other hand, there are no upgraded restrictions. The last committee decided that teleworking is mandatory four days a week, and that people can only go to the office one day a week.
Schools will remain open, as will universities.
De Croo reiterated that these "measures will only makes sense if everyone follows them."
The committee decided to accelerate the vaccination campaign. Regional governments will organise test centres where people can get tested for free.
The committee decided to meet urgently after hospitals and doctors said they could no longer handle the situation. From 16 to 22 November, on average 16,100 people tested positive for Covid daily. On 22 November that number was already 25,365 .
Currently, 669 intensive-care beds are filled with Covid patients, well over the emergency threshold of 500, and in the worst-case scenario, 1,250 intensive-care beds, a maximum capacity, would be filled by Christmas.
Belgium has not been able to organise roll-out of the booster jab in time to prevent the fourth wave. De Croo announced that on Saturday (27 November) a plan will be made to accelerate the booster jab for every adult.
Before the Belgian governments met, European Commission president Ursula von der Leyen announced the bloc will take the initiative to block all air travels from Southern Africa, where a new variant of Covid-19 has been found.
Interpol's president: alleged torturer rises as symbol of UAE soft power | Global development
Maj Gen Ahmed Nasser al-Raisi's ascent through the ranks of the interior ministry in Abu Dhabi is associated with the United Arab Emirates' transformation into a hi-tech surveillance state.
His personal achievements include a diploma in police management from the University of Cambridge, a doctorate in policing, security and community safety from London Metropolitan University and a medal of honour from Italy.
Now, in a big soft-power win for the UAE and its attempt to legitimise its policing methods internationally, he has been elected the president of the global policing organisation Interpol – to the dismay of human rights defenders.
Often photographed smiling, Raisi is the longstanding inspector general for the interior ministry, responsible for the supervision of detention centres and policing. Multiple former detainees accuse him of using this position to green-light abuses, including torture.
"Raisi's rise to the Interpol presidency legitimises the role and conduct of security forces in the UAE," said Matthew Hedges, a British academic and expert on the Emirates who was detained there for seven months on espionage charges. Hedges, who was eventually pardoned, says Raisi was responsible for his arrest and also oversaw the torture he says he suffered in detention.
"This translates to a green light for states to continue acting in a way that abuses accountability and human rights, legitimises the dilution of rule of law and emboldens authoritative and abusive systems of detention," Hedges said. "This is really a warning to the international community that cross-border abuses can and will occur."
The Gulf state has previously said Hedges was not subjected to any physical or psychological mistreatment during his detention. On Thursday its interior ministry heralded Raisi's win as "recognition of the vital role of the UAE all over the world".
"The UAE," it said, "is now at the helm of this international organisation working in the fields of security and policing and will do its best to make the world a safer place."
In an unusually public campaign for the role, Raisi boasted of technological transformations that overhauled policing and surveillance in the UAE. These included the introduction of iris and facial scanning technology, and the creation of the interior ministry's first "general directorate of happiness".
His domestic policing changes underpin Abu Dhabi and Dubai's status as two of the world's most surveilled cities. One system, called Falcon Eye, deploys thousands of cameras to monitor not just traffic violations but also "behavioural issues like public hygiene and incidents like people gathering in areas where they are not allowed to", according to a report by the state news agency WAM.
The rise in surveillance has been accompanied by a crackdown on domestic criticism and dissent. Human Rights Watch has said: "The government's pervasive domestic surveillance has led to extensive self-censorship by UAE residents and UAE-based institutions; and stonewalling, censorship, and possible surveillance of the news media by the government."
Abdullah Alaoudh, from the Washington DC organisation Democracy for the Arab World Now, said the UAE had been applying a two-pronged approach epitomised by Raisi's Interpol win: "Cracking down hard on every voice of dissent, while investing in public relations like lobbying, soft power, sports and entertainment."
Christopher M Davidson, the author of a book on statecraft in the Middle East, described Raisi as an example of "high-performing technocratic members of UAE political society" who had found success under Crown Prince Mohammed bin Zayed Al Nahyan.
"The key to the regime of Mohammed bin Zayed has been to get things done, to stamp out corruption. Despite all criticisms levelled at the UAE and Abu Dhabi today, it is a far less corrupt place than it was 15 years ago. These were the people entrusted to clean up ministries," said Davidson.
Stamping out corruption has, at times, included arresting the wealthy and critics. Khadem al-Qubaisi, a former adviser to the royal family and a businessman who said he was "scapegoated" by the Abu Dhabi authorities for embezzling millions, is detained in Al Wathba prison. The prison, overseen by Raisi, also holds the human rights defender Ahmed Mansoor.
Riyaadh Ebrahim, who spent more than a year in the prison, said he witnessed torture there. "There is wrongful imprisonment, no application of the rule of law. People are being persecuted for crimes they did not commit," Ebrahim said. He said he was "totally appalled" by Raisi's victory in the Interpol election race.
Davidson said the UAE was using its wealth and resources to buy reputational shortcuts on the international stage.
"Policing in the UAE still has its problems, but this is a way of saying to the world that [they] are credible and respectable," he said. "Obtaining the presidency of Interpol symbolises moving in the right direction."
Jalel Harchaoui from the Geneva-based organisation the Global Initiative Against Transnational Organized Crime said Raisi's election highlighted the struggle between liberal and illiberal nations within international institutions such as Interpol, and was a victory for anti-democratic countries.
"On the surface, Abu Dhabi – thanks to excellent soft-power outreach – markets itself as a modern state, which happens to be a dependable friend to all the major western democracies," he said. "In reality however, the Emiratis, whose governance style has been partly inspired by China's strict form of authoritarianism, always campaign against liberalism and its key principles."
A spokesperson for the UAE embassy in London did not respond to a request for comment.
France reminds Poland on law in Paris meeting
French president Emmanuel Macron urged Polish president Mateusz Morawiecki to solve a rule-of-law dispute with the EU, while voicing solidarity on the Belarus migration crisis, in a meeting in Paris on Wednesday. Poland should "find a solution that safeguards the core values of the European Union", Macron's office said. Russian president Vladimir Putin told EU Council president Charles Michel by phone extra EU sanctions on Belarus would be "counterproductive".