'Gamechanger': Uganda launches drone delivering HIV drugs to remote islands | Global development
As the bottles of medication are carefully loaded into the body of the drone, a small crowd gathers to watch on the other side of the yellow tape marking out the grassy landing strip.
With a gentle buzz the drone rises, a little uncertainly, into the sky, on its 1.5-metre wings. The precious cargo leaving Bufumira health centre III, in Uganda's Kalangala district, is critical drugs for people living in some of the most far-flung communities in the region. Kalangala is made up of 84 islands in Lake Victoria, the world's largest tropical lake, which Uganda shares with Tanzania and Kenya.
The drone taking off last week was a pilot for a new project which will now see 20 scheduled flights a month, carrying mostly HIV medicines out to 78 community groups and health facilities across the widely scattered Ssese islands, which have the highest HIV prevalence in Uganda.
Located about 60 miles from the capital, Kampala, and home to more than 67,000 people, Kalangala district has an HIV prevalence rate of 18%, far higher than the national rate of 5.6%. The government's HIV strategy estimates prevalence of the virus to be up to 40% in some fishing communities.
The delivery of antiretroviral drugs (ARVs) and healthcare is difficult, weather-dependent and risky for healthcare workers, as travel into the region is possible only by boat. The drones, it's hoped, which cost about £4,000 each, carry loads of up to 1kg and fly for 150km, will "close that last mile", said Andrew Kambugu, executive director at Makerere University Infectious Disease Institute (IDI).
"Closing the last mile of delivery and ensuring that people living in remote communities have equitable access to modern treatments for HIV is one of the most significant challenges in global health and in Uganda," he said.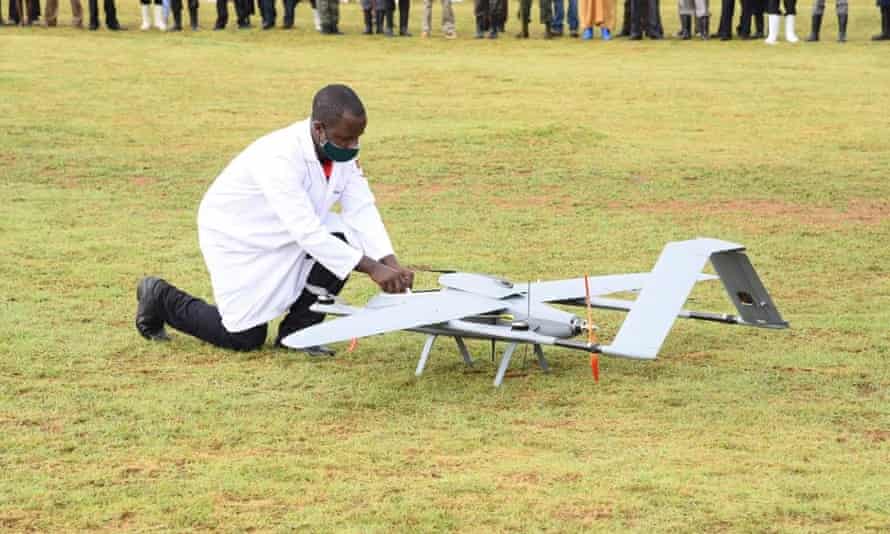 "Medical drones can help solve this challenge by safely and reliably delivering lifesaving medications, thereby empowering frontline healthcare workers to allocate more time and resources to performing other essential services, resulting in healthier and more resilient communities."
Uganda's ministry of health, the Academy for Health Innovation, Uganda, and IDI collaborated on the medical drones pilot at Bufumira, which carried ARVs to more than 1,000 people living with HIV.
The "overcoming geographical barriers with technology" initiative will ease challenges, said Henry Mwebesa, Uganda's director general of health services, who watched the launch.
"Using medical drones is a huge step for us as a health sector in improving service delivery especially in hard to reach areas," he said.
"It's very useful. Once it's successful we can adopt it for other facilities and replicate it in other places."
The drones are controlled by locally trained experts who monitor the flight and landing.
"This is exciting. It will ease the transportation of vaccines to our health facilities in those landing sites," said Jude Matovu, in charge of the Bufumira health centre. "So we expect our outpatient department coverage to increase."
The Uganda Medical Association has welcomed the drones, but expressed concern over drug shortages due to inadequate funding. Its secretary general Mukuzi Muhereza said: "We are welcoming it. It's very important and it could be a gamechanger. It would be nice to see whether it really works with our bad network and connectivity.
"While the distribution and delivery is welcome, the other biggest problem I see is that even other public health facilities get stock-outs even when they can be reached by road. So the stock-outs I don't think would be because of the transportation or connectivity. The biggest stock-outs are because of the funds," he said.
"Realistically I think we are not giving enough money to national medical stores to purchase drugs and supplies for every Ugandan that needs it. The biggest change would be if we can enhance the budget and make sure we have what [we need] to send."
Other African countries, including Rwanda and Ghana, are also using drones to deliver blood and medical supplies, with the technology estimated to be serving more than 22 million people.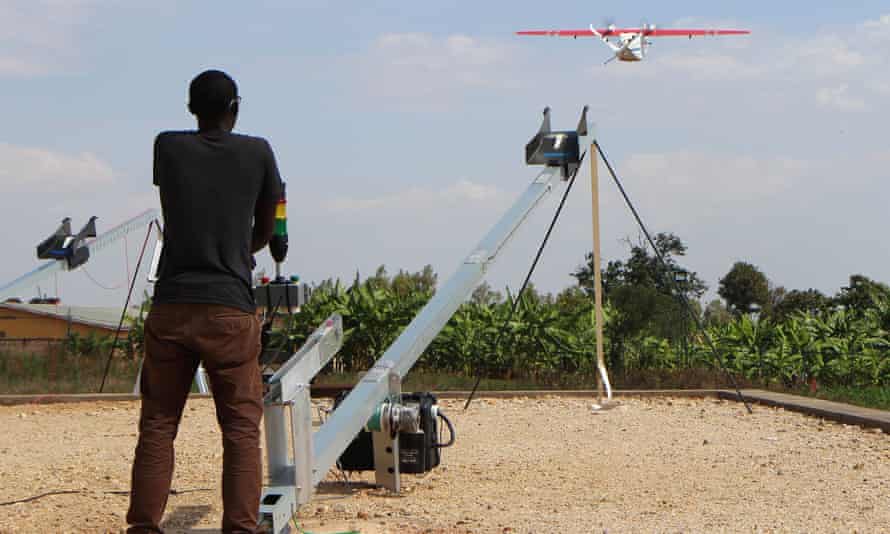 Rosalind Parkes-Ratanshi, director at the Academy for Health Innovation, said the programme will also be an important research opportunity to assess and quantify how effective drones are at delivering medications, data that will help scale drone technology and respond to emergencies.
"Thanks to the support and coordination of our partners, including Johnson & Johnson, this programme will help gather the information and data needed to help make this future a reality, while also helping to deliver lifesaving care to people in need," said Parkes-Ratanshi.
African heritage: Argentina conducts census of its Afro community for the first time | International
Nélida Wisneke is Afro-Argentine. This teacher and writer recounts that her ancestors were slaves who fled from Brazil in the 19th century. At 55 years old, for the first time she will see her ethnic identity recognized in the new national census: Argentina is asking all the country's inhabitants if they are descendants of Africans or indigenous people, one of the main novelties of the census and much celebrated by the entire Afro-Argentine community.
"The state is beginning to repay the historical debt it owes us. For the community it is extremely important, because based on these data it will be possible to develop public policies to get out of invisibility and be able to access basic rights," adds Wisneke, author of the novel No te olvides de los que nos quedamos (or Do Not Forget About Those of Us Who Remain).
"I think this is a historic moment for the Afro-Argentine community because this census represents the fruit of many years of struggle. Beyond the statistical data on economic and sociodemographic conditions, which are important to advance towards a more inclusive society, it is also very important that it makes the community visible. It changes the Eurocentric and colonial paradigm with which our society was conceived," says musician Emanuel Ntaka, today in charge of the Afro Program of the Argentine Ministry of Culture.
In the previous census, carried out in 2010, there was a question about Afro-Argentine identity as a sample in some of the forms, but not in all. Now, it is one of the 61 questions included in the survey that will be carried out throughout the country. The 2010 census recorded that nearly 150,000 people perceived themselves as Afro-descendants, 10 times less than the estimate made by community leaders.
In the 12 years that have passed since then, Ntaka explains, Afro-descendant organizations have worked to try to reverse decades of policies of invisibility and social homogenization. Still, there is a possibility that the number is lower than the real number because there are people of African descent who choose not to perceive themselves as such.
Prejudices are installed from childhood, even at school. "In school events, the representation of the Afro-Argentine is picturesque. They are the empanada sellers, the porridge sellers, the laundresses… that is the place that we Afro-descendants occupy in the construction of this country. But in reality, the African influence is everywhere, from the war of independence to culture, with the influence in music, in cuisine, in language," Ntaka points out.
In an official video released this past week for the census, prominent Afro-Argentine figures appear proudly talking about their ancestors. "I am Miriam Victoria Gómes, I was born in the province of Buenos Aires, and I belong to the Cape Verdean community of Dock Sud," says one of the people featured in the video. Ntaka details that he is the son of a teacher from the Argentine province of Santiago del Estero and a South African singer and activist father. "Collecting data on our living conditions is going to be a necessary instrument for public policy," says actress Silvia Balbuena, a descendant of slaves who arrived in Argentina in the 15th century.
One of the community's goals is to combat structural racism in Argentine society. Wisneke experienced it first hand: she is the only one of 10 siblings who has completed her studies. Born into a peasant family in Misiones, in the extreme northeast of Argentina, this teacher says that her ancestors were slaves. "They came from Brazil and settled in Misiones. They were part of the quilombos [settlements], of which nobody talks here," she points out as an example of the visibility of this community in a country that is proud of its European roots but not of others. "Very recently, in the city of Córdoba, a plaque was inaugurated in commemoration of the first sale of slaves, in 1588. The African presence in Argentina is very old," Wisneke underlines.
🇦🇷 Hoy conmemoramos el Día Nacional de las/los afroargentinas y afroargentinos y de la cultura Afro.
"Afrofragmentos" es un proyecto audiovisual sobre la contribución de las/los afroargentinas y afroargentinos a nuestra historia y nuestra cultura.

👉🏿 https://t.co/JJh8R8lhsB pic.twitter.com/n4qFuTHh9k

— Cultura Nación (@CulturaNacionAR) November 8, 2020
Ntaka was 23 years old when a group of skinheads attacked him at a bus stop in 2001. "You fucking Black, go back to your country," he heard them scream before they began to beat him until he was unconscious. To which country did they want him to return if Argentina was the country in which he was born? With that question in mind, the attack became the starting point of his activism promoting the rights of the Afro-Argentine community. The census will offer a first x-ray of who they are and how they are faring.
'Huge spike' in global conflict caused record number of displacements in 2021 | Global development
Conflict and violence forced people from their homes a record number of times last year, a report has found, with sub-Saharan Africa bearing the brunt of mass internal displacement caused by "huge spikes" in fighting.
People fleeing violence were internally displaced 14.4m times in 2021, an increase of 4.6m on 2020, according to figures published by the Norwegian Refugee Council's Internal Displacement Monitoring Centre (IDMC).
Most of those displacements – 11.6m, or 80% of the total – took place in sub-Saharan African countries, with the war in northern Ethiopia dwarfing other conflicts in terms of the number of times people were forced from their homes.
Alexandra Bilak, IDMC director, said the geographic concentration of the conflict-related displacement across sub-Saharan Africa, from the Sahel to east Africa, was a huge concern. "These are, of course, countries that have experienced long histories of conflict, but what these numbers show is that the conflicts are far from having been resolved," she said.
"So on top of protracted crises, you get new waves of violence every year. In Ethiopia and Burkina Faso, we're talking huge spikes of new violence that have led to incredibly large numbers being displaced and, at least for now, very little prospect for returns."
New flare-ups of violence often collided with climate pressures such as drought or flooding, and resulting food insecurity, making it even harder for countries to give internally displaced people (IDPs) the help they needed, she said.
"There's absolutely no window during which some kind of stabilisation could happen, and some degree of return or sustainable local integration. These constant shocks to the system mean that the numbers keep increasing."
According to the report, there were 59.1 million IDPs globally in 2021, a cumulative figure, which has grown steadily since the IDMC began documenting in 2003. Every year more displacement is caused by natural disasters than conflict, but last year the number of forced movements due to disasters such as such as storms, floods and volcanic eruptions – 23.7 million – was down considerably on 2020.
The number of times people were forced from their homes by violence was of particular concern to the IDMC. As the report deals with 2021, the figures do not include the huge humanitarian fallout from the Russian invasion of Ukraine, where more than 7 million people are thought to be internally displaced.
The only place to rival that scale of displacement was Ethiopia, where conflict – chiefly war between government forces and Tigrayan rebels in the north of the country – triggered 5.1m internal displacements. Until the invasion of Ukraine, that was the highest annual figure ever recorded for a single country.
The Democratic Republic of the Congo (DRC), which saw 2.7m displacements due to conflict, and Afghanistan, where the Taliban toppled Ashraf Ghani's government, also registered all-time highs. The volatile situation in Myanmar, where the military staged a bloody coup, helped triple the overall figure for east Asia compared with the previous year.
With more than half the global IDP population under 25, and about 25 million under 18, the IDMC called for more targeted interventions to protect children and young people from the particular dangers they face. "The financial difficulties IDPs tend to face may force children to engage in dangerous income-generating activities, including crime, transactional sex or joining armed groups," the report notes. "Strengthening child protection systems that consider these risks is essential."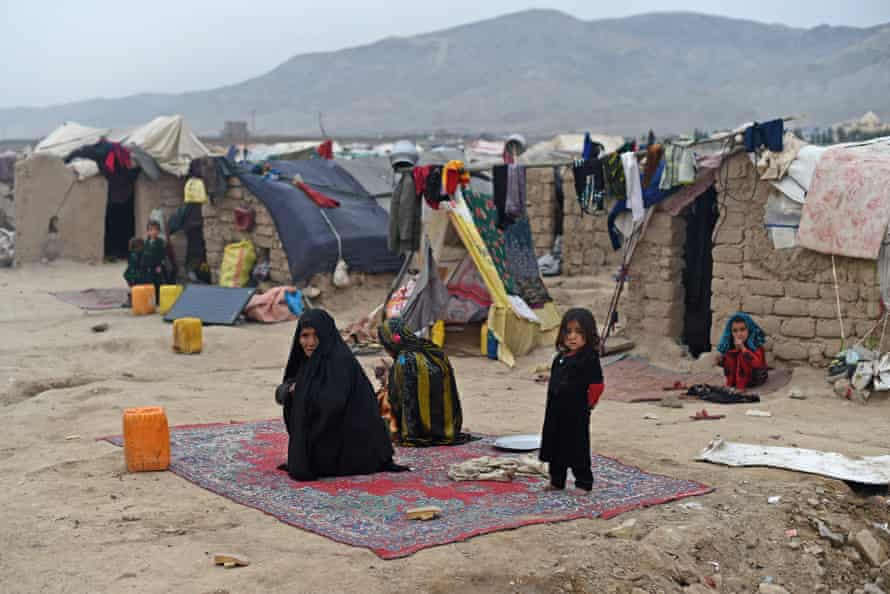 Displaced girls and boys, it adds, confront different risks, with girls at greater risk of sexual violence and child marriage, and boys of recruitment by fighters.
Bilak hoped the report would raise awareness of the worsening plight of IDPs, which historically had received "much less attention" from governments and policymakers than that of refugees or migrants. "This is, first and foremost, a call for acknowledgment of the scale … and the urgency of the issue," she said.
Faced with the stark increase in conflict-related displacement, she added, the IDMC urged greater investment in peace-building, "and in preventing those conflicts from happening in the first place".
Andrés Manuel López Obrador: Mexican president downplays tensions with US over Americas summit | International
Mexican President Andrés Manuel López Obrador sought on Tuesday to downplay the tensions that have risen with the United States over the upcoming Summit of the Americas in Los Angeles. The leftist leader has said he would skip the summit and send a representative instead, if Cuba, Venezuela and Nicaragua were excluded from the meeting. But he argued on Tuesday that this position is not going to harm bilateral relations with the US. "One shouldn't think that, if, in this case, we don't agree on the summit, there is going to be any break [in relations]. That is not going to happen under any circumstance," he said at his morning press conference.
A US delegation was set to arrive in Mexico on Wednesday to discuss the upcoming summit, which will be held from June 6 to 10. The delegation, led by Senator Christopher Dodd, seeks to ensure that López Obrador will participate in the regional meeting. Ahead of the visit, the US ambassador to Mexico, Ken Salazar, said on Monday that "it is very important that Mexico participates" in the summit. If López Obrador boycotts the event, Foreign Minister Marcelo Ebrard will attend in his place.
The White House has not yet made a decision about whether to invite Cuba, Venezuela and Nicaragua, but Assistant Secretary for Western Hemisphere Affairs Brian Nichols told EL PAÍS that the US government is currently leaning toward excluding "countries that disrespect democracy."
López Obrador supported his position to skip the meeting by invoking the Mexican Constitution, which enshrines the principle of non-intervention in foreign policy. "We have to stick to the principles of our foreign policy, of non-intervention and self-determination of the people, and we believe that no one should be excluded and that the independence and sovereignty of the peoples must be asserted," he said on Tuesday. However, by actively supporting Havana, the government has shaken up regional policy and created a separate bloc with countries such as Bolivia, Chile and Argentina, which also want all countries to be included in the summit.
While maintaining his position, the Mexican president was also at pains to highlight Mexico's strong relationship with the US administration of President Joe Biden. "There is a very good relationship. And we are working in a coordinated manner in economic, trade, and of course migration and security matters," he said. "Independently of how it is resolved, we are always going to have a relationship with the US that is based on respect and friendship, and even more so with the people of the United States. The US government has treated us with respect and we also have a lot of respect and admiration for the American people."
Since Biden's arrival at the White House in January 2021, the two leaders have been in frequent contact. While they have had disagreements on issues such as security, migration and energy policy, both want to address the bilateral agenda through negotiation, which marks a change from the threats and intimidation that characterized the Trump administration.