From Shakira to Julio Iglesias: The list of the most famous Spanish and Latino artists in the Pandora Papers | USA
Mexican musician Alejandra Guzmán, Puerto Rican singer Chayanne, Colombian pop star Shakira and Puerto Rican-born Mexican music idol Luis Miguel have more in common than their fame and fortune: they all appear in the Pandora Papers. From Beverly Hills and the most exclusive areas of Miami to law firms in Panama and the Virgin Islands, the biggest leak of confidential documents published in history has revealed how over the course of the last 20 years some of Latin America's best-known celebrities have used opaque companies to buy mansions, register luxury yachts and manage their multi-million earnings. All in the soft breeze of the Caribbean, where confidentiality and financial maneuvering to avoid taxation are commonplace. Also featuring in the investigation are Spanish celebrities who have amassed millions of fans in the region such as singers Julio Iglesias and Miguel Bosé.
The Pandora Papers – a collaborative investigation coordinated by the International Consortium of Investigative Journalists (ICIJ) and in which EL PAÍS has participated – consists of over 11.9 million confidential documents from 14 offshore service providers around the world. The leak contains five decades' worth of records from the 1970s to 2020, and has allowed for the reconstruction of the financial records of politicians, criminals, multimillionaires and elite athletes in countries considered to be tax havens due to the confidentiality and low taxation offered to foreign capital. The world of showbusiness has also been placed under the spotlight.
Alejandra Guzmán has spent her entire life in the limelight. Born into a family of movie and rock stars, Guzmán has been a constant target for the tabloids as she has battled drug and alcohol addictions that threatened to sink her career, plastic surgery that went wrong and forced her to into an odyssey of hospital and operating theaters, lawsuits over love triangles involving other celebrities and lovers who wound up in jail for financial fraud and drug-trafficking, on top of family feuds that have resulted in legal disputes. More recently, Frida Sofía Moctezuma, Guzmán's daughter, has accused her mother and grandfather, the singer Enrique Guzmán, of sexual abuse, domestic violence and the corruption of minors. Both have denied the allegations but the family has been estranged from Frida Sofia who has severed ties and is now living in Miami.
It is precisely in Miami where the Pandora Papers indicate Guzmán purchased a luxury property via a shell company in the British Virgin Islands, one of the world's most well-known tax havens. Since 2014, Guzmán has been the sole shareholder of Frida Enterprises Corp, a company created in the British Virgin Islands through Panamanian law firm Alemán, Cordero, Galindo & Lee (Alcogal).
The 184-square meter apartment is located in the L'Excellence condominium complex and is valued at over $1 million (€870,000). The luxury development is tucked away on Collins Avenue on Miami Beach, which has been known for decades as "millionaires' row," flanked by Biscayne Bay on one side and the Atlantic on the other.
In 2018, the Mexican singer opened an eponymous company in Florida, Frida Enterprises Inc., set up in order to acquire a penthouse in the Aria on the Bay development, a residential apartment building on the beachfront with 53 apartments selling for between $400,000 (€346,000) and $10 million (€8.6 million). The difference between the two companies is that, in the British Virgin Islands, Guzmán does not appear in the published versions of the mercantile register and benefits from one of the least stringent fiscal regulations in the world. While it is not illegal to have an offshore company, in many cases the lack of transparency provides fertile ground for tax evasion and even money laundering. A request sent to her press team for clarification over Guzmán's role in Frida Enterprises and whether the singer was up to date with her tax obligations has not been answered.
Chayanne is another celebrity who features in the leaked records. According to a document from 2001, Élmer Figueroa, the Puerto Rican singer's real name, is listed as the owner of Fentress International S.A., a Panama-based company. At that time, Chayanne had achieved international fame on the back of songs such as Candela and Lo dejaría todo, as well as through a role on popular Argentinean daytime soap Provócame. The power of attorney authorized him to be represented and paid in the company's name in any part of the world, as well as allowing him to ask for loans and sign contracts until it was dissolved in 2013.
The records also contain bank statements and proof of residence linked to Chayanne, provided for the creation of a company in Florida, Eloisa Investments LLC, which was set up via the Panamanian law firm OMC Group. Marina Elizabeth Figueroa, Chayanne's wife, is the director and major shareholder. Anna Maronese, the singer's sister-in-law and mother of Venezuelan-American YouTuber Lele Pons, is also listed as a director. Eloisa Investments owns an apartment valued at $500,000 (€433,000) in the Hilton Grand Hotel development in Miami's Biscayne Bay. Chayanne also did not respond to multiple requests for comment.
Spanish singer Julio Iglesias also has interests in the Florida real estate sector. One of the biggest-selling artists in history, Iglesias has invested a fortune estimated at $112 million (€96 million) in five properties on Indian Creek Island, a private island in Miami known as the "Billionaire Bunker." But his name is not listed on the property register because it is hidden behind five companies registered in the British Virgin Islands.
According to the Pandora Papers, Iglesias is linked to 19 companies in the Caribbean archipelago, managed by the law firm Trident Trust, which is the source of the largest number of documents in the data leak. Iglesias' wife, Miranda Rijnsburger, is the director of 15 of them, while the singer is listed as being the sole owner of the other four. As well as his five mansions in the Billionaire Bunker, Iglesias owns a further six, more modest, properties in Miami with a combined value of $4 million (€3.47 million). The singer, whose fortune is estimated at $800 million (€693 million) by Forbes magazine, features in the Pandora Papers among the group of multi-millionaires with the highest number of offshore companies.
Russell L. King, a real estate lawyer who advised Iglesias, says that for some foreign residents in the United States it is preferable to use this kind of structure to avoid up to 40% in estate tax, among other legal benefits. "There are many instances where offshore companies are the best option for a client who has no intention of doing anything untoward," says King, who adds that since the publication of the Panama Papers in many high-profile people prefer to avoid these kinds of arrangements due to the "stigma" attached.
In 2016, when the Panama Papers case broke, Spanish singer Miguel Bosé came out in defense of the country that he had called home for the previous few months. "It is not the correct way to talk about Panama or any other country […] this needs to stop because Panama is not like this," he said while receiving a homage at the Panama International Film Festival. He later added: "These are things that, no matter how painful it may be for a country I believe need to come to light."
Five years later, in the pronounced and sometimes disconcerting twilight of his career, Bosé is one of the celebrities featured in the Pandora Papers investigation. The singer is listed as the sole shareholder of Panamanian company Dartley Finance S.A. since August 2016, a transaction also handled by law firm Alcogal. The company already existed in 2006 after being set up by Swiss firm Apex International Consulting, which also has offices in Panama.
Up to that point, Dartley Finance had been a company with bearer shares, which support the anonymity of the owner because their names do not appear in the title deeds and are not inscribed on any mercantile register. As such, the use of bearer instruments is banned in Switzerland and the United Kingdom, and in some parts of the US. As a result of changes to the regulatory framework and the Pandora Papers leak, it is now known that Bosé holds 10,000 such shares in his name.
Amid a ferocious court battle over custody of his children and after suffering severe drug-related issues, Bosé left Panama in September 2018 and moved to Mexico, two months after appearing on the Spanish Tax Agency's list of defaulters with a debt of over €1.8 million ($2.07 million). The publications involved in the ICIJ investigation attempted to contact Bosé over his involvement with the company and the reasons behind the setting up of Dartley Finance, something that the Pandora Papers fail to shed light on, but received no response.
Mexican singer Luis Miguel set up a company in the British Virgin Islands in 2013 to buy a 25-meter luxury yacht, the Sky. The vessel was acquired in the name of Skyfall Marine Ltd, of which the artist was the sole shareholder and his brother, Alejandro Gallego Basteri, the company director.
Despite a long history of financial and legal problems, Luis Miguel's team presented letters of reference dated in 2013 that stated the singer was in rude financial health, with an average balance in his accounts that stood at "six figures," and that he had "never been in jail for any crime or in a state of bankruptcy." In 2017, Unico, another yacht owned by Luis Miguel, was seized for non-payment of debts. In the same year, the singer was hit with three separate lawsuits for a combined total of $11 million (€9.5 million). Although he was arrested after failing to turn up at court to answer one of the suits on three occasions, he was able to reach various deals to avoid jail.
Luis Miguel, who stated his residence as Beverly Hills, sold the vessel last year for around $3 million (€2.6 million), according to the Mexican and US media. In November 2020, the company was dissolved, according to the property registry. This newspaper sought out former associates of the singer, employees of his Netflix show, companies linked to the Gallego Basteri family and sent requests for comment to his social media team, all without success.
Shakira is one of OMC Group's most notable clients. The companies that the Panamanian law firm managed for the world-famous singer are particularly relevant, because the Spanish tax authorities consider them fundamental parts of the structure Shakira used to allegedly avoid tax payments in Spain, a matter currently under investigation. The Colombian singer-songwriter is listed as the director of three companies set up in the British Virgin Islands between 1999 and 2002: Light Productions Limited, Light Tours Limited and Titania Management Inc.
The leaked documents contain files with the basic information of the companies, filled out in April 2019. According to Shakira's representatives, this document was used to transfer the companies from OMC to TMS, another provider of offshore services. The latter was charged with dissolving the companies, it was stated after the first tranches of the Pandora Papers were published on October 3.
The three companies in Shakira's name had already been combed by the Spanish tax inspectorate, which accuses the singer of defrauding €14.5 million in taxes. Around 30 companies related to the singer have been scrutinized by the Spanish tax authorities and Light Productions is the key to the investigation, according to a source consulted by EL PAÍS, as it is connected to the management of her income.
Shakira has already paid €20 million in an attempt to regularize her tax situation. In the lawsuit, the Spanish authorities argue that Shakira Isabel Mebarak Ripoll, the singer's full name, has been resident in Spain since 2012, while her legal team has countered that Shakira's presence in the country was "sporadic" until 2015 and that she was a resident in the Bahamas, where she owns a property, and therefore was not obliged to pay income tax into the Spanish system. "The fact of having companies overseas is based on purely operative and commercial matters and in no case to enjoy any fiscal advantage or benefit whatsoever," Shakira's legal team stated.
The Pandora Papers, a collaborative investigation involving over 600 journalists from 117 countries, has revealed that dozens of celebrities around the world manage their fortunes via offshore companies. Superstars such as Elton John, Ringo Starr and supermodel Claudia Schiffer also appear in the investigation, which represents the biggest leak of confidential financial documents in history. With the curtain raised, the next clues to uncovering the financial facets of some of the most famous people in the world are most likely sitting in the drawer of a Panama law firm, hidden in a Caribbean mailbox or, literally, thousands of miles from the stage.
Lives lost at Europe's borders and Afghan MPs in exile: human rights this fortnight – in pictures
A roundup of the struggle for human rights and freedoms, from Mexico to Manila
Belgium tightens Covid rules as health system 'is cracking'
Belgium has introduced new measures to curb the surge of Covid-19 infections in the country, following the third emergency meeting of federal and regional governments in three weeks.
"The autumn wave is much heavier than was estimated," Belgian prime minister Alexander De Croo said on Friday (3 December).
"The infection rates are among the highest in Europe and the pressure in healthcare has become unsustainable," he also said, arguing that new measures are necessary because "the system is cracking".
One item on the agenda that proved to be divisive was the closure of schools – a move supported by experts and the federal government but opposed by regional governments.
Belgium's so-called concertation committee of federal and regional governments finally decided to keep schools open, but it impose a longer, three-week, Christmas holiday for primary and pre-primary education. The holiday will now run from 20 December to 10 January.
According to Flemish prime minister Jan Jambon, this extra week will be used to administer the booster shot to the teachers.
And until the school holiday, a class will go until quarantine after two cases of Covid-19 are detected (previously three cases). Additionally, all extracurricular activities will be barred.
Children from the age of six upwards will also have to wear a face mask at school and all other places where its use is compulsory. And parents have been advised to test their children regularly.
For this coming weekend, indoor events with more than 4,000 attendees will be cancelled. From Monday, this will apply to all with more than 200 attendees.
Events with fewer than 200 people inside will still be allowed under the current criteria – that everyone needs to have a corona pass, be seated and wear a face mask.
Museums and cinemas would remain open, but with a capacity limit of 200 people per room.
The committee also decided that restaurants and bars can continue to remain open until 11PM, as it is currently the case – although experts had asked to close them at 8PM.
This new package of measures has already been criticised by representatives of the cultural sector, who argued that the restrictions do not target the source of the problem.
"Instead of fighting the virus, we are fighting culture. Bars open, but culture [events] only 200 people. Who are we fooling?," said Michael De Cock, director of the Koninklijke Vlaamse Schouwburg [Royal Flemish Theatre].
There is also no restrictions for private social life in the so-called "contact bubbles" – despite this also being recommended it by experts. Nevertheless, there is a recommendation to limit contacts as much as possible.
At work, there are no new measures, as the committee previously announced that teleworking is mandatory at least four days a week.
Intensive-care cases expected to peak next week
An average of 318 Covid-19 patients were hospitalised each day in Belgium this week – which represents an increase of four percent compared with the previous week.
There are currently 3,707 people hospitalised in the country, of which 821 are in intensive care.
"Although the number of infections is very high, the number of deaths in our country is lower than in comparable countries, and that is due to the high vaccination coverage," said de Croo.
"Getting vaccinated is an act of solidarity," he added.
More than 75 percent of the Belgian population is fully-vaccinated, and over a million people have received a booster shot.
For his part, Belgian virologist Steven Van Gucht said on Friday that the number of Covid-19 patients on the intensive care units of the country's hospitals are expected to peak next week.
"It is unclear whether we can then expect a rapid fall or whether the figures will remain at that high level," he also said, according to VRT news.
The highest number of new Covid-19 infections (25,574) during this fourth wave was recorded on Monday 22 November.
But new measures will make coronavirus figures fall more quickly, relieving the pressure on the health care sector, Van Gucht said.
India's 'pencil village' counts the cost of Covid school closures | Global development
School closures in India during the pandemic have left their mark on more than the children who have seen delays to their learning. In one Kashmiri village the impact has been catastrophic on employment.
Pick up a pencil anywhere across India and it is likely to come from the poplar trees of Ukhoo.
This village, with an abundance of trees, about 10 miles south of Srinagar city in Kashmir's Pulwama district, supplies more than 90% of the wood used by India's pencil manufacturers, which export to more than 150 countries.
Before Covid, more than 2,500 people worked in the village's 17 pencil factories and the industry supported about 250 families.
But, after nearly two years of school closures and a dramatic drop in demand for the village's products, factory owners reduced their workforce by more than half.
Workers were dismissed without pay, while many of those who kept their jobs had migrated from other parts of India, and were cheaper to employ. Now the village and its workforce are waiting eagerly for the market to revive.
Rajesh Kumar, 26, from Bihar, has worked in Ukhoo for seven years. Like other migrant workers, he lives in a room on the factory premises and works 10- to 12-hour shifts. During lockdown last year, the factory owner provided food and accommodation when production shutdown for about three months. He is one of the luckier ones to be back working now.
"I hope the pencil demand increases and these factories are full of workers again, as many of our friends and people from our villages find work [here] and are able to make a living," says Kumar.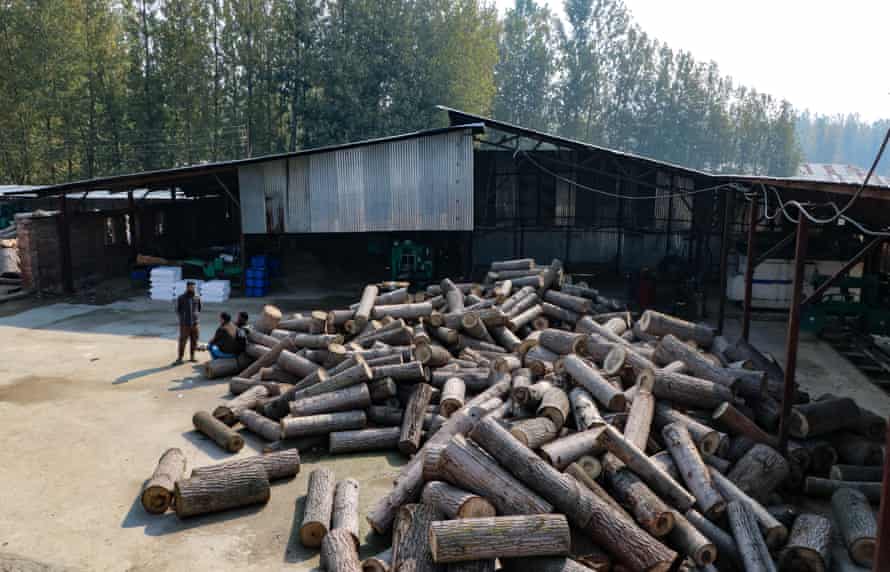 Farooq Ahmed Wani, 27, from the city of Jammu, has worked as a machine operator in Ukhoo for the past five years.
"We are hoping that schools reopen throughout the country so that there is more demand for pencils in the market," he says in an optimistic tone. "Then these factories can employ more young people and more migrants can also get some work here."
Pencil wala Gaon, or "pencil village", attracted the attention of India's prime minister, Narendra Modi. In his monthly radio programme, Mann Ki Baat, last year he said the district was an example of how to reduce the country's dependency on imports. "Once upon a time we used to import wood for pencils from abroad but now our Pulwama is making the country self-sufficient in the field of pencil making," Modi said.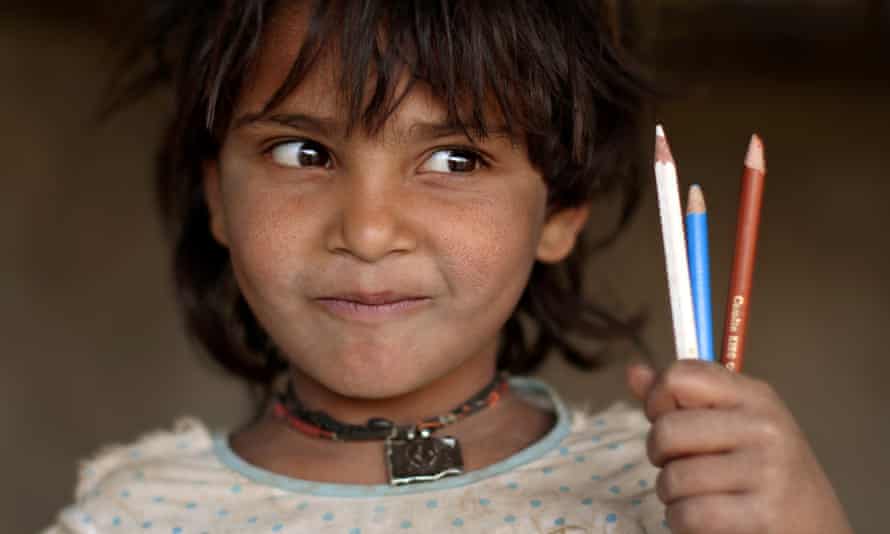 A recent ministry of home affairs report said that the village would be developed as a "special zone" for manufacturing. "Now the whole country would be supplied finished pencils, manufactured completely in Pulwama," the report noted. But the pandemic has shown how overreliance on one product in a region brings its own problems.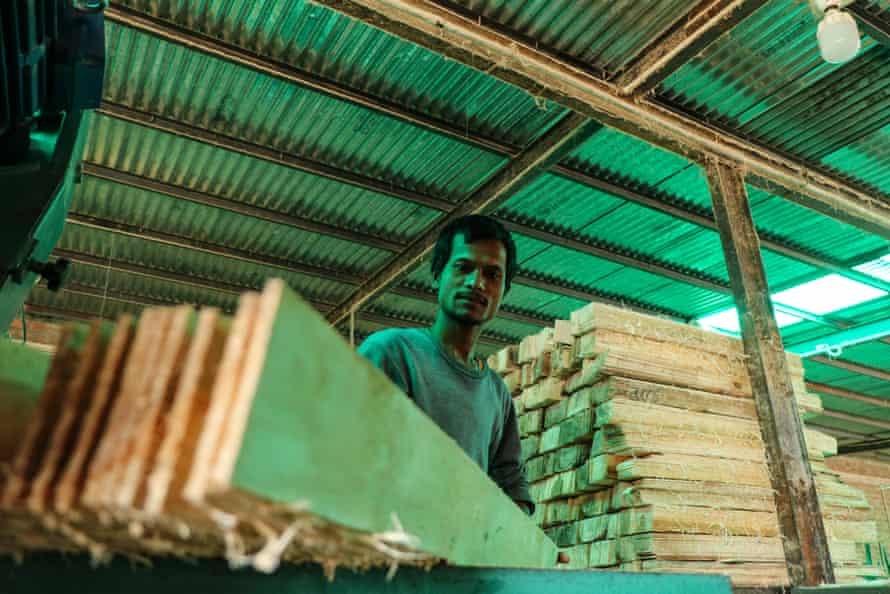 Abrar Ahmed, a unit supervisor at one of Ukhoo's factories, says everyone has suffered. "Even the sawdust from woodcutting machines is usually taken by the local villagers who then sell it to poultry farms and for other purposes in the village."
Manzoor Ahmad Allaie owns one of the biggest factories in Ukhoo.
"We are only doing about 30% to 40% [of normal levels of] business now because of the Covid lockdown impact from last year, which means we produce about only 80 bags of pencil slats a day," says Allaie. "Earlier we could produce about 300 pencil slat bags [a day] in the factory, which were transported out of Kashmir."
He is eagerly looking forward to India's schools fully reopening. It has been a hard two years for the pencil villagers, he says.
Sign up for a different view with our Global Dispatch newsletter – a roundup of our top stories from around the world, recommended reads, and thoughts from our team on key development and human rights issues, delivered to your inbox every two weeks: