Five dead after SUV driven into Wisconsin Christmas parade
A least five people have been killed and 40 injured after an SUV was driven into a Christmas parades in Waukesha, Wisconsin.
Dance groups and high school bands and politicians were marching along Main Street in the Milwaukee suburb's Christmas parade, which was returning from a pandemic hiatus, when the incident occurred.
Shortly before 4.40pm the driver of a red SUV stormed past barricades and drove through the crowd, striking dozens of people. At least five people were killed and 40 people were injured, and the numbers could change, city authorities said in a statement late on Sunday. Hospitals reported treating dozens of patients, including many children.
"Today our community faced horror and tragedy in what should have been a community celebration," said mayor Shawn Reilly. "I'm deeply saddened to know that so many in our community went to a parade but ended up dealing with injury and heartache."
Chief Daniel Thompson of the Waukesha Police Department said a person of interest was in custody and that there was no further threat. Eyewitnesses described the driver as male, but that was not confirmed by police. Mr Thompson said shots were fired by the police at the driver.
Hospitals
Children's Wisconsin hospital said it had admitted 15 people on Sunday. Details about their conditions were not immediately available. Another hospital, Aurora Medical Center-Summit, said in a statement that it was treating 13 patients, including three in critical condition. Officials at Froedtert Hospital said they also had received patients but did not specify how many.
This was the 58th Christmas parade for Waukesha, an annual event that was cancelled last year because of the pandemic. The theme of this year's event was simply "Comfort and Joy." Jason Kellner (49) said that he had just watched his son, a drum player in the Waukesha South High School marching band, pass by, when he first saw a red Ford Escape heading toward the crowd. After passing through an intersection, Mr Kellner said, the car "started mowing people down".
"I've never felt a worse feeling; wondering what I'm going to find when I get to my kid," Mr Kellner said of the moment he ran toward his son, whom he found standing unharmed by the side of the road. Mr Kellner said he pulled a bloody saxophone off the street and saw several people, apparently injured, on the ground. "Right now, I'm just angry," Mr Kellner said. "It seems everywhere we turn, it's just another violent day in the US."
Tyler Kotlarek (28) was watching the parade with family members when they heard screams. "It was the worst thing I've ever seen in my life." Mr Kotlarek said the driver appeared to intentionally steer toward people. That account had not been confirmed by police. "He was going from side to side, targeting people," Mr Kotlarek said. "The car bombed through. He was flying through there going intentionally from left to right."
Conditions
The Milwaukee Dancing Grannies, which were among the parade entrants, said on Facebook that members and volunteers had been impacted "and we are waiting for word on their conditions".
Officials with the Xtreme Dance team, another group that marched, asked for thoughts, prayers and "privacy to process the tragic events." The Roman Catholic Archdiocese of Milwaukee said a priest, as well as parishioners and students at a local Catholic school, were among the injured.
Tom Hickey (25) was walking near a friend's float at the back of the parade when he heard honking behind him. A man wearing a sweatshirt and gray hat who was driving the red Ford Escape was trying to make his way through the crowd, he said. Mr Hickey said he thought the driver was lost.
Then, the driver took a right turn onto the main parade route, gunned the engine and moved through the parade route at what appeared to be top speed, he said. "When he made that right turn, that's when he turned really dangerous," Mr Hickey said. – This article originally appeared in The New York Times
Music: From Beyoncé to Rosalía, what's behind the eccentric use of capital letters in pop music? | Culture
If you go to your favorite music streaming platform and play either of this summer's two most played albums—Beyoncé's Renaissance and Rosalía's Motomami—you'll notice a significant detail: the titles of all the songs are written in capital letters. The chart's aesthetics have mutated over the years. The official listings maintain their own writing and capitalization rules, but the titles on Spotify's global top 50 are enough to make the eyes spin in orbit. The titles are as varied as the world's people. Neither song titles nor artist names follow the strict stylization rules of institutions or record companies.
Historically, Spanish and English have used capital letters in contrasting ways. In Spanish, the first letter of song titles is capitalized, but the rest of the letters are lowercase. English, meanwhile, capitalizes the first letter of every word, especially nouns, adjectives and verbs, a practice that apparently comes from the first version of the US Constitution. That is, where the Anglos write "Don't Cry For Me Argentina," Spanish uses "No llores por mi Argentina." In Spain, the Anglo-Saxon style is sometimes emulated, as with "Santos Que Yo Te Pinté" by Los Planetas. But it is visually exaggerated and looks artificial. The music industry has almost always followed rules and conventions of writing names and titles, whether for the physical versions of albums –CDs and vinyls– or in their digital versions.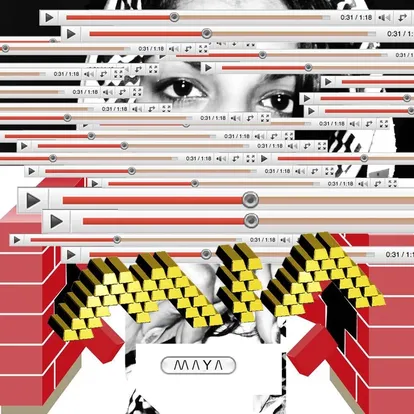 In the context of streaming platforms, however, those rules no longer dominate. On illegal download programs, such as Soulseek, users write as they please. On iTunes, where each person can modify an album's content, adding and deleting songs and titling them however you want. Most significantly, though, the platforms that allow artists to upload their own music, have changed the way artists present their songs to the world. Rappers like Travis Scott have made themselves known by uploading mixtapes to Soundcloud, a streaming platform that, unlike Spotify, has the option of being able to upload songs directly, without the need for external distributors. There, the usual capitalization conventions no longer have any relevance: the music is usually amateur work created at home without the help of record labels or professionals. Francisco Nixon, musician and content editor for the streaming platform Deezer, associates the use of capital letters specifically "with the subculture of hip hop and mixtapes. I mean CDs burnt at home, with crappy Photoshop typography and all. Its current use, I think, comes from that subculture."
That amateurism, detached from any formal convention, as often the artist does not know if their work will reach an audience, is also reflected in the writing of titles. It is often done in a hurry, without attention to grammar, spelling or aesthetics, because what counts is immediacy: the more spontaneous, the more authentic.
What was once a spontaneous practice has now become an industry standard, a marketing strategy that allows musicians to display their personality on the market. Artists like the aforementioned Rosalía (or ROSALÍA on Spotify), Beyoncé, Bad Bunny and Lil Nas X, present the titles of their songs in capital letters ("DESPECHÁ," "BREAK MY SOUL"), while others like Billie Eilish, Olivia Rodrigo, FKA twigs and, in Spain, Alba Reche or daniel sabater (as written) opt for lowercase. Sometimes these same artists use capital letters to title their albums but lowercase to name the songs, as with Billie Eilish's debut. Others choose both options at the same time, like Belén Aguilera. On his SUPERPOP, album, each track written in uppercase is followed by another written in lowercase. And British rapper Slowthai divides his double album TYRON into two halves, the first of which features titles in uppercase, the second in lowercase. The first represents, in his words, the "mask" that he puts on in front of others, while the second denotes his "true self."
Some artists choose an even more experimental method. All the songs in DAMN., by Kendrick Lamar are titled in capital letters followed by a period. However, others by J. Cole or Willow (daughter of Will Smith) are not only written entirely in lowercase but also with spaces between letters, such as "m y l i f e" or "t r a n s p a r e n t s o u l." The method seems to gesture towards something so transcendent that it doesn't fit within a song, much less within its title. (Special mention should be made of the use of emojis by groups such as Axolotes Mexicanos and even Coldplay.)
Uppercase and lowercase letters have become one more form of expression for artists, in addition to lyrics, melodies or graphic art. These artists have grown up with the Internet, sending and receiving text messages via mobile phones or computers. Playing with forms of writing has become natural to them. It is also no coincidence that artists who are presumed to be more "extroverted," flashy or explosive, such as Rosalía or Lil Nas X, use capital letters to stand out (the titles of MOTOMAMI and MONTERO are almost hysterical). Others like girl in red or mori, who create more introspective music, opt for lowercase to create a sense of intimacy, a space where you can listen carefully to all their secrets. All of them send a clear message of what they want to convey with their art and how they want the public to perceive them. Their use of writing conventions allows them to do so. Graphic designer and art director André Gianzo believes that "on Spotify, where most of the lyrics are written in lowercase, using uppercase can be a way to attract attention, to break with the establishment. Historically, the capital letter means shouting," so the use of lower case means the exact opposite. However, Gianzo points out that the standardization of this practice in the industry means that using capital letters "is no longer going to be a factor that is taken into account to attract attention" because the "eye gets used to absolutely everything."
Precedents for this phenomenon go beyond rap mixtapes published on platforms like Soundcloud. In 2010, M.I.A. released the album Maya, whose title is actually written with forward slashes, // / Y /, and which can only exist thanks to a modern keyboard. (Interestingly, one of the album's tracks is titled "CAPS LOCK.") Long before, Japanese pop artists such as Capsule and Ayumi Hamasaki were already messing around with uppercase and lowercase letters in song titles. It was then a purely aesthetic practice that denoted a desire to play with the norm or even transgress it. Nowadays it is common for Japanese or Korean artists to alternate between different alphabets in their song titles. This is the case of Utada Hikaru and her 2021 single "BADモード." Further back we find the precedent of e.e. cummings, the 1940s poet who wrote in lowercase for reasons of poetic expression. In her recent folk-music stage, Taylor Swift has titled all her compositions in lowercase, presumably with the intention of projecting a sense of intimacy.
Even more curious is the so-called lowercase genre, minimalist ambient music composed of practically imperceptible sounds and noises are amplified in the recording. One of its inventors, Steve Roden, released a record featuring different ways of manipulating sheets of paper. He stated that lowercase music "carries a certain sense of calm and humility, doesn't demand attention, must be discovered. It's the complete opposite of capital letters, which are loud and draw attention to themselves"– a good summary of what the strategic use of upper and lowercase means today in the world of pop music.
Academy Awards apologizes to Sacheen Littlefeather for 1973 Oscars abuse | Culture
The Academy of Motion Picture Arts and Sciences (Ampas), the body that oversees the Oscars, has apologized to Sacheen Littlefeather for the abuse she suffered at the 1973 Academy Awards. The Native American actress appeared at the ceremony on the request of actor Marlon Brando, who was awarded Best Actor for his role in The Godfather. When Brando's name was announced, Littlefeather, who was 26 years old at the time, took to the stage to say that owing to the "poor treatment of Native Americans in the film industry," as well as the recent events at Wounded Knee, a conflict which led to the death of two Native Americans, Brando would not accept the award.
Her speech was met with boos (and some applause) from the audience, and the actress had to be escorted by security guards. According to Littlefeather, that night some people used the "Tomahawk chop" – seen as a demeaning gesture to Native Americans – as she was walking by. Her Indian heritage was questioned, and she was accused of being in a relationship with Brando. Decades later, in 2020, Littlefeather said that actor John Wayne nearly assaulted her.
Nearly 50 years after the ceremony, the Academy has issued a formal apology for what happened. "The abuse you endured because of this statement was unwarranted and unjustified. The emotional burden you have lived through and the cost to your own career in our industry are irreparable. For too long the courage you showed has been unacknowledged. For this, we offer both our deepest apologies and our sincere admiration," reads the letter signed by its former president, David Rubin.
Littlefeather, who is now 75, has responded with humor to the Academy's apology. "We Indians are very patient people – it's only been 50 years!" she said in an interview with The Hollywood Reporter. "I never thought I'd live to see the day I would be hearing this."
The Academy Museum of Motion Pictures will also host a special event on September 17, in which Littlefeather will discuss her appearance at the 1973 Oscars and the representation of Native Americans on screen.
Music: Madonna has been scandalizing people for 40 years, and nobody's going to stop her | Culture
Madonna's Instagram account has a reputation as a playground for digital voyeurs. It doesn't disappoint, featuring Madonna crying; Madonna drunk; Madonna twerking with Maluma; Madonna filming her family performing a dance while cooking; Madonna kissing Britney Spears at Spears's wedding; Madonna flashing a boob; Madonna posing spread-eagle with the caption, "I have something for you."
The singer has relatively few followers (18.4 million) compared to stars from later generations like Beyoncé (273 million), but she offers better stimuli: the chance to see a pop star who has done everything – going above and beyond both morally and artistically – struggle not to become just another sympathetic character. Madonna has been part of the music world for 40 years and still no other pop star has proven to be more subversive and provocative than she is. Now, she's releasing a remix album summarizing her career, Finally Enough Love: 50 Number Ones (on sale August 19), turning 64 (August 16) and moving up the production of a film that tells her life story, the real one.
The singer's frenzied use of her Instagram perfectly symbolizes her career, which has been scrutinized around the world since she started in the music industry in 1982, at the age of 25. Surely, Madonna has suffered every type of harassment that a pop star can endure: sexual harassment, body criticism, machismo, classism; accusations of cultural appropriation and of being anti-religious, sacrilegious, unpatriotic, youth-obsessed; and claims that she's a heretic, an imposter for using playback in concerts, the financier of an alleged sect (Kabbalah)… Yes, she's always gone too far in everything; as a woman from the suburbs of Detroit, that has not been tolerated. In the 1980s, she burned crucifixes in her music video for Like a Prayer; in the 1990s, she published a book, Sex, that had the most explicit images of homosexuality and fetishism that a star had ever shown; in the 2000s, she passionately kissed Britney Spears at an awards gala with millions of people watching on television; and just recently on June 23, at a New York Pride celebration, she made out with her new friend, Tokisha, the 26-year-old Dominican woman we know from the songs she performs with Rosalía like "Linda" and "La Combi de Versace."
For a person who is so continually obsessed with attention, it must be frustrating for Madonna that she doesn't resonate with today's young people. Hence, her display with Tokisha and her desire to work with Kendrick Lamar, hip hop's biggest talent today, as she confessed a week ago on Jimmy Fallon's show. Madonna has one consolation: many teenagers today will also ignore the Beatles' significance entirely, although Paul McCartney probably doesn't care much about that anymore.
For 40 years, Madonna has been a thoughtful provocateur. Between provocations, she has recorded good albums with a limited voice. She herself has confessed that the biggest challenge of her career was preparing for the musical film Evita (1996); she had to work hard with the best singing coaches to bring her vocal abilities up to snuff. In four decades, she has released 14 albums, and at least five of them are essential listening. The first two (Madonna, 1983, and Like A Virgin, 1984) are full of gems that define 1980s dance pop. Songs like Holiday, Everybody, Lucky Star, Material Girl, Like a Virgin and Dress You Up are still exciting today, and they hold up equally well at the gym and in the club. Of course, Like a Prayer (1989), surely Madonna's best work, transcends the context of the 1980s to retain its appeal in
subsequent decades. In terms of lyrics, Ray of Light (1998) was one of her career's best. Her great avant-garde electronica work with producer William Orbit is both relaxed and festive. Finally, her reinvention with Confessions on a Dance Floor (2005) – done in collaboration with Stuart Price – gave 1970s/early 1980s disco music a facelift by updating it and making it more sophisticated. Through the present day, Madonna has been enormously influential; her imprint on Dua Lipa is the clearest example. She always knew that fame comes through a musical pastiche: taking a bit from here and a bit from there without being too obvious and then embellishing it with her own contributions.
Madonna has sold 250 million records and is the best-selling female artist in history, not bad for a girl who was born in a Detroit suburb, and whose world was shattered when she lost her mother at 6 years old. At the age of 20, she left for New York to do the opposite of what her strict father told her: she
became a model and was soon performing nude at punk joints like CBGB's. When she began to break through in music, she found herself in the spotlight and surrounded by male achievers, including Prince, Michael Jackson, Bruce Springsteen, Phil Collins, George Michael and U2. Of the 25 best-selling albums in the 1980s, when she began her career, only two women's work made the cut : Madonna (with Like a Virgin and True Blue) and Whitney Houston.
In this male-dominated context, Madonna used her own sexualization to craft her image and exert control. She was not a sexual amusement for the male audience; she was a powerful and defiant woman. Madonna grew up listening to Stevie Wonder, Diana Ross and other Motown artists, learned to play the drums with Elvis Costello's New Wave records, saw David Bowie as the first concert she attended, and had her first drink at the age of 30, following her divorce from actor Sean Penn. Restless and curious, she always sought the company of daring artists like Keith Haring and Jean-Michel Basquiat.
Soon, Madonna realized that she was living in a hostile environment that was not ready to tolerate an emancipated woman's success. In 1985, Playboy and Penthouse magazines published nude photographs that had been taken of her in 1979, when the singer was not yet famous and made her living posing naked for photographers. The publications took advantage of the singer's fame in the mid-1980s and sold the old images. Madonna took the incident as a warning. "That was the first time I was aware of saying 'Fuck you' with my attitude. You're trying to put me down because of this? I'm not going to let public opinion dictate my own feelings about myself. I'm not going to apologize for anything I've done," she told Rolling Stone magazine. In 2016, when Billboard magazine named her Woman of the Year, Madonna delivered a legendary speech against sexism, machismo, and misogyny: "If you're a girl, you have to play the game. You're allowed to be pretty and cute and sexy. But don't act too smart. Don't have an opinion that's out of line with the status quo. You are allowed to be objectified by men and dress like a slut, but don't own your sluttiness." She defiantly added that those who diminished her had made her tougher: "To the doubters
and naysayers and everyone who gave me hell and said I could not, that I would not or I must not — your resistance made me stronger, made me push harder, made me the fighter that I am today. It made me the woman that I am today. So thank you."
More than a pop star, Madonna is a concept. She stands for rebelliousness, indiscipline and fighting against the odds. That's why she is an LGTBI muse and a point of reference for those who came after her: Britney Spears, Katy Perry, Christina Aguilera, Rihanna, Miley Cyrus, Taylor Swift, Pink… and the current pop goddess, Beyoncé, who recently released a version of her single "Break My Soul" fused with Madonna's 1990 hit "Vogue." Beyonce thanked Madonna for her example in a note that the latter shared on social media: "I'm so grateful for you. You have opened so many doors for so many women. You are a masterpiece genius."
Emerging Spanish-language urban musicians also express their appreciation for Madonna. As the Argentine Ms Nina, who lives in Spain, put it: "She's an inspirational empowered woman. Now, our lyrics scandalize people, but she was much more radical in the 1980s. People criticize her now because she has surgery, because she is old…. Let's see how her critics are doing when they're 60 years old. They're never happy. But they're not going to intimidate her. I love her."
Indeed, no matter how many haters visit her Instagram, Madonna is not going to give up. In 2019, she released an album that passed muster with harsh critics. Madame X did not thrill people but she did convince them. "Oh, you're not allowed to make youthful, fun, sexy music if you're a certain age? That's a load of bollocks, to speak your language," she said in a 2019 interview with The Guardian about her recently released album. True to her commitment to the queer community, a few days ago she released Material Gworrllllllllllllll!, a collaboration with gay rapper Saucy Santana in which they remix her 1980s hit Material Girl.
Three weeks ago, the singer gave an interview to Variety, announcing that she will direct a movie about her life (Julia Garner will play her). She explained it this way: "It was also a preemptive strike because a lot of people were trying to make movies about me. Mostly misogynistic men. So I put my foot in the door and said, 'No one's going to tell my story, but me.'" As always, that's just Madonna being Madonna.