'Families want a son at any cost': the women forced to abort female foetuses in India | Women's rights and gender equality
Laali was alone at home when she realised her legs were drenched in blood. The bleeding did not stop for eight hours. As she fell unconscious, the 25-year-old thought she would die alongside the foetus she was losing.
She had been three months pregnant when she was taken for prenatal sex determination. "When I learned it was a girl, I started feeling as though I was suffocating," she says.
An abortion pill was forced down her throat, without a doctor's supervision, and subsequent complications led to hospitalisation. The night she was released, Laali cried herself to sleep – and in the morning returned to her work in the fields.
Laali's unborn daughter is among India's estimated 46 million "missing females" over a period of 50 years, ten times the female population of London. A deepening gender bias, breeding rampant sex-selective abortions and female infanticides, means that India accounts for nearly half of global missing female births.
"The traditional pattern of marriage and customs dictate an inferior position to women in Indian societies," says Prem Chowdhry, a gender activist and retired professor at the University of Delhi. Since girls leave their birth family after marriage, she says, the dowry and cost of raising a girl is considered an unwelcome obligation, and sex-selective abortions are common.
Prenatal sex determination was criminalised in 1994, but it is a widely flouted law. The practice has thrived with medical advancements, spread to more regions, and is still easily accessible in privately run clinics.
Surrounded by vast sugar cane fields, Laali's village is 40 miles from Delhi. Social health activists who run an unregistered support group for women here estimate that "every third house in the village" has aborted a foetus because of the sex.
"Families want a son at any cost. Any cost!" Laali says. "If I die, my husband will remarry tomorrow morning, hoping the next woman will give birth to a son."
Laali was 19 when her marriage was arranged with a farmer in 2009. In the next three years, she gave birth to two daughters. During her second pregnancy, she was regularly drugged by traditional and faith healers in order to "make" a boy.
When her baby girl was born, no one from her family came to see them in the hospital. Returning home was worse. "My mother-in-law refused to see my daughter's face," Laali said. "She refused to take care of me, saying: 'you are giving birth to girl after girl. How far can I take care of you?'"
Every night, as she sat down for dinner after a day of labour in the field, someone would toss in a taunt. "When anyone had a son in the village, it was a nightmare for me," she recalls. "My family abused me in front of my girls."
The government of India appears unwilling to act. A recent government survey hailed the fact that there are more women than men for the first time. However, activists on the ground and experts are sceptical of the data. "The main objective of the survey was to look into data on reproductive health and family welfare indicators and not on the population sex ratio," said Sabu George, a researcher and activist based in Delhi. "All state-wise trends show a different picture."
Dr Prabhat Jha of the University of Toronto, who led India's Million Death Study, agrees: "The UN Population Division, the most careful demographic work, estimates the number of 'excess men' in India is growing."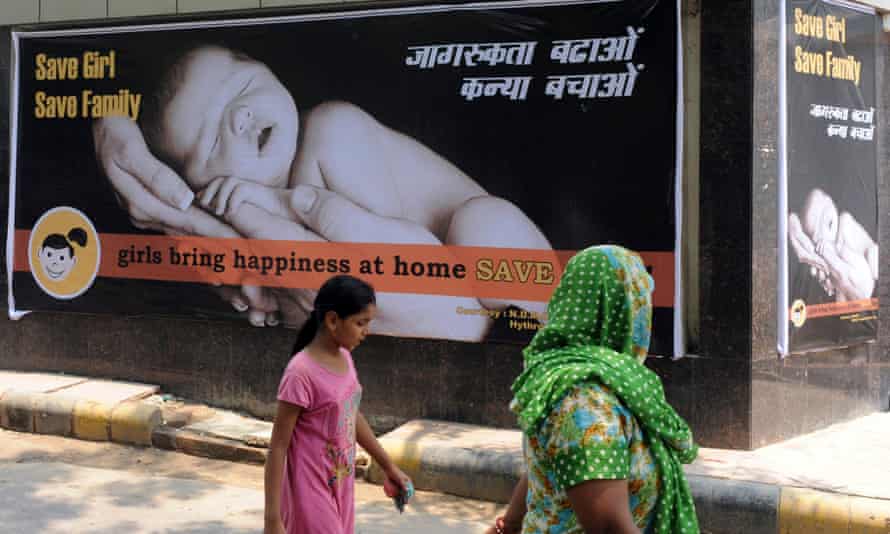 India's own registrar general's estimate suggests a similar trend.
A 2021 Lancet research paper, co-authored by Jha, claimed that the situation has worsened, with missing female births increasing from 3.5 million in 1987–96 to 5.5 million in 2007–16.
The male child bias has cut through class and geographical divisions. In August, a 40-year-old woman from a wealthy upper-class Mumbai family said she was forced to abort eight times to satisfy the family's desire for a son. She was given more than 1,500 hormonal and steroid injections before she lodged a police complaint. Last year, in southern India's Karnataka, a 28-year-old woman died after complications during a third forced abortion.
Endless harassment pushed Laali to seek psychiatric help, and she is currently on medication. Two abortions and a surgery later, doctors have advised her to not get pregnant again. "My womb has weakened and my body cannot bear another child," she said.
Family interference can cause huge stress for women. Bhavna Joshi, 39, from Chittorgarh in Rajasthan, had eight pregnancies in her 11 years of marriage, and finds her experience so painful to talk about that she only wants to share the basic facts: she was taken to "uncountable" numbers of traditional healers, had three abortions and lost two infants as babies. It didn't stop until she finally gave birth to a son, now aged five.
After two abortions, Laali wishes for a boy too. "I want this to end. They are drugging me and I cannot eat or drink for days," she said. "I just want out of it, badly."
Over the past two decades, trends in sex-selective abortions have shifted. The Lancet research found that as more families in India become nuclear, abortions are more common with the third pregnancy. "Families let nature decide twice, but then – for the third time – they make sure it is a boy," said Jha. "Violence against women is a cultural thing in India. The problem is going to get much worse before it might get better."
After having two daughters, 36-year-old Meenakshi was taken by her in-laws for a prenatal sex test when she fell pregnant for the third time. "The area was completely deserted and hidden," she says, hiding in another home for the interview. "I was scared. It wasn't a normal clinic."
Meenakshi, currently seven months pregnant, wasn't directly told the result. "My husband and his mother looked happy so I understood it was going to be a boy," she said. "Otherwise, they would have killed it [before the birth]."
In India's deeply patriarchal society, women's full sexual and reproductive rights are still a distant dream. Women like Meenakshi are fighting for acceptability in the family. Meenakshi's parents raised her to expect freedom after marriage. But everything is worse, she says, sobbing.
For Laali, harassment is part of her daily life. By the time she was 15, her mother had aborted two female foetuses, and her younger sister has aborted at least three.
"You are brought up in an environment where this violence against women is completely acceptable and normalised," says George. "The question is: how do you resist this on the ground? And that's frightening."
Both Laali and Meenakshi were isolated in society, lacking any emotional support. Talking of their experiences, hidden inside their rooms, makes them cry, and their daughters, all in their teens, console them with hugs. Laali and Meenakshi are desparately worried they will not be able to protect their daughters from similar trauma, but for now the girls are mostly oblivious.
Meenakshi's eldest daughter jumps with joy as she sees a plane passing over their heads. "She wants to be a pilot," says Meenakshi, wiping her tears. "When I cry, she tells me: 'Mamma, it'll get better, and one day we'll fly together, in a plane that I'll pilot.'"
In the UK, call the national domestic abuse helpline on 0808 2000 247, or visit Women's Aid. In the US, the domestic violence hotline is 1-800-799-SAFE (7233). Other international helplines may be found via www.befrienders.org
Sign up for a different view with our Global Dispatch newsletter – a roundup of our top stories from around the world, recommended reads, and thoughts from our team on key development and human rights issues, delivered to your inbox every two weeks:
Kill the Bill and period protests: human rights this fortnight – in pictures | Global development
Microphones in front of a banner outside a court in Koblenz, Germany. Anwar Raslan, a former colonel with the Syrian intelligence service, was
convicted by the court of crimes against humanity
, including 27 counts of murder. He was found guilty of overseeing abuse, sexual assault and the torture of more than 4,000 people at Branch 251. The site became synonymous with brutal abuse by security officials after the government of Bashar al-Assad stopped protests with force.
'No embargo' on meetings with Putin, EU says
EU leaders are free to meet Russian president Vladimir Putin despite his threats to start a new war with Ukraine, the EU foreign service has said. "There is no embargo on contacts and visits between member states and Russia. Each member state decides … on their own judgment," the EU foreign service told EUobserver. The comment follows reports Croatia invited Putin to visit and that Hungary's leader will meet him.
Vulnerable Malians could 'pay the price' of heavy sanctions, warn aid groups | Global development
More than a dozen aid organisations have called for humanitarian exemptions to heavy sanctions imposed on Mali after the military leadership postponed planned February elections.
The EU has announced support for the sanctions imposed earlier this month by the Economic Community of West African States (Ecowas), which include closing borders and a trade embargo.
But this week, 13 international groups working in Mali warned of devastating consequences for the population, a third of whom rely on aid.
Humanitarian access is hindered by the Malian interim authorities' decision to reciprocate border closures with Ecowas member states, except Guinea.
Thousands of people demonstrated against the sanctions last week in the capital Bamako, carrying placards saying "down with Ecowas" and "down with France".
The country is in the grip of the worst food insecurity in 10 years.
A joint letter signed by the NGOs, including the International Rescue Committee (IRC), Care and the Norwegian Refugee Council, said: "To continue their work effectively, humanitarian actors must have unfettered access for the transportation of life-saving goods including food and medicine, as well as guarantees that they can transfer funds into the country without violating the sanctions."
Mali's current insecurity dates back to early 2012 when northern separatists rebelled against the government. Islamist militants that initially allied with the separatists, including Ansar Dine, al-Qaeda in the Islamic Maghreb (AQIM), and the Movement for Unity and Jihad in West Africa, ultimately hijacked the rebellion.
France, the former colonial ruler, made a military intervention in 2013 on the government's side against the militants. The UN has also deployed an estimated 18,000 peacekeeping staff, in what was called its most dangerous mission.
The Malian military, led by Col Assimi Goïta, has conducted two coups in two years and reneged on promises to hold new elections. The junta's most recent power grab, in May 2021, was the fifth coup since Mali's independence in 1960 and it has been unwilling to commit to transition to civilian rule, despite international pressures.
Postponement of elections has been blamed on Islamist insecurity, an impasse that has deepened with the arrival of private military contractors belonging to the Russian mercenary firm Wagner Group. European states have condemned Wagner's presence, concerned it will enable the military to hold on to power.
EU foreign policy chief Josep Borrell said this month that EU sanctions on Mali were in part in response to the involvement of Russian contractors. France is withdrawing troops, but 14 other EU members, led by Sweden, had established a taskforce to replace them in a three-year mandate. As tensions intensified over the Wagner Group, Sweden said last week that it had decided to withdraw its troops.
France, which holds the rotating EU presidency, has been vociferous in its support of sanctions but Russia and China have blocked the UN security council's move to follow suit.
Ecowas has frozen financial aid and Malian assets at the Central Bank of West African States.
Elena Vicario, director for the Norwegian Refugee Council in Mali, said: "Malians are already bearing the brunt of the humanitarian catastrophe, punctuated by horrifying attacks against civilians. Sanctions must not hold us back from delivering essential assistance in a country where drought, rising insecurity, and the economic impacts of Covid-19 are already pushing millions of Malians over the edge."
Franck Vannetelle, the IRC's country director in Mali, echoed Vicario, saying: "Despite more than a third of the country's population being dependent on humanitarian aid, organisations working in Mali already face severe access constraints. It's imperative that the international community keeps responding to people's urgent needs, and that any new sanctions have concrete humanitarian exemptions. These must be monitored and implemented, or the most vulnerable people in Mali will pay the price."