Familia Michoacana: Mexico City is on alert after a threatening video circulates on social media | International
Security officials in Mexico City are on alert after seeing an alarming video with 30 men brandishing weapons and claiming control over the capital's southern boroughs. Posted by a group calling themselves "Pura Familia Michoacana" (The Michoacan Family), the video spread like wildfire on social media. It was a message of death and terror with all the typical drug-trafficker boasts, threats and crude language, and signed by just one man – El Zarco (green eyes). The display of firepower didn't frighten everyone so much, it was the territory they are claiming – Milpa Alta – the small, rural towns on the southern fringe of the capital city. Authorities say that no criminal organizations are firmly established in this area, even though it's a valuable thoroughfare for illegal activity. People are busily hanging Christmas lights to decorate their towns, while police cars circulate constantly to preserve the peace and quiet of the holiday season.
The federal district of Mexico City has mostly escaped the drug trafficking terror that has gripped the entire nation. But evidence is mounting that this relative peace is ending. On June 28, 2020, Public Security Minister Omar García Harfuch was attacked in the heart of the capital. Authorities say several cartels are engaged in a turf war for control of the city. Some have gravitated to Tlahuac, a borough located on the southeastern edge of Mexico City, and to other nearby communities just a stone's throw from Milpa Alta, the most rural of all the capital's boroughs. "We're already in Milpa Alta," says the masked man in the video, as if to warn local residents that the nopal cactuses that dominate the landscape aren't the only thorns to watch out for.
Some say that criminals are after empty fields abandoned by their owners. Others note the area's advantageous location between several states, and the federal highway that runs north to south through Milpa Alta. Meanwhile, authorities are advising people not to panic. "We are not minimizing the video, but if a cell like this one were actually operating in the area, we would have seen more than one intentional homicide in November in Milpa Alta," said Garcia Harfuch, after meeting local leaders. The Ministry of Public Security reiterated that it "neither minimizes nor discounts" the threats in video, but quickly dispatched 25 high-security patrol vehicles with six police officers each. "We deployed a significant security force to Milpa Alta that is patrolling the area every day," said Garcia Harfuch.
San Antonio Tecomitl is a town of 21,000 that has become the commercial center of the Milpa Alta area. In the town square, an officer orders his troops to fall in, and then runs the 20 or so men in navy blue uniforms through a few drills. He says he doesn't think the Familia Michoacana is operating in the Milpa Alta area because there's no evidence of it. "The people fighting over land are from Chalco," he says, referring to the neighboring town. "They just want to be able to transit freely through here; they're not fighting for control of drug territory," he said. The officer said they'll stay as long as necessary, "so that the people will know that they haven't been abandoned and that these armed groups aren't going to take over." Why did they release this video? "To cause panic. It's a message to [criminals] like themselves. But everything is quiet here. The ones causing all the fuss are just passing through."
Antonio Nieto, a journalist specializing in drug trafficking who wrote a book on the cartel in Mexico City, doesn't think they're just passing through. Nieto says that the Familia Michoacana has been active in Chalco, Ixtapaluca, Tlahuac and Milpa Alta since 2006. "The video is about the Familia Michoacana's recent battles against "Los Gastones," another group of drug traffickers operating in the same area. Nieto cites a number of arrests, murders and skirmishes between street dealers over the last 18 months. "The Familia Michoacana has been involved in about 350 incidents over the last three or four years," he said. "They're active on social media and have been around for 20 years, so no one can say they're not in Mexico City. What's changing is that they are now more out in the open, although they haven't yet declared war on the authorities."
As the saying goes, "Troubled waters make for good fishing," so when narcos churn up the river, neighborhood thugs and low-level extortionists get busy. That's what a small grocery store owner says is happening in Milpa Alta. "I got a call from someone who said he was from the mayor's office. That's strange, I thought to myself. He wouldn't let me talk. When I wanted to say something, he just said, 'You'll know when it's your turn to speak.' That's when I hung up. But he called twice more and said he was from the Tláhuac cartel, which had never happened to me before. Other times they called and said that one of my nephews had a problem and needed money. But then they told me they knew where we lived and asked if I wanted to see my wife hanging from a bridge. I got scared and reported it," said the shop owner, who asked for anonymity. He installed security cameras and now closes the shop before it gets dark. In the morning, all the stores are open, and fresh fruit and huge pots of mole are on display. It's a cheerful atmosphere that belies the trepidation that night brings.
Other messages have circulated recently on WhatsApp warning everyone, "Stay home after 11pm – the Jalisco New Generation Cartel is here to bring order to this town of innocents. All the little lackeys poking their fucking rat fingers where they don't belong are going to get fucked up. We have been sent by the boss to stay and work here. Don't ignore this message. We're going to torture, kill and dismember all the fucking rats that we already found." The message then lists the aliases of 20 people that they're after. Although the message almost seems laughable at times, the threat is real. Dismembered bodies have been found in Mexico City's historic downtown, a popular tourist attraction. No joke.
The Teutli volcano looms over this peaceful, sun-splashed land, overlooked even by the scourge of the Spanish conquistadors. "We all know each other in these villages. If we see a stranger, we ring the bells to alert everyone," said Ramiro Caldillo, a municipal official. He dismisses the veracity of the Familia Michoacana video, and blames social media for spreading fear. "Of course, there is some concern and people are talking about it," he said. "But there are some odd details in the video, like the swimming pool in front of the men. We don't have those here," he says. Things may be a little less safe now, but Caldiillo is being cautious because he knows that peaceful Milpa Alta borders some unsafe areas, and that its "empty fields and mountainous terrain are difficult for the police to secure." But like the Minister of Security, he notes the low number of homicides and insists that all is well.
Nothing is moving in the quiet nopal fields – not a single gust of wind to shake their thick, stiff leaves. They remain that way from morning to night, but now there are some warning signs that peace may not last much longer in this rural landscape on the southern fringes of the great Mexico City.
Sign up for our weekly newsletter to get more English-language news coverage from EL PAÍS USA Edition
Uganda condemned for 'shameful' decision to close UN human rights office | Global development
Rights activists and campaigners have condemned the Ugandan government's decision to shut down the country's UN human rights office, describing it as "shameful".
In a letter to the Office of the UN high commissioner for human rights (OHCHR) in Uganda dated 3 February, the foreign affairs ministry said it will not renew the host country agreement it signed with the OHCHR, which established its initial mandate in the country in 2005. The current mandate, signed on 9 February 2020, expires in August.
"The government of Uganda will now continue its cooperation with the OHCHR Headquarters either directly or through its Permanent Mission in Geneva," reads the letter.
The development comes less than three months after the UN's committee against torture adopted the concluding observations on Uganda, which raised concerns that torture and ill-treatment continued to be frequently practised, and called for investigation and prosecution of security officials accused of excessive use of force, violence and arbitrary detention.
"The closure of the @UNHumanRightsUG office proves that [the] government has lost all sense of shame. It no longer wants any close international scrutiny of its human rights record," tweeted Adrian Jjuuko, executive director of the Human Rights Awareness and Promotion Forum.
"If the protectors are sent away, what then happens to those they were protecting? We are headed for tough times," he added.
Bobi Wine, the reggae singer turned Ugandan opposition leader, whose supporters remain in unauthorised places of detention or "safe houses", said it was no surprise that Uganda's president, Yoweri Museveni, who has been in power since 1986, has closed the OHCHR. He tweeted: "In the face of growing international condemnation and isolation, tyrant Museveni has responded by shutting down NGOs, Facebook, DGF [Democratic Governance Facility] & declaring several internationals Persona Non-Grata or deporting them! Now he shuts down @UNHumanRightsUG."
Wine added: "You'll recall in the aftermath of the 2021 election and the hundreds killed or abducted by the Museveni regime, we petitioned the UN Human Rights Office & the military brutalised journalists right there. This UN Office condemned these actions. Not surprising it's being closed."
Human right activists and advocacy groups have called the decision a "mockery" and accused the government of running from international scrutiny on abuse and protection of human rights.
"This is unbelievable, and the reasons given by the government are a mockery of the real state of human rights in the country," said Jjuuko. "To claim that Uganda no longer needs the office [OHCHR] because of its strong stand for human rights is ironic to say the least.
"A strong stand for human rights would imply opening up to the UN and other actors."
David Livingstone Sewanyana, founder of the Foundation for Human Rights Initiative in the capital, Kampala, told the Guardian, "The decision not to renew the mandate deprives Uganda of a critical player in the field of human rights promotion and protection."
At least 38 local and international staff at the head office in Kampala and two field offices in Gulu and Moroto stand to lose their jobs.
Jjuuko said: "Following closely on the closure of the DGF, this is a scary move which indicates that the government is no longer willing to have its human rights record scrutinised by international actors.
"This leaves local organisations at much more risk of being further silenced and their work curtailed without the government fearing close international security. It is a sad day indeed for the human rights movement in Uganda."
2023 State of the Union address, live | Biden will call for collaboration with Republicans | USA
On the List: Biden's guests at the State of the Union address
In the highly theatrical ritual of the State of the Union address, delivered each year by the President of the United States to a joint audience of congressmen and senators on Capitol Hill, the most eagerly awaited list in the hours leading up to the address is that of those invited by the President himself to attend his speech on the floor of the House of Representatives. They are carefully chosen to underscore with their presence the points the president wants to emphasize. This year they range from rock stars (Bono) to anonymous citizens unwittingly placed at the center of a whirlwind of tragedy and media attention, such as the parents of Memphis teen Tyre Nichols, the latest name to enter the history of police brutality infamy in the country.
 
What follows is a list of some of those illustrious guests at tonight's speech in Washington: 
Bono. Singer of the Irish band U2 and activist for the most varied causes, for whose fight he deploys his worldwide fame.
Oksana Markarova, the Ukrainian ambassador to the United States. She was already invited last year, when Biden's first speech came six days after the Russian invasion of Ukraine. Nearly a year later, the end of the war seems far off, but the U.S. commitment to Kiev's cause remains unwavering.
Row Vaughn and Rodney Wells, mother and stepfather of Tyre Nichols. Five police officers beat him to death last month in Memphis. His case, and the poise of his parents, have reopened the debate about police brutality in the United States, an issue that seemed on the mend after the chokehold death of African-American George Floyd at the hands of a white Minneapolis police officer on May 25, 2020. 
Brandon Tsay, another anonymous man at the center of American political power. Tsay disarmed the killer of 11 people in one of the latest mass shootings to horrify the country. It happened in Monterey Park, California, and the tragedy ripped the Asian American community in half. 
Deanna Branch. Lead was found in her son's blood because of water coming out of the home's plumbing. The Biden Administration has set a goal of replacing all lead pipes in the country within the next decade.
Mitzi Colin Lopez. Immigrant rights activist, specializing in advocacy for dreamers.  
Doug Griffin of Newton, New Hampshire. Lost a daughter to a fentanyl overdose. Biden plans to stress the importance of the fight against opioids. The drugs have taken the lives of 100,000 Americans by 2022.
Amanda Zurawski, Texas neighbor. She almost died because of restrictive anti-abortion laws that came out of the Supreme Court ruling that eliminated a woman's federal right to choose.
High-profile lawsuit against Meta can be heard in Kenya, Nairobi court rules | Global development
A Kenyan court has ruled that a case brought against Facebook by a former content moderator can go ahead.
Daniel Motaung, who was hired as a Facebook content moderator by the tech firm's subcontractor Sama in 2019, filed a suit against the two companies last year, alleging that he had been exposed to graphic and traumatic content at work, without adequate prior knowledge or proper psychosocial support – which he says left him with post-traumatic stress disorder.
He also claimed he was unfairly dismissed after trying to unionise his co-workers to fight for better conditions.
Facebook's parent company, Meta, contested its involvement in the case, saying that Sama was Motaung's employer, and Meta could not be subjected to a hearing in Kenyan courts because it was not registered, and did not operate, in the country.
However, on Monday the judge found that the tech giant was a "proper party" to the case.
The Kenya employment and labour relations court is yet to release its full ruling on Motaung's case, but the decision – the first of its kind in Africa – is already being hailed as a win for the accountability of big tech on the continent, and in the global south.
"If the attempt by [Meta] to avoid Kenyan justice had succeeded, it would have undermined the fundamental tenets of access to justice and equality under the law in favour of foreign privilege," said Irũngũ Houghton, executive director of Amnesty International Kenya.
"We finally have an avenue for accountability," said Odanga Madung, senior researcher for platform integrity at Mozilla. "It calls for tech giants to make serious changes within their companies that take into consideration their workers and users outside the US and Europe."
Cori Crider, director of Foxglove, a UK tech justice non-profit, which supported the Motaung case, said social media platforms should not outsource critical online safety functions like content moderation. "It is the core function of the business. Without the work of these moderators, social media is unusable. When they are not able to do their jobs safely or well, social media's safety brutally falters."
Meta is facing a second court case in Kenya, which was due to be heard this week but has been postponed. It was filed by two Ethiopian petitioners and a Kenyan rights advocacy group, Katiba Institute, who claim that the company failed to take online safety measures to manage hate speech on the platform during northern Ethiopia's civil war – which they say fanned the conflict, with serious offline consequences.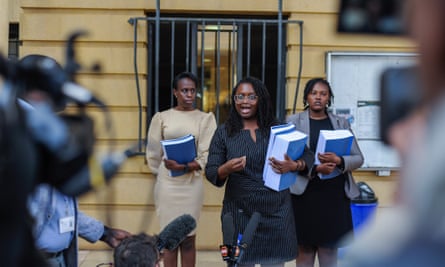 The father of one of the petitioners was killed after a violent Facebook post that was reported, but not acted on in time. The petitioners claim that Facebook also failed to recruit enough moderation staff to its regional hub in Nairobi.
"There are problems with Facebook's woeful failure to value or to staff content moderation outside of the English-speaking United States," said Crider, adding that Monday's ruling could have global and regional implications on how tech firms think about and manage content moderation.
Leah Kimathi, a convenor for the Council for Responsible Social Media, agrees. "Big tech should not just look at Kenyans as a market, but should be accountable and alive to the nuances, needs and peculiarities of Kenya, especially when it comes to content moderation."
Facebook has more than 13 million users in Kenya. It and Meta's WhatsApp are the most commonly used social media platforms in the country.
A nationwide poll conducted in 2022 by the Council for Responsible Social Media showed that 68% of Kenyans who have internet access get their news from social media, and that a majority of these feel that social media platforms could do more to remove harmful content.