EU relations: Berlin, Paris hoping Spain will stay close to EU's French-German bloc | International
France and Germany, considered the traditional axis of the European Union, are hoping that the Spanish government will remain a firm ally despite statements by Foreign Minister Arancha González Laya about seeking to diversify ties within the 27-country bloc.
In the space of just a few months, Spain has gone from embracing a G-3 of sorts with France and Germany to considering new alliances. These could include cooperation with Poland and Hungary in the battle to preserve European cohesion funds.
It makes sense to complement alliances with other states, but there is no substantial reason to justify walking away from the Franco-German axis

Ignacio Molina, senior analyst at the Elcano Royal Institute
Toward the end of former Foreign Minister Josep Borrell's term in office, there were attempts at opening up to alternative alliances as Europe moved to a post-Brexit scenario. But it is González Laya's first steps at the helm of the Foreign Ministry that have most clearly set the new tone.
Sources consulted by this newspaper played down this difference and instead highlighted Spain's pro-European sentiment as a key to EU collaboration.
"It is normal for each country to seek out partners based on its own interests regarding a specific issue," said a German diplomat. "This is not a big surprise, and you could also see it happening with Borrell. "The main thing, and there is no question about this, is that everyone should row in the same direction: for a Europe that is strong and shows solidarity."
A French diplomatic source said that Spain remains a key player in the new European landscape that opened up when Britain left the club on January 31. "We cannot build a sovereign Europe without great involvement by Spain," said this source. "France and Germany expect a lot from their main partners, particularly from Spain, in order to address Europe's challenges."
Everyone should row in the same direction: for a Europe that is strong and shows solidarity

Anonymous German diplomat
Since 1986, the year it joined the European club, Spain has stuck close to the French-German axis. "The only time we went our own way was in 2001, under [former Prime Minister] José María Aznar, and that was a strategic move prompted by the Iraq war," notes Ignacio Molina, a senior analyst at Elcano Royal Institute. "It is not possible to distance yourself from the axis: [Hungarian PM Viktor] Orban can do it, the way that Aznar did, but everything in the EU goes through that core group."
In early February, González Laya told this newspaper that she wished to cooperate with France and Germany on some policies, but not on all. "On other issues, the geometry will be a little bit different," she said, citing a few countries from Eastern Europe that follow opposite policies from Spain on issues such as immigration or the rule of law. In spite of this, Spain could consider these countries allies on matters such as EU cohesion policy.
In her initial days in office, the new minister received Mediterranean colleagues first, notably Italy's Luigi di Maio and Greece's Nikos Dendias. But two sources who spoke on condition of anonymity said there is no particular state strategy behind the move. Instead, it is González Laya's own take on the role that Spain should play within a bloc that has just lost its second-biggest economy, triggering a political reshuffle on the continent.
The minister will appear before Congress for the first time this coming Thursday, when she will discuss the main lines of her work as head of Spanish diplomacy.
González Laya was asked to come Berlin by Germany's foreign minister, the social-democrat Heiko Maas, in the welcome letter he sent her following her appointment. While these letters are part of the protocol, they do not always include an invitation. No date has been set yet for the meeting.
This week, a lower-level bilateral meeting between Spain and France is taking place in Madrid, where the Spanish Secretary of State for European Affairs, Juan González-Barba, will meet with his French counterpart, Amélie de Montchalin. These two officials will also meet with a Portuguese representative to discuss electricity connections between their countries.
The Elcano analyst trusts that González Laya's early remarks will not result in a more distant relationship between Spain, France and Germany. "It makes sense to complement alliances with other states, but there is no substantial reason to justify walking away from the Franco-German axis," said Ignacio Molina.
Spain and Italy
Since Arancha González Laya's appointment as Spanish foreign minister, Italy has shown itself to be on a similar wavelength to Spain. Following the meeting between both foreign ministers, both countries are now working on a new bilateral meeting between their interior ministers, Fernando Grande-Marlaska of Spain and Luciana Lamorgese of Italy, said diplomatic sources.
Both countries share the common challenge of immigration in the Mediterranean region. Until recently, however, both countries had had their backs to each other on this issue, largely due to the closed-port policy pursued by former Italian interior minister Matteo Salvini. A few days ago, Ministers Di Maio and González Laya also spoke about Venezuela, and pledged to seek solutions.
English version by Susana Urra.
Afghanistan's top TV interviewer: 'I've assimilated the fact that the Taliban will kill me in the end' | USA
Saeed Shinwari, one of the stars of Afghanistan's ToloTV, has not left its headquarters in the center of Kabul for a month. Every day, he wakes up wondering whether the Taliban might take his life, recalling the day the fundamentalists entered the Afghan capital on August 15 and searched his house. A week earlier, the secret services of the now toppled former government had warned him he was on a hit list. "I've assimilated the fact that the Taliban will kill me in the end," he said flatly, further disheartened by the fact that he has no contacts to get him out of the country.
Shinwari hasn't seen his family at all in that time, he confided from the compound where he works, eats, sleeps and, above all, despairs. The 31-year-old journalist has a wife and four children, but is the main breadwinner for an extended family that includes his parents, sisters, brothers and nephews. "They came to my house and turned everything inside out. My mother asked them what they were looking for and they told her it was some card linking me to the government [Shinwari did work as a spokesperson for a government agency in 2019]. Since then, the stress means I can't eat, or smile, I feel depressed. What can I do?"
He is aware of the public relations campaign the Taliban have deployed, targeting international journalists. "One thing the [former government] and the Taliban have in common, or actually every government in this country since the mujahideen, is that they love the foreign press, but they hate the local media," he said. "If the Taliban stop you," he told this reporter, "they will treat you with respect; if they stop me, they will most likely beat me up because of my shows and my career."
The big question that I ask myself, that all Afghans ask themselves, is why the world has done this to us, why they have abandoned us
This is not the first time Shinwari has potentially faced violence. He suffered threats from the local branch of the Islamic State (ISIS-K) in his native Nangarhar, where he started working as a journalist nine years ago. But national recognition came when he signed up to work at ToloNews in 2017. His talk show, a format similar to the BBC's Hard Talk, achieved fame for the sharpness of his questions and how he made his guests uncomfortable.
That is, until the Taliban came along. "They just show up here for us to interview them without regard for whether it is newsworthy," he said indignantly. A few days ago, Abdul Hanan Haqqani, a leader of the movement's most hardline faction, stopped by to be interviewed by Shinwari. "When we finished, he said he was surprised that I had treated him in a balanced way. I replied that if I knew they were not going to kill me, I would have asked him a lot of questions that interest people," he said, though it is perhaps possible he just thought about saying that. What is certain is that many of those who follow his show have asked him what is wrong, and why he is no longer so inquisitive.
"We are going on the air with a lot of censorship," he confessed. "I hate them with all my might. They've taken our country away from us. If you lose money, it's okay, you can get it back; but if you lose your country, you've lost everything," he lamented. "The big question that I ask myself, that all Afghans ask themselves, is why the world has done this to us, why they have abandoned us," he concluded.
Tolo's owner, Saad Mohseni, confirmed that they have had "several workers beaten and threatened," without going into detail about Shinwari's case. ToloTV was Afghanistan's first private television network and something of a revolution in news and entertainment. It also operated with an inclusive policy for gender and ethnicity. Mohseni told EL PAÍS that most of its female employees had resigned after the arrival of the Taliban. Meanwhile, journalists from other Afghan media have also been brutally beaten for attempting to cover a demonstration.
'He saw the panic': the Afghan men who fell from the US jet | Global development
When Zaki Anwari scaled the fence of Kabul airport, he was determined to escape. The 17-year-old footballer with the Afghan national youth team had taken a break from studying maths for his exams to accompany his brother as he tried to catch a flight. Zaki had always told his family he was not interested in going abroad, unless he could return to Afghanistan.
But the Taliban takeover had changed things. Zaki did not have a passport but, as night fell on Kabul after the Taliban took control of the city, he told his brother Zakir that he wanted to leave. Zakir did his best to talk him out of it, but he would not let go of the idea.
Zaki was one of at least a dozen men who clambered onboard the outside of a US air force C-17 Globemaster transport plane as it taxied on the runway the following day. None of them made it to the plane's destination, the Al Udeid airbase in Qatar.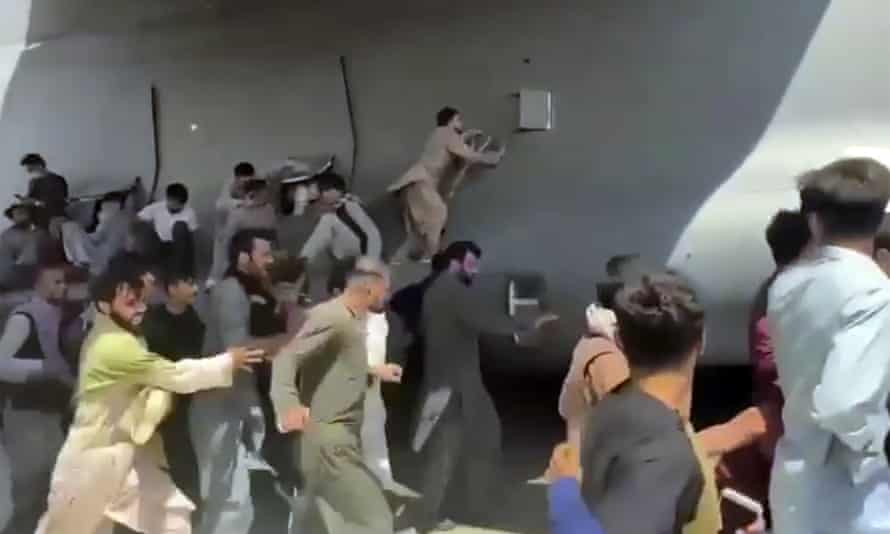 The plane had landed a short while earlier to deliver equipment to US forces. The night before, another aircraft had evacuated 823 people fleeing the Taliban takeover of Afghanistan, and Zaki joined the new arrivals on the airport runway, hoping for a similar escape.
Monday 16 August was clear and bright, and the young athlete was supposed to be guarding the family's car with Zakir while their older brother, Naser, jostled among people outside the airport clutching documents to leave.
Just before 11am, Zaki called Ahmad, the only brother still at home, to tell him he had jumped over the perimeter wall around the airport. "I'm close to the airplane now, they'll register our names after they put us in the plane, and then I'll lose [the] phone signal. I'm going to throw my phone away," he said.
Ahmad shouted at him to come home until Zaki hung up. Twenty minutes later, Zaki called his mother to speak to his sister, telling her that he felt he had a chance to board the plane, and asking her to pray for him. His mother put him on speaker to scream at him to come home, chiding him that he had no passport or travel documents.
Seeing the crowds rushing towards the plane, the crew decided that they had to take off. The hulking grey aircraft began taxiing as throngs of people ran alongside it. Amid the chaos, a small number climbed on to a wide fairing above the wheels and a smooth broad area above the wheel well.
Video shared by Asvaka, an Afghan news agency, shows the men smiling nervously and waving to others gathered next to the tarmac, with at least 12 onboard. Some waved excitedly, the wind whipping their hair as the plane picked up speed. Two jumped off and made a dash back into the crowd before the plane took off.
Shocked bystanders looked up at the sky, some filming on their phones, as at least two bodies fell from the plane as it flew south over Kabul. Afghans commenting online drew comparisons to the "Falling Man", photographed falling from the twin towers on 11 September 2001, a grim bookend to the US presence in Afghanistan. The men who fell were barely children, some not even born, when the US and its allies invaded Afghanistan 20 years earlier.
Fada Mohammad, 24 , was born into a world of civil war and Taliban rule four years before the US invasion in 2001. The young dentist had long dreamed of leaving, but lacked a plan or the financial means. His father, Payenda Mohammad, said Fada had been looking for ways to find money since getting married last year.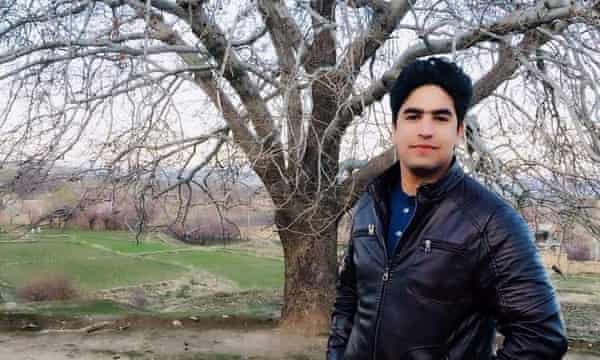 "Fada had talked about wanting to travel, but financially things were bad here. Anyone looking at the situation in this country would want to be elsewhere, and Fada was no different," Payenda said. Fada was the family's breadwinner, supporting 13 others.
Fada left as usual for work on the morning of 16 August. His wife and family had no idea he was heading to the airport. "He said goodbye to us just like any normal day, when he left for work at 8.30am," said Payenda. "He didn't say anything about the airport, or travel."
Even in his grief, Ahmad tried to understand why Zaki clung to the plane. "He saw the panic, he saw the Taliban – anyone would be scared," he said.
What happened next is the subject of an investigation by the US air force. Its spokeswoman, Ann Stefanek, said the plane was surrounded by civilians who had breached the airport walls before it could offload its cargo. "Faced with a rapidly deteriorating security situation around the aircraft, the C-17 crew decided to depart the airfield as quickly as possible," she said. American helicopters flew in front of the plane to clear space on the runway to take off.
The official account and videos indicate that the pilot was either unable to see the men clinging to the plane after takeoff, or was unwilling to stop the plane. The flap the men had used to climb on to the wheel well folds under the aircraft as the landing gear are retracted. Those who did not fall were probably crushed to death.
"In addition to videos seen online and in press reports, human remains were discovered in the wheel well of the C-17 after it landed at Al Udeid air base, Qatar. The aircraft is currently impounded to provide time to collect the remains and inspect the aircraft before it is returned to flying status," said Stefanek.
Authorities in Kabul maintain that the US crew could have acted differently. "Those men thought the pilot would stop and transfer them to the inside of the plane," said an Afghan health ministry official, who tried to identify some of the men after they fell to their deaths. The official has not been named for his own safety.
One of the men fell inside the airport perimeter, while two more hit rooftops in a neighbourhood close to the airport. A resident who heard a body land on a roof described it as sounding "like a bomb".
The Anwaris said that, not long after the plane had taken off, someone called Zaki's sister from his phone to tell her they had found his body. The family believe Zaki was crushed under the wheels of the plane as it departed, or possibly in the landing gear as it retracted into the wheel well.
Fada's wife grew concerned after her husband did not call as usual at 10am to say he'd arrived at work. "Then at 2pm, we got a call from a stranger asking if we know Fada Mohammad," said Payenda. The stranger said they had found Fada's body, and that he had been thrown from the aircraft. Payenda rushed to collect his son's body.
The brother of another victim, 15-year-old Mateen, told the Pajhwok news agency that the family had been unable to find him after spotting Mateen in a video showing the group sitting on a tyre on the plane. "There were 21 men sitting on the plane, two jumped before it flew, yet we only saw 12 bodies in the hospital," he said. "We didn't hear from [Mateen], we couldn't find his body – we went everywhere. The bodies fell in so many areas."
The official, whose time at the health ministry predates the Taliban, said knowing precisely how many men died falling from the aircraft, and identifying them, became almost impossible in the aftermath of the fall of the government.
"Their bodies were so badly damaged by the fall, it was hard to identify them. There was no government to investigate the incident," he said. "If you knew the Taliban, then you'd understand why the men did this."
EU's new low point on Palestine
As the EU struggles to weigh in on challenging developments in its neighbourhood, the last thing it needs is diverting its focus to wholly misguided priorities. A case in point is the EU's current preoccupation with Palestinian textbooks, promoted by European commissioner Olivér Várhelyi and Israel-aligned lawmakers in the European Parliament.
The new Israeli government has explicitly vowed to continue building illegal settlements and not to allow the two-state solution, the cornerstone of EU policy on the conflict.
Yet Brussels institutions are devoting more time to an entirely different, peripheral issue: an EU-funded study of Palestinian Authority schoolbooks, published in June by the Georg-Eckert Institute in Germany.
Several committees of the European Parliament are involved in discussing the issue during this month, following closed door meetings of EU-27 diplomats earlier in the summer.
The study was meant to assess allegations that the Palestinian curriculum promotes hatred and violence against Israel. Israel advocates have made such claims for many years, using cherrypicked examples with a heavy dose of spin. Some Western politicians have always taken such assertions at face value instead of treating them critically as a part of Israel's own nationalist narrative.
Although previous international studies, such as a 2013 study funded by the US government, disproved the sweeping allegations, the EU agreed in 2019 to fund a new study.
But unlike the US-funded study, which compared both Israeli and Palestinian textbooks (and found broadly similar levels of bias on both sides), the EU set out to examine schoolbooks on the Palestinian side only.
This went against the record of the Georg-Eckert Institute, which had hosted bilateral German-French, German-Czech and German-Polish textbook commissions to accommodate conflicting narratives through mutual dialogue – but now agreed to take a unilateral approach.
As Israeli researcher Assaf David commented, "[t]he very notion of examining only Palestinian textbooks with a fine-tooth comb, while completely ignoring their mirror image in Israeli textbooks, is fundamentally tendentious."
According to US political scientist Nathan Brown, "[t]he analysis is written as if Palestinian textbooks cannot be understood except by relying heavily on how Israelis might view them – but without giving Israeli textbooks the same treatment."
Despite these flaws, the resulting study once again greatly tempers the allegations. It neither claims nor shows evidence that the Palestinian textbooks incite hatred or violence. It documents debatable trends, such as omissions of Israel from Palestinian maps or positive portrayals of Palestinian armed struggle decades ago – but those mirror similar phenomena in Israeli society and schoolbooks.
Across a review of more than 150 PA textbooks, the study provides two examples characterised as antisemitic – but adds that both of them have been positively altered or removed in latest editions of the books.
Undeterred, proponents of the allegations set out to spin and misrepresent the study as if it "proves" their exorbitant claims.
Commissioner Várhelyi, in charge of the EU's neighbourhood, has also sought to play up the issue. Despite the study's moderate findings, he pledged to step up pressure on the PA to amend the textbooks "in the shortest possible timeframe" on the basis of a "roadmap" with "incentives" and a process of "screening and monitoring".
The Hungarian Commissioner's interest in amplifying the issue cannot be seen in isolation from his country's special alliance with Israel under Viktor Orbán. Over the last years, Hungary blocked almost every EU foreign policy statement critical of Israel.
There is an extra hypocrisy here. Last year, Orbán's government introduced a controversial new school curriculum in Hungary, which includes compulsory reading of antisemitic authors. Imre Kertész, a world-renowned writer on the Holocaust, was in turn scrapped from the reading list.
This does not seem to concern the MEPs professing outrage about the Palestinian curriculum.
Real problems with Palestinian Authority
Meanwhile, there are real, serious problems with the PA that require EU attention.
Following the cancellation of Palestinian elections scheduled for May, president Mahmoud Abbas is taking the PA down an authoritarian path, suppressing protests, and deepening intra-Palestinian divisions. To make textbooks – rather than these fundamental issues – a central topic in EU-PA relations would be entirely misplaced.
Antisemitism and direct incitement of hatred and violence should be red lines – but the study found hardly any. So what will the EU push to change? Will it ask to tone down emotive depictions of Israeli soldiers shooting at Palestinian children rather than work to end Israel's occupation? Eleven children have been killed and over 500 injured by Israeli forces only in the West Bank since May. There is a point where textbook "improvements" turn into censorship, deciding for Palestinians what they can say about their history and lived experiences.
The whole idea that Palestinian anger towards Israel is driven by textbooks rather than the daily injustices Palestinians suffer under its occupation shows a lack of basic empathy.
While both sides tend to omit the other from their schoolbook maps, Israel's expanding settlements are erasing any possibility of a Palestinian state on the ground. This leaves in place open-ended Israeli occupation and ethno-domination over the Palestinians – recently qualified by the Human Rights Watch as meeting the legal definition of apartheid.
Getting the EU bogged down in one-sided textbook revisions is a perfect way to deflect from that chilling development.