EU aims at 'zero pollution' in air, water and soil by 2050
The European Commission on Wednesday (12 May) unveiled a plan to reduce pollution to levels that are no longer harmful to human health and natural ecosystems by 2050 – when the EU aims to become climate neutral.
Air pollution is considered the biggest environmental risk to human health in the EU. Every year, it causes 400,000 premature deaths, 48,000 cases of heart disease as well as 6.5 million cases of chronic sleep disturbance to noise.
"New green technologies already here can help reduce pollution and offer new business opportunities," said the EU commissioner in charge of the Green Deal, Frans Timmermans, arguing that recovery funds can support this goal.
"Europe's efforts to build back a cleaner, fairer, and more sustainable economy must likewise contribute to achieving the zero pollution ambition," he added.
In its 'zero pollution' action plan, Brussels set out several targets for the next decade, including reducing the number of premature deaths caused by air pollution by 55 percent.
In 2022, the EU will propose to align its currently less stringent standards on air quality more closely to the World Health Organization.
There are currently 31 ongoing infringement procedures against 18 member states for failing to implement EU air quality rules at national level.
Last year, the commission concluded that a majority of member states were not on target to deliver their air-pollution reduction commitments for 2020 and 2030.
The EU executive also wants to improve seawater quality by halving plastic litter and reducing microplastics by 2030. This should also lead to having cleaner water from the tap all across Europe, it said.
There are currently 30 ongoing cases against 19 member states for breaching EU law on urban water waste, plus four covering drinking water law.
Aiming to boost soil quality, the EU commission committed to reducing by 50 percent nutrient losses and the use and risk of chemical pesticides – a target already included in its Fram to Fork strategy.
Meanwhile, the 27-members bloc also aims to significantly reduce waste generation and halve residual municipal waste in the next decade.
Brussels is currently reviewing EU waste laws to adapt them to the clean and circular economy principle.
The EU Commission will monitor progress of this action plan, and identify whether additional action is needed to reach targets, by 2025.
Assad regime 'siphons millions in aid' by manipulating Syria's currency | Global development
The Syrian government is siphoning off millions of dollars of foreign aid by forcing UN agencies to use a lower exchange rate, according to new research.
The Central Bank of Syria, which is sanctioned by the UK, US and EU, in effect made $60m (£44m) in 2020 by pocketing $0.51 of every aid dollar sent to Syria, making UN contracts one of the biggest money-making avenues for President Bashar al-Assad and his government, researchers from the Center for Strategic and International Studies (CSIS), the Operations & Policy Center thinktank and the Center for Operational Analysis and Research found.
Hit by new US sanctions and the collapse of the banking system in neighbouring Lebanon, cash-strapped Damascus is relying increasingly on unorthodox methods for raising funds – money either pocketed by officials in Damascus for their own personal wealth, or put towards the 10-year-old war effort.
Researchers analysed hundreds of UN contracts to procure goods and services for people living in government-held areas of Syria, where more than 90% of the population are living in poverty since the Syrian pound, or lira, crashed last year.
While the central bank's official exchange rate has improved this year to SYP2,500 to the US dollar, the black market rate is SYP3,500. Legitimate traders and consumers prefer to use the black market rate, as they receive more Syrian pounds for foreign currency.
Since the UN is forced by the Syrian government to use the official rate, half of foreign aid money exchanged into Syrian pounds in 2020, when the rates were hugely divergent, was lost after being exchanged at the lower, official rate.
"This shows an incredibly systematic way of diverting aid before it even has a chance to be implemented or used on the ground," said Natasha Hall, of the CSIS, a Washington-based thinktank that helped compile the research.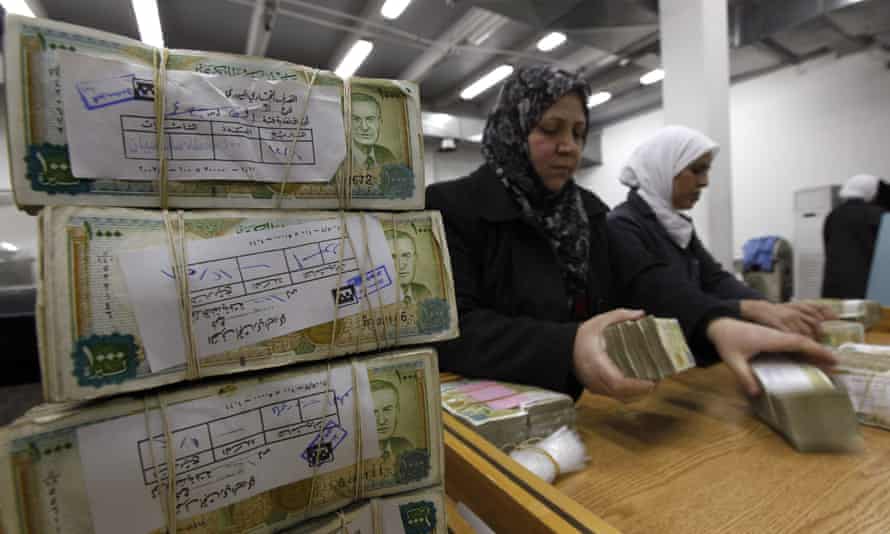 "If the goal of sanctions overall is to deprive the regime of the resources to commit acts of violence against civilians and the goal of humanitarian aid is to reach people in need then we have this instance … where aid is at complete contradiction to those two stated goals."
After 10 years of civil war in Syria, international donor fatigue, already seen in decreasing aid pledges, has turned to more overt political re-engagement with Assad's regime.
Without the US playing a strong role in finding a political solution in Syria, which Washington still publicly advocates, Arab nations – including the US-allied Jordan, the United Arab Emirates, Saudi Arabia and Egypt – have recently restarted diplomatic talks, reopened borders for trade and signalled renewing economic cooperation.
The US allows Damascus to play a major role in funnelling Egyptian gas to Lebanon to power the country's fuel-depleted power plants. Interpol allowed Syria to rejoin its network even as the fate of dissidents captured throughout the war remains unknown.
Examining 779 publicly available procurements for 2019 and 2020, listed on the UN Global Marketplace database, researchers found that up to $100m was lost in the exchange rate.
If salaries, cash-aid programmes and other funding streams not made public were included, the bank could be making hundreds of millions of dollars, according to researchers.
The funding has been channelled through various UN agencies – the Office for the Coordination of Humanitarian Affairs (OCHA); the World Food Programme; the UN Development Programme; the UNHCR; the Food and Agriculture Organisation; and Unicef.
The UN's financial tracking system told the researchers it did not monitor the amount of money exchanged into Syrian pounds as "tracking such information was beyond the scope of their mission".
More than 350,000 people have died in Syria over the past decade, and governments have donated on average $2.5bn a year to the UN's Syria programmes since 2014.
In 2016, the UN was accused of aiding the regime by diverting billions of dollars in aid to government-held regions while leaving besieged areas without food and medicine.
Human Rights Watch (HRW) has warned that UN agencies and governments risked complicity in human rights violations in Syria if they did not ensure transparency and effective oversight.
Last year, the US announced an additional $700m in humanitarian assistance for Syria. The UK government has given £1.59bn in aid to Syria between February 2012 and June 2021.
A Foreign, Commonwealth and Development Office spokesperson said: "The UK does not provide any aid through the Assad regime … Robust processes are in place to ensure that our aid reaches those who need it most."
Hall said there was a "reticence" about investigating how much aid had been diverted. She said donors were well aware of the problem. "I think it is about [them] choosing certain battles to fight. It's just not clear to me that any battles are being fought when it comes to aid in Syrian government-held areas today," she said.
"There's really no way for us, as independent consultants, to know the full extent of how aid is spent inside the country … We just wanted to flag that, even through this limited portal to understanding how much is spent, it's already tens of millions of dollars which is hoarded."
She believes the UN should negotiate a preferential exchange rate with the Syrian government – – to at least reduce the amount siphoned off.
Sara Kayyali, of HRW, said "there was no due diligence in terms of human rights" within UN procurement to avoid bankrolling Syria.
"This should be a wake-up call to the UN … they need to revise the way they provide aid and revise how they consider their obligations to respect human rights in light of this, because it's difficult to justify this idea that hundreds of millions of dollars are going to an abusive state apparatus," she said.
Danielle Moylan, a spokesperson for the UN agencies mentioned, said: "The UN welcomes all independent scrutiny of humanitarian operations in Syria. Our foremost priority has, and always will be, assisting the people in need in Syria, guided by humanitarian principles, accountability to the affected populations, transparency, efficiency and effectiveness.
"The majority of UN's procurement for our humanitarian response in Syria is made in international and regional markets and therefore not affected by the Syrian exchange rate. Otherwise, as is the case in any country, the UN in Syria is required to use the official exchange rate," Moylan said.
"In the past, the UN and humanitarian partners have negotiated a 'preferential' exchange rate for humanitarian operations [and] continues to engage the Central Bank of Syria on the issue of 'preferential' exchange rates."
Alexei Navalny wins 2021 Sakharov Prize
The European Parliament announced that Kremlin critic Alexei Navalny has won the Sakharov Prize for defending human rights. The parliament's president David Sassoli wrote on Twitter: "Alexei Navalny is the winner of this year's #SakharovPrize. He has fought tirelessly against the corruption of Vladimir Putin's regime. This cost him his liberty and nearly his life. Today's prize recognises his immense bravery and we reiterate our call for his immediate release."
Build Back Better: Friendly fire aimed at Joe Biden | USA
In early October, a group of activists kayaked to the houseboat belonging to US Senator Joe Manchin in Washington to protest his opposition to the Democratic Party's €3.5-trillion Reconciliation bill, which is a star policy of the Joe Biden administration. This came just days after Senator Kyrsten Sinema was ambushed by protesters during her trip back to Washington.
But neither Manchin nor Sinema are part of the Republican Party's offense against the bill: they are two moderates in the Democratic Party who are forcing the president to reconsider the reforms. In the meantime, Biden is facing both pressure and disillusionment as his popularity in the polls plummets.
The Democratic Party's ambitious spending plan, called Build Back Better, involves the largest extension of social-welfare coverage in the United States since the 1970s when Democrat Lyndon B. Johnson was in power. The bill includes a tax credit for children and other dependent family members, extends aid to the elderly and disadvantaged people, and in its current form, funds a raft of sweeping measures aimed at fighting climate change and promoting renewable energy. But it is the environmental side of the plan that Biden is now considering changing due to the complete opposition from Senator Manchin, whose state – the conservative West Virginia – relies heavily on coal mining for employment. The plan is estimated to cost $3.5 trillion (around €3 trillion), but it is likely that it will be cut back to less than $2.5 million.
This is because, unlike former president Lyndon B. Johnson, Biden only has a narrow majority in Congress. In 1965, when Johnson signed the Medicare bill – which established a health-insurance program for the elderly – the Democratic Party had an overwhelming majority in Congress and held control of two-thirds of the Senate. But even then it was difficult to convince the moderate sector to approve the bill. Fifty years later, in 2011, when former president Barack Obama put forward his healthcare reforms, he also had a stronger position than Biden in both legislative chambers: 57 democrats and two independents in the Senate.
Senator Manchin's opposition to the social-welfare plan is based on fears over rising inflation in the US, an increase of public debt and – something more abstract – concern that it will turn the country "into an entitlement society," as he stated at the beginning of October. The statement came after he published an opinion poll in The Wall Street Journal called "Why I Won't Support Spending Another $3.5 Trillion." In the article, he argues: "Establishing an artificial $3.5 trillion spending number and then reverse-engineering the partisan social priorities that should be funded isn't how you make good policy."
Since becoming a senator after the 2020 election, Kyrsten Sinema has defended a bipartisan approach to legislating – a position she has also taken with the Biden administration's infrastructure bill, which is still awaiting ratification. "The American people are asking for us to take action. What they don't want to see is us sit on our hands, waiting until we get every single thing that we want," she said in a radio interview with NPR in August. "That all-or-nothing approach usually leaves you with nothing," added Sinema, who is the first Democratic senator in the state of Arizona in 30 years.
Both senators raised record sums of money in the third quarter of the year, thanks to large contributions from the oil and gas, pharmaceutical and financial services sectors, according to filings recorded and published by the Financial Times. Manchin raised $1.6 million (€1.38 million), up from $1.5 million ( €1.29 million) in the second quarter and just $175,000 (€150,000) in the first. Meanwhile, Sinema received €1.1 million (€950,000) in donations in the third quarter, a figure narrowly outstripping the second and far from the $375,000 (€322,000) in the first. This is despite the fact that neither of the politicians face reelection until 2024.
Two Senators cannot be allowed to defeat what 48 senators and 210 House members want

Senator for Vermont, Bernie Sanders
In the meantime, the progressive wing of the Democratic Party is starting to lose patience and is also pressuring the White House. "Two senators cannot be allowed to defeat what 48 senators and 210 House members want," Bernie Sanders, senator for Vermont, wrote in a message on Twitter. "Poll after poll shows overwhelming support for the $3.5 trillion Build Back Better legislation," he added in a separate tweet. In a similar vein, Pramila Jayapal, the chair of the Congressional Progressive Caucus, said: "Four percent of Democrats are opposing passing the president's agenda."
Democrat veteran Nancy Pelosi, the speaker of the House of Representatives, has begun to try to solve the conflict and is preparing lawmakers to accept cuts to the reconciliation bill. "I'm very disappointed that we're not going with the original $3.5 trillion," she admitted on October 12. "But whatever we do, we will make decisions that will continue to be transformative."
The greater debate with respect to the spending plan is over the size of public spending and to what extent the state should intervene in the economy. Biden came to the White House with the message that a monumental crisis required a strong and broad government. The Biden administration has been able to pass new legislation on voting rights at a time when Republican-led states are pushing for restrictions, which in practice, hinder access to minority groups and the disadvantaged. But there are more projects in limbo. The reason is that it is not enough to have a simple majority in the Senate; the Democratic Party needs 60 votes in the 100-seat chamber, but only has 50, plus the casting vote of Deputy President Kamala Harris.
Meanwhile, Biden's popularity has taken a nosedive. He entered the White House on January 20 with a 57% approval rating, according to respected pollster Gallup. But in August, after six months in power, the figure had fallen below 50%, and in September, the last month for which there is available data, it was down to 43%. This is higher than the approval rating of former US president Donald Trump, which came in at 37% after the same period of time, but is nine points lower than the same figure for Obama. The fall is largely due to the drop in support among independent voters: before the election, 61% of them approved of Biden, compared to 37% now.
Economic uncertainty, an uptick of the coronavirus pandemic over summer and stalled reforms are among the reasons Biden's popularity is waning. Other factors include the administration's migration policy, which has maintained some of the most restrictive elements of the Trump era, and the upheaval following the US army's withdrawal from Afghanistan. With the anniversary of the November 2020 election fast approaching, Biden is hoping that he will be able to pass his star legislation, despite the internal opposition.