'Epidemic of violence': Brazil shocked by 'barbaric' gang-rape of gay man | Brazil
An act of "barbaric" violence where a 22-year-old gay man was gang-raped and tortured has prompted fierce reaction in Brazil and is evidence of a growing tide of hate crime in the country, according to human rights campaigners.
The man, who has not been named, was attacked last week in Florianópolis by three armed men who used sharp objects during the assault and forced him to carve homophobic slurs into his legs, said activists.
His attackers left him in the street where he was found and taken to hospital. He is now recovering at home. Verdi Furlanetto, chief of police, confirmed to the Guardian that his force is investigating but there have been no arrests as yet.
"This is a frightening crime but it's very common in Brazil, and violence – not only against lesbian, gay, bisexual and transgender people but also women, black people and immigrants – is worsening," said Lirous Ávila, president of the Association in Defence of Human Rights, an organisation that helps victims of violence in Florianópolis.
Ávila is supporting the family of the victim, and added that news of the attack, which came to light during pride month, had provoked a huge nationwide reaction. She said opinion had been divided, with some people shocked by the case while others justified it, saying the man was gay. "It's absurd to justify violence that is brutal and barbaric," she said.
Brazil has one of the most alarming rates of violence and discrimination against LGBT people in the world. Cristian González Cabrera, a researcher at Human Rights Watch, said that while the supreme court banned violence and discrimination based on sexual orientation and gender identity in 2019, "the government needs to take urgent further steps to stave off this epidemic of violence against LGBT people".
"Violence against LGBT people in Brazil has grown a lot recently," said Margareth Hernandes, a lawyer based in Florianópolis and president of the gender law commission. "Brazil is the world champion of LGBT murders. We are a very conservative country where there is still a lot of prejudice. Hate speech ends up propagating violence."
In 2020, 237 LGBT people died in situations of violence; there were 224 murders and 13 suicides, according to Grupo Gay da Bahia, the oldest LGBT rights organisation in Latin America. The national Human Rights Ombudsman's Office reported to Human Rights Watch that, between January and June 2020, it received 1,134 complaints of violence, discrimination and other abuses against LGBT people. Data from the government's hotline to report abuses, revealed that between 2011 and 2017, there were 12,477 complaints of violence against LGBT people in Brazil.
Hernandes, along with Ávila, attributes this rise in violence partly to the attitude of the leadership in Brazil. President Jair Bolsonaro has a long history of LGBT-phobic and misogynistic comments, including saying that he is a "proud homophobe".
"We have a president who compounded this violence," said Ávila. "It seems that the population feels it has a right to commit these violent acts against the LGBT population, influenced by Bolsonaro."
There have been other homophobic attacks in the country where objects have been used on the victim. Prof Luiz Mott, a gay rights activist and founder of Grupo Gay da Bahia, cited the case of 17-year-old Wesner Oliveira who died after attackers pushed a compressed air hose from a car wash inside him. Mott said that attackers sometimes kill and then mutilate victims, including cutting off their genitals.
Perpetrators of hate crimes often go unpunished, added Mott. "A serious problem in relation to homophobic and transphobic crimes is impunity," he said. "The police – for reasons of homophobia or structural incapacity – don't investigate every murder. This impunity brings about new crimes."
Contact Samaritans for free from any telephone on 116 123. You can call even if you don't have credit on your mobile, and the number won't show up on phone bills. You can also email jo@samaritans.org or visit samaritans.org to find your nearest branch, where you can talk to a trained volunteer face to face.
In the US, the National Suicide Prevention Lifeline is 1-800-273-8255. In Australia, the crisis support service Lifeline is 13 11 14. Other international suicide helplines can be found at www.befrienders.org
Covid-19: Italian and Spanish PMs meet in Madrid ahead of EU recovery fund summit | International
Italy's prime minister, Giuseppe Conte, was in Madrid on Wednesday for a meeting with his Spanish counterpart, Pedro Sánchez of the Socialist Party (PSOE), to discuss their countries' joint strategy for an upcoming summit on the European Union's coronavirus recovery fund.
Spain and Italy, the two European countries to be hardest hit by the Covid-19 pandemic, are joining forces against the so-called "frugal" countries – Austria, the Netherlands, Sweden and Denmark – which oppose the idea of a €750 billion fund, of which €500 billion would be non-recoverable grants and the rest made up of loans.
Sánchez and Conte have shared interests, as their countries stand to benefit the most from the fund, according to Italian and Spanish sources who added that Germany and France back this position as well.
"This time Italy, Spain, France and Germany are clearly in sync. We all support the European Commission's proposal," said Spanish sources.
"With the meeting held today with @GiuseppeConteIT we are relaunching relations between Spain and Italy. We agree that the good understanding between our countries must be taken to the political arena. We hope to hold a new Italian-Spanish summit in 2020," tweeted Spain's Sánchez on Wednesday.
Conte and Sánchez will be traveling separately in the coming days to the Netherlands and Germany, and the Spanish leader is also planning a stop in Sweden, whose government wants to replace some of the EU fund grants with loans, according to Spanish sources. The Spanish and Italian PMs are hoping to arrive at the July 17-18 summit in Brussels with a strong negotiated position that will leave little room for resistance from the "Frugal Four."
Wednesday's meeting also served to reinforce bilateral ties that had been weak for years. The last time that the leaders of both countries had come together was in 2014, when then-prime ministers Enrico Letta and Mariano Rajoy met in Rome.
English version by Susana Urra.
'Where should we go?': thousands left homeless as Karachi clears waterways | Global development
Maqsooda Bibi, 62, did not know the house she had lived in all her life would be demolished, forcing her whole family to become homeless. But on Monday, Pakistan's supreme court backed the Sindh government in bulldozing her home and hundreds of others, legalising the eviction of thousands who live along narrow waterways – nullahs – that crisscross Karachi.
The verdict came as Bibi and hundreds of others held a protest outside the court. "We hoped that the court would ask the government not to make us homeless, but it did the opposite. Our children also protested on Sunday and urged the supreme court to stop demolition. It seems no one here cares for the future of the poor."
At least 8,000 houses are being knocked down along the nullahs. The work, which began in February, is in response to the 2020 Karachi floods that saw choked up nullahs overflow and swamp the city. Improvements to Karachi's water and sewage systems are being financed by the World Bank.
As people watched their homes being turned into rubble, civil society organisations approached the court to try to stop the evictions. They said the houses were not to blame for blocking the waterways.
But on Monday the supreme court rejected the petition.
While dozens of people told the Guardian they were renting their homes, the court said any leasing of land along the nullahs was illegal. Activists and writers have termed the decision "unjust". Writer Fatima Bhutto, of the Bhutto political dynasty, tweeted: "The supreme court's decision is a tragedy."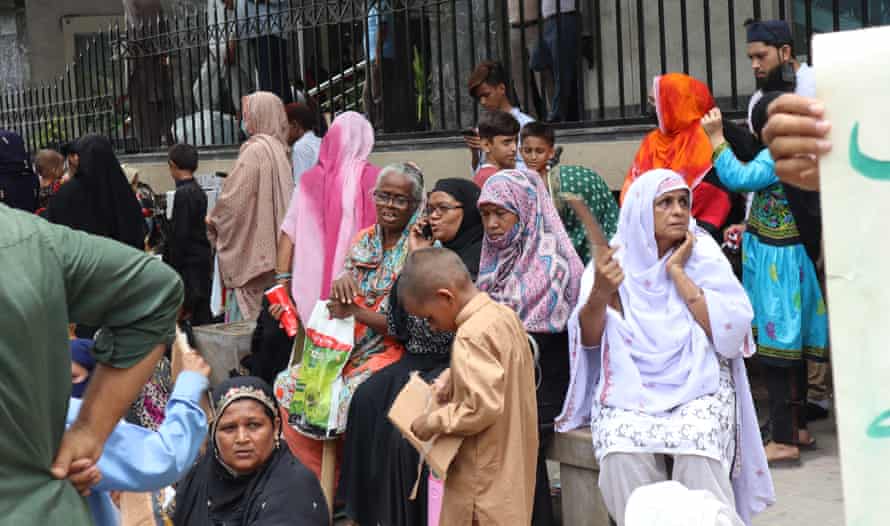 In an editorial, Pakistan's largest English-language daily, Dawn, said: "The demolition of houses situated within nine metres on either side of the Gujjar and Orangi nullahs will continue. When this exercise is completed (before this year's monsoon, according to the plan), at least 100,000 people would perhaps have been rendered homeless. As many as 21,000 children would be out of school and living under the open sky."
Bibi's house was her family's home for five decades. She shared it with four daughters and three sons-in-law. "We all started living on the lawn after they demolished our house but they will snatch the lawn now. At first, they took our shelter, now they will take our land," she says.
Muhammad Shahid is a heart patient whose house was bulldozed a month ago. He expected justice from the court. He was at home when his house was bulldozed at around 11am one morning.
"We are helpless. Where should we go? We can't die or live. I had my angiography done and now I can't work. My children aren't educated enough. My wife had a paralysis attack," says Shahid. He says that even he has not got the 90,000 Pakistani rupees (£410) promised by the government.
Muhammad Aslam did receive some compensation for the loss of his house. But he says it is not enough. He says: "I want to return the amount because it is of no use for four families." He lives with 28 others in one room and a tent after his two-storey house was bulldozed. "We are troubled in all ways, there is no gas or electricity or even sanitation. This isn't living," says Aslam.
Architect and urban planner Arif Hasan says the government had no "proper plan". "They are not doing it merely to stop the flood but to make long roads along the nullahs connecting the Lyari expressway with the northern bypass, displace poor and benefit the rich." He says the World Bank should denounce the Sindh government, as forced evictions are against the bank's policies.
Muhammad Abid Asghar was one of the first to lose his home, on 2 February. With others, he established Gujjar Nala victims committee and, with activists of Karachi Bachao Tehreek (Save Karachi Movement), went to the Sindh high court.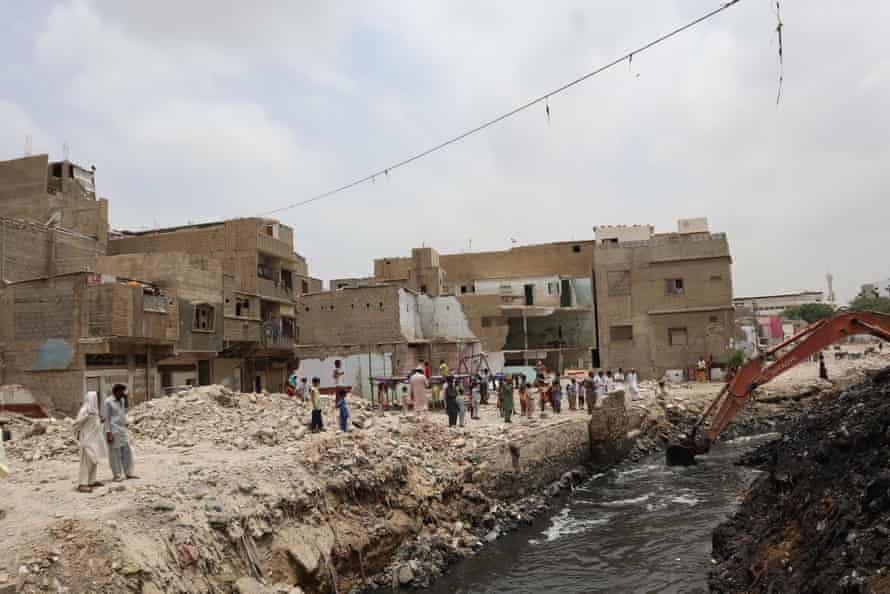 After chalking slogans against the demolitions on walls around the city, the activists say they were called by the World Bank team for a meeting in April.
"We had believed the bank was funding the evictions, but the World Bank denied it. They assured us that no leased houses would be bulldozed."
Sindh minister for information, Nasir Hussain Shah, also says the World Bank is not linked to the evictions. "The government will help residents in rehabilitation," he says, adding that "not more than 5%" of residents were against the demolition works.
The World Bank did not respond to a request for comment.
China calls Nato statement 'slander'
The Chinese mission to the EU denounced a Nato statement that declared Beijing a "security challenge," saying China is actually a force for peace but will defend itself if threatened, AP reports. The Chinese news release said the Nato statement was a "slander on China's peaceful development, a misjudgment of the international situation and (Nato's) own role, and a continuation of the Cold War mentality and organisational political psychology."