'Eid was very different': my fortnight watching South Africa descend into chaos | Global development
The past week has been one of the most difficult of my life. My home descended into chaos. Durban, a holiday city with a melting pot of cultures and a diverse range of people who live and work here, came to a standstill as rioters took to the streets to spread chaos after the arrest of former president Jacob Zuma.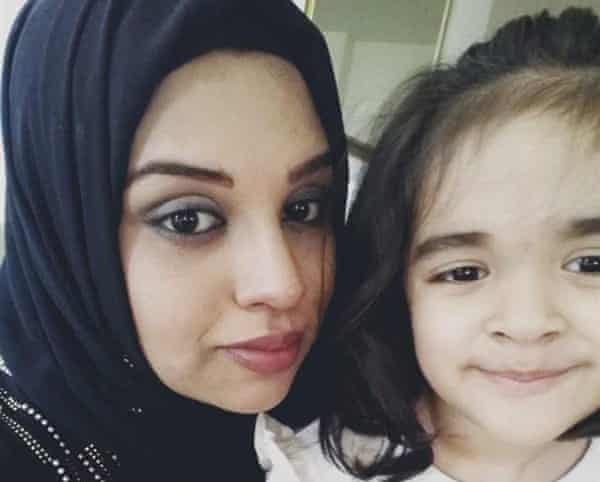 The unrest began in KwaZulu-Natal region on Thursday 8 July, bringing everything to a grinding halt. We left work early to be with our families. Protests are usually contained in the central Durban district, but on Saturday evening pictures began circulating of looting and riots. As a precaution, we stayed home. By Sunday the city was on high alert, and trucks were being looted and torched on motorways into Durban. We had been anticipating further Covid lockdown restrictions as the number of cases in South Africa rises, but instead we were being isolated by violence. On Monday morning, I woke to the sound of gunshots, alarms going off and screams. It was surreal; I sat up and thought, where am I?
By Tuesday the violence had intensified and come closer. It wasn't just about looting supermarkets; they were looting everything, including homes.
Communities began creating Neighbourhood Watch groups. Workers were told to stay at home for their safety as the unrest spread to residential areas. Roadblocks were set up, as people used any materials they could find to barricade the looters out, and formed groups to patrol during the cold winter nights.
Families began to run out of supplies, some venturing to the shops to buy bread, milk and baby items such as nappies. But large shopping malls were being attacked, looted and destroyed. My friend lost two of her businesses in hours and, as a single mother of three, her income has come to an abrupt halt. My colleague Portia ran out of milk for her baby – the fear of mothers was heartbreaking.
As an employee at the world's largest Muslim NGO, my mind kept reverting to our brothers and sisters in Syria, Yemen and Gaza. They too woke up one day to lives altered for ever, and their suffering has not ceased. Will this happen to South Africa? This experience has heightened my empathy for people living in and fleeing from conflict zones. The fear is real.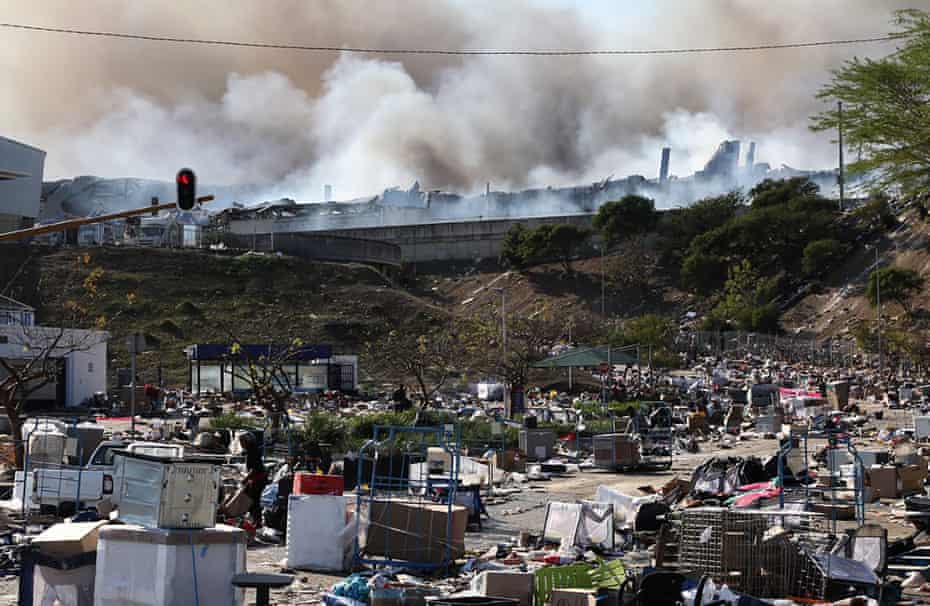 I looked at my own child and my parents, and couldn't help but consider exit strategies. Where would they go and how would I get them there? The days of destruction felt as if they wouldn't end, everything we loved about this city in ruins, our homes under siege.
By Wednesday we were running out of fuel. People had money to buy food but shop shelves were empty.
Our community came together, more strongly than at any time I can remember. Community leaders began taking milk and bread to residential areas, giving it out free of charge to every person that approached them. We began coming out in numbers.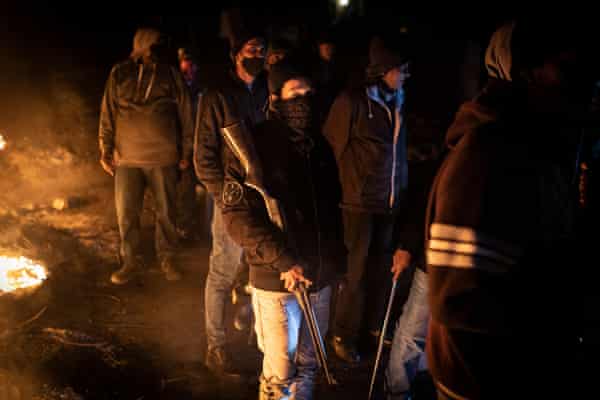 Men patrolling the streets with hockey sticks and cricket bats became the norm. If they met a looter, they would let them pass, but ensure they left the area. Communities worked to ensure their areas were safe from harm and violence. I'm someone who had never heard a gun going off but now I could identify the different types of shots and the guns they were fired from. When the shots stopped we were stunned. Is this really happening? Is it over?
The festival of Eid al-Adha has been very different for me this year. The violence has significantly subsided due to the concerted effort of community patrollers, the army and police, but the mood is sombre and our thoughts remain with those affected by the looting and violence. A sadness lingers; our communities have lost significant leaders to coronavirus this year and the unrest has compromised hundreds of businesses just as we begin to rebuild.
The ray of hope during this unrest has been the resilience of the South African people. We got together and said "enough is enough"; we came out to reclaim our streets and rebuild. That's South Africans in a nutshell – a people that survived Apartheid and broke down the chains of racism and inequality – and we emerge from this unrest stronger.
I am proud to work for Islamic Relief; we continued working from home leading up to our Eid food campaign and our leaders kept checking up on our wellbeing.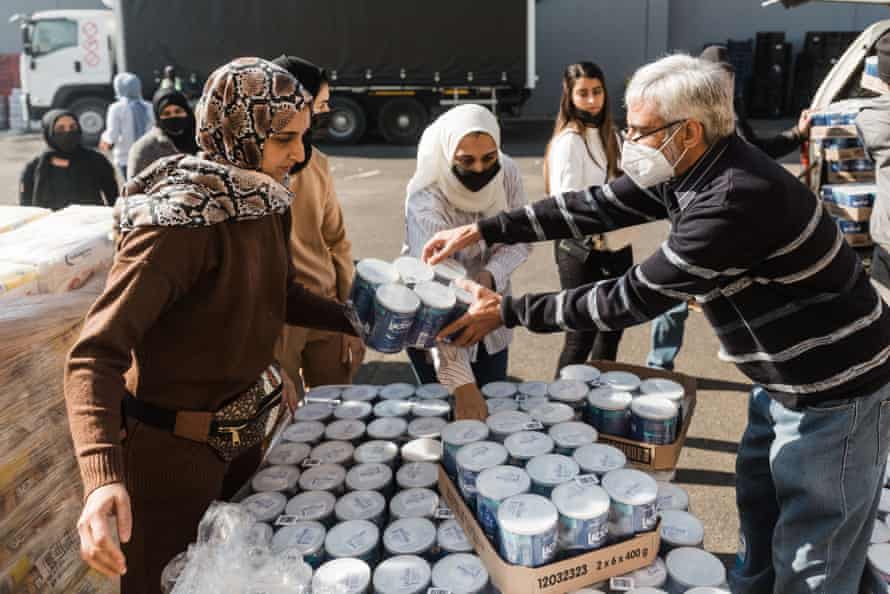 Among us there was an urge to respond to the calls for help. We had numerous calls for assistance from affected communities and we had an equally large number of requests from people who wanted to help. Our teams began sending aid from other regions. Our fear turned into bravery.
As soon as aid came in, we began responding to the food crisis. The team also had to push ahead with our Eid Qurbani distribution programme in KwaZulu-Natal, providing fresh meat to 900 families, including nearly 400 orphans. Meat is important for Eid al-Adha, as it commemorates the moment the prophet Ibrahim pleased Allah with his intention of sacrificing his son, Ismail, and Allah stayed his hand, replacing the boy with a sheep.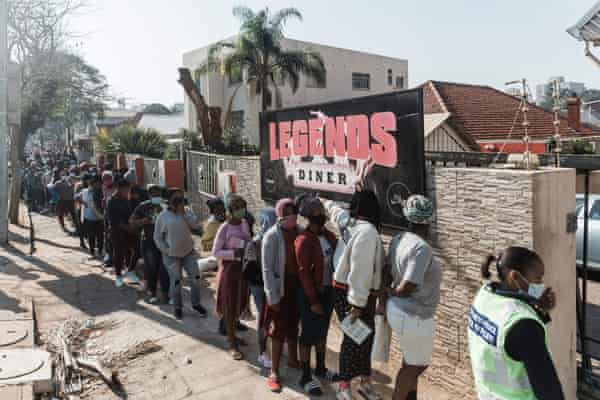 Covid has already deepened the lines of poverty and now the unrest has too. People who were already poor have become even poorer. Those who live from pay cheque to pay cheque found their work had finished overnight and there was no support. So many people were already in anguish because of dire poverty, and then this. So much destruction to this beautiful country that I love.
This Eid was a time for reflection. But the day after, staff and volunteers were out in force, packing hampers for our community.
The days are long and hard but in its people there is hope for a stronger South Africa, for us and our children.
'My future is overseas': Tunisians look to Europe as Covid hits tourism | Global development
The seafront along the town of Hammamet in Tunisia is deserted. Looking out at the bright empty coast from his souvenir shop, Kais Azzabi, 42, describes the crowds that would stroll along the broad boulevards. Today, there is nobody.
"It was very busy here," he says, gesturing to the street and the Mediterranean Sea beyond. "Since the corona started, everything stopped."
Blasted by revolution, terror attacks and political instability, the pandemic has all but delivered a death blow to Tunisia's embattled tourism sector, a former economic staple. Many of its employees are now looking across the sea for opportunities to build new lives in Europe.
Beyond the resorts, recent political events have done little to instil confidence in hotel workers. A presidential power grab in July, which suspended parliament, ousted the chief of government (prime minister), and put former constitutional law professor and political independent Kais Saied into office, has yet to deliver a new long-term vision for the country.
Amine*, 20, sits on the empty beach outside one of the resort's imposing white hotels. The lifeguard from nearby Tazerka pushes a half-dead fish around a bucket as his friend wades into a lively sea in search of more.
"There were some Tunisian guests here earlier, but it's dead now," he says, through an interpreter, looking to the empty beach huts and stacks of unused loungers. "My future is overseas," he says, remaining vague on how he might get there. "All my friends have gone [to Europe]," he says. "Tazerka is empty. All the nearby towns are empty. Everyone has gone."
In August, migrant arrivals in Italy from Tunisia were up about 75% on the previous year. According to the International Organization for Migration, this marked "the highest number of departures since the aftermath of the 2011 revolution". Among them, were 502 unaccompanied minors, as well as a further 138 travelling with at least one member of their family, suggesting that these were not temporary relocations.
In another part of Tazerka, Ramzi, 20, sells melons from the back of his father's truck on the roadside. Every day, he travels with his father and cousins 150km (90 miles) from Kairouan to sell fruit. They can only do this during the summer months, surviving the winter on whatever they have saved in the tourist season or from occasional work his father can find in construction. Covid-19 has made a desperate situation worse, Ramzi's father, Nouredinne, says.
"I only want to go to Europe," Ramzi says. "I've been wanting to go there for five or 10 years." One of his cousins, Wassim, shouts over that he has never had any goal other than to get to Europe since he was a child.
The only thing stopping them is money. "You need around 3,500 TD [Tunisian dinar], but that's risky. If you have more, it's more secure," Wassim says, through an interpreter.
While coronavirus has hammered Tunisia's economy, its tourism sector has been hardest hit. Even before the pandemic, the country's sprawling identikit resorts, relying as they do on package tourism, were in trouble. Battered by revolution in 2011, a devastating terror attack in 2015 and subsequent travel bans, the country's tourism sector had long ceased to offer the security it promised in the 1960s.
"Before the pandemic, the tourism sector represented around 7% of GDP," says economist Radhi Meddeb. "Consolidated with the ancillary activities of transport, catering, leisure and crafts, its contribution increases to 14%."
However, he adds: "If the trends observed so far continue until the end of the year, the contribution of the tourism sector to GDP will probably be negative, around -1% to -1.5% of GDP."
Despite the best efforts of hoteliers, tens of thousands of jobs have been lost. Before the pandemic, more than half a million people were employed in tourism and its support services. Recent events, not least the travel bans imposed in response to Tunisia's escalating Covid death rate, have put pay to much of that.
With the economy not expected to recover to pre-pandemic levels for some time, tourism in Tunisia "will never be what it was before the crisis", says Meddeb, evidenced by the rows of abandoned hotels along the coast at Hammamet, Sousse, Monastir and beyond, signalling an end to the all-inclusive package holidays they once provided. "The Tunisian tourism model will have to reinvent itself."
Back on the beach, Amine continues to push his solitary dying fish around the bucket. "You can see Pantelleria [Italian island] from my village," he says. Asked how he'll get there, he says "I'll swim".
* Full names not used to protect identities
Navalny to get EU human-rights prize
The European Parliament has formally nominated Russian dissident Alexei Navalny for this year's 'Sakharov' human-rights prize. "It is vital that we in the European Parliament confirm our relentless support for Navalny and stress that his wellbeing is the responsibility of [Russian President Vladimir] Putin," Peter van Dalen, a Dutch centre-right MEP said in plenary Monday. Putin tried to kill Navalny with poison then jailed him in a remote penal colony.
Texas: The dramatic situation of Haitians trapped on US-Mexico border: 'Why don't they come help us here?' | USA
The border the separates Ciudad Acuña in Mexico from Del Río in the United States has become an open-air prison. Thousands of migrants, the vast majority of them from Haiti, have been surrounded by the authorities on either side of the frontier. On the US side, the Border Patrol is keeping those who have arrived there after crossing the Latin American continent in check: they are packed together under the International Bridge border crossing in a camp that lacks water, food, sanitation or shade. In Coahuila, on the Mexican side, security forces have begun to pressure migrants to accept "voluntary" detention and transfer to Tapachula, in the south of the country. In the middle of a stand-off between both governments for control over the arrival of migrants, thousands of people have become trapped in limbo.
A rope linking the two the banks of the Rio Grande was cut last Thursday, leaving nothing to hold on to when trying to cross. Despite now being fully aware of what awaits them on the other side, many people have been biding their time on the muddy slope that leads down to the water. They are still trying to make the crossing because they are scared and because Mexico will offer them no guarantees over the papers, protection and opportunities they are seeking. At 8pm the river is high, making it even more dangerous to attempt the crossing, but the Haitians clutch their bags tighter, gather up their children in their arms and throw themselves into the river. They are hardly assured a warm welcome on the other side. The administration of Joe Biden has already started an operation to deport thousands of irregular migrants, a practice described as "inhumane" by the US special envoy for Haiti, Daniel Foote, who tendered his resignation to the State Department on September 23.
Dozens of police officers arrived at the makeshift camp on the Mexican side of the border at night and cut off access. Later, border guards joined the deployment and toured the area in an effort to convince Haitian migrants to surrender to "voluntary" detention. In exchange, they offered what until this point neither the US nor Mexican governments have done: water, food, restrooms, medical attention and legal assistance. "Why don't they come and help us right here?" a woman asked the agents when they offered transportation to Tapachula in order to access these services.
In their scouring of the zone, where migrants make do in tents, tarpaulins fashioned from plastic bags or simply with cardboard to lie on, employees of the National Institute of Migration have been abundantly clear. The migrants have been informed that anyone "who is happy" where they are now is welcome to stay, while warning of the pending arrival of "extremely cold weather." The area is awash with different police branches, alongside the Criminal Investigation Agency. The National Guard and the Coahuila State Organized Crime Action and Reaction unit are also on hand, with several buses.
"They come here to scare us. They only come to deceive people," says Jonas Basel, a 31-year-old Haitian who is traveling with his wife and two daughters. Basel passed through Tapachula on his journey north from Chile, where the majority of migrants who have reached this point started out. He sees little point in accepting an invitation to go back to the border with Guatemala. "It's full of people and the Comar [the Mexican Refugee Aid Commission] has collapsed. I'm not going to get a visa in less than three or more months, and nobody has any money." Basel has $300 left from the $10,000 he set aside for the journey. "We spent everything to get this far."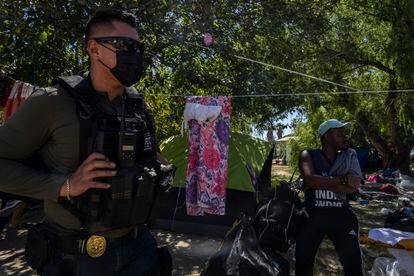 The makeshift camp on the Mexican side was thrown up on federal land controlled by the state government of Coahuila. There, there is a place known as Comedor del Migrante (Migrant's Diner), which has now been repurposed by its temporary residents as crowded rooms or restrooms in the absence of proper facilities. As of a week ago, the camp had started to take on the appearance of an organized space, with an improvised hair salon, prayer service in the evening, water and food provided by NGOs and private benefactors, as well as tents and a scattering of mattresses. But by Thursday, September 23, the mood had changed. "People are depressed. It's very stressful," said a pregnant woman.
The river had already started to swell by the afternoon when two women and a boy around eight years old entered the water. On the far bank, another migrant jumped in to help them because halfway across the child and the small toy truck he was carrying under an arm had almost disappeared under the water level. Also on the US side were a unit of US Border Patrol agents, powerless to assist but a "wall of steel" in the words of Texas Governor Greg Abbott, designed to prevent people from crossing the frontier. Later, another large group of families started to cross. Many carried a bag under one arm and a child in the other. From the far bank, the Border Patrol agents shouted from a launch that "only the children" could climb aboard. The parents handed over their sons and daughters and pleaded for help as the water rose above their chests.
The International Committee of the Red Cross (CICR) has stated that these migrants are living in conditions of "extreme vulnerability" after months spent traversing Latin America and living rough in the temporary camps set up by the US and Mexican governments in both countries. The CICR has also noted that the situation in Haiti is "complicated" and has called on the authorities to "exercise practices that include humanitarian exceptions to protect people."
"One way to do this," says Lorena Guzmán, director of the regional CICR delegation for Mexico and Central America, "could be to provide them with immigration documentation to facilitate a legitimate stay in Mexico, minimizing the risks they face and granting them full access to rights on a temporary or permanent basis."
The majority of people being held on both sides of the border are Haitians fleeing political and economic instability in their country. The poorest nation in the Western hemisphere suffered a devastating earthquake in 2010 that forced an exodus of thousands of people to countries in Latin America. The humanitarian crisis that unfolded over the past decade in the wake of that disaster has recently been exacerbated by the assassination of President Jovenel Moïse in June and another earthquake in August, measuring 7.2 on the Richter scale, that left more than 2,000 people dead and thousands injured.
Having left Haiti years ago, these migrants now face one of two choices: either they will be deported by the United States back to the country they fled from or they will be sent back to Tapachula by Mexican authorities. Almost 15,000 Haitian migrants had gathered under the International Bridge that separates Ciudad Acuña and Del Rio, a number that had fallen to fewer than 5,000 by last Friday, according to the US authorities. Many have opted to retrace their steps and cross the Rio Grande once again into the United States, in what will perhaps be their final attempt and the exact reverse of a journey they made just a week ago.
English version by Rob Train.