Edel Rodriguez, the anti-Trump artist: 'I never draw anything that isn't true' | USA
Valencia's Carme Center of Contemporary Culture (CCCC) is currently displaying the work of one of the best-known illustrators of his generation, a status Edel Rodriguez has gained largely through eye-catching magazine covers against former US president Donald Trump, which have been published over the last five years in international media such as Time and Der Spiegel. But the origin of this exhibition is not so much the foreign press, but rather an old Valencian satirical magazine called La Traca, which ceased publication in 1938. During the filming of a documentary called Carceller, el Hombre que Murió Dos Veces (or Carceller, the Man who Died Twice), based on the lives of the former editor of the Republican magazine, Vicent Miquel Carceller, and one of its main contributing artists, Carlos Gómez – both of whom were shot by the Francisco Franco regime in 1940 – the filmmakers sought out Rodriguez for the Cuban-American artist's views on caricature and the historical role of the authorities in attempting to stifle creative freedom.
Rodriguez has become a reference point in the profession for his political non-conformism and his bold illustrations, such as the one of a melting Donald Trump published in Time in August 2016 or his drawing of the former president holding the decapitated head of the Statue of Liberty in Der Spiegel in February 2017. During the recent US presidential elections, he also produced work for EL PAÍS. He agreed to contribute to the documentary after hearing the story of the weekly La Traca, which had a circulation of almost 500,000 copies and whose editors faced the firing squad for dedicating themselves to "insulting the highest-ranking representatives of Spanish Nationalism, the dignity of the Catholic Church and the founding principles of the Francoist regime in the basest, rudest and most vulgar way possible, using the popularity it had gained over the years for the benefit of Marxist subversion."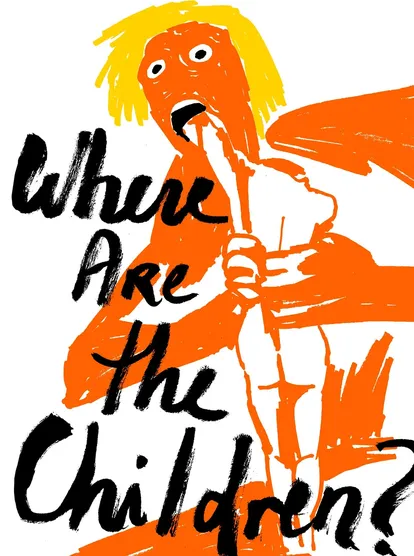 From that collaboration, during the Trump administration's mandate, a relationship blossomed that resulted in the Valencia exhibition, where 124 of Rodriguez's works have been reproduced in different forms with a special focus on his illustrations of the former president and his tenure in the Oval Office. The austerity of the Gothic cloister of what was the convent of El Carmen contrasts starkly with the huge black and red images depicting an unhinged Trump. Rodriguez's work featured on around 20 front pages during Trump's presidency, generating enormous impact and being reproduced on a large scale worldwide. With that came an increase in threats on social media.
"Well, things have calmed down a bit," says Rodriguez from his studio near New York during a Zoom interview with EL PAÍS in March. "It was very noticeable what influence a president can have and what he can cause, the mood he can generate among his supporters. I've been working since 1994 but it's only since what happened with Trump that I've become well-known. When I started doing those front pages with him, I got calls from television producers and newspapers and although I have US citizenship, I am still an immigrant and it was a risk to take him on, with everything that he was doing."
Rodriguez came full circle last November after the presidential elections when he drew the illustrations for another magazine cover, this one featuring President-elect Joe Biden putting the head back on the Statue of Liberty.
"Now we have a normal presidency. We aren't aware of what the president is doing every hour of every day. With Trump, when you woke up he was already awake and firing off tweets and the press was publishing that instead of covering other things. The media is to blame for giving Trump so much coverage back in 2016. Even in the New York Times, it was all Trump. You put his name in a headline as clickbait and web traffic goes up. The media went a little bit crazy," he says. "These days it's all about attention. Magazines and newspapers have to get people's attention. It's the only way to make money." His work, he adds, is focused on getting an idea across to people from all walks of life, "not just a university professor."
"Drawing is a way to reach people in a simpler way, it allows people to understand things in the moment. I grew up with people who didn't go to school, people who worked the land, and I want to communicate with these people, with my father," Rodriguez says.
In the exhibition at the CCCC, called Edel Rodriguez. Agent Orange (which runs until September 12), the artist's inclination toward the use of bold colors and the influence of his origins can be appreciated. "Cuban art, the poster, comes from the roots of the country," explains Rodriguez. "Every house is painted in four or five colors, the cars… there is no black or white. These are things that you absorb through your eyes when you are there. When I came to New York, the teachers couldn't understand why we used stronger colors like red. I couldn't bring myself to use white, and yellow is yellow. I think in a way it's just how Cuban people think." Rodriguez's exhibition, his first in Spain, was commissioned by Nacho Navarro, who is also an executive producer on the Carceller documentary. The documentary is about to start on a cycle of film festivals and Rodriguez's show is also working in collaboration with a local festival, Docs de Valencia.
"I'm a peaceful man but if you hit me, I have to defend myself. And the way I have to defend myself against a fascist is through the strength of my work," says Rodriguez, who also rejects "the two populisms of left and right, both of Fidel Castro and of Donald Trump."
"I never draw anything that isn't true; I comment on what is happening, what I think. Propaganda comes when someone decides to lie or when the state tells someone what to draw or what to write."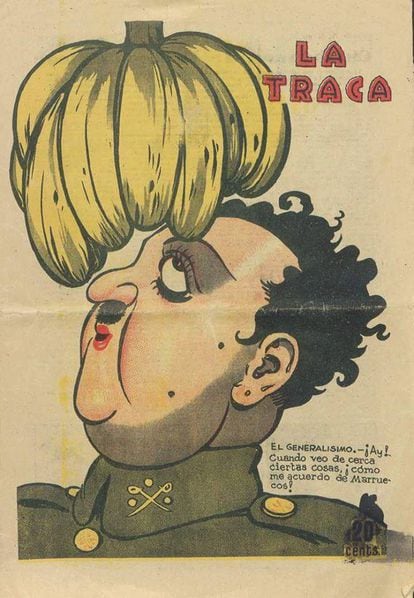 An admirer of painters such as Pablo Picasso, Henri Matisse, Paul Klee, the political art of Francisco Goya and Marcel Duchamp's way of thinking, Rodriguez is currently working on a graphic novel based on his life: his traumatic departure from Cuba in 1980, his spell in a camp for exiles, his life in the US and how his teachers were able to nurture his talent.
The possibilities the genre is opening up excites Rodriguez. "It connects with many age groups. Companies are aware there is a lot of interest, everybody wants to attract young people and it's a very direct way of communicating," he explains. "The visual form is special, unique; text won't reach people who have no interest in reading a book or a newspaper article, but they see something and understand immediately. Visual art and imagery invade people's inner space, it connects immediately with people in a way that writing can't. You may have no interest in writing but a drawing can grab your attention in half a second. Even if you don't like what I want to say, you've seen it, and it's already in your head."
English version by Rob Train.
DiverXo: Spaniard Dabiz Muñoz named best chef in the world | Culture
Spanish star chef Dabiz Muñoz was awarded the prize for being the best chef in the world at the fifth edition of The Best Chef Awards 2021 on Wednesday. The owner of DiverXo, a restaurant in Madrid with three Michelin stars, accepted his award at a live event in Amsterdam. At a press conference following the award ceremony, Muñoz (previously known as David Muñoz) said that chefs around the world are in a "hard" situation "due to the coronavirus pandemic," which saw strict restrictions on the hospitality sector.
The Best Chef, a project created in 2015 that is dedicated to celebrating culinary talent, also released a list of its top 100 chefs, which includes 13 Spaniards. Muñoz said these types of awards not only "help restaurants, but also the people of the country" that feature on the top 100 list. "What comes to me, comes to Madrid, which to me is one of the most exciting cities in the world today for gastronomy," said the DiverXo owner, who added that the recognition will help the Spanish capital "to continue to grow."
Last March, Muñoz appeared at a culinary conference called "Dialogues in the Kitchen" in San Sebastián, where he talked about the "disruptive" way he had overcome the challenges that emerged as a result of the coronavirus pandemic. The restaurant owner told the audience that the experience had made him "renew his vows" with DiverXo. But the same could not be said for Muñoz's restaurant in London, StreetXo, which was forced to permanently close last December, five years after it was opened.
The Swedish chef Björn Frantzen came in second place on the top 100 list, and also won The Best Chef Voted by Chefs Award. Basque chef Andoni Luis Aduriz, from Mugaritz restaurant, came in third place, while Joan Roca, from Catalonia, took home the Science Award. At the ceremony, Roca said his team "is strongly committed to science and sustainability," and added that such awards "benefit the country more than the chef," as the prize-winners represent "a structure, products, producers." He also said that chefs strengthen the tourism industry and the work of local producers.
Italian chef Alfonso Iaccarino won The Best Chef Legend Award; Fatmata Binta, from Sierra Leone, received the rising star award for her work at Fulani Kitchen; Italian chef Franco Pepe won the prize for the best pizza and Vicky Lau, from Tate restaurant in Hong Kong, was awarded the food art award.
English version by Melissa Kitson.
Commitments to end direct provision 'already behind schedule'
Government commitments to end direct provision are "slipping", the State's chief human rights and equality commissioner has warned.
Sinéad Gibney, chief of the Irish Human Rights and Equality Commission (IHREC), said slippage meant delays and "people continue to languish in this system which deprives them of so much".
She was addressing the Oireachtas committee on public petitions on progress implementing the Government's White Paper on ending direct provision. Published in February by Minister for Children and Equality Roderic O'Gorman, it envisages closing all direct provision accommodation centres by the end of 2024 and replacing them with a new system of accommodation and supports.
Ms Gibney said "relatively simply fixes", such as ensuring asylum seekers had the right to apply for a driving licence, were "already behind schedule". The White Paper had promised legislation would be introduced before summer 2021.
"As we appear today the commission is not aware of any specific legislative amendment having been introduced to allow applications for driving licences . . . Being barred from even being able to apply for a driving licence is a massive State-built barrier to securing or seeking employment," she said.
"The right to seek employment was hard won for asylum seekers in a Supreme Court case by a determined Burmese man . . . That victory is made hollow by such administrative barriers as access to driving licences."
IHREC, she continued had "concerns" that an independent inspection regime of accommodation centres had not yet begun.
Before the White Paper the State had been in breach of EU directives by not ensuring vulnerability assessments were conducted on every asylum seeker on arrival.
These were now happening but at far too low a rate. "Figures provided to the Oireachtas in April this year show that 258 applicants had entered the vulnerability assessment process with 151 assessments completed and 107 then ongoing. This obviously needs to be significantly scaled up given there had been 886 applications received this year alone," said Ms Gibney.
Stephen Kirwan of the Law Society's human rights and equality committee, described "frustrations" among colleagues that clients in the asylum process were often not getting legal advice until "a very late stage".
One of the "most significant obstacles to the White Paper being realised" was delays in the processing of international protection, or asylum applications, said Ihrec commissioner Colm O'Dwyer SC.
At the end of July there were more than 5,000 people awaiting a "first instance" decision on the applications and the median time to get a decision was 26.9 months, he said.
Ms Gibney called for a "mindset change" in the whole international protection system.
"It's about moving towards informing our system with a mindset that we are lucky to welcome in many of the aspirant citizens . . . We need to invite them. We need to offer them integration from day one. We need to see and value the contribution they can make to our society and I think when we do that we do start to then see a system that is informed by trauma, that understands the trauma that some of the people have been through [and] that provides wraparound supports tailored to their needs."
Q&A: What is the British government doing to help Brits in Italy overcome post-Brexit hurdles?
On Wednesday the British embassy in Rome organised a town hall-style question and answer session to allow British residents in Italy to raise concerns and put their questions to Minister Wendy Morton and British Ambassador to Italy Jill Morris.
After the session, The Local was granted a brief interview with the minister to discuss some of the major issues for UK nationals in Italy that we've been reporting on this past year.
From residency rights to driving licences, here are the minister's answers to our questions about the post-Brexit rights of British citizens in Italy.
How is the UK government assisting British nationals struggling to access the new carta di soggiorno elettronica?
UK citizens living in Italy have been encouraged by the British government to apply for a carta di soggiorno elettronica, a new biometric card that proves their right to live in Italy under the terms of the Withdrawal Agreement.
While the card is not required by the Italian government, it's strongly recommended as the simplest way for Brits who have been resident in Italy since before January 1, 2021 to demonstrate their rights of residency and ensure they can continue to access essential services.
Some UK citizens, though, have had trouble accessing the card due to processing delays or the fact that their local police station, or questura, hasn't yet got set up to issue the document – and have run into problems obtaining work contracts and applying for driving licenses as a result.
Anti-Brexit protesters on September 22, 2017 in Florence, Italy. Photo: Alberto PIZZOLI / AFP
The minister said that the British embassy in Rome has been holding regular online meetings to listen to residents' concerns about the card, and also provides updates via a newsletter.
"Our ambassador has a newsletter that is a way of communicating regularly to British citizens, so they can sign up to this, as well as signing up to the Foreign Office's 'Living In…' guide, to get up to date information on an ongoing basis," she said.
Ambassador Morris highlighted that the British embassy is collecting reports from British citizens who have experienced problems accessing the card (as well as any other issues) via a contact form on its website.
"We encourage British residents in Italy to report to us when they have any difficulties exercising their rights, whether that's related to healthcare, whether that's at the questura to get the carta di soggiorno elettronica, or any other issues people may have," the ambassador said.
"We log the individual cases; we also look for trends, so when we see there's a trend of a problem, for example stamping passports at a particular airport, then we target the authorities at that airport to give them information and make sure all the border guards have that information."
The embassy sends a monthly update to the Italian authorities to alert them to ongoing issues, she added.
You can find the embassy's contact form here.
The ambassador also noted that the British embassy has worked with Italy's national association of mayors, Anci, to distribute a booklet to comuni across the country laying out the post-Brexit rights of British citizens.
Are the UK and Italy any closer to reaching an agreement on reciprocal driving licenses before the grace period expires at the end of this year?
After Britain left the EU at the end of last year, British residents who hadn't yet got around to converting their UK license to an Italian one were granted a 12-month grace period in which they could continue to use their British license in Italy.
Many hoped that Italy and the UK would later come to an agreement which would allow drivers to continue using their British license beyond that point.
But with less than four months to go before the grace period expires, Brits are now wondering whether to gamble on the two countries reaching an accord by the end of this year – and risk being unable to drive come January 1st – or to undergo the time-consuming and expensive process of retaking their driving test in Italy.
When we raised this issue with Ms. Morton, she said: "We absolutely are continuing to negotiate with the Italian government on the right to exchange a UK license for an Italian one without the need to retake a driving test, and I can assure you it's our absolute priority to reach an agreement before the end of the grace period which is at the end of this year."
REAL ALSO: Reader question: Will my UK driving licence still be valid in Italy after 2021?
Photo: Daniel LEAL-OLIVAS / AFP
What is government doing to help British-Italian families wanting to return to live in the UK?
UK nationals wanting to return to live in Britain with their EU partners have until the end of March 2022 before the bar for being granted a spousal visa will be significantly raised. That deadline is fixed and will not be extended, the minister confirmed on Wednesday.
"If they want to apply, it's important that they apply before the deadline," she told The Local.
"Close family members of UK nationals who return from living in the EU by the 29th of March next year can apply to the EU Settlement Scheme as long as that relationship existed before exit day," said the minister.
"It's also worth remembering that family members of individuals from the EU, from Switzerland, Norway, Iceland, or Lichtenstein, as well as the families of British citizens may also be eligible to apply for a family permit under the EU Settlement Scheme, which will make it easier to travel with a family member to the UK."
READ ALSO: Brits with EU partners warned over future problems returning to live in UK
Some EU-British couples, however, are already experiencing problems having their right to live together in the UK recognised, with reports coming out that the Home Office has denied some applications on seemingly flimsy or technical grounds.
"The fundamental thing here is that British citizens can return to the UK at any time. And it's important that we remember that," the minister said when asked about this issue.
In case you were wondering.
For British-Italian couples in Italy experiencing problem, "the first port of call should be our team here in the embassy; it may be that they then need to be signposted if it's a Home Office issue," said the minister.
"The Home Office has made a whole range of advice available online, and can also be contacted by telephone and by email."
See The Local's 'Dealing with Brexit' section for the latest news and updates.