DUP leader urges Johnson to focus on Northern Ireland not partygate
The DUP leader has urged Boris Johnson to focus on Northern Ireland rather than the 'partygate' scandal at Downing Street.
Jeffrey Donaldson was speaking to Sky News after his party's first minister Paul Givan resigned from the post of First Minister in Northern Ireland on Thursday a campaign against the protocol.
"I would say this to the prime minister: Northern Ireland is an important part of the United Kingdom, " Mr Donaldson said in an interview broadcast on Saturday.
"You're our prime minister and if you want to build confidence, then do what other prime ministers did in the past and recognise that we have a serious problem here and instead of being focused on what's going on in Downing Street, be the prime minister the people need.
"Reach out to Northern Ireland, help us to resolve these issues, make this a priority, let's get our political institutions restored on the basis of sound foundations. That means dealing with the protocol, making these issues a priority so the people of Northern Ireland can enjoy strong stable government," he said.
The Taoiseach Micheál Martin on Friday night strongly criticised the DUP's decision to resign from the post and also criticised comments on Friday Mr Donaldson that cast doubt over whether the DUP would go back into government after an election if issues in relation to the Northern Ireland protocol were not addressed.
"No one party should use language like 'unless we are fully satisfied we will not be participating'," Mr Martin said.
"No one party should have a veto over whether an Executive exists or continues on, and likewise the Assembly," he said.
He said negotiations on the protocol were continuing between the EU and the UK and progress had been made. "The conclusion of those should have been awaited in my view by the DUP."
The Northern Ireland protocol is a part of the EU-UK Brexit withdrawal agreement guaranteeing a special post-Brexit trading status for the North in order to avoid a hard Border in Ireland.
As a consequence of the DUP's move, the Deputy First Minister, Michelle O'Neill of Sinn Féin, also ceased to hold office. Ministers now cannot sit in the Northern Ireland Executive and the Executive is unable to take significant policy decisions.
The Stormont crisis comes amid turmoil in Downing Street with Mr Johnson under further political pressure this weekend after conservative MP and former schools minister Nick Gibb has called on him to resign in an opinion piece published in The Telegraph newspaper . He said his constituents are "furious about the double standards" exposed by reports of social gatherings at Downing Street.
On Saturday the UK culture secretary, Nadine Dorries, rejected calls for Boris Johnson to resign claiming that the "vast majority" of the party were behind the prime minister.
A report by senior civil servant Sue Gray found that alcohol-fuelled events had taken place at Mr Johnson's offices and residence when Covid-19 lockdown rules were in force.
Battle over who owns the famous 'Fables' comic book pits DC Comics against the work's author, who wants to send it to the public domain | Culture
This is a story full of fairy tales. In some ways, it even resembles one. And yet it also proves that, in the real world, things rarely end happily ever after. A few days ago, Bill Willingham, the father of the celebrated Fables comic book series, announced that he was sending his most cherished work to the public domain, that is, to everyone. That's only fair, since that is also where he got the main characters of his stories, from Snow White to the Wolf, from Pinocchio to Prince Charming, who were then relocated to modern New York. In this tale, the hero has long-faced mistreatment at the hands of the villains, DC Comics — the owner of Vertigo, which publishes the work in the United States — and its executives.
"If I couldn't prevent Fables from falling into bad hands, at least this is a way I can arrange that it also falls into many good hands," Willingham wrote in an online post in which he decried the label's repeated attempts to take over his creations and opposed them with this final extreme remedy. But the company responded that it considers itself to be the true owner of the series. In a statement published by the specialized media IGN, the company threatened to take "necessary action" to defend its rights. Thus, the end of the dispute is uncertain. But it is unlikely that everyone will end up happily ever after.
In the meantime, in a new post, Willingham celebrated the massive support he received. In fact, for the moment, he has declined all interview requests — he did not respond to this newspaper's request, nor did the publisher — arguing that he preferred to spend the next few days working on new artistic projects. Meanwhile, the dispute continues. After all, Fables is one of the most celebrated graphic novels of the last 20 years, and it has spawned spin-offs and a video game adaptation (The Wolf Among Us). This situation also touches on a key issue, namely, the intellectual property rights of characters and works, especially in a sector where, for decades, dozens of cartoonists and screenwriters have accused comic book giants Marvel and DC of pressuring them to cede their ideas and accept commissioned contracts. Willingham sums it up as a policy aimed to make creators sign "work for hire" agreements and crush them. All of this makes a gesture that was already intended to make a splash even more resonant.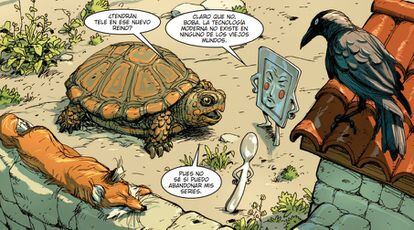 Indeed, the battle over intellectual property is as old as contemporary comics: the copyrights for Superman, Batman and The Fantastic Four all have unresolved disputes and complaints from Jerry Siegel, Bill Finger and Jack Kirby over the contemptuous treatment they suffered. And heavyweight Alan Moore has been lamenting for years that DC took away his ownership of famous works like Watchmen. Along with prestige and principles, tens of millions of dollars are at stake, especially now that the film industry has become interested in comics. "When you sign a contract with DC, your responsibilities to them are carved in stone, where their responsibilities to you are treated as 'helpful suggestions that we'll try to accommodate when we can, but we're serious adults, doing serious business and we can't always take the time to indulge the needs of these children who work for us,'" the Fables author wrote on his blog.
Following the impact of his original message, Willingham posted two other texts. He maintains that he had thought about sending his work into the public domain when he passed away, but that "certain events" have changed his plans: among them, he lists the changes in management and attitude at the top of the publishing company; the multiple breaches of obligations such as consultations about covers, artists for new plots and adaptations; DC's forgetfulness when it came to pay, which forced him to demand invoices of up to $30,000; the suspicious frequency with which the publisher attributed it to "slipping through the cracks" (to such an extent that the author insisted that they stop using that expression); and the time and chances he gave them to respect the pact, renegotiate it or even break it and consensually separate.
"Shortly after creating Fables, I entered into a publishing agreement with DC Comics. In that agreement, while I continued to own the property, DC would have exclusive rights to publish Fables comics, and then later that agreement was expanded to give DC exclusive rights to exploit the property in other ways, including movies and TV. DC paid me a fair price for these rights (fair at the time), and as long as they behaved ethically and above-board, and conducted themselves as if this were a partnership, all was more or less well. But DC doesn't seem to be capable of acting fairly and above-board. In fact, they treated this agreement (as I suppose I should have known they would) as if they were the boss and I, their servant. In time that got worse, as they later reinterpreted our contracts to assume they owned Fables outright," Willingham laments. Hence, he concluded that "you can't reason with the unreasonable."
Having ruled out a lawsuit as too expensive and time-consuming at 67 years of age, he found a more creative solution: if they prevented him from owning his works and benefiting from them as he was entitled to do, he would not let the publisher do so either. Or, at least, everyone could use the comics as they wished. But the label was quick to clarify in its statement to IGN: "The Fables comic books and graphic novels [are] published by DC […] and are not in the public domain." For his part, Willingham promises to continue fighting for all the conditions of his still-in-force contract that he considers DC to have violated, as well as for the last installments of the series, the final script of which he delivered two years ago.
There will be additional chapters in this dispute, as well as in many other ones like it: in 2024, the historic first image of Mickey Mouse — the one that starred in the 1928 short Steamboat Willie — enters the public domain in the U.S. and other countries. Copyright in the U.S. lasts for 95 years, and math is an exact science. Therefore, in a few years, King Kong, Superman and Popeye will meet the same fate. But The New York Times has wondered how the "notoriously litigious" Disney will react and how far it will go to fight in court. And who would dare to freely use all these works for fear of a million-dollar lawsuit? The same question surrounds DC and similar companies. Because in the real world, fairy tales are rare. Or they end up in court.
Sign up for our weekly newsletter to get more English-language news coverage from EL PAÍS USA Edition
U2 concert uses stunning visuals to open massive Sphere venue in Las Vegas | Culture
It looked like a typical U2 outdoor concert: Two helicopters zoomed through the starlit sky before producing spotlights over a Las Vegas desert and frontman Bono, who kneeled to ground while singing the band's 2004 hit "Vertigo."
This scene may seem customary, but the visuals were created by floor-to-ceiling graphics inside the immersive Sphere. It was one of the several impressive moments during U2′s "UV Achtung Baby" residency launch show at the high-tech, globe-shaped venue, which opened for the first time Friday night.
The legendary rock band, which has won 22 Grammys, performed for two hours inside the massive, state-of-the-art spherical venue with crystal-clear audio. Throughout the night, there were a plethora of attractive visuals — including kaleidoscope images, a burning flag and Las Vegas' skyline, taking the more than 18,000 attendees on U2′s epic musical journey.
"What a fancy pad," said Bono, who was accompanied onstage with guitarists The Edge and Adam Clayton along with drummer Bram van den Berg. He then stared at the high-resolution LED screen that projected a larger version of himself along with a few praying hands and bells.
Bono then paid homage to the late Elvis Presley, who was a Las Vegas entertainment staple. The band has rocked in the city as far back as 1987 when they filmed the music video for "I Still Haven't Found What I'm Looking For" on the Strip during a tour in 1987.
"Look at all this stuff. … Elvis has definitely not left this building," he continued. "It's an Elvis chapel. It's an Elvis cathedral. Tonight, the entry into this cathedral is a password: flirtation."
U2 made their presence felt at the $2.3 billion Sphere, which stands 366-feet (111 meters) high and 516-feet (157 meters) wide. With the superb visual effects, the band's 25-show residency opened with a splash performing a slew of hits including "Mysterious Ways," "Zoo Station," "All I Want is You," "Desire" and new single "Atomic City."
On many occasions, the U2 band members were so large on screen that it felt like Bono intimately sang to audience on one side while The Edge strummed his guitar to others.
The crowd included many entertainers and athletes: Oprah, LeBron James, Matt Damon, Andre Agassi, Ava DuVernay, Josh Duhamel, Jason Bateman, Jon Hamm, Bryan Crankston, Aaron Paul, Oscar de la Hoya, Henrik Lundqvist, Flava Flav, Diplo, Dakota Fanning, Orlando Bloom and Mario Lopez.
After wrapping up The Beatles' jam "Love Me Do," Bono recognized Paul McCartney, who was in attendance, saying "Macca is in the house tonight." He acknowledged Sphere owner James Dolan's efforts for spearheading a venue that's pushing forward the live concert audio landscape with 160,000 thousands of high-quality speakers and 260 million video pixels.
The Sphere is the brainchild of Dolan, the executive chair of Madison Square Garden and owner of the New York Knicks and Rangers. He sketched the first drawing of venue on a notebook paper.
"I'm thinking the that the Sphere may have come into existence because of Jim Dolan trying to solve the problem that The Beatles started when they played Shea Stadium," he said. "Nobody could hear you. You couldn't hear yourselves. Well, the Sphere's here. … Can you hear us?"
Bono pointed into crowd and shouted out Dr. Dre, Snoop Dogg and Jimmy Iovine – who took in the band's spectacular show. At one point, Bono became emotional when he dedicated a song to the late Jimmy Buffett's family who attended the concert too.
Afterwards, Bono spoke about performing on stage for the first time without drummer Larry Mullen Jr., who is recovering from back surgery. He acknowledged Dutch drummer Bram van den Berg's birthday and and filling in for Mullen.
"I would like to introduce you to the only man who could stand, well, sit in his shoes," said Bono, who walked toward Berg as some in the crowd began to sing "Happy Birthday." He handed the microphone to Berg, who offered a few words.
"Let there be no mistake, there is only one Larry Mullen Jr," Berg said.
As U2 wrapped up their show, a bright light shined from the ceiling and the massive screen began to fill with images of birds, insects and reptiles above a lake. The band closed its first Sphere concert with "Beautiful Day," which one three Grammys in 2001.
Sign up for our weekly newsletter to get more English-language news coverage from EL PAÍS USA Edition
Star Wars: Whiny fans, nostalgia and streaming saturation: 'Ahsoka' and the most complicated moment of the 'Star Wars' universe | Culture
Satisfying the unrepentant, noisy, veteran fan, has become an insurmountable obstacle for the oldest money-making machine in cinema. Star Wars lives in constant fear of offending them. Their requests are long and obsessive. Don't change the actors (better to rejuvenate them with artificial intelligence, instead – where will it end?), don't alter the legacy of what they understand by "Jedi" and, above all, take note, don't include too many women or racialized people. As everyone knows, there are only white men in this galaxy far, far away. This is ours and nobody else's, those "true fans" seem to say.
That impossible balance between satisfying children (for whom Star Wars was always intended) as well as the most conservative followers has become a curse for Lucasfilm president Kathleen Kennedy and the entire Disney factory. But there is a guy who has known how to ride the wave and make everyone happy. His name is Dave Filoni. In his hands, even the concept of once again passing the force to the proletariat that those followers criticized in Rian Johnson's magnificent and vilified The Last Jedi is applauded. He does it again in Ahsoka, the epic Disney+ series in which Filoni resorts to the characters of his animated series to delve into a space odyssey that is more fantasy than science fiction. The series appeals to the nostalgia of those prequels with which George Lucas returned to the saga in 1999, but at the same time it rewrites the mythology and its rules.
A quick refresher: Ahsoka Tano is Anakin Skywalker's padawan (Jedi apprentice) before the ill-fated hero became Darth Vader. This brave, wild teenager was created by Filoni and George Lucas in 2008 as an entry point for kids (especially girls) to the film and animated series The Clone Wars, an anthology of the conflict that overthrew the republic to give way to the empire. Lucas, thinking about his own daughters, wanted to appeal to the female audience whose interest Star Wars had not always caught. In the process, they gave depth and responsibility to Anakin (a Hayden Christensen today redeemed by nostalgia) in his passage to the dark side.
The critics first said that she was nothing but a half-naked girl designed to be adorable without much more depth, but, little by little, Ahsoka became the company's newest toy (literally), a character that motivated women to join the club. Lucas was always clear that the secret was to convince the children, not so much the veterans. Girls around the world began to replicate her orange hue and alien pigtails, and her rebellious nature won over the fans – new and old – with a stroke of modernity. In the series, she even turned her back on the Jedi religion by throwing away her lightsaber and confronting them directly: you are a bunch of squares, you don't understand the new times. Ahsoka was those new times, and her message was that the sect of monks was not as good as they thought they were. Thanks to her evolution, the young woman was already a Star Wars classic. Her story kept growing in books and comics.
But how come we knew nothing about her before that moment? Did she die in battle? That was out of the question due to her growing popularity, so Filoni created a strategy for her to join the rebellion, but always in the shadows. Her journey continued in the animated series Star Wars: Rebels as a veteran, less impulsive force, and the plots and relationships that became established there continue in the current live-action series (with the hero embodied by Rosario Dawson) after her encounters with the Mandalorian and Boba Fett. She is a modern-day Princess Mononoke, an unaffiliated Jedi Master. She is the perfect meeting point for the ocean of Disney+ content.
After paying homage to the western genre in The Mandalorian – also created by Filoni with Jon Favreau – Ahsoka's own series explores the most magical side of the universe: flying whales that teleport, witches, prophecies, dreams of the afterlife and hero's journeys. Doors that the franchise sometimes has had trouble opening, even if magic was one of the many pulp subgenre elements that Lucas put in the mix of his original idea.
That layer of fantasy is one of the breaking points within the canons. The other is the concept of the force. What are the Jedi? Are they born or made? That is one of the debates that the repudiated Rian Johnson film put on the table: not only a family can inherit the force, it can also arise in peasants and commoners, in people who learn it. Filoni has always had this in mind with Ahsoka, the most rebellious among those decimated samurai monks, who, as in the classic film Harakiri, hide questionable rules and commands under a veil of honorability. In her new mission, she takes her legacy one step further: we can all learn from the force, giving more power to the people and to learning than to consanguinity, she tells her apprentice, the true protagonist of the series.
This mentoring work will be key in an adventure triggered by something as simple as the search for the missing protagonist of Rebels. A small but crucial discursive break that preserves the spirit of what Lucas started in 1977. And, yes, all the protagonists are women again, just like the president of Lucasfilm. In that sense, it is not far from some of the deepest messages of Andor, the most revolutionary Star Wars series and the best work to come out of this universe in decades, one that was truly groundbreaking and that could not reach all the fans it deserved.
A franchise that lost its way
Meanwhile, Star Wars continues to put filmmakers through the meat grinder. Many creators have recently abandoned their projects, frustrated by the lack of development of their ideas: Guillermo del Toro, Taika Waititi, Damon Lindelof, Rian Johnson, Patty Jenkins, the Game of Thrones showrunners David Benioff and Dan Weiss… they are the creative corpses of a lost franchise that is not sure what its followers want in the theater and is saturated by the excessive costs of the series (it is estimated that Obi-Wan Kenobi cost about $90 million and Ahsoka more than $100), created to fill a streaming offer that does not yield the anticipated benefits. A product that does not convince neither children nor veterans.
Considering that excessiveness, Ahsoka is at least an entertaining, satisfying product (it never stops being a product, one that does not reach the levels of Andor or The Mandalorian). That is more than can be said for contents as emotionally and narratively empty as Obi-Wan Kenobi and Boba Fett, which rely on nostalgia, are structurally rotten and have no soul or entertainment value whatsoever. Unfortunately, the context will not make it easy for Ahsoka to capture anyone outside the die-hard fans. Perhaps the Hollywood strikes will be good for the empire. A much-needed pause to become culturally relevant again.
Sign up for our weekly newsletter to get more English-language news coverage from EL PAÍS USA Edition