Death threats and phone calls: the women answering cries for help one year on from Poland's abortion ban | Poland
One year ago, on the night Poland introduced one of the most restrictive abortion laws in Europe, the phone started ringing at the country's most high-profile family planning organisation. Over the course of the evening, volunteers took calls from more than 20 panicked women who suddenly found their next-day appointments for abortions cancelled.
One of the calls was from hospital staff at a loss over what to do about a woman who broke down after being told that her termination would not go ahead. "She went into a frenzy, got into the hospital lift and was going up and down, up and down, without stopping for an hour," says Krystyna Kacpura, director of the Federation for Women and Family Planning (Federa).
Staff at Federa were used to helping women navigate a hostile healthcare system in which legal terminations were already virtually impossible. But the new legislation put in place an almost total abortion ban in everything but name, allowing women to terminate only if the pregnancy was the result of rape or incest, or if it represented a threat to life or health. At the time the legislation was brought in, about 1,000 legal abortions were carried out in Poland every year, 98% because of foetal abnormalities. This option was now closed to women. It was, says Kamila Ferenc, a lawyer for Federa, a devastating blow.
Since its announcement, at least 34,000 women in Poland have managed to get abortions despite the ban, and hundreds travelled abroad for later abortions, facilitated by groups such as Abortion Support Network and Women on Web.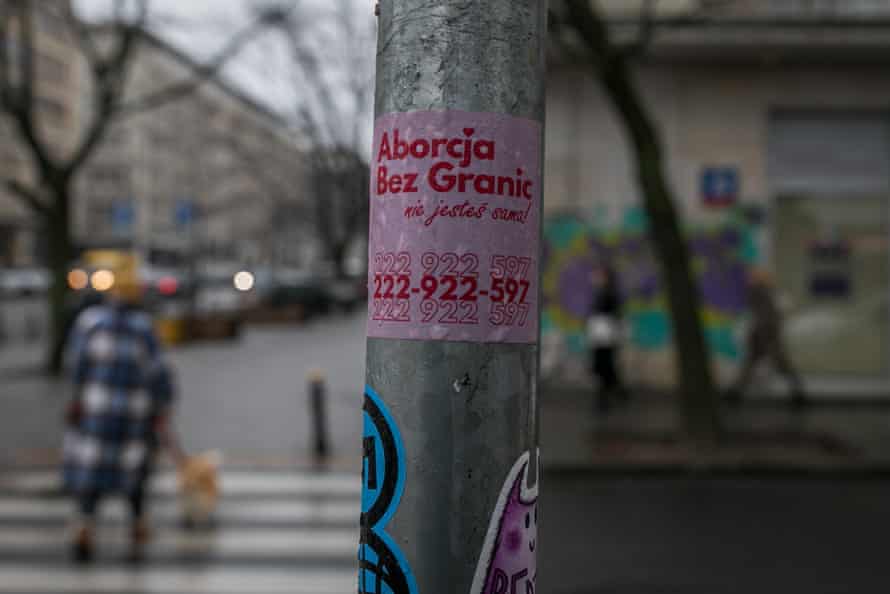 But now the women calling Federa for help are often in serious distress, many further into their pregnancy because they have discovered a problem at a second-trimester scan. Pregnancies are more likely to have been planned. "In the past, it was rare for us to receive calls from individuals in this state. This last year, it has been 80% of our work," says Ferenc in Federa's Warsaw office. "Every call is very emotional."
In the past year staff and volunteers at Federa, like many other women working as advisers, lawyers and activists in the pro-choice movement, have faced death threats, intimidation and legal challenges. Many have said they are exhausted by their increasing workload as they struggle to help women trying to access safe abortions.
Ferenc says she is not afraid of the people who send bomb threats to her office or superimpose bullet holes on pictures of her face. "I'm more scared that one day prosecutors will launch an investigation against us," she says. In the past, few Poles faced trial on abortion-related charges. The state largely turned a blind eye to illegal abortion services, with pages towards the back of newspapers filled with euphemistic adverts for private clinics offering "restoration of the menstrual cycle". That changed when the new law came in.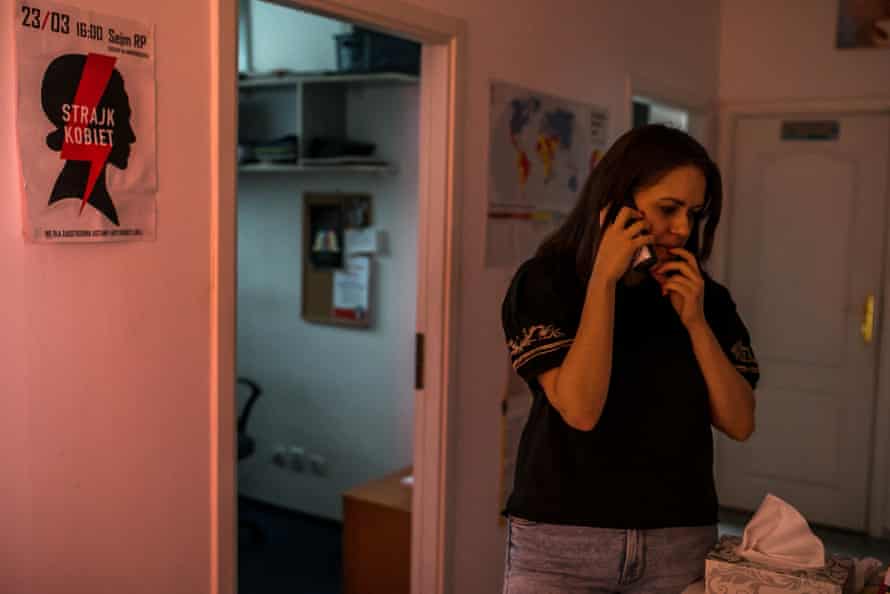 Justyna Wydrzyńska, of pro-choice groups Abortion Dream Team and Women on Web, became the first Polish abortion activist to face the prospect of trial in September, after a man notified the police that his wife ordered abortion pills online. The case is ongoing.
Ferenc believes the latest changes did not fully appease the ruling Law and Justice party's (PiS) religious base. "Before, abortion was not a topic, no one wanted to talk about it. Now the anti-abortion groups on whose support PiS is relying are demanding blood."
Marta Lempart – who is fighting 86 court cases under various charges – heads the pro-choice Polish Women's Strike movement and says the new laws have targeted the women most at need of healthcare and support.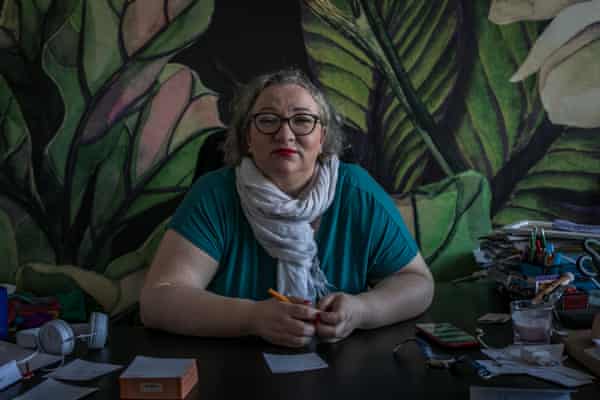 "Polish women with unwanted pregnancies are now in a better situation than those with wanted pregnancies but who are facing complications, because there is a working system completely outside of public healthcare for the former. But the healthcare system does not provide a service to the latter at all."
A further attempt to ban abortion completely and jail women who had terminations for life was rejected by the Sejm, the lower chamber of the Polish parliament, but the government has since announced it would begin compiling a database of all pregnancies across the country, a move defended as a digitisation of existing documentation but which women's rights groups believe is another natalist policy designed to control women's lives and a sign that worse is to come.
Meanwhile, an underfunded and overstretched Polish healthcare system, accused of failing to provide women with reproductive care, is emboldened by the new laws. "Women are falsely told by doctors that contraceptive pills give them cancer, or that an IUD is dangerous for those who haven't had children yet," says Ferenc. She has begun advising women to record their conversations with doctors. One woman said that doctors treating her breast cancer repeatedly told her the illness was caused by an abortion she had months earlier.
But Kacpura and others believe the legislation may also have had a chilling effect on doctors who are terrified of navigating the new law. She says, before the 2021 ruling, doctors would rarely contact her, but in the past year she has been answering their calls day and night. "No one [in authority] explained to the doctors what they should do," she says. Sometimes, doctors call to pass on the numbers of patients they were not able to legally help. "I called one woman straight after she left the hospital. She was in an awful state, it's hard to say what she would have done if we hadn't reached her."
Agata Bzdyń, a lawyer who represents a number of women who have taken their abortion refusals to the European court of human rights, points to reports that Bielański hospital in Warsaw, which she says "has a reputation for still providing abortions", has been under pressure from the government to hand over documents on the number of terminations approved. Bielański did not respond to a request for comment.
Beyond the government, Roman Catholic lay groups continue to exert pressure for an outright abortion ban. The group Ordo Iuris (Order of Law) was one of the mobilising forces behind a citizen's bill in favour of a total abortion ban, a move that was rejected by parliament but precipitated the ruling. Since 2016, the organisation has acted as official adviser to the PiS government in areas of reproductive rights and education. The organisation recently announced that it will provide legal representation to a man who is suing his wife for having an abortion, which Ordo Iuris argues violated the man's right to family life.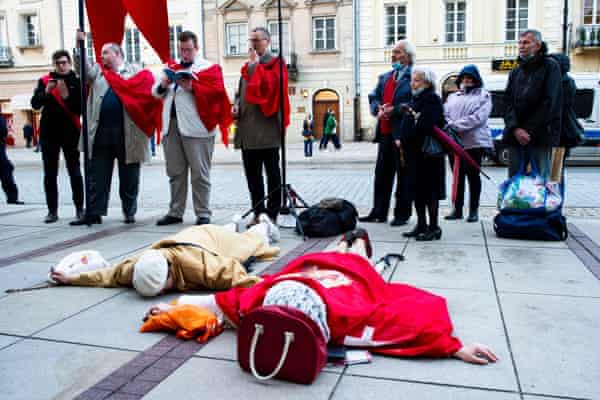 The most shocking case of the past 12 months is that of a woman called Izabela, who died in November of septic shock while in her 22nd week of pregnancy. Doctors at the hospital in Pszczyna, in south-west Poland, did not perform an abortion, even though her foetus would not survive, according to a lawyer for the family. "For now, because of the abortion law, they can't do anything," Izabela texted to her mother shortly before she died. An investigation found "medical malpractice" led to Izabela's death and the hospital was fined . She is survived by a husband and daughter.
Kacpura said she knows of several cases in the past year where the woman's waters broke prematurely, as Izabela's did, but doctors refused to perform a caesarean or induce birth. "A nightmare, because the foetus cannot survive but the heartbeat can continue for days, sometimes weeks, and the woman has to wonder whether she has already become a coffin."
Bartłomiej Wróblewski, a leading PiS parliamentary force behind the change in the law, said: "It is not true that this law puts women's lives in danger, because nobody challenged existing provision of Polish law to rescue endangered life and health of the mother, even when it leads to the death of their unborn child." Echoing other governmental and anti-abortion voices, he stressed that in his eyes there was no connection between Izabela's death and the new abortion restrictions, instead putting the blame on doctors.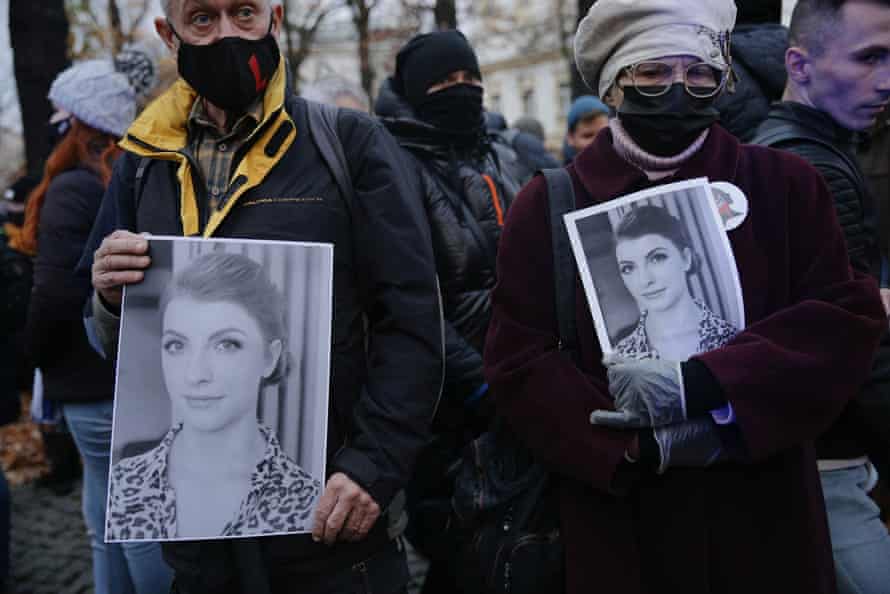 But Izabela's death horrified the country and sparked fresh protests. It may have proved a turning point. Several polls have found the majority of people in the country oppose the 21 January ruling.
Even those who are not pro-choice resent what they see as the Roman Catholic church overstepping the mark by creating political pressure for a ban, says Aleks Szczerbiak, professor of politics at Sussex University. "About 40% of people in Poland still attend weekly mass, but that is not to suggest they are happy for the church to have more control of their lives," says Szczerbiak. He believes the change in law may have shifted perceptions of the issue in Polish politics.
Ferenc echoes this. "We thought there was no political chance to change [the law around abortion]. The paradox is that it has changed for the worse, but that means we have a chance to liberalise the law too," she says.
A pro-choice citizen's bill calling for abortion to be made fully available is gaining momentum. "We had an older gentleman come in whose wife told him to print the form from the internet and he got his friends to sign it, and then he came to deliver his 10 signatures," says Lempart from her office on Wiejska Street, a few doors down from the Polish parliament. "Before, initiatives to collect signatures were mostly organised by groups and political parties. Now, I'd say 60% is just individuals collecting signatures."
Organisers say the citizen's bill has reached the 100,000 signatures needed for official recognition and more signatures are coming in every day.
Sign up for Her Stage to hear directly from incredible women in the developing world on the issues that matter to them, delivered to your inbox monthly:
Bukele places personal secretary as interim president as he runs for reelection in El Salvador | International
President Nayib Bukele will focus in the coming months on a reelection campaign, despite the fact that a consecutive term is expressly prohibited by the Constitution of El Salvador. Last Thursday, El Salvador's Congress granted the controversial and popular president leave for six months so that he could begin his race for the presidency. The request was approved by 67 of the 84 deputies in Congress.
Bukele's reelection bid was given the green light in September 2021, when the Constitutional Chamber of the Supreme Court elaborated an interpretation of the text that allows a sitting president to participate in the elections if he is on leave from office at least six months before the vote. Honduran leader Juan Orlando Hernández and Nicaraguan President Daniel Ortega used similar moves to remain in power. The Salvadoran Supreme Court — whose members were handpicked by Bukele — made the decision even though at least five articles of the country's Constitution ban consecutive terms.
Bukele has ignored the calls to respect the Constitution and launched a reelection campaign amid soaring approval ratings. Under the president's controversial state of exception, gang violence has fallen to widespread approval. This is despite the multiple reports of human rights violations in prisons, arbitrary detentions and short-term forced disappearances.
The six-month leave granted to Bukele was the last requirement the president needed in order to begin campaigning for the February 4 elections. The president has the justice system and the polls on his side, and is also facing an opposition that is weighed down by corruption cases and has little popular support. "The infamous event that took place yesterday [on Thursday, November 30] constitute a triple constitutional fraud. The perpetrators have simulated formal compliance with constitutional norms while violating others that prohibit re-election, leaving presidential office and those that regulate the appointment and function of presidential appointees," said the Salvadoran civil movement SUMAR in a statement.
"There is no president in El Salvador"
Bukele will be joined on the campaign trail by his vice president Félix Ulloa, who is also seeking re-election. According to the Constitution, Bukele had to present a shortlist of candidates to replace him during his six-month leave, but he only proposed one person: Claudia Juana Rodríguez de Guevara, his private secretary who overseees his financial activities.
"She is not a politician, she is the custodian of the president's businesses," Ricardo Vaquerano, one of the most prominent investigative journalists in El Salvador, told EL PAÍS. "Claudia Juana worked first in the accounting area, and then in the financial area, of Obermet, the Bukele family's advertising company. Once Nayib launched her political career, she was in charge of finances for the mayor's office of Nuevo Cuscatlán, where Nayib was first mayor in 2015. She then assumed the mayor's office of San Salvador, the capital, where she became treasurer… and when Nayib became president, she became the financial director of the presidency."
Vaquerano points out that Rodríguez Guevara was finance secretary of Bukele's Nuevas Ideas (New Ideas) party. "It is the president's party and this is a party that has not been transparent about absolutely anything, despite the fact that the law mandates that the origin of financing be transparent," the journalist added. The interim president of El Salvador holds multiple positions, including the presidency of the Board of Directors of the National Directorate of Municipal Works (DOM).
"The DOM is an institution that was created two years ago to direct to Rodríguez de Guevara all the money that was previously delivered to the municipalities from the general budget of the nation. This year, the DOM should have at least around $680 million to do its work, but it is also closed to public scrutiny," said Vaquero, who argued that Bukele appointed Rodríguez de Guevara to that body as she is in charge of the president's finances. The journalist points out that in 2020 the Attorney General's Office received 12 reports from the Anti-Corruption Commission on the irregular use of more than $150 million of funds under the umbrella of the funds to address the Covid-19 pandemic.
Despite the criticism, the deputies approved the interim term of Rodríguez de Guevara, who is the first woman to occupy the presidency of El Salvador. "Claudia Juana Rodríguez de Guevara is elected as designated by the President of the Republic, for the current presidential period, which ends on May 31, 2024," stated the approved decree.
Vaquerano argues that the appointment of Bukele's secretary does not comply with the Constitution. "Every person who is going to act as president must go through Congress, and this lady did not even run for Congress. So there is no president in El Salvador at this moment," he said.
Bukele maintains presidential immunity
Vaquerano also argues that Bukele has an "unfair" advantage in the election, as he will retain presidential immunity during the six-month leave. The journalist explains that Bukele controls the justice system and the prosecutor's office, so it is unlikely that he will be punished if he slanders other presidential hopefuls.
"The state media will reproduce everything he says during the campaign. This is also a huge advantage for Nayib," added Vaquero. "Bukele made it clear on a national network about three days ago that, although it is true that he will leave the presidency, he will 'be watching them.' Bukele is not leaving, he is pretending to leave, but he will continue to maintain control and remain close with key officials."
Vaquerano adds that the State Intelligence Agency and police intelligence warned that the Bukele government has used the Israeli software Pegasus to spy on opponents, its own deputies, academics and critical journalists in El Salvador. "He can find out what his opponents are up to, what they are doing, what the political parties that are going to compete in 2024 are planning," said the journalist. "If we add to that the fact that he has iron control over the prosecutor's office, police and judicial body, he has everything he needs to intimidate them."
Sign up for our weekly newsletter to get more English-language news coverage from EL PAÍS USA Edition
Kyiv investigates allegations Russian forces shot surrendering Ukrainian soldiers | International
Ukrainian officials on Sunday launched an investigation into allegations that Russian forces killed surrendering Ukrainian soldiers — a war crime if confirmed — after grainy footage on social media appeared to show two uniformed men being shot at close range after emerging from a dugout.
The video shows the servicemen, one of them with his hands up, walking out at gunpoint and lying down on the ground before a group of Russian troops appears to open fire. It was not immediately possible to verify the video's authenticity or the circumstances in which it was filmed, and it was unclear when the incident took place.
The Ukrainian General Prosecutor's office on Sunday launched a criminal investigation, hours after the Ukrainian military's press office said in an online statement that the footage is genuine.
"The video shows a group in Russian uniforms shooting, at point-blank range, two unarmed servicemen in the uniform of the Armed Forces of Ukraine who were surrendering," the prosecutor's office said in a Telegram update on Sunday.
The Russian defense ministry did not immediately respond to an emailed request for comment. As of Sunday evening, there were no public statements from the Russian government or military on the video.
Kyiv, its Western allies and international human rights organizations have repeatedly accused Moscow of breaching international humanitarian law since it launched its full-scale invasion of Ukraine in February 2022. The Kremlin denies these allegations.
The video first appeared Saturday on DeepState, a popular Ukrainian Telegram channel covering the war. The post claimed the footage came from the front lines near Avdiivka, a Ukrainian holdout in the country's part-occupied east, where there has been fierce fighting in recent weeks.
The General Prosecutor's Office on Sunday said that the alleged killing took place in the Pokrovsk district, which includes Avdiivka and surrounding areas.
"It's clear from the video that the Ukrainian servicemen are taking the necessary steps that show they are surrendering," Ukraine's human rights chief, Dmytro Lubinets, said hours after the footage emerged on Saturday.
In a statement posted to Telegram, Lubinets described the incident as "yet another glaring example of Russia's violations of international humanitarian law."
Oleksandr Shtupun, a spokesperson for the Ukrainian military grouping that is fighting near Avdiivka, was cited by Ukrainian media as saying the video was "glaring confirmation" of Moscow's disrespect for the laws of war.
In March, footage of a man exclaiming "Glory to Ukraine" before being gunned down in a wooded area sparked national outcry in Ukraine, as senior officials alleged that he was an unarmed prisoner of war killed by Russian soldiers.
Last summer, Kyiv and Moscow also traded blame for a shelling attack on a prison in occupied eastern Ukraine that killed dozens of Ukrainian POWs. Both sides claimed the assault on the facility in Olenivka was aimed at covering up atrocities, with Ukrainian officials charging captive soldiers had been tortured and executed there.
The U.N.'s human rights chief in July rejected Moscow's claim that a rocket strike had caused the blast.
Also on Sunday, Ukraine's energy ministry reported that close to 1,000 towns and villages suffered power outages that day, with hundreds of settlements in the west battered by wintry weather and others affected by ongoing fighting.
The Institute for the Study of War, a Washington-based think tank, late on Saturday assessed that military operations have slowed down all along the frontline in Ukraine due to poor weather, with mud bogging down tracked vehicles and making it hard for lighter equipment and infantry to advance.
Even so, Shtupun, of Ukraine's Tavria military command that oversees the stretch of frontline near Avdiivka, said in a separate statement Sunday that Russian infantry attacks had intensified in the area over the past day. In a Telegram post, he insisted Ukrainian troops were "holding firm" in Avdiivka and another nearby town.
In the southern Ukrainian city of Kherson, at least two people died and seven more were wounded after Russian forces on Sunday shelled a high-rise apartment block and other civilian buildings, the head of the city's military administration said in a series of Telegram posts.
One of the updates by Roman Mrochko featured a blurred photo of what he said was the body of a deceased civilian, apparently lying on a dirt road or in a yard outside the high-rise. The photo's authenticity could not be independently verified.
Regional Gov. Oleksandr Prokudin separately reported on Sunday that Russian shelling that day damaged two of Kherson's hospitals. He did not immediately reference any casualties.
Earlier in the day, a 78-year-old civilian died in a village northeast of Kherson after Russian shells slammed into his garage, according to a Telegram update by the regional Ukrainian military administration.
Sign up for our weekly newsletter to get more English-language news coverage from EL PAÍS USA Edition
Open Source Software (OSS) Supply Chain, Security Risks And Countermeasures
OSS Security Risks And Countermeasures
The software development landscape increasingly hinges on open source components, significantly aiding continuous integration, DevOps practices, and daily updates. Last year, Synopsys discovered that 97% of codebases in 2022 incorporated open source, with specific sectors like computer hardware, cybersecurity, energy, and the Internet of Things (IoT) reaching 100% OSS integration.
While leveraging open source enhances efficiency, cost-effectiveness, and developer productivity, it inadvertently paves a path for threat actors seeking to exploit the software supply chain. Enterprises often lack visibility into their software contents due to complex involvement from multiple sources, raising concerns highlighted in VMware's report last year. Issues include reliance on communities to patch vulnerabilities and associated security risks.
Raza Qadri, founder of Vibertron Technologies, emphasizes OSS's pivotal role in critical infrastructure but underscores the shock experienced by developers and executives regarding their applications' OSS contribution. Notably, Qadri cites that 95% of vulnerabilities surface in "transitive main dependencies," indirectly added open source packages.
Qadri also acknowledges developers' long-standing use of open source. However, recent years have witnessed heightened awareness, not just among developers but also among attackers. Malware attacks targeting the software supply chain have surged, as demonstrated in significant breaches like SolarWinds, Kaseya, and the Log4j exploit.
Log4j's widespread use exemplifies the consolidation of risk linked to extensively employed components. This popular Java-based logging tool's vulnerabilities showcase the systemic dependency on widely used software components, posing significant threats if exploited by attackers.
Moreover, injection of malware into repositories like GitHub, PyPI, and NPM has emerged as a growing threat. Cybercriminals generate malicious versions of popular code to deceive developers, exploiting vulnerabilities when components are downloaded, often without the developers' knowledge.
Despite OSS's security risks, its transparency and visibility compared to commercial software offer certain advantages. Qadri points out the swift response to Log4j vulnerabilities as an example, highlighting OSS's collaborative nature.
Efforts to fortify software supply chain security are underway, buoyed by multi-vendor frameworks, vulnerability tracking tools, and cybersecurity products. However, additional steps, such as enforcing recalls for defective OSS components and implementing component-level firewalls akin to packet-level firewalls, are necessary to fortify defenses and mitigate malicious attacks.
Qadri underscores the need for a holistic approach involving software bills of materials (SBOMs) coupled with firewall-like capabilities to ensure a comprehensive understanding of software contents and preemptive measures against malicious threats.
As the software supply chain faces ongoing vulnerabilities and attacks, concerted efforts are imperative to bolster security measures, safeguard against threats, and fortify the foundational aspects of open source components.
---
We Can't Thank You Enough For Your Support!
— By John Elf | Science, Technology & Business contributor VoiceOfEU.com Digital
— For more information: info@VoiceOfEU.com
— Anonymous news submissions: press@VoiceOfEU.com
---