De Klerk seeks accountability. What about his own? | Global development
South Africans don't give much thought to FW de Klerk these days. Like Mikhail Gorbachev, his fellow Nobel peace laureate, the last apartheid president is more highly regarded outside his own country than in it.
But some South Africans were taken aback to see De Klerk putting himself forward in a Guardian article on 10 March as an advocate of protecting women from violence and asserting that "holding perpetrators accountable, irrespective of how long ago the crime was committed, is essential to stamping out impunity and preventing future atrocities".
This from a man who promoted a system that wrecked the lives of millions of black women and who has consistently denied responsibility for gross human rights violations, despite damning findings to the contrary by South Africa's Truth and Reconciliation Commission (TRC).
De Klerk, whose foundation revealed on Friday that he is being treated for mesothelioma, has spent decades nurturing the popular view around the globe of a courageous leader who released Nelson Mandela from prison and negotiated a peaceful transition to democracy. Key to this version of history is De Klerk's generalised apologies for the pain inflicted by apartheid without accepting personal responsibility.
South Africans, who lived through the complexity of those years, are less prone to buy into that narrow framing of history. Many remain sceptical of De Klerk's claims to regret apartheid, not least because he continues to diminish its depravity. Only last year, he was forced to backtrack after claiming that apartheid was not a crime against humanity – even though the UN has long said it was – because he claimed it caused relatively few deaths and was not on a level with genocide. A few years earlier he argued that racial segregation was well intentioned, if unworkable.
But De Klerk, who turned 85 a few days ago, is facing renewed scrutiny over his record amid growing pressure for him and other apartheid-era leaders to finally face justice.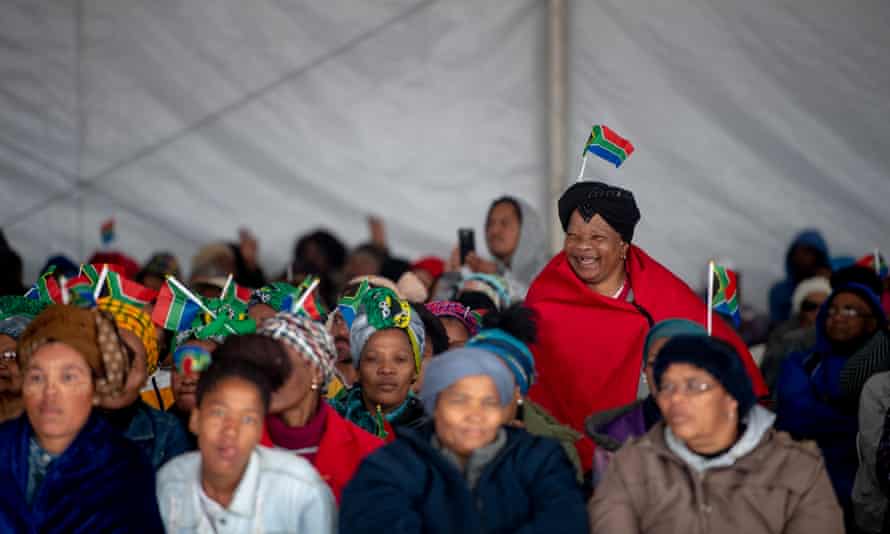 Howard Varney, a lawyer and investigator who drew up the questions put to De Klerk at the TRC hearings, scoffed at his call for "holding perpetrators accountable".
"Those words are just dripping with irony because they apply to him more than most South Africans. He has yet to face up to the past and acknowledge that past. He played his role in trying to suppress the past and promote impunity for those involved in very serious crimes, including crimes against women," said Varney. "So when he says that impunity is not acceptable, it has to start with people like him. It has to start with people at the top."
A former TRC commissioner, Yasmin Sooka, criticised De Klerk because he has "consistently refused to accept any responsibility for the gross human rights violations committed under his watch, or the crime of apartheid".
"De Klerk has been allowed for far too long to maintain the narrative of denial," she said.
At TRC hearings in the late 1990s, the former South African leader acknowledged that torture, murder, rape and other crimes were committed against anti-apartheid activists. But he blamed them on rogue operations without official approval. Varney describes De Klerk's submission to the TRC as "sickening"
"He tries to have it both ways," Varney said. "He admits lots of illegal detentions, torture and killings took place. But he says it was nothing to do with the people at the top."
Minutes from meetings of the powerful apartheid-era State Security Council (SSC) show that cabinet ministers and security officials used phrases such as "shortening the list of politically sensitive individuals by means other than detention" in discussing how to deal with anti-apartheid activists. De Klerk, who sat on the SSC, claimed those words had no sinister intent and were misinterpreted by the security forces as instructions to kill.
In 1984, a military commander, General Joffel van der Westhuizen, sent a request to the SSC to "remove permanently from society as a matter of urgency" Matthew Goniwe, a black teacher in the Eastern Cape described by security forces as "at the forefront of a revolutionary attack against the state".
The minister of black education, Barend du Plessis, spoke in favour, using an Afrikaans word verwyder, or remove, which a judge later concluded amounted to a "death warrant". The meeting approved the decision. De Klerk attended as internal affairs minister.
Goniwe and three other men, who became known as the Cradock Four, were stopped at a roadblock by Security Branch police officers and beaten, strangled with telephone wire, stabbed and shot to death.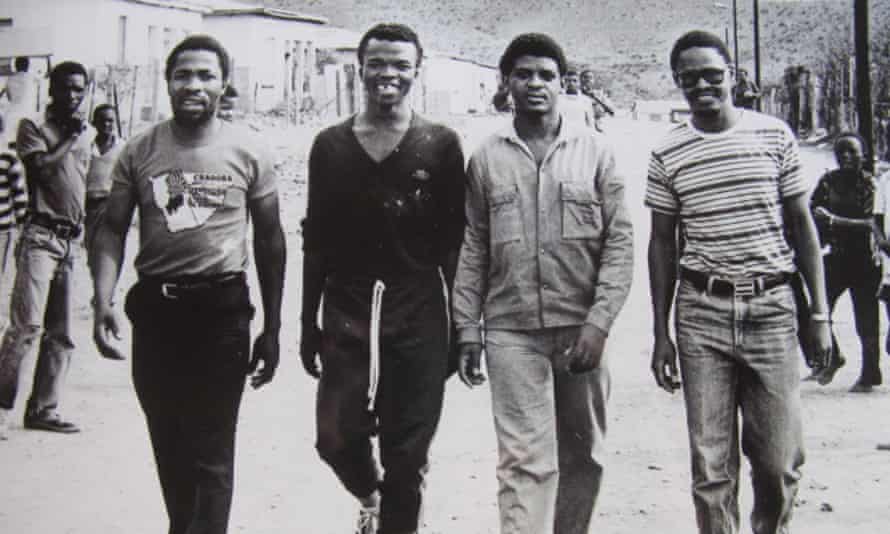 In 1999, De Klerk told the Guardian that the meeting had merely decided to move Goniwe to another teaching post away from the town of Cradock. Sceptics scoffed at the idea the security council spent its time discussing where to deploy black teachers. They also noted that Van der Westhuizen thought it appropriate to seek approval for political killings from the SSC.
De Klerk refused to answer questions about these cases at the TRC, banged the table and then accused the commissioners of bias against him before storming out. The commission concluded that members of the SSC at the very least set the agenda for security force hit squads.
"The commission's view is that they must have foreseen that security police and South African Defence Force operatives would interpret expressions such as 'take out', 'wipe out', 'eradicate' and 'eliminate' as meaning 'kill'," the TRC concluded. "The commission rejects attempts by politicians to phrase instructions in a way that causes their subordinates to take responsibility for acts of which the politicians are the intellectual authors."
De Klerk was also party to the establishment of a covert paramilitary force, trained and equipped by the army, responsible for violence unleashed against anti-apartheid activists from the mid-1980s.
"Those years, particularly the years from the release of Nelson Mandela all the way through to elections in April 1994, were the bloodiest years of South Africa's modern history," said Varney.
The TRC said De Klerk falsely claimed not to have been told about the 1988 bombing of the South African Council of Churches headquarters in Johannesburg, a centre of anti-apartheid activity, even though he was at a meeting when the then president, PW Botha, congratulated the minister of law and order for the attack.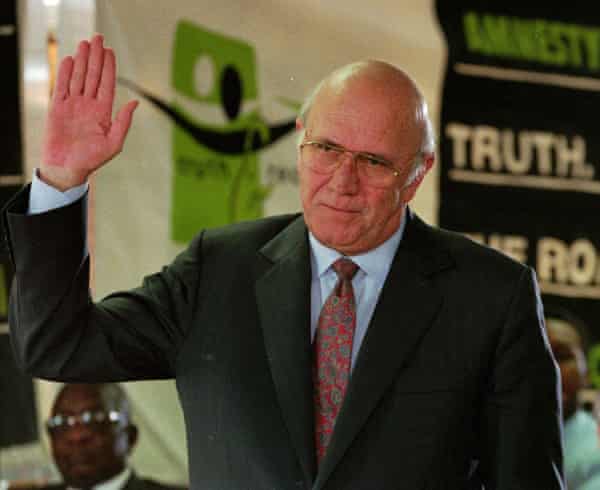 Even if De Klerk was not the most culpable of the apartheid-era politicians, the TRC said he was "an accessory to the commission of gross human rights violations" and that he "contributed to creating a culture of impunity within which gross human rights violations were committed".
Only one member of the apartheid government, the former law and order minister Adriaan Vlok, who was responsible for the South African Council of Churches bombing, has repented and admitted his crimes. He was reported to have implicated De Klerk in sealed submissions to prosecutors. In 2014, Vlok called for others to come forward and apologise for their actions.
So how has De Klerk managed to sidestep accountability for so long and maintain his reputation around the world? In part by mischaracterising the TRC's report to claim that it cleared him. That outrages Sooka, the former truth commissioner.
"Both De Klerk and his foundation have continued to suggest that the TRC effectively exonerated him. This is patently false," she said. "The TRC examined the responsibility of De Klerk and his colleagues through the lens of domestic criminal law, concluding that, at the very least, the SSC's members were 'politically and morally accountable for the deaths that occurred'".
De Klerk has also benefited from what might be regarded as an unholy alliance between the former regime and the ruling African National Congress. The TRC was empowered to offer amnesty from prosecution to those who confessed their crimes and told the truth. Its hearings provided an important venue for South Africans to voice their suffering and discover the fate of murdered and disappeared loved ones as a step towards healing the nation.
Surveys by the Institute for Justice and Reconciliation found that two-thirds of South Africans thought the TRC's hearings were a good foundation for reconciliation. But only a third said the government had done enough to prosecute perpetrators of human rights abuses.
That is in part because successive post-apartheid governments have had no appetite for going after political and security chiefs of the defunct white regime for fear that ANC officials would also be open to prosecution for some of the liberation movement's crimes, including bombings of civilians and torture.
Sooka and others are trying to change that. Among those she would like to see finally held to account is De Klerk for lying to the TRC and "for having command and superior responsibility for the crimes perpetrated by the apartheid state".
"Given his senior role in the SSC, there are reasonable grounds to believe that, based on the TRC's findings and the doctrine of superior responsibility, De Klerk has a case to answer under international criminal law for acts committed pursuant to the SSC's orders that constitute crimes against humanity, and domestically, as these international crimes remain prosecutable under South African law today," she said.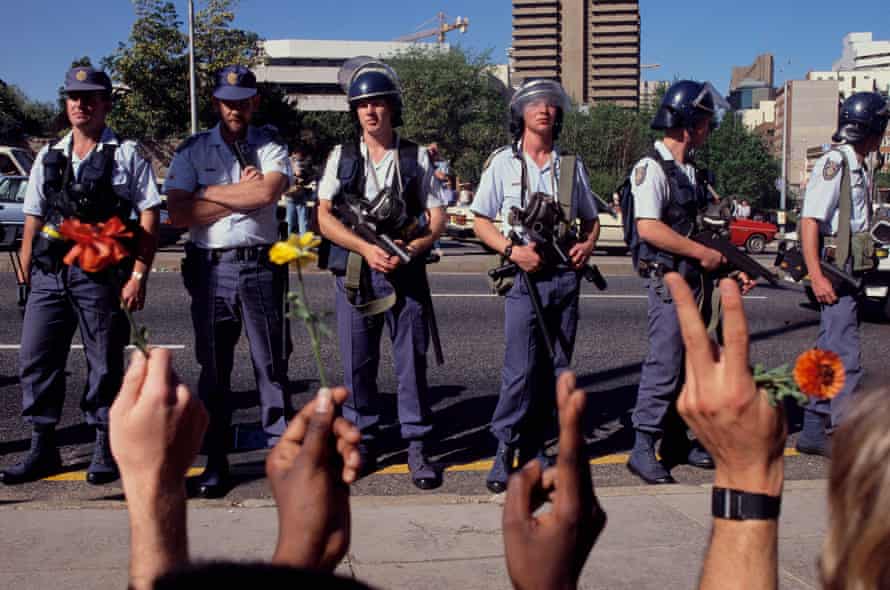 Among those demanding accountability at last are relatives of the Cradock Four. Lukhanyo Calata, the son of one of the murdered men, has accused the ANC of political interference to subvert an investigation and prosecution of those responsible, including De Klerk.
Calata has also sought to hold De Klerk accountable on the world stage. Last year, the American Bar Association was forced to withdraw an invitation to South Africa's former president to give an address on minority rights, social change and racism after Calata accused De Klerk of complicity in his father's killing and questioned why the association thought the white former leader of the apartheid government was the right person to speak about racial justice.
The FW de Klerk Foundation described the cancellation of the speech as "symptomatic of a growing threat to liberal values everywhere".
Chris McGreal was based in Johannesburg for the Guardian during the transition from apartheid
Unit 29155: Russian spy detected in Catalonia accused of poisoning Bulgarian arms dealer | International
The public prosecutor in the Bulgarian capital of Sofia has accused General Denis Sergeev – a Russian spy who traveled to Barcelona two days before the October 1, 2017 unauthorized referendum on Catalan independence – of the attempted murder of Bulgarian arms dealer Emilian Gebrev, his son Hristo Gebrev, and an executive of Gebrev's company Emco Odd, according to intelligence sources consulted by EL PAÍS.
The three victims were poisoned after coming into contact with a chemical agent. Emilian Gebrev suffered hallucinations, vomiting and fell into a coma, remaining in hospital for three weeks. The incident took place in Sofia between April 28 and May 4, 2015, according to sources from Sofia's public prosecutor.
Gebrev began to feel unwell, four days after Sergeev arrived in Bulgaria
In January this year, the public prosecutor accused three Russian citizens of the attempted murder, but did not reveal their names. A spokesperson from the organization told EL PAÍS that the secrecy was justified given that the country's laws prohibit information being revealed from an ongoing investigation.
The Sofia public prosecutor subsequently issued three European arrest warrants and international arrest warrants with the International Criminal Police Organization (Interpol) in an effort to extradite the three accused Russians to Bulgaria, where they are facing charges of premeditated attempted murder.
Spanish police sources maintain that Sergeev is also wanted in at least two other countries where his presence has been detected.
The Sofia public prosecutor began to suspect Sergeev's involvement in the poisoning after reviewing security camera footage of an underground car park from April 28, 2015. The video, which lasts two minutes, shows a man approaching a vehicle. According to the public prosecutor, "an FBI laboratory was tasked with doing an expert study to identify the person implicated in the crime."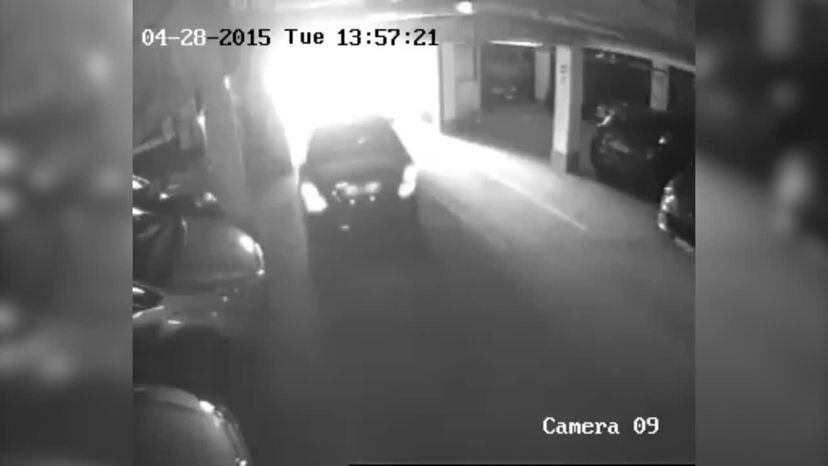 Security camera footage of the underground car park.
Dressed in a hat and gloves, the figure in the video loiters near the car of one of the victims. Investigators believe that the suspect applied a chemical agent to the vehicle in an effort to kill the arms dealer Emilian Gebrev.
Sergeev uses the false name Sergey Fedotov, and has been connected to dozens of destabilization operations in Europe and Asia. The agent, who is linked to the elite Russian military unit known as "Unit 29155," is also on the radar of Spanish investigators. Last year, Judge Manuel García-Castellón of Spain's High Court, the Audiencia Nacional, opened a sealed probe into the role the spy played while he was in Barcelona. As this newspaper revealed, Sergeev traveled to the Catalan capital on at least two occasions – on November 5, 2016 and on September 29, 2017, just days before the illegal referendum on Catalan independence.
According to the investigative website Bellingcat, with which EL PAÍS collaborates, eight agents from Russia's Main Intelligence Directorate (GRU, as it is known in Russian by its initials) were involved in the attempted murder of Gebrev, his son and the head of the Emco Odd production department. The Russian spies had traveled to Bulgaria using false names during the period in which the victims were poisoned.
At the end of April, 2015, Sergeev and his colleague Georgy Gorshkov arrived as tourists at a hotel complex in the city of Burgas, on the coast of the Black Sea. Another spy from the unit, Sergey Pavlov, arrived the same day in Sofia.
Four days after the Russians arrived, Gebrev began to feel unwell. The arms dealer initially thought he was suffering from tiredness and the flu, but he then began to feel a burning sensation, dizziness and blurred vision. He was taken to a military hospital in Sofia, where he fell into a coma. His son Hristo and the Emco Odd business executive also fell ill, and were taken to the same hospital, where the three remained for more than three weeks.
A month after being admitted to hospital, Gebrev and his son began having the same symptoms. According to Bellingcat, a urine test revealed that their bodies contained traces of two organophosphates, a toxic substance linked to pesticides.
According to 'The New York Times,' Unit 29155 is working to destabilize Europe
Sergeev and Gorshkov left Bulgaria the day after the first poisoning attempt. They flew first to the Istanbul Atatürk Airport in Turkey and then to Moscow. Pavlov returned to the Russian capital on a direct flight.
When former Russian spy Sergey Skripal and his daughter Yulia were poisoned in the United Kingdom with the nerve agent Novichok in March, 2018 – an operation Western intelligence services attribute to Unit 29155 – Gebrev noted similarities between their symptoms and those he had experienced in 2015.
Although Gebrev's company Emco Odd exported weapons to Georgia during its war with Russia in 2018, the arms dealer told Bellingcat that this was not why he was targeted by the Russian spying unit. According to Gebrev, his company sold less than 10% of all the weapons sold to Georgia by Bulgarian firms.
Another hypothesis from Bellingcat links the attempted poisoning to a power struggle between Bulgarian oligarchs. Gebrev told the investigative journalist network that he did not export weapons to Ukraine, which has been in conflict with Russia since 2014.
Western intelligence services connect 20 agents from Unit 29155 to the assassination of a Georgian citizen of Chechen origin in Berlin in August, 2019. The unit is also linked with the failed coup in Montenegro in 2016, which included a plan to assassinate the prime minister and a destabilization campaign in Moldova.
In October of last year, The New York Times reported that Unit 29155 is part of a hybrid war orchestrated by the Russian government that mixes military confrontation with propaganda, hacking and disinformation. According to the newspaper, the members of the unit are working to destabilize Europe, and are trained in operations of subversion, sabotage and assassination.
English version by Melissa Kitson.
Giulio Regeni's last messages before his death in Egypt counter spy claims | Global development
The Facebook messages written by the Cambridge student Giulio Regeni in the weeks leading up to his murder give the lie to any notion he was a spy or political agitator.
Even before he left England, Regeni was concerned about the risks he might face doing his thesis on trade unions in Egypt, a sensitive subject in the country.
But the 28-year-old thought the worst that could happen would be for him to be deported before he could finish his research.
Instead, he was snatched off the street and tortured and his semi-naked body dumped by the roadside in a brutal killing for which four Egyptian security officials are due to stand trial in Italy in October.
"Egypt is in a difficult state right now," he wrote before leaving for Cairo, in messages shared with the Guardian by his friend. "The dictatorship is back and until recently it wasn't clear how brutal it was going to become. It seems that it's 'stabilising' now … this state of affairs is very precarious."
Enforced disappearances are a daily occurrence under Egypt's hardline president, Abdel Fatah al-Sisi. Last year, the country's human rights commission reported 2,723 enforced disappearances in the past five years, some of whom were tortured and shot.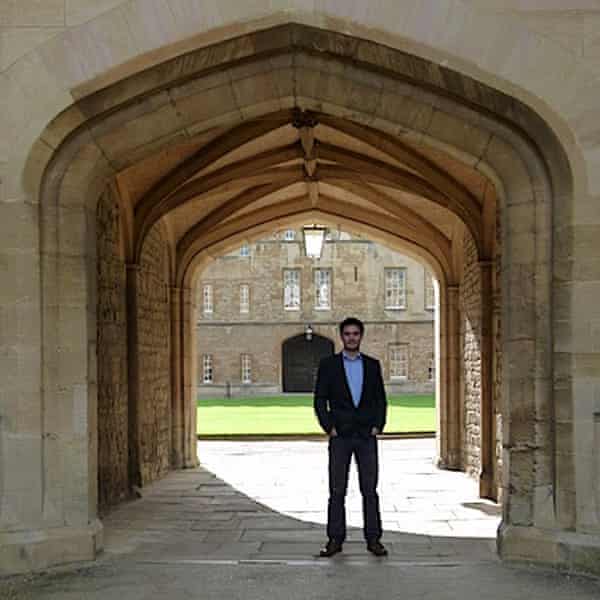 Regeni is unusual because he was a foreigner, an Italian PhD student at Girton College who moved to Cairo in September 2015 to work on a development studies thesis about independent trade unions.
It was a touchy subject in a country that had seen a huge rise in worker representation during the Arab spring, which swept Mohamed Morsi, the Muslim Brotherhood leader, to power in 2012.
Twelve months later, Morsi was toppled in a coup that eventually installed the former general, Sisi, as the country's leader, in a return to military rule.
Regeni, who had previously studied Arabic and politics at Leeds University, decided to research his thesis in Cairo from September 2015 to March 2016, with a two-week break at home with his family for Christmas in Fiumicello, north-east Italy.
In October, a month after his arrival, he described trade unions as "the only remaining force in civil society".
He concentrated on the street vendors, of whom there were about 6 million, who had set up a union to combat government crackdowns. Regeni said the situation in Cairo was "depressing, but not manic like 2013".
"This doesn't feel like it's going to be another 30 years," he added, in reference to the length of rule of the previous army leader, Hosni Mubarak.
But things took a worrying turn when, at a meeting of union activists, Regeni spotted a veiled young woman taking his picture on her phone, which made him fear he was under surveillance.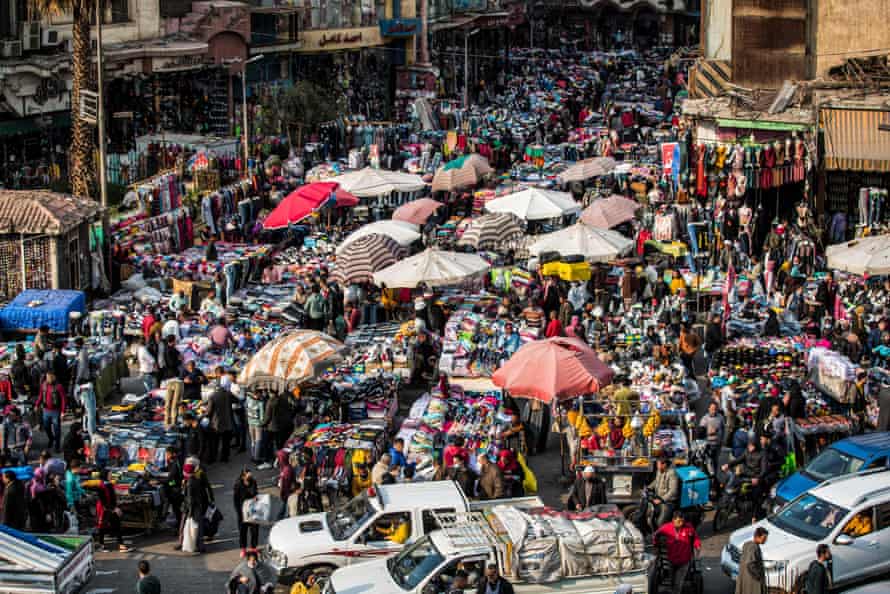 He was also getting irritated by vendors hassling him for mobile phones and the head of their union asking for money for family medical bills. When the student said he could not help, Mohamed Abdallah reported him to police, later claiming he thought he was a spy.
In one of his last Facebook messages, Regeni asked for help with his English in a paper he had written.
Five days later he was snatched off the street on his way to an evening out.
Nine days after that his body was found, dumped on the side of the Cairo-Alexandria highway. He had been tortured; beaten, burned and stabbed before his neck was broken after he was struck from behind with a heavy, blunt object.
His injuries were so severe that when his mother, Paola, saw his body she could only recognise him from the "tip of his nose".
What followed was an apparent cover-up by the authorities. President Sisi, in an interview with the Italian newspaper, La Repubblica, vowed to track down the culprits. Instead it was then claimed there had been a robbery by a gang, all now dead.
But Italian investigators discovered phone records that showed the leader of the gang – all killed in a police shootout – was not even in Cairo at the time Regeni disappeared. They concluded the student's identity documents had been planted at one of their addresses.
In large part due to eyewitnesses coming forward to say they saw Regeni being interrogated at the National Security Agency headquarters, an Italian judge last month said the four senior Egyptian security officials should stand trial. Gen Tariq Sabir, Col Usham Helmi, Col Athar Kamel Mohamed Ibrahim and Maj Magdi Ibrahim Abdelal Sharif face charges of aggravated kidnapping. Sharif is also being accused of conspiracy to commit murder.
Egypt has closed the case and refuses to extradite the suspects to Italy, so the trial will go ahead without them.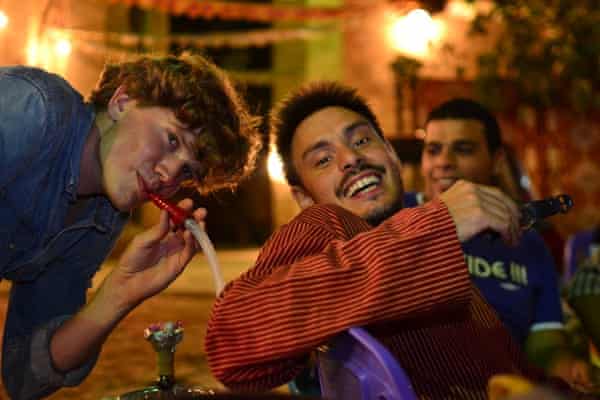 Johannes Svensson shared a flat in Cairo with Regeni while he was working for a UN agency in 2013, at the time Morsi was overthrown.
"He was interested in how this group of street vendors, who you might suspect are quite weak, organises itself in an efficient way and manages to have some political leverage."
Regeni was an academic, not a political agitator, says Svensson.
In fact, he described Regeni as the "cautious" one when they were together on the streets in July 2013 to witness the celebrations after Morsi's overthrow.
Since his death, Regeni has become a martyr – or shahid – for the disappeared in Sisi's Egypt.
"That's why there's graffiti of him in Cairo," says Regeni's anonymous Facebook friend. "He is a representative figure of that."
to stop the war, talk to Iran
Yemen's foreign minister Ahmed Awad BinMubarak has a clear message to the European Union: to be united, and to talk to Iran, in order to achieve peace in Yemen.
"I ask the EU to use all the leverage it has to give a message to the Houthis and Iran," BinMubarak said in an interview with EUobserver.
What that message should be, is accepting the UN's proposed deal for a ceasefire, reopening the airport in Yemen's capital Sanaa, reopening the seaport of Al Hudaydah and to restart political talks.
Yemen is going through critical days, as the Saudi-led coalition announced a halt to its military operations – in order to give negotiations by neighbouring Oman a chance.
Unverified sources say Oman may be close to reaching an agreement between the Saudi-supported coalition and the Iran-backed Houthi rebels to stop the fighting and let humanitarian aid into the country.
However, any ceasefire is still uncertain, as the Houthis raise the stakes before agreeing to their participation to new political talks.
On Sunday (13 June) a Houthi drone crashed into a school in Saudi Arabia, although without casualties.
"The international community always talks to [Iranian foreign minister Mohammad Javad] Zarif. He always says he supports peace," he said, adding that "the reality on the ground in Yemen is different, as there it is people from the Quds forces running the show."
BinMubarak also said that the Yemeni government has found ships full of arms being transported from Iran to the Houthis in Yemen.
Therefore, he concludes "Iran has the key. The EU should pressure the Houthis and Iran – without making a link to the nuclear deal."
Europe, the United States, Russia and China have been trying to reinstate the nuclear deal with Iran, the so-called Joint Comprehensive Plan of Action (JCPOA) by which Iran would not be able to go further with its nuclear arms programme.
Asked about the role of Saudi Arabia and the United Arab Emirates in the conflict, the Yemeni foreign minister said that they only entered the war after the Houthis entered Sanaa, the capital of Yemen.
Saudi Arabia has been accused of war crimes in Yemen by Human Rights Watch and other human rights organisations.
World's biggest humanitarian crisis
The war in Yemen, lasting more than six years now, has brought the country to total collapse.
According to Unicef, "Yemen is the largest humanitarian crisis in the world, with more than 24 million people – some 80 per cent of the population – in need of humanitarian assistance, including more than 12 million children."
More than four million people have fled their homes, and are mostly displaced inside the country.
According to the United Nations High Commissioner for Refugees "approximately 66 percent of IDPs [internally-displaced people] in Yemen live in dangerous locations, characterised by widespread food insecurity and lack of water, healthcare and sanitation services."
"Their situation has become even more challenging since the onset of the COVID-19 pandemic and the threat of a looming famine in the country," the UN agency says.
Despite this tragic situation, Yemen itself is still hosting more than 135,000 refugees from Somalia and Ethiopia.
Crisis 'man-made'
BinMubarak told EUobserver he was visiting Brussels to correct some wrong perceptions about the war in Yemen.
"The conflict in Yemen is not one between regional powers. Neither is it a sectarian war. Many in the EU forget the national factor in the conflict," he said.
"Also, the humanitarian crisis is not just a result of the war, it is man-made. As one of the most important contributors to humanitarian aid in Yemen, the EU should be more aware of this," he added.
The EU has funded Yemen with €648m in humanitarian aid since 2015, and €95m in 2021.
However, according to BinMubarak, the aid is not reaching the people that really need it. "80-percent of the aid comes through the port of Hudeida, controlled by the Houthi rebels. People who are suffering the most, don't receive anything."
"Therefore," he added, "we need fix the real problem. We have to break the circle. We need to end this war."
'We lived in their tents'
Since the Arab revolution in 2011, Yemen has ricocheted from one crisis to another.
The Arab Spring lead to the resignation of Ali Abdullah Saleh, president of North Yemen from 1978 to 1990, and president of Yemen from 1990 until 25 February 2012.
He was succeeded by his former vice-president, Abdrabbuh Mansur Hadi, following an agreement made at the National Dialogue Conference, held between March 2013 and January 2014.
BinMubarak himself was secretary-general of the National Dialogue Conference, arguing he knows the Houhtis well.
"We lived with them in the same tents at Tahrir Square during the uprising," he said.
According to BinMubarak, the Houthis were constructive during the national dialogue – but that has now changed, under the influence of Iran.
President Hadi, as well as the government of Yemen, lived in exile in Saudi Arabia, but since December 2020 operate out of Aden.