De Klerk seeks accountability. What about his own? | Global development
South Africans don't give much thought to FW de Klerk these days. Like Mikhail Gorbachev, his fellow Nobel peace laureate, the last apartheid president is more highly regarded outside his own country than in it.
But some South Africans were taken aback to see De Klerk putting himself forward in a Guardian article on 10 March as an advocate of protecting women from violence and asserting that "holding perpetrators accountable, irrespective of how long ago the crime was committed, is essential to stamping out impunity and preventing future atrocities".
This from a man who promoted a system that wrecked the lives of millions of black women and who has consistently denied responsibility for gross human rights violations, despite damning findings to the contrary by South Africa's Truth and Reconciliation Commission (TRC).
De Klerk, whose foundation revealed on Friday that he is being treated for mesothelioma, has spent decades nurturing the popular view around the globe of a courageous leader who released Nelson Mandela from prison and negotiated a peaceful transition to democracy. Key to this version of history is De Klerk's generalised apologies for the pain inflicted by apartheid without accepting personal responsibility.
South Africans, who lived through the complexity of those years, are less prone to buy into that narrow framing of history. Many remain sceptical of De Klerk's claims to regret apartheid, not least because he continues to diminish its depravity. Only last year, he was forced to backtrack after claiming that apartheid was not a crime against humanity – even though the UN has long said it was – because he claimed it caused relatively few deaths and was not on a level with genocide. A few years earlier he argued that racial segregation was well intentioned, if unworkable.
But De Klerk, who turned 85 a few days ago, is facing renewed scrutiny over his record amid growing pressure for him and other apartheid-era leaders to finally face justice.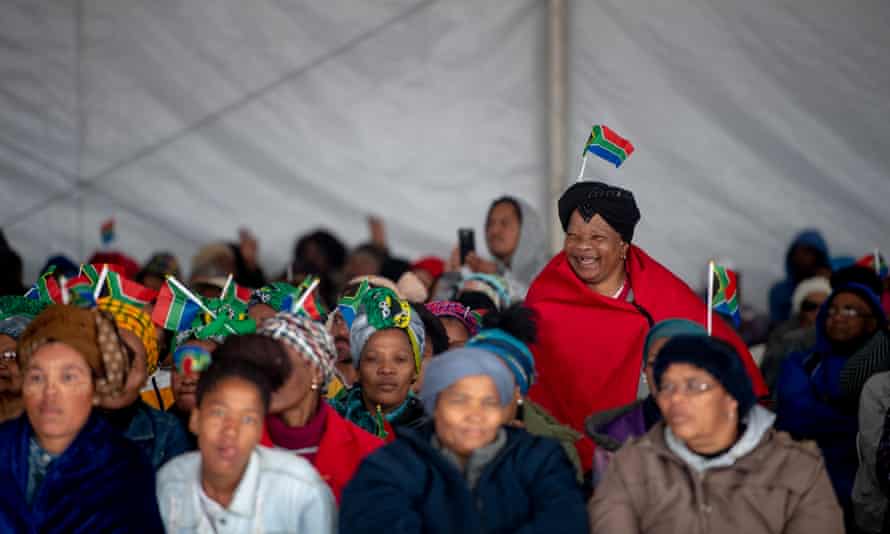 Howard Varney, a lawyer and investigator who drew up the questions put to De Klerk at the TRC hearings, scoffed at his call for "holding perpetrators accountable".
"Those words are just dripping with irony because they apply to him more than most South Africans. He has yet to face up to the past and acknowledge that past. He played his role in trying to suppress the past and promote impunity for those involved in very serious crimes, including crimes against women," said Varney. "So when he says that impunity is not acceptable, it has to start with people like him. It has to start with people at the top."
A former TRC commissioner, Yasmin Sooka, criticised De Klerk because he has "consistently refused to accept any responsibility for the gross human rights violations committed under his watch, or the crime of apartheid".
"De Klerk has been allowed for far too long to maintain the narrative of denial," she said.
At TRC hearings in the late 1990s, the former South African leader acknowledged that torture, murder, rape and other crimes were committed against anti-apartheid activists. But he blamed them on rogue operations without official approval. Varney describes De Klerk's submission to the TRC as "sickening"
"He tries to have it both ways," Varney said. "He admits lots of illegal detentions, torture and killings took place. But he says it was nothing to do with the people at the top."
Minutes from meetings of the powerful apartheid-era State Security Council (SSC) show that cabinet ministers and security officials used phrases such as "shortening the list of politically sensitive individuals by means other than detention" in discussing how to deal with anti-apartheid activists. De Klerk, who sat on the SSC, claimed those words had no sinister intent and were misinterpreted by the security forces as instructions to kill.
In 1984, a military commander, General Joffel van der Westhuizen, sent a request to the SSC to "remove permanently from society as a matter of urgency" Matthew Goniwe, a black teacher in the Eastern Cape described by security forces as "at the forefront of a revolutionary attack against the state".
The minister of black education, Barend du Plessis, spoke in favour, using an Afrikaans word verwyder, or remove, which a judge later concluded amounted to a "death warrant". The meeting approved the decision. De Klerk attended as internal affairs minister.
Goniwe and three other men, who became known as the Cradock Four, were stopped at a roadblock by Security Branch police officers and beaten, strangled with telephone wire, stabbed and shot to death.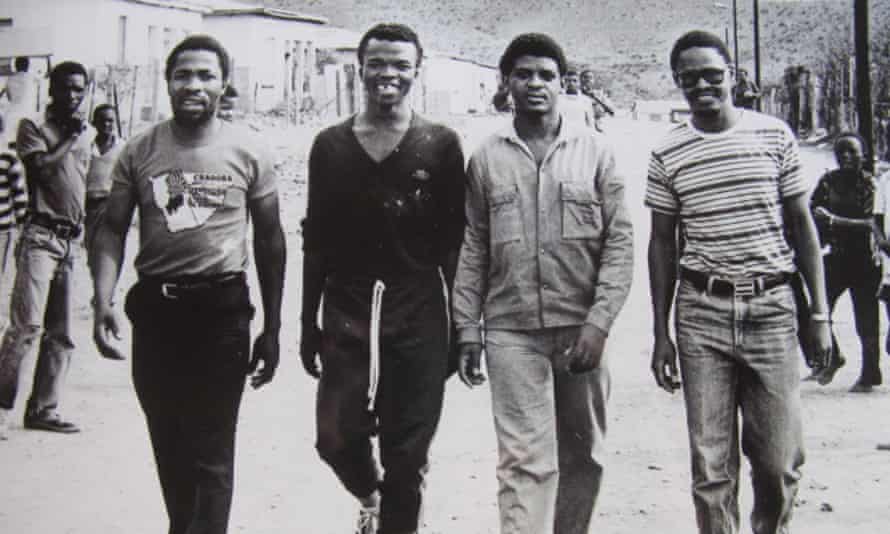 In 1999, De Klerk told the Guardian that the meeting had merely decided to move Goniwe to another teaching post away from the town of Cradock. Sceptics scoffed at the idea the security council spent its time discussing where to deploy black teachers. They also noted that Van der Westhuizen thought it appropriate to seek approval for political killings from the SSC.
De Klerk refused to answer questions about these cases at the TRC, banged the table and then accused the commissioners of bias against him before storming out. The commission concluded that members of the SSC at the very least set the agenda for security force hit squads.
"The commission's view is that they must have foreseen that security police and South African Defence Force operatives would interpret expressions such as 'take out', 'wipe out', 'eradicate' and 'eliminate' as meaning 'kill'," the TRC concluded. "The commission rejects attempts by politicians to phrase instructions in a way that causes their subordinates to take responsibility for acts of which the politicians are the intellectual authors."
De Klerk was also party to the establishment of a covert paramilitary force, trained and equipped by the army, responsible for violence unleashed against anti-apartheid activists from the mid-1980s.
"Those years, particularly the years from the release of Nelson Mandela all the way through to elections in April 1994, were the bloodiest years of South Africa's modern history," said Varney.
The TRC said De Klerk falsely claimed not to have been told about the 1988 bombing of the South African Council of Churches headquarters in Johannesburg, a centre of anti-apartheid activity, even though he was at a meeting when the then president, PW Botha, congratulated the minister of law and order for the attack.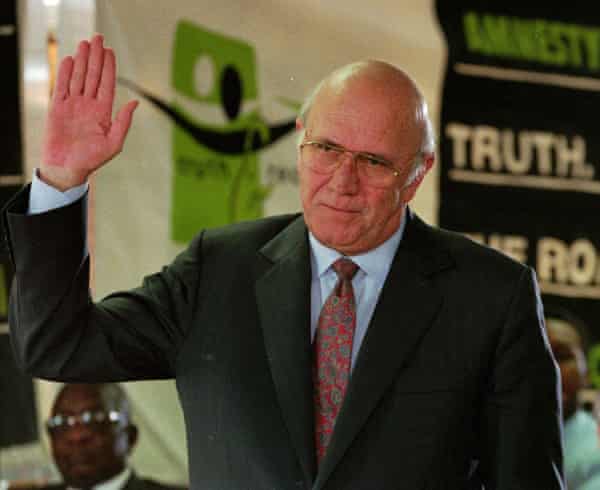 Even if De Klerk was not the most culpable of the apartheid-era politicians, the TRC said he was "an accessory to the commission of gross human rights violations" and that he "contributed to creating a culture of impunity within which gross human rights violations were committed".
Only one member of the apartheid government, the former law and order minister Adriaan Vlok, who was responsible for the South African Council of Churches bombing, has repented and admitted his crimes. He was reported to have implicated De Klerk in sealed submissions to prosecutors. In 2014, Vlok called for others to come forward and apologise for their actions.
So how has De Klerk managed to sidestep accountability for so long and maintain his reputation around the world? In part by mischaracterising the TRC's report to claim that it cleared him. That outrages Sooka, the former truth commissioner.
"Both De Klerk and his foundation have continued to suggest that the TRC effectively exonerated him. This is patently false," she said. "The TRC examined the responsibility of De Klerk and his colleagues through the lens of domestic criminal law, concluding that, at the very least, the SSC's members were 'politically and morally accountable for the deaths that occurred'".
De Klerk has also benefited from what might be regarded as an unholy alliance between the former regime and the ruling African National Congress. The TRC was empowered to offer amnesty from prosecution to those who confessed their crimes and told the truth. Its hearings provided an important venue for South Africans to voice their suffering and discover the fate of murdered and disappeared loved ones as a step towards healing the nation.
Surveys by the Institute for Justice and Reconciliation found that two-thirds of South Africans thought the TRC's hearings were a good foundation for reconciliation. But only a third said the government had done enough to prosecute perpetrators of human rights abuses.
That is in part because successive post-apartheid governments have had no appetite for going after political and security chiefs of the defunct white regime for fear that ANC officials would also be open to prosecution for some of the liberation movement's crimes, including bombings of civilians and torture.
Sooka and others are trying to change that. Among those she would like to see finally held to account is De Klerk for lying to the TRC and "for having command and superior responsibility for the crimes perpetrated by the apartheid state".
"Given his senior role in the SSC, there are reasonable grounds to believe that, based on the TRC's findings and the doctrine of superior responsibility, De Klerk has a case to answer under international criminal law for acts committed pursuant to the SSC's orders that constitute crimes against humanity, and domestically, as these international crimes remain prosecutable under South African law today," she said.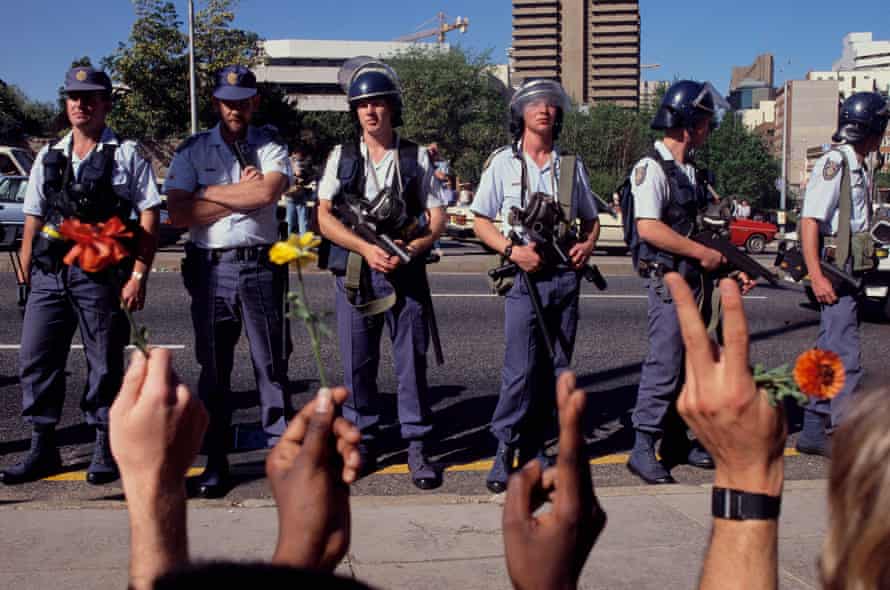 Among those demanding accountability at last are relatives of the Cradock Four. Lukhanyo Calata, the son of one of the murdered men, has accused the ANC of political interference to subvert an investigation and prosecution of those responsible, including De Klerk.
Calata has also sought to hold De Klerk accountable on the world stage. Last year, the American Bar Association was forced to withdraw an invitation to South Africa's former president to give an address on minority rights, social change and racism after Calata accused De Klerk of complicity in his father's killing and questioned why the association thought the white former leader of the apartheid government was the right person to speak about racial justice.
The FW de Klerk Foundation described the cancellation of the speech as "symptomatic of a growing threat to liberal values everywhere".
Chris McGreal was based in Johannesburg for the Guardian during the transition from apartheid
'We just sleep and hope we don't perish': 2m in Tigray in urgent need of food – UN | Hunger
At least 2 million people in the northern Ethiopian region of Tigray are suffering from an extreme lack of food, with the 15-month conflict between rebel and government forces pushing families to the brink, the UN's emergency food agency has found.
In the first comprehensive assessment the World Food Programme (WFP) has carried out in Tigray since the start of the war, 37% of the population were found to be severely food insecure, meaning they had at times run out of food and gone a day or more without eating.
Families were found to be "exhausting all means to feed themselves", with 13% of Tigrayan children under five and almost two-thirds of pregnant and breastfeeding women suffering from malnutrition.
"Before the conflict we were eating three times a day but now even once a day is difficult. I was borrowing food from my family but now they have run out. We just sleep and hope we do not perish," Kiros, a single mother of six children living on the outskirts of the region's capital, Mekelle, told researchers.
The assessment, which was based on face-to-face interviews with 980 households in accessible parts of Tigray, was carried out from mid-November until mid-December.
However, researchers were unable to travel to areas where fighting is impeding humanitarian access. Moreover, since the assessment was carried out, the needs of the region are thought to have become even more acute as no aid convoy has reached Tigray for about six weeks.
"This bleak assessment reconfirms that what the people of northern Ethiopia need is scaled up humanitarian assistance, and they need it now," said Michael Dunford, WFP's regional director for eastern Africa.
"WFP is doing all it can to ensure our convoys with food and medicines make it through the frontlines. But if hostilities persist, we need all the parties to the conflict to agree to a humanitarian pause and formally agreed transport corridors, so that supplies can reach the millions besieged by hunger."
Across northern Ethiopia, where fighting has raged in the regions of Afar and Amhara as well as Tigray, WFP estimates that 9 million people are in need of humanitarian food assistance, the highest number yet.
In Amhara, hunger has more than doubled in five months, it says. In Afar, where fighting has intensified in recent days between the Tigray People's Liberation Front and forces loyal to the prime minister, Abiy Ahmed, recent health screening data showed malnutrition rates for children under five were at 28%, far above the standard emergency threshold of 15%.
Since the conflict erupted in November 2020, it has been difficult for the UN and other humanitarian organisations to gauge the level of need in Tigray due to a lack of on-the-ground access and telecommunications. The UN has accused the federal government of preventing food and essential medical supplies from coming into the region in a de-facto blockade. The government denies this.
On Wednesday, the International Committee of the Red Cross (ICRC) said it had made its first delivery of medical supplies to Mekelle since last September. The drugs are understood to have included enough insulin supplies to last about a month, after medics at the Ayder referral hospital raised the alarm over severe shortages.
Dr Tedros Adhanom Ghebreyesus, director of the World Health Organization, recently accused Abiy's government of imposing a "hell" on Tigray by denying entry to medical supplies.
"It is a huge relief that this first shipment is reaching hospitals," said Apollo Barasa, health coordinator at the ICRC delegation in Ethiopia. "This assistance is a lifeline for thousands of people, and I can't emphasise enough how crucial it is that these deliveries continue."
Asylum applications on rise in EU
The EU Agency for Asylum on Friday said the number of asylum applications in November 2021 was the second-highest in five years, narrowly below the level in September. About 71,400 applications for international protection were lodged in the "EU+" (EU, plus Norway and Switzerland) in November 2021, up by nine percent from October. "This was the second-highest level since 2016," it said.
Protests flare across Poland after death of young mother denied an abortion | Abortion
Protests are under way across Poland after the death of a 37-year-old woman this week who was refused an abortion, a year since the country introduced one of the most restrictive abortion laws in Europe.
On the streets of Warsaw on Tuesday night, protesters laid wreaths and lanterns in memory of Agnieszka T, who died earlier that day. She was pregnant with twins when one of the foetus' heartbeat stopped and doctors refused to carry out an abortion. In a statement, her family accused the government of having "blood on its hands". Further protests are planned in Częstochowa, the city in southern Poland where the mother-of-three was from.
"We continue to protest so that no one else will die," Marta Lempart, organiser of the protests, told Polish media. "The Polish abortion ban kills. Another person has died because the necessary medical procedure was not carried out on time." All-Poland Women's Strike has called on people across the country to picket the offices of the ruling Law and Justice party (PiS) and organise road blockades in the coming days.
Agnieszka was first admitted to the Blessed Virgin Mary hospital in Częstochowa with abdominal pain on 21 December. She is said to have been in the first trimester of a twin pregnancy when she arrived and was in "a good physical and mental shape", according to her family, who said her condition then deteriorated.
On 21 December the heartbeat of one of the twins stopped and, according to Agnieszka's family, the doctors refused to remove it, quoting the current abortion legislation. They waited several days until the second foetus also died. A further two days passed before the pregnancy was terminated on 31 December, according to the family.
A priest was then summoned by hospital staff to perform a funeral for the twins, the family said.
The family say that the doctors refused to terminate the pregnancy earlier, citing Poland's abortion legislation. "Her husband begged the doctors to save his wife, even at the cost of the pregnancy," Agnieszka's twin sister, Wioletta Paciepnik, said on Tuesday.
After the termination, Agnieszka was moved from the gynaecological ward and her health continued to deteriorate. Her family suspect that she died of sepsis but the cause of death was not identified in a statement released by the hospital.
Shortly after her death, a statement by her family accusing the hospital of neglect was published on Facebook, alongside a distressing video of Agnieszka's last days.
Agnieszka's death marks the first anniversary of the 2021 ruling that declared abortion due to foetal abnormalities illegal. Abortion can now only be carried out in cases of rape, incest or if the mother's life and health are in danger.
Her death comes after that of a woman known as Izabela last September, who died after being denied medical intervention when her waters broke in the 22nd week of her pregnancy. Her family claim the 30-year-old was refused an abortion or caesarean section and that the hospital cited the country's abortion laws. An investigation found that "medical malpractice" led to Izabela's death and the hospital was fined. Soon after, an anonymous man from Świdnica in south-west Poland came forward to share that his wife, Ania, died in similar circumstances in June last year.
While "selective abortion" is possible in the case of a twin pregnancy, it is unclear whether aborting an unviable foetus to save its healthy twin is permitted by the new abortion legislation. The Polish court has not referenced the questions raised by this situation, presented by opposition senators last year, in the new legislation.
"We want to honour the memory of my beloved sister and save other women in Poland from a similar fate," Paciepnik said in a video appeal. The case is now being investigated by the regional prosecutors in Katowice, who also investigated the case of Izabela.
The family are represented by Kamila Ferenc, from the Federation for Women and Family Planning, who confirmed that an autopsy of Agnieszka's body has been ordered by the court.
According to a statement from the hospital, Agnieszka tested positive for Covid before her death, although she tested negative twice when first admitted. "We stress that the hospital staff did all the necessary actions to save the patient," the statement read. The hospital did not respond to the Guardian for a request for comment.