Cuban Revolution: Cuba's Hotel Nacional: the iconic site that hosted Jean-Paul Sartre, Muhammad Ali and Yuri Gagarin | USA
By January 1, 1959, the Havana Hilton, Riviera and Capri hotels had all been built, but the Hotel Nacional de Cuba was still considered the national hotel of the country. Within hours of the Cuban Revolution, the US crime figure Meyer Lansky, known as the "mob's accountant," telephoned one of his closest confidants in Cuba, Jaime Casielles, and asked him to hasten to the Nacional. "Lansky knew that [former Cuban president Fulgencio] Batista and his family had fled the country. He said to me: 'Jaimito, we need to go around all the casinos and collect the money before the hordes are out on the street." Everything on the island had changed.
For over a year the Nacional remained in the hands of its American owners but it wasn't long before conflicts with the new government arose and the aristocrats and Hollywood stars started to disappear, although a new clientele would arrive to bear witness to a new era. On February 20, 1960, French writers Jean-Paul Sartre and Simone de Beauvoir checked into the Nacional, having been invited to Cuba by the editor of Revolución magazine, Carlos Franqui. Their objective was to see first-hand the political process that was unfolding.
"We lived in one of the best neighborhoods, in the Hotel Nacional, a luxury fortress, flanked by two crenelated square towers. Of its guests, who came from the United States, only two qualities were required: wealth and taste. As these are rarely reconcilable, if they possessed the first it was assumed, with few inquiries, they had the second," Sartre would write on his return to France. "I turn the air conditioning up all the way to enjoy the cold of the rich. With 30 degrees in the shade, I go to the windows and watch with sumptuous shudders how those that are passing by perspire. It has not taken me long to find the reasons behind the still indisputable supremacy of the Nacional. It was enough to open the curtains when I arrived: I saw long, graceful ghosts stretching toward the sky."
The palm trees. The same ones that had dazzled Lucky Luciano and other famous guests. But Sartre and Simone de Beauvoir had not come to Cuba for the trees. The following day, the couple left for Santiago and from there they went to Holguín, where Cuban revolutionary Fidel Castro was inaugurating a school in what had once been a military barracks. There they met the Cuban leader and Argentinian guerilla Che Guevara.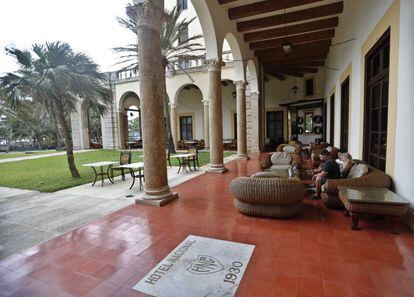 Once back at the Nacional, they were told that Guevara would grant them an audience in his office at the National Bank, the institution he headed, at midnight. "I was still lucky," recalled Sartre. "Journalists and foreign visitors are received warmly and at length, but at two or three in the morning." That meeting was immortalized by the photographer Alberto Korda and later described by Sartre in one of the articles he published over the following months in France Soir, and later compiled in the book Hurricane Over Sugar.
"The night did not enter that office. In those men in full wakefulness, the best of them, sleep did not seem to be a natural necessity but rather a routine that they had more or less freed themselves from. I don't know when Guevara and his colleagues sleep. I suppose it depends: performance decides; if it dips, they stop." Sartre was also surprised and moved by the youth of the revolutionaries – Castro was 33 and Guevara, 31. "The biggest scandal of the Cuban Revolution is not expropriating farms and lands, but to have brought boys to power," he said. "Given that a revolution was necessary, circumstances dictated that youth should carry it out. Only youth had experienced sufficient anger and angst to undertake it, and had sufficient purity to carry it out."
Guevara told them that night that Cuba's was a "contrecoup revolution," and Sartre came to the conclusion that it was a process with an ideology "free from elaboration," perhaps "the most original revolution in the world," based on "a direct democracy." When he was asked in an interview what that meant, the author of Being and Nothingness replied: "This Fidel Castro who is continuously on the move in a helicopter or automobile; who often speaks three times a week on the television for hours on end; who explains everything his government does; who discusses every realization; who listens to the peasants and takes note of their complaints; who opens schools in forgotten corners and who argues passionately with his ministers: this is direct democracy."
Sartre and Beauvoir traveled all over the island, often accompanied by Castro, and on one of those journeys, one of the great anecdotes of their trip took place. Arriving at a popular tourist spot they asked for a lemonade. It was lukewarm and Fidel complained, asking why Cubans should be subjected to such poor service. The woman replied that her refrigerator was broken and the person who was supposed to fix it had not turned up. As Fidel continued to ask questions, the woman cut the conversation short with a phrase that augured what was to come: "You know how it is."
On March 4, the explosion of La Coubre in the port of Havana was clearly audible from the Hotel Nacional. The French steamer was anchored there with a cargo of 76 tons of weapons and ammunition for the revolution: 136 people were killed and the following day, during the memorial, Castro gave a famous speech during which for the first time he used his slogan "Homeland or death." In the stand that day were Sartre, Beauvoir and the main leaders of the revolution, and it was there that Korda took his signature photograph of Guevara, with his beret and defiant gaze, which turned the guerrilla into a global revolutionary icon.
The French intellectuals remained in Havana until March 15, 1960, and a week after they departed the Nacional was expropriated. When Sartre and Beauvoir returned, in October of the same year, the hotel had started to fill with literacy teachers, frontline revolutionary workers and rural villagers from the mountains who had come to Havana to study. The guests at the Nacional were no longer America's rich and famous.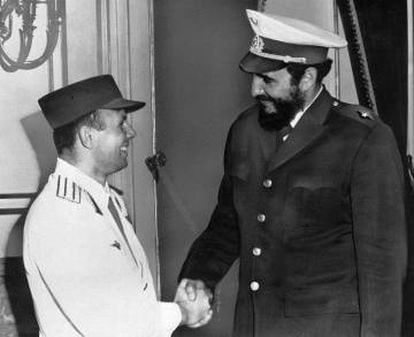 In July 1961, three months after his trip into space, Soviet astronaut Yuri Gagarin arrived in Cuba and met several times with Castro, exchanging caps and participating in the events to mark the anniversary of the 1953 assault on the Moncada barracks. Before delivering his welcome speech, Castro asked Gagarin: "How long did it take you to go around the earth?" The cosmonaut replied: "An hour and a half, comandante." Fidel smiled and said: "Then start counting." Today, a bust of Gagarin adorns one of the bars in the hotel, in front of portraits of Venezuelan leaders Hugo Chávez and Nicolás Maduro and the former president of Brazil, Luiz Inácio da Silva, who have all been guests.
The same gardens at the Nacional where Gagarin had strolled were filled with anti-aircraft batteries and trenches a year later, during the Cuban Missile Crisis of 1962. The location of the hotel, on Taganana Hill, made it a key strategic point for the defense of Havana if the situation had escalated, something which did not occur due to the removal of Soviet warheads from the island by Soviet leader Nikita Khrushchev, without consulting Fidel. This did not go down well with the Cuban leader and soon crowds of protestors thronged the seaside promenade on Havana's shoreline, chanting: "Nikita, sissy, you don't take away what you've given."
As the revolution became more radicalized and the US imposed its embargo, the Cuban economy was Sovietized and tourism became viewed as an evil, while culture on the island entered its gray quinquennium. The jailing of the poet Heberto Padilla in 1971 on charges of "subversive activities" provoked the rupture of a section of the Latin American and European intelligentsia with the revolution. Among the first signatures on a letter of protest over the Padilla case were those of Sartre and Simone de Beauvoir.
By the mid-1980s Cuba was welcoming only 150,000 tourists per year, half of them from Socialist countries, and the hotels were falling into disrepair. A story did the rounds: a hotel guest was showering when he felt the bath move beneath his feet. Fearing an embarrassing episode, he wrapped himself in a towel and went downstairs to complain. "Look, knowing how things are here, you're lucky you didn't end up in the lobby," the receptionist told him.
A lack of maintenance also started to tell on the Nacional and it was forced to close its doors from 1990-92 to carry out a vast remodeling. When it was reopened, Cuba was in the midst of an economic crisis due to the dissolution of the Soviet Union, which was known as the "Special Period." Attracting tourists and foreign currency had become a national priority. Cubans were prohibited from staying in hotels so that rooms could be reserved for dollar-paying guests. The crisis hit Cubans hard, with power outages lasting 12 to 14 hours a day and a scarcity of food, medicine and public transportation exacerbated by the toughening of the US embargo. Some American humanitarian organizations started to send aid to the island and one of these missions, in 1996, was headed by US boxing legend Muhammad Ali. Half a million dollars' worth of medical supplies were distributed and among the party was the US journalist Gay Talese, who had been commissioned to produce a report. In Ali in Havana, Talese recounted the difficulties encountered on that five-day trip, where the former heavyweight champion was feted as a hero wherever he went.
Ali's hands shook and he could hardly speak due to the effects of Parkinson's disease, but he was friendly toward his admirers, who stopped him in the great lobby of the Nacional to ask for his autograph. "It took him 30 seconds to write his name on whatever card or piece of paper," Talese said. "But he wrote it in full, 'Muhammad Ali.' He didn't just write 'Ali' to save some time. He has never short-changed his fans."
The night before they were due to return to the US, Castro invited the group to the Palace of the Revolution. Ali and Fidel mocked up a few punches for the cameras and, as they were leaving, Ali's wife Yolanda Williams told the Cuban president he would be welcome in their home if he ever visited the US. Castro said that he had been to the US before, to participate in a United Nations General Assembly, but he had not been allowed to leave his hotel room. "But things change," he added.
However, Fidel Castro was mistaken. Things did not change, tensions mounted and a year later a bomb went off in the Hotel Nacional.
English version by Rob Train.
Systematic American Mistakes Are Making Russia Great Again
Orlov is one of our favorite essayists on Russia and all sorts of other things. He moved to the US as a child, and lives in the Boston area.
He is one of the better-known thinkers The New Yorker has dubbed 'The Dystopians' in an excellent 2009 profile, along with James Howard Kunstler, another regular contributor to RI (archive). These theorists believe that modern society is headed for a jarring and painful crack-up.
He is best known for his 2011 book comparing Soviet and American collapse (he thinks America's will be worse). He is a prolific author on a wide array of subjects, and you can see his work by searching him on Amazon.
He has a large following on the web, and on Patreon, and we urge you to support him there, as Russia Insider does.
His current project is organizing the production of affordable house boats for living on. He lives on a boat himself.
If you haven't discovered his work yet, please take a look at his archive of articles on RI. They are a real treasure, full of invaluable insight into both the US and Russia and how they are related.
---
After a year and a half of silence accompanied by much media noise, from the Mueller investigation into Trump the Terrible's collusion with the Russians (and their lord and master the Dread Pirate Putin) in order to steal the election from innocent young Hillary "twinkle-toes" Clinton, Mueller finally laid an egg. He indicted 13 Russians for identity theft  and wire fraud.
He alleges that they bought some stolen personal info  (Social Security numbers, names, birth dates, etc.) on the internet,  used these to set up PayPal and Facebook accounts, and then used these  to buy Facebook ads in an effort to undermine the American people's  faith in the wholesome goodness of their democracy.
There is no evidence that anyone in the Trump campaign or administration knew that this was happening. There is no evidence that any of the 13 Russians had anything to do with Putin or the Russian government. There is no evidence that anything they did had any measurable effect on the outcome of the election.
There is, however, ample evidence that this indictment will go nowhere.
There is a difference between being indicted and being convicted: a convicted person is proven guilty; an indicted person is protected by  the presumption of innocence until convicted. To be convicted in a  criminal trial, a person has to be physically present before the court  because one has the right to face one's accusers. A trial held in  absentia is automatically a kangaroo court. The 13 Russians are Russian  nationals residing in Russia. According to the Russian constitution,  Russian citizens cannot be extradited to stand trial in a foreign court,  and it seems exceedingly unlikely that they will face criminal charges  in Russia based on Mueller's indictment. Therefore, these 13 Russians  have to be presumed innocent under US law—forever—even if they get to spend time in a Russian jail, convicted under Russian law.
It's still possible that one of these Russians will at some point travel  abroad, get snatched and shipped off to the US to stand trial, and be  convicted of money laundering, identity theft and wire fraud. But the  charge of working to undermine the American people's faith in the  wholesome goodness of their democracy would be rather hard to prove,  mostly because there isn't much of it to be found these days. The  accusation is a lot like accusing somebody of despoiling an outhouse by  crapping in it, along with everyone else, but the outhouse in question  had a sign on its door that read "No Russians!" and the 13 Russians just  ignored it and crapped in it anyway.
The reason the Outhouse of American Democracy is posted "No Russians!"  is because Russia is the enemy. There aren't any compelling reasons why  it should be the enemy, and treating it as such is incredibly foolish  and dangerous, but that's beside the point. Painting Russia as the enemy  serves a psychological need rather than a rational one: Americans  desperately need some entity onto which they can project their own  faults. The US is progressing toward a fascist police state; therefore,  Russia is said to be a horrible dictatorship run by Putin. The US  traditionally meddles in elections around the world, including Russia;  therefore, the Russians are said to meddle in US elections. The US is  the most aggressive country on the planet, occupying and bombing dozens  of countries; therefore, the Russians are accused of "aggression." And  so on…
If (for whatever stupid reason) Russia is indeed America's enemy, it  stands to reason that the Americans would want to make it weaker rather  than stronger. Working to strengthen one's enemy seems like a poor  strategy. And yet that is what has been happening: the last two US  administrations—Obama's and Trump's—both have been steadfastly aiding  and abetting Russia's rise to greatness. Aiding and abetting the enemy  is bad enough by itself, but it would also appear that they have been  doing so unwittingly. Thus, if Mueller really had the health and beauty  of American democracy in his heart, he would have indicted both the  Obama and the Trump administrations for aiding and abetting the enemy  through gross negligence. Here is how the indictment would read:
1. The Obama administration falsely accused the government of Syria of  carrying out an attack using chemical weapons near Damascus on August  21, 2013 in order to find an excuse to attack and invade Syria. Chemical  weapons were in fact used in that incident, but not by the forces  controlled by the Syrian government. Since the Syrian government had no  interest in either using chemical weapons or in maintaining its chemical  weapons stockpile, this gave Russia an opening to negotiate an  international deal under which Syria surrendered its entire stockpile of  chemical weapons, which were destroyed, and international inspectors  subsequently certified Syria as being free of them. This incident showed  Russia to be a trustworthy partner, able to peacefully resolve crises  through negotiation, raising its stature in the world, and the US to be a  rogue state willing to use any means, including the use of chemical  weapons against civilians, in order to justify its illegal use of force.  Following in Obama's footsteps, the Trump administration, soon after  assuming office, used similar unverified accusations of a Syrian  chemical weapons attack to ineffectually bomb a Syrian airbase using  Tomahawk missiles.
2. In February 2014 the Obama administration organized and carried out a  bloody coup in Kiev, staging a massacre using foreign mercenaries,  falsely accusing the Ukraine's constitutional government of carrying it  out, overthrowing it, and installing a puppet regime managed by the CIA  and the US State Department. The nature of this regime, which is  comprised of oligarchs and criminals allied with neo-Nazi groups, and  which has elevated to the status of national heroes certain perpetrators  of genocide against Jews, Poles and others during World War II, has  been kept hidden from the public in the US. But because Russia and the  Ukraine are not ethnically, linguistically, culturally or religiously  distinct, and have existed as a single entity through most of their  history, most Russians understood what had happened. The chaos and  mayhem that followed the putsch gave the Russian government an opening  to hold a referendum in Crimea, which was briefly joined to the Ukraine,  but which had been part of Russia since 1783, and to re-annex the  territory. It also led to armed rebellion in eastern Ukraine and the  formation of two de facto independent republics there, making the  Ukraine into a semi-defunct state that does not control its own  territory. All of these developments led to a tremendous surge of  patriotic feeling among Russians, who felt proud of being able to  reclaim what they saw as rightfully theirs and felt threatened by seeing  the Ukraine once again fall to the fascists. True to form, the Trump  administration has continued Obama's this policy of Making Russia Great  Again by providing the Ukrainian military with lethal weapons and  advice.
3. Although the Russian annexation of Crimea, based on an overwhelming  victory in a popular referendum and a great showing of public support,  was impeccably legal in upholding the Crimea's right to  self-determination (unlike NATO previous annexation of Kosovo), the  Obama administration saw it fit to impose economic sanctions on Russia  in retribution. These sanctions, together with Russia's  counter-sanctions on food exports from the EU, have finally provided the  impetus for Russia to break with the past pattern of exporting gas and  oil and importing just about everything else, and to embrace the  strategy of import replacement. This has allowed Russia to become  self-sufficient in many areas, such as oil and gas exploration and  production technology, agriculture and many other areas. Although Russia  experienced a period of considerable economic difficulty which saw the  purchasing power of the population dwindle substantially, Russia's  economy has survived. The popularity of the national leadership did not  suffer because most Russians now understand what they are fighting for  and, given the barrage of negative news from the Ukraine, who their  enemy is, and what would happen to them if they were to show weakness.
4. Although the Trump administration has mostly followed in Obama's  footsteps in Making Russia Great Again, the most recent round of  anti-Russian sanctions, which the Trump administration did not impose  but only announced, as required by an act of Congress, was inadvertently  an act of pure genius. What Trump's flunkies did was take the Kremlin  directory and the Forbes list of Russia's wealthiest individuals, and  put them together into a single list of people. If these sanctions were  actually imposed rather than merely threatened, those having any  dealings with the individuals on this list would suffer legal  repercussions. The brilliance of this plan is in two parts. First, there  have been some differences of orientation among the members of the  Kremlin administration: some were more US-oriented than others. What  this list did was make them look foolish in their hopes of ever  appeasing the US. Before, the US had a few lukewarm champions inside the  Kremlin; now it has zero. Second, Russia has had a problem with wealthy  individuals moving their capital abroad, to Switzerland, to various  offshore tax havens, and most notably to the United States, which is the  money laundering capital of the world. But now Trump has threatened  them with wealth confiscation. At the same time, the Russian government  has extended a tax amnesty for those wishing to repatriate their  capital. As a result, a flood of money is now reentering the Russian  economy, giving it a major boost.
Once you put it all together, the charge against the last two US  administrations for Making Russia Great Again by aiding and abetting it,  unwittingly and through gross negligence, becomes compelling. There is,  of course, no chance at all that anybody will be put on trial for it,  but that may not be necessary. As shown by the #MeToo movement, it is no  longer necessary in contemporary America to prove a crime; a mere  allegation is now sufficient to end careers and to ruin reputations. You  can play this game too: of each US policy or initiative announced  against Russia, ask yourself: How is it going to help Make Russia Great  Again? Because it probably will.
Rotunda to lift restrictions on partners attending appointments
Restrictions on partners attending appointments at the Rotunda maternity hospital in Dublin are to be removed from the beginning of November.
The Rotunda said it was planning to return to "pre-Covid" access to appointments for patients and their partners as the country enters the next stage of living with the disease.
It said that from next Monday partners would be able to attend booking visit appointments and appointments in the hospital's high-risk clinic. From November 1st, the hospital would "remove remaining restrictions for partners for other antenatal outpatient appointments".
The hospital said it reviewed and risk assessed its Covid-19 safety measures each week, while taking into account rates of infection in the community, vaccination rates amongst patients and the hospital's "unique infrastructural challenges".
"We have already restored access similar to pre-pandemic levels in most areas of the hospital, including early pregnancy scans, anomaly scans, the emergency and assessment unit, and our inpatient wards," the hospital said in a statement.
It said many of the Rotunda's outpatient areas were "in older buildings with very small waiting areas" and in order to manage potential overcrowding in those areas it "strongly encouraged" patients to attend outpatient appointments alone. It recommended that women only bring partners for "occasional visits, such as if you have a complicated or special issue to discuss with your care team".
The Rotunda said that at times when there is high footfall, partners could be asked to "wait outside the building until called to the consultation room". It dded that it was important to remember that Covid-19 "has not gone away and is in fact endemic within our community".
When will face masks no longer be compulsory indoors in Spain?
With Covid-19 vaccine campaigns in their later stages and infection rates generally lower, several countries around the world have eased their face mask rules.
Such is the case in England, where masks are now not required in shops and even on certain modes of public transport, or in the US, where fully vaccinated people don't have to wear one in most indoor settings. 
Spain on the other hand has been strict on its mask-wearing policy throughout the pandemic and its citizens have willingly complied in general.
Many people are still wearing masks outdoors, even though they've not been required by Spanish authorities since June, as long as a safety distance of 1.5 metres can be maintained.
So when might it be possible to remove face masks indoors in Spain (other than for eating and drinking) ?
In early October, Spanish media reported that Health Minister Carolina Darias had said that the use of masks indoors would be required until the spring of 2022.
On Wednesday at a press conference after Spain's Interterritorial Health Council, Darias stressed she never stated that the mandatory use of masks would end in spring next year.
"The face mask has come to stay, at least while the flu virus or other possible viruses are present this autumn," she reiterated.
"Spain was one of the first countries to regulate the safety distance in outdoor spaces to not have to wear a mask outside, but we know the importance of its use indoors where transmission by aerosols is proven".
"Let's take it slowly," Darias concluded.
READ ALSO – Calendar: When will the Covid restrictions end across Spain?
As usual, Spain's regional governments have their own views on Covid-19 rules.
Madrid president Isabel Díaz Ayuso, the regional leader with the most liberal take on Covid restrictions during the pandemic, has again taken a different approach by actually offering something closer to a date for when mandatory mask-wearing indoors will be scrapped.
The end of indoor masks should come "after Christmas," stated Ayuso in late September. "Total" normality and "pre-pandemic" life should not be delayed beyond the spring of 2022, she added.  
Castilla-La Mancha president Emiliano García-Page has also suggested February 2022 as an end date for mandatory masks indoors in the central Spanish region. 
Are regions relaxing any mask-wearing rules?
Catalan Education Minister Josep González-Cambray said on Wednesday that "We will get rid of face masks in schools as soon as we can". 
According to González-Cambray, the use of face masks in schools is a "health measure" dependent on epidemiological criteria, which is why it will be down to the health departments to decide.
In Valencia, the Generalitat government has said that it will scrap the requirement for children to wear a mask in the school playground. 
"We are working every week with the Health Department and in the next few days the protocol will be updated" because the numbers have been very favorable," said Valencia's Minister of Education Vicent Marzà on Saturday.
However, in the Balearic Islands, the regional government has decided the use of masks in the school playground should continue, causing an outcry from many students and their parents.
Balearic  Minister of Health Patricia Gómez confirmed yesterday that the use of masks will continue to be mandatory in school playgrounds "until the situation improves".
READ ALSO – Going out in Spain: What are the rules for bars and nightclubs?
Why wait until after the winter if the numbers are good now?
The epidemiological situation in Spain is currently the best it's been since autumn of last year, with a 14-day cumulative incidence of 40.85 cases per 100,000 inhabitants.
This means that the country is currently at very low risk for Covid infections according to the categorisation used by the Spanish health ministry.
In addition to this, almost 80 percent of the total population has been fully vaccinated against Covid-19, a percentage that's higher still if focusing only on those who are eligible for the vaccine (people aged 12 and over).
According to César Carballo, deputy emergency physician at Hospital Ramón y Cajal in Madrid, Spain is in a good epidemiological situation now which should allow to at least remove their masks outdoors.
But flu season is on its way, government leaders and health professionals are keen for the use of masks indoors to continue until after the winter.  
"There is talk that we may have more cases of the flu. We do not know. Last year the flu disappeared completely. We will see this year," Carballo told Spanish TV channel La Sexta.
"Health personnel are exhausted … to suffer a wave of flu this year would be a severe blow," he added. "If it were up to me I would maintain that mask-wearing indoors should be required until January or February, accompanied by hand washing and distance".
READ ALSO: Getting the flu vaccine in Spain in 2021: What you need to know