Criticism of animal farming in the west risks health of world's poorest | Emma Naluyima Mugerwa and Lora Iannotti
The pandemic has pushed poverty and malnutrition to rates not seen in more than a decade, wiping out years of progress. In 2020, the number of people in extreme poverty rose by 97 million and the number of malnourished people by between 118 million and 161 million.
Recent data from the World Bank and the UN shows how poverty is heavily concentrated in rural communities in Africa, Asia and Latin America where people are surviving by smallholder farming. This autumn there will be two key events that could rally support for them.
The first is this month's UN food systems summit, a gathering seen as a potential turning point in generating support for more sustainable, equitable food systems. The second is the UN climate summit (Cop26) in November, where world leaders will be pressed to make major investments that will help rural farming communities adapt in the face of the climate crisis.
But it's surprising to see that, in both arenas, a major opportunity is being squandered. Livestock farming is essential to half a billion poor families in the developing world. Yet the growing chorus of criticism directed against industrial farming in the west is threatening to undermine support for livestock everywhere – including in the developing world.
In poorer countries, most people are not factory farming. The cows, pigs, goats, sheep, chickens or camels that many families keep are often their most valuable economic and dietary assets. They serve as a hedge against the impacts of the climate crisis on their farms. They help ensure children don't grow up malnourished.
The importance of animal products to preventing malnutrition shows how vital it is to evaluate risks and benefits. The average European consumes 69kg of meat every year, the average African 10kg. Many eat less – often far less – than that. In 2020, 149 million children under five were stunted by malnutrition. Many of those cases could have been prevented with greater access to animal-source foods.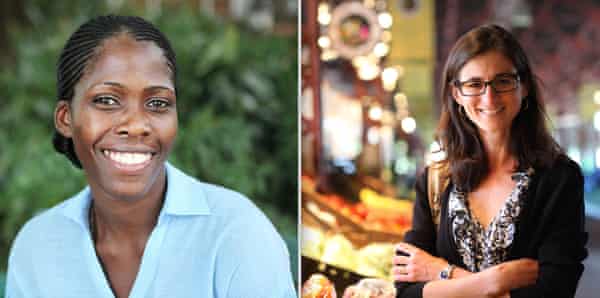 We are an unlikely pair: an award-winning holistic farmer from Uganda and a US public health nutrition scientist. But we are united in our commitment to using our expertise to seek a more balanced and informed discussion of the very different roles of livestock around the world today.
We acknowledge livestock are a significant source of greenhouse gases. They have contributed to the destruction of tropical forests and other pristine natural areas. And overconsumption of certain animal products can contribute to chronic health problems.
But a recent assessment from UN nutrition, co-authored by Lora Iannotti, shows that for a significant portion of the world's malnourished people, milk, meat and eggs are a source of essential nutrients not available – not now, nor in the foreseeable future – in plant-based alternatives.
Iannotti's research shows that among young children, modest portions of nutrient-dense animal products are uniquely effective in preventing or addressing chronic malnutrition. The high concentration of essential nutrients in animal-based foods – often impossible to replicate in plant-based foods – also makes them highly valuable during other life stages, especially adolescence, pregnancy and lactation.
There are also opportunities to realise these benefits through sustainable, nature-positive approaches to livestock farming. On Emma Naluyima Mugerwa's farm in Uganda, she raises pigs, cattle, chickens and fish. She grows vegetables, fruit and matoke, a type of banana. The pig dung feeds maggots that feed her chickens. Instead of chopping down trees for firewood, she uses the dung from her cows to produce biogas, a renewable fuel that cooks her food and provides electricity for the farm. She and her family consume some of her farm's nutritious foods and make a good income by selling the rest to her community.
This is just one example of sustainable approaches to livestock farming that are good for people and the planet. There are many other creative and innovative solutions. But what we need are investments and targeted government policies that can encourage wider adoption, not wholesale bans or misguided anti-meat "moonshots" that leave millions of people stranded ever-further behind.
Sustainable, profitable livestock farming is a powerful option for helping a significant portion of the world's most vulnerable communities find a way to better health and a better life. If we continue to focus solely on livestock risks, we will miss this opportunity. And the usual suspects – the people who started off with least – will be the poorer and hungrier for it.
'They see it in corridors, in bathrooms, on the bus': UK schools' porn crisis | Pornography
Barnardo's works directly with children who are victims of abuse or display signs of harmful or risky sexual behaviour. In 2020-21, they worked with 382,872 children, young people, parents and carers.
In a recent survey of their frontline workers across England and Wales, staff reported a rise in the number of children participating in acts they have seen in pornographic videos, despite feeling uncomfortable or scared. They describe porn as having a "corrosive" effect on child wellbeing.
Child sexual abuse expert Sarah works with children who are displaying signs of inappropriate sexual behaviour. She also trains other professionals who work with children
"I started out as a primary school teacher eight years ago, and I've been worried about children seeing porn ever since. Children don't have to be able to type to see porn – it can be sent to them or shown to them on someone else's phone. They see it at school, in the corridors, in the bathrooms, on the bus. There is just no censor on any of it – one video leads to another. If you can imagine it, it exists as porn, and children are seeing it.
"I am working with a teenager who was sexually abused by a family member. This young person had been exposed to porn and it was perpetuating what the abuser told them – that this is normal, that it's not abuse."
She is particularly concerned, as are her colleagues, about the increasingly extreme nature of the porn freely available on mainstream sites.
"A common role play theme on porn sites is intra-familial abuse – on mainstream sites you will see fetishisation of grandad and granddaughter sex, or stepfathers and stepdaughters. This may lead to a young person not disclosing or getting the support they need. From both angles it is dangerous; it puts the child at risk and encourages the perpetrator.
"The impact of porn shows in children harming others or themselves because they either don't understand or are so ashamed of sexual urges. Shame is very prevalent and is often hidden.
"We are working with a seven-year-old who has been exposed to porn and is now displaying sexualised behaviour. They had free rein on a device, and someone hadn't deleted a browser history. Once a young person sees porn, they may feel a need to come back again and again – porn is designed to meet a need. That is a form of sexual abuse against that child."
Brian* is a senior social worker who has worked with children for over 30 years
"Unfortunately, porn is a feature for the majority of the children who come into our service. The children we support are very damaged. They would be likely to have experienced multiple forms of abuse – sexual, physical and domestic. Porn in and of itself is not the cause of their behaviour but it becomes a compounding factor when it hits that history of vulnerability.
Adult sex offenders can give children a distorted rationalisation for their behaviour, and the messages that are given through porn then fit with that distortion.
Lucy* has worked within the field of child sexual abuse for 16 years.
"We know children find porn distressing – they are telling us that themselves. We have done research with children in schools so that we have a cohort to compare our vulnerable children to, and they are saying the same thing.
"This is not what could be described as erotic or soft porn. They may start on porn sites and quickly begin to see very hardcore material. Or [extreme material] lands in their social media feeds, and they can then feel compelled to go back and look again.
"Children are less able to manage sexual arousal, and this material is designed to be arousing. Lots of children can feel guilty and distressed by what they see. We have 14-year-olds telling us they have to watch it as soon as they wake up. They describe being preoccupied with accessing porn to an extent that impacts upon their day-to-day life.
"We also regularly work with children with learning disabilities, another group vulnerable to the harm of porn. They may be shielded from sexual information and then reach 13 or 14 and take away the wrong learning from porn. They may learn that no means yes, that if you persist, women will enjoy forced sex. These messages are harmful for any child but for children with learning needs or who have developed unhealthy beliefs around sex as a result of abuse, it's particularly bad.
"After lockdown, we began to get more calls from parents where there is no other obvious trauma, just the exposure to porn. I've been doing this 16 years, and children have far more access to porn now."
* Names and some details have been changed to protect identities
French centre-right tilts toward Pécresse
Valérie Pécresse, a moderate conservative who has likened herself to former British and German leaders Margaret Thatcher and Angela Merkel, has emerged as a front-runner in primaries in France's centre-right Les Républicains party, Reuters reports. "I won't flinch. I have a project for a clean break, a project for the unashamed right," she said Thursday, ahead of elections against liberal incumbent Emmanuel Macron and far-right contenders in spring.
Poland plans to set up register of pregnancies to report miscarriages | Poland
Poland is planning to introduce a centralised register of pregnancies that would oblige doctors to report all pregnancies and miscarriages to the government.
The proposed register would come into effect in January 2022, a year after Poland introduced a near-total ban on abortion.
This has raised serious concerns among women's rights activists, who believe that in light of the abortion ban, the register could be used to cause legal difficulties for women who have self-administered abortions.
The draft legislation is part of a wide-ranging project to update the medical information system in Poland.
"It's about control, it's about making sure that pregnancies end with birth," Natalia Broniarczyk, an activist from Aborcyjny Dream Team told the Polish weekly Gazeta Wyborcza.
The plan prompted online protests. A social media initiative titled "I'd like to politely report that I am not pregnant" encouraged Polish women to email photos of their used sanitary pads, tampons and underwear to the Polish ministry of health.
The ministry has strongly denied the project amounts to a centralised pregnancy register, with a spokesperson saying the changes are simply part of wide-ranging digitalisation project that will update the way data about a multitude of conditions, including allergies, is stored.
The spokesperson said doctors always had information on pregnancies, but before it was stored on paper by hospitals, rather than centrally by the government.
The concerns of activists about the register grew considerably after a bill proposed by the government that would establish an "institute of family and demographics" passed first reading in the Polish parliament by one vote on Thursday.
The institute would aim to monitor family policy, pass opinion on legislation and educate citizens on the "vital role of family to the social order" and the importance of "cultural-social reproduction" in the context of marriage. The institute would have access to citizens' personal data and prosecutorial powers in the realm of family law, prompting worries it could be used to enforce the country's strict abortion law.
The project has drawn widespread criticism from Polish academics and civil rights advocates.
"Maybe just call it the 'Red Center of Rachel and Leah'," a feminist organisation from Łódź said in an Instagram post, referencing Margaret Atwood's dystopian novel The Handmaid's Tale. In the novel the Rachel and Leah Center is a training facility for women designated to be "breeders" by the authoritarian regime.
The committee of demographic researchers at the Polish Academy of Sciences has issued a statement expressing concerns that the "pro-natalist propaganda" would take precedent over scientific research at the institute.
"The project aims exclusively to promote traditional model of family," Adam Bodnar, Poland's former ombudsman for citizen rights, told the Polish news website Oko.press. "It could also become a tool against those who fall outside this model, for example those who do not conform to heteronormative norms."