Crisis in Afghanistan: The long road that lies ahead for the Afghans arriving in Spain | International
They are arriving in Spain in a state of "extreme exhaustion," and carrying just the few belongings that they could carry with them amid the chaos of Kabul. The Afghans being flown in recent days by the Spanish government to the Torrejón de Ardoz air base in Madrid are also worried about the families that they are leaving behind, according to the organizations that are assisting with their arrival and the Spanish defense minister, Margarita Robles.
Despite having escaped their home country, since it was taken over by the Taliban, Ahead of them awaits a challenging process, which will involve further travel and a wait that will last months until their requests for protection are resolved. These processes often take longer than the legal limits, although on Monday, Spanish Interior Minister Fernando Grande-Marlaska confirmed that the asylum requests would be dealt with as "special" and would be processed "urgently."
Once their documents have been processed, they are then given a special residency permit for a 15-day period
Of the more than 800 people who have been airlifted to Spain from Afghanistan since Monday – by Tuesday afternoon the figure had risen to 1,100, and a further 130 were due to arrive in the early hours of today – 613 had already requested international protection, according to data supplied today by the Interior Ministry.
Figures from the OAR asylum and refugee office, which belongs to the aforementioned ministry, show that last year – during the Covid-19 pandemic – just 34 Afghans requested protection in Spain, 0.04% of the total. In 2019 that figure was 182, and in 2018 it was 101.
The same data show that the rate of acceptance for Afghan asylum seekers in Spain was 74%, a percentage that is in stark contrast to the 5% average for all requests filed.
On arrival in Torrejón, the Afghans are first given a coronavirus test. Once their documents have been processed, they are then given a special residency permit for a 15-day period. Those who request international protection are then given an appointment at the nearest police station in the region to which they will be transferred so that the request can be formalized, before being sent to the OAR.
According to normal procedures, after a month they must be informed as to whether their request has been accepted for processing. If it has, the authorities have six months to decide whether to grant them refugee status or subsidiary protection or reject the request. If their application is accepted, and more than six months have passed without a response, the applicants are allowed to work in Spain.
While the asylum process is managed by the Interior Ministry, their shelter once in Spain is organized by the Ministry of Inclusion, Social Security and Migration. According to the latest figures supplied on Monday by the minister, José Luis Escrivá, by Tuesday of this week a total of 289 Afghans who worked with the Spanish authorities and their families were due to have been transferred to state centers, which have capacity for 10,000 people. Sources from the department report that ahead of the arrival of the first aircraft from Kabul, 6,000 of these places were already occupied.
On Monday, the ministry pointed to the speed with which the refugees were being moved from the temporary accommodation that has been set up in Torrejón, bringing down the time that the evacuees are spending there to 48 hours. Up until Monday, 230 people had been distributed among nine of Spain's regions: Aragón (29), Castilla-La Mancha (24), Castilla y León (28), Catalonia (10), Valencia (37), Madrid (32), Murcia (34), Navarre (7) and the Basque Country (9) (The total is lower than 230 given that the data of some of the refugees is yet to be processed).
The organizations working on the ground have updated lists with the arrivals at the air base and the number of people on board each aircraft. From there, forecasts are made of the spaces that will be needed within the state system and interviews begin in order to assess where each should be sent.
Those seeking international protection are being managed by organizations such as the Spanish Commission for Refugee Assistance (CEAR) and the Red Cross, among others. "The system already has high occupation levels," explained Áliva Díez, state shelter coordinator for the CEAR. Up until Tuesday, the organization had attended to 90 people, most of them "family units of between six and nine members," she added.
Spain speeds up evacuations from Kabul
The August 31 deadline set by the United States for pulling out its troops from Afghanistan, and the threats from the Taliban that this date must be respected, have prompted Spain to speed up the evacuation from Kabul airport of Afghans who worked with the country's authorities in recent years and their families.
The latest flights to arrive on Spanish soil have been completely full, according to the Spanish Defense Ministry. A flight that arrived at the Torrejón de Ardoz base on Tuesday was carrying 290 people, while another that arrived in the early hours of Wednesday morning brought a a further 145.
Defense Minister Margarita Robles said on Wednesday that "without a doubt, the West has failed the Afghan people," adding that the Spanish authorities were doing "everything humanly possible" to get the biggest number of people out of Afghanistan. She admitted, however, that "many people would be left behind.
Speaking during an interview on Spanish television network Antena 3, she explained how the situation at the entrance points to Kabul airport had gotten worse, with more violence on the part of the Taliban. Spanish soldiers, she said, were making "a superhuman effort, risking their lives" to save as many Afghans as possible in a "Titanic struggle."
English version by Simon Hunter.
Can artistic freedom survive in Sudan? The writing's on the wall… | Global development
In the new dawn of a heady post-revolutionary era, Suzannah Mirghani returned in 2019 to the country of her birth for the first time in years. Her mission was to shoot a short film on Sudanese soil. It proved unexpectedly straightforward.
"When the revolution happened, there was this exuberance," she says, from her Qatari home. "When we came to make our film, we were given the green light. We were told: 'Anything you want'.
"Nobody harassed us. Nobody told us what to do. Nobody asked us for the script. I call this time in the history of Sudan 'the honeymoon'," says Mirghani.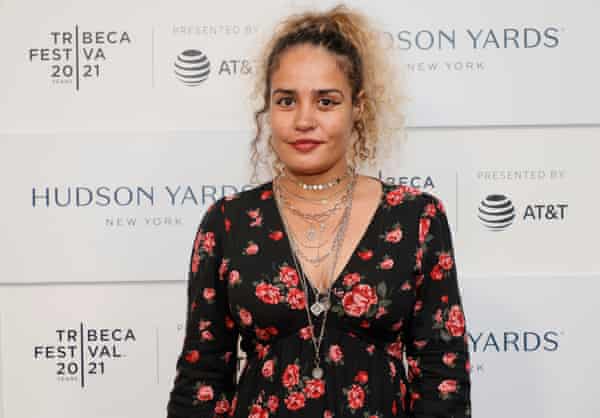 More than two and a half years after the toppling of the longtime dictator Omar al-Bashir, Mirghani fears the honeymoon is over, at least for her. The turmoil into which Sudan has again been plunged means she feels unable to return safely.
On 31 October, as her film, Al-Sit, won the latest of many awards, Mirghani had to give an acceptance speech that was anything but celebratory.
Six days before, the military had seized power in a coup, detaining the civilian prime minister and bringing the country's fragile transition to democracy to an abrupt halt.
In a video address from Qatar to the Africa in Motion film festival in Scotland, Mirghani said "the only reason" she and her crew had been able to make Al-Sit was the active encouragement given by the civilian-military partnership government. "Now," she added, "we're in very serious danger of going back to the bad old days of military rule and stifling creative expression."
Since the coup, a lot has happened: huge pro-democracy protests thronged through Khartoum and other cities, with at least 40 demonstrators killed.
After almost a month, the prime minister, Abdalla Hamdok, was released as part of a deal struck with the coup leader, Gen Abdel Fattah al-Burhan.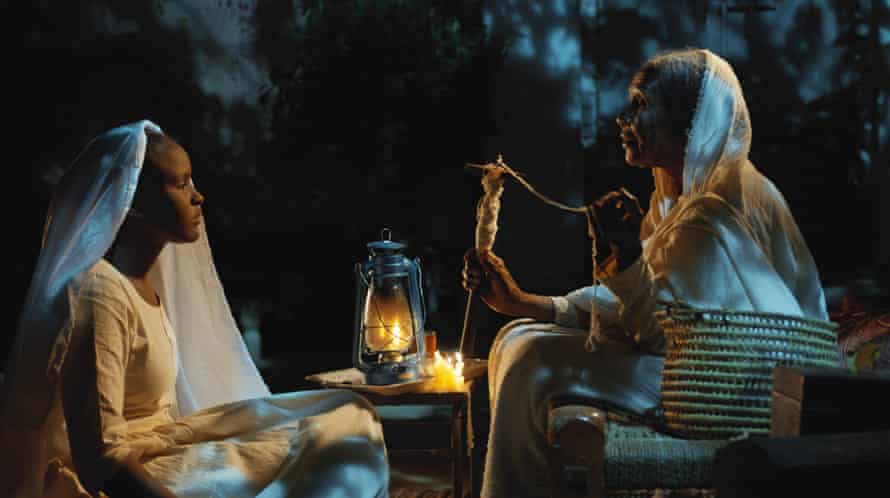 But the protesters, who want the military out of politics for good, are not convinced, and even less so as security forces fire teargas into the crowds that continue to gather despite Hamdok's return. With the creative gains made after the revolution now hanging in the balance, Sudanese artists feel they have to speak out.
"We artists will be the first to be targeted if the military government continues in power," writes Aamira*, a painter, in an email from Khartoum. "We are demonstrating in the streets, facing guns, unarmed. There is nothing to fear any more."
In an interview with the Financial Times last week, Hamdok defended his decision to strike a deal with the military, saying it was essential to stop the bloodshed and "preserve the achievements of the last few years".
It may not have been uppermost in his mind, but one of those achievements was the flowering of an artistic community that had long been harassed, censored and forced into the shadows. Assil Diab, a street artist, says: "I painted Omar al-Bashir as the [face of] coronavirus in a stadium in Bahri during the daytime, which would have been just impossible; my whole family could have been killed two years ago."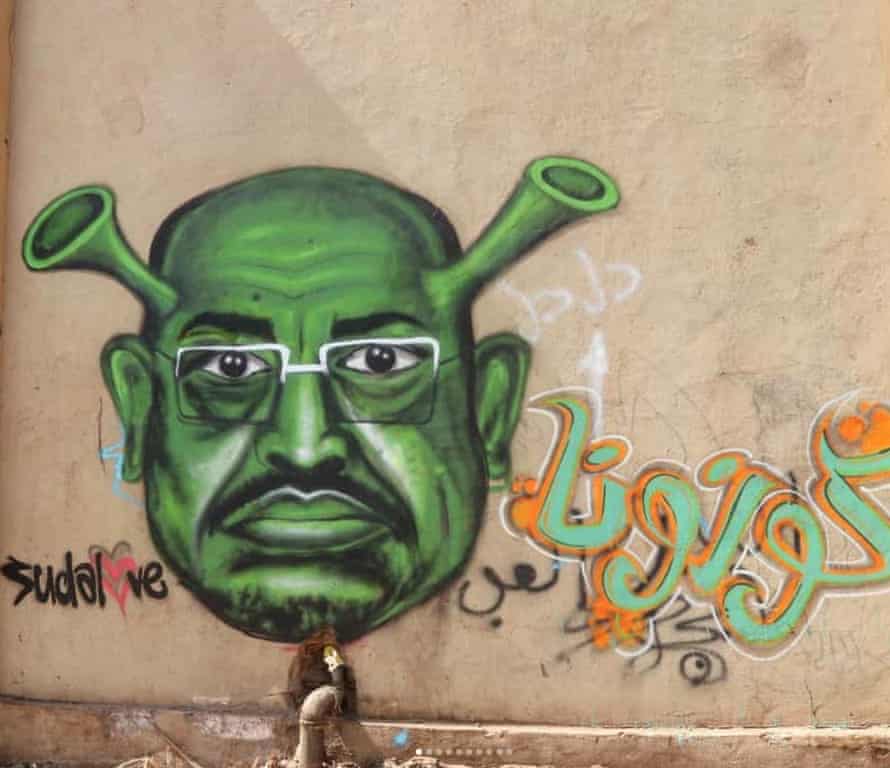 Feeling compelled to return amid the revolutionary fervour, Diab returned to Sudan in 2019 and made her name painting the faces of the revolution's "martyrs" on the outside of their families' homes, with a getaway car close by in case the notorious paramilitary Rapid Support Forces saw her.
For Mirghani, the "absolute elation" of the revolution yielded creative results. Al-Sit is the beautifully observed story of a Sudanese village girl whose parents want her to marry the sharp-suited son of a wealthy cotton trader in Qatar. "To finally be able to express yourself, to say what you had wanted to say to these people for 30 years: it's amazing.
"My film is about women's rights. It's social commentary on arranged marriage. I don't think we could have said that a few years ago," says Mirghani.
The "honeymoon" was not without its challenges. The dictator was gone, but social and religious conservatism – and a reluctance to champion the arts – remained. Artistic freedom was patchy: in 2020, the renowned film-maker Hajooj Kuka and several others were detained during a theatre workshop.
Asim*, a documentary film-maker in Khartoum, says that, although in the capital the "direct censorship" of the Bashir era has eased, the rest of Sudan is not as relaxed. "It's partially freedom and partially censorship," he says. "It is a battle about 10% won."
Khalid Albaih, a political cartoonist based in Qatar, returned after the revolution to launch the Sudan Artist Fund (SAF), to provide budding creatives with money and mentors, and with an ambitious plan to create a public art and design library. He says: "I thought: this is it. All doors were open and this is what we were going to do.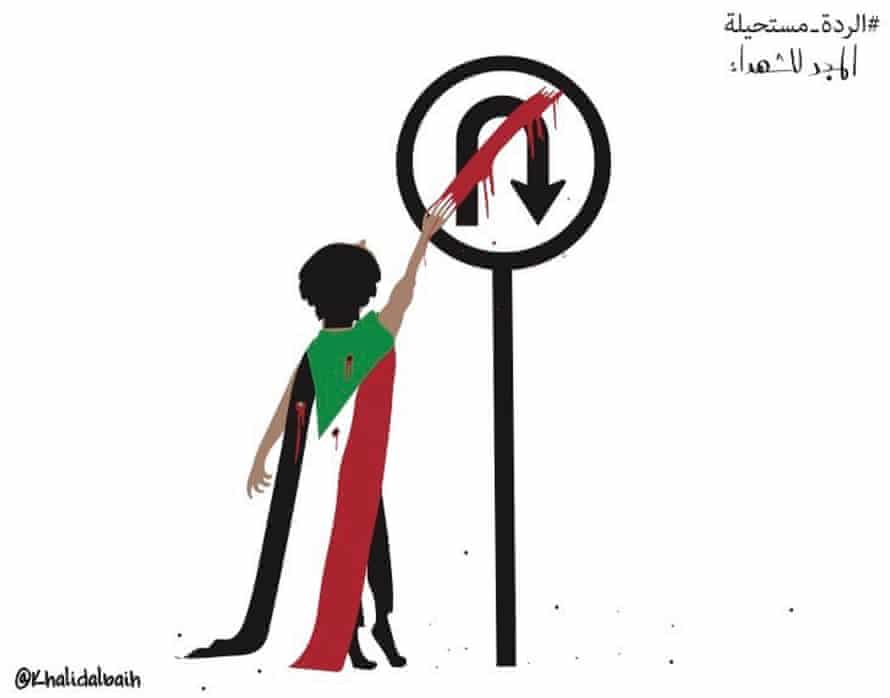 "I took all my papers, and for the first time in 10 years I'm in Sudan walking around, not scared of any police, or secret police, or anything. I went to every business owner in Sudan and everyone that can donate money to these causes. And I got nothing but rejection – for a library and for an artists' fund."
Finally, Albaih secured $7,000 (£5,300) from CultuRunners, a cultural exchange organisation, and the SAF awarded its first grant of $500 in October – just before the coup. "It was incredible because the internet cut out [after the coup leaders imposed a nationwide online blackout] so the artist didn't even know he had won. We had to call him. It took two or three weeks to send the money to him," says Albaih.
The cartoonist knows there will not be any more funding for a while. "Now everything is rocky. No one knows how things will go. It's going to be really hard for artists and these kinds of initiatives to move forward.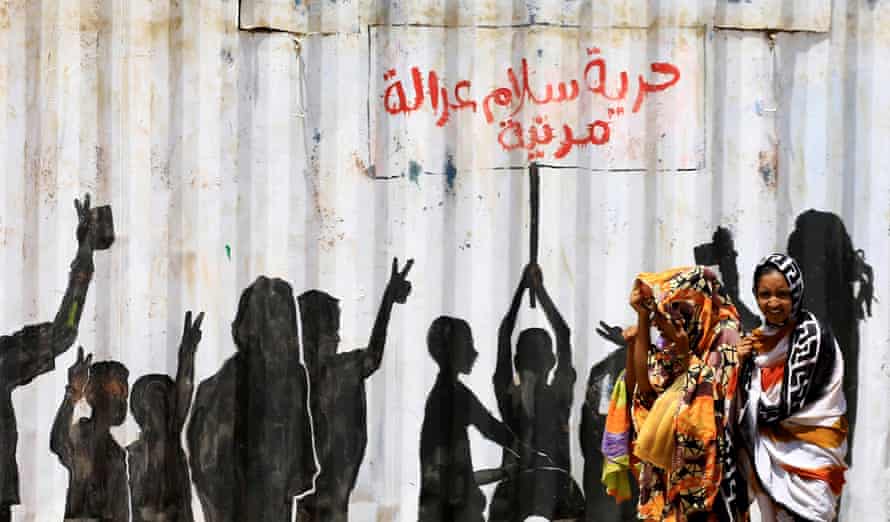 The coup, says Diab, left the creative community feeling "disappointed and just broken down … because we finally thought we were free and then this happened." She intends to apply for political asylum in the US, where she is studying, feeling she "can be of better use to Sudan" from overseas.
Those in the thick of it cannot afford to give up hope. Asim was at a protest in Khartoum against the post-coup deal last week and was "teargassed the entire afternoon" amid chants of "no partnership, no negotiation, no legitimacy". He is realistic about future challenges but knows that people have made up their minds.
"I feel like there is a grip on power and it will not end today; it will not end tomorrow. Whether those power-hungry authoritarians will roll with democratic transition and allow people to express their freedoms, allow journalists and film-makers to operate or not, that is something that is still [up in] the air, because you never know with the ever-changing dynamic of power in this country," he says.
The momentum towards democracy is undeniable, he says. "I believe that is possible and I believe there is hope. The people will not stop asking for what they really want. [Will] that future come tomorrow? The day after? In two years? In five? We never know. But it seems like the consensus is that people agree it has to happen."
*Names have been changed to protect their identity
Sign up for a different view with our Global Dispatch newsletter – a roundup of our top stories from around the world, recommended reads, and thoughts from our team on key development and human rights issues, delivered to your inbox every two weeks:
EU agrees to sanction Russian mercenaries
EU diplomats have provisionally agreed to blacklist three Russian nationals and one entity, the 'Wagner Group' mercenary outfit, on grounds of human rights abuses in Africa and the Middle East, diplomatic sources said. The decision will be formalised by foreign ministers next Monday. The move comes amid Wagner's increasing presence in Mali, threatening French interests in the region. Europe earlier sanctioned a Russian oligarch, Yevgeny Prigozhin, said to fund Wagner.
I feel despair at Sudan's coup. But my children's mini protest gives me hope | Khalid Albaih
"All the goodness and the heroisms will rise up again, then be cut down again and rise up," John Steinbeck wrote to a friend in 1941, just before the US entered the second world war. "It isn't that the evil thing wins – it never will – but that it doesn't die."
Growing up, I was always interested in politics, politics was the reason I had to leave Sudan at the age of 11. At school, we weren't allowed to study or discuss it, and it was the same at home.For years, I lay in bed and listened to my father and his friends as they argued about politics and sang traditional songs during their weekend whisky rituals. They watched a new Arabic news channel, Al Jazeera, which aired from Qatar. All the journalism my father consumed about Sudan was from the London-based weekly opposition newspaper, Al Khartoum. The only time he turned on our dial-up internet was to visit Sudanese Online.
At the time, I never understood how Sudanese activists and political figures, like my diplomat father, who cared deeply about the country and had fought for their principles for so long, suddenly submissively stepped back. Or worse, why they sheltered their children from the issues. I always wondered, "So who are you fighting for then?"
In my adult life, opposing former president Omar al-Bashir's authoritarianism and corruption became a personal battle for me, more so with every year I spent outside Sudan. It took shape slowly, until a few years before the Arab spring it peaked with the publication of my political cartoons on social media. I blogged, tweeted and posted, knowing that, although working in exile gave me a level of freedom unavailable to dissidents at home, I also risked everything through being unflinching in my criticism.
This last decade since the Arab spring has been a political rollercoaster. It was an honour to see my work shared by protesters all over the world – and be recognised by the BBC and the New York Times. I've published two books and had exhibitions around the world, been detained in two different countries, and wanted in my own. Like many fellow activists, I've experienced the effects of despair and burnout.
Deep into the long winter that has followed the quashed Arab spring, and just as I was ready to give in to my despair, a second wave ofrebellion has hit Sudan. Bashir's bloody 30-year rule ended, finally, in a revolution led by women, artists and unions. This uprising on the streets of Sudan was matched with huge support from members of the diaspora, exiled by Bashir's regime. Returning in the wake of the uprising was an extraordinary experience. For the first time in a decade, I entered Sudan without expecting arrest. I tried to explain to my children how the people had won and collectively overcome this evil man who ruled Sudan; that although he dressed like a policeman, he was a criminal.
In the past rocky two years , Sudan has seen an influx of families who left three decades ago – people trying to regain what was lost. But it seems the counter-revolutionaries remain strong – determined to prevent democracy. Even with international support limited to Egypt, Saudi and the UAE, the October coup against the transitional government has been a huge defeat for those working towards a free Sudan.
At 41, I hoped my children could experience Sudan as home. But it's hard to keep hoping it will be safe in Sudan to continue my activism and work as a political cartoonist anytime soon.
Now, I understand how my father and his friends felt. In a country that has had six coups since independence in 1956, I can understand the instinct to protect children from instability, uncertainty and tragedy. I spend most nights on WhatsApp sending frustrated voice messages about the situation. All my friends and I talk about is news about Sudan. I find myself trying to shield my children from the (mostly bad) news.
How do I explain that our army is killing young men and women? How do I explain that bad men in police uniforms are back again? That evil has returned so fast?
In the end I did not need to. My eldest daughter used her screen time to read posts and watch videos about Sudan. Early one Friday morning I awoke to a mini anti-coup protest with her and her younger siblings waving flags and shouting slogans in our living room.
With guidance and citizen journalism, these younger generations are far more action-oriented than we used to be. What we achieved in a decade will take them less time. As authoritarianism evolves, humans discover new ways to gain their freedoms. If my young children can stage a protest in their living room, despite my best efforts to shelter them from the news, imagine what's going on inside Sudan right now.