Cooking fails: Ten things you should never try in the kitchen | Culture
All of us have burned a dish at one time, but that's nothing to worry about. Sure, the recipe may not have turned out as planned and you're stuck with some less-than-tasty overcooked meat, but next time you will be much better prepared. Making mistakes is an inherent part of cooking, and you always learn from your errors.
That said, it's better to be aware of the most basic cooking mistakes so you can learn the lesson without having to go through the drama yourself. Because it's true, there are some things that you should never try in the kitchen, such as making a cake in the shape of a fictional character, as seen in the photo above. To make sure you don't end up with the same culinary disasters, we have put together a series of recommendations, with photographic illustrations, of what to avoid in the kitchen. We beg you to please not do the following.
1. Draw a face with a pastry bag, especially when you have no experience
Your children are going to give you ideas about cakes and desserts shaped like cute animals that turn out perfectly in the photos. In an effort to win their love and make sure they don't send you to a nursing home when you're old, you attempt the task. You have no experience in pastry, but that doesn't stop you from getting out the pastry bag and trying to draw a design. It's at this precise moment, however, that you realize that the lines are all wrong. As an example, take a look at the photo of the Garfield cake, which was shared by Reddit user JenniferWilllow. It looks like the famous cat has just taken MDMA. You can tell by looking at its pupils and the mouth that he obviously wasn't given Whiskers.
2. Get overly creative with your cake-making design
Unless you're some type of god, you don't have unlimited power. We all have our shortcomings, and if confectionary is not one of your strengths, it's best to avoid it. Because instead of an adorable dog with a pink ribbon, you could create a creature like the one used as the profile picture of Reddit user Plausible-Ability, which is crying out to be put down. Is it the Pokémon Onyx with evident stomach problems? Or Princess Leia after a big night out? It's hard to know.
3. Go overboard with baking cookies
Making sure your cookies are spaced apart on the baking tray is key. And so is waiting for the dough to chill before putting it in the oven. If you don't do this, you may suffer the same fate as the Twitter user Polymernai: you neatly place adorable bear-shaped cookies in rows and a few minutes later, it's as though they were crammed together in a train at peak hour, packed together like sardines.
4. Take shortcuts when decorating a dessert
Rushing in the kitchen is not allowed. If you try to save time by dumping icing on top of a multi-tiered dessert, instead of decorating each layer separately, you end up with a monstrosi-tree, like this one in a photo from Reddit user CheezyBob. For those of you familiar with cows, a certain image will come to mind. The result is about as appealing as a gin-and-tonic laced with ammonia.
5. Cover fruit in splotchy chocolate
What's more delicious than dipping strawberries in a melted chocolate fountain? Perhaps nothing, which is why Reddit user Scotts_Totts decided to have a go at home. The trouble is he covered the fruit in chocolate that had just come out of the microwave, without waiting for the sauce to cool down and form a bit of texture. And so of course, the chocolate covered the strawberries in uneven splodges, like a sofa blanket that may seem big, but actually only covers either the top or bottom half of your body. And that's not to mention the crazed eyes or the mouth, which makes it look as though the strawberries need to go to the dentist.
6. Overdo it with the food coloring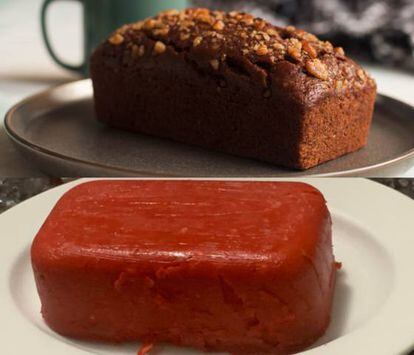 There are people who like to use food coloring. That's entirely respectable, but it's important not to overdo it, as happened to Reddit user Kross623, who used an entire bottle of red food coloring when making banana bread. The end result, as seen in the above photo, is something that looks more akin to Darth Maul's liver or a blood sample from a Lego doll, than something edible.
7. Decorate cookies before baking them
Cookie dough changes form, size and consistency as it is baked, which is why it's recommended that you decorate them after they've come out of the oven. An EL PAÍS reader named Saru wrote to us to say that she and her friends decided to do the exact opposite. And in doing so they created cookies resembling Olaf's cousin, if he lived in Chernobyl. It's true they might look bad but taste good. But they're still likely to frighten children.
8. Make pie faces
Michelangelo and Gian Lorenzo Bernini knew how to perfectly sculpt the human face from a block of marble. Unless you are a distant cousin of one of these masters, trying to do the same thing with a pie is not a good idea. One example of what can go wrong comes from Reddit user House_of_Hornetsx, where the pie has the face of a beat-up boxer or a girl whose make-up has started to smudge after a long night on the town.
9. Forget the importance of color and texture
It's important to know what ingredients you are going to use and how the final dish will look. For whatever reason, the person who made the above dish forgot about the tone and consistency of mashed beans and dolloped spoonfuls of them onto the plate. So what was going to be some tasty nachos ended up looking like a kitty litter.
10. Let your imagination get out of hand
It's great to see cooking fans who are so passionate that they are willing to experiment with their own recipes. They have mastered the stove, they have good technique, they know their ingredients and they let their creativity guide them. A good example is the avant-garde dish above, which we believe is meant to represent a scene from Pirates of the Caribbean, when Davy Jones has a zoophilic moment with a chicken. Seriously, being creative is fantastic, but some things should never be done in the kitchen.
Cancellations, layoffs and accusations of antisemitism: The war in Gaza opens a crack in Hollywood | Culture
Kanye West debuted a new song this week in a surprise appearance at a Dubai nightclub. The popular rapper, who was accused of antisemitism back home, traveled halfway across the world to release the song, titled Vultures, in another sign of his fall from grace at the epicenter of the entertainment industry. The hip hop star praised Hitler exactly one year ago in an interview with Alex Jones, a hero of the alt-right. The new song shows that he has not turned the page: "How am I antisemitic? I just fucked a Jewish bitch," he raps.
The war in Gaza has also impacted the entertainment world, especially Hollywood. Accusations of antisemitism have been exchanged in the American entertainment capital since October 7 and some celebrities are already affected. Susan Sarandon, a left-wing actress who has never bitten her tongue when it comes to voicing her political opinions, was dropped by her talent agency, which had represented her since 2014, on the basis that she allegedly made anti-Jewish comments at a rally in New York to demand a ceasefire.
The co-star of Thelma & Louise who most recently featured in Blue Beetle stated at that rally that many Jews were afraid of living these times in the United States. "There are a lot of people afraid of being Jewish at this time, and are getting a taste of what it feels like to be a Muslim in this country, so often subjected to violence," said the actress. Many considered that Sarandon was justifying acts of antisemitism that have been experienced in recent weeks. This Saturday, the actress attributed her phrase to a "terrible mistake."
"This phrasing was a terrible mistake, as it implies that until recently Jews have been strangers to persecution, when the opposite is true," she wrote in a statement shared on Instagram.
The historian Steven Carr is watching the situation with concern, although he admits that the current tense moments are still far from the darkest days of the Hollywood witch hunt. "The House Un-American Activities Committee of the 1940s and 1950s dragged numerous writers, directors, and stars — many of them Jewish — before Congress to testify against their will and report on friends and colleagues. Those investigations led to an entire system that destroyed careers, forced some to leave the country and even caused some suicides. Turning Hollywood into a target over artists' personal beliefs is a characteristic of a persecuting political apparatus," says the Indiana University professor.
Carr, author of Hollywood and Anti-Semitism: A Cultural History Up to World War II, believes that recent episodes have revived accusations and suspicion against the Jewish community. "Claiming that Jews are in control of Hollywood has always been an old pretext to target them simply for being who they are. These types of accusations were the cornerstone of Nazism that led to the stripping of all their rights until it led to mass extermination," the historian points out by email.
A lot of this goes back to the origin of Hollywood. The industry was created by a generation of Jews who arrived from Europe. German-born Carl Laemmle founded Universal Pictures. Hungarian-born Adolph Zukor built what became Paramount. Another son of immigrants from Hungary, William Fox, started the Fox Film Corporation. The Warner Brothers studio was started by the sons of Benjamin Warner, a Polish emigrant who had been, among other jobs, a shoemaker in Baltimore. The most famous movie mogul of that generation was Louis B. Mayer, the great boss of Metro-Goldwyn-Mayer. He was born in Russia and adopted the 4th of July, the day that celebrates the independence of the United States, to celebrate his American rebirth.
"What is strikingly similar between these Hollywood Jews is not their common origin in Eastern Europe. What united them was a pronounced and absolute rejection of their past and, equally, an absolute devotion to their new country," writes Neal Gabler in An Empire of their Own: How the Jews Invented Hollywood, a story of how these men built the foundations of the industry. The author emphasizes that the common denominator of the mentioned characters was their "patrimony of failure." They had nothing. Their dominance became a target of wave after wave of vicious anti-Semites, from fire-and-brimstone evangelicals in the teens and early 1920s who demanded the movies' liberation from the 'hands of the Devil and 500 un-Christian Jews.'"
Allison Josephs, a communicator who fights to change stereotypes about Jews in the United States, believes that the Jewish community must follow the teachings of African-American activism to dismantle unconscious biases. "We need to educate the world about the ideas that are projected onto us. Jews, regardless of their faith or the level of their religious beliefs, love life, peace and seek justice," says Josephs. One of her projects, the Hollywood Bureau, has been highlighted by publications such as Variety for its battle to overthrow prejudice.
Josephs, who is also behind the blog Jew in the City, highlights how antisemitism has surfaced on social networks. "When people with as many followers as Hollywood celebrities make accusations that Jews are bloodthirsty child killers, it puts them in danger because their enemies believe they deserve it," he says.
The communicator believes that Hollywood has made it clear that there are already lines that cannot be crossed when it comes to minorities or groups. "When this happens, there are consequences. The pain of Jews matters as much as anyone else's. Celebrities can say whatever they want except incite violence, but there should be consequences if they say something sexist, racist, homophobic or antisemitic," she adds.
Melissa Barrera, a 33-year-old Mexican actress, recently learned about these consequences. The artist has been fired from the seventh installment of the Scream franchise after a series of posts on Instagram, where 1.5 million people follow her. Barrera called Israel's campaign in Gaza genocide and ethnic cleansing. Spyglass, the producer of the horror films, announced the termination, arguing its zero tolerance for antisemitism or inciting hatred in any form.
The actress, who debuted in Hollywood with the series Vida, responded to her dismissal by condemning all types of expressions of hate. "Everyone in the world, regardless of religion, race, ethnicity, sex or sexual orientation or socioeconomic level, deserves human rights, dignity and freedom," he said in a statement. "Silence is not an option for me."
Jonathan Greenblat, one of the leaders of the Jewish Anti-Defamation League, openly criticized the Hollywood Writers Guild, the organization that led the recent high-profile screenwriters' strike, for not condemning Hamas after the attack. "Hollywood quickly supported Black Lives Matter, as it should, the Time's Up movement and many other causes. There is no excuse for them not to condemn Hamas and demand the release of the hostages," Greenblat told Variety a few days ago. Meredith Stiehm, one of the leaders of the writers' union, confessed at the end of October to a group of screenwriters that there was no public position because there was no consensus within the organization.
Sarandon and Barrera are the most visible faces of what is feared to be a new chapter of cancel culture in the United States. The authors Saira Rao and Regina Jackson, activists against racism who charged against Zionism on social media, have also lost their representation. Maha Dakhil, Tom Cruise's powerful agent, had to leave Creative Artists Agency because of her political views and claims that genocide was being committed in Gaza. Not even the Mission: Impossible star, one of the most influential men in the industry, was able to save his representative in these turbulent times in Hollywood.
Sign up for our weekly newsletter to get more English-language news coverage from EL PAÍS USA Edition
The end of the world, as written by women, has neither zombies nor asteroids | Culture
The world ends and no gigantic, unpredictable asteroid has fallen. Neither have armies of zombies taken the cities. The world ends and it happens as we knew it would. Lakes and marshlands dry up, rivers are polluted, oceans boil; the air is unbreathable, plants and animals are dying, heat has risen to extremes, there is extreme rainfall, the winds are extremely strong. Then, fights over water, massive migrations, chaos. In the dystopias written by women what takes place is reality. At the Guadalajara International Book Fair (FIL), authors like Agustina Bazterrica, María Ferencuhová and Elisa Díaz Castelo present their works examining climate crisis, a subject also addressed by others such as Gabriela Jáuregui and Margaret Atwood.
The atmosphere is so oppressive it suffocates. Dozens of women survive trapped in a world where butterflies burn, where there are no more mammals and children don't know what a tiger is, where all the seasons happen in a single week and stepping outside means having your skin break out, being smothered. The state disappeared long ago, incapable of containing the failure. Violence has taken advantage and is now everywhere.
Agustina Bazterrica's protagonist in Las indignas [The unworthy] has no name. She was born years after they had to close the schools. Her mother died when they couldn't go out to look for water or food after a brutal flood; the child survived and became a drifter. After years of wandering through devastated lands, she is on the brink of fainting when she arrives at the walls of a house, run by a religious cult, which functions as refuge and hell. Bazterrica's world is cruel, but that's because the world is cruel.
"There are people living their own dystopia at this very moment. Women in clandestine brothels being raped dozens of times a day. That is a dystopia. People who live on garbage. That's another," says the Argentinian writer, who uses her art history training, her visit to a monastery in Cusco, her exhaustive reading of the Bible and her ordeal at a convent as the seed for a novel where liberation does not seem to exist. With violent scenes of torture and women being sacrificed, Bazterrica again nods to reality: she took them straight out of documents detailing what the Argentine dictatorship did to kidnapped women, and the Inquisition to witches.
Violence against women does not end when the world ends. Margaret Atwood has written about this in The Handmaid's Tale and The Testaments. "All it takes is a political, economic or religious crisis to bring women's rights back into question," Bazterrica says, recalling a prediction made by Simone de Beauvoir.
This view becomes even more compelling in the face of the U.N.'s persistent warning: women will suffer most from the planet's crisis. They already make up 80% of all climate-displaced people. "Longer displacements increase exposure to violence outside the home," says the international organization. The Geneva Centre for Security Policy has additionally found that gender-based violence soars in the aftermath of climate catastrophes. Practices like child marriage also increase. Families in Bangladesh, Ethiopia and Kenya, for example, forcibly marry off their daughters to make up for what has been lost in a drought, storm, or through repeat flooding.
In Feral (2022), Mexican writer Gabriela Jáuregui found a way out for women in a world that has withered after seven centuries. "Outside, it still rains blood. Outside, the palm trees die, the pines, the oceans spit out garbage and their monsters, the lakes dry, fill with poison," goes her description of Mexico. And the women? "We hid ourselves, trembling with fear, with rage, anger, bristling, frazzled. To survive we vibrated so low we were subterranean. We sunk into foreign debris to save the world with each scream." The women crawled into the earth, created caves, tunnels and burrows, endured without water, began to run on all fours, their long nails became claws. And so they survived, ready to keep a record of what happened. "While above everything burns, that which resists under the earth keeps digging until a possibility of future is built in the midst of catastrophe."
Poetry in the face of disaster foretold
In 2011, Slovakian poet María Ferencuhová came across photographs of the aftermath of the earthquake in Haiti, the tsunami in Fukushima. She felt the images screamed "emergency" and wound up writing Threatened Species. "But in 2012, it was too early to raise one's voice over planetary emergency in Slovakia," she says in an event at FIL Guadalajara, "they thought poetry shouldn't deal with such issues." But she didn't let go.
Years later she published Černozem [Black Earth], in which she explores a universe on the verge of collapse. "With a single exhalation / I will scatter bowls / dishes jugs vinegar tablecloths / dusty flowers books / towels and mattresses / I will break dirty windows / I will scour the earth / I will tear you up by your roots / I will water you with saliva / and let you dry," she writes in the poem Drought. "We are creating stories about a vanishing world, but we cannot save the world with literature," says the poet and film critic, who has turned poetry into the only way of channeling the urgency of rescue.
Elisa Díaz Sotelo doesn't think she has figured it out. "I worry nearly every day about climate change, the sixth extinction in which we are immersed and even so, it is one of those subjects that I have not yet been able to deal with from the poetic," says the Mexican, who approaches the matter indirectly in her latest collection of poems Planetas inhabitables [Inhabitable planets]. "I arrived at the red continent, where April has another name and one must dig in the earth so that the sun rises and it is daytime. There, the few bees that remain in the world and the synonym of the first words were still alive."
Faced with this prospect, German creator Judith Schalansky — who has an asteroid named for her and is a collaborator at Oslo's Future Library, an art project that has been worked on for 100 years and for which she delivered a "secret manuscript" addressed to whatever is left — proposes: "Our stories are wrong. We don't need to build a hero who saves everything, but instead look for a collaborative project, a solution into which we all fit." At the same fair, on another day, in another place, Díaz Sotelo offers her own remedy: "Literature is a habitable planet in a world that is less and less habitable. Even if we don't use it as an escape, it is a way to face the crisis, to start working on it. These are just small worlds where one can stay and feel safe, at least for a while."
Sign up for our weekly newsletter to get more English-language news coverage from EL PAÍS USA Edition
Choco: Revolutionizing The FoodTech Industry With Innovation & Sustainability | EU20
By Clint Bailey
— In the rapidly evolving world of food technology, European startup Choco has emerged as a pioneering force. With its website, Choco.com, this Berlin-based company is transforming the way food industry professionals operate by leveraging innovative digital solutions. By linking restaurants, distributors, suppliers, and producers on a single platform, Choco is streamlining the supply chain process while promoting sustainability.
Let's explore the journey of Choco.com and its impact on the overall foodtech industry.
---
Company: Choco Technologies GmbH
Website: www.Choco.com
Head Office: Berlin, Germany
Year Established: 2018
Founders: Choco was co-founded by Daniel Khachab, Julian Hammer, and Rogerio da Silva.
Industry: Choco operates in the foodtech industry, specifically focusing on digitizing the supply chain for the food industry.
Funding: Choco has secured significant funding rounds from investors, including Bessemer Venture Partners & Coatue Management.
Market Presence: Choco has a strong presence in several European cities, including Berlin, Paris, London & Barcelona.
Mission: Choco aims to revolutionize the food industry by leveraging technology to simplify supply chain management, promote sustainability, and reduce food waste.
---
Simplifying Supply Chain Management
One of the core focuses of Choco is to simplify supply chain management for food businesses. Traditionally, the procurement process in the food industry has been cumbersome and inefficient, with numerous intermediaries and manual processes. Choco's digital platform replaces the traditional paper-based ordering system, allowing restaurants and suppliers to communicate and collaborate seamlessly.
Choco's platform enables restaurants to place orders directly with suppliers, eliminating the need for phone calls, faxes, or emails. This not only saves time but also reduces the likelihood of errors and miscommunications.
By digitizing the ordering process, Choco improves transparency, making it easier for restaurants to compare prices, track deliveries, and manage inventory efficiently.
Streamlining Operations For Suppliers & Producers
Choco's impact extends beyond restaurants. The platform also provides suppliers and producers with valuable tools to streamline their operations. By digitizing their product catalogs and integrating them into the Choco platform, suppliers can showcase their offerings to a wide network of potential buyers.
Suppliers benefit from increased visibility, enabling them to reach new customers and expand their market presence. Moreover, Choco's platform helps suppliers manage their inventory, track orders, and plan deliveries effectively. These features enhance operational efficiency, reduce waste, and ultimately contribute to a more sustainable food system.
Promoting Sustainability & Reducing Food Waste
Choco recognizes the critical importance of sustainability in the food industry. According to the United Nations, approximately one-third of the world's food production goes to waste each year. By digitizing the supply chain and enabling more efficient ordering and inventory management, Choco actively works to combat this issue.
Choco's platform facilitates data-driven decision-making for restaurants, suppliers, and producers. By analyzing purchasing patterns & demand, Choco helps businesses optimize their inventory levels, reducing overstocking and minimizing food waste. Additionally, Choco supports local sourcing, enabling businesses to connect with nearby suppliers & promote sustainable, community-based practices.
Expanding Reach & Impact
Since its founding in 2018, Choco has experienced rapid growth and expansion. The startup has successfully secured significant funding rounds, allowing it to scale its operations and establish a strong presence across Europe and other global markets. Today, Choco's platform is used by thousands of restaurants and suppliers, revolutionizing the way they operate.
Choco's impact extends beyond operational efficiency or sustainability. By connecting restaurants, suppliers & producers on a single platform, Choco fosters collaboration & encourages the exchange of ideas. This collaborative approach strengthens the overall foodtech ecosystem and creates a supportive community of like-minded aiming to drive positive change within the industry.
Future Of FoodTech
Choco's rise to prominence in the foodtech industry exemplifies the reach of sustainability, innovation, and community. Through its user-friendly platform, Choco simplifies supply chain management, streamlines operations for restaurants & suppliers, and actively promotes sustainable practices. By harnessing the potential of digital, Choco is disrupting the future of the food industry, making it more efficient and transparent.
As Choco continues to expand its impact and reach, its transformative influence on the foodtech sector is set to inspiring, grow other startups, and established players to embrace technology for a better and more sustainable food system.
---
We Can't Thank You Enough For Your Support!

— Compiled by Clint Bailey | Team 'Voice of EU'
— For More Info. & News Submissions: info@VoiceOfEU.com
— For Anonymous News Submissions: press@VoiceOfEU.com
---